Often falling under the scrutiny of critics as a Kitsch artist, American sensation Thomas Kinkade is an artist who has impacted the world through his paintings, which are often recognized as dreamscapes, idealist landscapes, and picturesque visions. Read on for a full debrief on the Thomas Kinkade biography, his paintings, insights into his work, and estimates of Thomas Kinkade's painting values.
A Thomas Kinkade Biography
| | |
| --- | --- |
| Artist Name | William Thomas Kinkade III |
| Date of Birth | 19 January 1958 |
| Date of Death | 06 April 2012 |
| Place of Birth | Sacramento, California |
| Mediums | Painting, illustration, lithography |
| Movements, themes, style | American scene painting, landscapes, dreamscapes, Christian painting |
Thomas Kinkade was a common household name, uncommon for most artists who avoided the loop of mass production in the art world of the early 90s. Kinkade received artistic training in 1972 from American artist and arts educator Glenn Wessels as well as Charles Bell, before his college days at the private art institution, Art Center College of Design in Pasadena, and the University of California, Berkeley.
In 1980, Kinkade was very much focused on his spiritual journey in Christianity and this can be seen in his early painting, "The Prince of Peace" (1979).
According to a statement by Kinkade on the painting, he says "as an art student, I came to have a personal relationship with Christ. Just a few weeks later… I found myself sitting in an art class, my mind wandering. As I went through the motions, my eyes on the disinterested model posing for the class, I was suddenly struck with a powerful vision."
Photograph of artist Thomas Kinkade in 2005; US Department of Defense, Public domain, via Wikimedia Commons
Kinkade later toured the rest of the United States with fellow artist, James Gurney in 1980 and collaborated with Guptill publications on a book titled The Artist's Guide to Sketching, which became a hit. The two young artists then went on to work with the American animator and filmmaker, Ralph Bakshi on the production of art for Fire and Ice (1983).
It was then that Kinkade began his journey into the exploration of light, which happened to become a lifelong exploration in conjunction with imagined landscapes.
Taken from an extract of Thomas Kinkade's biography posted on Thomas Kinkade Studios, the artist was not particularly driven by fame but he wished to paint from the heart. A lot of emphasis is also placed on the artist's will to "share the light". The light referenced here most likely refers not only to his exploration of light in his paintings but also to the spiritual aspects embedded in his career as an artist who cherished the Christian faith.
Driven to highlight "the simple pleasures" and messages of inspiration, Kinkade left behind many images of ideal landscapes, dreamscapes, religious artwork, and American scene paintings that preserve his legacy through "moral dimensions". Thomas got married in 1982 to Nanette Willey, with whom he had four children. Kinkade was also known to be incredibly devoted to his beliefs – so much so that he named all his children Christian. References to religious beliefs can be found in his depiction of churches and crosses.
Furthermore, Kinkade also included chapter-verse references in his artworks, which indicate his source of inspiration, the Bible. Around 1984, Kinkade published his first print, Dawson, which was focused on the gold rush of 1898 and showcased his best talent in Luminism, skillfully portraying the town of Yukon.
Shortly after, in 1985, Kinkade did something out of the ordinary – he started experimenting with different styles and techniques under a new name, Robert Girrard, where he played with French Impressionist techniques.
In 1989, Kinkade also created a print for the National Parks System. His work, Yosemite Valley, Late Afternoon Light at Artist's Point (1989) set Kinkade up as the only American artist to receive two Founder's awards, awarded by the National Parks Academy for the Arts.
Kinkade then went on to reach new heights, receiving more recognition for his contribution to Rotary International and becoming their first official artist in 1990.
In the very same year, Kinkade founded Lightpost Publishing, which published his hand-signed lithographs depicting scenes of Romantic America and cityscapes. In 1992, Kinkade created a lithograph, Moonlit Sleigh Ride, which won him his first National Association of Limited-Edition Dealers (NALED) honor of the year and Graphic Artist of the year in 1996 and 1997.
Mass-Production and Kitsch
Thomas Kinkade is an artist who chose to walk the path of commercialism and mass reproduction. Many of his illustrations and paintings have been reproduced as "merchandise" and he has been dubbed the "King of Kitsch". As an artist, having your work labeled as kitsch is often seen in a derogatory light.
While many love and admire the technical talent of Thomas Kinkade, others seem to criticize his work as being overly commercialized to the point where it may not have much value.
When Kinkade sold his work to the QVC home shopping network, he received a great deal of criticism and hate from journalists and art critics. This brings to the fore a major issue around the distinction that was created between artists who create work for commercial purposes versus artists who adhere to the guidelines of "high-end art" and what makes an artwork "high-end".
The artist was even criticized by journalist Laura Miller as being an artist that made "a bunch of garish cottage paintings". Quite harsh, was it not?
Kinkade may be a king of a genre of art that is often looked down upon but he sure did leave an impression on many. Perhaps one can say that Kinkade made art for his purpose, regardless of the confines of exclusivity, as the traditional "high-end" fine art world would have allowed.
A Critical Perspective: Romantic America
Aside from the manner that Kinkade distributed and marketed his work, one has to take an objective view of his subject matter and wonder if his idealized versions of America from a Christian point of view are simply a display of mastery over technique or the promotion of Romantic America, as a patriotic act. There are many points to consider when it comes to analyzing Kinkade's subject matter and mass production of Romantic work, especially since it is not only the idea of peace and light he promotes, but it is starkly different from reality – detached, one might say.
The controversy that surrounds this artist is not necessarily uncommon in the art world but it seems that he was subject to much more than just criticism of his art.
Throughout his tenure, he was also accused of unfair practices through his company, Media Arts Group Inc. Among the alleged accusations were some who claimed that Kinkade used Christianity to "take advantage" of the public and reportedly used religious beliefs as a front to commit fraud. The artist was also known to display behavioral issues under the influence of alcohol, which further deteriorated his reputation.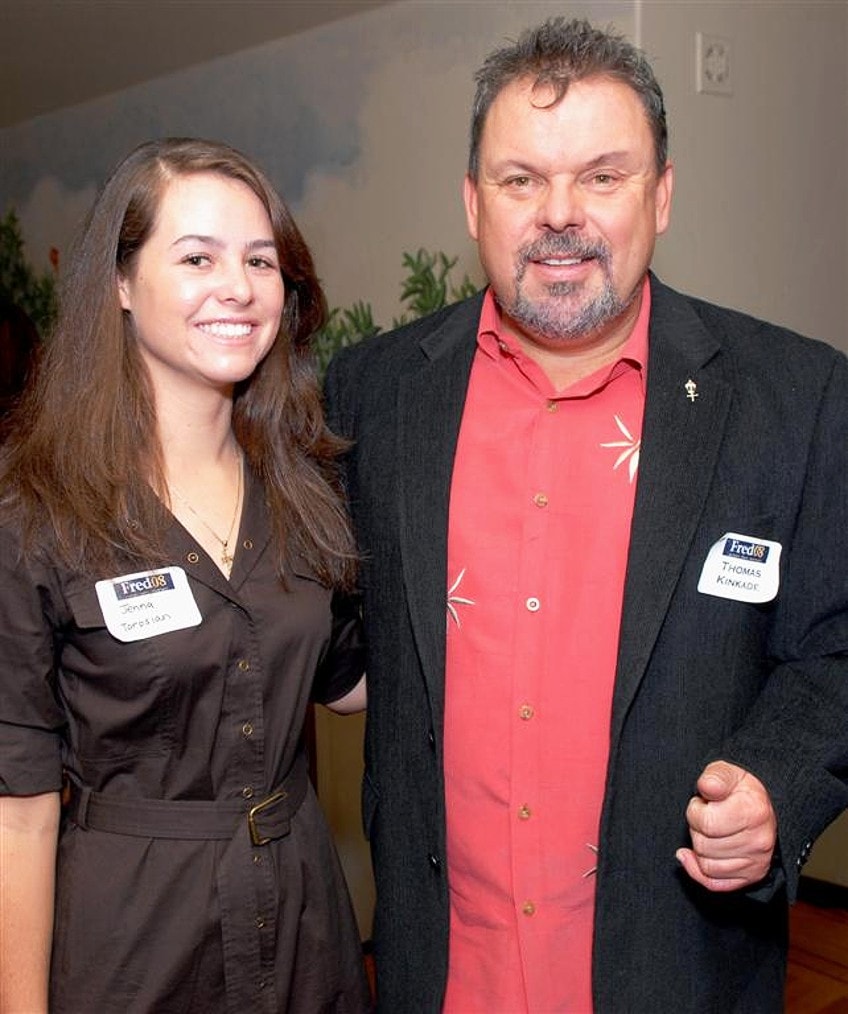 Photograph of Jenna Torosian with famed artist Thomas Kinkade in 2007; freddthompson, CC BY-SA 2.0, via Wikimedia Commons
The contradiction between artist versus reality could be seen as a performance or as Kinkade's struggle to maintain his projected artist personality as the moral Christian man who cherished Romantic America. His preservation of an ideal America through his paintings, prints, and merchandise can be viewed as an attempt to provide a widespread form of escapism for the public. His aggressive approach to commercialization in conjunction with the subject matter he was promoting in his art is somewhat concerning, considering that there is no harm in promoting peace.
However, despite the reality of America, one can argue that Kinkade's promotion of peace in art may have been detrimental to the broader psyche of the public and consumerism of idealized America.
A Man for Charity
Overlooking his personal life as an artist, he was also a very generous figure. Kinkade was involved with many organizations, including Art for Children Charities, the Salvation Army, and Make-a-Wish Foundation, where he made many donations. Kinkade also stepped in on relief efforts for the September 9/11 attack, donating the sale of his artworks, which amounted to around $2 million, to families of the affected in New York City.
In 2003, the artist was elected as the national spokesman under the Make-a-Wish Foundation, where he supported the wishes of children with serious medical issues in 2004.
Thomas Kinkade Artworks
Now that we have a brief overview of who Thomas Kinkade was, we can now look at some of his most famous artworks about his personal sources of inspiration, and the messages he hoped to relay in his paintings.
Kinkade the Lightbringer
Described under his trademarked name, "the painter of light", Kinkade's paintings are famous for their traditional style, luminism. Below is just one of Kinkade's works, titled The Light of Peace (1996), which is a lithograph, painting, and book forming part of Kinkade's Seaside Memories collection.
The Light of Peace (1996)
| | |
| --- | --- |
| Date | 1996 |
| Medium | Oil on canvas |
| Dimensions (cm) | 40.6 x 50.8 |
In Light of Peace, Kinkade highlights the light emanating from the clouds in the aftermath of a storm. Kinkade often made references to light and it is said that his work was meant to be inspirational for the public, as opposed to personal wealth and fame.
Kinkade's illustration of light is often dramatic and lacks the presence of any human figures, which is an interesting observation.
It can be assumed that Kinkade was also influenced by J. M. W Turner, who was also referred to by Kinkade's title, as "the painter of light". Turner was an English Romantic painter whose seascapes were known to be "violently dramatic". Turner also had a talent for luminism in his seascapes and this can be seen evident in artworks such as Fishermen at Sea (c. 1796).
Thomas Kinkade Paintings
Lighthouses, streets, gardens, cottages, and streams are just a few main subjects that feature in Kinkade's artwork. Throughout his tenure, he created over 1,000 paintings and received mention in over 120 publications. Below, we will take a look at a few award-winning Thomas Kinkade paintings that illustrate the technical talents of Kinkade and give you a glimpse into the subjects of his paintings. It is important to note that when examining the value of Kinkade's artworks, you will most likely come across more reproductions and copies than original artworks.
Many of his artworks, such as the ones listed below, are reproduced as lithograph prints, which are now priced between $500 and $2,000.
Glory of Evening (1992)
| | |
| --- | --- |
| Date | 1992 |
| Medium | Offset lithograph |
| Estimated Value | $500 – $1000 (artist proof) |
Glory of Evening (1992) is one of two paintings, the other being Glory of Morning, which showcases Kinkade's exploration into the subtlety of transitional light. In Glory of Evening, one can see the depiction of a home in the evening with a purple hue that encompasses the approaching evening sky and low-lying clouds.
The light is soft and the transition of the day to the evening is a moment captured gently by Kinkade.
Everett's Cottage (1998)
| | |
| --- | --- |
| Date | 1998 |
| Medium | Offset lithograph |
| Estimated Value | $1500 |
Artist Thomas Kinkade was also a big "family man" and even dedicated some of his famous cottage paintings to his wife and children. An example of this is Everett's Cottage (1998), which was painted in celebration of his daughter's first birthday.
Carmel Sunset on Ocean Avenue (1999)
| | |
| --- | --- |
| Date | 1999 |
| Medium | Oil on canvas |
| Estimated Value | $1700 |
Carmel Sunset on Ocean Avenue (1999) is one of Kinkade's most recognizable paintings depicting a seaside town glistening in the light of a luminous sunset. The painting also featured vintage cars and is overlaid with mist to further romanticize Kinkade's ideals of Carmel.
Lamplight Manor (2000)
| | |
| --- | --- |
| Date | 2000 |
| Medium | Oil on canvas |
| Dimensions (cm) | 45.7 x 68.5 |
Lamplight Manor (2000) forms part of the Lamplight Lane series, which features a large Celtic cross on the chimney of a manor house in England. Kinkade drew reference to the Gospel of John for his reflection on Lamplight Manor, stating how much he enjoyed private tours of the house.
He also expressed his admiration for the opulence of the house, as well as its "luxurious tapestries" and "sweeping spiral staircases".
This was perhaps his visual comparison to what he imagined to be the "glory that awaits" God's children in heaven. Although seemingly dreamlike, Kinkade poured much thought from the Biblical scriptures into his works. Can we say that his target audience was predominantly followers of the Christian faith?
San Francisco, Lombard Street (2001)
| | |
| --- | --- |
| Date | 2001 |
| Medium | Lithographic print |
| Estimated Value | ~$1000 |
San Francisco, Lombard Street (2001) is one of Kinkade's most famous paintings illustrating the glow of city lights and the dissipating mist. Lombard Street was known for its gala-like display of light and was brought to life by Kinkade. Kinkade also wrote about this work, stating that San Francisco was one of his favorite places, ever since he was younger, and his trips to the City by the Bay taught him about "big city life".
Kinkade also described his experience by expressing how captivated he was by the color, energy, and "bustle of the crowded streets and breathtaking vistas."
Featured Exhibitions and Awards
Thomas Kinkade had accumulated a large record of achievements while having his works featured in malls, mugs, and any item you can think of. Below is a summary of some of the artist's notable awards and recently featured exhibitions.
| | |
| --- | --- |
| Featured Exhibitions | Date |
| Heaven on Earth, solo exhibition, Cal State Fullerton Visual Arts Center | 2004 |
| What Will Last, Giustina Gallery, Oregon State University | 2016 |
| A Matter of Taste, group exhibition, Nora Eccles Harrison Museum of Art, Utah State University | 2016 |
| The Basilisk, group exhibition, Nicodim Gallery, Los Angeles | 2018 |
| Pineal Eye Infection, group exhibition, Seasons, Los Angeles | 2020 |
Kinkade was also recognized by prominent high-profile figures, including the likes of Pope John Paul II and Bill and Hillary Clinton. Below is a quick summary of the artist's awards accumulated during his tenure.
| | |
| --- | --- |
| Awards | Date |
| NALED Graphic/Lithograph of the Year | 1992, 1993, 1994, 1995, 1996, 1997, 1998, 1999, 2001, 2002 |
| NALED Artist of the Year | 1994, 1999 |
| NALED Graphic Artist of the Year | 1995, 1996, 1997, 1998, 1999, 2002, 2003, 2004, 2005 |
| Veterans of Foreign Wars (VFW) Commander in Chief Award | 1997 |
| California Tourism Hall of Fame | 2002 |
| World Children's Center Humanitarian Award | 2002 |
| Most Award-Winning Artist in the Past 25 Years, NALED | 2004 |
| Eugene Freedman Humanitarian Award | c. 2005 |
Thomas Kinkade passed away in 2012 at the early age of 54 due to an overdose. According to research studies, it was found that everyone in 20 American households owned a Thomas Kinkade artwork, which indicates the level of consumption and mass reproduction that surrounded Kinkade's work in the 80s and 90s. Imagery from his famous artworks were reproduced and repurposed as decoration on calendars, puzzles, and greeting cards.
His estimated net worth was placed at around $70 million, which was quite high for an artist who was still living.
Value of Thomas Kinkade's Artworks
You may have questioned the Thomas Kinkade painting's value at some point while reading this article since his work is so reproduced and mass circulated. Thomas Kinkade's artworks and prints are valued at an estimated $300 to $1000 and while many of his paintings are found in private collections, the value of his work is set to increase since his death in 2012.
Many who purchased Kinkade's work back in the day have questioned the value of his work but according to a business journal, Kinkade's work is not worth much due to its oversaturation of the market.
Recommended Reading
Need more insights or a closer look at more of Thomas Kinkade's original artworks? Below, you will find a few books available on Amazon that will help your research endeavors on one of America's most controversial artists.
Thomas Kinkade: Paintings of Radiant Light (1995) by Thomas Kinkade and Philippa Reed
This book is a great account of Thomas Kinkade's life accompanied by his paintings of cottages, busy cities, countryside, and quaint, peaceful small towns of America. This book is a perfect addition to your cart if you are looking for examples of the classic "Kinkade glow". The book also features fold-out color plates of his work as well as the artist's references behind his paintings.
Features beautiful fold-out color plates
The most comprehensive portfolio of Kinkade's art ever printed
Detailed descriptions of his works and lavish full-color reproductions
View on Amazon
Home Is Where the Heart Is (Thomas Kinkade's Lighted Path Collection) (1998) by Thomas Kinkade
Loved by all who purchased this book, Home is Where the Heart Is (1998) features some of Kinkade's famous cottage paintings and a collection of quotes that add warmth to his work. Available in hardcover, this book would make a fine addition to your collection or as a great past-time for your coffee table.
Kinkade's paintings accompany quotes that celebrate home
Features some of Kinkade's most famous cottage paintings
Available in hardcover form
View on Amazon
Thomas Kinkade: Masterworks of Light (2000) by Wendy Katz and Thomas Kinkade
For a full experience of Thomas Kinkade's luminescent landscapes, this book of full-color reproductions is sure to provide you with enough visual aid to help you understand the subject of one of America's greatest landscape painters. According to buyers, the quality of the book is well worth the price and is a useful reference for painters who aspire to achieve technical mastery over luminism.
Dozens of full-color reproductions of Kinkade's paintings
Large reproductions that show Kinkade's minute details
Exceptional quality for its price
View on Amazon
Thomas Kinkade received both praise and criticism for his aggressive commercial approach to marketing and selling his artwork. Kinkade also left room for further questions that relate to the value of artwork and how it is determined, considering the other elephant question "What does an artist have to do to achieve widespread public recognition?"
Frequently Asked Questions
What Is Thomas Kinkade Famous For?
Thomas Kinkade is famous for his landscape paintings that depict dreamy cottages and scenes of Romantic America. His work was heavily reproduced and commercialized; therefore, he received widespread public recognition.
Are Thomas Kinkade Paintings Worth Anything?
The Thomas Kinkade paintings' value has been set to increase but only if you have an original artwork. Most originals are in private collections but it has been estimated that his paintings are valued at between $300 and $1,000.
Why Is Thomas Kinkade a Controversial Artist?
Thomas Kinkade has been heavily criticized for the mass reproduction and circulation of his work in commercial spaces. He was also accused of using Christianity to sell artwork and received equal amounts of praise and hate for his approach as an artist.
Isabella studied at the University of Cape Town in South Africa and graduated with a Bachelor of Arts majoring in English Literature & Language and Psychology. Throughout her undergraduate years, she took Art History as an additional subject and absolutely loved it. Building on from her art history knowledge that began in high school, art has always been a particular area of fascination for her. From learning about artworks previously unknown to her, or sharpening her existing understanding of specific works, the ability to continue learning within this interesting sphere excites her greatly.
Her focal points of interest in art history encompass profiling specific artists and art movements, as it is these areas where she is able to really dig deep into the rich narrative of the art world. Additionally, she particularly enjoys exploring the different artistic styles of the 20th century, as well as the important impact that female artists have had on the development of art history.
Learn more about the Art in Context Team.