Everyone knows that Johnny Depp is a creative individual – he is one of the most famous film stars of this era, and is also a musician who plays shows regularly. But, is Johnny Depp an artist as well? Recently, Johnny Depp's paintings have begun to go on auction, and they have sold for enormous amounts of money. Are these paintings by Johnny Depp actually any good, though?
Are Johnny Depp's Paintings Any Good?
Although Depp never pursued art in any formal capacity, he has stated in interviews that art has been in his life for many years, and he had used it as a way of expressing himself and reflecting on the way he feels about those close to him. Of course, with his massive film career, and successful hobby as a musician, he haJohnny Depp speaking at the 2018 San Diego Comic Con International, for "Fantastic Beasts: The Crimes of Grindelwald", at the San Diego Convention Center in San Diego, California.d always been reluctant to share his art with a larger audience. After realizing that keeping his art to himself was a self-imposed limitation, he decided to share his love for painting with the world. So far, Johnny Depp's art has already managed to sell for millions – something very few lifelong artists manage to achieve. It is obvious that already being a well-known figure would equate to more attention to his art by the press and public, but are these paintings by Johnny Depp worth the hype and money paid for them?
Johnny Depp speaking at the 2018 San Diego Comic Con International, for "Fantastic Beasts: The Crimes of Grindelwald", at the San Diego Convention Center in San Diego, California (2018); Gage Skidmore from Peoria, AZ, United States of America, CC BY-SA 2.0, via Wikimedia Commons
The Record-Breaking Sale of Johnny Depp's' Art
In 2022, Depp suddenly announced that he would be holding an online auction of his new art collection. Within hours of the announcement, Johnny Depp's paintings had already brought in more than $3.6 million. These paintings by Johnny Depp were part of a series titled Friends and Heroes, and after the website crashed due to the overwhelming influx of traffic, the online gallery announced that they were officially sold out. Within just hours of the announcement, all 750 prints of the various works were labeled as "out of stock" on the site.
For his first series of works, Depp wanted to focus on those that had inspired him and those he held close to his heart.
One of the works is a portrait of Keith Richards, the guitarist from the Rolling Stones, who was renowned for his death-defying drug-fueled lifestyle and who Depp says was the inspiration behind the odd mannerisms of his most famous character – Jack Sparrow. Another of Johnny Depp's paintings features the famous movie star, Elizabeth Taylor. Bob Dylan was yet another of the heroes featured in the series. The last person featured in the photo of the sale that Depp uploaded was the highly-respected actor, Al Pacino.
Previous NFT Success
Although it was the first official exhibition of his series, it was not the first time that he had sold his works to the public before. The previous time involved NFT transactions, though. Over 10,000 unique NFTs were minted of the various artworks he had created of friends and heroes. He named this non-fungible token collection "Never Fear Truth". These NFTs were created by taking the original paintings by Johnny Depp and embellishing them further with animation. The artworks included portraits of people such as Heath Ledger, Tim Burton, Hunter S. Thompson, his daughter, Marlon Brando, and even himself.
Depp said that 25% of the money generated would go to various charities, such as Great Ormond Street Children's Hospital, the Los Angeles Children's Hospital, the Elizabeth Taylor AIDS Foundation, and Thompson's The Gonzo Trust. By buying one of these NFTs, people would also be granted access to an exclusive Discord community that people could use to collaborate on various initiatives and projects. He did not just want to release the NFTs without including ways that could give back to the community and buyers of Johnny Depp's art.
An Analysis of Johnny Depp's Paintings
All of the works share the same aesthetic – vivid and bold colors rendered in a graphic style that has hints of Pop art, yet with less brash colors. The outlines and features of the figures in the portraits have then been accented further with gestural flourishes. There have not been any critical reviews of his artwork, so it can be difficult to determine how his sudden rise to artistic fame has been viewed by those within the art industry.
One can only imagine that working your whole life to try and make living from art can suddenly become disheartening when there are programs that are now able to generate images in a matter of seconds, and celebrities that are renowned in other art forms manage to sell their artworks for millions of dollars in a matter of minutes.
Actor Johnny Depp at the Berlinale (2020); Harald Krichel, CC BY-SA 3.0, via Wikimedia Commons
One critic who took a look at Johnny Depp's paintings was not too impressed. Despite liking Depp as an actor, he found the style of Johnny Depp's art to be amateur and that he treated paint as if it was a medium for drawing. However, despite not being a formally trained artist, it is something that Depp claims he has done privately for many years, and if people are willing to support his art, then there is nothing really wrong with that either. Whether this is something that Depp will pursue in the long term, or whether it is just a hobby to fill the time between filming movies remains to be seen. Yet, based on the success of his first official online sale, it would be difficult to find any reasons why he wouldn't.
The Scope of Johnny Depp's Art Talents
There is no doubt that Johnny Depp is a talented and creative person. The term "art" spans many mediums, genres, and forms. Music and film are also regarded as art forms. It is no surprise that someone like Depp would want to express himself through as many art forms as possible. While many creative types may become well-known for one specific art form, many of these people have many talents, hobbies, and skills that often get hidden from public view under the huge spotlight of their most famous profession. Johnny Depp has succeeded in making the time and putting in the effort to be creative in multiple ways.
Johnny Depp's paintings are simply the latest method of his creative expression. The most well-known of Johnny Depp's artistic outlets is without a doubt his acting endeavors.
Depp as an Actor
Of course, the most well-known of Depp's creative expressions is his love for acting. In the 1980s, he began his acting career with minor appearances in television series and films. Depp has now gone on to feature in a broad range of films, demonstrating his ability to play roles ranging from comedies to more serious subject matter. Depp has also participated in a number of indie and art-house films during his career, demonstrating his willingness to take on demanding and eclectic roles. His performances are widely acknowledged for his ability to create unique and complex protagonists. While he has often been typecast in similar roles – especially when working with Tim Burton, much of his cinematic discography is filled with an endless array of different characters which displays his desire to express his abilities and grow as an artist, no matter the medium.
Depp as a Musician
Another creative art form that Depp has explored – and been rather successful with – is music. Depp is a self-taught guitarist who has collaborated in a number of bands and musical endeavors. He has also worked on studio recordings and featured in live performances with other artists. As a musician, he is mostly known to be a member of the rock band The Hollywood Vampires, along with Joe Perry (from Aerosmith) and Alice Cooper. The group named themselves after a Hollywood drinking club that Alice Cooper was a part of, which also included other famous people such as Harry Nilsson, John Lennon, and Keith Moon. The music of the band is largely influenced by classic rock and roll, and it plays cover songs of bands that have lost at least one member to substance abuse. They want to use the band to raise awareness and funding for substance misuse and rehabilitation.
They have collaborated on various projects and have contributed earnings from their events to organizations that assist those who are addicted.
Depp as an Artist
This is the most recent creative endeavor for Depp, and although it is still relatively early days, one cannot have asked for a better introduction to the world of art. So far, he has managed to pull off two rather successful sales – the NFT sale and the record-breaking online gallery sale. While many might wonder if they could top such early success and feel pressured by the sudden attention, Johnny Depp is the type of person that is more than used to his fair share of attention and can handle the artistic fame in his stride. Only time will tell whether more exhibitions will be so successful, or what critics will eventually say of his works, but for now, he seems to be using his art to not only express himself creatively but to also uplift those in the community, which is admirable in its own right.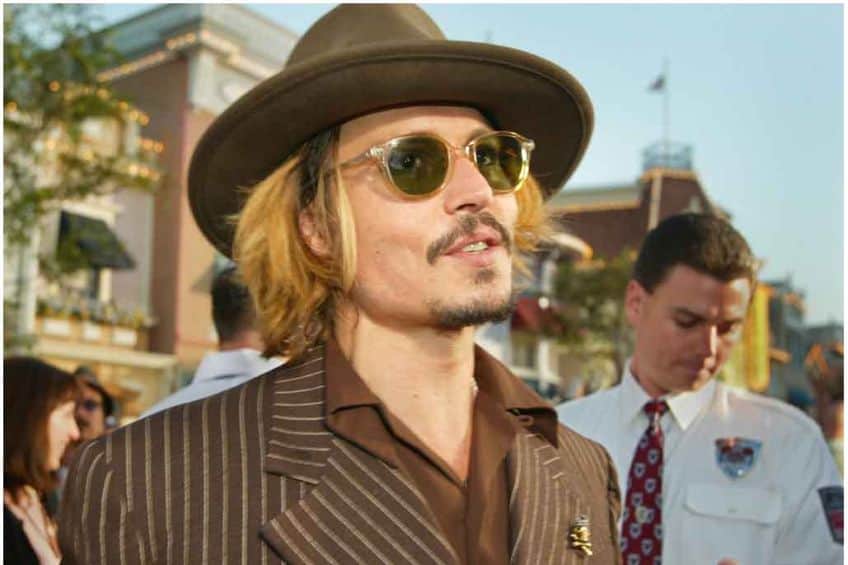 Johnny Depp (2009); Andy Templeton, CC BY 2.0, via Wikimedia Commons
Since the 1980s, Johnny Depp has been a continuous presence on our televisions and cinema screens. The range of his characters, combined with his acting chops, has resulted in a long and prolific career. However, as with many creative people, there is always a desire to find other avenues of expression. Depp followed that desire and joined a band so that he could express himself musically. The most recent creative itch that needed to be scratched was his love for art. And in only a few short years, this previously hidden side of Depp has been released to the world, who have so far embraced his art with open arms and wallets.
Frequently Asked Questions
Is Johnny Depp an Artist?
While it may not be what he is most known for, it turns out that Depp has enjoyed painting for many years, but never wanted to share that part of himself with the outside world. Although he did not attend any sort of formal art school, this is not the determining factor of whether someone is an artist either. In the short time that he has been creating art, though, he has been extremely successful, with his debut exhibition selling out of prints in a few hours.
What Kind of Art Does Johnny Depp Make?
Only a few examples have been seen of Johnny Depp's paintings. That does not leave much to determine Johnny Depp's art style overall. But, the paintings by Johnny Depp that have been put up for sale so far all share a very similar aesthetic. Johnny Depp's art could be characterized as containing elements of street art and Pop art. All of the paintings are portraits of friends and people whom he regards as personal heroes that have influenced him in one way or another.