Gian Lorenzo Bernini was a man of many talents. Not only was he a highly renowned Baroque-era sculptor and architect, but he also acted in, directed, and wrote plays, as well as created designs for numerous decorative objects such as mirrors, tables, and lamps. However, it is Bernini's sculptures that brought him the most fame.
An Introduction to Gian Lorenzo Bernini
Italian sculptor Bernini was born into an artistically talented family in Naples on the 7th of December 1598. His father Pietro Bernini, was a sculptor in the Mannerist tradition and recognized his child's prodigious talent at the young age of eight. Even at such a young age he had already earned the admiration of several powerful patrons and was regarded as a young Michelangelo. The entire family moved to Rome after Bernini's father received a papal commission in 1606, where his father would progress even further with the continuous training of his son.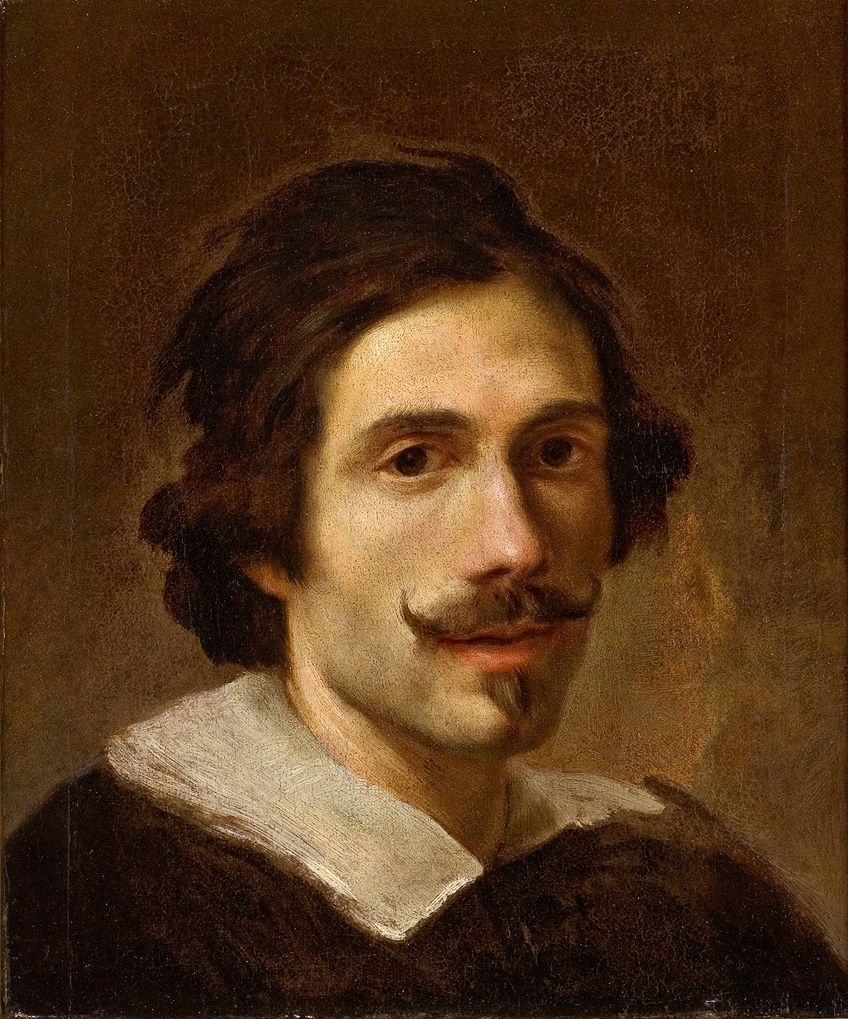 Portrait of a man (self-portrait) (1623-1625) by Gian Lorenzo Bernini; Gian Lorenzo Bernini, Public domain, via Wikimedia Commons
News of Bernini's extraordinary skill spread soon after the family arrived in Rome, and he immediately drew the notice of Paul V's nephew, Cardinal Scipione Borghese, who spoke of the child prodigy to his uncle. He was thus introduced to Pope Paul V, who was interested in seeing if the rumors about Bernini's skill were genuine. For the amazed pope, the youngster improvised a drawing of the pope, and it was the start of Pope Paul V's interest in this young prodigy.
Later he would also become a city planner and architect, and designed secular structures, houses of worship, chapels, and town squares, and also huge works incorporating sculpture and architecture, particularly intricate public water features and burial landmarks.
Portrait of Gian Lorenzo Bernini by Giuseppe Ghezzi; Sailko, CC BY 3.0, via Wikimedia Commons
He also created a slew of makeshift shelters in wood and stucco for memorial services and cultural events. Bernini's vast stylistic flexibility, unlimited conceptual originality, and absolute mastery of marble manipulation assured that he would be regarded as a fitting heir to the great Michelangelo, considerably upstaging other artists of his era. His skill stretched further than the limits of sculpture and encompassed many skill sets.
Irving Lavin, the art historian, referred to the capacity of Bernini's art to form architecture, sculpture, and painting into a conceptually cohesive and aesthetic whole as the "unification of the creative arts."
Famous Bernini Sculptures
Sculpture was an important component of the Baroque era, albeit there has always been a lot more emphasis on paintings, and this is still the case currently. Many artists were capable of adapting their abilities into building designs, such as architect and sculptor Bernini. He was prepared to acquire projects other than traditional sculpting after establishing a name for adaptability and inventiveness, which led to his skills being widely requested in a variety of creative fields. Today, however, we will be focusing on Bernini statues.
Saint Sebastian (1618)
| | |
| --- | --- |
| Date Completed | 1618 |
| Medium | Marble |
| Sculpture Dimensions | 220 cm |
| Currently Housed | Museo Thyssen-Bornemisza |
Originally, it was assumed that this sculpture was made for the Barberini family chapel. This church was erected on the same site where Saint Sebastian's body was apparently discovered, yet there is no proof of it being there. The relocation of the statue from the family house on Via dei Giubbonari to a new structure on Via Delle Quattro Fontane was first documented in 1628. Cardinal Francesco Barberini, took this artwork from the new structure. His family had it until 1935, whereupon Heinrich Thyssen-Bornemisza bought it from their descendants, along with other important artworks.
Christian martyr Saint Sebastian is fastened to a branch and his skin is filled with darts in this statue. It symbolizes the time leading up to the arrival of Saint Irene.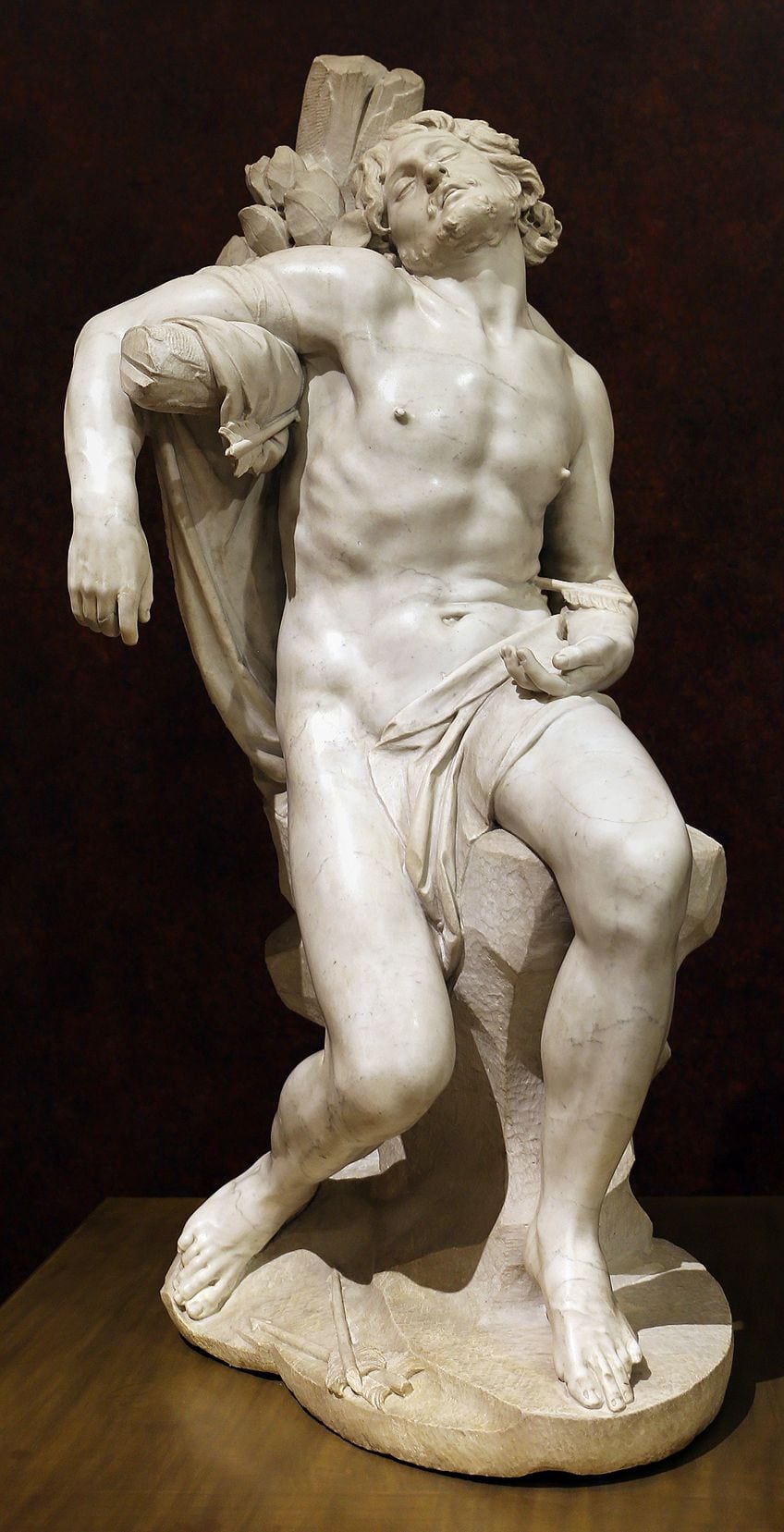 Saint Sebastian (1616-1617) by Gian Lorenzo Bernini; Sailko, CC BY 3.0, via Wikimedia Commons
The persecutors have abandoned the punishment site, abandoning the saint to die from his dart injuries. Lorenzo sets the image on a boulder and supports his back with the trunk of the tree where Saint Sebastian was murdered. The saint's forearm, which still bears one of the straps, rests on a parched branch. To support his torso, the martyr's leg is positioned in front of him. With one hand on his leg, his other arm hangs perpendicular to the trunk of the tree. This arm, like the right leg, appears to have been abandoned.
This saint is posed in a dangerous, fragile equilibrium, which has been attributed to his metamorphosis.
The treatment of the martyr's face, which has a serene demeanor, opened lips, and shut eyes, and the carefully carved arteries and taut musculature of his torso, are all major reflections of Bernini's extensive research of the death and life of the saint.
Damned Soul (1619)
| | |
| --- | --- |
| Date Completed | 1619 |
| Medium | Marble |
| Sculpture Dimensions | 77 cm (height) |
| Currently Housed | Palazzo di Spagna, Rome |
Sculptor Bernini produced this head when he was 21 years of age, early in his career. It depicts a person's wailing visage, his face twisted in a terrified or perhaps agonized look. This sculpture was requested in conjunction with another bust Blessed Soul, which depicts a youthful lovely lady staring intently in joyful delight. These Bernini sculptures, when placed alongside each other, represent the dualistic nature of human feeling, the opposite spectrums of being fortunate or condemned. This Bernini statue signified gazing down into hell, while the other signified gazing towards the Divine.
Some say that this sculpture is a self-portrait. Bernini would have gazed in the reflection, and several say he had even slit his forearm to get the anguished facial expression.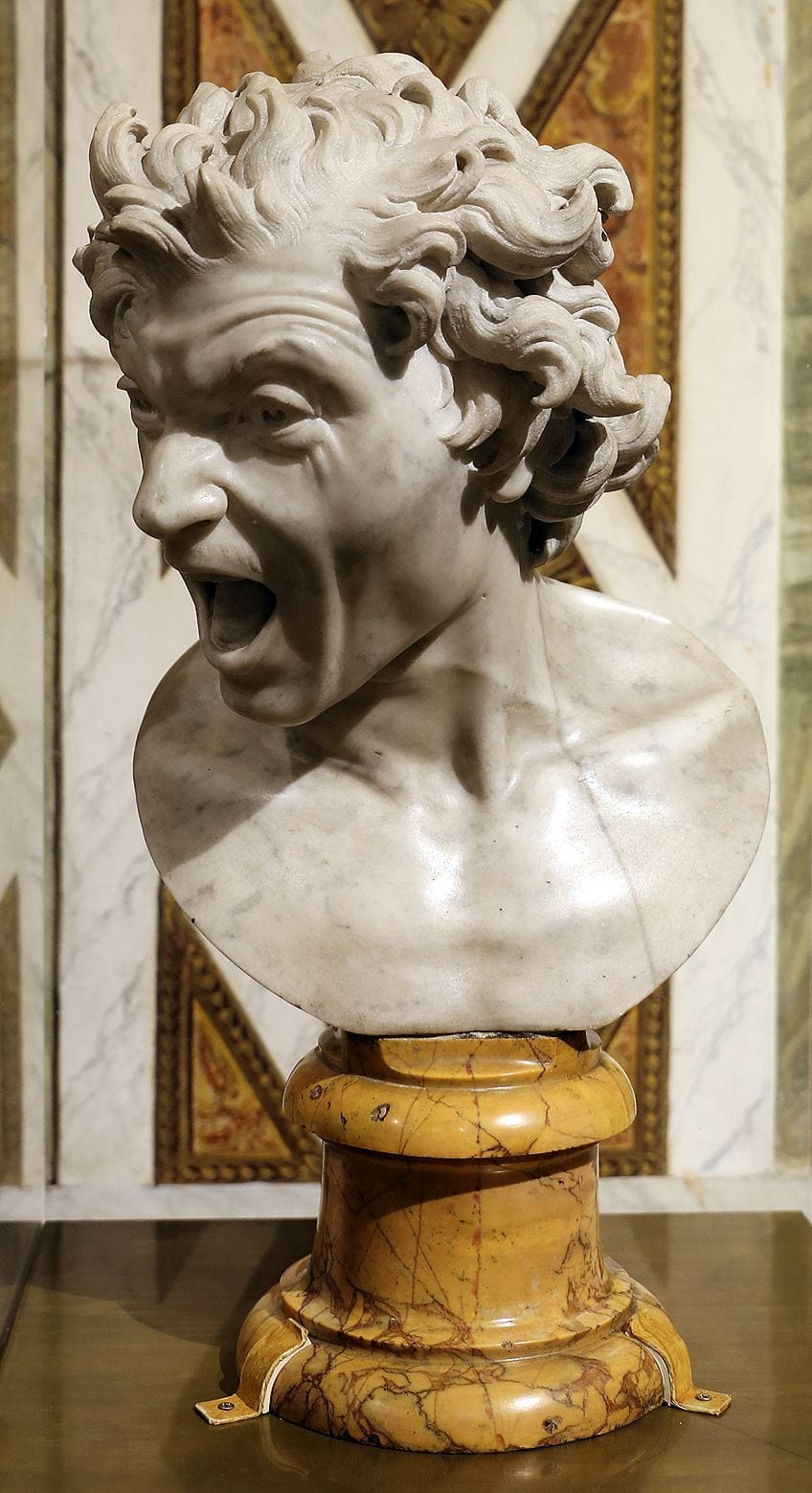 Damned Soul (c. 1619) by Gian Lorenzo Bernini; Sailko, CC BY 3.0, via Wikimedia Commons
Despite these artworks being created early in his profession, they had many aspects that would be prevalent in all of Bernini's subsequent works, such as theological redemption, strong subjective experience, and technical mastery in sensuous representations of the human figure. In contrast to previous Mannerist forms, which frequently tried to reproduce old Roman and Grecian traditions, this intense representation of the body was also unique in art.
Bernini and other Baroque masters such as Rubens and Caravaggio, on the other hand, opened the way for a new manner of representing human bodies with a new emphasis on the sensual.
Blessed Soul (1619)
| | |
| --- | --- |
| Date Completed | 1619 |
| Medium | Marble |
| Sculpture Dimensions | 77 cm |
| Currently Housed | Palazzo di Spagna, Rome |
This sculpture is a companion piece to another work created by Bernini known as The Damned Soul. Bernini portrays a rescued spirit raising its face and looking upwards towards the heavens in this artwork. Her look indicates that she is a fortunate person who has witnessed the grace of God. As a consequence, the inner beauty and tranquility that comes from inside are enough for her. Realism aided the sculptor in putting soft characteristics on the breast to demonstrate true confidence. The opened lips and wide eyes convey the purity that Bernini desired to convey.
In addition, his method in this piece was distinctive since he sought to represent polarities in certain pieces.
Blessed Soul (c. 1619) by Gian Lorenzo Bernini; Sailko, CC BY 3.0, via Wikimedia Commons
This is why the two companion sculptures are connected together because the ingenuity used to construct the busts was nearly identical. Bernini held the Baroque style in high respect throughout his profession, as seen by the majority of his artworks. He used the same technique in the Blessed Soul, which adds to the designer's list of numerous Baroque works which earned him reverence in the art world. Marble was used in the creation of Bernini's sculpture. In some of his past works, he has used marble, and the results have been stunning creations recognized all over the globe.
This is why Bernini is a well-known character in art, and many artists have followed in his steps, particularly in making significant sculptures.
Aeneas, Anchises, and Ascanius (1619)
| | |
| --- | --- |
| Date Completed | 1619 |
| Medium | Marble |
| Sculpture Dimensions | 220 cm |
| Currently Housed | Borghese Gallery |
Once Pope Paul V viewed Bernini's paintings, he couldn't believe such a little kid had such skill. Cardinal Scipione Borghese, who acquired the artwork, was a patron of the arts and loved money, and manly physical attractiveness. The artwork is claimed to be inspired by the work of other well-known sculptors such as Michelangelo and Raphael.
Three generations of the family are represented in this life-size ensemble.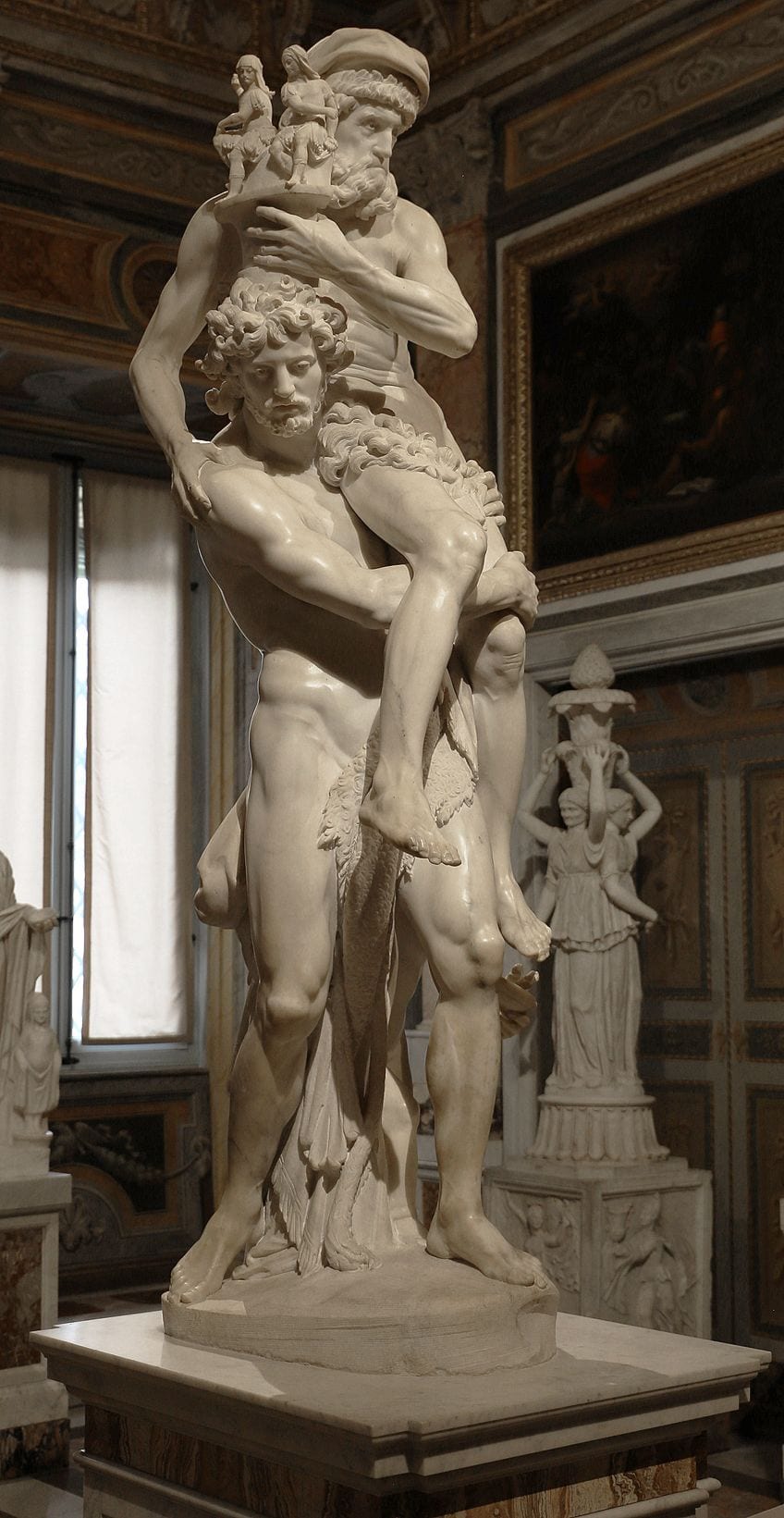 Aeneas, Anchises, and Ascanius (1618-1619) by Gian Lorenzo Bernini; Sailko, CC BY 3.0, via Wikimedia Commons
There is an apparent allusion to the theme of the three eras of man in the images of the grandson, son, and father, which is commonly depicted. Virgil did not explain how Anchises was transported on his son's back in the Aeneid, and Bernini embraced the task of depicting the motion of a load by a moving figure, following in the footsteps of previous statues including Rape of the Sabines by Giambologna.
A close-up of Aeneas, Anchises, and Ascanius (1619) by Gian Lorenzo Bernini; Sailko, CC BY 3.0, via Wikimedia Commons
The characters of Aeneas and Anchises – and the combination of vitality and advanced age that they represent – are linked to the political position of Pope Benedict XVI's nephew, Scipione Borghese, who was able to help his elderly uncle. Furthermore, doubts about the sculpture's authorship were brought up in the 17th century: Joachim von Sandrart, a German writer, attributed the statue to Pietro and his offspring, while Domenico Bernini credited it to his dad.
From the end of the 19thcentury until the mid-20th century, art historians debated the issue until an archival record proving Gian Lorenzo Bernini's work was discovered.
The Rape of Proserpina (1622)
| | |
| --- | --- |
| Date Completed | 1622 |
| Medium | Marble |
| Sculpture Dimensions | 225 cm (height) |
| Currently Housed | Borghese Gallery |
This Bernini statue represents a scene from Ovid's Metamorphoses in which the god Pluto becomes infatuated with Proserpina and kidnaps her to the mythical underworld. Pluto is depicted with a princely crown and staff, while Cerberus, the three-headed hound, stands guard in the background, ensuring that no one interrupts. Pluto clutches Proserpina around the hips and thighs as she tries to flee; she pushes his head to the side as her other arm stretches out helplessly.
Bernini's preoccupation with presenting events in explosive mid-action is evident in this artwork, which invites the observer to see the composition and get totally captivated.
Domenico, his son, characterized it as a "wonderful juxtaposition of sensitivity and brutality," as seen in the intricacies of Pluto's digits pushing into Proserpina's thighs, producing an astonishing impression in which the cold and hard marble appears soft and fragile in juxtaposition to the brutality.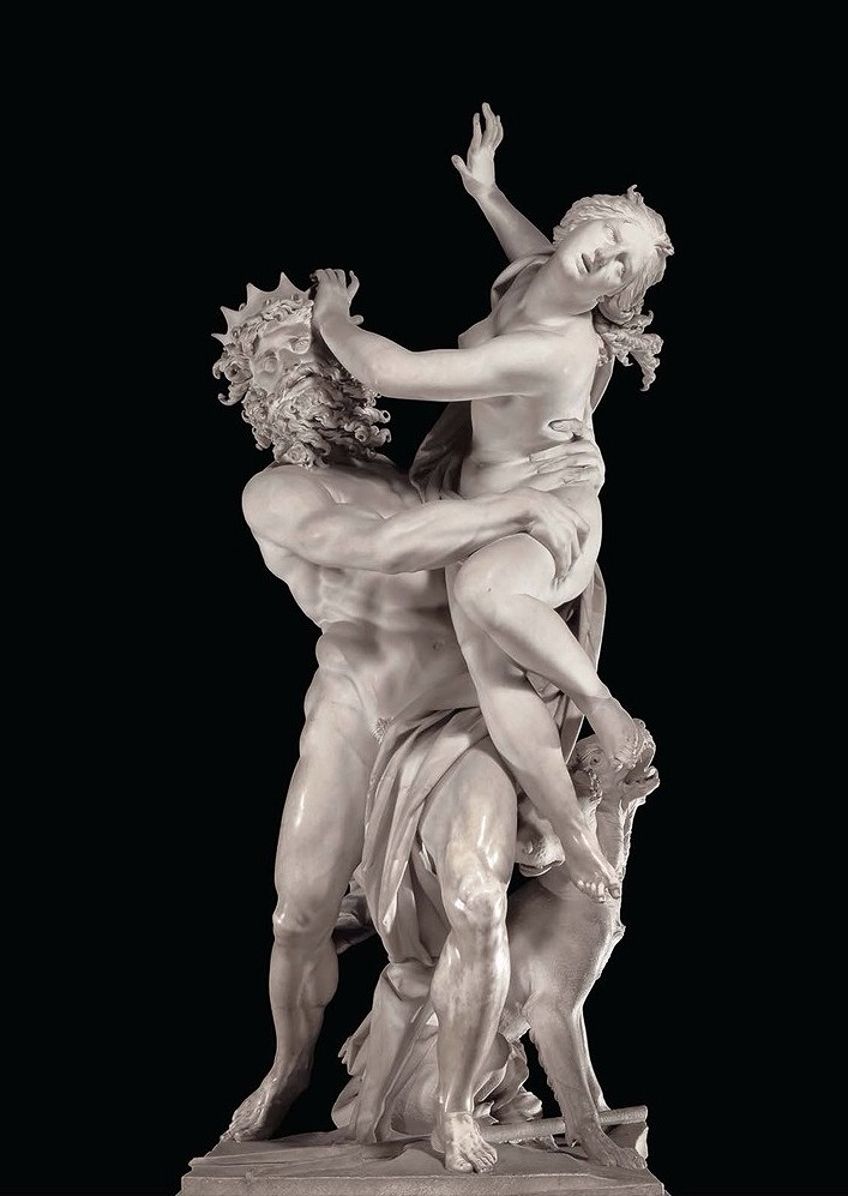 The Rape of Proserpina (1621-1622) by Gian Lorenzo Bernini; Gian Lorenzo Bernini, CC BY-SA 3.0, via Wikimedia Commons
According to art expert Daniele Pinton, the piece is typical of a Bernini sculpture in that it "depicts not a person but an occurrence." Sculptor Bernini aims to capture a specific moment, and the drama is paused in the middle of the action. Bernini art was also frequently built with the intention of being displayed roundly within a big area so that the viewer could walk around it and see it from all angles. This was very creative for the time and breathed new life into the style.
This sculpture is today regarded as a Baroque classic, and it has been cited by modern artists including Jeff Koons, who produced a stainless steel sculpture in its style.
Neptune and Triton (1623)
| | |
| --- | --- |
| Date Completed | 1623 |
| Medium | Marble |
| Sculpture Dimensions | 182 cm (height) |
| Currently Housed | Victoria and Albert Museum, London |
Triton is situated behind Neptune's knees in the artwork, thrusting forth to blast the conch shell. He's a young man, perhaps an adolescent, with well-defined muscles. Triton blasts his shell, signaling the arrival of the ruler of the seas and the land. Neptune has the appearance of a male in his thirties, with curly hair and facial hair. His legs are stretched apart, and he's supporting himself and his child on a large seashell. A huge drape is concealing Neptune's right shoulder and flowing in between his muscular legs, revealing elements of the masculine anatomy.
The artwork alludes to the mythical deities Neptune and his son Triton, who serve as mariners' guardians. Neptune and Triton are two Greek gods that feature rarely in Classics.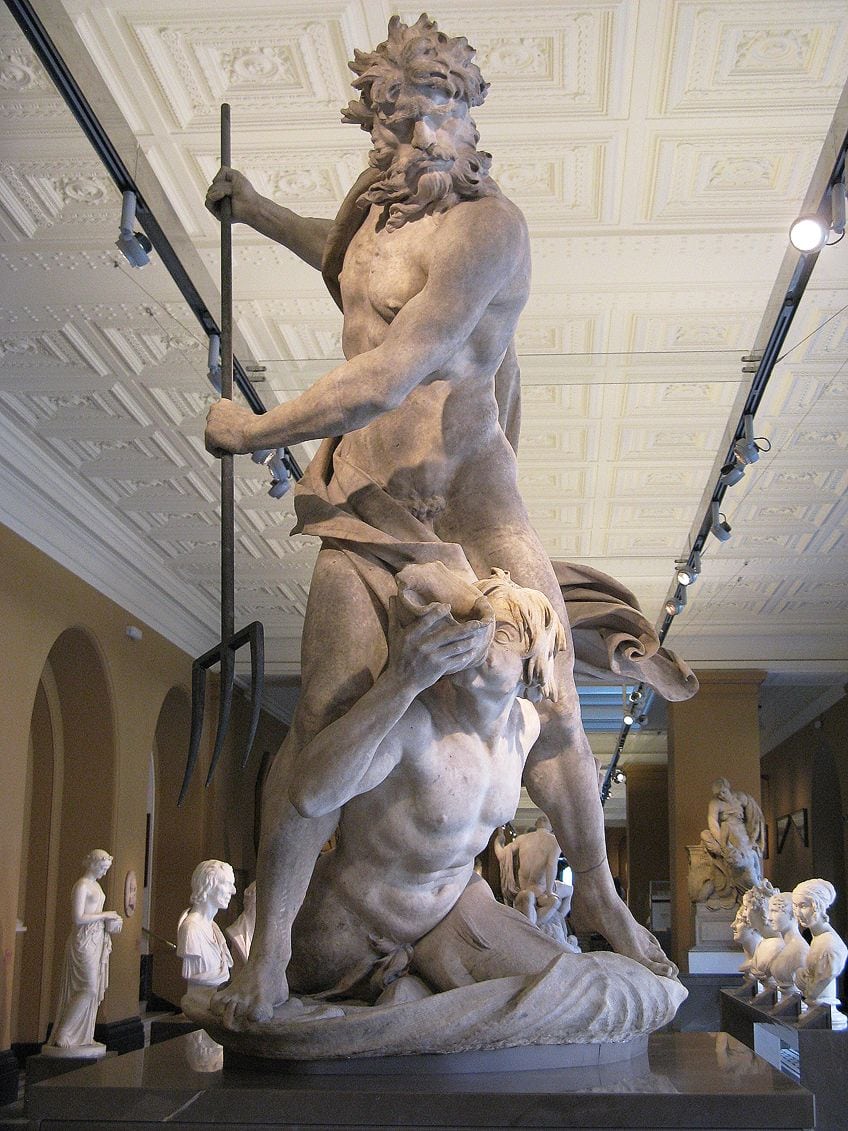 Neptune and Triton (1623) by Gian Lorenzo Bernini; Yair Haklai, CC BY-SA 3.0, via Wikimedia Commons
They were, nevertheless, regarded as important as the masters of the oceans and the land. It is a frequent contemporary misconception to ascribe Neptune solely to the oceans. Nevertheless, in Greek mythology, he is the lord of the ground and everything that it has, much as Hades is considered to be the king of the Underground and Zeus is believed to be the governor of the skies. Indeed, Triton is the sole figure who is associated with the lord of the oceans. The two are frequently shown in sea-like settings, holding tridents and driving carriages drawn by animals that burst out of the ocean.
Sculptor Bernini depicts the pair in a slightly different light.
Bust of Pope Urban VIII (1623)
| | |
| --- | --- |
| Date Completed | 1623 |
| Medium | Marble |
| Sculpture Dimensions | 102 cm (height) |
| Currently Housed | Palazzo Barberini |
The bust is currently on display in the Palazzo Barberini in Rome. This is not the only variation of the statue in circulation. Bernini sculpted a number of statues of Pope Urban VIII (Maffeo Barberini). They are a collection of bronze and marble sculptures with the same title. Due to a paucity of evidence, it is impossible to determine when Bernini worked on any of the busts.
It is believed that the version at the Palazzo Barberini was constructed between 1632 and 1633.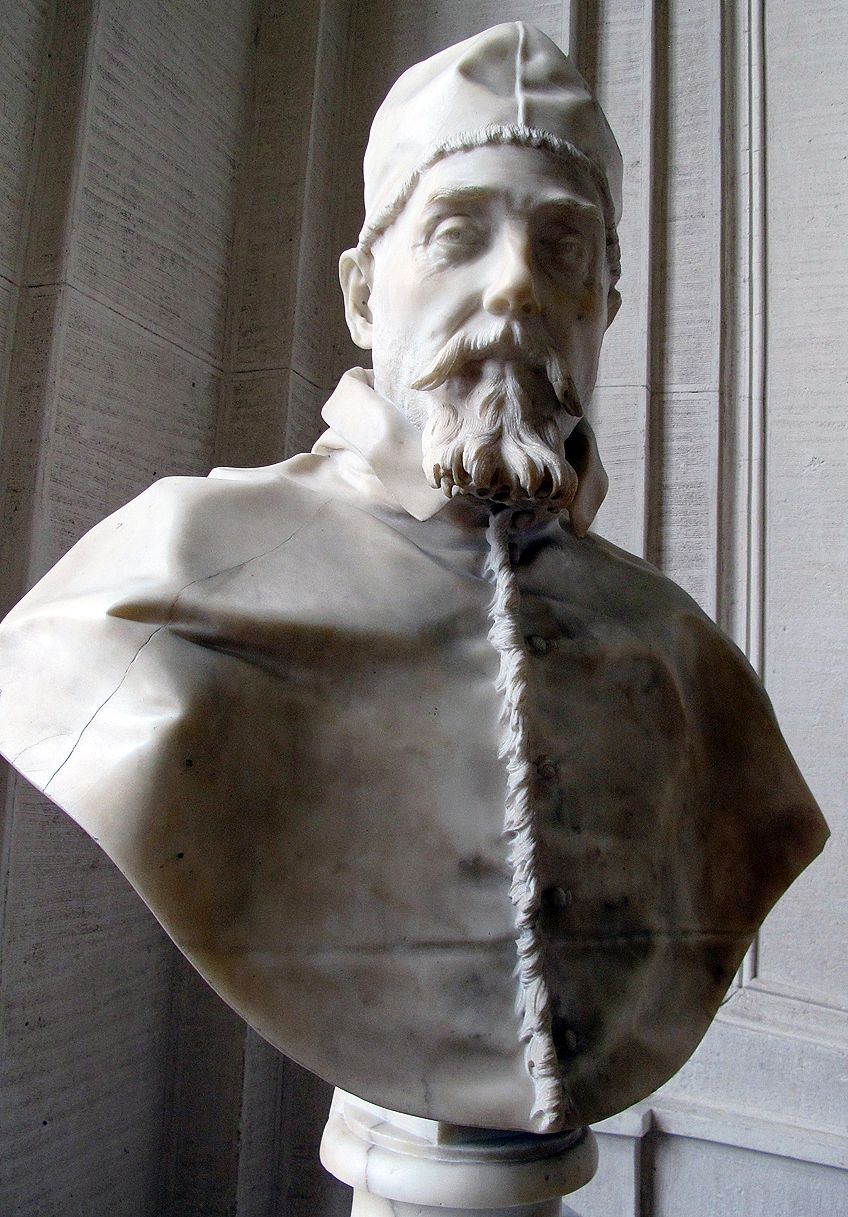 Bust of Pope Urban VIII (1632-1633) by Gian Lorenzo Bernini; Gian Lorenzo Bernini, CC BY-SA 3.0, via Wikimedia Commons
It is possible to see how Bernini brought the stone alive by glancing at the bust of Pope Urban VIII. It all comes down to the small touches he adds to the model's face and clothes. The intricacies in the pupils, the creases in the mozzetta, and the intricacy in the Pope's hair, for instance, make the subject look lifelike. The use of marble by Bernini and the lifelike realism in the bust create the sense that the person has been perfectly preserved.
The authenticity and thoroughness of the sculpture are typical of the baroque era.
David (1624)
| | |
| --- | --- |
| Date Completed | 1624 |
| Medium | Marble |
| Sculpture Dimensions | 170 cm (height) |
| Currently Housed | Borghese Gallery |
Bernini's David statue represents the Scriptural scene shortly before the young man hurled the rock that killed the giant Goliath, an accomplishment that would lead to him being proclaimed the king. His physique is contorted, and he has a focused and tense expression on his face. His gaze is concentrated on the objective, and his figure is poised, like a piston about to be unleashed, to whip his arm and hurl the rock. Armament is at his feet, a reference to the Holy book, which asserts that David stripped away his armor plating to enable him more mobility, mirroring his utter faith in God's assistance.
David was a favorite topic for Renaissance sculptors including  Michelangelo, Donatello, and Verrocchio.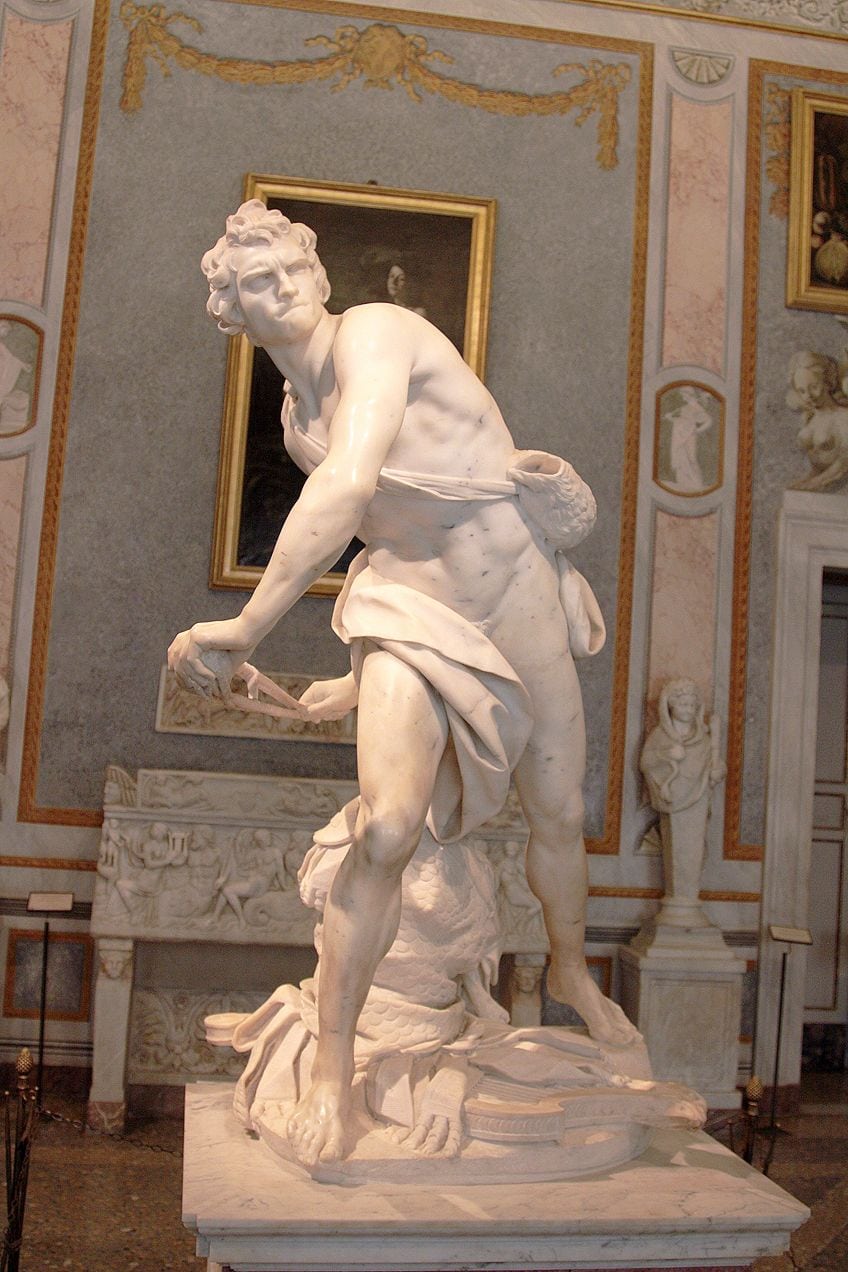 David (1624) by Gian Lorenzo Bernini; Black leon, CC BY-SA 4.0, via Wikimedia Commons
However, Gian Lorenzo Bernini's sculpture was markedly different from the typical upright, forward-facing shapes. Furthermore, rather than depicting David defeating the giant, as was traditional, he depicts him about to shoot. Bernini's David statue exemplifies Bernini's distinctive depiction of the pivotal juncture. He incorporates the figure into a larger narrative by generating the appearance of motion through the statue's position and body language.
Contorting figures and intricately carved drapery transcend the confines of recesses or plinths and cannot be limited or contained by any one view.
A close-up of David (1623-1624) by Gian Lorenzo Bernini; Sailko, CC BY 3.0, via Wikimedia Commons
Rather, the observer is invited to stroll around the artwork, soaking in each and every aspect from all viewpoints. The sculptor's son thought David's face was a self-portrait, which might explain how he got the exact look he desired, providing insight into how sculptor Bernini created.
This artwork exemplifies the transition from the Renaissance to the Baroque period. Traditionally, Renaissance painters drew from old statues, but Bernini created them straight from reality.
Saint Bibiana (1624)
| | |
| --- | --- |
| Date Completed | 1624 |
| Medium | Marble |
| Sculpture Dimensions | 243 cm |
| Currently Housed | Saint Bibiana |
The pontification was regarded as a positive omen for the beginning of Urban VIII's priesthood. As a result, he began reconstructing the original church in the Baroque style. Both a new high altar of Saint Bibiana as well as the interior were built in conjunction with the building's construction. Bernini was hired to do the sculptures and construction work. He earned his first salary in 1624 and his last payout in 1626 for his work. Saint Bibiana is sculpted as an upright feminine form draped in a garment with palm leaves and associated pillars.
The style of this sculpture is formed around Saint Bibiana's emotions and movements. Her lips appear open, and she is looking up at the sky, eliciting expressive facial tension.
Saint Bibiana (1624) by Gian Lorenzo Bernini; WikiPaintings, CC BY-SA 3.0, via Wikimedia Commons
One of her hands is calmly gripping the palm leaf, while the other hand is softly lying on the column with the arm in the front, symbolizing opposition to the tale. The sculpture does not represent a specific period in Bibiana's life, but rather a figure defined by abstract tales. It is conceivable, however, to discern Saint Bibiana's feelings and her enigmatic loyalty. The statue is located at the far end of the church, in a recess of the altar.
The addition of a new, one-of-a-kind window above the altar adds a brilliant glow of light to the picture, adding to the magical atmosphere.
Apollo and Daphne (1625)
| | |
| --- | --- |
| Date Completed | 1625 |
| Medium | Marble |
| Sculpture Dimensions | 243 cm (height) |
| Currently Housed | Borghese Gallery |
Bernini's Apollo and Daphne, created when he was 27, is comparable to his other sculpture The Rape of Proserpina in that it depicts a violent event. It represents an incident from Ovid's Metamorphoses in which Apollo, the patron God of Poetry and Light, gets pierced by one of Cupid's darts, leading Apollo to fall desperately in love with the water sprite Daphne.
She was dedicated to the deity Diana and had vowed to stay celibate for the rest of her life, so when he pursues her, she appeals to the river Deity for assistance. This artwork depicts the narrative's conclusion when Diana is helped by the Divine beings and changed into a tree to evade Apollo's captivity.
In his day, sculptor Bernini's command of fluidity and tension between the two figures was unrivaled.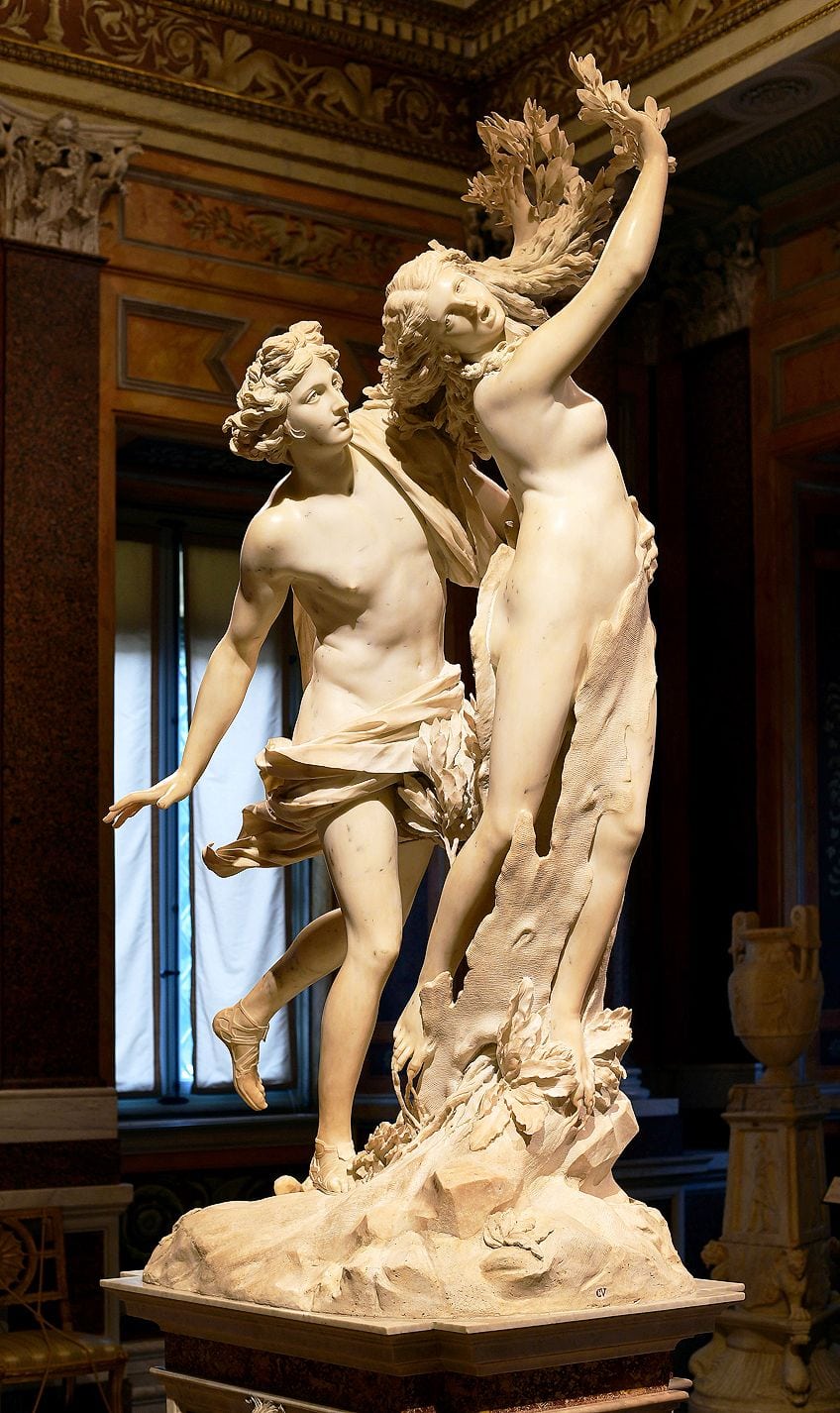 Apollo and Daphne (1622-1625) by Gian Lorenzo Bernini; Gian Lorenzo Bernini, CC BY-SA 4.0, via Wikimedia Commons
Bernini statues deviated from earlier Renaissance sculptures in that Apollo's cloak spins all around the characters, enticing the observer to trace it around, and the composition depicts Daphne's metamorphosis. From behind, she appears to be a female composed of muscle and bone, but only by going around the artwork can the observer notice that her tresses and extended limb are sprouting leaves and stems. This produces a dramatic impression, a moment of great movement and passion that demonstrates Bernini's mastery of the marble.
Bernini's technical talent and his inventiveness have influenced a plethora of contemporary artists, including Ian Hamilton Finlay, who borrowed straight from this artwork in his piece of the same title.
St. Peter's Baldachin (1634)
| | |
| --- | --- |
| Date Completed | 1634 |
| Medium | Bronze |
| Sculpture Dimensions | 28 m (height) |
| Currently Housed | Vatican City |
Bernini created St. Peter's Baldachin, an intricately curving bronze canopy inside the Vatican City's St. Peter's Basilica. Because of its vast dimensions and intricate design, the dome surrounds the basilica's high altar and serves as a point of focus. Four helical pillars are placed on stone slabs, with four huge figures in each quadrant. The canopy's summit has a globe and a crucifix, both of which represent the salvation of Christ.
The baldachin is located right beneath the domes of the cathedral and above St. Peter's tomb. It calls attention to the divine above, the worldly sphere of the basilica, and damnation below by being positioned in this location.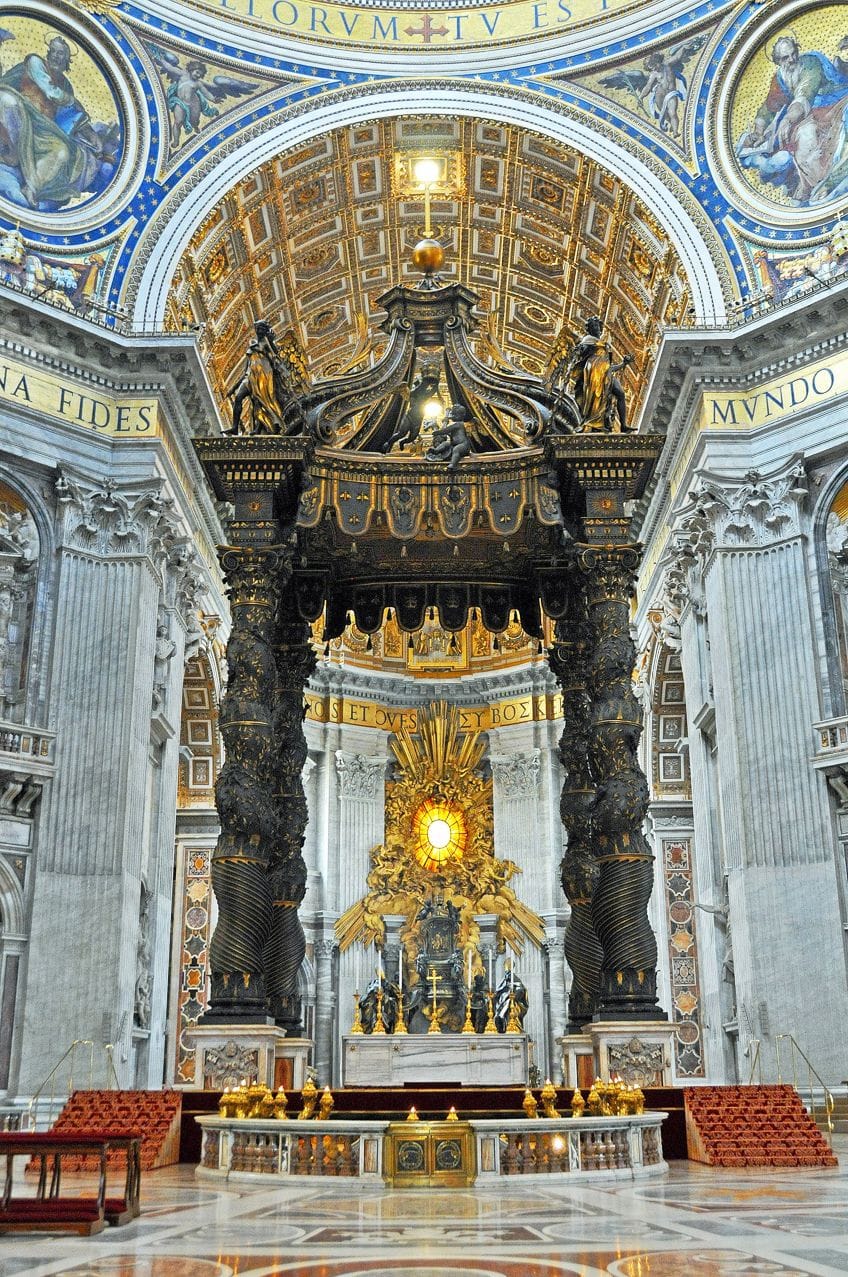 St. Peter's Baldachin (1634) by Gian Lorenzo Bernini; Dennis Jarvis from Halifax, Canada, CC BY-SA 2.0, via Wikimedia Commons
It emphasizes the immense expanse of the building and the size of the individuals within it, providing a permanent reminder of the immensity of Divine creation in comparison to the humans who occupy it. Baldachin was a group effort. Bernini was aided by his competitor Francesco Borromini, his sibling Luigi, his dad Pietro, and other artisans who added to the ornamental aspects. This achievement cemented the artist's position as Rome's most renowned sculptor, and the notion that it was housed under a dome designed by the master Michelangelo further added to that validity.
Bust of Costanza Bonarelli (1637)
| | |
| --- | --- |
| Date Completed | 1637 |
| Medium | Marble |
| Sculpture Dimensions | 72 cm (height) |
| Currently Housed | Museo Nazionale del Bargello |
Bernini produced many portrait busts, but this one is remarkable in that it was not commissioned; it was a "solely for enjoyment" effort for the creator. It portrays the sculptor's muse and mistress Costanza in a semi-naked state. Her slightly parted lips add a tremendous deal of seduction to the image as if it were sculpted from reality. During their romance, Costanza was wedded to Bernini's colleague Matteo Bonarelli. To complicate things even more, Costanza later had a romance with Luigi, Bernini's sibling, prompting the sculptor to demand a slave to slice his mistress' face.
Due to the obvious controversy, the work has always piqued the interest of audiences.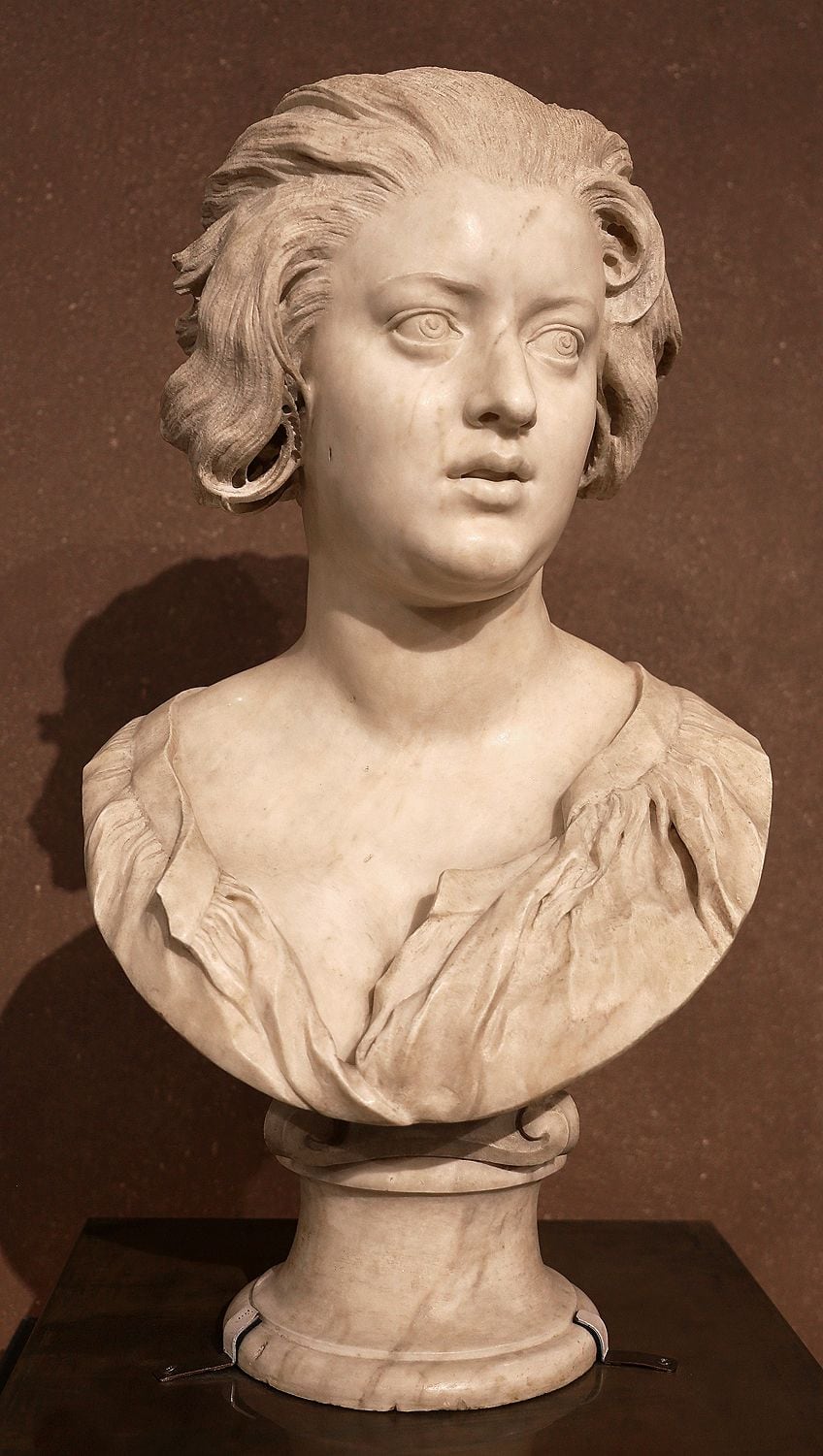 Bust of Costanza Bonarelli (1637) by Gian Lorenzo Bernini; Sailko, CC BY 3.0, via Wikimedia Commons
The most amazing feature of this bust, however, is in portraying sculptor Bernini's incredible ability to create the perfect likeness of someone who was in the act of speaking, instead of creating lips that were merely posed by the model. He believed that the best time to yield the mouth of the model was once they were just about to speak or had just spoken. Bernini has captured a fleeting look that we are convinced was the most distinctive of his model in this artwork. The bust "encapsulates the model's compelling personality."
The fervor of her age, the carelessness of her actions, and the brilliance that would propel her to fortune and fame are all frozen in marble.
The Ecstasy of Saint Teresa (1652)
| | |
| --- | --- |
| Date Completed | 1652 |
| Medium | Marble |
| Sculpture Dimensions | 3.5 m (height) |
| Currently Housed | Santa Maria Della Vittoria, Rome |
Saint Teresa of Avila, a Spanish mystic and nun, is shown in this sculpture. She is depicted atop a cloud, implying her ascent to the heavens, with gold beams of light flowing down on her. Ambient daylight is infused into the area through a concealed opening above it. As a look of pleasure fills the nun's face, a flying angel wields a lance poised to be plunged into her chest.
This piece exemplifies Bernini's creative genius and originality in marble treatment, as the pleats of Teresa's robe, instead of the regulated wrinkles of traditional sculpture, are portrayed spinning around her, adding to the sensation of motion.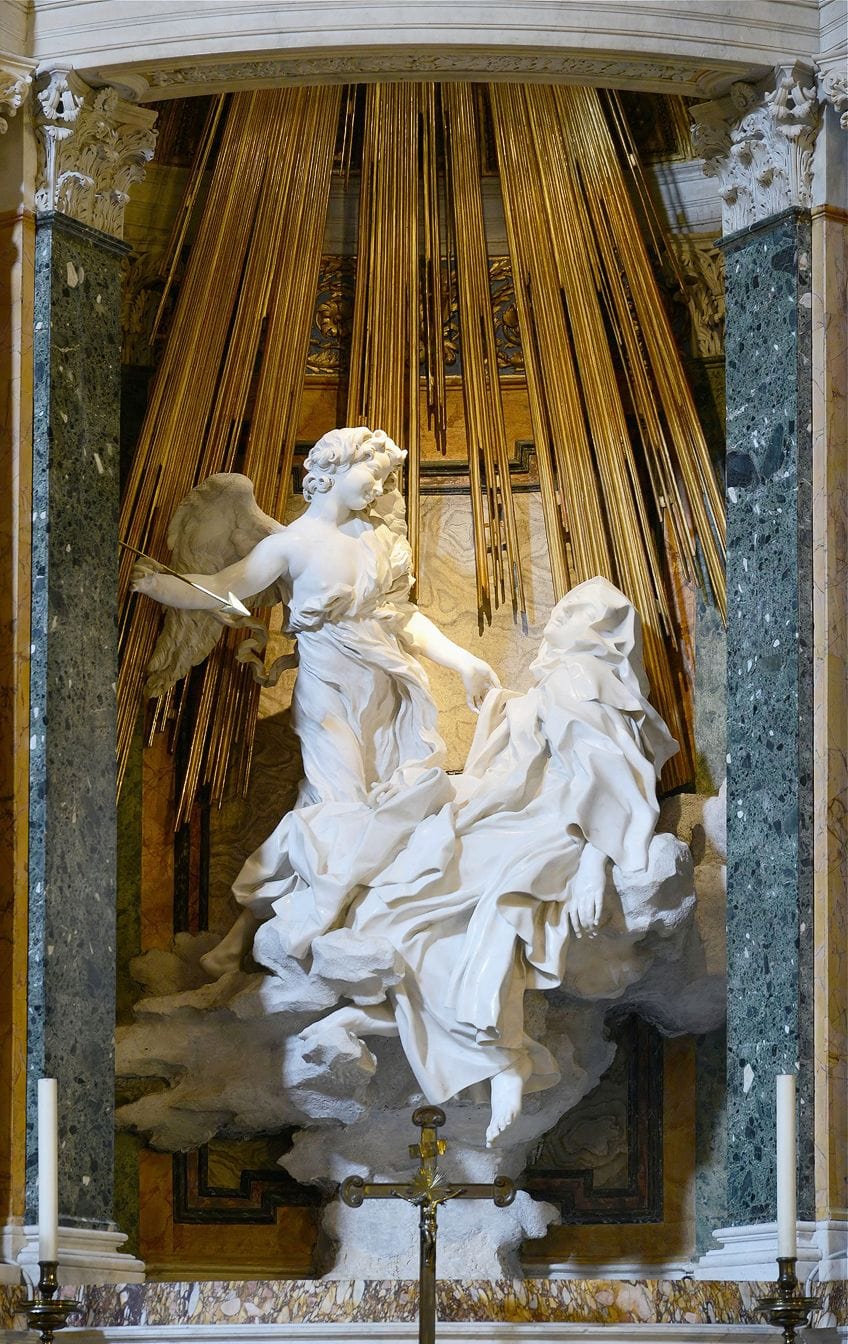 The Ecstasy of Saint Theresa (1647-1652) by Gian Lorenzo Bernini; Gian Lorenzo Bernini, CC BY-SA 4.0, via Wikimedia Commons
Bernini was inspired by Teresa's renowned depiction of her mystical experiences after the lance penetrated her chest leaving her completely enthralled with a beautiful faith. The anguish was so intense that she had to cry multiple times; and yet, this deepest of sufferings is so incredibly lovely that it is unthinkable to wish to get free of it, or for the spirit to be satisfied with anything less than the Divine. Audiences have been captivated by the pleasure depicted in St. Teresa's words, and there has been debate over whether the statue portrays a sexual encounter.
Some historians argue that this was not the sculptor's aim at the time, but the sensuous representations are accurate to Teresa's description.
Bust of Louis XIV (1665)
| | |
| --- | --- |
| Date Completed | 1665 |
| Medium | Marble |
| Sculpture Dimensions | 30 cm (height) |
| Currently Housed | Palace of Versailles |
This famous sculpture of Louis XIV of France dubbed the "greatest work of portraiture of the baroque period," was made when in 1665 Bernini visited Paris as part of a wider political interchange between both France and the papacy. It is kept inside the King's Grand Apartment's Salon de Diane at Versailles Palace. Though sculptor Bernini was originally commissioned to develop new concepts for the Louvre Palace, he declined, owing to the widespread animosity between the Italian Bernini and particular individuals within the French court.
The bust, on the other hand, was hailed as a huge success. The bust took only three months to sculpt and was carved during the King's sittings.
Bust of Louis XIV (1665) by Gian Lorenzo Bernini; Gian Lorenzo Bernini, CC BY-SA 2.5, via Wikimedia Commons
Domenico Bernini, Bernini's biographer, and son underlined his dad's creative reasoning for why the Monarch consented to pose for such a long period, saying that the sculptor chose to paint from Reality rather than drawings. The artist was also capable of capturing all of the Emperor's features via encounters with him. According to Bernini, "A single similarity is insufficient. It is necessary to convey what is going on in the minds of leaders." Bernini portrayed the king as armored, evoking heroic rulers such as Alexander the Great. The Emperor is shown as a majestic figure, blending majesty with a sense of opulent refinement.
Bernini's art, specifically Bernini sculptures, set a standard for the sculptors of the Baroque period. Bernini statues were realistic and portrayed emotion intensely. From Bernini's David statue to his but of Louis XIV, he has always managed to capture the essence of the sitter's character and the motion of the models.
Take a look at our famous Bernini sculptures webstory here!
Frequently Asked Questions
Was the Sculptor Bernini Always Talented?
Gian Lorenzo Bernini was said to have been extremely gifted from a very young age. His father recognized his ability from when he was just eight. From there the two worked together to improve his skills.
What Style Are Bernini Sculptures?
Bernini was a sculptor in the Baroque period. He was very talented and created many kinds of art. He was also a highly accomplished Baroque-era architect.
Isabella studied at the University of Cape Town in South Africa and graduated with a Bachelor of Arts majoring in English Literature & Language and Psychology. Throughout her undergraduate years, she took Art History as an additional subject and absolutely loved it. Building on from her art history knowledge that began in high school, art has always been a particular area of fascination for her. From learning about artworks previously unknown to her, or sharpening her existing understanding of specific works, the ability to continue learning within this interesting sphere excites her greatly.
Her focal points of interest in art history encompass profiling specific artists and art movements, as it is these areas where she is able to really dig deep into the rich narrative of the art world. Additionally, she particularly enjoys exploring the different artistic styles of the 20th century, as well as the important impact that female artists have had on the development of art history.
Learn more about the Art in Context Team.