Strangest Houses – 10 Examples of the World's Strangest Homes
We all like to express and define ourselves in some way or another – be it the clothing we wear, the music we listen to, or the art we create. It only seems natural then, that the homes we live in would also express our creativity in some way. Many people have turned their residences into unusual homes and odd houses. Today, we shall look at some of these unique houses in search of the weirdest houses in the world.
In Search of the World's Strangest Houses
Architecture can be very subjective and what one person might find very appealing, another could see as an unusual house. However, some of the world's strangest houses were definitely created with the knowledge that they would be regarded as unusual homes. The world's weirdest homes were often constructed to instill a sense of awe, surprise, shock, or amusement in those that view them. Despite their strange appearances and unconventional shapes, many of these odd houses still manage to function practically as residences.
Here are some of the weirdest houses in the world.
Winchester Mystery House (1906) in California, United States
| | |
| --- | --- |
| Architect | Sarah Winchester (1839 – 1922) |
| Date Completed | 1906 |
| Height (meters) | Unspecified |
| Location | San Jose, California, United States |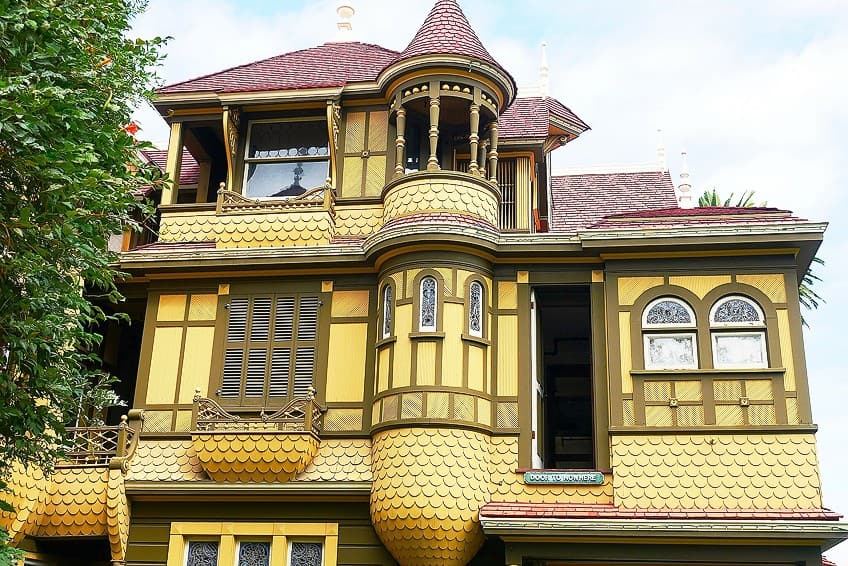 The Winchester House showing the doorway to nowhere; Sgerbic, CC BY-SA 4.0, via Wikimedia Commons
This Victorian home is notorious for its enormity, architectural oddities, and absence of a master construction plan. Sarah Winchester started construction on her house after her husband died in 1881. Carpenters were employed and labored on the home day and night until it grew into a seven-story behemoth.
Winchester did not hire any architects and expanded the house in a random manner, resulting in numerous abnormalities such as doors or staircases that lead nowhere. Several reports after her death linked these peculiarities to her belief in ghosts.
It is frequently referred to as one of the world's most haunted locations, however, there is no proof to back up this statement.
Much of the folklore surrounding the Winchester House and its owner is whimsical, unverifiable, and typically demonstrably untrue. If the progress did not match her standards, Winchester was known to reconstruct or abandon construction, resulting in a maze-like layout. Another weird feature of the house is the walled-off doors and windows that were not removed as the mansion increased in size due to her never-ending extensions.
Beer Can House (1968) in Houston, Texas
| | |
| --- | --- |
| Architect | John Milkovisch |
| Date Completed | 1968 |
| Height (meters) | Unspecified |
| Location | Houston, Texas, United States |
The front of the beer can house on Malone Street; Andrew Wiseman, CC BY-SA 3.0, via Wikimedia Commons
We all had that one friend in college that would collect a wall of beer cans in the bedrooms instead of throwing them away. Now, imagine being John Milkovisch (no, not the actor), who took it to a whole other level and decided to decorate his entire house in Houston, Texas, with beer cans and bottles. While one can imagine that the more conservative people in the neighborhood must have not been too pleased with this unusual home, it has subsequently become one of the city's most recognizable icons of folk art.
Unlike our old college roommate, however, it is highly unlikely that Milkovisch drank all of the 50,000 beer cans required to adorn his entire house.
Starting in the late 1960s, he inlaid redwood and concrete blocks with thousands of rocks, marbles, and pieces of brass and metal and created flower boxes, fences, patios, and many other items with the blocks. Even the yard would eventually just become a "bedazzled" cement surface because he apparently grew tired of mowing the lawn. The Orange Show Center for Visionary Art currently owns and operates the house as a non-profit organization that preserves unique works of art.
Mushroom House (1972) in Perinton, New York
| | |
| --- | --- |
| Architect | James H. Johnson (1865 – 1939) |
| Date Completed | 1972 |
| Height (meters) | 9 |
| Location | Perinton, New York, United States |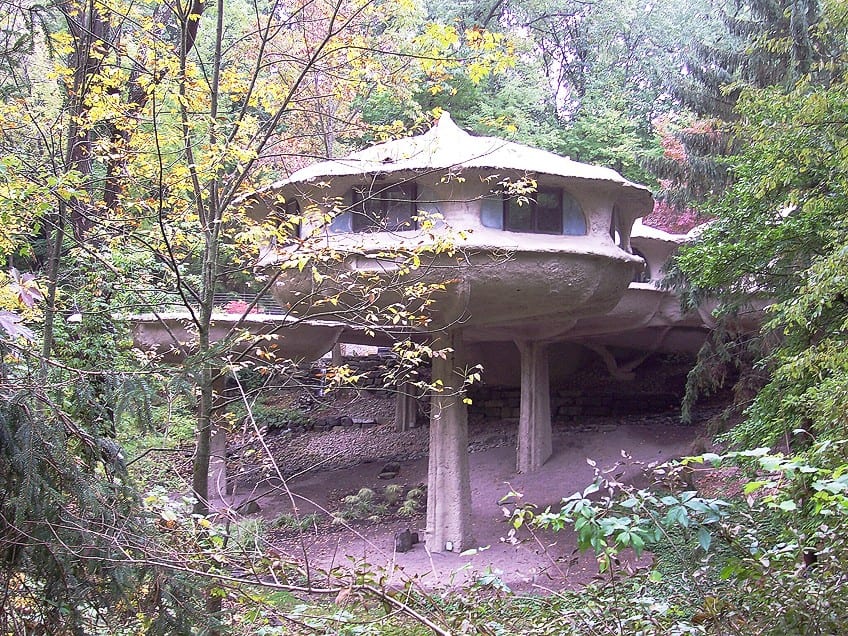 The Mushroom House; DanielPenfield, CC BY-SA 3.0, via Wikimedia Commons
Many fairy tales and children's books feature little mushroom houses inhabited by tiny fairy folk. Not many people get to experience this in real life, though, except perhaps the people who live in this famous "mushroom" house, a rather unusual house in Perinton, New York. Due to its odd shape, it is definitely regarded as one of the world's most unique houses, but there is a plot twist: it isn't meant to resemble a mushroom.
Originally built in the early 1970s for Robert Antell and his wife Marguerite, it was actually modeled on the candelabra-like umbels of the plant called Queen Anne's Lace.
Each "mushroom" pod rests atop a stem that rises from the ground, and each of the four pods that comprise the structure serves a different function. Two of the pods are bedrooms, one is a kitchen, and another is a dining and living area. Each pod has a mushroom-cap-shaped roof and is enclosed with windowed walls all around the pod. There is a fifth uncovered pod which serves as an open deck.
The Bubble House (1975) in Cannes, France
| | |
| --- | --- |
| Architect | Antti Lovag (1920 – 2014) |
| Date Completed | 1975 |
| Height (meters) | Unspecified |
| Location | Cannes, France |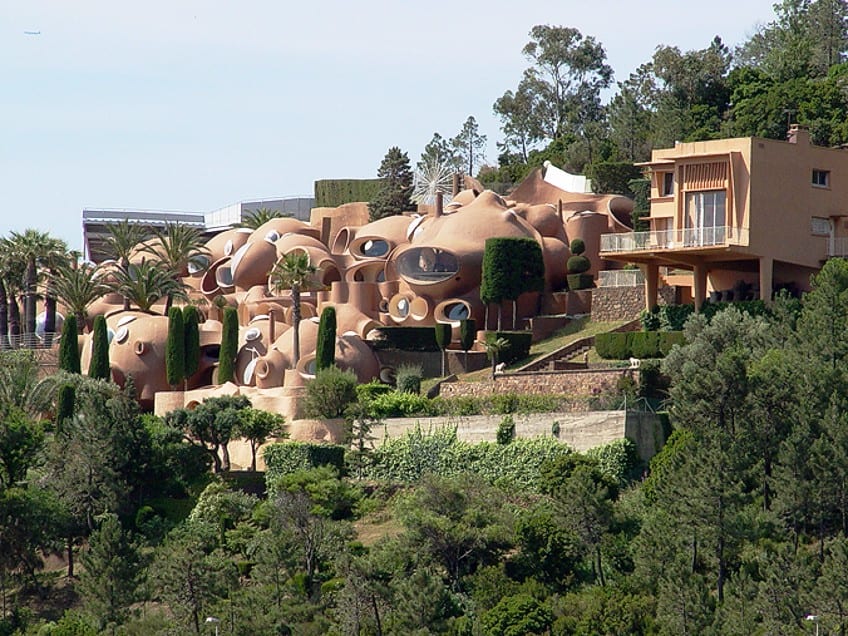 The Bubble House in Cannes, France; Frans-Banja Mulder, CC BY 3.0, via Wikimedia Commons
Antti Lovag, a Hungarian architect, designed Bubble Palace, a huge home in Cannes, France. It was designed for French businessman Pierre Bernard and later purchased as a vacation home by Pierre Cardin, the fashion designer. The architect despised straight lines and saw them as an assault on nature, so he designed the home as a playful and cheerful space that promoted spontaneous and natural flow. Although Pierre Bernard never actually lived at the palace, he thought of it as his own personal paradise.
He felt that Its cellular shapes had long represented the external expressions of his works and he viewed it as a museum where he could show the works of current designers and artists.
After he passed away in 1991, Pierre Cardin bought it to use as his holiday home. It went on sale in 2017 but did not manage to attract a buyer. When Cardin passed away in 2020, there were suggestions that it be converted into an art expo venue. The Bubble House comprises 10 bedrooms, multiple pools, a lounge with panoramic views, and even an open-air theater that can seat 500 people.
Cube Houses (1984) in Rotterdam, Netherlands
| | |
| --- | --- |
| Architect | Piet Blom (1934 – 1999) |
| Date Completed | 1984 |
| Height (meters) | 22 |
| Location | Rotterdam, Netherlands |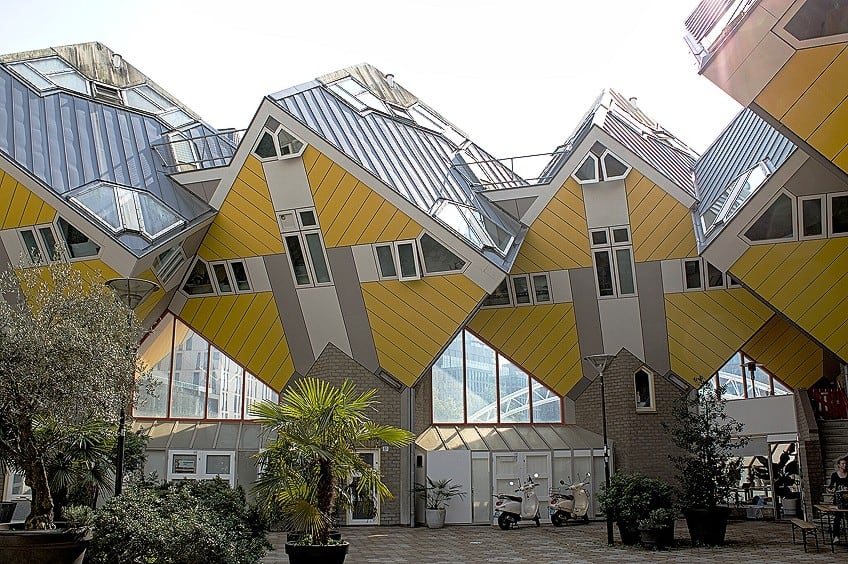 Cube houses in Rotterdam viewed from the central space; Alexander Migl, CC BY-SA 4.0, via Wikimedia Commons
The Cube Houses' tale is rather fascinating! During WWII, the city was completely destroyed, leaving no significant remnants. Following the war, there was a considerable need to reconstruct the city architecturally, with the objective being to make it distinct. As a result, there were attempts to counter the preceding utilitarian design, leading to the construction of the Cube Houses, one of the greatest examples of the city's early icons of modernism.
Measures were also undertaken to make the structures more appealing, as the city's redevelopment included mostly gray architecture.
Therefore, yellow was chosen for the façade because of the psychological influence it produces – optimism and vibrancy. The architectural mix of the eye-catching yellow façade, the distinct design, and the spatial dimensions of the public space uniting the market space and the old region are very effective in attracting people's attention. The inside of each cube is split into three levels connected by a thin wooden stairway.
The living area and open kitchen are on the bottom floor, with windows extending around the whole periphery of the cube.
Krzywy Domek (2004) in Sopot, Poland
| | |
| --- | --- |
| Architect | Szotyńscy & Zaleski |
| Date Completed | 2004 |
| Height (meters) | Unspecified |
| Location | Sopot, Poland |
The Krzywy Domek house; qbanez, CC BY 3.0, via Wikimedia Commons
The next building on our list of weirdest houses in the world looks like something straight out of a fairytale. Krzywy Domek is a commercial structure in Sopot, Poland, distinguished by its distinctive architectural style. The building's form provides the visual appearance of warping. Krzywy Domek opened to the public in 2004, and it has since garnered several honors and distinctions, including being named one of the Tricity area's seven wonders.
Architects were inspired by Polish painter Jan Marcin Szancer's fairytale illustrations. It creates the illusion of a funhouse mirror by altering the appearance of a traditional structure.
The strange building's distinctive design gives the illusion of sagging, melting, and warping. With sandstone-framed windows and a multicolored stained glass entryway, it complements some of the aesthetic features of its neighboring buildings. The green-blue enamel tiles on the building's roof look like dragon scales, evoking Antoni Gaudi's Casa Batlló in Barcelona. Krzywy Domek's interior comprises coffee shops, offices, nightclubs, and a wall on which Polish celebrities write their names after visiting the famous structure.
The Toilet House (2007) in Suwon, South Korea
| | |
| --- | --- |
| Architect | Go Gi-Wong (c. 20th century) |
| Date Completed | 2007 |
| Height (meters) | 7.5 |
| Location | Suwon, South Korea |
Sim Jae-Duck, former mayor of Suwon, was actually born in a toilet at his grandparent's house, which may account for his lifelong preoccupation with clean toilets. He supervised an initiative to clean and enhance the city's public restrooms while mayor of Suwon in the early 2000s. He eventually created a global Toilet Association to attempt the same for the rest of the world. He was appropriately dubbed "Mr. Toilet" by his colleagues.
In 2007, he raised his house and had a new one built in its place, created by Go Gi-wong to resemble a huge toilet.
Upon his death, the property was bequeathed to the city and converted into a toilet museum. The home itself is regarded as the largest toilet sculpture in Korea, with two levels of installations that highlight the importance of toilets to a society's health. Toilet-themed artworks are displayed around the museum and on the premises, with much of it, such as a massive golden mound of excrement, making for wonderful photo opportunities.
The Nautilus House (2007) in Naucalpan de Juarez, Mexico
| | |
| --- | --- |
| Architect | Javier Sinosiain (1948 – Present) |
| Date Completed | 2007 |
| Height (meters) | Unspecified |
| Location | Naucalpan de Juarez, Mexico |
While a shell might be the ideal home for a mollusk, how does it shape up as a residence for humans? This beautiful, yet unusual house takes its inspiration from the spiral shape of the nautilus cephalopod shell, as well as the architectural styles of Frank Lloyd Wright and Antoni Gaudi. The architect, Javier Sinosiaian, built the structure using Ferro-cement which comprises thin layers of concrete applied over steel-enforced chicken wire.
This means that the structure is very lightweight as well as resistant to earthquakes.
It also allowed for the formation of naturally rounded curves without the necessity of columns or load-bearing walls. The flowing contours from floor to roof produce a very organic layout, and small portal windows in the shell walls allow light to pour into the interior. The majority of the illumination, though, comes from the wall of small stained glass windows, each of which is a different color. The interior is spacious as there are no boundary walls and the spiraling design adds to the feeling of organic flow.
Upside Down House (2008) in Trassenheide, Germany
| | |
| --- | --- |
| Architect | Klaudiusz Golos and Sebastian Mikiciuk |
| Date Completed | 2008 |
| Height (meters) | Unspecified |
| Location | Trassenheide, Germany |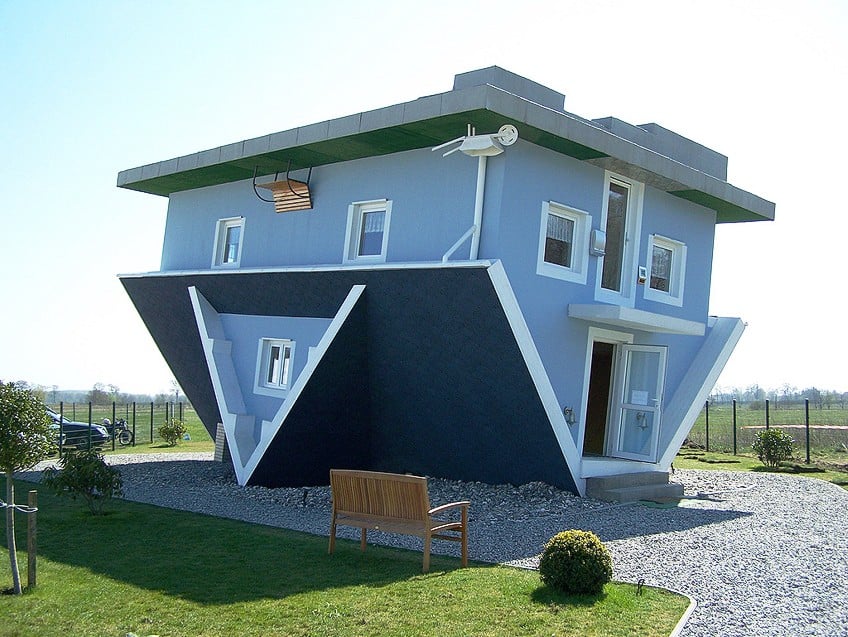 The Upside-Down House in Trassenheide; backkratze, CC BY 2.0, via Wikimedia Commons
Sebastian Mikiciuk and Klaidiusz Golos, two Polish architects, were the minds behind this unusual home in Trassenheide, Germany. It was originally built for their exhibition project The World Upside Down, which aimed to give guests a unique perspective of the world around them. Everything inside is upside down, except, of course, the staircase on which you ascend the home, once you have entered through the "attic" door.
While even from the outside, the house looks strange, it gets even stranger once you enter the home.
Suddenly, you are walking across the "ceiling" while above you there are tables, chairs, plants, artworks, and everything else one would expect to find in a house – but upside down. Every detail has been thought of and even the curtains have been installed in a way that keeps them suspended in space.
Not only is this unusual house upside down, but it is also slightly tilted at an angle of about 6 percent. Even though every aspect of the home looks realistic enough to live in, doing so would present many problems and it was created solely as a tourist attraction and was never meant to function as an actual residence.
The Leaf House (2008) in Rio de Janeiro, Brazil
| | |
| --- | --- |
| Architect | Mareines & Patalano Arquitetura (1997) |
| Date Completed | 2008 |
| Height (meters) | 9 |
| Location | Rio de Janeiro, Brazil |
A small, unusual home with a blooming roof that shelters and shields like a giant tropical banana leaf is located on a gorgeous little beach just outside of Rio de Janeiro. The open-air home is intended to stimulate contact and connectivity between man and environment. The tropical beach home is great for social events and parties, with verandas and open areas between suites and no corridors. The open floor plan also makes use of trade breezes that sweep in from the ocean, which provide natural ventilation and cooling.
Numerous sliding doors, most of which are glass, open up the indoor spaces, letting in the ocean breeze. On the bottom level, the curving swimming pool flows into the home.
It becomes a pond with fish and aquatic plants as it passes beneath the formal dining room and reaches the back porch. The utilization of natural materials, the glass's transparency, the neutral color of the oxidized copper in relation to the dominant green of the landscape that was both intended and natural, and the rich diverse range of patterns and textures all contributed to the development of a very desirable living space: a sense of belonging to the area, in harmonious relationship with the lively Brazilian nature.
That brings us to the end of our list of the weirdest houses in the world. These odd houses have broken all the rules of architecture so that something new could be designed that would challenge our preconceptions about what a home could look like. They have opened potential pathways that could be modeled or built upon, each offering a new perspective on design and architecture. Many of them are not simply examples of the strangest houses in the world, but also of innovative techniques that embrace natural elements or new technologies. Some of the weirdest homes also serve as extensions of their owners' personalities. If you could choose one of these unique houses to live in, which one would you choose?
Frequently Asked Questions
What Are the Strangest Houses Ever Built?
There are plenty of unusual houses that currently exist worldwide. People are continuously developing new techniques that allow them to create innovative designs that push the boundaries of architecture. Some houses, such as the Cube Houses in Germany, may look very strange from the outside, yet despite their tilted appearance, they still function perfectly as residences. Others, such as the Upside Down House, are not meant to be lived in and simply function as tourist attractions.
Why Do People Build Odd Houses?
There are many reasons that someone might want to build an unusual house. It is a great way to express your character and individuality. It is also fun and breaks away from the monotony of life in search of creativity and self-expression. While they may look odd, many of the strangest houses incorporate innovative ideas and methods that can potentially change the way we interact with our living spaces and surrounding environment in the future. The more architects explore unconventional styles and forms, the more they learn.
Justin van Huyssteen is a freelance writer, novelist, and academic originally from Cape Town, South Africa. At present, he has a bachelor's degree in English and literary theory and an honor's degree in literary theory. He is currently working towards his master's degree in literary theory with a focus on animal studies, critical theory, and semiotics within literature. As a novelist and freelancer, he often writes under the pen name L.C. Lupus.
Justin's preferred literary movements include modern and postmodern literature with literary fiction and genre fiction like sci-fi, post-apocalyptic, and horror being of particular interest. His academia extends to his interest in prose and narratology. He enjoys analyzing a variety of mediums through a literary lens, such as graphic novels, film, and video games.
Justin is working for artincontext.org as an author and content writer since 2022. He is responsible for all blog posts about architecture, literature and poetry.
Learn more about Justin van Huyssteen and the Art in Context Team.
Cite this Article