The hybrid Colonial architecture style developed when colonists integrated architectural features from their homeland with design elements from the occupied country. These Colonial houses' styles felt familiar and therefore made the colonists feel more at home, yet they also incorporated specific characteristics from the local architecture that adapted their designs to the new climate and landscapes. This article will explore the Colonial buildings in the United States during this period, which blended American Colonial architecture, British Colonial architecture, Spanish Colonial architecture, and more.
Exploring the American Colonial Architecture Style
The American colonial architecture style arose in the United States during colonial rule in the 1600s and 1700s. It is still one of the most prominent architectural styles for homes in America. American Colonial architecture is a broad term that encompasses numerous architectural forms that represent the multicultural impact of the early settlers in the United States, such as saltbox-style Colonial buildings, Georgian British Colonial architecture, Cape Cod style, as well as French, Dutch and Spanish Colonial architecture. These styles are synonymous with residences, churches, and governmental Colonial buildings from around 1600 through the 19th century.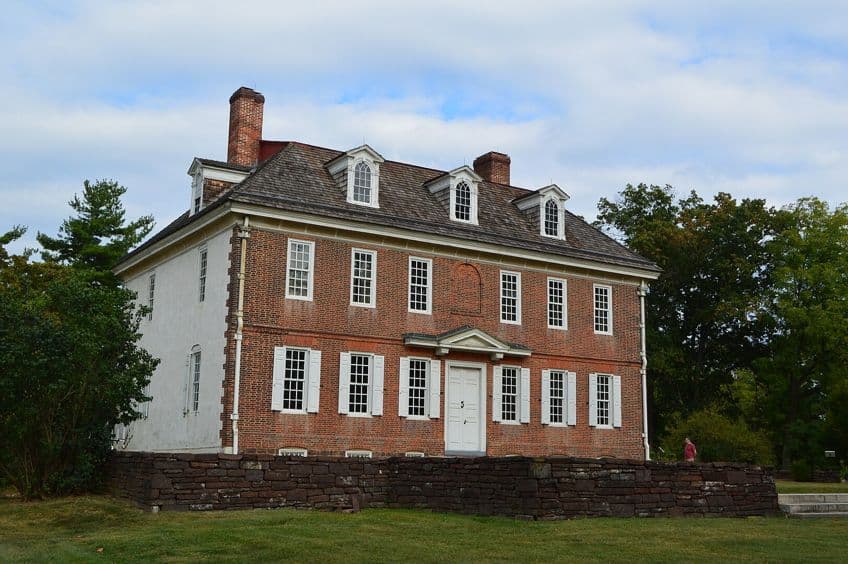 Hope Lodge (2016); Montgomery County Planning Commission, CC BY-SA 2.0, via Wikimedia Commons
A Brief History of American Colonial Architecture
During the era of the British colonial government, the first American Colonial-style residences emerged. Timber-framed wooden buildings with simple windows, ornate shutters, and symmetrical designs oriented by a central door and one or two chimneys. But, around the time of the American Revolution, when British Colonial architecture fell out of favor and the new nation declared its independence, these "classic American Colonials" were no longer built. Yet, for the nation's centennial celebration in 1876, 100 years later, the Colonial Revival style arose and flourished from 1880 until 1955.
Architects adopted and combined elements of past architectural styles to develop a modernized version of these "originals".
From 1880 to 1945, the initial wave of Colonial Revival homes featured well-built residences constructed using high-quality materials. Yet, between 1945 and 1955, the next wave of postwar Neo-Colonials appeared in American suburbia, lacking the workmanship and elegance of the originals. Nonetheless, it seemed to be deemed sufficient for suburban folks' tastes across the country, where they became commonplace. Eventually, in the late 20th and into the early 21st centuries, Neo-Colonial architecture developed into a new and considerably larger variant in the style of "McMansions", which came to characterize the era and still define some American communities today. Colonial buildings are an iconic component of the American architectural landscape that really never seems to go out of fashion.
House in Kenner, Louisiana (2015); Infrogmation of New Orleans, CC BY-SA 2.0, via Wikimedia Commons
Various Colonial Houses' Styles
In the United States, numerous regional variations of colonial architecture emerged. Methods and designs imported from England, as well as practices brought by people from other regions of Europe, inspired Colonial building styles throughout the 13 colonies. Colonial houses in 17th-century New England were predominantly made of wood and modeled after styles prevalent in England's southern counties. The Saltbox dwellings were distinguished by their steep roofs which slanted down from one side of the house, making building easier for colonists.
The Cape Cod-type houses were popular among New England colonists in the early years of the 17th century.
These Colonial buildings had a basic, rectangular design which was typically favored by colonists. Dutch Colonial architecture, particularly in Long Island, the Hudson River Valley, and northern New Jersey, resembled architectural styles from the Netherlands and Flanders and employed brick and stone more prominently than New England structures. A style known as "Southern Colonial" is renowned in Virginia, Maryland, and the Carolinas, and is typified by the parlor and hall and central-passage house types, which typically included huge chimneys extending from the gable ends of the building.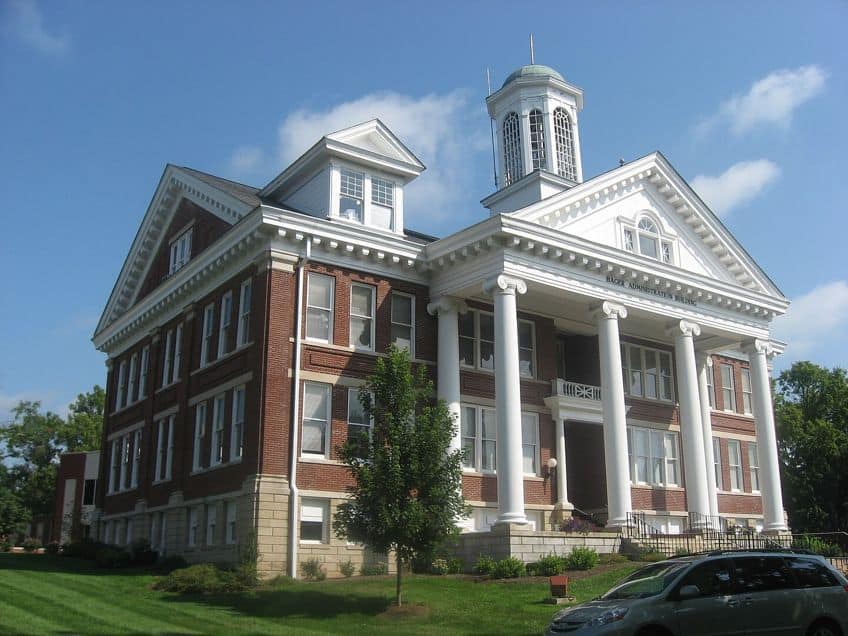 Hager Administration Building on the campus of Asbury College in Wilmore, Kentucky, United States (Built 1910); Nyttend, Public domain, via Wikimedia Commons
Swedish colonial immigrants in the Delaware Valley imported the concept of the log cabin to America. Later (after around 1680), a style known as Pennsylvania colonial arose, which contains Georgian architectural elements. Areas of southeastern Pennsylvania that were colonized by immigrants from Germany in the 18th century exhibit a Pennsylvania Dutch style.
Types of Colonial Buildings
Early structures in various parts of America reflect the architectural heritage of the colonial powers who ruled over these territories. Louisiana's architectural style is French colonial, but the Spanish colonial architecture echoes the Baroque and Renaissance styles of Mexico and Spain; and can be found in Louisiana, Florida, New Mexico, Arizona, Texas, and California.
Let's take a closer look at the types of Colonial houses styles that were popular throughout this period.
Saltbox Houses
These simple structures are relics of early European settlers and the harsh realities of daily life. While this charming colonial style has a long history, many modern architects have reinterpreted its form in contemporary revivals. With its flat façade and basic symmetrical front, any saltbox may easily be mistaken for a colonial-style home when viewed from the front, however, if you take just a few steps to the side, you will see that iconic steep-pitched roof that typifies these Colonial houses' style. The name saltbox comes from an ordinary wooden box that was usually used to store salt. Salt was scarce and expensive enough in the early colonial era to deserve to be stored in these ornate wooden boxes.
Reconstructed Saltbox home (2018); CaptJayRuffins, CC BY-SA 4.0, via Wikimedia Commons
These boxes were placed on the house's walls, and featured slanted lids, making it a befitting nickname for these homes, which also had that beautiful "lopsided" appearance. Saltbox houses generally had two floors in the front and one in the back, with a chimney protruding from the middle. They were usually covered in shingles and had colored shutters. Since it would be years before electricity was discovered, saltbox window panes were purposefully arranged to receive as much sunshine as possible throughout the day. A great-room entryway and a back kitchen are common design features of these types of Colonial buildings.
Because of the abundance of trees in the nearby woods, many dwellings had thick-cut plank wood floors.
The salt box's second story was normally a loft where the children slept or goods were stowed. These are one of the first types of Colonial-style architecture and were popular house styles in the 17th and 18th centuries. Originally, exposed wooden ceiling beams and brick or stone fireplaces were used, but in the 18th century, plaster finishes were preferred even in modest homes.
Georgian Houses
During the Georgian era, this type of British Colonial architecture rapidly spread across the English colonies. Georgian-era American structures were typically composed of wood with clapboards; even columns were constructed of wood, braced up, and worked on an enormous lathe. The challenges of collecting and moving stone or brick made Colonial buildings built of this material only a viable choice mainly in bigger cities or areas where the materials were locally available. Harvard University, Dartmouth College, and the College of William & Mary are among the best examples of Georgian architecture in the United States. Georgian-style homes are renowned for their symmetry, with the golden ratio serving as a guiding architectural feature.
House at 57 The Close, Salisbury, England (2005); Andrew Dunn, CC BY-SA 2.0, via Wikimedia Commons
They are usually either rectangular or square in shape, having at least two chimneys on each side of the roof. The entrance door is precisely positioned in the middle of the home and serves as a line that separates the two symmetrical sides. Rectangular columns flank the front door, which is sometimes embellished with decorative molding, and pediments. They were primarily constructed between 1714 and 1830, under the reigns of Britain's four King Georges. Unlike the preceding Baroque style, which was primarily utilized for palaces and cathedrals and had minimal representation in English colonies, simpler Georgian designs were widely adopted by the middle and upper classes.
Georgian traditions were gradually abandoned from around 1840, as a variety of revival styles, notably Gothic Revival, grew in prominence.
Cape Cod Houses
Though the design is uniquely American, the earliest Cape Cods were built in the 1600s by English immigrants. The immigrants altered the architecture, partly influenced by the modest, thatched huts popular in Britain, to block out the severe New England winter. The large, central chimney was effectively the heart of the house, providing heating, illumination, and, of course, food to all the rooms grouped around it. Cedar shingles on the façade and roof also served to keep the cold at bay. A steep roof removes rain and snow fast. The Cape Cod style was chosen for utilitarian reasons rather than its aesthetic appearance. To withstand the weather, these dwellings were boxier and had a lower-slung profile. The design is basic and clean-lined, with a high roof and a central entryway.
Harlow Old Fort House in Plymouth, MA, Massachusetts, USA (2009); Swampyank at English Wikipedia, CC BY-SA 3.0, via Wikimedia Commons
From the 1920s to the 1950s, Cape Cod Revivals proliferated, disseminating the style throughout New England and the United States – the style was mostly forgotten up to that point until Boston architect Royal Barry Willis revived it as a modern dwelling alternative in the 1920s. He kept the fundamental outside shape of a Cape Cod house but modernized the interior. The majority of the Cape Cod residences you see today were built following WWII when thousands of returning servicemen and their young families needed affordable accommodation.
The Cape Cod style met the bill and was utilized to construct some of the earliest large-scale home projects.
French Colonial Houses
French Colonial houses, which date back to the early to mid-1600s, when French colonists first arrived in the United States, are typically constructed in regions that were historically dominated by France, such as parts of the Ohio and Mississippi Rivers. However, Louisiana has the highest number of French Colonial houses in America. They are distinguished by their square, symmetrical design, steeply pitched roofs, and large, wrap-around porches located on both the first and second floors.
Lorreins Plantation House, Bayou St. John, New Orleans, Louisiana (2007); Infrogmation, CC BY 2.5, via Wikimedia Commons
The front entrance is often built of French double doors that are centered and bordered by two windows. To manage the heat, the rooms have high ceilings and long narrow windows to facilitate cross ventilation. The Garden District of New Orleans is the location of hundreds of stunning classic French Colonial houses, while rural Louisiana is home to large plantation estates designed in the French Colonial style.
A newly constructed French Colonial home is scarce, but a trip to Louisiana can provide insight into the traditional building practices of America's original French inhabitants.
Spanish Colonial Houses
Spanish Colonial-style homes are a traditional architectural style found across California, Florida, and Southwestern states such as New Mexico and Arizona. They are distinguished by their red clay roof tiles, white stucco walls, wooden beams, and rustic look. Most Spanish Colonial homes contain an interior or external courtyard, which is often situated at the heart of the house. They initially arose in North America sometime between the 1600s and the middle of the 1800s, when Spanish colonists immigrated and started establishing their farms.
El Sueno (2013); Camaclark, CC BY-SA 3.0, via Wikimedia Commons
While Spanish Colonial houses have a far longer history in Mexico and Spain, they first emerged in North America in the 1600s. Because Spanish immigrants immigrating to North America picked places with conditions comparable to Spain, they were able to create typical Spanish-style homes using the resources available, such as adobe with a stucco finish for internal and exterior walls, and clay for roof tiles. In fact, blending in with the environment is one of the key features of Spanish Colonial design.
Despite the fact that the Spanish Colonial period in the United States came to an end in the mid-1800s, the style of Spanish Colonial architecture was still popular long after.
Later, in the 1900s, the style was part of the Colonial Revival – and property developers preferred to use Adobe for its appearance instead of out of necessity. Due to regional traditions, the expertise and materials available to the early settlers, and other factors, Spanish Colonial homes now vary significantly across the nation, despite the fact that the majority have the same basic architectural principles.
Dutch Colonial Houses
A Dutch Colonial house can be identified by its "Dutch roof". It features a gambrel roof that is symmetrical and slanted on both sides. Dutch Colonial houses have broad roofs with long eaves that hang over the sides, giving the house a barn-like appearance. Traditionally, there was a porch on both sides of the house. The house was built of brick or stone, with wooden doors and window shutters. The chimneys were placed on one or both ends of the homes.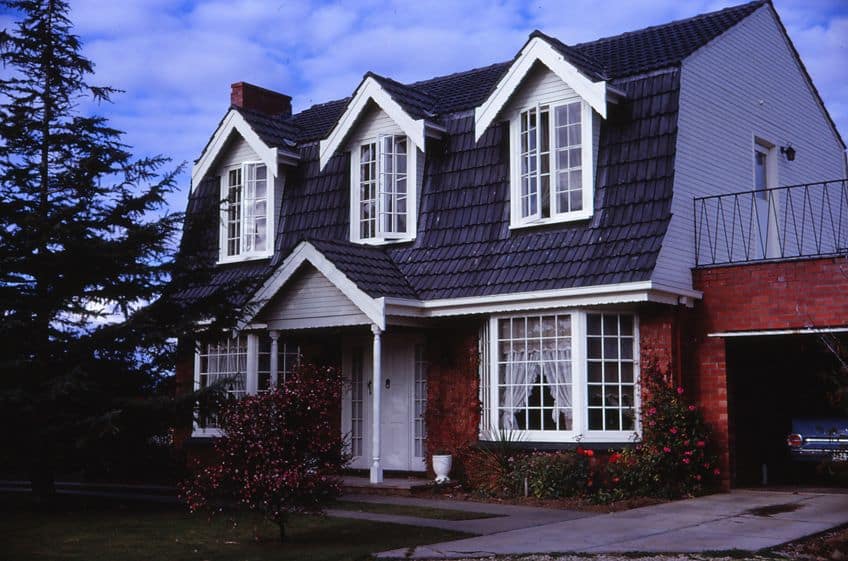 Dutch Colonial Home b. 1967 in Adelaide (2012); Yvonne Thompson, CC BY-SA 2.0, via Wikimedia Commons
The design became popular in the 1700s and has remained a classic in the American Northeast. What is notable about this style is that decoration and detail, while utilized sparingly, became a distinguishing feature of the aesthetic. The front doors were another distinctive characteristic of these houses—plank doors split in half horizontally, enabling the upper half to be opened to allow for a breeze while locking animals out and children inside via the closed lower half.
Because of its functionality and old-world appeal, what became known as a Dutch door is still a popular door type today.
Southern Colonial
Estate homes in the South with colonnades stretching across the front of the house are an ideal illustration of Southern Colonial-style residences. These huge two to three-story residences were situated back from the main road, usually with a long drive, and included a portico behind the colonnade, as well as abundant ornamental molding inside and out. This style of design is also known as "Greek Revival". The Southern Colonial is characterized by the symmetry of all of its components.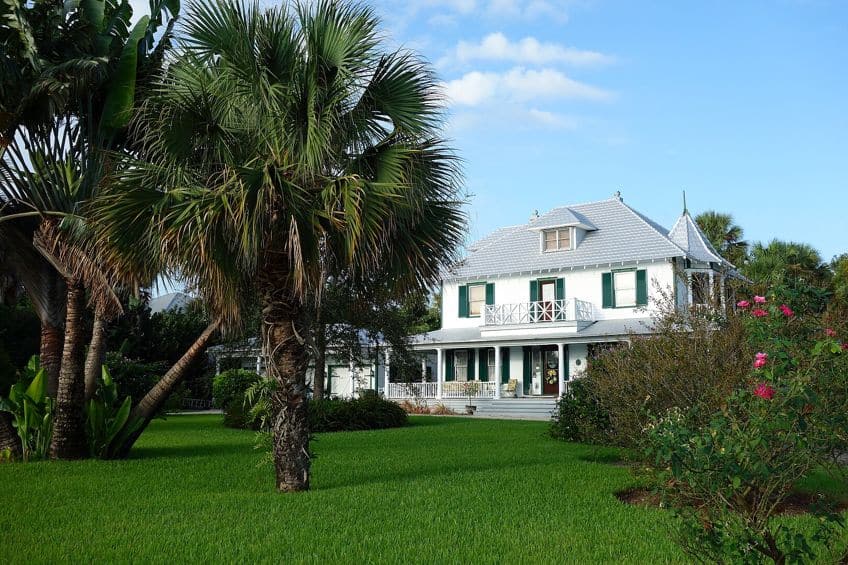 Burn Brae Plantation-Krueger House, 1170 Southeast Ocean Boulevard, Stuart, Florida (2013); Lea Shanley, CC BY-SA 3.0, via Wikimedia Commons
The main door is always in the middle, immediately behind the colonnade, with windows to the side, often bordered by black shutters. Interior design often includes a central corridor, a grand staircase, and the incorporation of chandeliers. When a brick external pathway is used, it is generally symmetrical. Outside, white is the predominant hue, with some structures employing creamy and tan tricolors. The same colors are utilized inside and out, but colonial blue and yellow on the trim and walls, contrasting with red carpets, are also used to create a rich, regal atmosphere.
The original colonial-style home may be traced all the way back to England. This design was brought to America by the early settlers and quickly became one of the most popular styles in the nation. Among colonial-style homes, there are numerous variants, but they all have some fundamental qualities that make them particularly American. Immigrants brought their various architectural styles and building techniques from all over the world to help create these various types that we can still observe all across the American landscape today.
Frequently Asked Questions
What Are the Characteristics of Colonial Architecture?
Steep roofs, large chimneys, ornamental external shutters or columns, and bare wooden beams and interior flooring are common features of colonial-style residences. Brick and wood siding made of clapboard are prominent construction materials. These characteristics distinguish it from other architectural forms like Victorian or Monterey, although there are many differences within colonial-style buildings that distinguish them as distinctly American.
What Different Colonial Architecture Styles Are There?
American Colonial architecture is the result of many different architectural styles blending after being brought here by immigrants from across the world. Even today, we can see examples of British Colonial architecture and Spanish Colonial architecture. There were also many immigrants from places like the Netherlands and France that brought their architectural styles with them.
Justin van Huyssteen is a freelance writer, novelist, and academic originally from Cape Town, South Africa. At present, he has a bachelor's degree in English and literary theory and an honor's degree in literary theory. He is currently working towards his master's degree in literary theory with a focus on animal studies, critical theory, and semiotics within literature. As a novelist and freelancer, he often writes under the pen name L.C. Lupus.
Justin's preferred literary movements include modern and postmodern literature with literary fiction and genre fiction like sci-fi, post-apocalyptic, and horror being of particular interest. His academia extends to his interest in prose and narratology. He enjoys analyzing a variety of mediums through a literary lens, such as graphic novels, film, and video games.
Learn more about the Art in Context Team.