We'd like to introduce you to a special collection of coloring templates designed for all race car fans out there. We have compiled 15 free race car coloring pages for you, ranging from Formula 1 to Bugatti cars. Whether you are an avid motorsports fan or just a little racer in the making, these coloring templates will delight you and bring you hours of fun and creativity. So buckle up and get ready for a picturesque ride through the world of racing!
What are Race Cars?
Race cars, also known as racing cars, are cars specially developed for racing. These vehicles are characterized by their high speed, aerodynamics, lightweight construction, and special technical features optimized for racing. Compared to road cars, race cars are designed for optimal performance on the track and are often used for professional racing events such as Formula 1, Le Mans, NASCAR and other motorsport events. The technology and design of race cars are constantly evolving to become faster, more efficient and safer.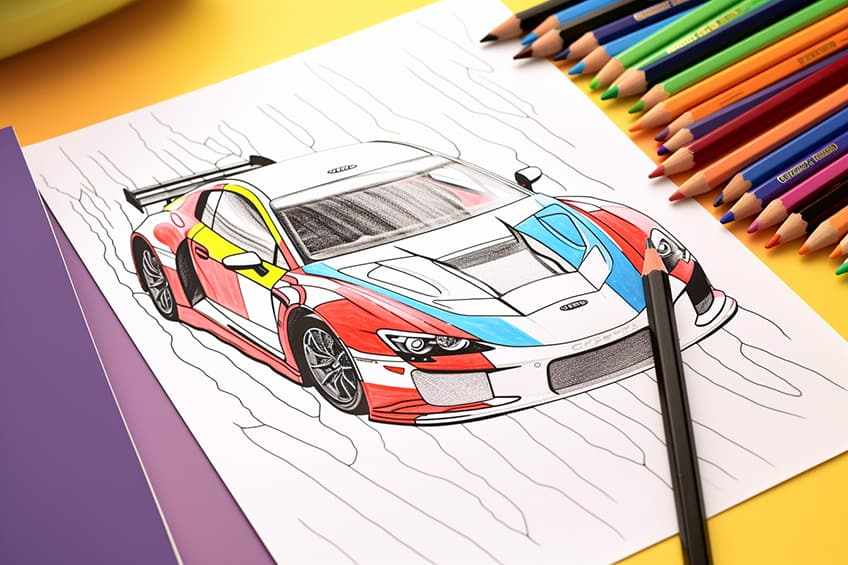 What's the Fascination of Race Cars?
Race cars have an unparalleled fascination that has thrilled motorsport enthusiasts around the world for decades. They embody the passion and unwavering determination of racing drivers who give their best to achieve victory. The sleek designs and powerful engines of race cars symbolize innovation, technology and advanced engineering.
For fans, race cars are also a source of inspiration and pride. They remind us that we all have dreams and goals to pursue. In race cars, we see the essence of performance, fighting spirit and the will to win. They encourage us to push our limits and work hard to achieve our goals.
In addition, race cars are also a symbol of speed and adrenaline. When you see them on the track, you hear the loud roar of their engines and literally feel the thrill and excitement. It is this mixture of speed, technology and passion that makes race cars an unforgettable experience for fans.