Pablo Picasso produced numerous iterations of women in armchairs. These were more so of the significant women in his life, who all played a part in his visual storytelling. This article will discuss one of his female stars, Dora Maar, and the 1937 painting he created of her titled Portrait of Dora Maar.
Artist Abstract: Who Was Pablo Picasso?
Pablo Ruiz Picasso was a famous Spanish artist who lived from October 25, 1881, to April 8, 1973. He was born in Málaga in Spain and traveled throughout his life when he died living in France. He started his artistic expression at a young age through drawing and painting. He was instructed by his father, José Ruiz Blasco, who was an artist and art teacher. Picasso was also involved in other artistic pursuits like sculpting and theatre design. He was married twice and had numerous love affairs.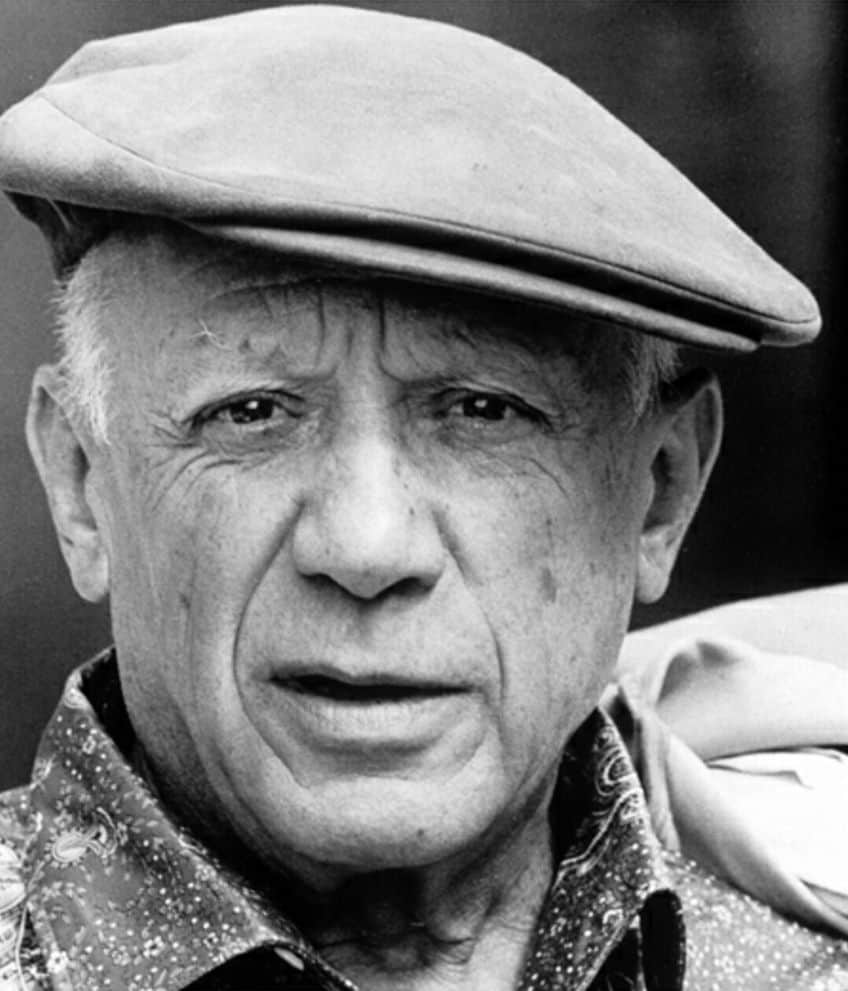 Pablo Picasso (1962); by Revista Vea y Lea; Argentina. Revista Vea y Lea, Public domain, via Wikimedia Commons
Interestingly, he also utilized his mother's name, which was María Picasso López. Examples of Picasso's paintings include The Old Guitarist (1903), Portrait of Daniel-Henry Kahnweiler (1910), and Massacre in Korea (1951).
Portrait of Dora Maar (1937) by Pablo Picasso in Context
The Portrait of Dora Maar painting analysis will discuss a contextual overview of Pablo Picasso's relationship with Dora Maar and the meaning attached to it. This will continue with a formal analysis looking at the visual art elements and how Picasso utilized them to create the composition.
| | |
| --- | --- |
| Artist | Pablo Ruiz Picasso (1881 – 1973) |
| Date Painted | 1937 |
| Medium | Oil on canvas |
| Genre | Portrait painting |
| Period / Movement | Cubism/Neoclassical/Surrealist |
| Dimensions (cm) | 92 x 65 |
| Series / Versions | N/A |
| Where Is It Housed? | Musée Picasso, Paris, France |
| What It Is Worth | Uncertain |
Contextual Analysis: A Brief Socio-Historical Overview
Pablo Picasso and Dora Maar were believed to have crossed paths in the late 1935s and then met in early 1936. Reportedly Maar saw Picasso on the set of a movie they were both artistically involved in, The Crime of Monsieur Lange (1936) by director Jean Renoir. Reportedly in 1936, Maar met Picasso at a Parisian brasserie (or café) called Les Deux Magots.
Paul Éluard who was a French poet within the Surrealist movement introduced the couple who would be involved for almost a decade.
Picasso's Women and a Weeping Star
Understanding why Picasso painted the Portrait of Dora Maar will require a brief overview of the role women played in his life. Dora Maar was not the only woman in Picasso's life, in fact, she was one of several whom the artist had an affair with while he was married. All his mistresses were part of unique love, and hate, stories. What most of Picasso's love affairs had in common was that the women were his models and muses whom he painted in a variety of styles. Dora Maar specifically was the star of his Weeping Woman series of paintings during the Spanish Civil War from 1936 to 1939.
The image of the weeping woman originated from Picasso's famous oil on canvas Guernica (1937), in which he depicted a war-torn woman in tearful agony holding her dead child. The concept of the woman weeping has also been described as symbolic of "universal" pain and was also how Picasso expressed his pain regarding the war. Why did Picasso depict Dora Maar as the Weeping Woman? He is often quoted as explaining that Dora Maar was always the weeping woman to him. He was reportedly "obeying a vision" that "forced" itself on him.
However, this was contrary to how Dora Maar really was in life, and she explained in an interview that the portraits of her were "lies" and that they were Picasso's, "not one is Dora Maar".
How Much Is the Portrait of Dora Maar Worth?
The exact value of the Portrait of Dora Maar at the Musée Picasso in Paris, France is uncertain, but according to online art sources, it is estimated to have a value of over $100 million.
Formal Analysis: A Brief Compositional Overview
The Portrait of Dora Maar painting analysis below will start with a visual description of the subject matter followed by a look at the formal art elements in more depth. Dora Maar is depicted seated in a chair, but if you look closely, there are a considerable number of different elements composing this image.
Subject Matter: Visual Description
The Portrait of Dora Maar depicts Dora Maar comfortably seated in an armchair. Her left elbow is resting on the chair's arm and her right hand is held up to her face. She wears a black blouse with a colorful pattern on the front with bulbous sleeves and shoulders. Additionally, she wears a dark red plaid skirt with green, orange, and black lines delineating its squares. A triangular shape is formed from where her skirt and blouse meet in the foreground and from its apex an inverted triangle forms along the center of her blouse.
This appears to be a decorative element and is composed of vertical lines with small black dots at each end with larger green and blue shapes that suggest floral decorations. The upper part of her blouse, around her collar area, depicts purple geometric shapes with orange and black lines, further suggestive of decorations on her blouse.
Her hair, appearing as long curved lines, falls neatly to just below her shoulders, and she has a partial short fringe on her forehead.
Her lips and nails are red, and the latter appear sharply pointed. There is an earring in her right earlobe, which is the only side of her head in our (the viewers') view. Her head is depicted in two perspectives, in frontal and profile view, of which her right side faces us, the viewers. There is a red apple with a small green leaf on its stem, as well as a smaller yellow lemon on the apple depicted on her right cheek.
Dora Maar's eyes are depicted in different viewpoints, for example, her left eye (our right) is a light, pastel-like, greenish-blue color and depicts the pupil towards the inner corner of her eye. There are also four eyelash strands in the same inner corner near her pupil. Her right eye (our left) is red in color with the pupil in the center of her eye and three eyelashes on her eyelid. She has long, curved eyebrows above her eyes.
The background depicts an interior space with all the walls and the floor consisting of vertical panels. Furthermore, the space appears small and somewhat cramped with Dora Maar seated in the foreground with a small section of empty space in the background.
Color
The Portrait of Dora Maar is filled with vibrant colors, notably on her face which is part yellow, red, green, blue, pink, white, and black. Her blouse is composed of darker hues like black, purple, and blue, which echo the darker hue of the chair she sits in. The background is lighter, consisting of white with lighter blues and yellows. This contrast of colors seemingly creates a backdrop emphasizing Dora Maar's figure in the foreground.
If you hope to complete craft projects where you need paint that will work well for any number of surfaces, then craft paint is your go-to! The consistency is smooth, creamy, and easy to use.
Texture
In the Portrait of Dora Maar Picasso's brushstrokes are evident and appear somewhat loosely applied with several areas where the paint is visible as streaks along the outlines, notably around Dora Maar's figure, for example at the top of her head.
Line
There are a variety of lines composing the Portrait of Dora Maar, a rich interplay of organic and geometric. For example, the seemingly more orderly straight vertical and horizontal lines in the background contrast with the seemingly more chaotic arrangement of lines in the foreground. For example, notice the curved and curled lines delineating Dora Maar's face and the angular and sharper lines of the chair and her garments. Also, notice the distinct "X" lines on the sides of the chair.
Space
Pablo Picasso was famous for distorting his compositional spaces and depicting his subject matter from different angles. In this Portrait of Dora Maar, you will notice this on her face as well as how her body is placed in relation to the chair, it appears almost flat as if she could be standing.
Shape and Form
Like the above, and collectively, the shapes and forms in this composition are a combination of organic and geometric. While the composition is filled with an assortment of these, some examples of the organic shapes are more visible on Dora Maar's face, which is an oval-like shape, her almond-shaped eyes with circular pupils, and the bulbous shapes of her garments.
The geometric and angular shapes are clear in the chair's squared structure as well as the lower portion of Dora Maar's torso appears rectangular.
Maar As Model and Metaphor
Dora Maar was more to Picasso than just a fellow artist, she was his lover, muse, model, and metaphor. She was the visual representation of Picasso's inner world affected by the disasters of war, but also his fascination with a woman that he undoubtedly shared a strong connection with.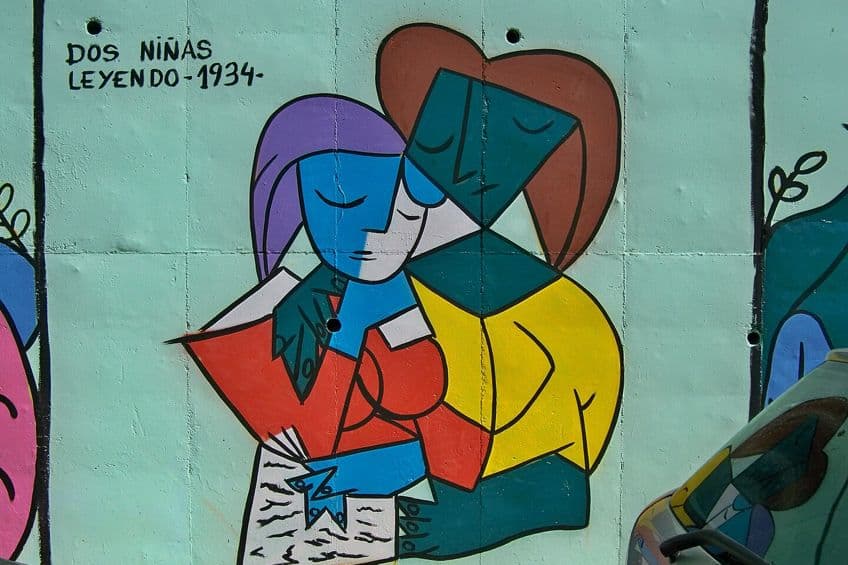 Detail of the mural graffiti dedicated to the work of Pablo Picasso, made by students of the Pablo Picasso secondary school, Malaga, Spain (2023); Daniel Capilla, CC BY-SA 4.0, via Wikimedia Commons
The "Portrait of Dora Maar" painting analysis explored when Picasso and Dora Maar met, who she was, as well as the role she played in his artistic oeuvre. It also discussed the painting's subject matter and how the visual art elements were composed to create the compelling oil on canvas it is to this day.
Frequently Asked Questions
Who Painted the Portrait of Dora Maar?
Pablo Picasso painted the oil on canvas titled Portrait of Dora Maar (1937), which measures 92 x 65 centimeters. It is housed at the Musée Picasso in Paris, France. Picasso depicted Dora Maar, whom he had an affair with and was involved with for almost a decade.
Who Was Dora Maar?
Dora Maar was the subject of numerous portraits by Pablo Picasso, and was romantically involved with him too. The couple met in 1935. She was an artist and well-known photographer.
How Much Is the Portrait of Dora Maar Worth?
Pablo Picasso painted various portraits of Dora Maar over the years, and several have sold for millions of dollars. For example, Dora Maar au Chat (1941), sold for over $90 million in 2006, and Femme Dans un Fauteuil (1941), which was valued at over $20 million at the time of its sale.
Alicia du Plessis is a multidisciplinary writer. She completed her Bachelor of Arts degree, majoring in Art History and Classical Civilization, as well as two Honors, namely, in Art History and Education and Development, at the University of KwaZulu-Natal, South Africa. For her main Honors project in Art History, she explored perceptions of the San Bushmen's identity and the concept of the "Other". She has also looked at the use of photography in art and how it has been used to portray people's lives.
Alicia's other areas of interest in Art History include the process of writing about Art History and how to analyze paintings. Some of her favorite art movements include Impressionism and German Expressionism.  She is yet to complete her Masters in Art History (she would like to do this abroad in Europe) having given it some time to first develop more professional experience with the interest to one day lecture it too.
Learn more about the Art in Context Team.