Louis Wain the artist lived a life equally filled with art and illness. Louis Wain's art was known for one subject: cats, such as his famous cat painting, Kaleidoscope Cats I (1931). Later in life, Louis William Wain was institutionalized after battling mental illness. In this article, we will explore how Louis Wain's art not only influenced artists but also was significantly used in the field of psychology to illustrate a patient's declining mental cognition.
Louis Wain's Biography
| | |
| --- | --- |
| Nationality | British |
| Date of Birth | 5 August 1860 |
| Date of Death | 4 July 1939 |
| Place of Birth | Clerkenwell, London |
Louis William Wain's life story is quite a tragic one. He was a prominent artist for a while, but a succession of terrible financial mistakes left him bankrupt, and he started to have mental health issues early in the 20th century.
He progressively degenerated, turning into a distrustful and even angry individual with nonsensical, meandering discourse. In 1924, he was detained in a mental hospital's destitute wing.
Early Life
Louis Wain the artist was born in Clerkenwell, London, on the 5th of August, 1860. His father was a textile merchant, while his mother was born in France. His sister Marie was pronounced insane at the age of 34 and confined to a hospital in 1901, where she passed away in 1913. For the rest of their mother's life, the surviving sisters resided with her.
Louis William Wain was diagnosed with a cleft lip at birth, and the doctor advised his parents not to send him to school or teach him until he was 10 years old.
He was frequently absent from school as a youngster and spent most of his time traveling around London. Wain later attended the West London School of Art and also worked as a lecturer at the school for a brief time. After his father died in 1880, he was left to sustain his sisters and mother at the age of 20.
When the first of Louis Wain's cats' artworks were featured in the "Illustrated Sporting and Dramatic News" in 1881, he relocated and leased an apartment.
Artistic Career
Wain quickly left his teaching job to work as a freelance artist. He was a huge success in this job. He excelled in sketching animals and country scenery for many magazines. Throughout the 1880s, he was commissioned to depict cattle at agricultural exhibits, as well as comprehensive renderings of English country mansions and estates. Louis Wain's paintings at the time contained a wide range of animals, and he retained his talent to sketch a vast range of species throughout his life.
He had intended to earn a livelihood by sketching canine pictures at one time.
Wain wedded Emily Richardson, his sisters' tutor, at the age of 23 (which was regarded indecent at the time), and relocated to Hampstead in north London with her. Sadly, Emily would be diagnosed with breast cancer soon after and passed away three years later. Wain found the issue that would determine his career just before she died. Emily was soothed during her sickness by their beloved cat Peter, a stray kitten they adopted after hearing him meowing in the storm one night.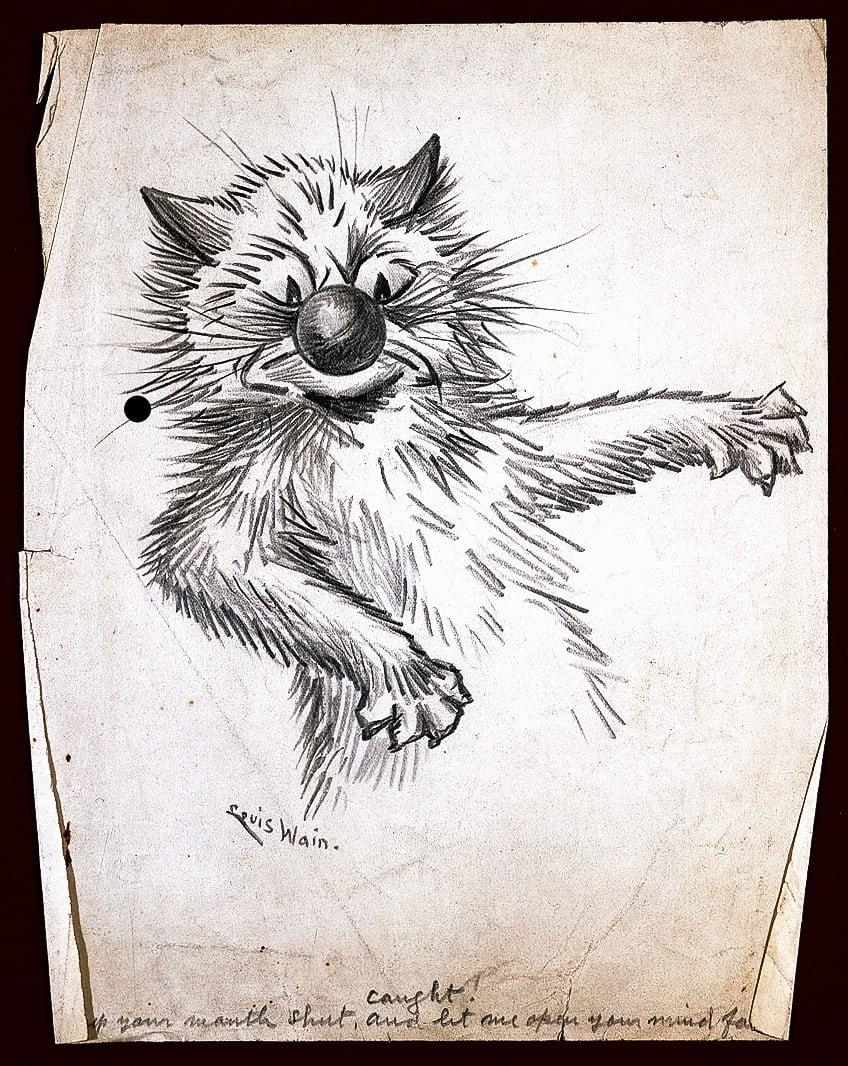 Drawing by Louis Wain titled Caught! Keep your mouth shut and let me open your mind for you; See page for author, CC BY 4.0, via Wikimedia Commons
Wain did a lot of drawings of Peter, and Emily urged him to publish them. He continued to draw cats even though she perished before this occurred. "To him, appropriately, goes the basis of my profession, the advances of my early efforts, and the establishment of my works," he wrote later about Peter. In several of Louis Wain's artworks from his earliest published works, Peter may be found.
"A Kittens' Christmas Party", Wain's first illustration of anthropomorphized feline, was featured in the 1886 "Illustrated London News" Christmas Edition.
It showed 150 cats, many of whom looked like Peter, doing things like mailing invites, throwing a ball, playing a game, and giving speeches. It was made up of 11 panels. The cats are unclothed, on all fours, and lack the range of human-like expression that would come to define Louis Wain's paintings in later phases.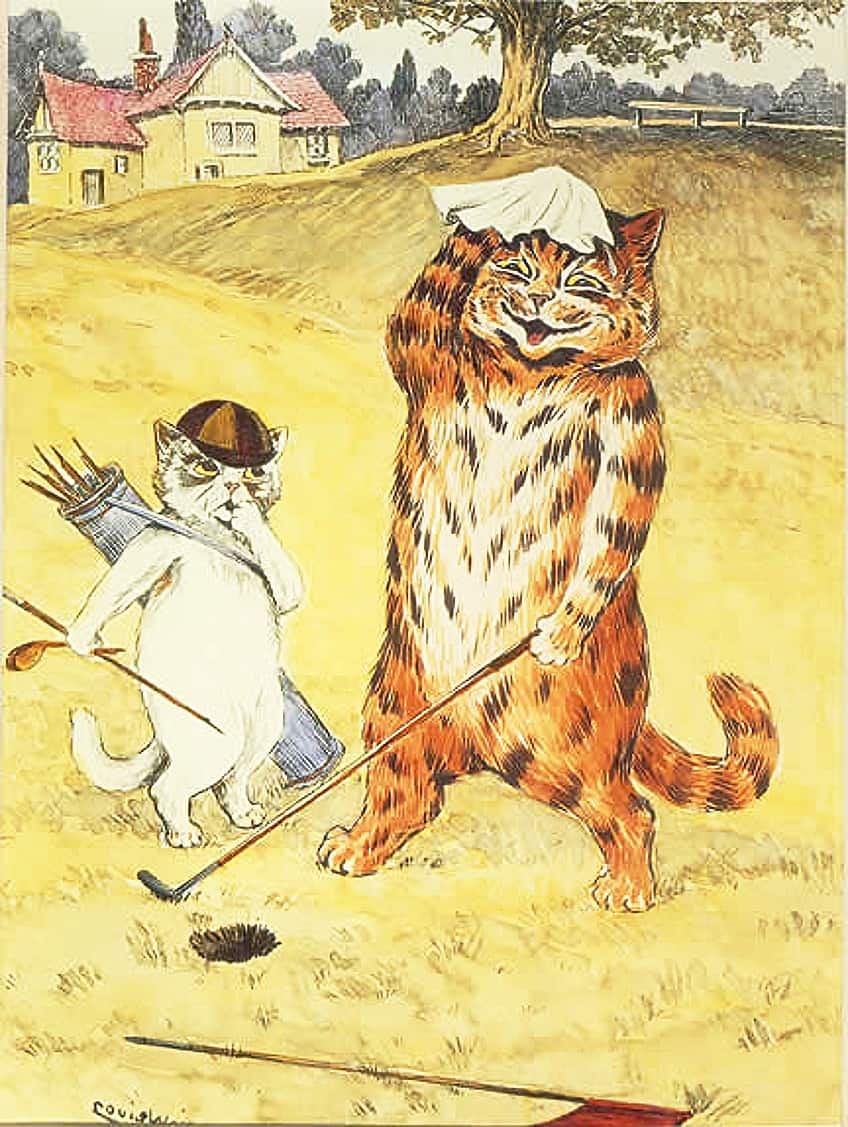 A cat drawing by Louis Wain represents his anthropomorphic style; Louis Wain, Public domain, via Wikimedia Commons
Louis Wain's cats started walking upright in future years, grinning widely and exhibiting other theatrical facial expressions, and dress in stylish, current attire. He drew cats performing on musical instruments, cats pouring tea, cats playing a game of cards, hunting, smoking, and attending opera performances. Anthropomorphized animals were fashionable in Victorian England, and they might be found in posters, greeting cards, and satirical pictures.
Wain was a productive artist over the following 30 years. He generated hundreds of drawings each year and created illustrations for over 100 children's books.
Louis Wain's art appeared in newspapers, periodicals, and magazines from 1901 through 1915. Louis Wain's paintings were also replicated on picture postcards, which are today very collectible. He served as the National Cat Club's chairman between 1898 and 1911. Wain's cartoons frequently mock human behavior, satirizing current fads and fancies. He penned, "I take a notebook to a cafe or other public location and depict individuals as cats in various situations, attempting to capture their human traits as closely as possible.
A print of Louis Wain's painting, A Vestry Meeting, made before 1892. It is unusual as it depicts bulldogs, rather than the cats which are Louis Wain's usual fare; Louis Wain, Public domain, via Wikimedia Commons
This gives me a double nature, and I consider these pieces to be my funniest work". Wain struggled financially throughout his lifetime, despite his celebrity. He was still financially responsible for his family and lacked commercial acumen. In the business of publishing, he was humble, inexperienced, easily manipulated, and ill-equipped for negotiation. He frequently sold his drawings altogether, with no rights to reproduce them. He was easily deceived, falling for promises of a new invention or other money-making scams.
He relocated to New York in 1907 and started creating comic strips for Hearst Corporation's publications. Louis Wain's art was well-received, despite his caustic attitude toward the city, which earned him criticism in the press.
Due to his rash purchase of a new sort of oil lamp, he went home with even less money. Wain designed several ceramic items for Amphora Ceramics about 1914. Louis Wain's cats were nicknamed the Futurist Cats and featured angular cats and canines with geometrical patterns. They are regarded to be Cubist works of art.
Later Life
It's important to emphasize that Wain's suspected schizophrenia isn't caused by toxoplasmosis, a condition caused by the parasite Toxoplasma gondii, which cats deposit in their feces. The old theory that toxoplasmosis can cause schizophrenia, which dates back to the mid-20th century, has been widely disputed, however, because there is no hard proof that toxoplasmosis can impact people's behavior; and, while research on the subject continues, the link between toxoplasmosis and schizophrenia currently appears to be a popular misconception rather than a fact.
It's also worth noting that Wain wasn't the only one in his family with a mental illness.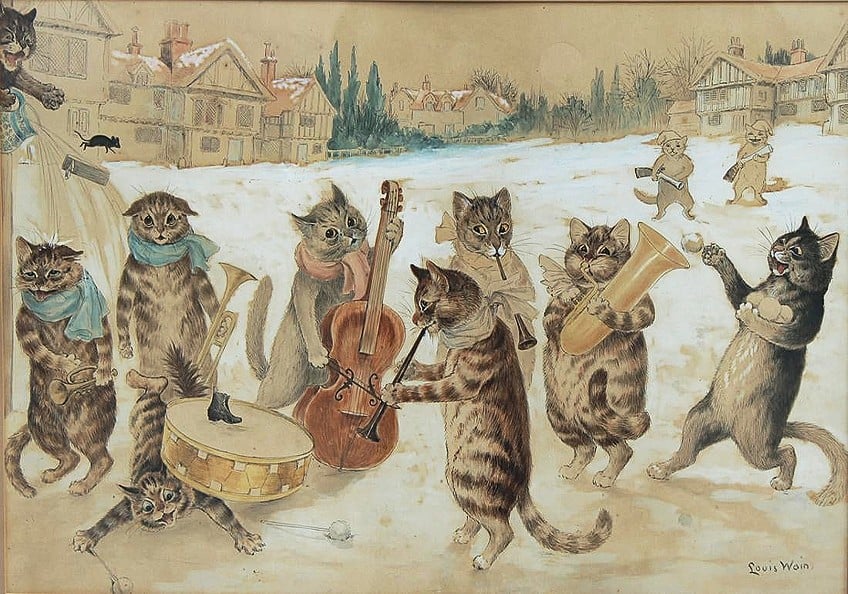 Carol Singing by Louis William Wain, watercolor, gouache, pen and pencil on paper; Louis William Wain, Public domain, via Wikimedia Commons
Wain was confined to a destitute unit at the mental facility in Tooting in 1924 when his siblings could no longer deal with his unpredictable and occasionally violent behavior. When Wain was found there a year later, his plight was extensively reported, prompting appeals from celebrities like H. G. Wells. Louis William Wain was sent to Napsbury Hospital in Hertfordshire in 1930.
With a garden and a population of cats, Napsbury was a wonderful place for him to spend his final years.
Legacy
Michael Fitzgerald challenges Wain's diagnosis of schizophrenia, claiming that he was more likely suffering from Autistic Spectrum Disorder. While Louis Wain's paintings became more abstract as he got older, he says his technique and talent as an artist did not deteriorate, as one might assume with schizophrenia. In his picture, he finds that characteristics of visual agnosia – the incapacity to recognize particular items yet be able to recall them if asked – are exhibited. If he suffered from visual agnosia, it might have appeared as a high level of detail-orientedness.
Several of Louis Wain's cats' paintings have been used as illustrations in psychology classes to ostensibly demonstrate how his style changed as his mental health deteriorated.
However, because Wain did not date his paintings, it is unknown if they were made in the sequence shown in textbooks, which usually depict more florid, abstract imagery as coming later, indicating Wain's mental condition.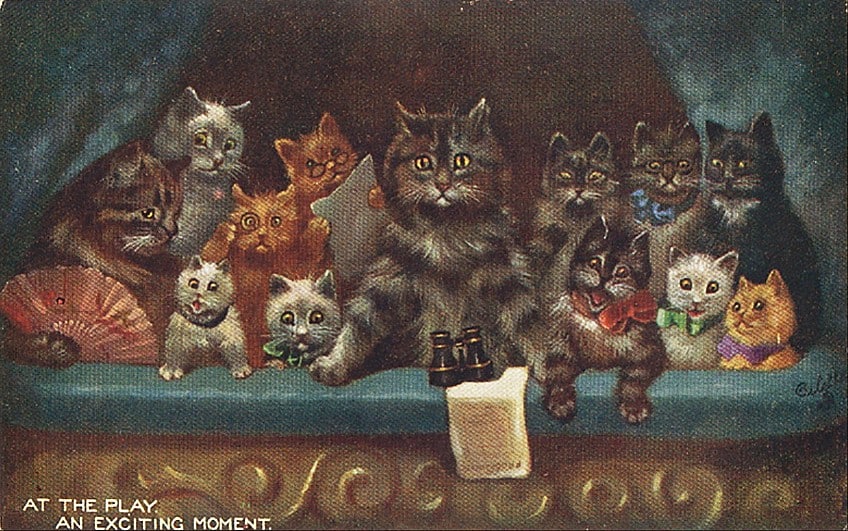 At the Play by Louis Wain, made before 1939; Louis Wain, Public domain, via Wikimedia Commons
"Wain dabbled with designs and cats, and even fairly late in life was still creating traditional cat portraits, possibly 10 years after his alleged "latter" output which are patterns rather than animals," according to Rodney Dale. In an essay regarding psychotic patterns, Kevin Van Eeckelen suggested that signs of degeneration may be discovered in Louis Wain's earlier storytelling works, such as the Louis Wain Kitten Book (1903).
This research is predicated on the mimetic interpretation of psychosis, which emphasizes the overlap of "normalcy" and "madness".
Maclay considered the series as confirmation of his views, according to O'Flynn, who based his theory on his 1930s research with art and mescaline-induced insanity. Individuals with schizophrenia's capacity to be creative declined, according to Maclay. According to O'Flynn, the relationship between schizophrenia and the degeneration of artwork does not hold when looking at the work of outsider artists.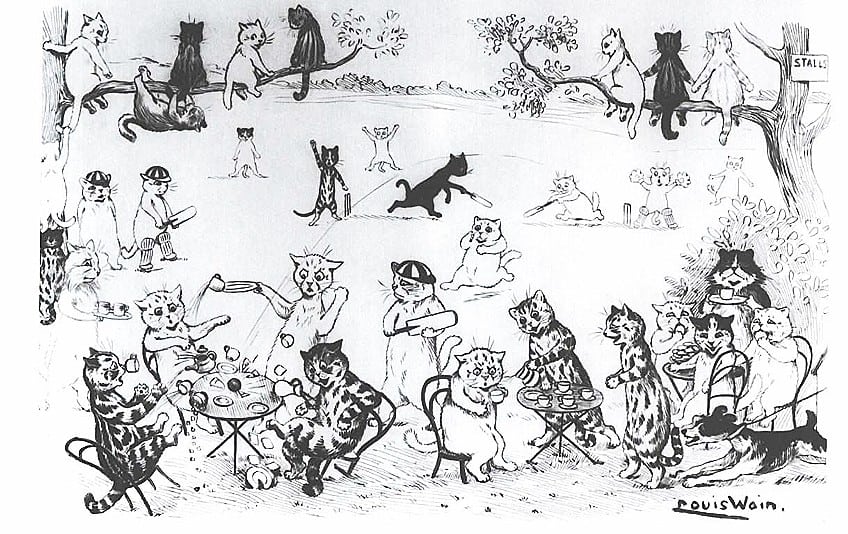 Cat Club by Louis Wain; Louis Wain, Public domain, via Wikimedia Commons
O'Flynn finds more exploration and use of color in Wain's later work, not a decline. Even though the series is known to have been put together and the images aren't from the 1960s, "its portrayal of something that doesn't happen, namely psychotic degeneration, has proven rather resilient," according to the researchers.
Louis Wain's art reawakened interest in the 1960s, and psychedelia lovers marveled at how he was able to create these psychedelic visions without using any drugs.
Louis William Wain's later work has been cited as a key influence on 1960s psychedelic art. There is also a Louis Wain movie, which was released in 2021, featuring Benedict Cumberbatch. The Louis Wain movie about his lifetime and art is called The Electrical Life of Louis Wain.
Louis Wain's Art Style and Mental Condition
Louis Wain's artwork is commonly cited as an illustration of schizophrenia's evolution and the disorder's influence on an artist's perceptions. Even though Louis Wain's paintings appear in sections on schizophrenia in various psychology textbooks, it is unknown if he was diagnosed with the illness.
Wain's abilities as a draughtsman remained apparent throughout his condition, leading to speculation that he was suffering from Asperger's Syndrome, an autism spectrum condition.
After-the-fact diagnosis is usually dicey, and this notion might be wrong – one of the reported signs of Asperger's is a loss of motor abilities. Wain's illness progressed, and his cat paintings got increasingly abstract until they were scarcely identifiable as cats at all by the end of his life, instead, they became elaborately detailed, fractal patterns full of impossibly vivid colors. The awareness that these are cat images assists the observer to see certain forms, such as the sharp triangular ears and some facial traits, but without them, it would be difficult to tell they are cats.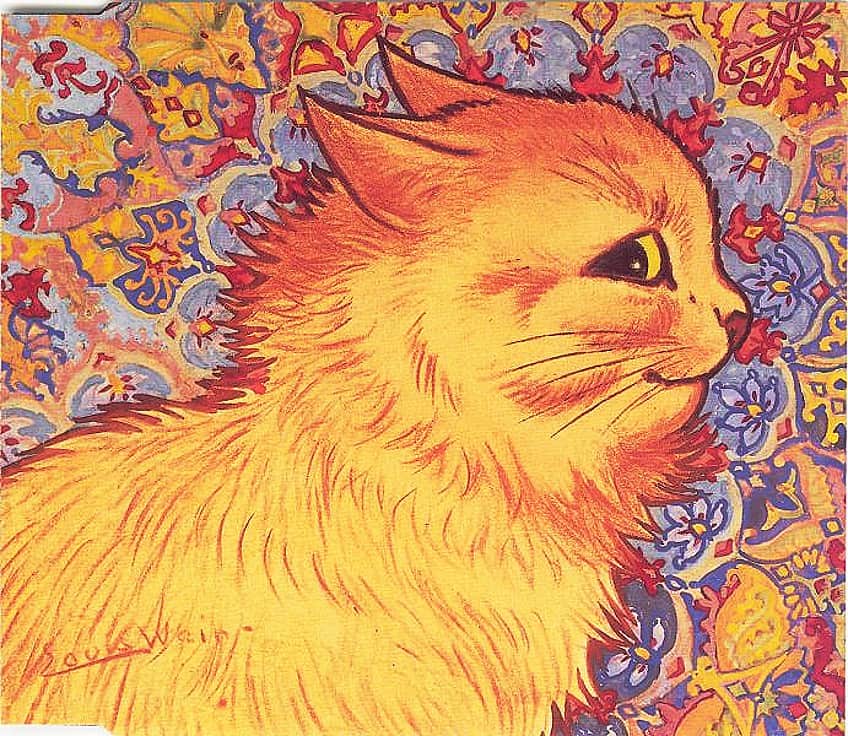 Profile of a cat drawing by Louis Wain; Louis Wain, Public domain, via Wikimedia Commons
Wain's later paintings are very close to fractals. Although fractal patterns may be seen in nature, such as in aerial shots of coastlines and mountain ranges, and even in plant foliage, the first computer-generated representations of idealistic fractal structures that we are acquainted with were not created until the 1970s.
Something in Wain's condition appears to have enabled him to comprehend and describe these unseen natural motifs long before anybody else had noticed them.
It would be interesting to study more about the alterations in Wain's brain that allowed him to access this previously unseen world of color and pattern. Wain's life story may have been tragic, but his artwork has provided joy to countless people throughout the years. Wain's bright use of pattern is magnificent; was it a way of exploring a lifelong love with electric impulses, or was it inspired by his textile-designer parents? Or did he simply find the process of painting and sketching patterns calming or contemplative as a patient on a medical ward?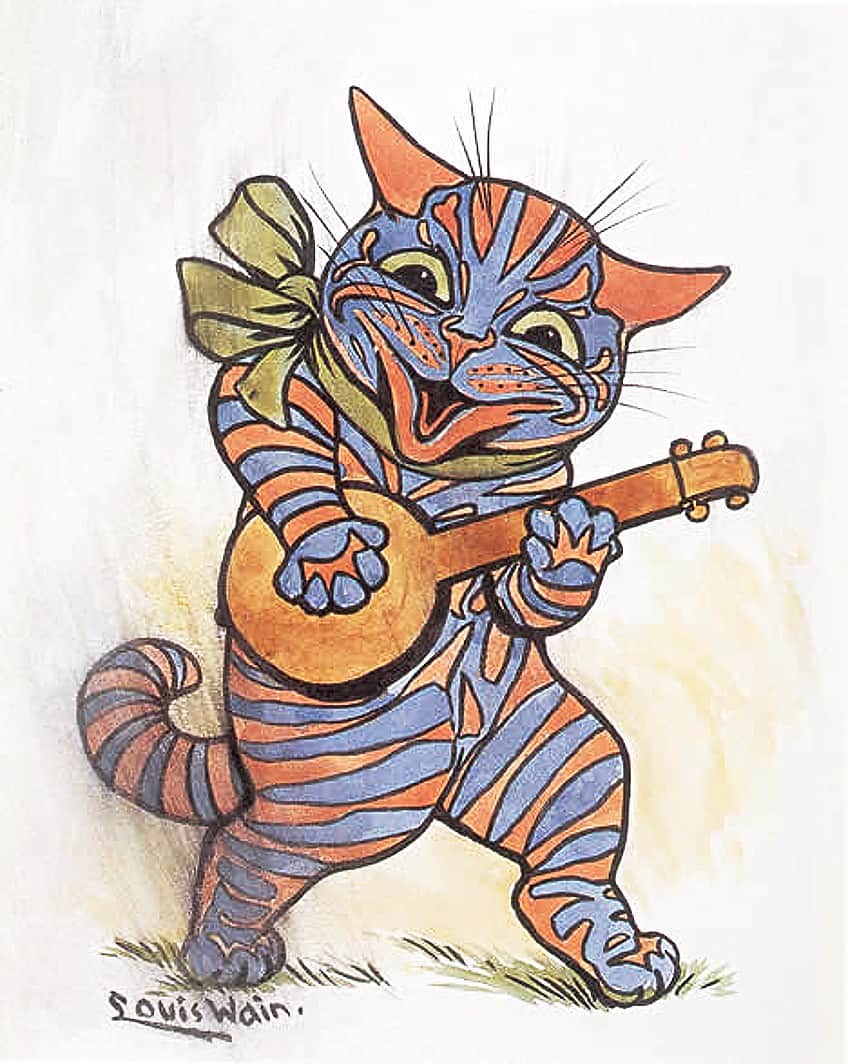 Cat with Lute by Louis Wain; Louis Wain, Public domain, via Wikimedia Commons
"An illustration of the narrow boundary between brilliance and lunacy, and in his manner, he was a genius," Wain's friend Collingwood Ingram said of him. Wain had an incredible life, experiencing enormous loss while offering immense joy to so many people over his existence.
Whatever disease he had, he did not 'lose himself in it: his passion for cats and his unique creative skill remained undiminished during his stay in the hospital.
The quantity of work he left behind attests to "the tremendous span of his creativity, to his appreciation of the funny and weird, and to his limitless exploration into the lighter side of human existence," according to art collector Gustave Tuck. Hopefully, the 2021 film helped to rebalance Wain's artistic legacy by providing a more balanced portrayal of his intriguing life and work.
Louis Wain's Famous Cat Paintings
From the 1880s until the outbreak of World War I, the "Louis Wain cat" was highly popular. Louis Wain's cats may be found in posters, magazines, journals, post-cards, and annuals engaged in every form of human activity, from playing sports, digging up roads, and riding bikes, to showing the newest trends at Ascot and delivering pompous after-dinner lectures at the club.
Notwithstanding his popularity, he rarely made any money because of his lack of commercial acumen, and he fell into terrible destitution during the war. He had always been odd, but now he was exhibiting symptoms of a major mental disease.
A New Dog-Fancy: The Basset Hounds (1884)
| | |
| --- | --- |
| Date Completed | 1884 |
| Medium | Engraving |
| Dimensions | 36 cm x 28 cm |
| Current Location | Illustrated London News 1884 |
Peter the cat drew a lot of attention since he was so reassuring to Emily, and Louis began teaching him skills to entertain her. He also spent a lot of time drawing Peter, filling sketchbooks after sketchbooks with images of him in every imaginable stance.
Due to the fact that there were pictures of Peter displayed all over the walls of their apartment, which drew ecstatic approbation from their visitors, Emily urged her husband to give some of his sketches of Peter to publishers, but he did not believe they would be receptive.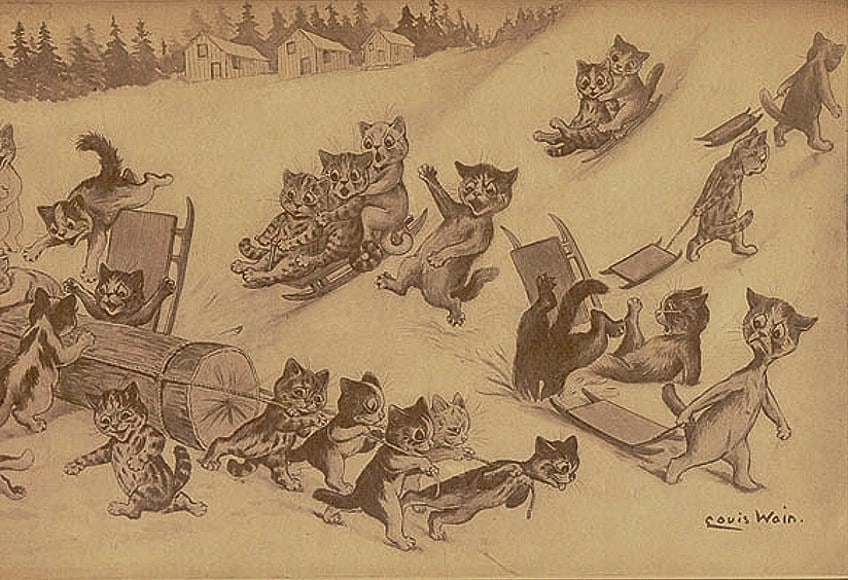 Cats Bringing in a Yule Log (1910) by Louis Wain, from his Catland illustrations; Louis Wain, Public domain, via Wikimedia Commons
Wain, on the other hand, spent the mid-1880s attempting to earn a livelihood as a dog portraitist rather than pitching cat images to publishers. "It's hard to believe that the cat was not generally regarded as a pet in those days," Dale said, adding that cat fancier groups were beginning to have an influence. "When I first started sketching and painting cats, they were viewed as detested creatures, looked upon as pests by hunters," Louis Wain stated in 1909. "Anyone who was interested in the cat movement was seen to be effeminate."
A Kitten's Christmas Party (1886)
| | |
| --- | --- |
| Date Completed | 1886 |
| Medium | Engraving |
| Dimensions | 30 cm x 20 cm |
| Current Location | Illustrated London News 1886 |
Macmillan commissioned Wain to illustrate Madame Tabby's Establishment in 1886, a children's story about a young girl who is welcomed into the cat king's court and travels to Madame Tabby's to learn correct cat etiquette.
The book was popular with Victorian parents when it was released in the fall of 1886, according to Dale.
One of Louis Wain's Christmas illustrations (1909); Louis Wain, Public domain, via Wikimedia Commons
Illustrated London News published an 11-panel Wain tale with almost 150 cats that Christmas. It made him renowned almost immediately, which thrilled Emily, who sadly died on the 2nd of January, 1887, at the age of 26.
The Bachelor Party (1896)
| | |
| --- | --- |
| Date Completed | 1896 |
| Medium | Oil on canvas |
| Dimensions | 29 cm x 60 cm |
| Current Location | Private Collection |
Louis William Wain is largely regarded as the most well-known painter who frequently used cats in his paintings. Unlike other artists who painted cats in their natural condition, Wain preferred to depict them funnily, with huge eyes and frequently engaging in human activities.
Many art historians and critics say that one of his most well-known paintings is possibly among the most famous cat paintings ever.
The Bachelor Party (1896) by Louis Wain, located in a private collection; Louis Wain, Public domain, via Wikimedia Commons
The Bachelor Party is a hilarious image depicting several cats gathering around a tabletop, having a few beverages, and smoking cigars. It was painted in 1896. Unlike Wain's later works, this piece displays none of the extreme coloring and fractal patterns that would become hallmarks of his style. The style is playful, and even though the animals are involved in human activities, they still resemble natural-looking cats, rather than geometric patterns.
This painting has long been shown in a variety of locations as a sign of comedy that anybody can appreciate, especially cat lovers.
The Kaleidoscope Cats I (1930)
| | |
| --- | --- |
| Date Completed | 1930 |
| Medium | Gouache |
| Dimensions | 22 cm x 17 cm |
| Current Location | Bethlem Museum of the mind, London |
One widely held belief today is that if Wain had lived in the 21st century, he would have been labeled as autistic. Wain's image as a schizophrenic artist was cemented for most of the 20th century due to the efforts of psychiatrist Dr. Walter Maclay. In 1939, Maclay stumbled discovered eight paintings by Louis Wain in a store, which he put in an imagined chronological order to depict the evolution of the schizophrenic mind.
His idea was that the artist's mental condition worsened as the series of cat illustrations got more fragmented.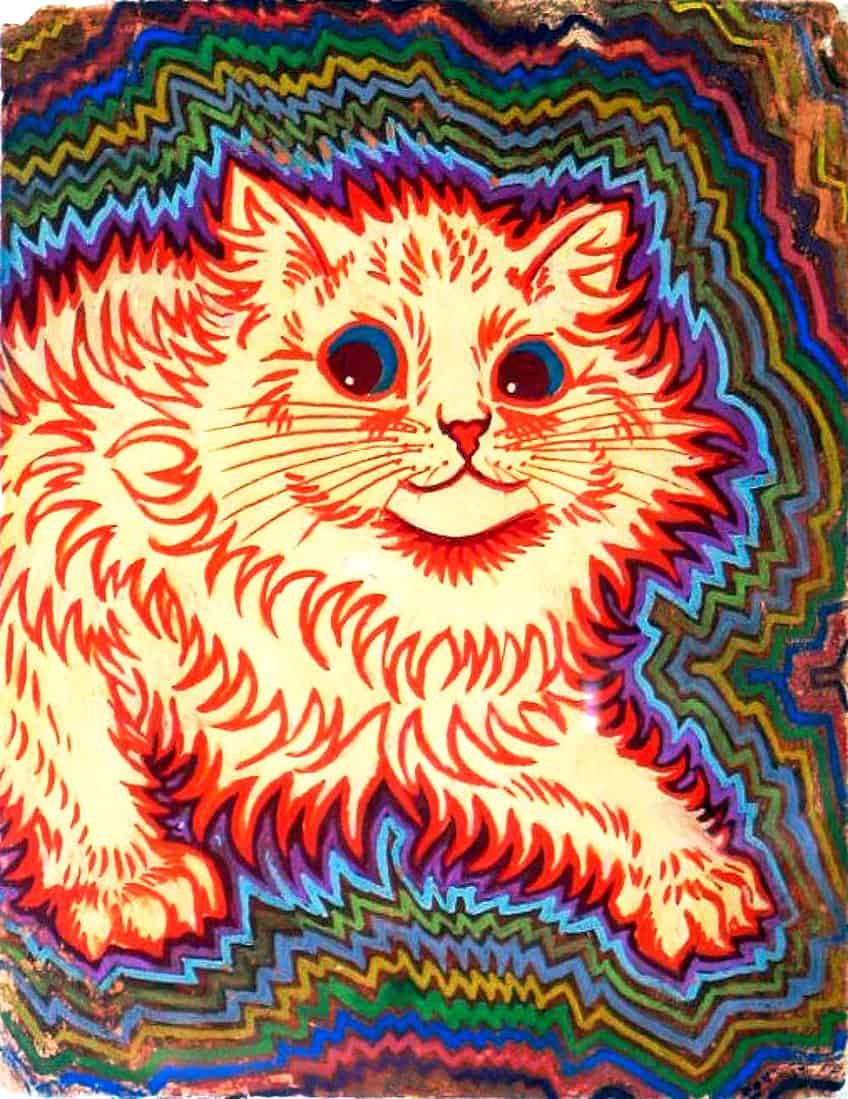 Psychedelic cat by Louis Wain; Louis Wain, Public domain, via Wikimedia Commons
Despite the lack of evidence to support this arrangement, the Kaleidoscope Cats I – VIII series of illustrations became a famous visual representation of the schizophrenic mind. The Edwardian understanding of Wain's art as "charismatic" and "funny" was long gone. Instead, his work was frequently described as "disturbed," terms that appeared in a major show at the Victoria & Albert Museum in 1972. The notion of "Kaleidoscope Cats" does not allow for the recognition or appreciation of Wain's artistic progress, nor does it portray the depth of his character and personal experiences.
Louis Wain's artwork and life, like his cats, may be sassy, wicked, funny, endearing, vulnerable, lovely, comical, gloriously odd, and more.
Cats melting into patterns or converting into three-dimensional Cubist patterns may have indicated something positive instead of an internal sickness. This might be proof of the artist's growing creative confidence, enjoyment of new methods, or an expression of the artist's feelings about the rapidly changing environment in which he found himself.
Recommended Reading
Today we learned about Louis Wain the artist. We delved into Louis Wain's biography as well as his famous cat paintings such as Kaleidoscope Cats I. Yet, there is always plenty more to learn about any artist. Therefore, we have created a list of suitable reading material that you might find interesting.
Louis Wain's Edwardian Cats (1983) by Michael Parkin
If you have ever wondered whether you should purchase a Louis Wain book, then this might help you make that choice. It follows the life and career of a British artist whose cat images typified Edwardian England's exuberant flair. Reproductions and assessments of numerous of his works are included.
Beautifully illustrated with Wain's artworks
Chronicles the life and career of the English artist
Includes reproductions and analyses of several of his works
View on Amazon
Louis Wain's Cats (2021) by Chris Beetles
Louis Wain created a cat fashion, a cat society, and a whole cat universe. These statements accurately predicted the future of the Wain cat, which has become the century's most recognizable picture in cat art once again.
Louis Wain's cats, clothed as human people, depicted that elegant Edwardian universe having some fun: at eateries and soirees, heading to the Races and the Seafront, commemorating birthday celebrations, and disporting themselves with the exhilarating gameplay of sports during their heyday, just before the First World War. This is a tantalizing universe of cats at play, unconstrained and slightly hazardous, with most community activities likely to end in disaster, mayhem, and mischief.
Explores the titillating world of cats at play
Contains 300 plates of richness and variety
Faithfully reproduced from Wain's original artworks
View on Amazon
Louis William Wain was an eccentric cat lover who delighted Edwardian audiences with delightful, often funny pictures of anthropomorphized feline pals playing golf, drinking tea, wearing suits, and attending the opera. Louis Wain's cats were humanized during a period when they were largely regarded as pests by the British people, an attitude that would be unimaginable to today's cat-loving population. His paintings of lovely, lovable felines parodying Edwardian life inundated newspapers and periodicals. His work aided in the popularization of cats as home pets.
Frequently Asked Questions
How Did Louis Wain's Art Become Abstract?
Wain's profession expanded to manufacture futurist ceramic cats, more Cubist in style, after the demand for his work fell off during World War I. This new oeuvre piqued the artist's interest since it provided a fascinating, natural way of addressing his favorite subject. Wain subsequently said of this time frame that he never knew what he was going to do from one minute to the next. It was the manifestation of an emotion, and he was taken aback by it all. His paintings and sketches got more abstract as well. The typical Wain cat began to be replaced by dynamic, richly patterned images, leading spectators into a new, lively universe where cats became frenetic and sharp, sometimes dissolving into kaleidoscopic forms. Perhaps his curiosity about electricity, which was still little understood by the broader population at the time, prompted these vibrant patterns.
Who Is Louis William Wain?
Although his name is less well-known now, Louis Wain was well-known in the early years of the 20th century for his humanistic cat pictures. He's now widely regarded as having suffered a terrible downfall owing to mental illness, as indicated by major changes in his artistic approach and production. His collection of works pays testament to his great span of imagination, his enjoyment of the humorous and weird, and his never-ending search for the brighter side of human existence.