G'day mate! Today we will be taking a trip down to Australia, home to the well-known kangaroos. Did you know kangaroos are also called Joeys? And no, not the Joey from "Friends", but new-born kangaroos are referred to as Joeys. When they are born, they are the size of a jellybean! Kangaroos are also known to pack a powerful kick and punch, therefore, it is quite fitting that a group of kangaroos is called a mob. Let's punch our way through today's easy and fun tutorial on how to draw a kangaroo.
How to Draw a Kangaroo With an Easy 11-Step Guide
Today, we have a fun and exhilarating drawing tutorial on how to draw a kangaroo! We will take you through a detailed step-by-step guide that will end with your creating a realistic kangaroo drawing. Follow along and you will see just how easy a kangaroo drawing can be! The below kangaroo collage shows you all the steps you will take to draw a native Australian Kangaroo.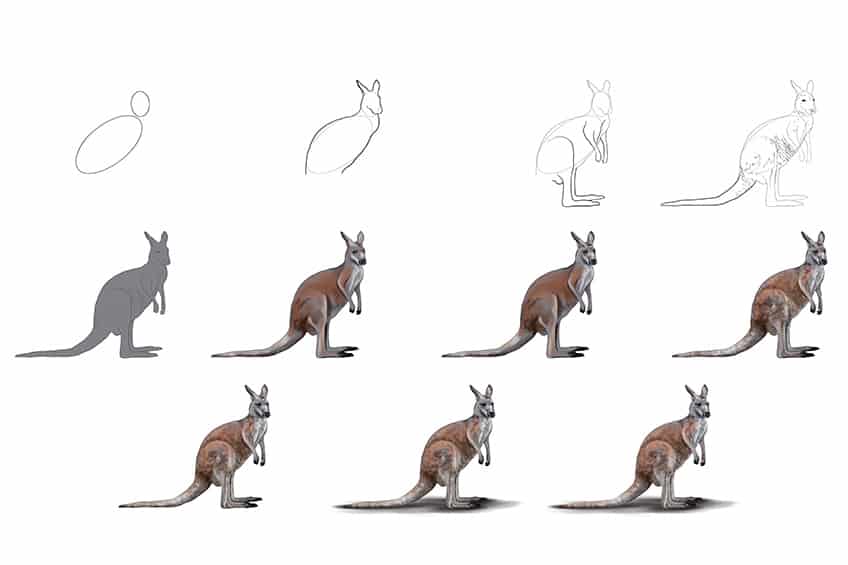 Step 1: Draw the Body
Begin by drawing a slightly tilted oval that will represent the body of your kangaroo drawing. Above this, draw a smaller oval shape to represent the head.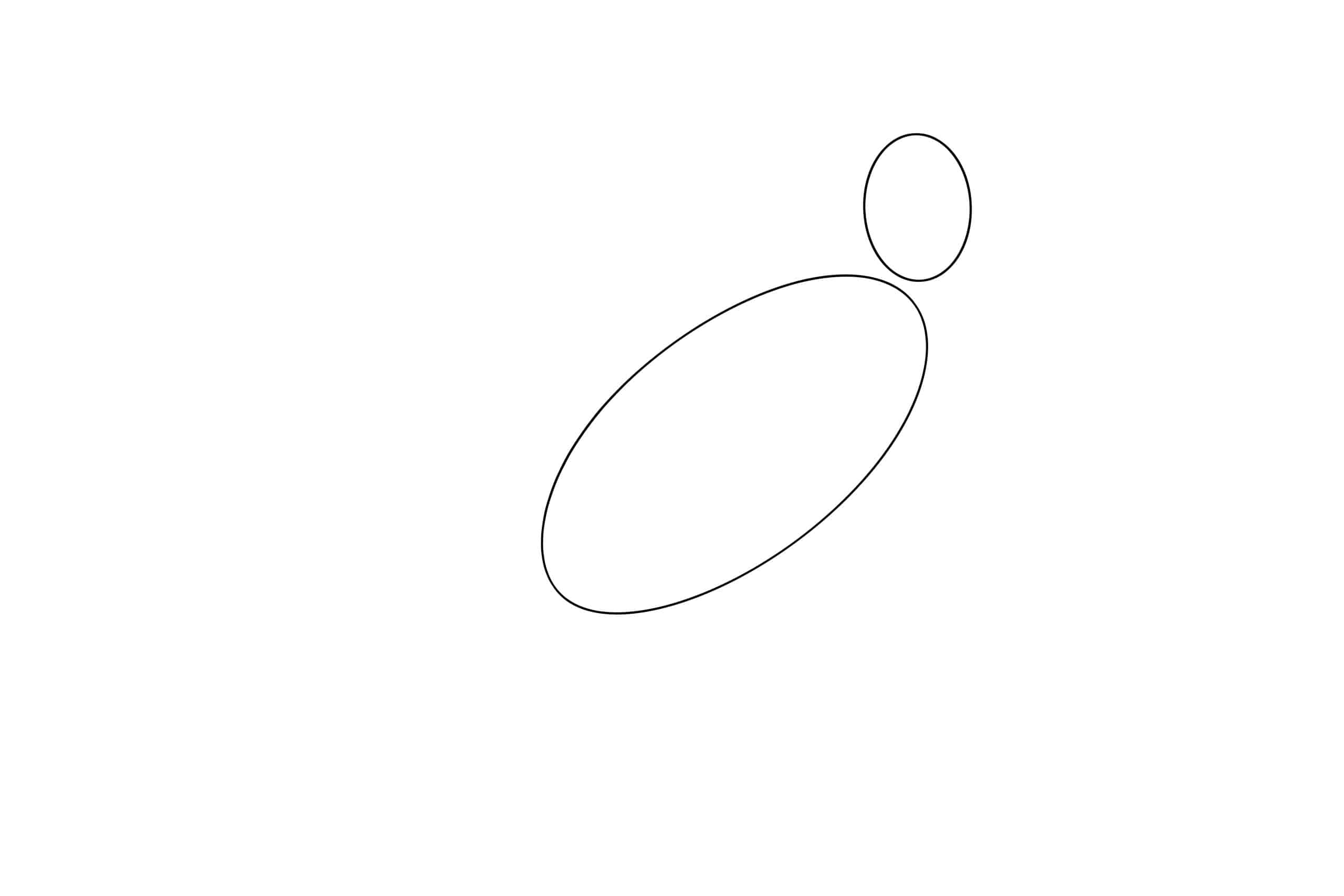 Step 2: Outline the Main Body
Using the previously drawn construction lines to guide you, begin to outline a more realistic shape for your kangaroo drawing. Include a face, jaw, and ears outline for your kangaroo.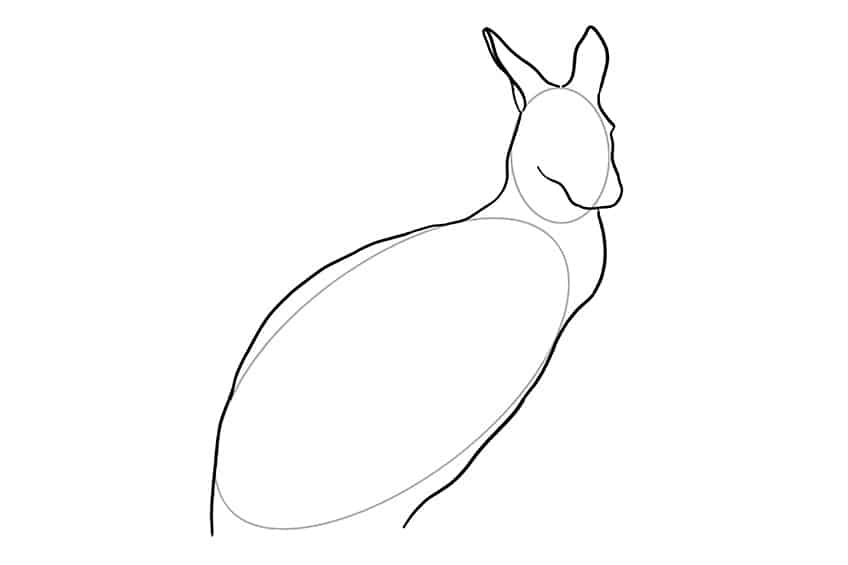 Step 3: Draw the Legs and Arms to Your Kangaroo Outline
Begin by drawing a curving thigh line, within the main body, and leading onto two feet of your kangaroo drawing. The feet should be long and flat. Continue by drawing the arms, which should protrude from the upper area of the main body.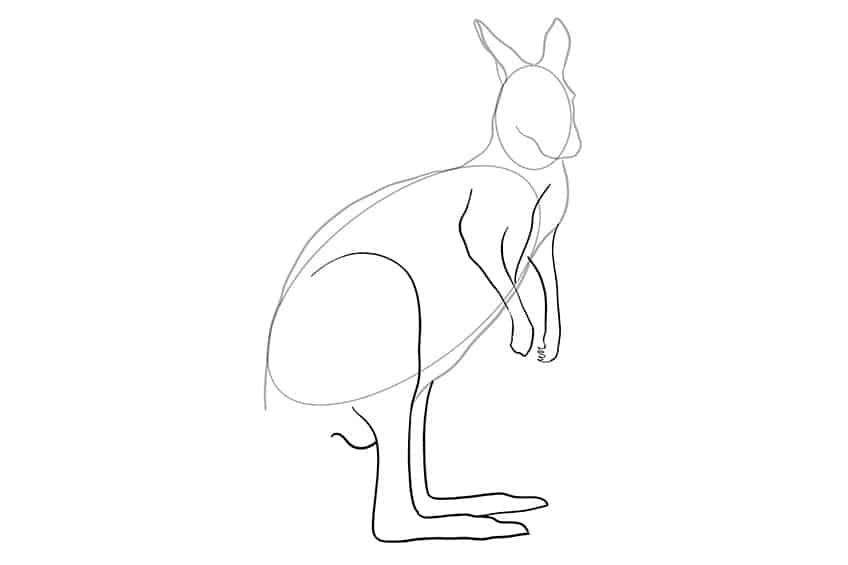 Step 4: Add the Tail to Your Kangaroo Outline
Attached to the lower end of your kangaroo, draw a long, flat tail. Within the main body, draw fine streak lines to represent the rough and furry texture of your kangaroo sketch. Within the head, fill in two eyes and add nostrils.
Once completed, you can erase any construction lines that are no longer needed.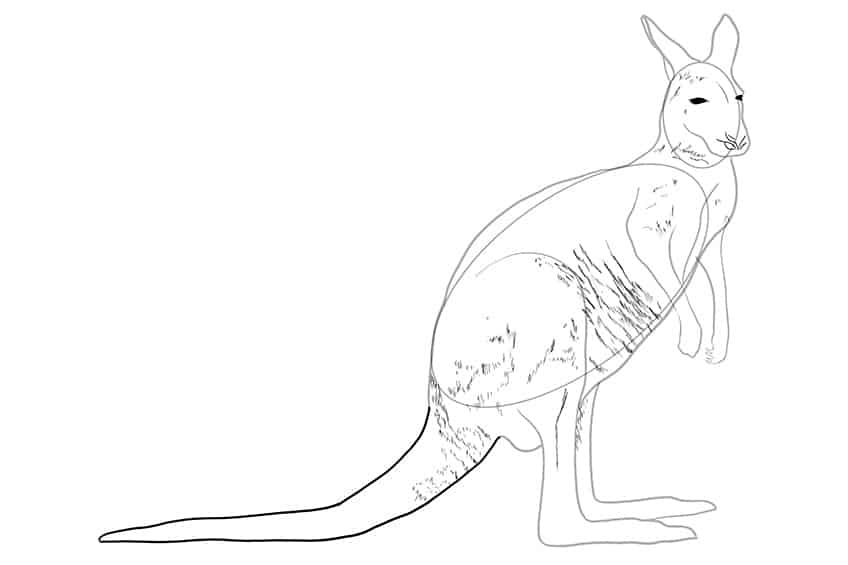 Step 5: Add the First Coat of Color
With a regular brush and gray paint, begin to evenly color the entire kangaroo drawing.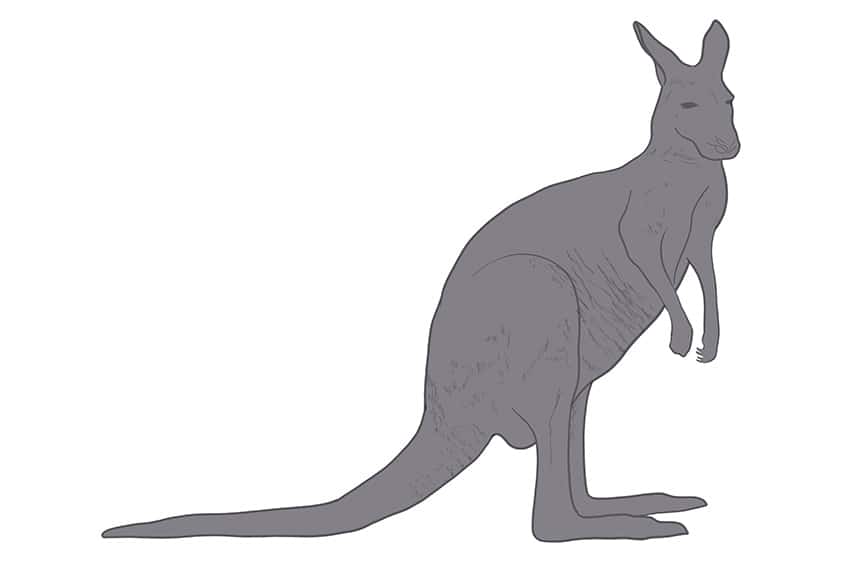 Step 6: Secondary Color Coat
To achieve a more realistic fur tone, we are going to apply some color blends to your easy kangaroo drawing. Select a small, soft brush and brown paint, and paint rough brushstrokes along the main body and lightly on the tail, legs, arms, and ears. Continue using dark gray paint and paint soft shading along the body, legs, and arms.
Begin to paint the tips of each hand and foot with black paint. Continue to fill in the eyes, mouth, and nostrils. Remember, the first coat of color should still be visible.
Continue with a soft brush and white paint, and paint soft highlights along the tail, legs, chest, ears, and around the facial structure area. Finish this step with a blending brush to create an even fade between the colors.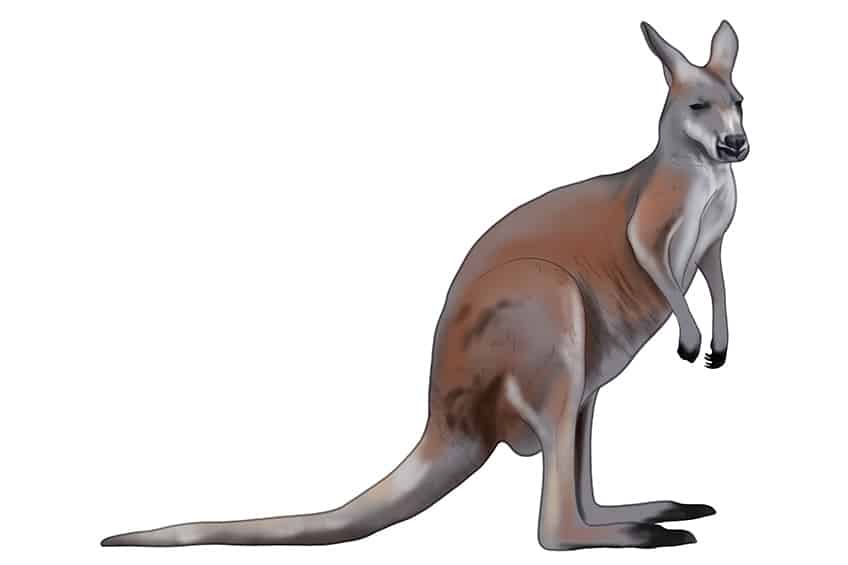 Step 7: Texture the Face
In this step, you will make use of a rough textured brush and white paint, and begin to dab along the facial structure, neck, and ears. This will create a texture layer of fur. Repeat using dark gray or black paint.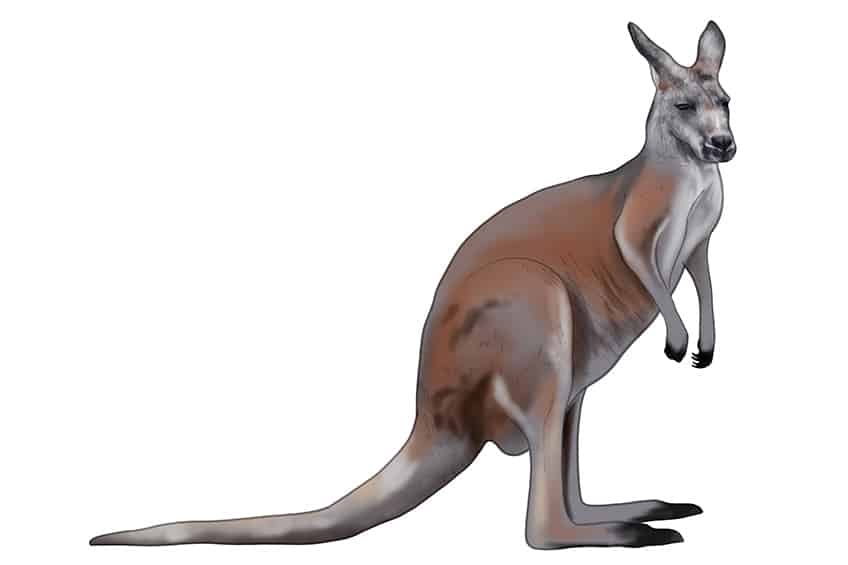 Step 8: Texture the Rest of the Body
Use the same brush as previously and switching to white paint, dab along the main body, arms, legs, and tail. Repeat using dark gray or black paint. Switch to a fine brush and add additional texture lines within the tail using white paint.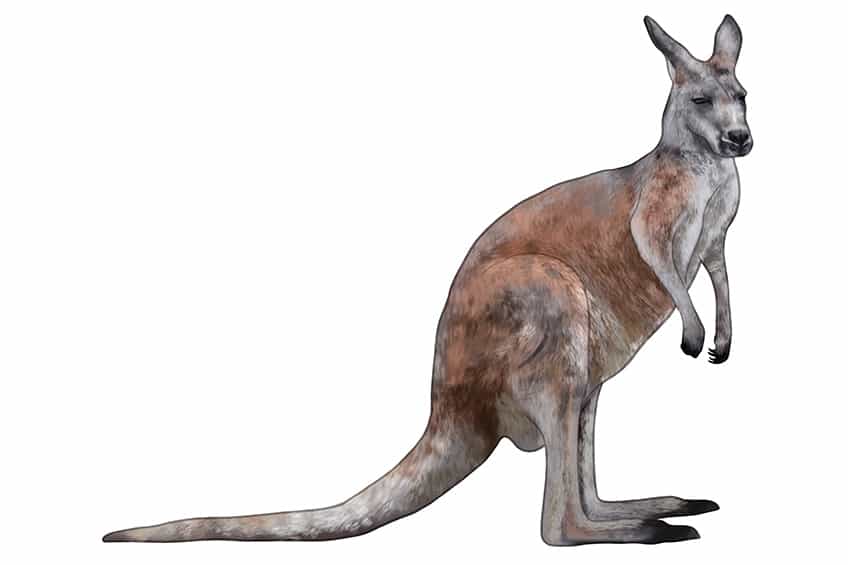 Step 9: Begin With Final Touch Ups
Use a small, soft brush and brown, gray, and black paint, and add additional texture along the tail and main body. In doing this, you are creating an additional layer of soft fur. Continue with white paint and begin adding highlights along the structure of the tail, legs, and forearms.
Complete this step with black paint, and apply a soft shadow along each eye to create a realistic shape structure.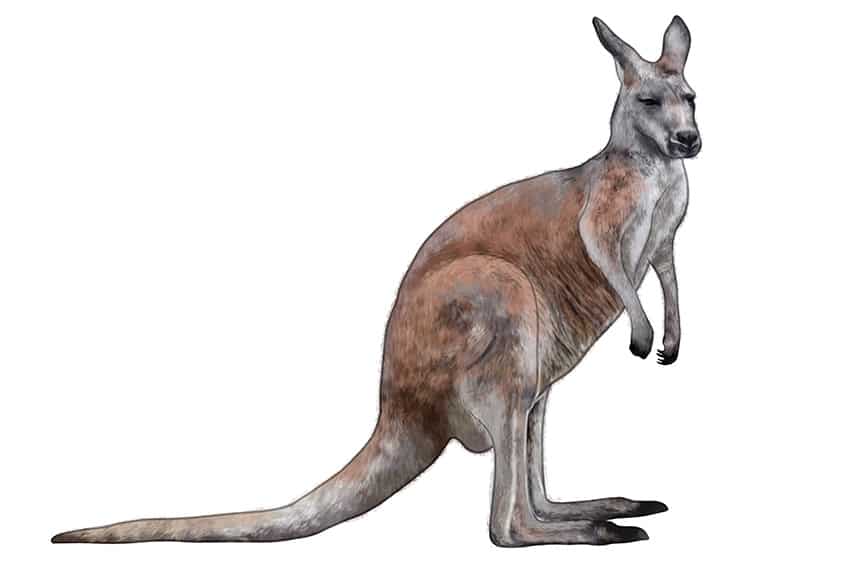 Step 10: Add a Ground Shadow
Make use of a soft brush and either black or gray paint, and paint a dark spot directly underneath your kangaroo drawing. With a clean soft brush, begin to gently fade the edges of the spot.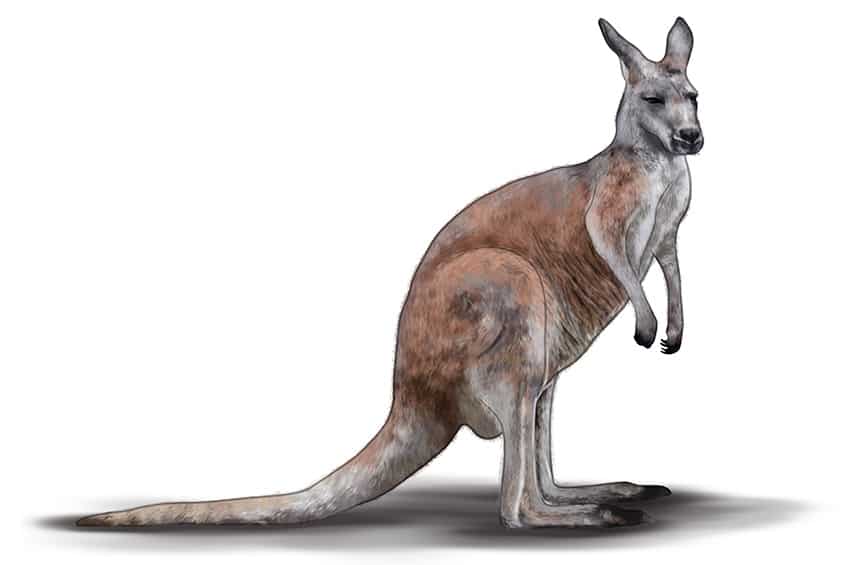 Step 11: Finalize Your Easy Kangaroo Drawing
To complete your kangaroo sketch, select a fine brush and the corresponding colors and trace the entire kangaroo outline. This will ensure that any visible construction or texture lines will be removed and a flawless look can be achieved.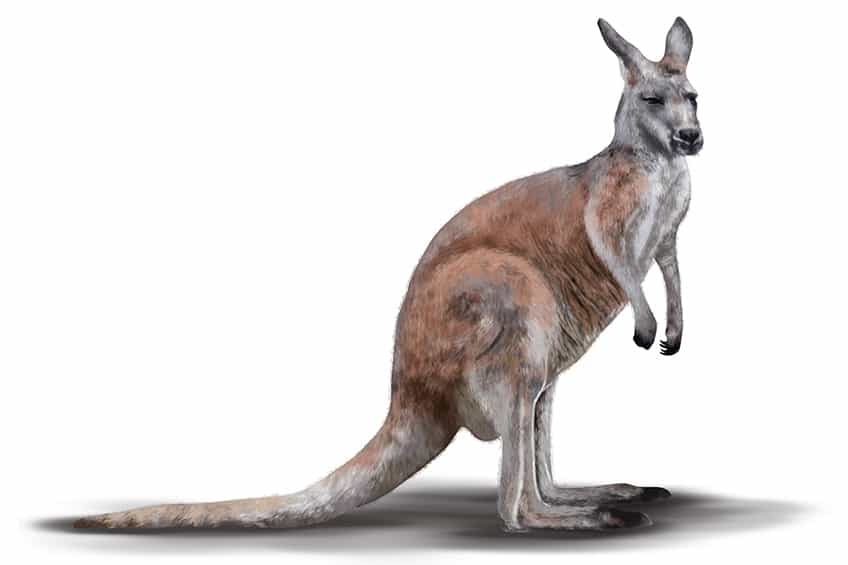 You have just completed your amazing kangaroo drawing! Everybody down under would be honored by your spectacular drawing of their native kangaroo. Before we get too carried away, we hope you have gained some experience from this drawing tutorial, and will be able to put it to use with anything else you decide to draw. Happy drawing, and we will see you soon!
Frequently Asked Questions
How Do You Add Texture to a Kangaroo Drawing?
To create texture in any drawing and ensure it looks realistic, it is important to add layers. Adding layers, coupled with fine brushstrokes, will add a nice layer of texture to your drawing. Don't forget to also add different mid-tones such as highlights and shadows. This will add value to your texture and make it look realistic.
How to Draw a Kangaroo Step-by-Step?
Our drawing tutorial will teach you how to create an easy kangaroo drawing in just 11 steps! We have a detailed step-by-step guide that will take you through the entire process from creating basic shapes to adding highlights and shadows. Once you get the hang of it, it is super easy!
Matthew Matthysen is a multidisciplinary artist. He completed his fine art degree, majoring in History of Art and Contemporary Drawing Practice at the University of Witwatersrand, South Africa. The emphasis of Matthew's practice was a research-based approach into the philosophical effects on the human experience of the macro and micro-universe. Through various mediums, such as written and practical components, Matthew explores various ideas located within the conjoined space between science and philosophy.
Matthew has had various exhibitions before and throughout his year of studies and continues to do so. He currently works as an artist/ writer in various contexts. He has commissioned and sold various works to galleries and collectors. He currently sells work to an online gallery (Artgazette) and continues to make work for the public and private sector. Matthew continues to function as an artist, allowing his work and skills to be utilized in various areas of interest.
Learn more about the Art in Context Team.