Georgian Architecture – The Understated Style of Georgian Buildings
Georgian architecture is a prominent form named after the regimes of England's King Georges. The subtle beauty of these gracefully designed Georgian buildings is evident. Their beautiful geometry, attained in part by using the golden mean, is appealing to the sight. Georgian-style homes were constructed to give a more expansive impression of spaciousness and natural sunlight that previous architectural features lacked. The Georgian architecture style is a broad category that encompasses grand English country estates, tiered townhouse complexes in London and Ireland, US plantation residences in the United States, and New England residences and university campuses.
A Brief History of Georgian Architecture
With a lengthy history in America, Georgian-style homes are one of the nation's most continuously favored designs. It is generally linked with the regimes of England's King Georges, I through III, and is appreciated for its balanced layout, classical ratios, and ornamental embellishments. In actuality, it is intimately related to the works of Sir Christopher Wren, an English architect.
Between 1700 through the Revolutionary War, the Georgian architecture style was unquestionably the dominating design movement in the regions, but its appeal waned drastically as design preferences began to shift with the foundation of the USA and the birth of the American Federal style.
Initial generations of Georgian buildings have typically been destroyed to expansion in the more wealthy cities in the north like New York, Boston, and Philadelphia. The greatest specimens of genuine Georgian houses may be found in eastern shore communities like Williamsburg and Annapolis where less prosperous commerce helped keep them from being demolished. Gunston Hall, located in Lorton, Virginia, is one of the greatest specimens of Georgian architecture in Washington, DC. It was erected for George Mason, one of our country's Founding Fathers.
East and north sides of Gunston Hall, Virginia, Fairfax County, Lorton, 1981; Boucher, Jack E., Public domain, via Wikimedia Commons
Design manuals transported over from England provided a lot of influence for Gunston Hall. These publications were among the first types of how-to guides obtained from Europe by colonial constructors during a period when competent design guidance was uncommon. Such guides were critical in propagating the Georgian-style homes across the territories. Generally, design guides concentrated on the architectural specifics for frames, doorways, chimneys, and molding components, which the architect accepted or changed. American Colonists could considerably improve the attractiveness of their basic structures with a few expert embellishments.
The fundamental Georgian ratio was generally symmetrical, with hyphens and appendages regularly increased by the main block of the structure. This style's axial symmetry has always been a secure design strategy.
This stable setup, however, does not always maximize the actual operation of a home. The slightly less uniform Federal design that followed was most likely a solution to this issue. Following the 1775 Revolutionary War, Americans started to distance themselves from the British connotations of Georgian design, showing their emerging structural autonomy by establishing a national Federal style (the White House is a notable example). The late 19th and early 20th centuries ushered in a Georgian revival in the United States and the United Kingdom, and it is still a popular design for the construction of suburban houses and residences today.
Georgian Architecture Characteristics
The Georgian architecture style incorporated numerous Renaissance design elements, such as strict uniformity in structural bulk, door and window arrangement, and even inner room arrangement. Unsurprisingly, depictions of Georgian buildings varied by location. Wood with clapboard or shingle covering was prevalent in northern states.
Sometimes, wooden quoins were used to simulate stones on the edges of the structure. Rock and stucco were occasionally used in place of wood.
Georgian houses were sometimes built of stucco and stone in the South, although Georgian-style homes typically meant brick. A diagonal belt system was often inserted into the brickwork between the first and second levels. Westover Plantation in Charles City County, Virginia, is a superb example of a Georgian building with brick decoration. It is an exquisitely proportioned and detailed home erected on the James River's bank in Charles City County.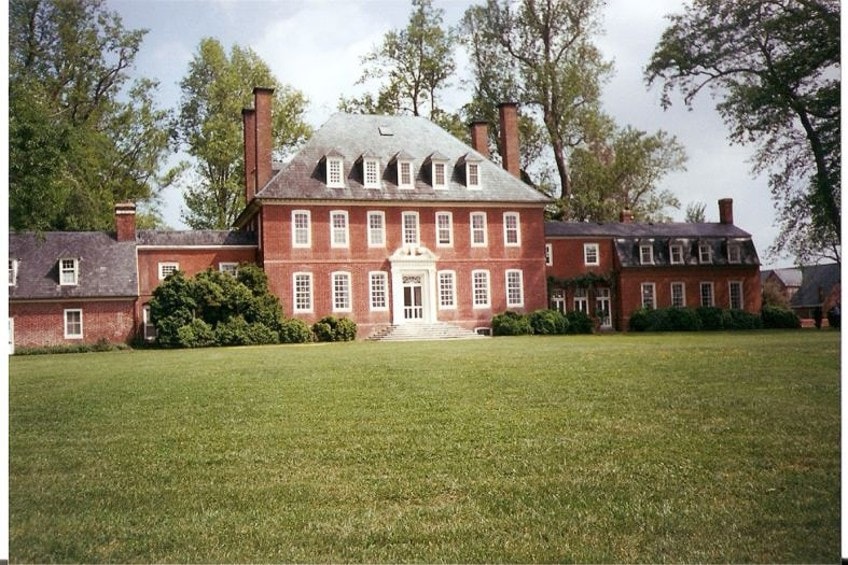 The home of William Byrd II, Westover Plantation, Virginia; Kevin Joel Berland, CC BY-SA 4.0, via Wikimedia Commons
As a basic guideline, Georgian-style homes had graceful traditional dimensions and order. For early instances, they frequently featured basic façades, with greater ornamentation in later points of time such as the Regency era. Georgian houses can have more than one story and half levels, with the top floors possessing lesser or gable windows and lower ceilings in rooms that were traditionally intended for servants. Detached Georgian buildings have magnificent entries with architectural elements including Georgian arches, pillars, pediments, and fanlight openings above a main front entrance to let sunlight into the front corridor. A slightly irregular sloping rooftop would be visibly unsuitable due to the Georgian style's insistence on uniformity.
The hip ceiling was fashionable with Christopher Wren, and hence with everyone who respected and imitated his architectural principles. When it came to modifications, a roof might occasionally include balustrades that were further decorated with ornamental molding and trimmings. Georgian houses may include side entrances as well as stairs leading straight to the pavement. Terraced Georgian-style homes frequently have partially exposed subterranean kitchens enclosed by iron railings. To mitigate a lack of private outside space, Georgian buildings are frequently designed around garden squares.
Now that we have taken a look at Georgian architecture characteristics, we can discover a few notable examples of the style.
Notable Examples of Georgian Architecture
The Georgian age relished in classical form, lavishing it on terraces, Georgian arches, crescents, and bridges. However, it is in the Georgian homes that we see the elements of the style in its finest form. We will now take a closer look at some of the most famous examples of the Georgian architecture style.
Houghton Hall (Norfolk, England)
| | |
| --- | --- |
| Date Completed | 1722 |
| Architect | William Kent (1685-1748) |
| Location | Norfolk, England |
| Style | Georgian, Palladian |
Houghton Hall is a country estate situated in Houghton. It was ordered to be built by Sir Robert Walpole, the first Prime Minister of Britain. The home features a rectangular main building with a traditional foundation on the bottom floor, a piano nobile, a floor for bedrooms, and attics upstairs. There are two lower outlying extensions that are connected to the main building by colonnades. A separate stable structure is located to the south of the house.
The facade, made of fine-grained stone, is both magnificent and subdued. Each corner is punctuated with Gibbs-designed domes.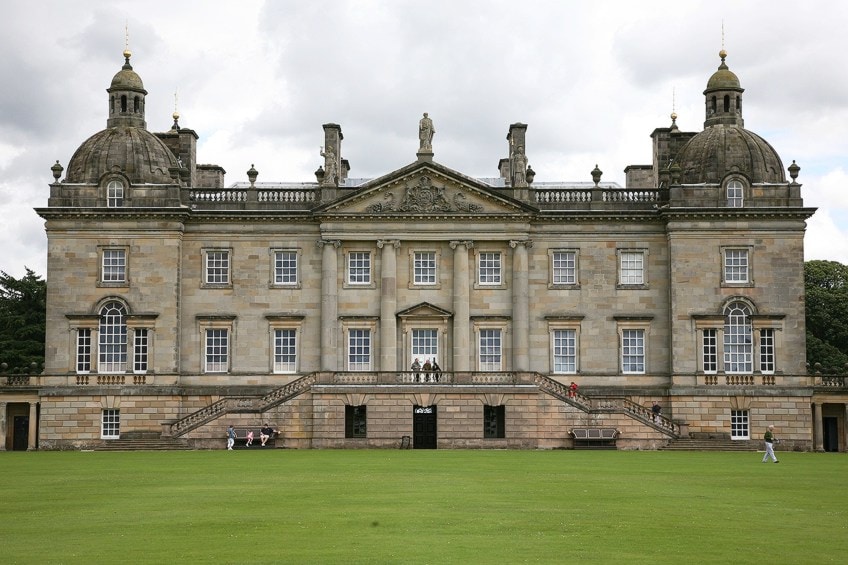 The west front of Houghton Hall, Norfolk; Hans A. Rosbach, CC BY-SA 3.0, via Wikimedia Commons
The interior, in keeping with Palladian norms, is even more colorful, flamboyant, and luxurious than the exterior. Charles Bridgeman renovated the grounds surrounding Houghton Hall in the 18th century. The hamlet of Houghton was destroyed and reconstructed near the park's entrance gate, with the exclusion of the ancient parish, which now stands alone on the estate.
Charles Bridgeman's landscape concept for Houghton Park is still in place. Its "contorting forest trails" were cut in the early 1800s and have been preserved ever since. Bridgeman changed the conventional pattern of crossing avenues with areas of woods and parks that, in his opinion, complemented Houghton Hall's strong architectural expression better.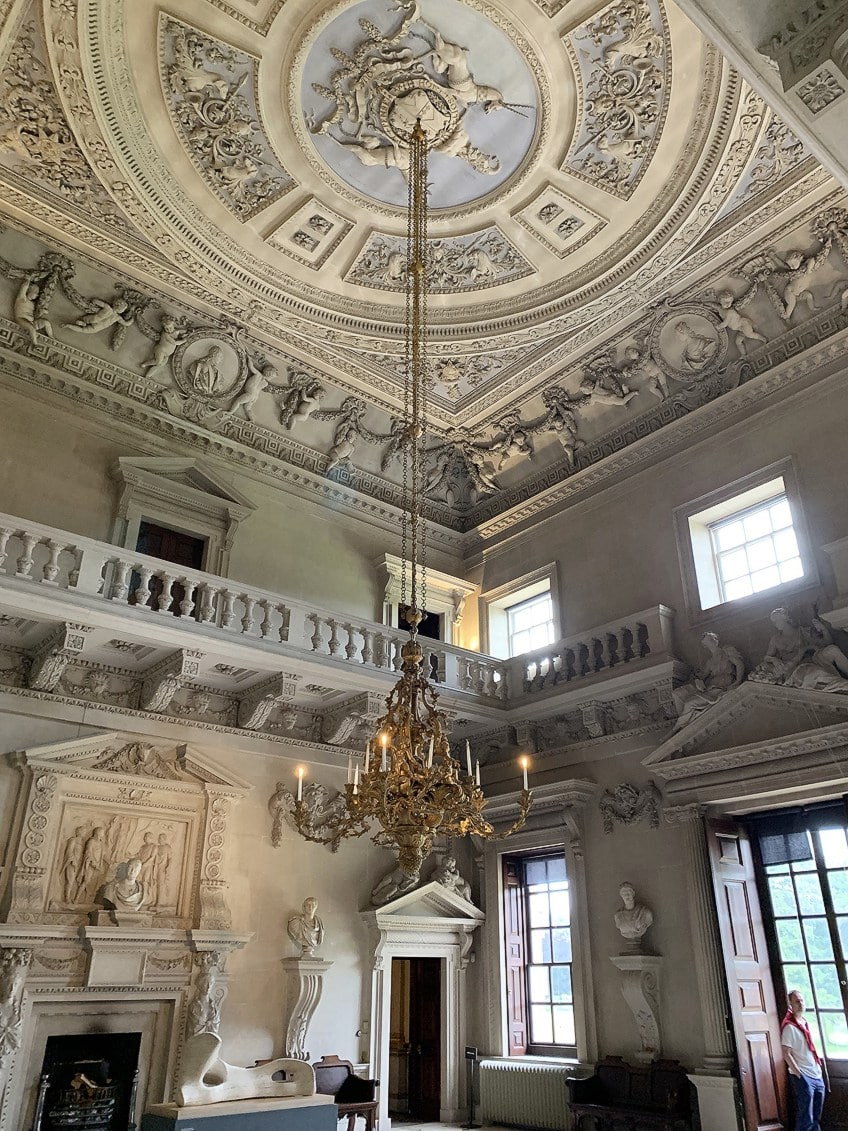 The Stone Hall at Houghton Hall, Norfolk; Andrewrabbott, CC BY-SA 4.0, via Wikimedia Commons
Walpole was a lavish entertainer, hosting hunting expeditions with local Norfolk nobility for weeks on end. Visiting trips from Royals were regular, and his companion officials, notably those of his Cabinet, conducted their sessions in the chambers at Houghton each springtime during a three-term. The Norfolk Congress was the name given to these gatherings.
Houghton, a large Palladian mansion, was designed to house upwards of 400 paintings by the Old Masters, including pieces by Poussin, Van Dyck, Velázquez, Rubens, and Rembrandt.
Marble Hill House (Twickenham, United Kingdom)
| | |
| --- | --- |
| Date Completed | 1729 |
| Architect | Roger Morris (1695-1749) |
| Location | Richmond Upon Thames |
| Style | Georgian, Palladian |
Marble Hill House is situated in the London Borough of Richmond upon Thames, near the town of Twickenham. It was constructed between 1724 and 1729 for the Countess of Suffolk, Henrietta Howard, who resided there until her demise. The diminutive structure quickly became well-known, serving as a typical model for Georgian houses, villas, and plantation homes in the colonies of the States. It was designed by Roger Morris who collaborated with the 9th Earl of Pembroke, Henry Herbert, who had himself based the look of the building on the Villa Cornaro which is situated in Piombino Dese in Italy.
The Villa Cornaro would also be the inspiration for the American colonies' plantation houses.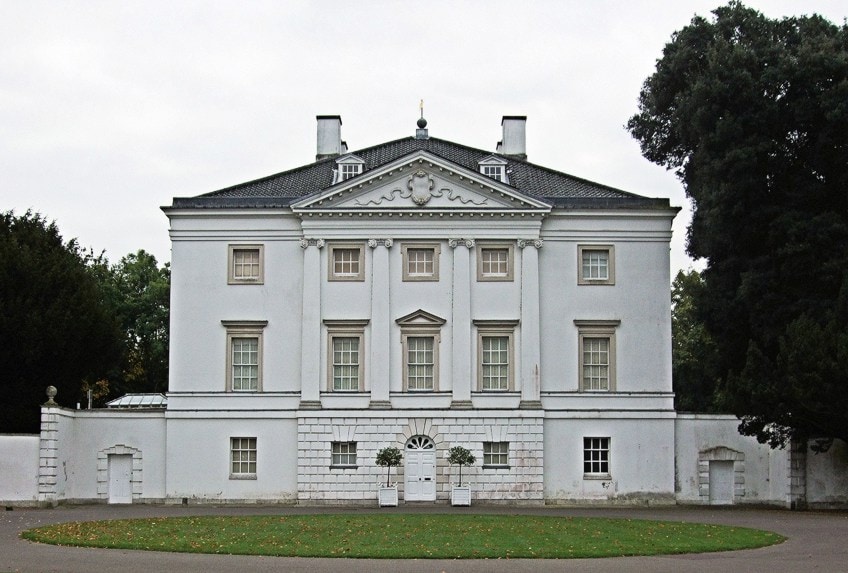 North face of Marble Hill House, Twickenham, London; Jim Linwood from London, CC BY 2.0, via Wikimedia Commons
The Great Room is richly adorned and features five artworks by Giovanni Paolo Pannini. The estate also houses a contributed inventory of early Georgian furnishings and artworks, as well as the Lazenby Bequest's Chinoiserie collections. It was not far from Kendal House, yet another Palladian mansion erected around the same era for Melusine von der Schulenburg, who had been George Ist's long-term mistress. During Henrietta Howard's lifetime, both Jonathan Swift and Alexander Pope were frequent visitors to her home.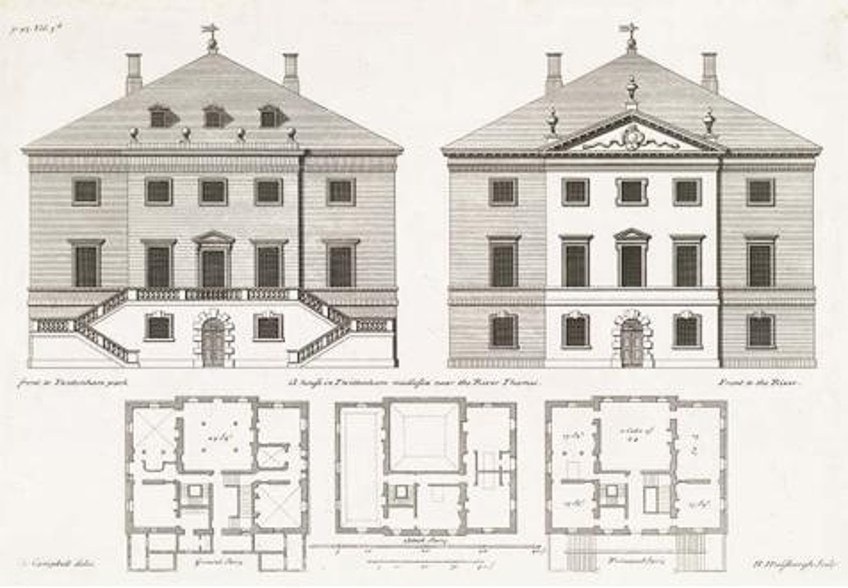 Designs for Marble Hill House, Twickenham, London (between 1724 and 1729); Lord Herbert & Roger Morris, Public domain, via Wikimedia Commons
The home was hired in the late 18th century by the Prince Regent for his lover Maria Fitzherbert so that the two could continue to meet privately. The house's design became well recognized promptly after its construction through reproduced illustrations, and it was greatly praised for its condensed form and finely regulated elevations. The mansion is presently held by English Heritage, who purchased it in 1986 after the Greater London Council was abolished.
Marble Hill Park's expansive grounds include various recreational amenities such as hockey and rugby pitches, a cricket ground and netting, tennis courts, and a kid's play zone.
Strawberry Hill House (Twickenham, United Kingdom)
| | |
| --- | --- |
| Date Completed | 1749 |
| Architect | James Essex (1722-1784) |
| Location | Twickenham, United Kingdom |
| Style | Georgian, Gothic Revival |
Strawberry Hill marks the beginning of the Gothic Revival. Horace Walpole purchased the property, which was previously inhabited by a couple of unremarkable dwellings, in 1747. Horace was the son of Britain's first Prime Minister Sir Robert Walpole, and had a political career of his own, albeit it was not as prosperous as his father's. His main interests were the arts and antique acquisition, as well as literature. He was a brilliant communicator and consummate writer with his extensive letters providing an excellent, if strongly prejudiced, glimpse into Georgian politics and culture.
Strawberry Hill provided a chance to combine all of these elements of his personality: a mansion that, in Walpole's words, "was created to satisfy my personal tastes, and to some extent to achieve my own dreams."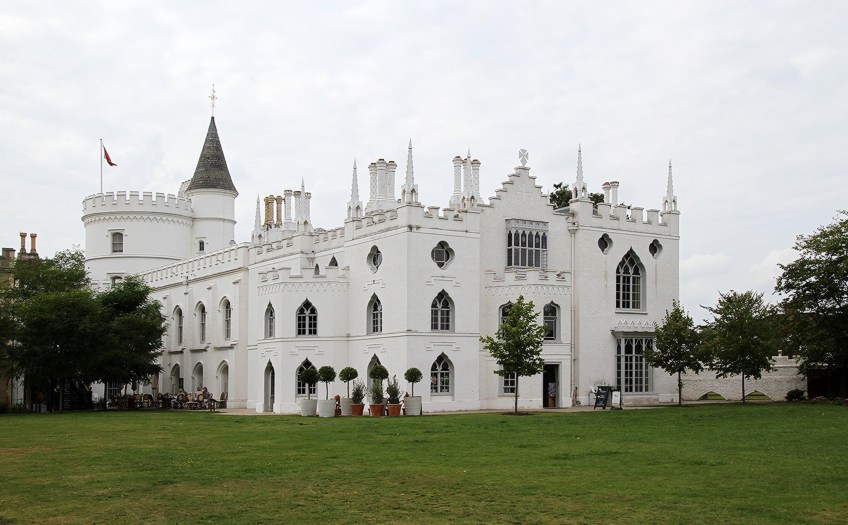 Strawberry Hill House, Twickenham, London; Tony Hisgett from Birmingham, UK, CC BY 2.0, via Wikimedia Commons
Walpole restored and expanded the home in phases. The Gothic design he picked was meant to recall both the shapes and the atmosphere of the Medieval Era while also serving as a canvas for his creativity. Until the 17th century, Classical design was the default method of architectural representation. If the Gothic was employed at all, it was almost often limited to extensions to preexisting medieval structures or fanciful garden oddities like those created earlier in the century by William Kent.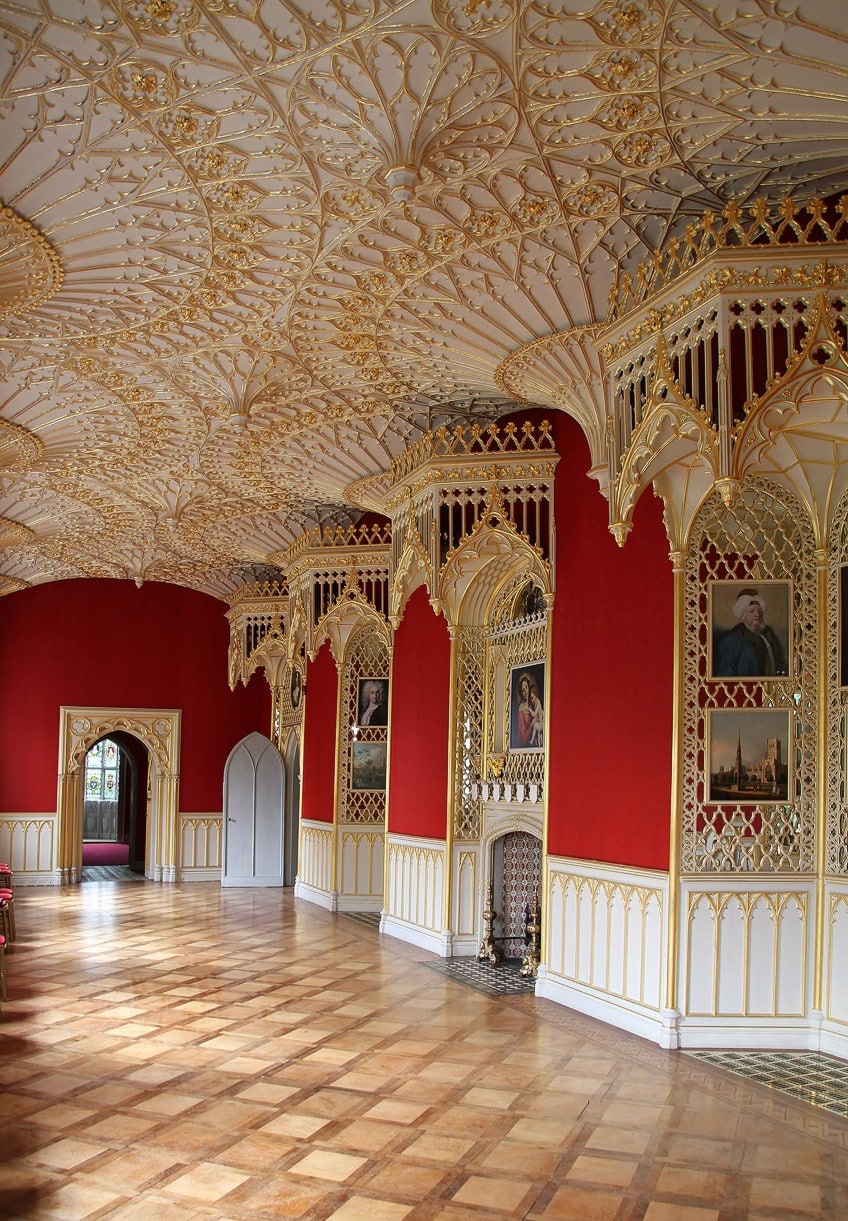 The interior of Strawberry Hill House, Twickenham, London; Tony Hisgett from Birmingham, UK, CC BY 2.0, via Wikimedia Commons
Walpole, on the other hand, and his self-proclaimed "Council of Style", tried to re-create individual historic instances of Gothic architecture, which were then integrated into the larger design. As a result, Strawberry Hill evolved to include components taken from Gothic churches, bastions and towers inspired from medieval buildings, and a plethora of ornamental embellishments ranging from stained glass to plasterwork.
The overall design was diverse and far from genuine; moreover, Walpole had no qualms about employing plaster and wood to replicate vaulted ceilings that would have been brick or stone in their older original versions.
The Moffatt-Ladd House (Portsmouth, New Hampshire)
| | |
| --- | --- |
| Date Completed | 1763 |
| Architect | John Moffatt (c. 1700s) |
| Location | Portsmouth, New Hampshire |
| Style | Georgian Architecture |
The Moffatt-Ladd House, perched aloft on a hilltop above the Piscataqua River, overlooks the waterway that brought immense prosperity to Portsmouth. Timber was brought in from New Hampshire's woodlands to feed the village's active docks, while fishing vessels departed the port for the bountiful banks of the coastline. One of the most prosperous of Portsmouth's mercantile aristocracy was John Moffatt, who amassed wealth in commerce and investment from the mid-to-late 18th century.
His future expectations were centered on his sole surviving son, Samuel, for whom he constructed a beautiful home as a wedding gift.
Moffatt-Ladd House, Portsmouth, New Hampshire; Ken Gallager at English Wikipedia, Public domain, via Wikimedia Commons
The home has a two-story cube structure with a main facade of panes equally set along both sides of a centralized door enclosed by an entry portico of classic pillars capped with a brilliantly sculpted triangle pediment. In this magnificent artwork, geometry and harmony figured prominently. The facade of the mansion, which accurately followed British Georgian patterns, would have satisfied any English nobleman, lord, or trader. Yet, once inside, the independence and inventiveness of American artisans are evident.
The Moffatt-Ladd House is a mix of English architectural origins with American invention, as seen by one of Colonial New England's most unusual stair hallways.
The typical Georgian home layout had rooms along either side of the main atrium, with a stairwell at one end lavishly decorated. Samuel Moffatt's stairway is among the most unique and remarkable pieces of art of its time. In this example, the guest approaches a large hall that occupies one-quarter of the floor space and provides a good view of the arching stairway, which is displayed as a significant architectural feature with a handrail of helical, funnel, and column-shaped balusters and stairs ornamented with scrolled brackets.
Kedleston Hall (Kedleston, Derbyshire)
| | |
| --- | --- |
| Date Completed | 1765 |
| Architect | Robert Adam (1728-1792) |
| Location | Kedleston, Derbyshire |
| Style | Georgian, Palladian |
Kedleston Hall was designed by the architect Robert Adam and was commissioned by Nathaniel Curzon in 1759. The three-story home is composed of three blocks connected by two segmentally curving hallways. The bottom level is rough stone, while the higher stories are smooth stone. The sovereign rooms are located in the center, corps de logis, the biggest block, and were designed solely for traditional events. The Eastern building was a self-contained country home in its own capacity, including all of the bedrooms for the household's exclusive use, while the similar Western building housed the kitchen as well as all other household spaces and servant quarters.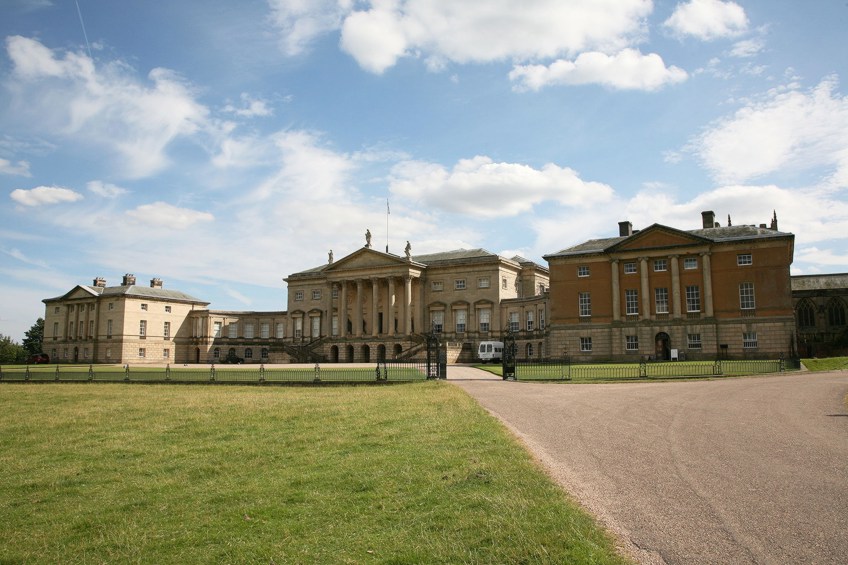 Kedleston Hall, Derbyshire; Hans A. Rosbach, CC BY-SA 3.0, via Wikimedia Commons
The northern side, which is roughly 107 meters long, is Palladian in style, highlighted by a large, six-columned porch; however, the southern side is classic Robert Adam. This garden front is split into three separate sets of windows; the center portion is a triumphal arch with one huge, pedimented window entrance accessible from the rusticated first level by an exterior, curving double stairway. Above the entryway, at second-floor elevation, are carved marble wreaths and emblems. Classical sculptures adorn the four pillars.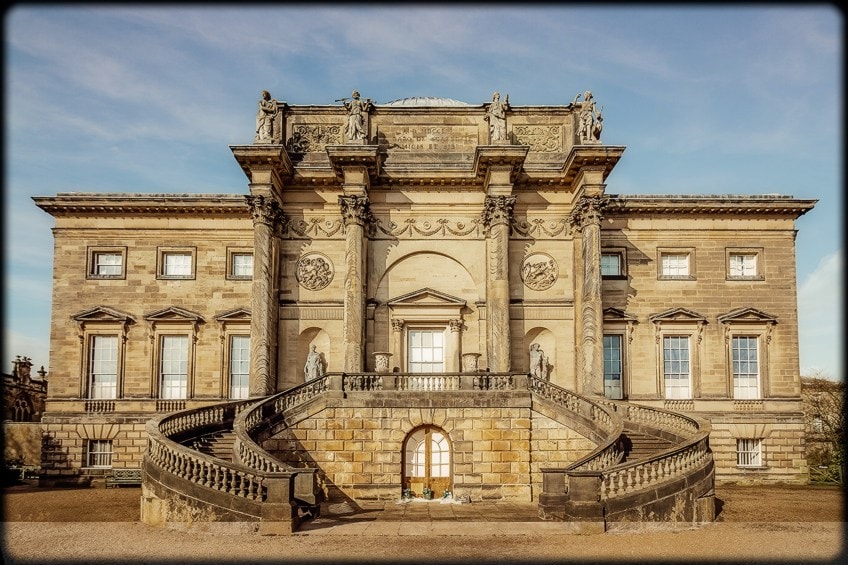 The southern facade of Kedleston Hall, Derbyshire; Rick Massey, CC BY 2.0, via Wikimedia Commons
A modest cupola noticeable only from a range crowns the entire central part of the front. Two similar extensions on three stories border the center portion, each three panes wide, with the windows of the first-floor piano nobile being the highest. Adam's concept for this facade has a lot of "flow" and a fragile, almost delicate aspect to it. Adam planned the house's neoclassical interior to be as stunning as the façade.
Upon entering the building through the vast northern entrance on the piano nobile, one is met with a marble hallway meant to resemble the spacious court or arena of a Roman villa.
Jeremiah Lee House (Marblehead, United States)
| | |
| --- | --- |
| Date Completed | 1768 |
| Architect | Samuel Lee (b. 1751) |
| Location | Marblehead, USA |
| Style | Georgian Architecture |
In 1768, a superb instance of Georgian architecture arose in Marblehead. Colonel Jeremiah Lee, one of the wealthiest traders and ship operators in the state of Massachusetts, lavished money on his house. Lee designed a three-story building with a cupola that is prominently located in the middle of the village. The facade is comparable to Plate 11 of Robert Morris's Rural Architecture, which was released in London in 1750, with the middle portion bursting forward and capped by a magnificent pediment.
The facade should have been built of stone in accordance with English construction traditions, but the lack of such resources in the colonies culminated in wood paneling molded and colored to resemble stone.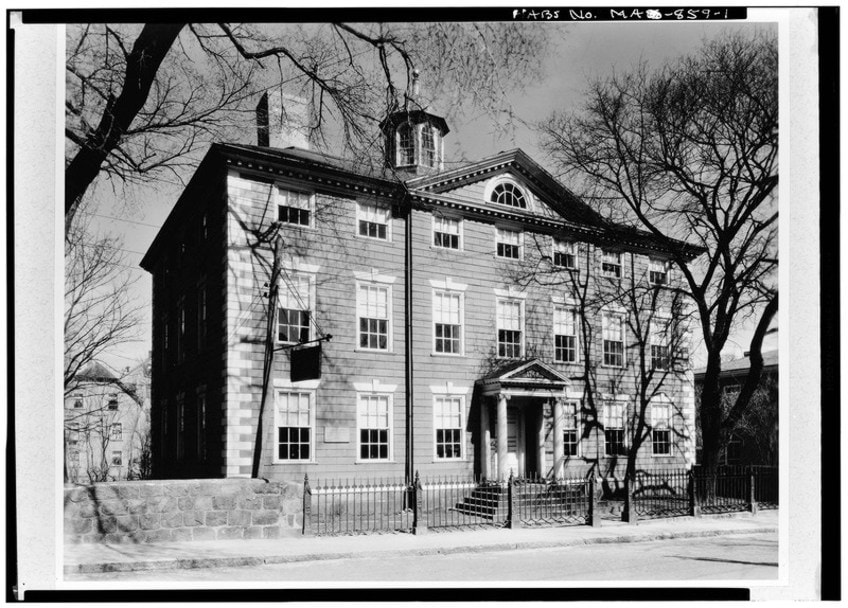 The southern front of the Jeremiah Lee House, 161 Washington Street, Marblehead, Essex County, MA; See page for author, Public domain, via Wikimedia Commons
The outside is distinguished by the controlled rigidity and regular geometric shape of blocks of wood and glass panels, but the inside is a display of finely carved craftsmanship in flowing whirling motifs. Some of the best wallpaper from the Georgian era, preserved in its original place, complements the woodworking in the two-story stairway and the first-floor great chambers, also referred to as the State Dining Hall. The hand-painted images of Roman ruins in grey hues on 21 by 27-inch sheets are placed in compartments surrounded by curved Rococo-styled frames from the mid-18th century. Scenes of churches, urns, and statues became a dominating motif in architecture in the late 1740s, influenced by discoveries at the historic towns of Pompeii and Herculaneum.
The hearth mantel of the first floor great hall, which was initially colored mustard yellow, is sculpted in high relief with wreaths and bouquets reminiscent of the work of English designers seen in popular design publications.
The state dining room (first floor) of the Jeremiah Lee House, 161 Washington Street, Marblehead, Essex County, MA; See page for author, Public domain, via Wikimedia Commons
Jeremiah Lee was therefore at the cutting edge of design with his architectural features and beautiful wallpapers for his home. Regrettably, he did not have much time to enjoy his invention. Lee, a passionate supporter of the Revolutionary movement, became sick during the early stages of the battle in 1777. When George Washington toured Marblehead in 1789 during his first trip to New England, his wife, Martha, continued to reside in the home, which became the best property in town. The Moffats and Lees turned their opulent homes into the focal points of thriving shipping ports.
And that concludes our article on Georgian architecture, a popular style named after England's King Georges' reigns. These elegantly constructed Georgian structures have a delicate charm. Their pleasing geometry, achieved in part by employing the golden mean, is pleasing to the eye. Georgian-style residences were built to provide the appearance of more space and natural light, which earlier architectural elements lacked. Georgian architecture is a wide genre that includes great English country estates, tiered townhouse complexes in London and Ireland, US plantation houses, and New England residences and university campuses.
Frequently Asked Questions
Was There Ever a Georgian Revival?
The colonial buildings on the Atlantic coast inspired the Georgian Revival style. The term was derived from the period of the four King Georges, which lasted from 1714 to 1830, at which time the classic design was fashionable. It resurfaced in 1876 when the American Centennial embraced colonial architecture.
Where Was the Georgian Architecture Style Popular?
The style was named after the English periods of royalty. Yet, it was not limited to that country. It could also be found in houses as far as Ireland and America, and even Australia.
Justin van Huyssteen is a freelance writer, novelist, and academic originally from Cape Town, South Africa. At present, he has a bachelor's degree in English and literary theory and an honor's degree in literary theory. He is currently working towards his master's degree in literary theory with a focus on animal studies, critical theory, and semiotics within literature. As a novelist and freelancer, he often writes under the pen name L.C. Lupus.
Justin's preferred literary movements include modern and postmodern literature with literary fiction and genre fiction like sci-fi, post-apocalyptic, and horror being of particular interest. His academia extends to his interest in prose and narratology. He enjoys analyzing a variety of mediums through a literary lens, such as graphic novels, film, and video games.
Justin is working for artincontext.org as an author and content writer since 2022. He is responsible for all blog posts about architecture, literature and poetry.
Learn more about Justin van Huyssteen and the Art in Context Team.
Cite this Article