George W. Bush Paintings – A New Side of George Bush Art
George W. Bush, former president of the United States, is one of America's most famous politicians. From a warplane pilot to a Harvard Business School Graduate and eventually the 43rd president of the U.S., Bush was yet to make his entry into the arts. This article will introduce you to some of the most famous George W. Bush paintings and shed insight into his life, career, and experiences with inspirational figures.
George W. Bush: From Politician to Painter
| | |
| --- | --- |
| Artist Name | George Walker Bush |
| Date of Birth | 6 July 1946 |
| Date of Death | N/A |
| Nationality | American |
Born in 1946, George Walker Bush is one of the most popular American politicians of the 21st century who not only served as the 43rd president of the United States from 2001 to 2009 but was also the 46th governor of Texas prior, between the years 1995 and 2000. Bush began working for the Texas Air National Guard in his early twenties and graduated from Harvard Business School around 1975. Thereafter, he spent some time in the oil industry and was later elected as the governor of Texas in 1994.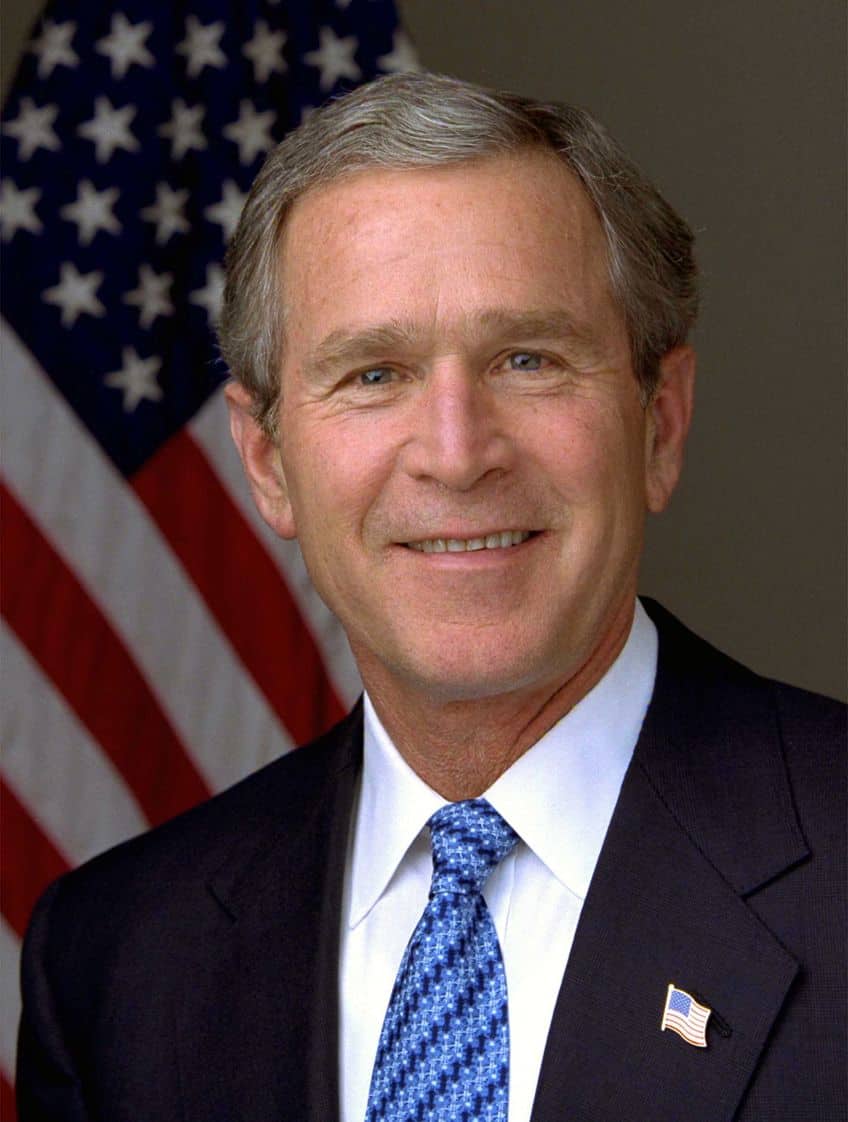 Official photograph portrait of U.S. President George W. Bush (2003); Eric Draper, Public domain, via Wikimedia Commons
One of Bush's many accomplishments during his tenure as a politician include overseeing the reformation of the criminal justice system, boosting education funding, and making Texas the leading state in wind-powered electricity. Bush was also responsible for the No Child Left Behind Act of 2001 and the invasion of Afghanistan in the same year to capture Osama bin Laden and take down the Taliban. Additionally, he was also behind the invasion of Iraq in 2003, which contributed to the capture of Saddam Hussein. Bush was both celebrated and dissed, primarily during the September 9/11 attacks and the 2007/2008 Great Recession. After Bush left the white house, his favorability among the public grew and he has since taken to the paintbrush.
Bush was introduced to the world of painting by American artist Gail Norfleet who was recommended to the Bush family by Pamela Nelson in 2012. Norfleet assisted Bush with learning the ropes of oil painting and offered lessons to Bush every week. George Bush's reception into the art scene was at first not any artist or politician's dream introduction. Bush's email accounts were hacked by the notorious Romanian hacker called Guccifer, also known as Marcel Lehel Lazar, who exposed Bush's early paintings and included two self-portraits that Bush executed in the bathroom.
Lazar was, of course, sent to jail but since then, Bush held on to the paintbrush and has released multiple books with portraits of world leaders, veterans, and immigrants.
Bush was also inspired by his mother and he makes mention of her in his opening essay for Portraits of Courage (2017), stating "For the first time in my sixty-six years, I picked up a paintbrush that wasn't meant for drywall. I selected a tube of white paint and another labeled Burnt Umber. While I wasn't aware at the time that it was a color, I liked the name, which reminded me of Mother's cooking."
George W. Bush Paintings
Bush first took up painting as a hobby after being inspired by an essay by Winston Churchill called Painting as a Pastime and has since created many paintings. His subject matter is broad and ranges from still-life to people, dogs, and portraits. Portraits of Courage is a collection of paintings by George W. Bush that were included in a 2017 published book and featured the portraits of many veterans who had an emotional impact on Bush. The sales from the book are dedicated for use by the George W. Bush Presidential Center. Later in 2019, Bush also painted the portrait of the late South Korean president, Roh Moo-hyun to commemorate his 10th death anniversary. Below, we will explore a few intriguing George W. Bush paintings and the stories behind them.
Portrait of Junichiro Koizumi (2014)
| | |
| --- | --- |
| Date | 2014 |
| Medium | Oil on canvas |
| Dimensions (cm) | Unavailable |
| Where It Is Housed | George W. Bush Presidential Center, Dallas |
This portrait by George W. Bush is one of the most recognized of his artworks considering his fairly recent entry into the art world. The portrait's sitter is Junichiro Koizumi, a former Prime Minister of Japan and is part of Bush's collection of paintings inspired by his presidency between 2001 and 2009. The collection was exhibited at the 2014 exhibition The Art of Leadership: A President's Personal Diplomacy where Bush showcased various portraits of political leaders from around the world, all of whom he worked with during his political career.
Politics obviously played a huge role in Bush's first artworks and demonstrated a subject matter that he is most familiar with.
Koizumi retired from the political world in 2009 and is recognized as Japan's 6th longest serving Prime Minister in Japanese history. During his tenure as a Prime Minister, Koizumi supported the war on terrorism in connection with the United States and also deployed the Japanese self-defense forces to Iraq, thus marking the first foreign war zone military mission since the end of the second World War.
Lance Corporal Timothy John Lang U.S. Marine Corps (2005 – 2010) (c. Before 2017)
| | |
| --- | --- |
| Date | c. Before 2017 |
| Medium | Oil on canvas |
| Dimensions (cm) | 61 x 91 |
| Where It Is Housed | The REACH, Kennedy Center for the Performing Arts, Washington D.C. |
In 2017, Bush published a book called Portraits of Courage: A Commander in Chief's Tribute to America's Warriors, which contained the portraits of many individuals that Bush also looked up to and personally knew. The book was the first to catch the attention of the media and raise eyebrows in surprise that a politician could paint. This also invited the attention of art critics and cultural writers to analyze and study the nature of these paintings. The book consisted of 66 portraits of individuals who served under Bush's presidency since the 9/11 attacks on the twin towers.
George Bush's artworks, as in the portrait of Lance Corporal Timothy John Lang U.S. Marine Corps (2005-2010) above, raised important questions for the art world surrounding the nature and treatment of "amateur art" in a Contemporary art scene and how a politician was able to attract such attention from the media while others would normally be dismissed for their "average-looking" art. Many of Bush's portraits reflect his child-like painting style that appears to focus on the texture created by the impasto technique. Bush thickly layers the oil paint on the faces of the sitters, in both the portraits of the immigrants and soldiers, while muting out the background. It seems his focus is on highlighting the details of their faces in the way that the colors vary on a person's skin and the folds that make up a face. While the stories are inspirational and deeply reflective of what Bush seems to admire and almost "misses" from his political oeuvre, the portraits reflect a state of practice and process.
Bush also seems to favor fleshy pink tones as seen in his painting style in comparison to paintings such as Sergeant Daniel Casara U.S. Army, 1994 – 2008, which shows his lack of familiarity or experience with darker tones. Lance Corporal Timothy John Lang U.S. Marine Corps (2005-2010) shows the portrait of Timothy Lang who joined the marines around 2005. One year later, he was sent to Iraq but was severely injured in a roadside bomb alongside his best friend Corporal Josh Bleill. Lang returned and underwent over 50 surgeries due to his injuries. In the end, he had to amputate one of his legs and was diagnosed with survivor's guilt among post-traumatic stress and TBI.
Portrait of Annika Sörenstam (2019)
| | |
| --- | --- |
| Date | 2019 |
| Medium | Oil on canvas |
| Dimensions (cm) | 60.9 x 60.9 |
| Where It Is Housed | George W. Bush Presidential Center, Dallas |
During an interview, Bush described himself as "a simple painter" after opening his 2021 exhibition, Out of Many, One: Portraits of America's Immigrants. The exhibition contained 43 portrait paintings by George W. Bush, which highlighted the interesting and inspirational backgrounds of immigrants, including Annika Sörenstam, a Swedish professional golfer. Bush became acquainted with Sörenstam in 2011 at a clinic while hosting a program for young golfers to help children build character and learn the "nine core values" of sport. For Bush, Sörenstam was an inspirational figure who inspires over 125 inner-city children at that event and is considered a leader in women's professional golf.
Sörenstam retired in 2008 and founded the Annika Foundation, which is aimed at offering golfing opportunities for young women and girls around the world.
Portrait of Roya Mahboob (2019)
| | |
| --- | --- |
| Date | 2019 |
| Medium | Oil on canvas |
| Dimensions (cm) | Unavailable |
| Where It Is Housed | George W. Bush Presidential Center, Dallas |
Portrait of Roya Mahoob is one of the 43 paintings by George W. Bush from the Out of Many, One: Portraits of America's Immigrants 2021 exhibition and book. Roya Mahoob is an Afghanistan woman who fled to Iran due to the oppressive regime of the Taliban. In 2003, she returned to her hometown to pursue her studies in technology and computers and after graduation, she founded her own software company. Mahoob became known as one of the first female CEOs in Afghanistan who also dedicated her efforts to establishing internet-driven classrooms across the country and thus enabling over 160,000 young women and children access to the broader digital world.
Unfortunately, Mahoob had to leave her hometown once again in 2013 after the Taliban caught wind of her efforts and she relocated to New York for safety and to ensure she can continue her work. This important portrait sheds light on the lives of many oppressed women in Afghanistan and their rights, which many take for granted in "free" countries today. Bush personally acknowledged this painting in an interview as one of his favorite works. He intended on capturing her determination as well as her beauty and proud heritage despite her struggle with threats from the Taliban. He further promoted the beauty of America, stating that "you can be a citizen and still hold on to your heritage".
Portrait of Gilbert Tuhabonye (2019)
| | |
| --- | --- |
| Date | 2019 |
| Medium | Oil on canvas |
| Dimensions (cm) | 45.7 x 60.9 |
| Where It Is Housed | George W. Bush Presidential Center, Dallas |
Also featured on the cover of Bush's Out of Many, One book is a portrait of Gilbert Tuhabonye, a former track star and co-founder of the Gazelle Foundation. It was Bush's daughter, Jenna Bush Hager, who was so inspired by the athlete that she inspired her father by sharing Tuhabonye's story. Tuhabonye immigrated to the United States after surviving a massacre in Burundi.
Tuhabonye is a Tutsi, which refers to a group of Bantu-speaking individuals native to the African Great Lakes region and were historically considered a pastoral group. The Tutsis were seen as the elite minority group in Rwanda but they experienced divisions with another group called the Hutus, who were responsible for farming the crop, and soon there were class divisions and civil wars in Rwanda.
Tuhabonye's real-world horror account began in October 1993 when divisions in the classroom and among Hutu tribesmen from his school drove Tutsi children and educators into a room and proceeded to beat and burn them.
Tuhabonye saw this horrific scene play out before him and escaped using the charred bone of his classmate to break open the room window and flee. Fast forward 30 years into the future, Tuhabonye went on to become an athlete and sports celebrity after immersing himself in a completely new culture and language to complete a degree at Abilene Christian University. It is clear why Tuhabonye's story might have inspired Bush to paint his portrait. His experience is a remarkable display of bravery, perseverance, and strength.
Critique of the Art of George W. Bush
These George W. Bush paintings are only a snippet into the artistic breadth of Bush himself that one needs to examine with a critical eye, as with any artwork. Below are just a few critical points of inquiry into Bush's paintings and narratives in retrospect of the paintings above and his position as an artist.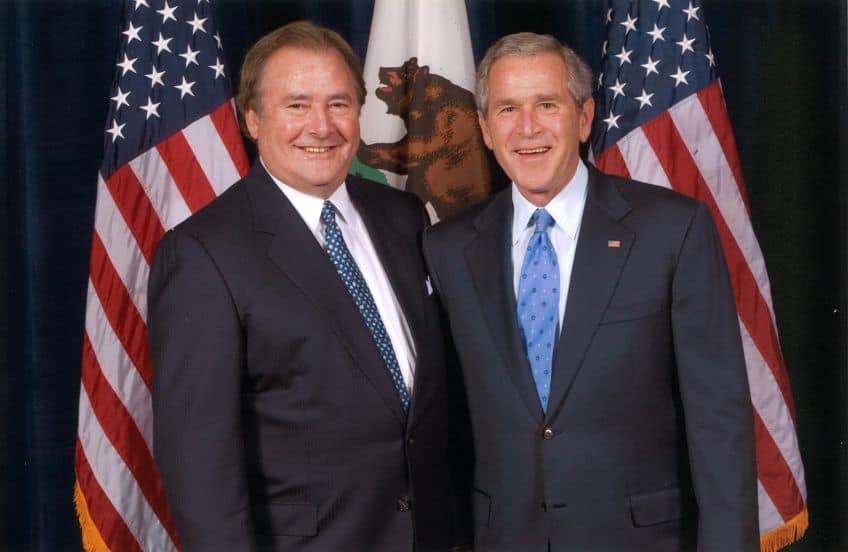 Gary Winnick and President George W Bush (2014); winnickco, CC BY 2.0, via Wikimedia Commons
Out of Many, One: Representation
Each portrait in Out of Many, One is accompanied by a narrative of the sitter's story in connection to Bush and their history of acquaintance. The first painting in the book is of Lady Liberty, who is the only non-human sitter represented in the book. The Lady Liberty was created by Frédéric Auguste Bartholdi and was a gift from France portraying the Roman goddess Libertas who has stood tall on Liberty Island in New York since 1886, greeting the incoming immigrants and refugees. The book itself is not a mere representation of inspirational figures in the eyes of George W. Bush alone but it also highlights the age-old world belief in the "American dream" and how America once served as a beacon of hope, shelter, safety, and progress for many immigrants facing the trauma of countries riddled with war, terrorism, communism, and poverty.
By presenting the portraits alongside the corresponding stories, Bush directly addresses the impact of hard work and labor that immigrants, refugees, and other individuals have put in to achieve their present-day successes.
Art and Politics
One cannot ignore the position of the artist; George W. Bush was a political figure of once high-rank while observing these artworks. While he maintains no direct political influence, his reputation precedes him. Zoé Samudzi (Art in America) draws attention to the medium and the function of these George W. Bush paintings, stating that it "exemplifies art at its most dangerous" and that art is commonly a channel that is used to recall, revise, or aestheticize politics, as mentioned by Walter Benjamin in a 1935 essay called The Work of Art in the Age of Mechanical Reproduction. More importantly, Samudzi goes on to highlight a key question regarding art and politics in light of the portraits and George Bush's artworks in general; "Can anyone, let alone a former president, make apolitical art?. This might also open up the door to "can art exist without some political connotation or context of any kind?".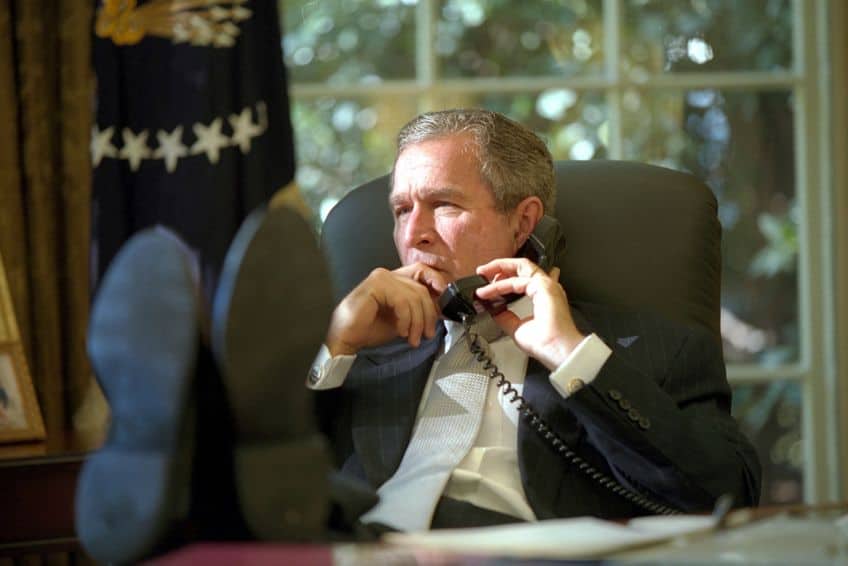 George W. Bush with his feet on the desk (2001); Tina Hager, Public domain, via Wikimedia Commons
The marriage of art and politics is an aspect of art that every artist and participant of art alike have to reflect on. To be apolitical in the face of artwork brings additional questions of elements that remain unseen because the viewer (or participant) refuses to see and acknowledge the political context of the artwork or subject. Some aspiring Contemporary artists tend to steer away from political discourses that may fuel heated debates or the fear of being politically incorrect or perhaps "stirring the pot", which may earn them the label of "controversial" and risk their value, reputation, and re-acceptance into the art world. But returning to Samudzi's pertinent question on Bush's position as an artist, the writer further points out that Bush's reputation and status as holding the weighty responsibility of former presidential authority attract attention to the aesthetic quality of his paintings, described as "insincere-feeling portraits". The portraits themselves in their painting quality demonstrate a sense of simplicity and are presented as a "hobby" performed as a "post-career softness".
It can be said that the portraits of the soldiers and their stories of recovery and trauma from the wars that Bush deployed them to under his presidency are somewhat therapeutic for the former president and the soldiers involved. Bush pushes for a positive representation of heroic America and the hardships of its veterans. It seems his subject matter is predominantly driven by politics as Bush himself was and still is seen as a political figure first. For George Bush, art was first a hobby and perhaps with time, we might see the fruits of his labor and a shift in his painting style.
Many seem to appreciate the honest nature of these George W. Bush paintings and his approach to cementing his post-presidency career as an artist but the results of his endeavor will always be subject to criticism informed by the artist's history and involvement with politics and world events that impacted not only the people of America but nations. What do you think about George Bush's art?
Frequently Asked Questions
What Kind of Artist Is George W. Bush?
George W. Bush does not categorize himself as any specific kind of artist but based on an analysis of his work, Bush can be considered a portraiture artist whose style consists of broad, visible brush strokes, a varied color palette, and elements of Impressionist influences with his emphasis on light in his portrait paintings.
Who Taught George W. Bush How to Paint?
Gail Norfleet taught George W. Bush to paint in oil in 2012 and was introduced to the former president by Pamela Nelson, a close friend of the Bush family.
What Art Does George W. Bush Create?
George W. Bush creates art focused on subjects closest to him and his experiences while including portraits and images of individuals who have made a significant contribution to the country during his presidency as the 43rd president of the U.S. He also paints scenes from his everyday life and nature.
Isabella studied at the University of Cape Town in South Africa and graduated with a Bachelor of Arts majoring in English Literature & Language and Psychology. Throughout her undergraduate years, she took Art History as an additional subject and absolutely loved it. Building on from her art history knowledge that began in high school, art has always been a particular area of fascination for her. From learning about artworks previously unknown to her, or sharpening her existing understanding of specific works, the ability to continue learning within this interesting sphere excites her greatly.
Her focal points of interest in art history encompass profiling specific artists and art movements, as it is these areas where she is able to really dig deep into the rich narrative of the art world. Additionally, she particularly enjoys exploring the different artistic styles of the 20th century, as well as the important impact that female artists have had on the development of art history.
Learn more about Isabella Meyer and the Art in Context Team.
Cite this Article