Ever wonder how artists create realistic-looking fur for their digital illustrations or art pieces? Well, it is easy if you can find a fur brush for Procreate. There are quite a few Procreate fur brushes, each of which is created by professional artists who know exactly how to get just the right look. Many of the best fur brushes for Procreate will have you creating images that are so realistic, that they seem to jump off the page.
Best Fur Brushes for Procreate
There are many different types of Procreate brushes available, and it might seem a bit overwhelming for those who are just joining in on the Procreate platform. If you are specifically looking for Procreate fur brushes, here is a collection for easy reference. Most of these brushes you need to purchase, however, we have also included a few free fur brushes for Procreate.
Animal Fur Brushes
These animal fur brushes will create some life-like fuzzy and furry effects. The set contains 32 high-quality brushes that include all types from coarse to wiry, smooth, and soft. There are also brushes for creating things like duckling down and fleece. The collection is perfect for drawing realistic animals but is also great for creating fun and unique fantasy art. Why not use brushes for human hair? There is no limiting the imagination.
The handy base brushes can help you start your painting, then you can add finer details and apply shading effects. Build up your image layer by layer to create more depth.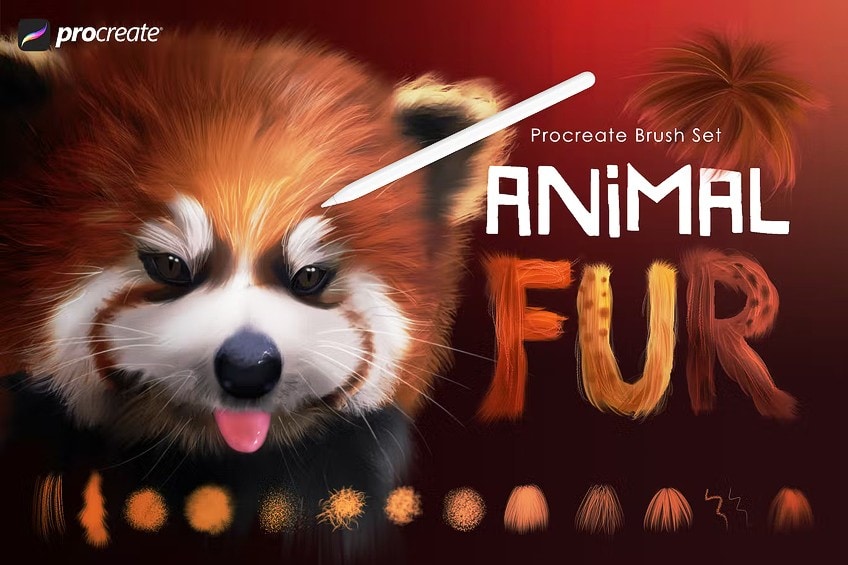 Animal Fur Procreate Brushes
The Animal Fur Procreate Brushes are provided by Digi Life. The brushes were created by artists who were looking for the ideal brush that would create the most realistic fur look. Each of the brushes is effortless to work with and is customizable. These brushes were designed with graphic designers, sketchers, and illustrators in mind. Getting that perfect fur look can be challenging if you are only using your imagination.
However, these brushes offer the solution to creating the best realistic-looking fur. The set includes 25 Procreate brushes and 660 color swatches.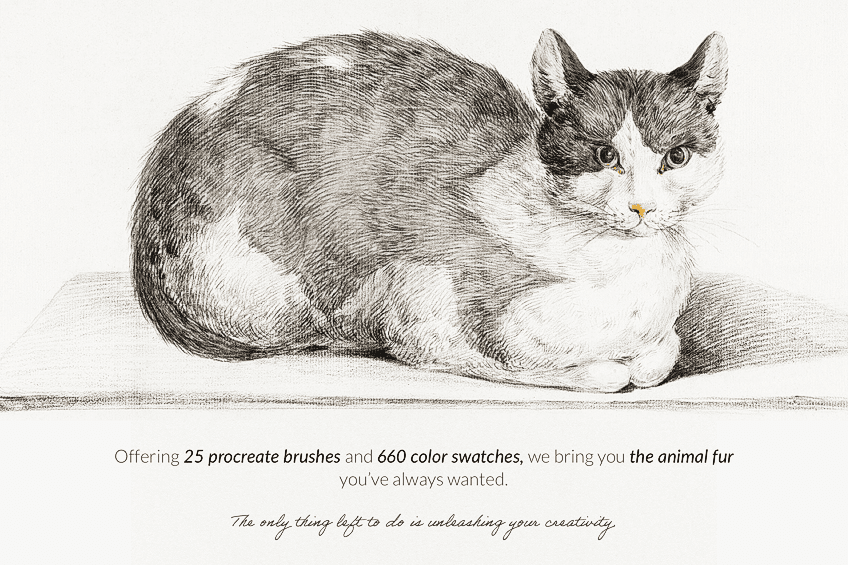 Dans Fur Brushes
The Dans fur brushes come from a company that has been working in the graphic design world for many years. They found that there was a demand for special tools for those in a similar field, especially for creating all kinds of digital illustrations. There are the furry brushes for Procreate and the fur hair brush stamp.
These brushes on offer have been designed to help you come up with infinite possibilities.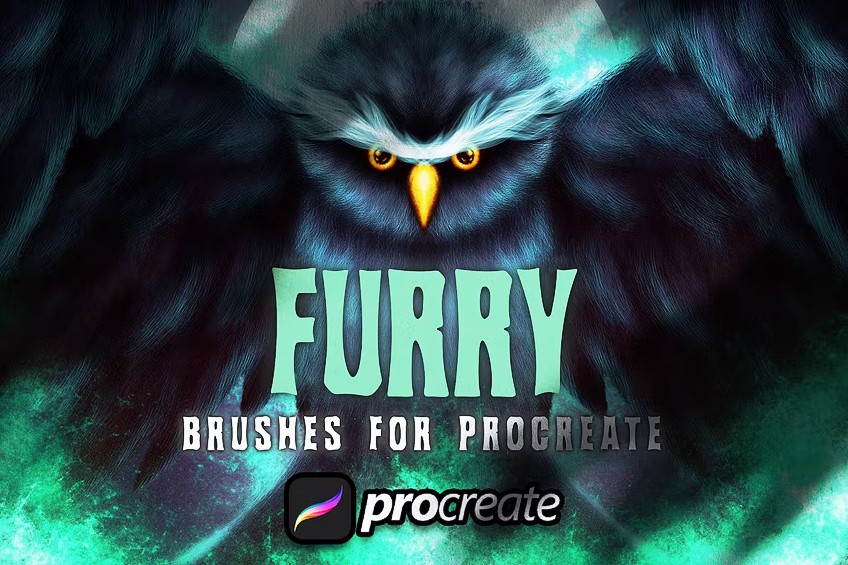 Faux Fur Brushes
These faux fur Procreate brushes are provided by the artists known as Seamless Team. The brushes are ideal for creating furry animals and characters, hairy monsters, and other objects. The set contains a variety of texture brushes. For example, you have vertical and horizontal brushes that will follow the direction of the brush. This is great for drawing shapes, and transitioning smoothly from straight to curved lines.
To add dimension and depth to your drawings, the brushes also offer darker and lighter strokes. In total, this set offers 30 color dynamic fur brushes.
Fur Brushes by Andrew Skoch
You get 12 amazing fur brushes in this set, which will help deliver a variety of fur effects. This includes long hair, short hair, thick and thin hair, and more. The brushes respond to varying pressure, so lighter pressure will produce less opacity, while more pressure will produce increased opacity.
The brushes are easy to use and can be customized and can only be used with Procreate.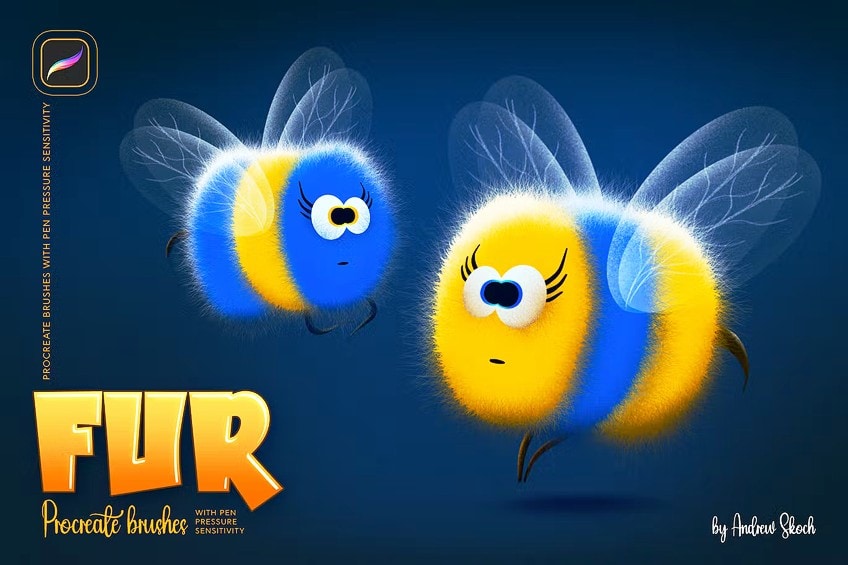 Fur Brushes by Delightful Design
A simple brush set that contains 10 customizable brushes that have been carefully made so you can produce some amazing work. The set of brushes is easy to use and is ideal for things like animal art or to try your hand at pet portraits. You can also create some wonderful fashion illustrations as well as prints and textures. The set comes with eight fur brushes and two hair brushes. There are always updates being done and you receive one-on-one support on your drawing journey.
There are also three amazing color palettes, one rainbow fur, neon animals, and a palette for creating cute woodland creatures.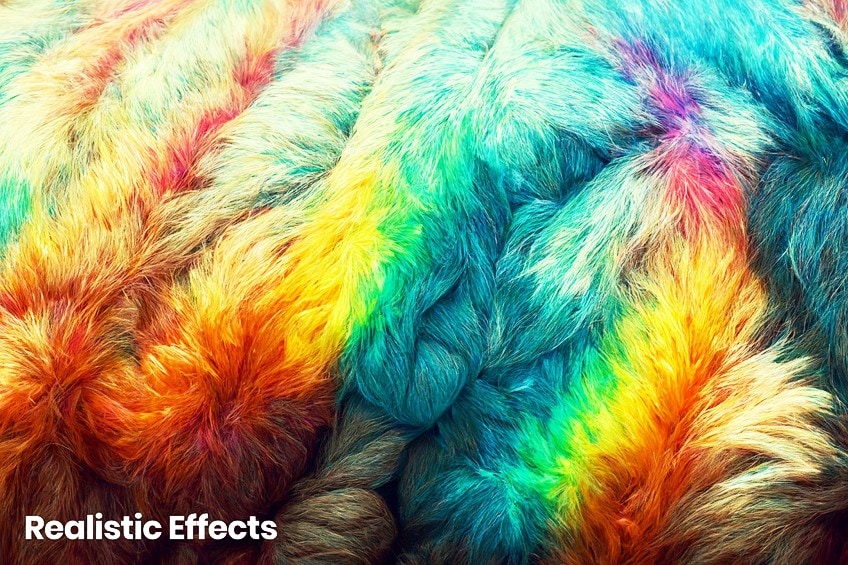 Furry Brushes
These Procreate furry brushes are extremely realistic and professional brushes created by Extremebrushes. There are eight brushes in total, each offering a different fur effect for your drawings. Under their profile name, you will also find many other brushes they have created for Procreate.
For example, their feather brushes and a Procreate brush kit just for the creation of dragons.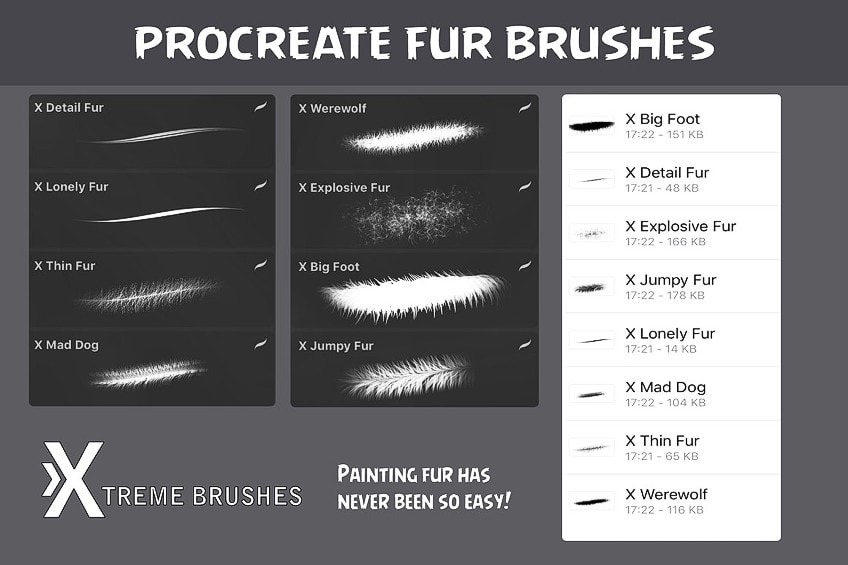 Procreate Fur Brushes from PDknyStudio
The fur brushes from PDkny Studio are all pressure sensitive and multi-color, which helps you produce images with more depth. You will find everything you require to create amazingly realistic fur, from straight hair to curly hair, fuzzy fur, normal fur, soft and rough fur, and long to short hair. Along with these brushes, you also get a lash and whisker brush as well as a hairbrush.
Altogether, there are 16 brushes for you to use.
Realistic Fur Brushes for Procreate
These fur brushes for Procreate have been in development for many years and were created by a professional artist by the name of Eldar Zakirov, also known as Ldarro. There are 28 brushes, more than enough to create realistic fur.
You even get a few more brushes as the ones that have a side view, come in a right and left angle to imitate the fur growth direction.
Realistic Fur Emoji Brushes
These fluffy Procreate brushes offer you a chance to create realistic fur and include 30 brushes. Draw anything from characters to animals and even furry fashion illustrations. There is also a bonus tutorial on creating a fluffy character and emoji stamp.
Ultimate Fur Brushes
These fur brushes from Art with Flo come with a variety of fur brushes that include curly, fuzzy, long, and short fur, fluffy tails, and a range of fluffy and soft brushes. The set also comes with a narrated tutorial that will show you step-by-step how to create a cute and fuzzy creature.
You can draw fluffy and soft tails in a single stroke, which also comes in a dual-color tail brush.
Free Fur Brushes for Procreate
As with all the Procreate brushes, many of the artists who create the brushes also offer free samples or sets. These brushes are perfect if you want to just experiment with the fur brushes before purchasing a full set. Here are a handful of free fur brushes for Procreate you can have fun with.
Basic Steps for Using a Fur Brush for Procreate
Painting fur may seem like a challenging task, however, all the wonderful fur brushes you can get will help you effortlessly create realistic fur images. There are many different types of fur brushes, all of which helps you create fur much easier. For example, there are short and long fur brushes, rough or smooth, wiry fur brushes, and more.
Let us take a soft short fur brush and take you through the simple process of beginning a drawing project.
Creating a Fur Base
Many animals often have a darker base of underfur, so using a dark color, to begin with, is the first step. You can then add in lighter colors and layers as you go to create more depth and dimension. This process can also be done in reverse if the animal has a lighter underfur. You would simply then use a lighter color and move on to darker shades of color.
Layering the Fur
Once you have your darker base fur color down, you can then move on and use a lighter color. Simply cover the base fur with the lighter color soft short fur brush and it should already provide some texture. You can then add more layers and include more colors. Make small changes to the tones and shades to provide a subtle effect. To make it look even more realistic, you can also consider the size of the fur.
An animal standing further away will require a smaller brush, while something close-up will need more texture.
Adding Details
Once you are satisfied with the fur you have created, you can then move in with finer details. You can use a finer, smaller brush to add individual hairs and other details. Add these details to the area of the drawing you want the viewer to focus on, in other words, the focal point of the drawing. Other areas do not need as much detail.
If you want to try your hand at creating a pet portrait or simply want to draw fluffy and furry creatures, then these fur brushes for Procreate should help you on your way. Discover new artists and experiment with the free fur brushes for Procreate.
Frequently Asked Questions
Is It Easy to Design Fur on Procreate?
Yes, it should not be too difficult to create fur on Procreate, as there are many fur brushes and sets available. Many of the artists who provide the brushes also give you access to tutorials and tips and tricks on how they create their artwork. Fur brushes not only create amazing artwork, but they also help to save you time, as you can create more in a shorter period.
Can You Use Fur Brushes for Hair?
Most of the fur brushes for Procreate are specifically designed for creating the most realistic fur images for animals. However, the brushes are also versatile, and many of them can also be used to create hair, there is no real limit to what you can do with them.
What Types of Procreate Fur Brushes Do You Get?
If you want to create a realistic-looking furry creature, then you need to get a versatile set of brushes that will have all you require. There is a wide range of fur brushes for various effects from curly, rough, smooth, and coarse, to fuzzy, wispy, and even full tail brushes that create a tail in a single stroke.
Can You Download Fur Brushes for Procreate?
Many brushes are available on Procreate, but you can also download fur brushes from other websites. Any new brush or brush set can be downloaded and then saved and shared to the Procreate application.