Whereas once upon a time, urban artists were regarded as nothing more than hooligans with spray cans, nowadays street graffiti artists are both acknowledged for their artistic skills and admired around the world. Many famous street art pieces have become synonymous with the cities in which they were created, and people will travel many miles to experience the works of famous street artists in places like New York City and London, for example. Who are the best street artists known for creating these famous graffiti art murals? Let's find out by exploring our list of the most influential and famous street artists!
The World's Most Famous Street Artists
For many years, any sign of graffiti art would be regarded as vandalism and an eyesore, yet, in today's world it is not uncommon for cities to encourage urban artists – often providing them with mural space. This is to enliven the urban landscape, include the communities, support local art talent, and bolster tourism. Today, the best street artists can make very lucrative incomes and famous street art pieces have been known to sell at auction for millions. Street graffiti artists have come a long way from tagging inner city subways.
Mural "No Future" (2017) by Shepard Fairey at Schwerinstraße 3 in Berlin-Schöneberg, Germany;; Singlespeedfahrer, CC0, via Wikimedia Commons
Often removed or painted over, these works serve as transitory glimpses into the lives, thoughts, and art of the generation that produced them. Given that they are often created in areas that are exposed to the elements and are not assured of any protection, we suggest you go out and explore the works of these urban artists while they still exist. To find out which are the best street artists to discover, let's dive into our list of famous graffiti artists.
Cornbread (1953 – Present)
| | |
| --- | --- |
| Name | Darryl "Cornbread" Alexander McCray |
| Date of Birth | 1953 |
| Date of Death | N/A |
| Place of Birth | Philadelphia, Pennsylvania, United States |
Most people believe that graffiti originated in New York City. While the Big Apple unquestionably contributed to its fame, Cornbread, a Philadelphia icon, deserves the credit for spreading its distinctive brand across the city in the late 1960s. Before becoming known as the person who invented modern-day graffiti, he was known to his family as Daryl Alexander McCray. As a young child, he encountered his fair share of difficulties and was finally sent to an institution for juveniles.
He was shocked to learn that there was no cornbread in the dining hall and he would question the cranky cook every day as to why it was never on the menu.
The cook finally shouted at him to leave his kitchen after nagging him for days, calling him "Cornbread". The name was initially put on the back of his T-shirts before eventually being tagged on the building's walls. He created his first tag as a young man at Strawberry Mansion Junior High School after being freed from the juvenile facility. By the time he was 12 years old, he had written his name all over the city, and by 1969, there were hundreds of active graffiti artists in the city.
Keith Haring (1958 – 1990)
| | |
| --- | --- |
| Name | Keith Allen Haring |
| Date of Birth | 4 May 1958 |
| Date of Death | 16 February 1990 |
| Place of Birth | Reading, Pennsylvania, United States |
Keith Haring, another famous street artist, was born in Reading, Pennsylvania, but grew up in neighboring Kutztown. Haring's father was an amateur cartoonist and engineer, which most likely influenced his work. Unlike most famous graffiti artists, Haring went to art school, enrolling at the School of Visual Arts in New York. Soon after, he began painting in the subways. He started painting in chalk inside the ad spaces at the stations; when vacant, these sections were draped with sheets of black paper, which effectively became Haring's canvases as he proceeded to create the pop iconography that earned him fame.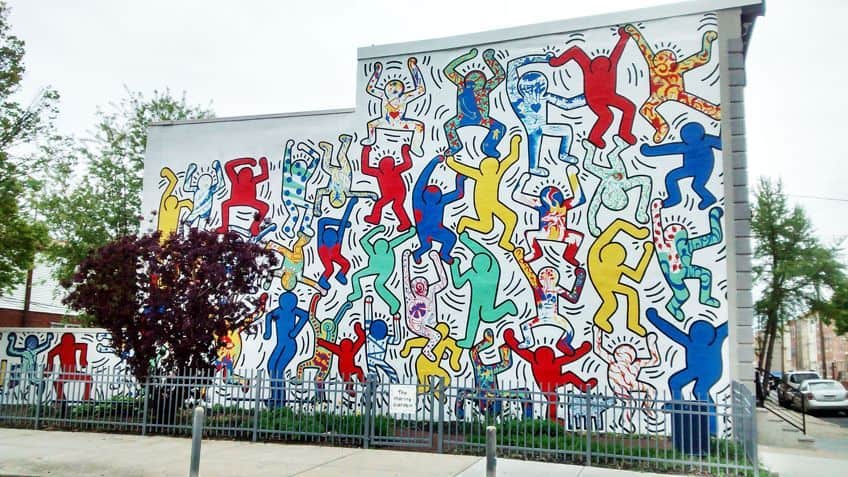 We the Youth (1987) by Keith Haring; Keith Haring, CC BY-SA 3.0, via Wikimedia Commons
Haring made his work readily available throughout his lifetime through the installation of his murals in addition to the Pop Shop – Haring's boutique where he sold his memorabilia. Haring's meteoric career was cut short by AIDS-related illnesses on the 16th of February, 1990, at only 31 years of age. Prior to his death, Haring founded the Keith Haring Foundation, a non-profit dedicated to spreading AIDS awareness through art programs and community engagement.
Tracy 168 (1958 – Present)
| | |
| --- | --- |
| Name | Michael "Tracy 168" Tracy |
| Date of Birth | 1958 |
| Date of Death | N/A |
| Place of Birth | Bronx, New York City, United States |
Tracy 168 is a graffiti artist from the United States. He created the Wildstyle art form. Tracy 168 is considered one of the most important street graffiti artists of all time, with versions of the Wild Style graffiti style spreading all over the world. He is regarded as a pivotal figure in the history of graffiti art. Books about 1970s graffiti depict his artworks with their distinctive dynamic letters accented with arrows, flames, cartoon creatures, and the "Tracy face", a smiling shaggy-haired face with wrap-around sunglasses.
Dense layers of text are twisted and distorted into curves or angles, which are usually supplemented with arrows or other motifs.
The resulting graffiti has a baroque, spikey aesthetic and is still one of the most popular styles of graffiti art today. Tracy 168 has been a mentor to many other famous street artists, such as SAMO and Keith Haring, and his work has been displayed in the Brooklyn Museum, among other significant institutions. Many of his street murals can be found in Brooklyn as well as in the Bronx, his current place of residence.
Jean-Michel Basquiat (1960 – 1988)
| | |
| --- | --- |
| Name | Jean-Michel Basquiat |
| Date of Birth | 22 December 1960 |
| Date of Death | 12 August 1988 |
| Place of Birth | Brooklyn, New York City, United States |
Jean-Michel Basquiat was a well-known African-American street artist who rose to prominence in the 1980s. Basquiat's paintings were instrumental in bringing street graffiti artists into the New York gallery scene. His spray-painted crowns and scrawled phrases referenced everything from his Puerto Rican and Haitian roots to pop culture figures, political issues, and Biblical verses.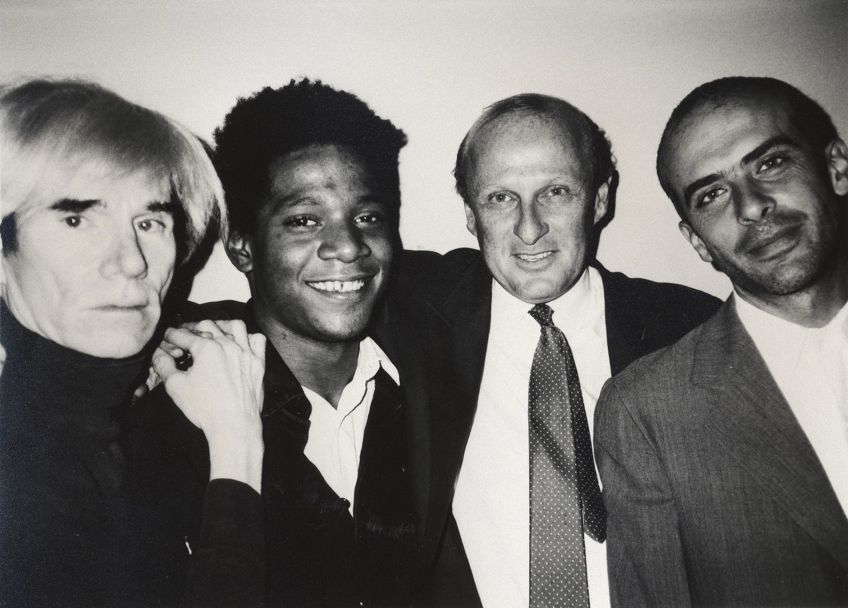 Andy Warhol, Jean-Michel Basquiat, Bruno Bischofberger and Fransesco Clemente, New York, (1984); Galerie Bruno Bischofberger, CC BY-SA 4.0, via Wikimedia Commons
Basquiat's gestural strokes and emotive style drew comparisons to the works of famous street artists such as Kenny Scharf and Keith Haring, as well as the Neo-Expressionists David Salle and Julian Schnabel. His first graffiti efforts were spray painting trains and buildings in downtown New York with his friend Al Diaz. The artist was known by the now-famous alias SAMO. Basquiat soon rose to renown in the early 1980s, and he became friends with numerous personalities and artists, notably Andy Warhol, with whom he collaborated on several projects. His struggles with popularity and drug addiction culminated in his tragic demise from a heroin overdose on the 12th of August, 1988, at the early age of 27.
Dondi White (1961 – 1998)
| | |
| --- | --- |
| Name | Donald "Dondi" Joseph White |
| Date of Birth | 7 April 1961 |
| Date of Death | 2 October 1998 |
| Place of Birth | Brooklyn, New York City, United States |
Teenagers with loads of skill but little money transformed trains into rolling canvases in the 1970s, decades before whole New York City subway cars were coated in advertising posters. They asserted their identities through dynamic typography and comic book-style figures. White, also known as Dondi, was fashionable yet timid, yet his works were powerful visual impressions from the city's outskirts.
He was a superstar on the streets and in galleries years before street graffiti artists became fashionable, and he established a benchmark that is still being followed today.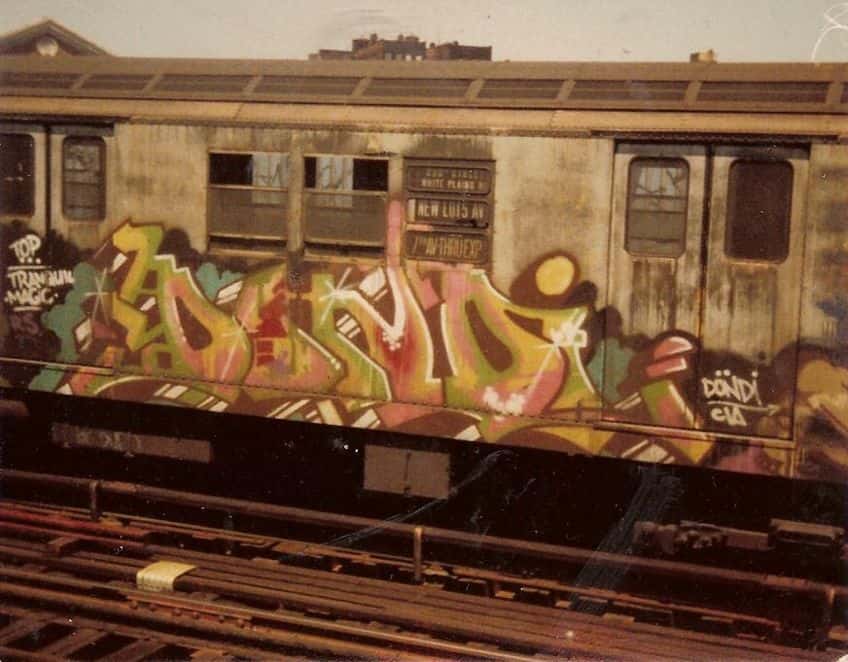 A New York subway train (1979) by Dondi; JJ & Special K, CC BY-SA 2.0, via Wikimedia Commons
He was an expert at his craft, spending days in his Brooklyn home creating the images he would later spray-paint on nightly expeditions through railroad yards and tunnels. Dondi was one of the first aerosol painters to attain success above ground when urban galleries discovered the form in the early 1980s. Later, he created collages and drawings that were just as inventive and meticulous as his subway graffiti art. Unfortunately, he passed away at the early age of 37 due to AIDS-related complications.
Daze (1962 – Present)
| | |
| --- | --- |
| Name | Chris "Daze" Ellis |
| Date of Birth | 1962 |
| Date of Death | N/A |
| Place of Birth | Brooklyn, New York City, United States |
Daze launched his successful career as a subway car artist in New York City in 1976 while studying at the High School of Art and Design. He is one of the very few artists of his generation who has successfully transitioned from the subways to the studios. In 1981, he had his debut group show at the Mudd Club. His debut solo exhibition was presented at Fashion Moda, an iconic alternative art venue in the South Bronx, not long after. The Sammlung Ludwig in Aachen, Germany, bought the first of numerous artworks for their permanent collection a year later.
Since then, he has had several solo shows in locations such as Monte Carlo, Paris, Beijing, Singapore, Florence, and Buenos Aires. Daze has undertaken various public art initiatives throughout the years in addition to these displays. Daze has successfully collaborated with students since 1994, in addition to various public initiatives performed. He has engaged with communities in Baton Rouge, Seoul, Rio de Janeiro, Port au Prince, Palaia, and Andover, among others.
Lady Pink (1964 – Present)
| | |
| --- | --- |
| Name | Sandra "Lady Pink" Fabara |
| Date of Birth | 1964 |
| Date of Death | N/A |
| Place of Birth | Ambato, Ecuador |
Lady Pink was born in Ecuador, grew up in New York City, and now lives in the countryside. She began creating graffiti in 1979 and quickly became renowned as the only girl that could compete with the males in the graffiti art scene. She painted on trains from 1979 until 1985. She had a leading part in the film Wild Style in 1982. Because of her involvement in the scene, as well as her other notable contributions to graffiti, she has become a cultural icon in the hip-hop community.
She began displaying her paintings in art galleries while still in high school and held her debut solo exhibition at the Moore College of Art at the age of 21.
Lady Pink's graffiti artworks have been included in prominent art collections such as the Metropolitan Museum of Art in New York City, the Whitney Museum, the Museum of Fine Arts in Boston, the Brooklyn Museum, and the Groningen Museum in Holland. She has made a name for herself in the world of fine arts, and her works are highly sought after by art collectors.
Invader (1969 – Present)
| | |
| --- | --- |
| Name | Invader (anonymous) |
| Date of Birth | 1969 |
| Date of Death | N/A |
| Place of Birth | Paris, France |
While spray paint is commonly equated with the best street artists, the French artist operating under the alias Invader employs a totally different medium: ceramic tile. Invader produces mosaic pictures out of tiles to evoke the eight-bit squares of original computer graphics – most notably, his hallmark design: the alien seen in the video game classic, Space Invaders, which he played as a child in the 1970s. Although Invader operates anonymously, it is widely assumed that his true name is Franck Slama and that he studied at the École des Beaux-Arts in Paris. In the 1990s, he began mounting his mosaics on the facades of buildings in the French capital.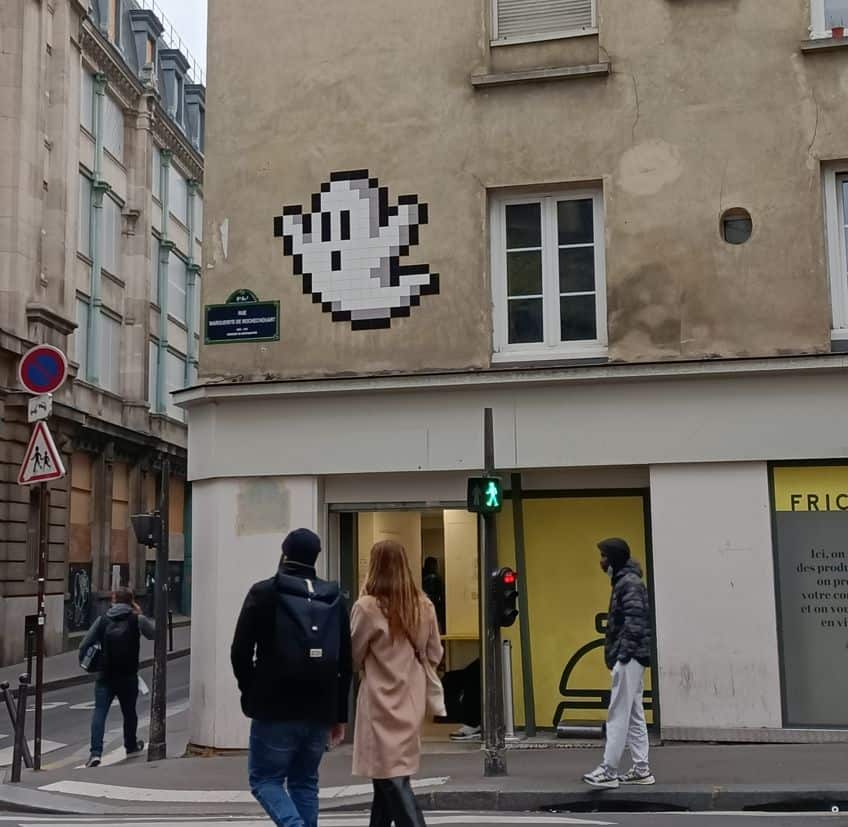 Ghost (unknown date) by Invader; Vannes64, CC BY-SA 4.0, via Wikimedia Commons
He has since taken his "invasions", as he refers to his street artworks, throughout the world, including Los Angeles, Hong Kong, Bilbao, Manchester, and New York, where he produced a six-foot-tall portrait of Joey Ramone in 2015. Invader has also produced QR code mosaics using black-and-white tiles, which can be decrypted with a smartphone app. Invader also uses Rubik's Cubes to produce two- and three-dimensional pieces in a manner he calls Rubikcubism.
Shepard Fairey (1970 – Present)
| | |
| --- | --- |
| Name | Shepard Fairey |
| Date of Birth | 15 February 1970 |
| Date of Death | N/A |
| Place of Birth | Charleston, South Carolina, United States |
Shepard Fairey, a student of Rhode Island School of Design student and skateboard enthusiast, began posting stickers with the face of André the Giant, the legendary pro wrestler, around New York City in 1989. "André the Giant Has a Posse", it read, much to the astonishment of onlookers on the streets and in the metro. The motto was quickly shortened to "Obey Giant", which appeared on posters and t-shirts.
Thus started the career of one of the world's most recognized and successful street graffiti artists.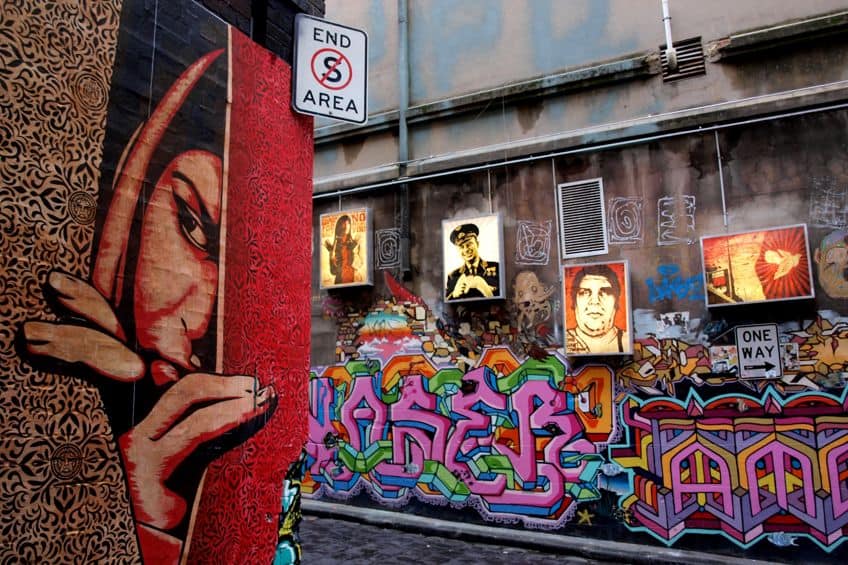 Street art in Hosier Lane, Melbourne, Australia (2010) by Shepard Fairey; TigTab from Melbourne, Australia, CC BY-SA 2.0, via Wikimedia Commons
Fairey has subsequently built a street art empire, including a fashion brand and big mural contracts in the United States and internationally. Fairey's art is typically political in character, expressing his pro-environment, antiwar, and pro-human rights message in a form that purposely resembles propaganda, like in his greatest enduring achievement, the Barack Obama "Hope" poster which Fairey designed during the Presidential campaign in 2008.
Banksy (1974 – Present)
| | |
| --- | --- |
| Name | Banksy (anonymous) |
| Date of Birth | 28 July 1974 |
| Date of Death | N/A |
| Place of Birth | Bristol, United Kingdom |
Banksy is possibly even more renowned than Shepard Fairey, which is astonishing given that he produces anonymously. During the early to mid-1990s, this political activist, artist, and filmmaker emerged in Bristol as part of an underground music and art movement. Toward the close of the decade, he started spraying stenciled designs on London and Bristol's bridges and walls that blended pop-cultural themes with subversive political messages. He also directed a film about a French emigrant infatuated with street art Exit Through the Gift Shop (2010); in 2015, he established Dismaland, an installation piece that shut after a month.
Rat Girl Treme New Orleans (2008) by Banksy; Mark Gstohl, CC BY 2.0, via Wikimedia Commons
Needless to say, Banksy's celebrity has treated him well in the art scene, where his artwork has sold for six figures. This, in effect, has increased collectors' demand for other famous street artists, a trend commonly referred to as the "Banksy effect". Banksy himself has never been unidentified because he declines to be interviewed and prefers to remain anonymous. Many assertions have been made regarding Banksy's identity, fueling media speculation. Many sources, such as an in-depth newspaper article, recently stated he was a Bristol local named Robin Gunningham.
Famous street artists have come a long way since the early tags of Cornbread and other pioneers. Today, the best street artists are able to showcase their works in prominent parts of the city landscape, as well as in renowned galleries. Graffiti art is now recognized as a legitimate art form and is appreciated on its own merits. Street graffiti artists continue to push the boundaries of their craft, creating ever more intricate, elaborate, and large murals to express themselves with.
Frequently Asked Questions
What Are Urban Artists?
Urban artists is another term for street graffiti artists. It is regarded as an urban art as it can usually be found in inner cities' urban areas, such as subways, bridges, and billboards. However, many famous street artists have works that can be found in both urban settings as well as high-end art boutiques and galleries.
What Is Graffiti Art?
It is a largely urban art form that consists of spray-painted tags and murals. This can include everything from a tag of the artist's name to large-scale mural works of multi-layered, intricate pieces that impart a certain personal or political message to viewers. They are largely created in public spaces and can be seen on train cars, inner-city building walls, and any other public space that is within arm's reach.
Isabella studied at the University of Cape Town in South Africa and graduated with a Bachelor of Arts majoring in English Literature & Language and Psychology. Throughout her undergraduate years, she took Art History as an additional subject and absolutely loved it. Building on from her art history knowledge that began in high school, art has always been a particular area of fascination for her. From learning about artworks previously unknown to her, or sharpening her existing understanding of specific works, the ability to continue learning within this interesting sphere excites her greatly.
Her focal points of interest in art history encompass profiling specific artists and art movements, as it is these areas where she is able to really dig deep into the rich narrative of the art world. Additionally, she particularly enjoys exploring the different artistic styles of the 20th century, as well as the important impact that female artists have had on the development of art history.
Learn more about the Art in Context Team.