Old castles exude a certain feeling of magic, valor, and mystery, recalling the Medieval castles of the fantasy movies we watched as children. Yet, historical castles are not structures of fiction, and many can be visited today! If you are keen to know which castle to visit, then check out this list of the most famous castles around the world.
Our List of the Most Famous Castles Around the World
Millions of tourists from across the world visit famous old castles each year to get a glimpse of the lifestyles of royalty. The attraction of exploring well-kept gardens, temples, and elaborate chambers draws tourists back year after year. In many countries across Europe, you will come across at least one castle to visit.
Then, of course, there are the incredible old castles of Asia as well! Many of these historical castles have been renovated over the years, allowing us to view them as they would have looked when they were originally built.
If you are planning a trip to Europe or Asia and looking for a worthwhile castle to visit, then check out our list of the most famous castles around the world for recommendations.
Prague Castle (870 CE) in Prague, Czech Republic
| | |
| --- | --- |
| Architect | Matthias of Arras (1290 – 1352) |
| Date Completed | 870 CE |
| Height (meters) | 99 |
| Function | Seat of Kings |
| Location | Prague, Czech Republic |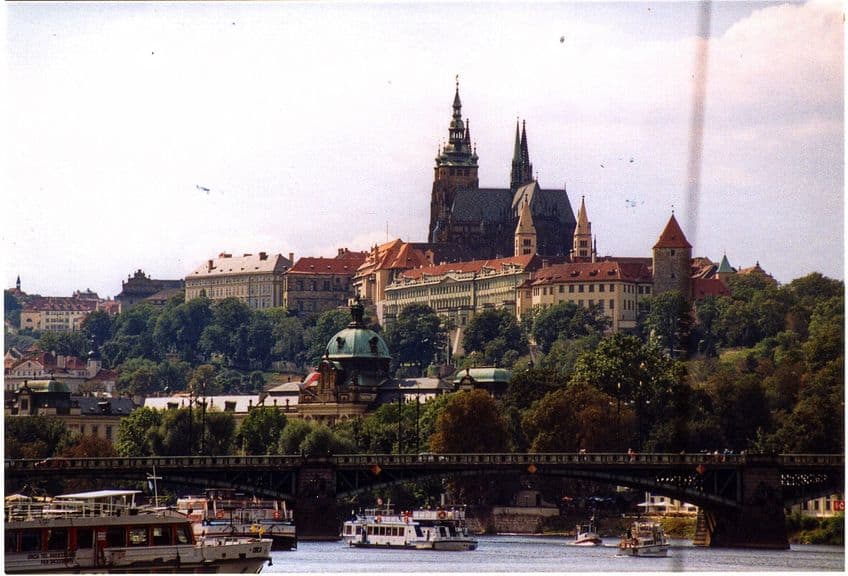 The Prague Castle (880 CE); Txllxt TxllxT, CC BY-SA 4.0, via Wikimedia Commons
The castle, which dates back to the 870s CE, still houses the Bohemian Crown Jewels, most notably the St. Wenceslas Crown, which is crafted of pure gold and embellished with precious stones and pearls. It is one of the world's largest castle complexes, spanning over 70,000 square meters, and for over a thousand years, the castle has served as the residence of Czech emperors and presidents.
Although the Czech president now resides at Prague Castle, most parts remain available to tourists who wander around the buildings, and museums such as the Prague Castle Picture Gallery.
One of the complex's most spectacular and historically important landmarks is St. Vitus Cathedral, so be sure that you visit it. Wear comfortable shoes since there will be a lot of walking involved in seeing the castle complex and if you want to avoid the masses of tourists rather go early in the morning or later in the afternoon. Once every hour, the changing of the guard tradition takes place in front of the main entrance of the castle.
Qaitbay Fort (882 CE) in Alexandria, Egypt
| | |
| --- | --- |
| Architect | Sultan Abu Al-Nasr Sayf ad-Din Al-Ashraf Qaitbay (1468 – 1496) (reconstructive work) |
| Date Completed | 882 CE |
| Height (meters) | 21 |
| Function | Fort |
| Location | Alexandria, Egypt |
Qaitbey Citadel in Alexandria, Egypt; ASaber91, CC BY-SA 4.0, via Wikimedia Commons
In 1477, after Al-Ashraf Qaitbay, the Sultan, learned of Ottoman soldiers reaching Alexandria, he began building this spartan fortress on the Mediterranean Sea. The designs for the fort called for the building to be constructed on the remains of the destroyed Pharos Lighthouse so that the builders could recover some of the materials used in the old building to create red granite columns in the gateway and mosque.
Although the Ottoman Empire finally conquered Egypt, the fortress remained a military stronghold until the British siege in 1882.
The magnificent monument remained unused on the port until the 20th century when the Egyptian Supreme Council of Antiquities got involved with the hopes of returning it to its former state. The castle has operated as a maritime museum since the 1952 revolution, documenting Egyptian naval successes and setbacks.
The spectacular architecture, beautiful views of the Mediterranean Sea, and historical antiques and exhibits on show are just a few of the things tourists may experience at Qaitbay Fort. However, it is not free to visit, so best to check out online what the price of admission is before arriving.
Windsor Castle (1086) in Windsor, England
| | |
| --- | --- |
| Architect | William the Conqueror (1028 – 1087) |
| Date Completed | 1086 |
| Height (meters) | 52 |
| Function | Royal residence |
| Location | Windsor, England |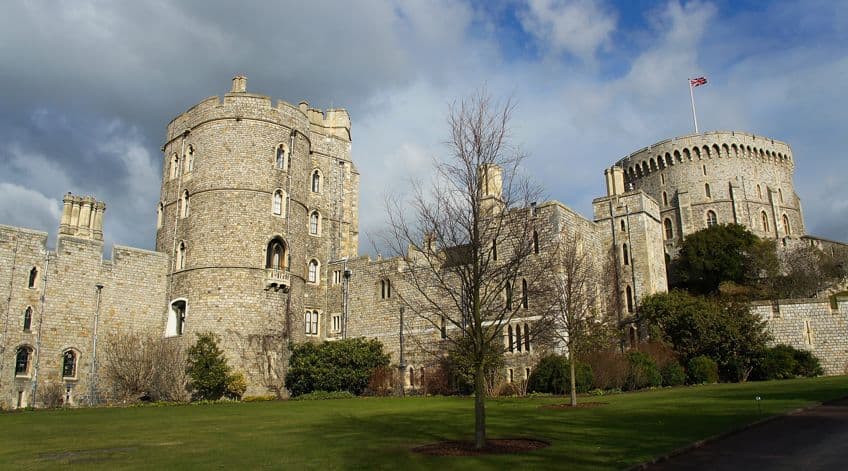 The Windsor Castle (1070 CE); Steve Evans from Citizen of the World, CC BY 2.0, via Wikimedia Commons
Windsor Castle is known to be the longest-occupied castle in all of Europe, with 39 ruling monarchs and their families residing there through the centuries. Originally built in the 11th century, Charles II was adamant about rivaling the achievements of Louis XIV, his cousin, and set about modernizing the interior of the castle, adorning it with elaborate wood carvings and painted ceilings.
The so-called State Apartments are luxuriously adorned with some of the Royal Collection's finest artworks, such as pieces by Canaletto, Rubens, and Rembrandt. These apartments' interiors were designed in the early 18th century by Jeffry Wyatville. Napoleon's 1815 defeat is commemorated in the massive Waterloo Chamber.
For anyone visiting this beautiful old castle, there are many fascinating things to see and experience. The Grand Reception Room is a particularly striking example.
It would be where the Queen would entertain her guests and is filled with golden embellishments and magnificent artworks. In the historic chambers constructed for Charles II, you can find the splendid ceiling paintings produced by Antonio Verrio. There is also a surprisingly detailed doll's house made by Sir Edwin Lutyens in 1924 for Queen Mary that features miniature furniture, books, and art pieces, and even has running water and electricity!
Edinburgh Castle (c. 11th Century) in Edinburgh, Scotland
| | |
| --- | --- |
| Architect | Unknown (c. 11th century) |
| Date Completed | c. 11th century |
| Height (meters) | 22 |
| Function | Castle |
| Location | Edinburgh, Scotland |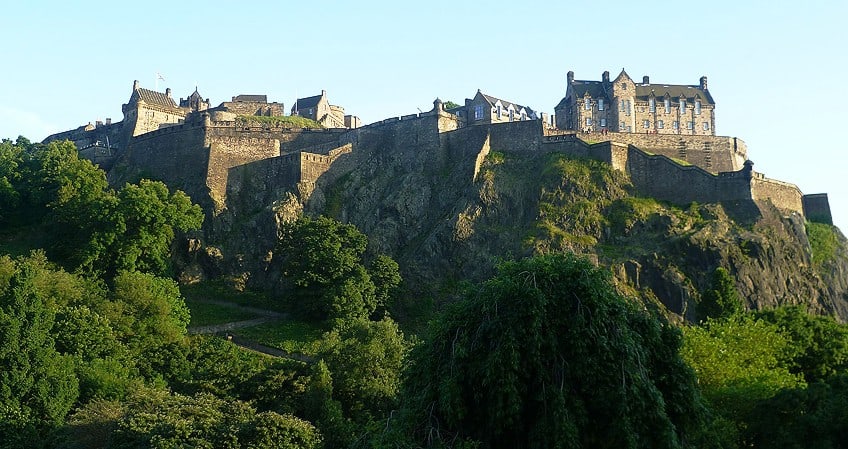 Edinburgh Castle as seen from the North; Kim Traynor, CC BY-SA 3.0, via Wikimedia Commons
Edinburgh Castle is one of Scotland's most well-known historical castles. It rests on Castle Rock, which has been inhabited by people since the Iron Age, however, the purpose of the early settlement is unknown. Castle Rock has had a royal castle from at least the time of David I in the 12th century, and it served as a royal palace until 1633.
The castle's private use diminished beginning in the 15th century, and by the 17th century, it was mostly utilized as an army barracks with a massive garrison.
Its significance as part of Scotland's national history was recognized gradually beginning in the early 19th century, and several renovation projects have been undertaken over the last 150 years. Edinburgh Castle is a major tourist site in Scotland and therefore is accessible to the general public. The castle's various historic monuments and features, including the Great Hall, the Royal Palace, the Scottish National War Memorial, and the famed One O'Clock Gun, can all be explored by visitors.
Bojnice Castle (c. 12th Century) in Bojnice, Slovakia
Architect
Franz Anton Hillebrandt (1719 – 1797)

(extensive additions)

Date Completed
c. 12th century
Height (meters)
56
Function
Castle
Location
Bojnice, Slovakia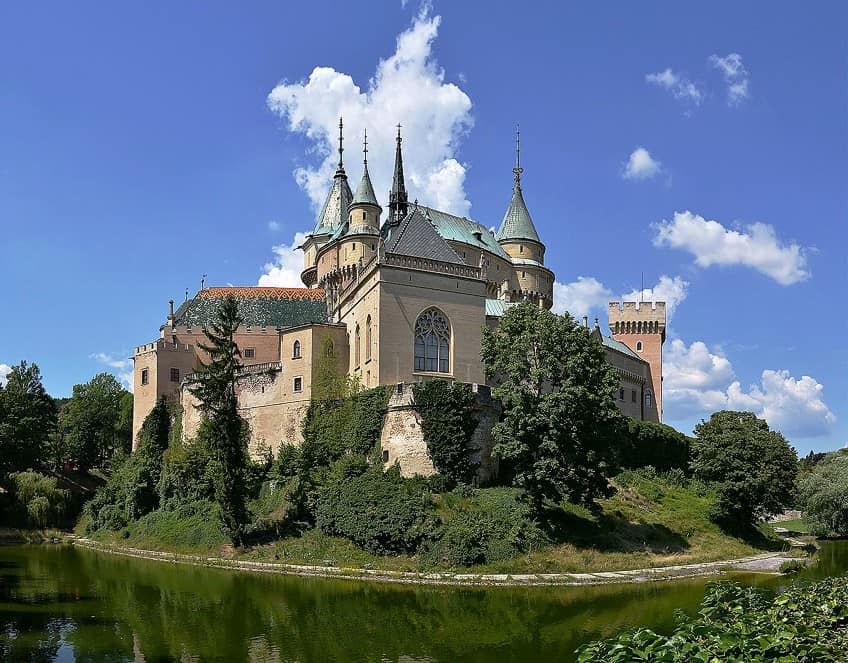 Bojnice Castle (c. 12th century); Pudelek, CC BY-SA 3.0, via Wikimedia Commons
Based on written documents discovered at Zobor Abbey, this Romanesque fort may have begun as a wooden fortress as far back as 1113. Stone gradually replaced wood, and the Gothic fortress featured Renaissance characteristics by some time in the 16th century. While King Matthias Corvinus of Hungary was not the initial owner of the stronghold, he was one of the first to contribute to its development.
The monarch would frequently visit the little city to concentrate on his decrees and deliver them under the linden tree that now bears his name.
Construction appears to have never stopped, as proprietor after proprietor proceeded to repair the exteriors or add chambers until the castle eventually fell into the hands of Count Ján Pálfi. The aristocrat was inspired by the majestic castles of France's Loire Valley and wanted to build his own fairy-tale castle complete with his perfect collection of tapestries, antiques, and artwork. Bojnice Castle, with its charming exterior, is now one of the most renowned castles in Central Europe, with thousands of visitors exploring its hallways each year.
Castel del Monte (1240) in Andria, Italy
| | |
| --- | --- |
| Architect | Frederick II (1220 – 1250) |
| Date Completed | 1240 |
| Height (meters) | 25 |
| Function | Castle |
| Location | Andria, Italy |
Castel del Monte (1240); ParisTaras, CC BY-SA 4.0, via Wikimedia Commons
The reason for the construction of the Castel del Monte is shrouded in uncertainty. In 1240, Holy Roman Emperor Frederick II directed the construction of the fortress in a very isolated location in southern Italy with no measures of defense. The fortress was quickly abandoned by the monarch, raising numerous suspicions about his motives.
The fortress's plan is a marvel of medieval construction, with an octagonal foundation and tower at each end and eight trapezoidal chambers in each of the two stories.
The geometric pattern is believed to have a symbolic significance, with connections to the Holy Grail and humanity's relationship with God. It lacks a moat and a drawbridge, and many believe it was never meant as a defensive castle. However, archaeological evidence suggests that it formerly had a curtain wall. Whatever its initial function, the castle has become one of the most visited sites in southern Italy and was listed as a World Heritage site by UNESCO.
Château de Chenonceau (1576) in Chenonceaux, France
| | |
| --- | --- |
| Architect | Philibert de l'Orme (1514 – 1570) (significant additions) |
| Date Completed | 1576 |
| Height (meters) | 32 |
| Function | Château |
| Location | Chenonceaux, France |
The Château de Chenonceau, on the river Cher; Ra-smit (GFDL or GFDL), via Wikimedia Commons
With its manicured formal gardens all around it, Château de Chenonceau appears to drift gracefully over the Cher River's glistening waters. The castle was first constructed in the 11th century, but Diane de Poitiers, the mistress of Henry II, was responsible for commissioning Philibert de L'Orme to create the arched bridge, which is the castle's most recognizable feature. Catherine de' Medici, another powerful woman, made Chenonceau her favorite abode following the king's death in 1559.
The French queen never failed to impress guests within the castle gates with her Grand Gallery and outstanding entertaining skills.
It is even thought that the first-ever fireworks show in France was staged on the grounds to commemorate her son Francis II's accession to the crown. The château was severely damaged during World War II when German soldiers occupied it and the Allies attacked its church.
In 1951, the Menier family hired architect Bernard Voisin to bring the chateau and gardens back to their former splendor. Today, it is a very well-known tourist site in France and is available to the public all year. Visitors may explore the gardens, interior, and grounds of the castle as well as learn about its architecture and history.
Osaka Castle (1597) in Osaka, Japan
| | |
| --- | --- |
| Architect | Toyotomi Hideyoshi (1537 – 1598) |
| Date Completed | 1597 |
| Height (meters) | 58 |
| Function | Fort and museum |
| Location | Osaka, Japan |
Osaka Castle (1597); Brandon1122334455, CC BY-SA 4.0, via Wikimedia Commons
The Osaka Castle is one of Japan's most iconic monuments, and it played a significant part in Japan's unification during the Azuchi-Momoyama era in the 16th century. A number of moats and defensive defenses encircle the Main Tower. Toyotomi Hideyoshi, a great feudal ruler, constructed Osaka Castle in 1583, and it was later restored in the 17th century after being demolished during a battle. It has a long and rich history and has witnessed numerous significant battles, notably the Siege of Osaka in 1615.
It is a great castle to visit as it offers many opportunities to learn more about the castle and the city that surrounds it.
Inside the castle, there is a museum devoted to the past of the castle and Osaka, as well as displays highlighting Japanese lifestyle and culture during the Edo era. Visitors to the castle may also experience panoramic views of Osaka from the observation deck on the castle's top level, which offers a breathtaking overview of the beautiful surrounding city. During festival seasons, particularly during the cherry blossom bloom, the expansive Osaka Castle grounds are filled with taiko drummers and food stalls.
Kumamoto Castle (1601) in Kumamoto, Japan
| | |
| --- | --- |
| Architect | Ideta Hidenobu (c. 16th century) |
| Date Completed | 1601 |
| Height (meters) | 30 |
| Function | Castle and fortification |
| Location | Kumamoto, Japan |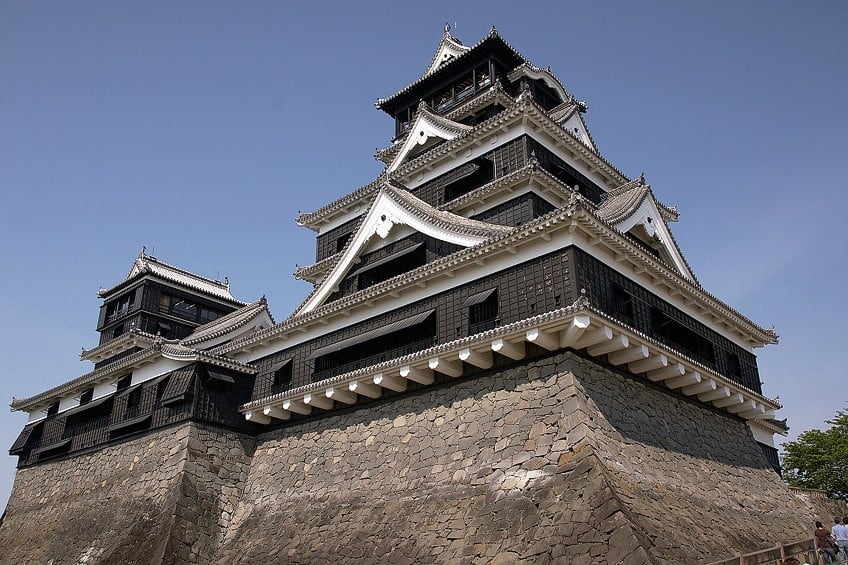 Kumamoto Castle (1601); 663highland, CC BY-SA 3.0, via Wikimedia Commons
Kumamoto Castle, recognized for its immense size, striking stone walls, and distinct black hue, is one of Japan's most famous and imposing castles. Kato Kiyomasa, a notable feudal lord recognized for his military skill and contributions to Kumamoto's development, erected the Kumamoto Castle in 1601. Kumamoto Castle features a distinctive architecture that combines European and Japanese elements, such as a central keep that is higher and more intricate than typical Japanese castles.
The Kumamoto castle was crucial in the Satsuma Rebellion in 1877 when a gang of samurai rebels attempted to overtake the Meiji government.
The castle was surrounded for more than 50 days and sustained substantial damage, but it eventually held out against the samurai. Kumamoto Castle is now a major tourist site and a symbol of Kumamoto city. Guests can tour the castle grounds, ascend to the top of the main keep for a spectacular view, and discover more about the castle's history and cultural significance.
Frederiksborg Castle (1620) in Hillerød, Denmark
| | |
| --- | --- |
| Architect | Hans van Steenwinckel the Younger (1587 – 1639) |
| Date Completed | 1620 |
| Height (meters) | Unspecified |
| Function | Royal residence |
| Location | Hillerød, Denmark |
Frederiksborg Castle, Denmark; Casper Moller from London, United Kingdom, CC BY 2.0, via Wikimedia Commons
The renowned Frederiksborg Castle, located on three tiny isles on the Castle Lake, was created as a symbol of King Christian IV's sovereignty as ruler of Norway and Denmark. Before a severe fire in 1859, the Renaissance castle served as a royal home for around a century. With just the chapel and the public room surviving the fire, a statewide lottery and collection were launched to gather funds for the palace's reconstruction.
After the royal family opted not to reside at the castle any longer, Frederiksborg reopened as the Museum of National History in 1878.
Today, the famous museum exhibits Denmark's history through its magnificent collection of portraiture and antique paintings, as well as the furnishings of the castle. Apart from serving as a royal dwelling for various kings until the nineteenth century, the palace was also used for many ceremonial occasions, and from 1671 until 1840, all Danish Kings were crowned and consecrated in the Chapel of Frederiksborg Castle.
The King and Princess' Wings, the Knights Hall, and parts of the Chapel structure were all rebuilt following a thorough renovation that started in 1860 and involved numerous antique architectural designs and building blueprints discovered in historical sites.
Red Fort (1648) in Delhi, India
| | |
| --- | --- |
| Architect | Ustad Ahmad Lahori (d. 1649) |
| Date Completed | 1648 |
| Height (meters) | 33 |
| Function | Fort |
| Location | Delhi, India |
The Indian flag flying between domes at the Red Fort; Amantambulkar, CC BY-SA 4.0, via Wikimedia Commons
Shah Jahan, the Mughal Emperor, laid the foundation for the Red Fort after moving the empire's administrative center from Agra to the recently founded city of Delhi. The intricate maze of inlaid-paneled passageways and apartments, which combined traditional Mughal architecture with elements of Hindu, Timurid, and Persian design, lay behind the unassuming red sandstone exterior.
The Red Fort was the Mughal Empire's formal capital until the Indian Rebellion of 1857 when innumerable valuable jewels held within its walls were seized and Bahadur Shah II was deposed.
Because Jawaharlal Nehru, the nation's first prime minister, delivered his "Tryst with Destiny" speech there, it was seen as crucial to India's liberation from British rule. Each year on the Independence Day of India, the Prime Minister makes a speech from the walls of the fort, emphasizing its important role.
The huge red sandstone walls of the fort, which stand 23 meters high, encompass a complex of residences and leisure halls, projecting balconies, spas and internal waterways, geometrical gardens, and an exquisite mosque.
Chapultepec Castle (1788) in Mexico City, Mexico
| | |
| --- | --- |
| Architect | Carl Gangolf Kayser (1837 – 1895) (restoring architect) |
| Date Completed | 1788 |
| Height (meters) | 67 |
| Function | Royal residence |
| Location | Mexico City, Mexico |
Chapultepec Castle Mexico City; Sisgeo, CC BY-SA 4.0, via Wikimedia Commons
The only castle in North America where actual monarchs have ever resided is Chapultepec Castle! Viceroy Bernardo de Gálvez commissioned the castle's construction in 1785 to accommodate the commander-in-chief of New Spain. Years after the Mexican War of Independence, the opulent castle was converted into a military academy and ultimately became the site of the 1847 Battle of Chapultepec. It will subsequently become Emperor Maximilian I's and his family's formal royal residence.
Maximilian contributed to the current design and neoclassical architecture of the castle, but his rule was brought to a sudden halt in 1867 when President Benito Juárez reclaimed control.
It is now home to the National Museum of History, which informs visitors about Mexico's history and culture. Many of the castle's beautiful halls, including the Salon of Ambassadors, the Royal Chambers, and the Museum of National History, will be viewed throughout the tour.
Nakhal Fort (1834) in Nakhal, Oman
| | |
| --- | --- |
| Architect | Said bin Sultan (1791 – 1856) |
| Date Completed | 1834 |
| Height (meters) | 23 |
| Function | Fort |
| Location | Nakhal, Oman |
Nakhal Fort, Oman; Andries Oudshoorn, CC BY-SA 2.0, via Wikimedia Commons
At first look, the spectacular citadel above Oman's Al-Batinah plain may appear to have an uneven shape. Nakhal Fort's original construction, which precedes the Islamic era, was erected around a big boulder at the base of Mount Nakhal, giving it an uneven appearance. The fort was intended to safeguard surrounding trade routes from looters and attackers, and it eventually developed to incorporate a mosque, residential areas, and reception rooms.
The odder embellishments, such as secret nooks where troops would throw hot date juice on attackers, are fascinating additions.
Visitors may wander around the fort's various halls, hallways, and courtyards, which provide an intriguing view of Oman's culture and customs. The fort has numerous turrets, a mosque, a spring, and a wide courtyard that used to be a market. Some of the chambers have been transformed into tiny museums displaying traditional Omani crafts, weaponry, and other artifacts. As with all historical castles, it is vital to respect the fort when visiting as some of the structure is fragile.
Neuschwanstein Castle (1886) in Bavaria, Germany
| | |
| --- | --- |
| Architect | Eduard Riedel (1813 – 1885) |
| Date Completed | 1886 |
| Height (meters) | 65 |
| Function | Castle, palace, and museum |
| Location | Bavaria, Germany |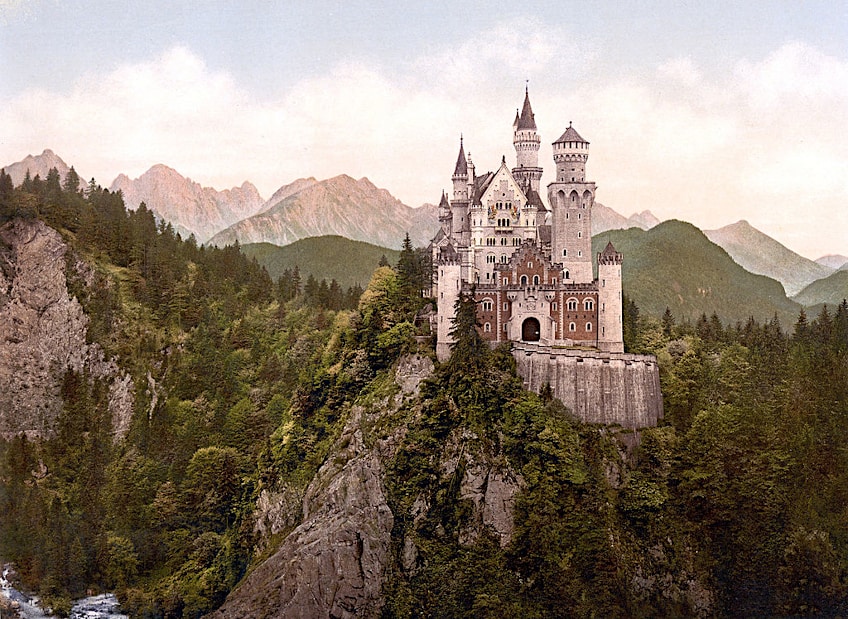 Iconic Photochrom print of Neuschwanstein Castle taken in the first decade following the completion of the castle; See page for author, Public domain, via Wikimedia Commons
Few locations on Earth look more like images from a fairy tale than Neuschwanstein Castle. King Ludwig II of Bavaria ordered that the castle be built in 1868, barely two years after Prussia seized Bavaria and Austria, essentially stripping the king of his powers. He immediately retired into his own fantasy world, surrounded by a luxurious castle where he could live out his fantasies of being a great, independent king. The king never got to see the finished Neuschwanstein: he passed in 1886, and the last turrets weren't finished until 1892.
However, within weeks after his unexpected and inexplicable death, the majestic castle was opened to the general public, immediately becoming one of the area's most popular attractions.
With its white limestone facade and deep blue towers, Neuschwanstein Castle is thought to be the basis for the palace in the Disney classic "Cinderella", which was produced in 1950. Before commencing work on his California theme park, Walt Disney and his wife traveled to Europe, stopping at Neuschwanstein Castle during their journey. There is no bad time to go to Neuschwanstein Castle, although, with 6,000 people visiting each and every day, visitors may prefer to avoid the high summer months, especially from July to the end of August.
Peleș Castle (1914) in Sinaia, Romania
| | |
| --- | --- |
| Architect | Karel Zdeněk Líman (1855 – 1929) |
| Date Completed | 1914 |
| Height (meters) | 42 |
| Function | Royal residence |
| Location | Sinaia, Romania |
Peleș Castle (1914); Camil72, CC BY-SA 3.0, via Wikimedia Commons
During the 1860s, King Carol I was captivated by the picturesque Bucegi Mountains and ordered the construction of a neo-Renaissance-style castle in the small town of Sinaia. The royal summer castle has 160 chambers, each with a different theme. The theater on the grounds, for instance, exudes a fairytale atmosphere, with beautiful murals by Austrian painters Franz von Matsch and Gustav Klimt covering the walls and ceiling.
It was designed by a group of architects and craftspeople from all across Europe and contains Renaissance, Gothic, and Baroque architectural features.
Peleș Castle was abandoned after years of functioning as a royal home when Romania came under Communist authority. Following the revolution in 1989, the Peleș castle functioned as a public museum. Peleș Castle is a renowned tourist destination owing to its magnificent mountain setting and impressive architecture. The castle is only accessible by guided tour, which typically lasts between 45 and an hour. Many of the castle's beautiful halls, including the armory, royal chambers, and music room, will be viewable throughout the tour.
That concludes our list of the most famous castles around the world. From the old castles of Egypt, the Medieval castles of England, and the beautiful historical castles in countries like Japan and Germany, wherever you are in the world, you might be close to a castle to visit in person! Used as royal residences and fortifications in times of war, these buildings were both powerful strongholds as well as magnificent homes. Today, the majority of these famous castles now serve as museums that can be enjoyed by the public at large, and not just royalty.
Frequently Asked Questions
What Was the Purpose of Historical Castles?
Castles were usually built in areas that served an integral role in territorial defense. They were often built as forts for the soldiers, homes for the kings, and often as centers of administration for the surrounding land and its people. Many castles change roles over time based on the current needs of the population and those who dwell within them.
Are There Many Famous Castles Around the World That Are Open to the Public?
Yes, you are likely to discover that most famous castles offer some form of a tour for the public. Sometimes these tours are extensive, and one can explore without too many limitations. Other times, the castles still function as residences, and acessibility is limited to a specific section of the castle. While there are some historical castles that operate for free, it is best to check the website of the castle you would like to visit to confirm their opening times and admission fees.
Justin van Huyssteen is a freelance writer, novelist, and academic originally from Cape Town, South Africa. At present, he has a bachelor's degree in English and literary theory and an honor's degree in literary theory. He is currently working towards his master's degree in literary theory with a focus on animal studies, critical theory, and semiotics within literature. As a novelist and freelancer, he often writes under the pen name L.C. Lupus.
Justin's preferred literary movements include modern and postmodern literature with literary fiction and genre fiction like sci-fi, post-apocalyptic, and horror being of particular interest. His academia extends to his interest in prose and narratology. He enjoys analyzing a variety of mediums through a literary lens, such as graphic novels, film, and video games.
Learn more about the Art in Context Team.