"Drowning Girl" by Roy Lichtenstein – Discover the Pop Art Piece
In Drowning Girl (1963) by Roy Lichtenstein, we are met with a girl in water, who would rather drown than ask Brad for help. But, who is Brad? This article will discuss this painting in more detail, so jump in and read more about how this art piece caused a splash of sensation in Pop Art and popular culture.
Artist Abstract: Who Was Roy Lichtenstein?
Roy Fox Lichtenstein was born, and died, in New York City. His birthday was on October 27, 1923, and he died of pneumonia on September 29, 1997. He was interested in artistic pursuits from a young age, from his enjoyment of Jazz music to painting. He studied art in summer classes at the Art Student League of New York under Reginald Marsh and attended the Ohio State University and studied art, including botany and other disciplines.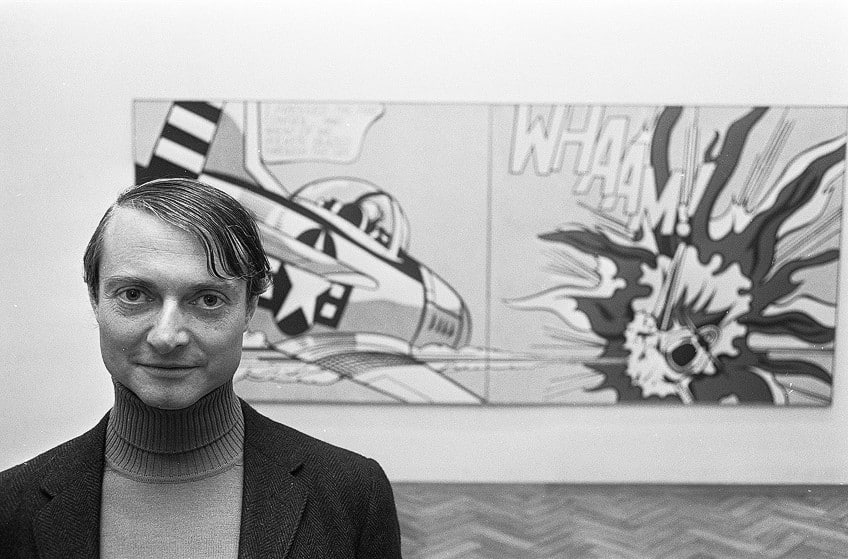 Roy Lichtenstein in front of one of his paintings at an exhibition at the Stedelijk Museum (1967); Eric Koch, CC0, via Wikimedia Commons
During his art career, he also taught at a number of universities. His art style also included Abstract Expressionism, but he later adopted the Pop Art style and became well-known for how reproduced artworks and often received criticism for these.
Some of his paintings include "In the Car" (1963), "Whaam!" (1963) and "Crying Girl" (1963).
Drowning Girl (1963) by Roy Lichtenstein in Context
| | |
| --- | --- |
| Artist | Roy Lichtenstein (1923 – 1997) |
| Date Painted | 1963 |
| Medium | Oil and acrylic paint on canvas |
| Genre | Genre painting |
| Period/Movement | Pop Art |
| Dimensions (meters) | 171.6 x 169.5 |
| Series/Versions | N/A |
| Where Is It Housed? | Museum of Modern Art (MoMA), New York City, United States |
| What It Is Worth | The price is uncertain. The acquisition was in 1971 through the Philip Johnson Fund by exchange and a gift of Mr. and Mrs. Bagley Wright. |
Drowning Girl by Roy Lichtenstein is just one of many of the famous pop artist's reproductions from popular culture, notably from a comic book strip, which you will read more about in the contextual analysis below. A formal analysis will also discuss the subject matter of the Drowning Girl painting and how it is visually composed.
Contextual Analysis: A Brief Socio-Historical Overview
The Drowning Girl by Roy Lichtenstein was inspired by DC Comics' story Run For Love!, which was featured in Issue 83 in the Secret Hearts (1962) series, which was originally lettered by Ira Schapp and illustrated by Tony Abruzzo.
Roy Lichtenstein's image was specifically taken from the splash page of Run For Love!, which provided more context about what the girl in the water was doing, whereas Lichtenstein depicted a single frame of only the girl, often described in terms of "cropping", and he excluded the man and landscape behind her, creating more drama by placing all the focus on the girl.
In the original comic image, you can see a man behind the girl, possibly her boyfriend, and he is looking at her. He is also in the water, but holding onto what appears to be their capsized boat. In the background, to the right, is a grassy hillside and the sky above, which appears yellow, possibly to suggest the sunshine.
The caption in the original comic is also different, the girl exclaims, somewhat dramatically, "I DON'T CARE IF I HAVE A CRAMP! – I'D RATHER SINK – THAN CALL MAL FOR HELP!". In Lichtenstein's caption, he changed the caption to, "I DON'T CARE! I'D RATHER SINK – THAN CALL BRAD FOR HELP!" and utilized "Brad" instead of "Mal". This left the scene open to mystery and interpretation.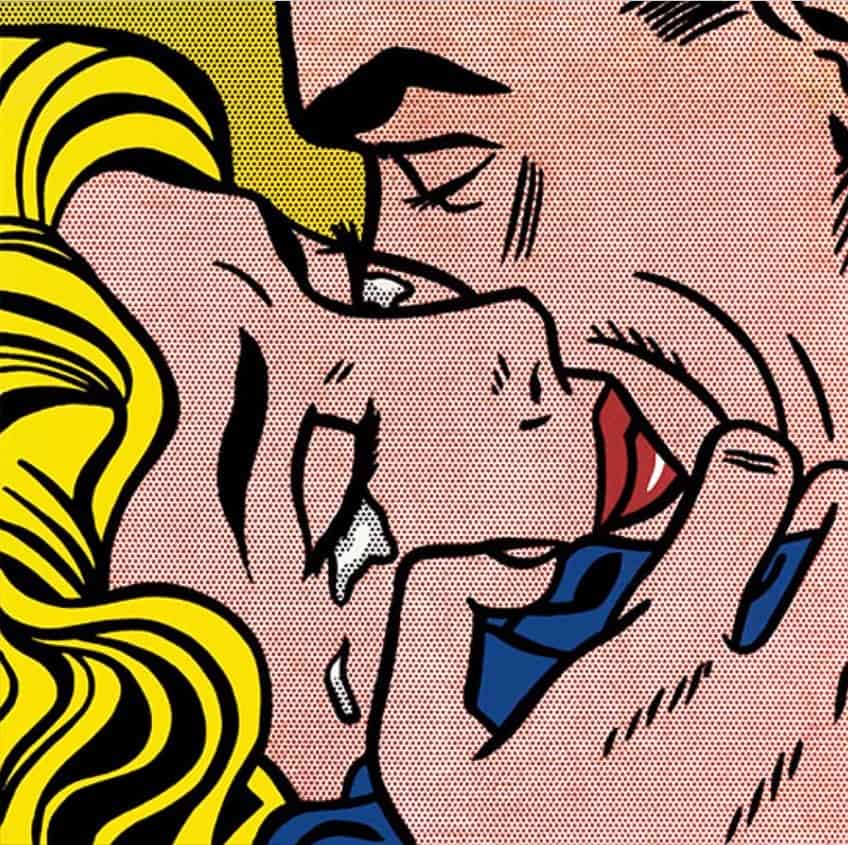 Kiss V (1964) by Roy Lichtenstein; Myosotis alpestre, CC BY-SA 4.0, via Wikimedia Commons
Drowning Girl by Roy Lichtenstein was reportedly exhibited in 1963 at the Leo Castelli Gallery in New York and it received a variety of feedback, from criticisms to compliments. The artist's own style has also been a topic of debate, some have thought he appropriated and reproduced, or copied, cultural imagery and that his art was not art, while others have commended him for his artistic techniques.
He became famous for creating vibrant and often dramatic scenes from pop culture.
He has been widely quoted, explaining his artistic process, that he draws a small image from various sources like photographs, cartoons, and others that he would size to fit into his projector. He would then project his image onto his canvas and pencil that in. With this, he also mentioned that "I don't draw a picture in order to reproduce it – I do it in order to recompose it".
Formal Analysis: A Brief Compositional Overview
Although Roy Lichtenstein reproduced images from pop culture, he nonetheless created these according to his own methods and styles. The formal analysis below will discuss this further, starting with a visual description of Lichtenstein's choice of subject matter in the Drowning Girl painting, and then how the art elements and art principles arrange and compose the art piece creating a dynamic and outstanding visual display.
Subject Matter: Visual Description
Drowning Girl by Roy Lichtenstein depicts the image of a woman's head, just off-center to the right of the composition, her hand, possibly her left, and the top part of her right shoulder, are sticking out of water. The lower left portion of the composition consists of only water. There is no other indication of another human in the water with the girl.
The rest of the girl's body is submerged in the water, and her facial features suggest she is struggling and trying to stay afloat as the water splashes around her. Both her eyes are closed and there are small white pools of tears in her eyes and making their way down towards her cheeks.
She has dark blue hair that appears to be just above her shoulder in length. Her lips are red, and her mouth is slightly open revealing the upper row of her teeth. A splash of water is visible over the top of her head. In the upper left edge of the composition are three small dots forming a white dialogue bubble with words written in it that convey what the girl is saying. The words are written all in capital letters and say, "I DON'T CARE! I'D RATHER SINK – THAN CALL BRAD FOR HELP!".
Color
The Drowning Girl painting consists of four colors, namely the primary colors, blues and reds, and the neutral black and white. The colors are simplistic and reminiscent of how images like this would be widely produced and printed. Color contrasts are created by the areas of darker blue, for example, the girl's hair, and areas of lighter blue around her to indicate the water.
These are also cool colors, which are further contrasted by the warmer colors of the red of the girl's lips and her fair, peach-like, skin tone.
Texture
There are smooth brushstrokes in the Drowning Girl painting, but also Lichtenstein's famous utilization of Ben-Day dots, which resembled the real Ben-Day dots printing process. Examples of these include the water and the girl's lips.
There is also implied texture of the water's splashes and waves, and the girl's hair, which are all created by curved, rounded, and flowing lines that are suggestive of the motion of water and the softness of hair. Additionally, there is a gloss-like texture on the left part of the girl's lower lip, a slight shine, which suggests a light source that reflects on what could be her lipstick.
Line
The types of lines that dominate and delineate the subject matter in Drowning Girl by Roy Lichtenstein are curved, curled, and looped with diagonal lines. Furthermore, the lines appear as thick black outlines, which create emphasis.
There is an effect of motion created by the lines, which creates an energetic composition.
Shape and Form
The type of shapes that occur in Drowning Girl by Roy Lichtenstein are organic, also known as naturalistic because they occur in nature and are free-flowing and irregular. While shapes relate mostly to two dimensions, form relates to three dimensions. There is minimal depth or three-dimensionality in this composition, which would often be conveyed through other art elements like color or size, however, this composition appears flat.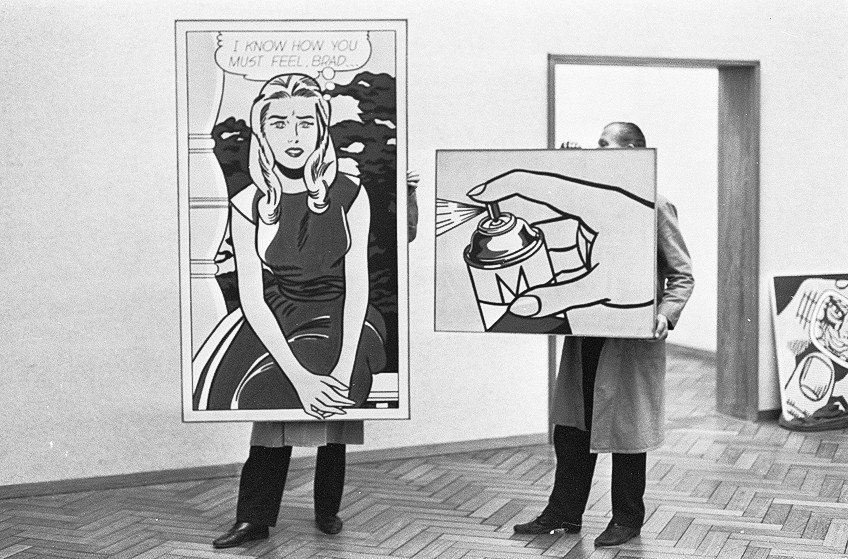 Staff setting up a Roy Lichtenstein exhibition at the Stedelijk Museum in 1967; Ron Kroon for Anefo, CC0, via Wikimedia Commons
Space
The compositional space of Drowning Girl by Roy Lichtenstein is filled with impactful and dynamic lines composing the water, which surrounds the girl, making her the central focus of the painting. Additionally, she appears almost zoomed in, which brings her seemingly into our, the viewers', space even more without any indication of other objects that might suggest a sense of distance or size.
This is emphasized by the actual size of the painting, which is 171.6 by 169.5 centimeters, which appears as a large format when you stand in front of it.
Framing a Cultural Icon
The symbolism and meaning of Drowning Girl by Roy Lichtenstein have been widely debated by many. Seemingly drowning in a sea of interpretations and theories that all range on a spectrum, from "sexuality", and "satire", to archetypes like heroines, and romantic love, the painting has nonetheless stood its ground in conveying an emotional moment, which was reportedly what Roy Lichtenstein enjoyed from scenes found in comics and cartoons.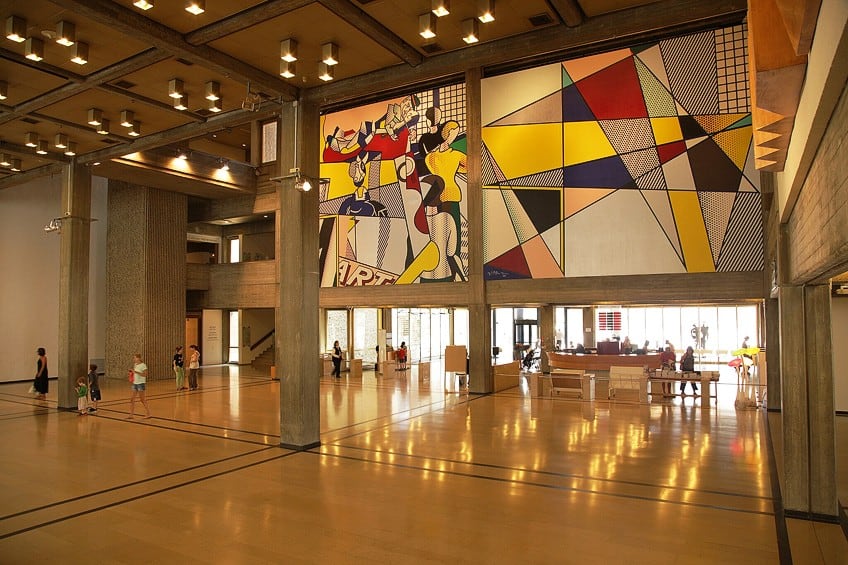 In 1989, Lichtenstein created a giant two-panel mural, especially for the Tel Aviv Museum of Art; Grand Parc – Bordeaux, France from France, CC BY-SA 2.0, via Wikimedia Commons
The "Drowning Girl" painting has been described as one of Roy Lichtenstein's most iconic paintings, and it has become so much more than that. It has become a cultural icon, reminding us of the power of art, pop culture, and artistic and advertising industries, all of which inform and convey information and entertainment to society, which then appropriates and consumes it.
Frequently Asked Questions
Who Created the Drowning Girl Painting?
The pop artist, Roy Lichtenstein, painted Drowning Girl (1963). The medium utilized is oil and acrylic paint on canvas and it measures 171.6 by 169.5 centimeters.
Where Is the Drowning Girl Painting Located?
Roy Lichtenstein's Drowning Girl (1963) is at the Museum of Modern Art (MoMA) in New York City, the United States. It was acquired in 1971 through the Philip Johnson Fund by exchange and a gift of Mr. and Mrs. Bagley Wright.
What Inspired the Drowning Girl by Roy Lichtenstein?
The Drowning Girl (1963) painting by pop artist Roy Lichtenstein was inspired and modeled after the original image of a drowning girl from the comic strip by DC Comics, titled Run For Love!, which was in the series titled Secret Hearts (1962) from Issue 83. The original comic was illustrated by Tony Abruzzo and the text was lettered by Ira Schapp.
Alicia du Plessis is a multidisciplinary writer. She completed her Bachelor of Arts degree, majoring in Art History and Classical Civilization, as well as two Honors, namely, in Art History and Education and Development, at the University of KwaZulu-Natal, South Africa. For her main Honors project in Art History, she explored perceptions of the San Bushmen's identity and the concept of the "Other". She has also looked at the use of photography in art and how it has been used to portray people's lives.
Alicia's other areas of interest in Art History include the process of writing about Art History and how to analyze paintings. Some of her favorite art movements include Impressionism and German Expressionism. She is yet to complete her Masters in Art History (she would like to do this abroad in Europe) having given it some time to first develop more professional experience with the interest to one day lecture it too.
Alicia has been working for artincontext.com since 2021 as an author and art history expert. She has specialized in painting analysis and is covering most of our painting analysis.
Learn more about Alicia du Plessis and the Art in Context Team.
Cite this Article