Edward Hopper rose to fame through his works created in the Realism style and produced both paintings and prints. A Native of Upper Nyack in New York, he was born on the 22nd of July, 1882, and although known for his etching work and watercolors, it was his oil paintings that he was most renowned for. His austere and precisely planned portrayals of rural and urban themes conveyed his unique perspective of contemporary American life.
A Look at Edward Hopper Paintings
Who is Edward Hopper? It has been said that very rarely has an artist been able to portray the feeling of despair and loneliness of life in the city like he has. Edward Hopper's artwork is unique in its ability to express empty spaces that give one a glimpse into a time when America was in the grips of the Great Depression. His ability to convey a message through posing his characters in certain ways and his use of specific colors were all instrumental factors in what made paintings by Hopper so renowned.
A photograph of Edward Hopper in 1937; Harris & Ewing, photographer, Public domain, via Wikimedia Commons
There are fewer Edward Hopper paintings in existence than one might think, as he preferred to work methodically and slowly, trying to capture each detail perfectly. Towards the end of his life, he was only producing around two oil paintings per year. Edward Hopper's artwork has had a huge impact on the creative world, having inspired numerous filmmakers, photographers, writers, and musicians. His style was so synonymous with a specific mood that the term "Hopperesque" was coined to refer to a solitary and lonely tone.
We are able to observe this characteristic by exploring a few notable paintings by Hopper.
House by the Railroad (1925)
| | |
| --- | --- |
| Date Created | 1925 |
| Medium | Oil on Canvas |
| Dimensions | 61 cm x 74 cm |
| Currently Housed | Museum of Modern Art, New York |
A late-afternoon radiance permeates Hopper's House by the Train, which includes a magnificent Victorian mansion with its foundation and gardens covered by railroad lines. The rails provide a graphic boundary that appears to obstruct the entrance to the residence, which is isolated in an otherwise barren environment. The contrast of the home and the train lines might be seen as a conflict in early-20th century America between the rigidity of traditions and the potential of movement.
Simultaneously, these characteristics recall the calm yet dynamic mood that has been a trademark of paintings by Hopper.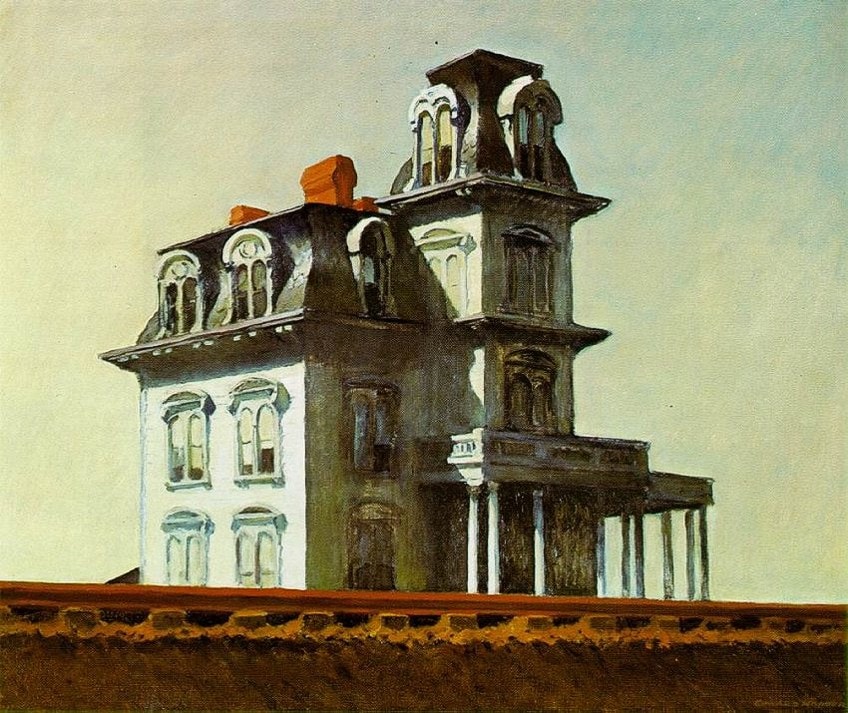 House by the Railroad (1925) by Edward Hopper; Edward Hopper, Public domain, via Wikimedia Commons
Hopper painted closely studied urban scenes, countryside landscapes (mostly of New England), and indoor settings, many of which were sparingly or totally unpopulated. Despite his insistence that his works were simple depictions of the actual world, they are frequently imbued with an obvious feeling of isolation, alienation, silence, and mystique. Lighting, whether organic or synthetic, is essential in creating an atmosphere. It is an artwork that we now associate with sorrow. Hopper maintained that his artworks were not emotive and were just realistic.
But when we observe this painting now, we are overcome with emotion. It is believed that it is the sentiment, rather than the objective, that distinguishes Hopper as a more lasting painter than many of his contemporaries.
Automat (1927)
| | |
| --- | --- |
| Date Created | 1927 |
| Medium | Oil on Canvas |
| Dimensions | 71 cm x 91 cm |
| Currently Housed | Des Moines Art Center |
This Edward Hopper artwork portrays a lady alone in an automat enjoying a cup of coffee. The images and symbols of this artwork are intended to reflect the volatile period in which it was created. The lone female seated in an automatic restaurant is the most apparent sight in the Automat. The viewer can see the deep darkness through the windows behind her. The inventive application of oil paint creates a reflected light that contributes to the feeling of isolation. The artwork was made during the Roaring 20s, yet she does not appear to be a part of it.
This artwork employs light and shadow to draw the attention of the viewer to the numerous messages in his artwork. The female's melancholy is highlighted by the darkened room and shadowing beneath the tabletop.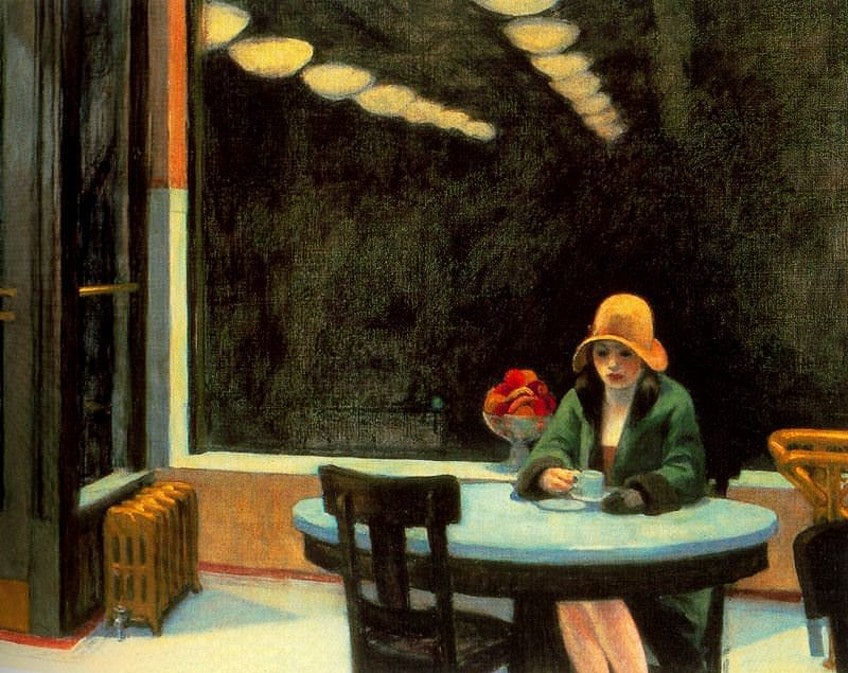 Automat (1927) by Edward Hopper; Edward Hopper, Public domain, via Wikimedia Commons
Furthermore, the female's bleached complexion and lifeless expression appear to entice the spectator. His use of symmetry generates powerful images while remaining understated. The brilliant hues and rigid forms, such as the large black window displaying only dazzling shimmering lights, depict a magnificent architectural form. The overly white teacup and plate are also utilized to draw focus to the lonely person. Edward Hopper used his distinctive technique to depict the various paradoxes that existed throughout the 1920s.
The depiction of a lone lady, vivid hues, and geometric structure all contribute to a strong visual picture. This painting was his means of expressing his feelings about the period in which he was living.
Chop Suey (1929)
| | |
| --- | --- |
| Date Created | 1929 |
| Medium | Oil on Canvas |
| Dimensions | 81 cm x 96 cm |
| Currently Housed | Private Collection |
Above all, Hopper was preoccupied with collective human ideals, and he used art to highlight the processes at play in the contemporary age. Chop Suey, Hopper's most renowned painting still in private ownership, exemplifies the cerebral depth for which his art is recognized, capturing in time a commonplace scenario from a swiftly changing America.
Hopper studied art under Robert Henri, the founder of the Ashcan School, which emphasized harsh realism. Though his technique evolved over the years, Hopper never discarded Henri's fundamental instruction: to depict the city and neighborhood lifestyle he was most familiar with.
Although some of his colleagues were drawn to the flashy bohemian set, Hopper was drawn to the calmer, everyday stories playing in modest settings such as Asian restaurants, automats, and cafés.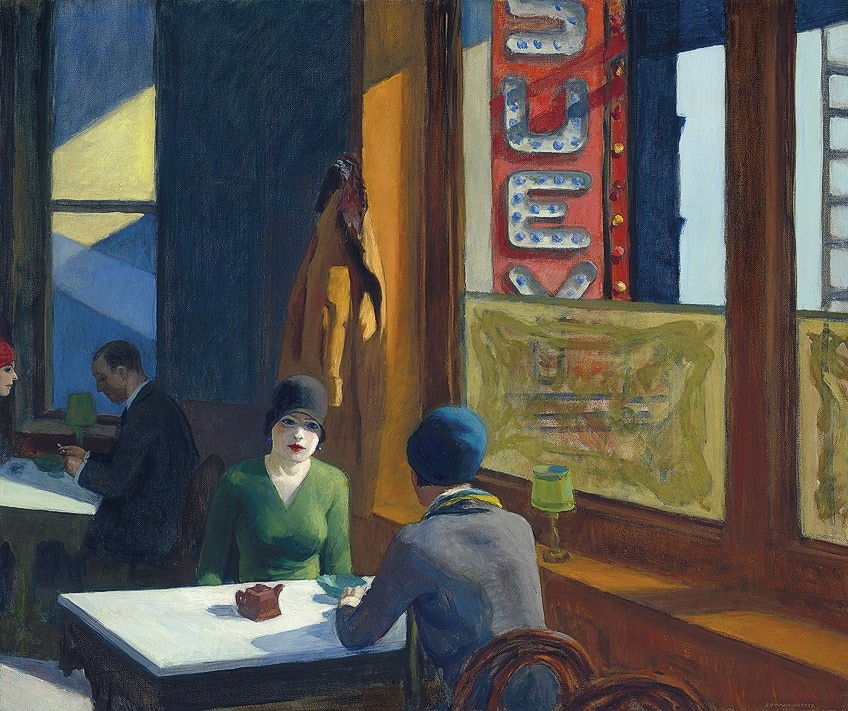 Chop Suey (1929) by Edward Hopper; Edward Hopper, Public domain, via Wikimedia Commons
Chop suey restaurants had developed by the mid-1920s into fashionable luncheonettes where the emerging middle class could get a quick bite. Edward Hopper's oil paintings were frequently influenced by a mixture of his previous encounters, and Chop Suey is said to have been largely inspired by eateries the painter frequented in the 1920s. The Far East Tea Garden was a haunt frequented by Hopper and his wife in the initial years of their relationship.
The Empire Chop Suey building, where the Hoppers spent several months of 1927, had a billboard that was 24 feet high and weighed 600 pounds, identical to the one seen in the picture. Neither institution is still in operation.
Early Sunday Morning (1930)
| | |
| --- | --- |
| Date Created | 1930 |
| Medium | Oil on Canvas |
| Dimensions | 89 cm x 153 cm |
| Currently Housed | Whitney Museum of American Art |
Early Sunday Morning is an artwork that can be seen as a tranquil and tranquil scene of shuttered local shops or as a commentary on the Depression. During a chat, Hopper mentioned that the word "Sunday " was not in the initial painting's name. "I enjoy early Sunday mornings as well, but it wasn't always on a Sunday. Someone else added to that term."
Although Hopper subsequently said the painting was practically a precise translation of Seventh Avenue, his painting looks to be more of an impression of America than of New York. Both the barbershop poles on the curb and the white drapery in the second-floor flat represent the lives of comparatively tiny company owners across the country.
Hopper had originally painted a person in the second-story window, but he subsequently felt that the building expressed his sentiments and hence painted away this human.
Early Sunday Morning (1930) by Edward Hopper; Edward Hopper, Public domain, via Wikimedia Commons
Except for the barbershop, it is impossible to identify what kind of businesses are depicted by the signage on the facades, but the proportions of the facilities imply that they supplied low-cost services and goods. During the Great Depression, essential sectors such as steel struggled, but small, provider companies selling footwear, clothing, groceries, medicines, and fuel remained open and, in some cases, flourished: filling stations, laundromats, beauty salons, and barbers catering to a rising audience.
The stores in Early Sunday Morning, which continue in a regular pattern further than the image's boundaries and support the canvas's horizontal structure, highlight the high prevalence of small-time enterprises in the United States.
The brownish paint channel in the upper-right corner of the image evokes the side of a huge structure and foreshadows the commercial world's probable invasion on this bright block.
Office at Night (1940)
| | |
| --- | --- |
| Date Created | 1940 |
| Medium | Oil on Canvas |
| Dimensions | 56 cm x 63 cm |
| Currently Housed | Walker Art Center |
This Edward Hopper artwork portrays a workplace with a beautiful young lady in a small dress standing at an opened storage cabinet and a somewhat older male, maybe in his early thirties. He is clothed in a three-piece outfit and sits at a table. The function of the workplace is unknown; it might be an accountant's, or a little company's headquarters. Using an office as a theme for an art piece was not common, but Hopper had developed a great understanding of producing renderings of office spaces with his design work for various magazines and was able to translate those skills to his art.
"It was probably initially prompted by several journeys on the 'L' train in New York City following midnight glances of business interiors that were so transient as to leave vivid and strong images on my mind," said Edward Hopper.
Office at Night (1940) by Edward Hopper; Edward Hopper, Public domain, via Wikimedia Commons
This is not a high-profile workplace, as evidenced by the odd wedge shape of the space and the modest size of the man's workstation. There is also a little workstation with a typewriter on top. This suggests that the woman may be his receptionist. There is also a potentially sexual interpretation of the two people's connection. The moving of draperies or blinds appears to reflect mental or bodily undercurrents in this piece, as it does in many of Hopper's paintings.
Aimless curtains in other Hopper works appear to indicate psychological stasis or a failure to communicate.
Nighthawks (1942)
| | |
| --- | --- |
| Date Created | 1942 |
| Medium | Oil on Canvas |
| Dimensions | 84 cm x 152 cm |
| Currently Housed | Art Institute of Chicago |
This famous Edward Hopper artwork was prompted by "a café on New York's Greenwich Avenue where two streets intersect," according to Edward Hopper, yet the painting, with its meticulously crafted arrangement and absence of story, has an eternal, timeless aspect that surpasses its specific location. The picture portrays an all-night restaurant with three patrons, all engrossed in their own musings, and is one of the most well-known scenes of 20th-century art.
The artwork's brilliance stems from Hopper's knowledge of the expressive potential of light acting on simple shapes.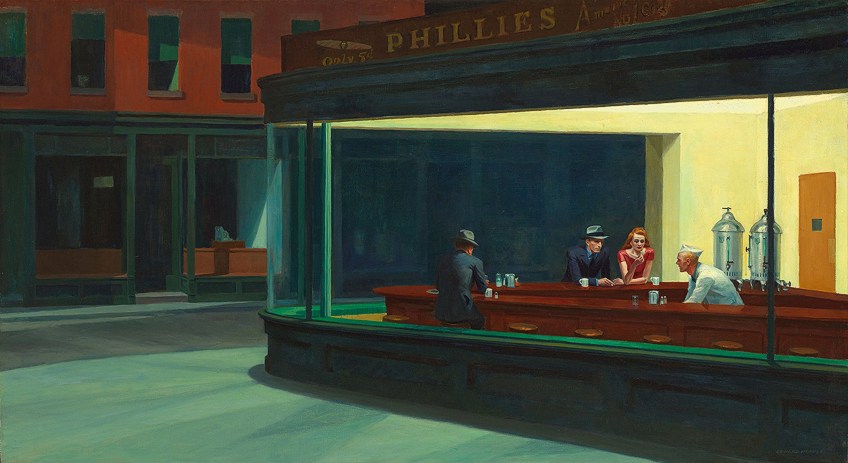 Nighthawks (1942) by Edward Hopper; Edward Hopper, Public domain, via Wikimedia Commons
Fluorescent lighting had just recently become popular in the early 1940s, and the all-night café gives out an unearthly radiance, like a lighthouse on a darkened corner of the street. Hopper removed any traces of an entry, and the observer, lured to the brightness, is cut off from the picture by a continuous piece of the pane. The four nameless and unsociable people appear to be as distant from the spectator as they are from each other. (The artist's spouse, Jo, posed for the red-haired lady.)
Edward Hopper claimed that he deliberately imbued his works with the symbolism of personal solitude and metropolitan desolation, although he did admit that in this particular painting, he was "possibly portraying the melancholy of a vast metropolis inadvertently."
Hotel Lobby (1943)
| | |
| --- | --- |
| Date Created | 1943 |
| Medium | Oil on Canvas |
| Dimensions | 81 cm x 103 cm |
| Currently Housed | Indianapolis Museum of Art |
The artwork portrays two ladies and a gentleman in the reception area of a hotel. A lady with tresses and a blue dress sits with her legs crossed, reading a novel, on the side. An elderly lady with a crimson dress, a jacket, and a bonnet sits to the other side. A man is standing next to her, looking forwards, dressed in a shirt with a jacket thrown over his upper forearm. A mounted landscape picture hangs on the opposite wall, above the lady. Behind the concierge desk, a receptionist is practically invisible in the darkness.
"Hotel Lobby" is a landmark work of Hopper's, illustrating his traditional concepts of isolation and austerity.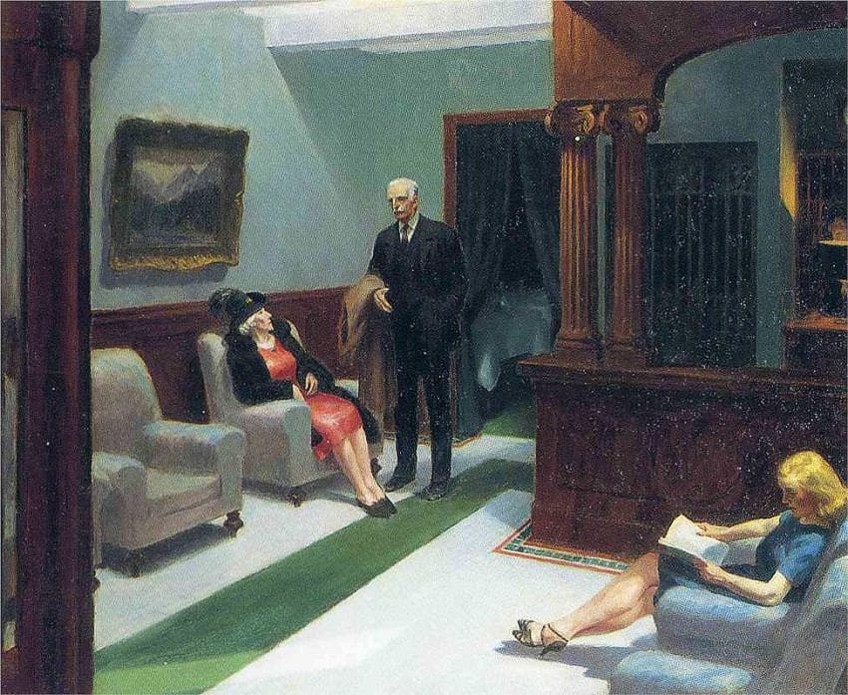 Hotel Lobby (1943) by Edward Hopper; Edward Hopper, Public domain, via Wikimedia Commons
During his profession, the Hoppers journeyed extensively, lodging in several hotels and resorts. This is one of two hotel-themed pieces in his repertoire, the other being Hotel Window (1955). It is also one of the art pieces he made in 1952, which together dealt with estranged spouses. The elder pair is said to be Hopper and his spouse, who are in their 60s.
The patrons have been characterized as "both wandering and trapped in time," exhibiting a somber and tragic atmosphere evocative of classic films Hopper may have seen and the intricate design and emotion of paintings by Edgar Degas.
Rooms by the Sea (1951)
| | |
| --- | --- |
| Date Created | 1951 |
| Medium | Oil on Canvas |
| Dimensions | 71 cm x 102 cm |
| Currently Housed | Private Collection |
This Edward Hopper artwork was inspired by his studio in Cape Cod. Its aesthetic is totally consistent with the method he used throughout his career. It was stated as the scene he would have observed from his studio's rear entrance, and it was a literal picture of stillness and loneliness. Edward Hopper was captivated by light from an early age, describing a moment when he first observed a contrast in light with one side being stronger than the other, which became a significant motif in his paintings.
His impact, nevertheless, did not end there; he would converse with colleagues about what an enclosed space might look like when no one was present.
The concept of an empty building may convey presence, and it is this thinking that will stay with him for the rest of his life. Rooms by the Sea creates an unsettling turmoil with its hallucinatory atmosphere, with one side a basic room glaring with monotonous hues as well as the other side loaded with vitality that is devoured in sunshine enticing anybody to leap. The initial title was Rooms by the Sea. Alias the Jumping Off Place, which was appropriate.
Edward Hopper's artwork was a hallmark of a person with awareness and comprehension of the universe; his appeal came from his unsophisticated paintings.
However, if he were competent, he would most likely not be such a superb artist. Edward Hopper utilized items as a portrait of himself and his environment as a symbol for how he views his own reality, creating personal works of art that only he knew what they represented. Because of this aesthetic, Rooms by the Sea continues to inspire awe and controversy.
Office in a Small City (1953)
| | |
| --- | --- |
| Date Created | 1940 |
| Medium | Oil on Canvas |
| Dimensions | 71 cm x 102 cm |
| Currently Housed | Metropolitan Museum of Art |
Near the summer of 1930, Hopper and his wife rented a house in Truro, Massachusetts, and they would return there on a regular basis until the 1950s. In 1953, Hopper began work on Office in a Small City while vacationing in Truro, and completed it in autumn in his New York studio. Instead of showing the Cape Cod countryside, Office in a Small City depicts a situation that might have occurred in any American area in the mid-20th century. His goal was to create a sensation of a lonely and isolated office environment high off the ground, using office equipment that has a very particular meaning to him.
In this picture, the lone office worker is both emotionally and physically secluded.
There is no clue of his occupation; he looks to be pondering instead of functioning. The consumer office furnishings, the mechanical ambiance of the workplace, and the man's separation from his invisible coworkers all reflect the postwar ethos of American industry. Notwithstanding the air and light provided by his corner office, he seems to be stuck in one location. He is flanked by the office window, and his face is highlighted against the other screen and the structure's wall opposite, implying his confinement inside the surroundings.
The man's loneliness, as well as the juxtaposition between the structure's harsh, industrial top level and its beautiful false front, shown at the bottom right, reflect Hopper's own uneasiness regarding contemporary cities.
Two Comedians (1966)
| | |
| --- | --- |
| Date Created | 1966 |
| Medium | Oil on Canvas |
| Dimensions | 73 cm x 101 cm |
| Currently Housed | Private Collection |
Two Comedians, Edward Hopper's last painting, was produced at the age of 83 as an intimate message, a sort of goodbye. The picture, as Jo subsequently verified, depicted the pair elegantly bowing out. Both were in their seventies and had been sick; Hopper died a couple of years later, and his wife the year after that.
Unlike his previous representations of unaffectionate couples, the tall male comic, portraying Hopper, grabs the hand of the small comedian, symbolizing his wife. They are similar to the youthful lovers Pierrette and Pierrot. In death, it appears that Hopper favored companionship, preferring to have Jo by his side. She characterized Edward Hopper's last painting as "a black stage and two tiny pantomime figures."
Hopper's choice of topic alluded to his embrace of life's absurdities – his awareness of the futility of human experience.
"90 percent of them are forgotten ten minutes after they're gone," Hopper famously said of artists in particular. His pessimism, on the other hand, did not properly foresee his own long-lasting and rising fame. However, he was equally aware of what was unforgettable: "The only characteristic that remains in art is a unique perspective on the world. Techniques are fleeting, while personality endures."
Hopper's work exemplifies the singularity of his perspective, rendering his pictures as important now as they were the day he produced them. His artwork appeals to everyone who deals with the challenges of society as they arise in everyday life, not just to one nation or to one moment.
That wraps up our list of notable Edward Hopper paintings. Through his artwork, we have been able to answer the question "Who is Edward Hopper?" These Edward Hopper artworks have managed to secure a place in art history due to his unique depictions of inner-city life during the Great Depression.
Frequently Asked Questions
Where Is the Edward Hopper Museum?
Hopper was born in Nyack, which is in New York City. He grew up in the house that has now become the Edward Hopper Museum. It can be found at 28 North Broadway Road.
What Were Edward Hopper Paintings About?
Edward painted during a period of much financial turmoil in America. He wanted to capture the essence of isolation experienced by those living in the cities. He especially wanted to produce artworks about empty and isolated spaces.