Are you at a place where you want to do something different or something more creative with your arts and crafts projects? Then wood burning may just be the outlet that you are looking for. Wood burning is an art form that allows you to burn designs into a wooden base. We guarantee that you will be impressed by what you can create, and we will be guiding you through the whole process as to what wood-burning art is all about and also what wood-burning tools you need to get started.
What Is Wood Burning?
Wood burning, also called Pyrography is a specialized art form where you can create your designs, sketches, or patterns by burning them into a piece of wood, leather, or cork. The whole process can also be referred to as pyrography, so when looking for a wood-burning kit, you will notice words like pyrography pen. The wood you use must be smooth, fine-grained, and preferably light in color to show up the designs you create. The best wood would be your softwood, although hardwood is also an option.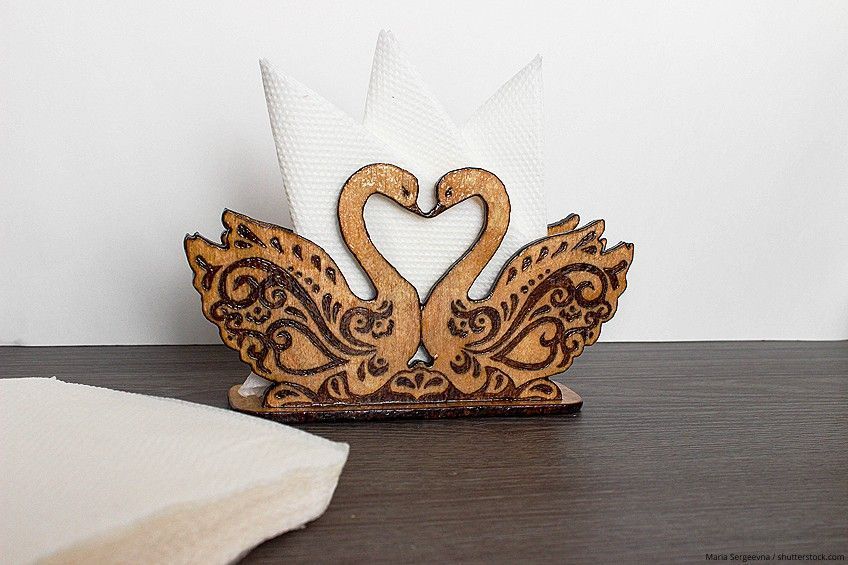 In this article, we will be concentrating on burning into the wood, and we will also be showing you how easy it can be for anyone to try. The basic equipment you will require is very affordable and minimal. All that you will need to get started is a wood-burning tool and a piece of wood.
What Is the Function of a Wood Burning Tool?
The wood-burning tool looks very similar to an ordinary soldering iron and when you apply heat to the tip that is fixed to the pen, you can use it to draw whatever design or shapes you desire by burning them into the wood. The wood-burning tools vary as some of them are specially designed for the beginner and others for the more advanced wood burners.
So, what are the criteria that separate the beginner's wood-burning tool from the more advanced tools?
Exchangeable Tips
The tips supplied with the pens differ in their design, which allows the user to do some straightforward wood-burning or enables the user to draw and design more intricate and detailed designs, sketches, and shapes.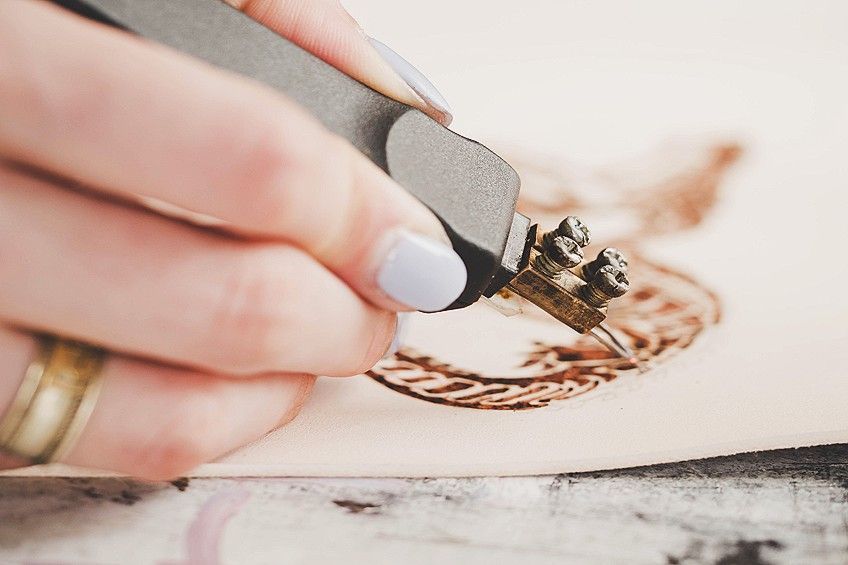 Burning Loops
These are fine wires that are formed into loops of different shapes and are pointed, flat, and round. These burning loops can move effortlessly over your wood. However, they are more for the advanced wood-burning user as they take a lot more practice.
The wood-burning does not only depend on the burning loops but also on the way your hand holds the pen.
Molded Tips
These are solid metalheads that are made in different shapes, very similar to the exchangeable bits of the screwdriver. They are easy to use and handle but unfortunately, they cannot be used for detailed or intricate work and are found mainly in the beginner's kits.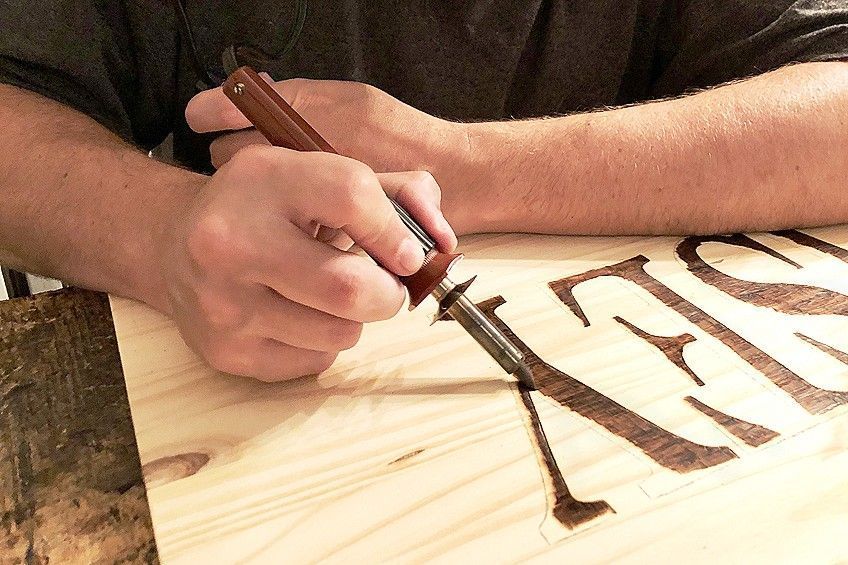 Temperature Control
The second criterion separating these wood-burning tools is the way the temperature is controlled. The very cheap wood-burning models come without any temperature control and operate on one fixed temperature, and their use is very limited. Then the beginner's wood-burning kits have temperature control and are plugged directly into the wall power socket.
These have a rotary wheel on the pen where you can then control the temperature, and usually have solid molded tips.
Lastly, you have the wood-burning pens that are connected to a separate transformer, or wood-burning station, that can give you far better control of your temperature, and usually operate using burning loops. This wider range of temperature control gives the user a more flexible use of the pen.
How Does a Wood Burning Kit Work?
To create a good piece of wood-burning artwork, you must purchase good-quality wood-burning kits or pens. A number of the kits on the market come with different accessories, and each accessory has its particular purpose and use. You can even personalize your kit to suit your own designs, taste, and style. The tools supplied with the kits can be used for carving or burning into your wood, as well as spot heating and soldering. Many kits come with built-in safety features that give you maximum comfort while in use and may also include a metallic stand and storage case.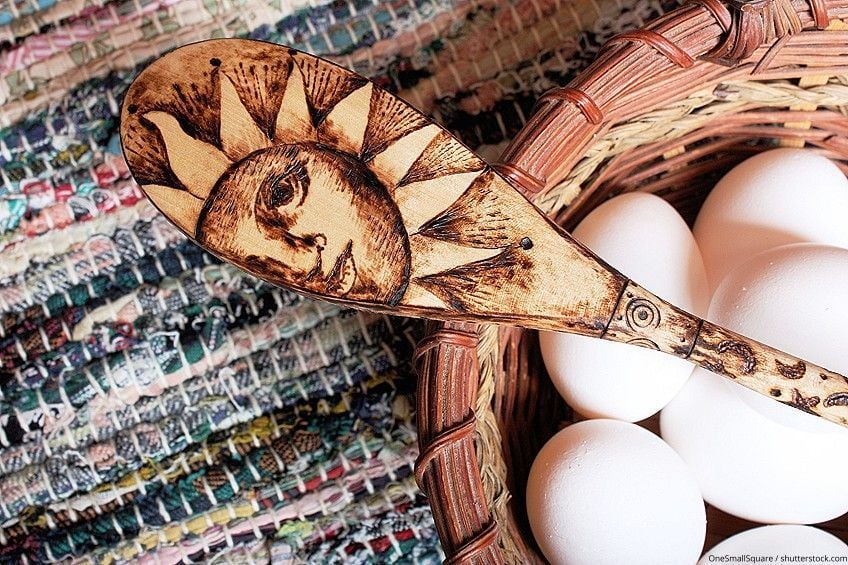 The wood-burning kits usually come with a wood-burning pen, which is very similar to an ordinary soldering iron. You heat the pen and use it to create your artwork on the wood. The kit also comes with many different soldering tips or nibs, with various shapes used for cutting or curving your different shapes into the wood. Available are stand-alone tools that consist only of a wood-burning pen, or you can purchase a wood-burning kit, and the kits are stocked as beginner's kits or kits for the more professional artist.
Craft-Style or Beginner's Kit
The beginners or craft-style kit is ideal and usually, comes with a single wood burner pen that has a screw-in or snap-in tip system, and it plugs directly into the wall socket. Most of the beginner's kits come with a set of brass tips, but you can also purchase separate tips when you need them.
The solid point tools have a bigger pen grip when using them and also come with one thick brass tip that is designed to be heated at a pre-adjusted temperature, which will allow you to concentrate more on your wood-burning without having to worry about the temperature.
Some of the beginner's kits also come with a dual heat shield that protects you from the heat. However, this is a beginner's kit, and it is not made for fine detailed work or designing. The pen tips will take a lot longer to cool down, for up to eight minutes each time.
Wire-Nib or Professional Kit
The wire-nib tools are specially designed for use by professionals and those that are more advanced users of wood-burning. The wood-burning pens handles are much smaller than the beginners kit and are a lot easier to hold for longer times, helping to keep your hand from cramping. The wire-nibs slide into the pen or some of them Snap-On while others are screw-on and are also able to cool off a lot quicker, in about two to three minutes due to the dual-wire elements.
It is also equipped with variable temperature control, which will give you the option of drawing more detailed work with a lot more accuracy. Unlike the beginner's kit, the pens are first plugged into a separate power box, and the power box is plugged into the wall socket. These kits come with more power as well as more heat, however, this kit is meant for the more advanced user as it will take you a long time to master the technique properly.
The Importance of Safety When Using a Wood Burning Kit
Whenever you make use of any device that produces heat, there is always a risk involved. This is why safety is a very important factor to consider, whenever using any wood-burning equipment. There are quite a few things you can do to ensure that no unforeseen accidents occur. Most kits come with a safety stand that you can use to put the pen on when it is very hot, and this will prevent any burns to your hands or skin.
When the tool is operating, it generates a lot of heat and most of the pens are fitted with a heat shield, which helps to shield your hands from the heat when you are busy with the pen.
It is also very important you make use of protective gloves whenever you use the pen as it generates fairly high temperatures, which could cause burns on your hands. If you are working at home and there are children around, make sure that you select a working area that is away from children and pets. When you are burning material like wood, it will produce some smoke, which may contain resins or chemicals that could endanger your health. You should, at all times, wear eye protection and a mask, and make sure there is ample ventilation.
Storing Your Wood Burning Kit
This is the same as storing any other electric tools or equipment; you need to keep them in a cool dry place and protect the cord that it does not start to fray. Storing the tips is also vital so you do not misplace any of them. So, most wood-burning kits also come in a strong storage case.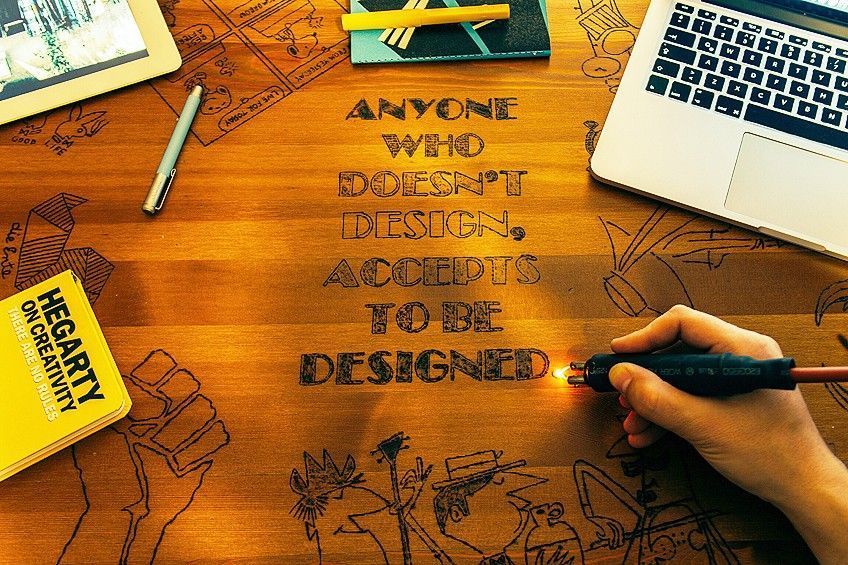 Cleaning the Wood Burner Tips
While you are busy burning into the wood, there will be a slight buildup on the tip. This will result in heat transfer at that point, and it will be noticeable as it no longer produces the same results. You need to clean the tip before the deposit gets too thick, making it a lot more difficult to get clean.
You can use sandpaper for this purpose but ensure that it is very fine or else it may damage the tip.
The sandpaper can be from 200-grit to 1500-grit. You can also make use of abrasive paste, but this is a slow process and needs to be done very gently. There is also the cleaning brush, which is a small wire brush and is also part of the accessories of many kits. The cleaning should also be done carefully so as not to damage the tip.
Best Wood Burning Kits
It does not matter if you are a beginner at wood-burning, or if you are a professional, it is always difficult to select the right wood-burning kit to suit your particular needs. At this stage, you may be feeling quite overwhelmed by all the wood-burning kits available. So, we have chosen some of the best wood-burning kits for you.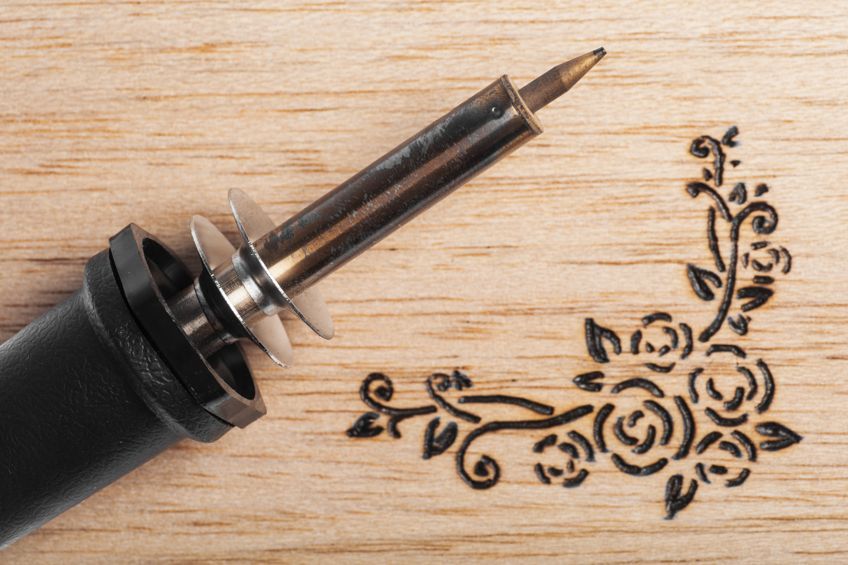 Best Wood-Burning Kit for Beginners: TRUART Wood and Leather Kit
The TRUArt Wood and Leather Pyrography Kit is a popular brand and is one of the best wood-burning kits for beginners. Once you have gained more experience, then consider upgrading to TRUArt's professional kit. The pen included in this kit has only two temperature settings, one at 30W, which is used for wood burning, and the other at 15W used for leather or gourd burning. These two temperature settings do not give you much of a choice for exact temperatures, but as a beginner, it helps to minimize the guesswork on what temperature is right for your project.
The superior-quality pen has a stainless steel barrel to resist heat
Comes with 21 interchangeable tips for versatile mark-making
Includes a user manual to provide instructions for the pen
View on Amazon
This wood-burning kit also comes with 21 solid interchangeable tips that include calligraphy, dot, groove, solder point, razor blade, universal, hot knife, and many more. The complete kit is supplied with a plastic case for protection. Also included are a steel number and letter stencil, a manual that sets out clear instructions on how to use the tool, and a lightweight pen that has a nonslip handle. The pen is comfortable to hold and allows you to work for long periods without your hands tiring or cramping.
PROS
Comfortable grip with a nonslip handle
Comes with a carry case for safekeeping
Comes complete with 21 interchangeable solid tips
Can be used for soft or hard materials
Heats up fairly quickly
Instruction manual
The stainless steel barrel pen makes it very durable
Easy to use
CONS
Only has two temperature settings
Best Affordable Wood Burning Kit: WALNUT HOLLOW Wood Burning Kit
The Walnut Hollow Wood Burning Kit is easy to use, even if you have never held or worked with a wood burner pen before. This wood-burning tool is also an affordable option and comes with eleven interchangeable tips that have various purposes. For example, the universal point is used for general burning, which will include curves, drawing, and shading. If you switch to another angle, you can achieve various techniques. You also get flow points, which are used for burning dots, curves, shading techniques, and creating finer details.
A woodburning tool with variable temperature control for any project

Features a Comfort Grip for extended use and a heat shield for safety

Includes 11 interchangeable tips and lead-free solder
View on Amazon
Other points include a shading point, tapered point, calligraphy point, hot knifepoint, soldering point, and stamping point for creating patterns and borders. The tool is comfortable to hold, allowing you to use it for extended periods without cramping or getting tired. It is not only excellent for use on wood but it can be used on cork and leather as well. The tool has a variable temperature control that can be set anywhere from zero degrees to 950 degrees Fahrenheit. For your protection, the tool comes with a heat-resistant shield.
PROS
Suitable for wood burning and other purposes
Has an on/off switch for safety measures
Comes with a built-in safety stand
Affordable pyrography kit
Changing tips is easy
Adjustable temperature control
Supplied with storage case
CONS
There might be extra pieces that you will not use
Precision may be difficult for some users
Tips are inclined to lose their heat quickly
Best Professional Wood Burning Kit: TRUART Dual Pen Professional Wood Burning Kit
The TRUArt Dual Pen Professional Wood Burning Kit is a 60 W tool kit and is one of the very best wood-burning kits on the market. So, if you have enjoyed the TRUArt Stage one wood-burning kit, then this kit is the next level up. If you find that the dual pen kit is too expensive, then there is a TRUArt single pen wood burning kit, which has all the properties of the dual pen system.
This kit is more for experienced users as it comes with wire tip sets and not solid tips. These are better as they heat up and cool down much faster, and you are also able to do more detailed and intricate work. The digital power supply unit gives you the option of setting the perfect temperature, enabling you to make small adjustments to the temperature as you work.
The pyrography pen heats up and cools down almost instantly
The small and lightweight handpiece is ergonomic for your hands
The precise digital voltage control allows for easy adjustment
View on Amazon
It also comes with two pens, enabling you to keep two pens ready for use at the same time without having to switch tips. The pens are lighter and smaller than other brands, making it much easier to get those perfect results you want. This kit allows you to hold the pen for long periods, without burning your fingers or the need for finger guards.
This is because the pen is properly insulated and does not overheat and burn your fingers. This professional wood burning kit comes with many attachments and tools to make your wood-burning experience more enjoyable, from two pyrography pens and pen holders, pliers, tweezers, to interchangeable tips, tooth files, a storage case, manual, and one 60W digital power supply unit giving, which provides accurate voltage control.
PROS
Two pens that work simultaneously
Lightweight and easy to hold
Designed especially for the more experienced user
Tips heat up and cool down quickly
Excellent heat range
Great heat retention
Quick and easy to change tips
CONS
It is a bit pricey
Brass screws that hold tips are prone to wear and tear
What to Take Into Account When Buying Your Wood Burning Kit
It is important to understand that no two kits are the same, which is why we will be helping you to make the best choice possible for your wood-burning it. Here are some of the features and factors you should think about before buying a wood-burning kit.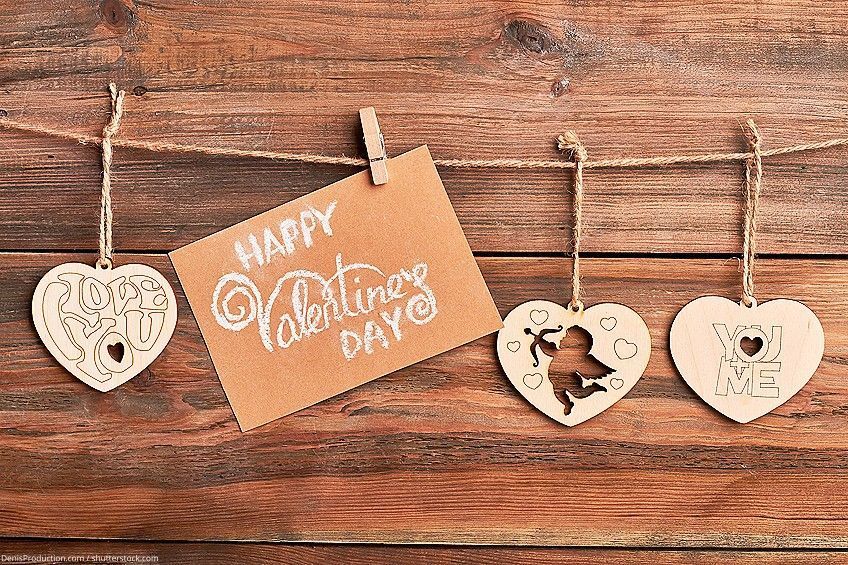 Stand-Alone or Single Tools vs. Wood Burning Kits
So let us now consider if you should buy a wood-burning kit or is it better to buy a stand-alone tool that will only include a pen. The choice is entirely up to you, but if you are a beginner, then we suggest that you buy the kit as this choice will help you to first get the feel of the pen as well as the different tools.
By choosing the kit, it will eliminate the need of searching for all the necessary accessories that you will need.
Wood Burning Kits
Kits come with the essential accessories that you will need. This will include the wood-burning pen, a couple of different tips, a storage case, and a stand. Some of the kits also include stencils, stamps, carbon paper, sandpaper, as well as some design ideas.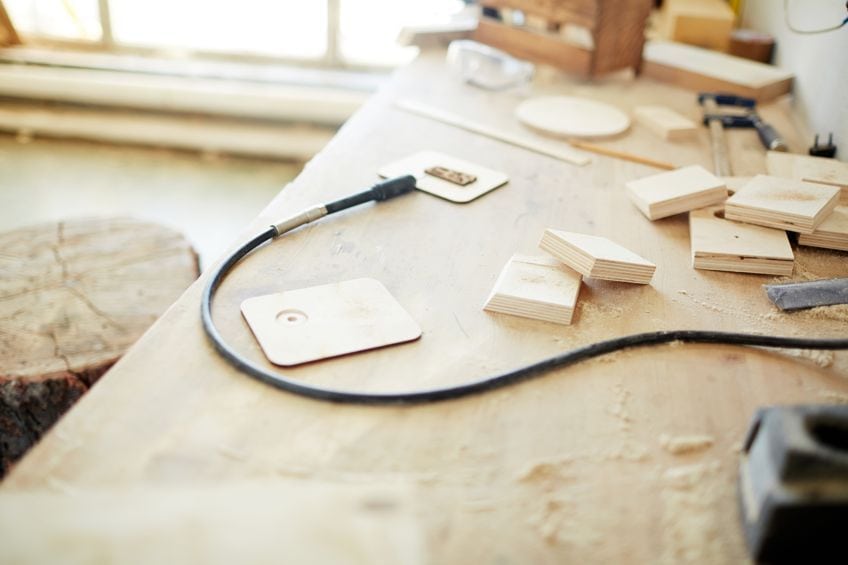 The wood-burning kits range from beginners to professional, expensive to something more affordable. Most of the beginner's kits are priced fairly reasonably and will consist of all the necessary tools and accessories that you need. You want to buy a kit that has everything you need, however, try not to go overboard and buy a kit that has too many tips or accessories that you may never use.
Single Tools
The main disadvantage of buying a kit is that you cannot customize your equipment. When buying single tools, you will be able to purchase stamps, tips, stencils, or whatever tools you want, and you will also be able to buy the pen that is perfect for your hands, and which also has the correct temperature settings for your project.
Many users like to make their own stamps and tips, and by buying them separately you can customize your tools to suit your needs.
However, buying the best wood-burning tools separately can work out quite expensive, so buying a kit can be a more affordable option. You have all the necessary tools, and you can add extras whenever you want to as your wood-burning skills improve. There is one thing you need to ensure when buying your extra tools for your wood-burning kit, which is to ensure the tips you buy are interchangeable, as some brands are not interchangeable.
Temperature Control
Since you will be working with different types of wood, or materials, some of them are hard and some soft, so you need to understand that the temperature of your pen needs to be controlled and regulated. However, this will limit your wood-burning and you will not be able to accomplish different styles and patterns. For example, hardwood would require a higher temperature than softwood, or if you want to work with leather or paper, you need even lower temperatures.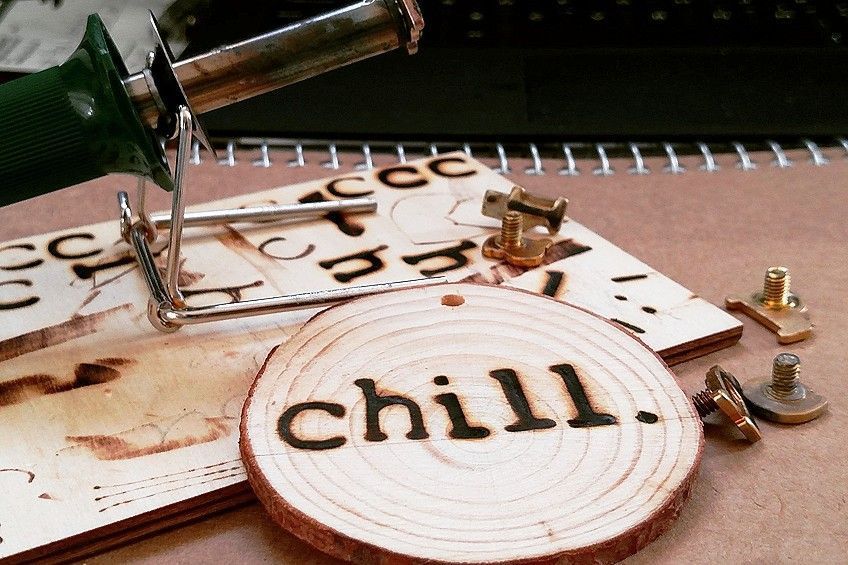 These variations in temperature all depend on the design of your tools and pen, as some of the pens only operate at a fixed temperature. Therefore, if you want to do some soldering, carving, or embossing, then you need a tool that is capable of extremely high temperatures, which could reach as high as 900 degrees. This is why, when you are buying your equipment, you need to know what you want to achieve and then you can purchase the best wood-burning tools to be able to do the job.
Power
When purchasing any type of wood-burning tool, they are all rated with a wattage, which is the measure of power the pen produces. This is also related to how hot the pen can get for burning into the wood. Most of the good-quality wood-burning tools have a power rating of 60 watts, but if you are just starting, we suggest you settle for a 15W or 30W tool. Do not think that a more powerful wood burner pen is better. Although it heats the pen tip very fast, it could leave you with black marks if you stay in one spot too long.
The lower wattage tools are more able to do fine and detailed drawing, and they also need to work at a slower speed.
Tip Types
There are two types of tips used for wood burning, and they are solid or wire tips. If you are a beginner then the best type of tip to use is the solid type as they take longer to heat up and are ideal for general writing style. However, if you are more advanced, you may want to consider tips that can produce more complex and detailed designs but ensure that the kit you buy has tips that can draw thin as well as thick lines.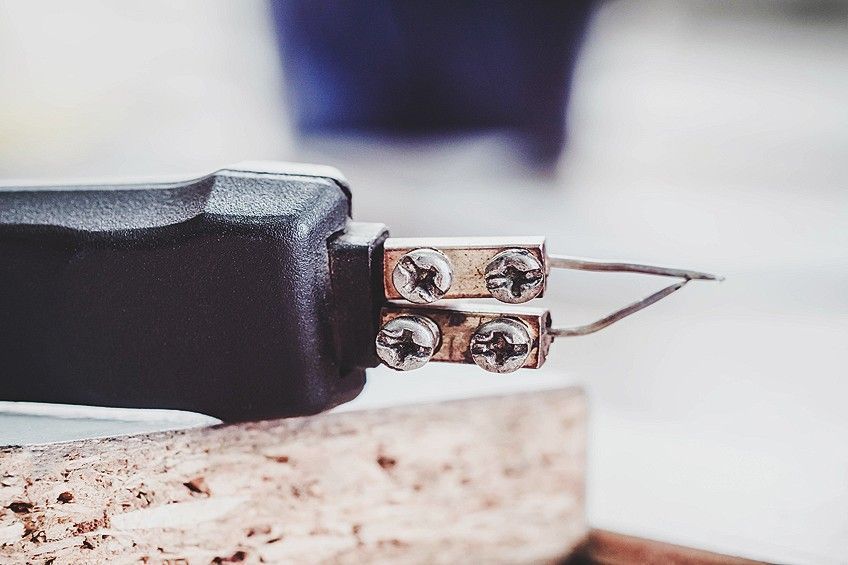 The general purpose or universal tips are ideal for shading, outlining, lettering, and better detailing. If you want smooth outlines and curves, you may want to try a rounded flow tip. Calligraphy tips are ideal for creating cursive texts, there are also many other shaped tips for different patterns and lines that you can try as your skill develops. The wire tips are a lot less common, but they do produce a more professional finish that is used by professionals, and they are a lot more expensive.
Comfort
You will find that you spend a lot of time with your new wood-burning hobby, so you need to buy a pen that is comfortable to hold and will not cause your hand to cramp after a long session. Just like you need a comfortable chair to sit behind your computer, your wood-burning tools should also be comfortable. As a beginner, you may find that a pen that has fairly thick rubber padding, is ideal for longer work periods without cramping.
However, as you advance in this skill, you may want to try a thinner pen as it will also allow you more flexibility to try and tackle more detailed work.
Type of Wood
You must select the right wood for your project, wood with the right grain and texture. The wood should have tight, small pores, with a smooth finish, which will give you good results. Softwoods like mahogany, pine, beech, birch, alder, and balsa wood burn easily, whereas hardwoods like hickory, walnut, and oak may prove to be too hard for a quality job.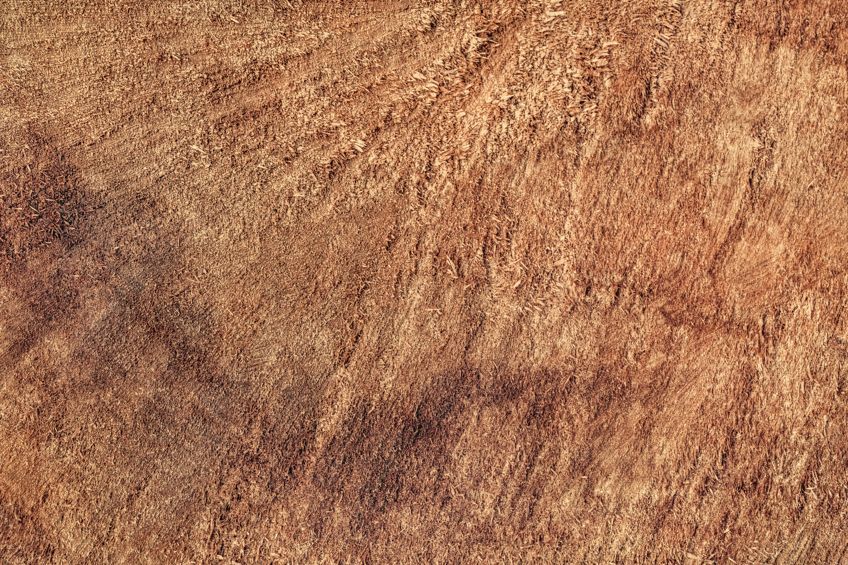 Heating Speed
The beginner's kits with solid brass tips take a long time to heat up, say about five to eight minutes, while the wire tips are ready to use within a minute.
This is a good option if you need to work in a hurry or if you are an experienced wood burner.
A Brief Guide to Wood Burning
Apart from all the other preparations you need to make before you can start your wood-burning project, you need to consider the preparation of the wood you have chosen. You can do the following before you begin.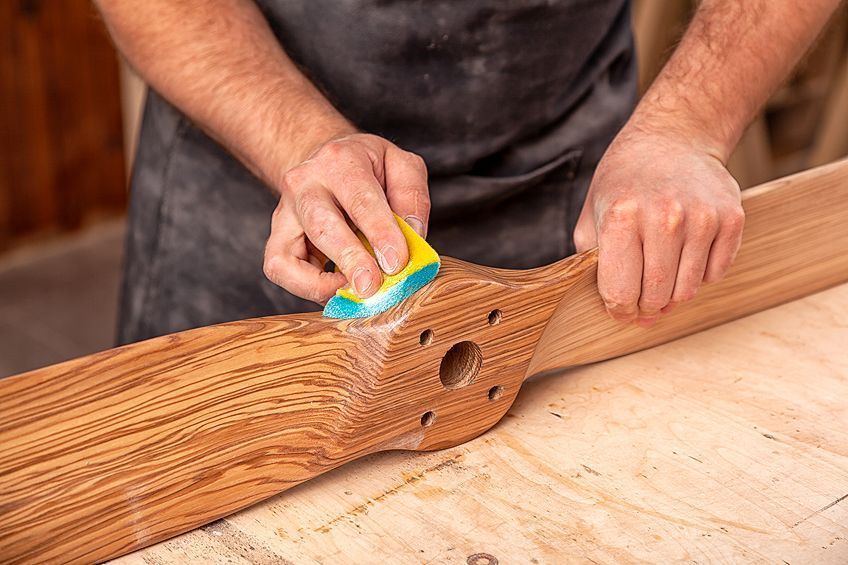 Prepare the Wood
Cut the piece of wood you have chosen to the right size and examine it for any impurities. Use 320-grit sandpaper to make sure the surface is clean and smooth.
Then use a damp cloth to remove any dust, and make sure the surface is dry before you start to burn.
Burning the Wood
First select the right tip, which may be a universal, transfer, tapered, flow, calligraphy, or shading tip. Now insert the tip into your pen, making sure it is secure. Now you connect the device to the power outlet and wait until it has reached the desired or set temperature for the type of material you are going to burn, which could be a few seconds or up to eight minutes.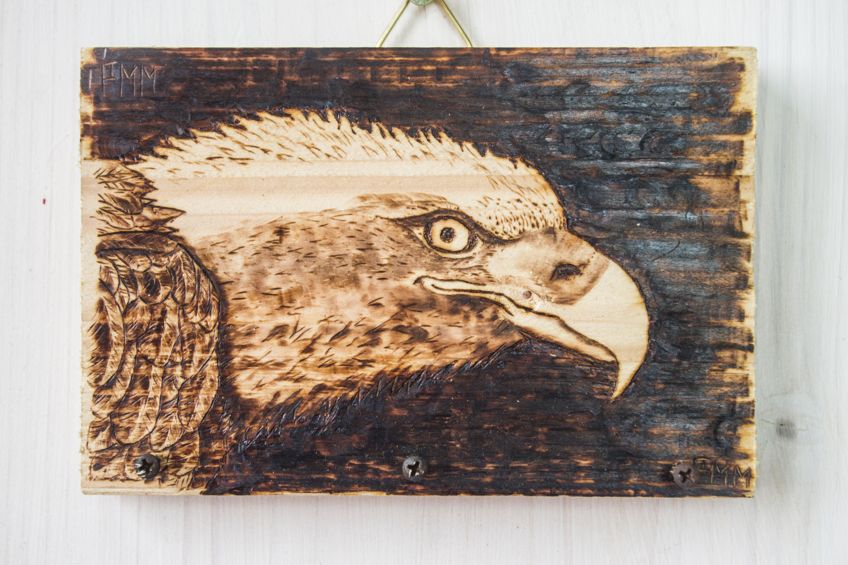 You are now ready to begin burning into your wood. If it is your first time, and you are afraid to try your own designs, many kits come with stencils which are ideal to use as a beginner. Once you have completed your project, please remember to switch off the device and place it in the stand to cool off. You may look at your finished design and feel that something is missing, so many of the kits come with a range of colored pencils, which you can now use to highlight any part of your design until you are completely satisfied.
Some Wood Burning Tips
Before you start on your wood-burning project, it is always advisable to hear from the professional or the more experienced wood burners as it can save you a lot of frustration and time. Following a few guidelines can make your job a lot easier, so here are some tips for you.
If you are a beginner, start by using an old scrap piece of wood first to get the feel of the pen and how it works.
Allow the pen tip to cool off before changing it for another one.
Make use of light-colored wood as this will bring out the pattern or design better.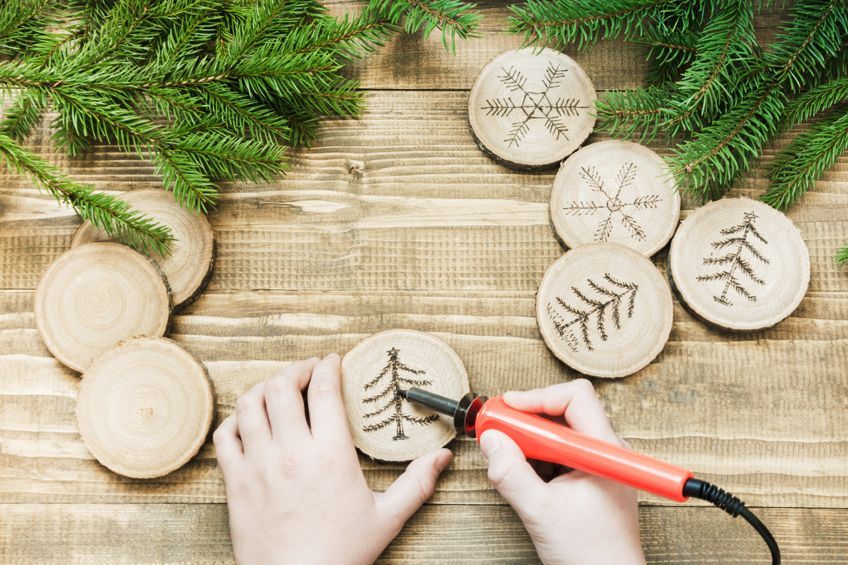 If the piece of wood you are using is grainy, then it may be necessary to apply more heat in that particular area.
Make sure you clean your tips properly after use to prevent any carbon buildup.
When you start use light, soft strokes first and then you can use deeper strokes to get the desired effect.
Wood Burning kits are not all that expensive, and they do not require too many tools. As a hobby, the results can be very gratifying. Do wood burning to make signs, decorative pieces, wall art, or even customized frames and sell them. So, it is time to go out and buy that kit and start wood burning.
Frequently Asked Questions
How Do You Use a Wood Burner Tool?
The process is straightforward, you prepare your wood, select the tip you want to use, attach it to the pen, plug the pen into the electric socket, wait for it to heat up and you are set to go and burn any design or pattern of your choice.
How to Keep the Tip Clean?
When you use your wood-burning pen, there is a small buildup of carbon on the tip. You need to use a sponge, file, brush, or sandpaper to clean the tips after each use before it becomes too hard to remove from the pen.
Does Wood Burning Produce Smoke?
When you start to burn wood, it is natural that smoke will be produced. You need to use a mask and ensure that there is sufficient ventilation in the space you are working in.
Can You Burn Onto a Piece of Painted Wood?
The answer to this question is no, any piece of wood that has been painted, treated, stained, or in any way modified, should be avoided as it will produce dangerous fumes that are harmful to your health and the environment. It is advisable to go to the store and buy a fresh-cut piece of wood to do your wood-burning on.