Resin alphabet letters have become extremely popular recently, as you can use them for educational purposes, as well as customized gifts, among other resin letter ideas. You can purchase these beautiful resin letters, or why not make them yourself? The whole process is fun to do and is fairly easy to complete. You also only need a few supplies and materials, and you are off to creating some amazing DIY resin letters.
Easy Ideas for Resin Art Letters
Resin alphabet letters are usually clear resin letters that could have all kinds of items, pigments, or glitter embedded inside. All you need is an epoxy and hardener to make the resin as well as some silicone letter molds for resin. Of course, it does not have to be clear, as there are many additives you include to make it look like you want.
Let us first start by providing some easy to do resin letter ideas. A little inspiration can help you decide on what project you want to do. There are many fun resin letter ideas, and one of the more popular ideas is to use them as a teaching tool for kids. You make your resin letter with different colors and add things like glitter to get the kids' attention. Help them to learn and spell various words.
Resin letter molds also come in different sizes, from small to larger letters. One of the more popular resin letter ideas that people make to sell, is your resin letter keychains. These make wonderful gifts as you can customize the letter for the person you are going to give it to. Larger resin alphabet letters can be used as a décor item in the home, or as a centerpiece at a wedding. If you do use smaller resin alphabet letters, adding things like glitter or color is best, while larger letters can take beads, flowers, and other items better.
Below are some more amazing resin letter ideas, including materials you can include in the resin.
Create beautiful fridge magnets
Can be used as a table setting or place cards
Resin décor letter lamps
Resin letter pendant
Name tags on a kids' bedroom door
Party favors
Making a keepsake, include something special in the resin
Customized resin art or jewelry
Dry or synthetic flowers in clear resin
Add in pigments or dye, or other additives
Glitter, gold leaf, or foil can be added
Include all kinds of beads
Place in fairy lights (larger resin letters)
How to Purchase the Best Silicone Molds
You have already chosen what you want to do with your resin, in this case, purchasing letter molds for resin. Next, you must decide if you want smaller or larger silicone letter molds for resin. The smaller molds are best for key rings, jewelry, and other small resin letter ideas. Larger molds are great for decor items and lamps. What other factors should you look at before going out and purchasing your silicone molds?
How many molds are in a set, or does it come in a full alphabet set? Some of the larger molds only come as one resin mold letter. Some also come with letters and numbers.
Accessories: Does the silicone mold product come with accessories like pigment powders, or other decorative elements?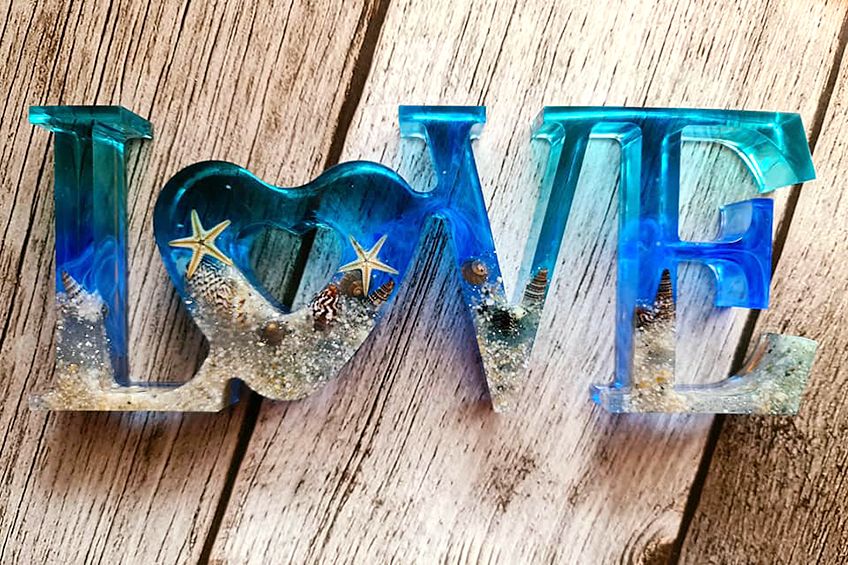 Some also come with different tools, for example, key chain rings, and may also include droppers, gloves, stirring sticks, and other supplies needed for creating resin items.
How easy is it to use? Always read the reviews to see how easy the mold releases cured items and if you can use it repeatedly. Some molds are targeted for beginners or even kids, where basic shapes are used, while others need a little more thought into how to use them. For example, adding and placing color or embellishments.
Quality of the final resin piece. Does the item come out smooth and in perfect shape, or do you need to fix rough edges?
Best Resin Letter Molds and Resin
To make your DIY resin letters, you need letter molds for resin. As mentioned, these can either be large or smaller letters for things like keychains. The best choice for a mold is your silicone letter molds for resin as these are easy to use.
Small Resin Letter Molds: LET'S RESIN Alphabet Letters Mold
This Alphabet Resin Silicone Mold is made from durable, quality silicone and will resist tearing. The flexible silicone should make it easy for you to remove the letters once cured. This resin mold set is great for beginners who want to try their hand at something creative.
Made from high-quality silicone that is durable and flexible
The silicone makes it easy to remove and clean between uses
Contains plenty of space for the addition of embellishments
View on Amazon
The set comes with each letter of the alphabet as well as numbers, and accessories should you want to make a key ring. You can also easily make pendants, earrings, and other items. The surface of your final resin product should be smooth, have no scratches so you will not have to polish the item.
PROS
Produces high transparency
Backward mold for a smoother surface
Easy demolding
Great size for smaller projects
CONS
A few users have experienced difficulty with demolding
Large Resin Letter Molds: SMAYS Large Letter Molds for Resin
These large letter molds are big uppercase letters that are made from durable and flexible silicone. You can easily add in flowers, pigments, glitter, and other additives to create your unique resin piece. This particular product comes in a single-letter piece that is about six inches in size, and deep enough to do several layers.
Big uppercase letter mold can be used for candle wax soap

Made of durable silicone that is flexible, smooth, and very soft

Can be used with all kinds of resin, pigmentations, and items
View on Amazon
You can create beautiful décor pieces, or maybe a centerpiece for a wedding or event. The larger resin letter molds are also great for making lights, simply add in some fairy lights.
PROS
Easy to use
Nice size to work with
Durable, smooth, and soft silicone
CONS
Might not be big enough for some users
Best Resin for Alphabet Letters: INCREDIBLE SOLUTIONS Deep Pour
The pourable plastic deep pour clear casting resin is made in the USA and is wonderful for beginners because it is easy to use and cures crystal clear. However, you can add mic pigment powders to add a bit more color. When working with the resin, it does not have an odor and has a thin consistency, which makes it easy to pour up to two inches thick.
Deep pour epoxy is perfect for river tables and other casting jobs
The epoxy is low-odor and safe to use when liquid and when cured
Mixes well with pigment powders and cures crystal clear
View on Amazon
When pouring, it helps keep bubbles to a minimum and helps to eliminate other types of imperfections like craters or fish eyes. The resin is also self-leveling on the condition your surface remains even as well. You also have more than enough time to work with the resin. The results are durable and water-resistant. When completely cured, it is even food safe.
PROS
Two-inch deep pour
Straightforward to use
Long enough working time
Cures crystal clear
No odor
CONS
You have to make sure everything is perfectly level
Will show up dust
How to Create Resin Art Letters
Now that you have your silicone letter molds for resin, you want to get started with making your resin letters. These make great gifts, or you may want to try making some resin letter keychains to sell. Whatever your purpose, here is a basic tutorial on how to make resin letters.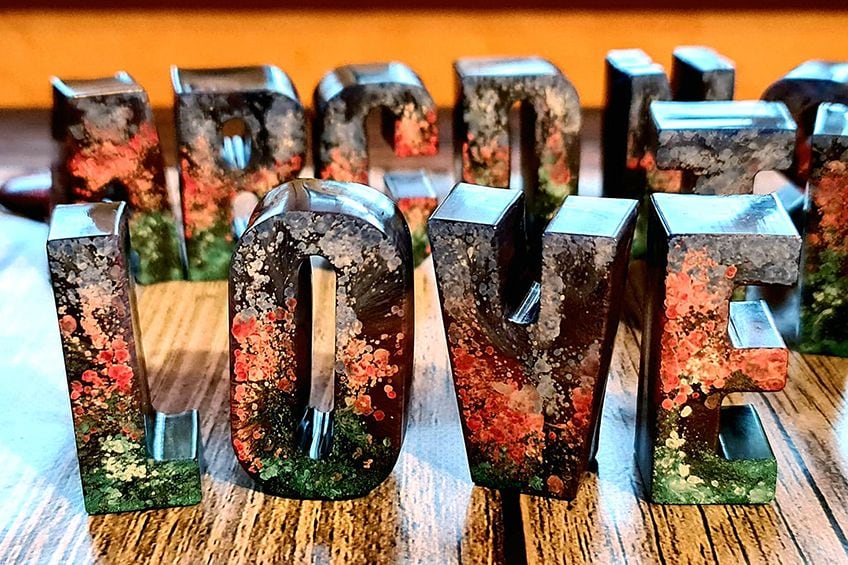 Materials Needed for Resin Alphabet Letters
First, you must gather all you will be needing to get started. You can purchase everything separately, however, there are many useful kits available that provide everything for you. The kits can usually save you some money as buying things separately can add up. Although, some might say the opposite is true.
So, do what would make things simpler and more affordable for you.
You will need to choose the correct resin for your particular needs. For example, you will need a casting resin for letter molds. Always check the directions and other information on the product label. Below is a list of the materials needed to make resin letters.
Resin and hardener
Letter molds for resin
Disposable protective gloves
Two or more plastic cups
Mixing sticks
Add-ins like beads, glitter, or dried flowers (optional)
Color Pigment (optional)
Resin mat or piece of cardboard to work on
Baby wipes, just in case you mess
Toothpicks
Acetone or nail polish remover
Heat gun or lighter
How to Make Resin Letters
In most cases, working time is important, so setting up your work area before you begin is important. Choose a working area where you can leave everything and try not to work at your dining room table which you might want to use later. The room you work in must have plenty of air circulating. Although many of the products today have low to no odor or fumes, it is always a good idea to have enough air circulating in the room you are working in. So, your very first step would be preparation.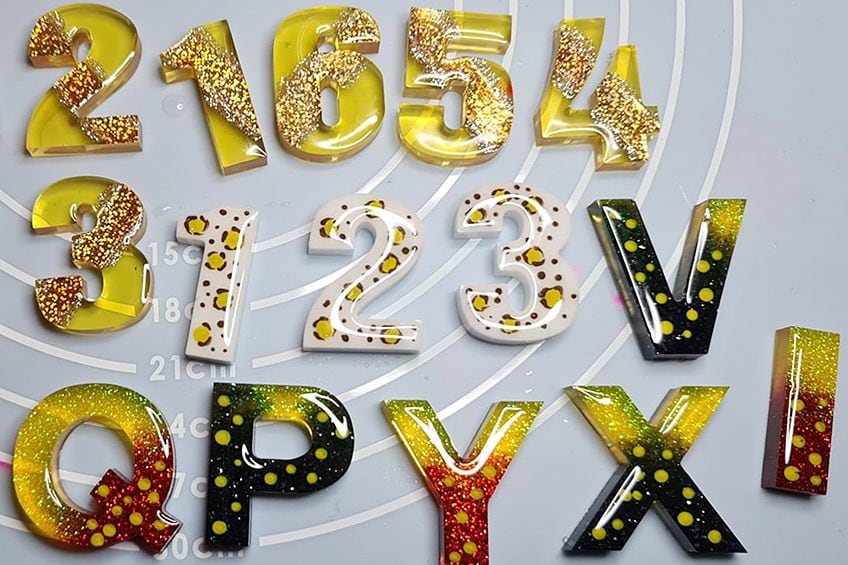 Preparation
The workspace should also be clean and have as little dust as possible as these little particles of dust can cause some problems if they land on your curing resin item. Your mold and tools should also be free of dust and clean to use. Set out everything you are going to be using from your working mat, resin, and molds to your measuring cups, stirring sticks, and glitter. To work on it, you can also lay down some plastic sheeting or use a sheet pan. To prepare yourself, make sure to wear gloves as you do not want any resin to get onto your skin.
If you do happen to mess some on your skin, you should remove it immediately with the baby wipes or a paper towel and some acetone. Even a little lemon juice on the spot might help to remove the resin. Finally, rinse the area with some soap and water.
Most of the resin products have low to no odor, so wearing a mask is optional, but read the product instructions carefully before you begin, just to make sure. You can also wear an apron if you are afraid that you might mess on your clothing. To help prevent the formation of bubbles, some recommend that you warm up your resin and hardener before using it, but this is optional. Once you have cleaned your mold, you can apply an anti-adhesive spray so that the casting will come out easier, preventing any tearing. Some molds may not need this, but it is always an added precaution for best results.
Mixing Your Resin
You can then add your glitter or other small items to the bottom of the mold. Once everything has been prepared, you can then move on to mixing your resin. Most products, besides UV resin, come in two forms, your resin, and hardener. You have to mix these two materials to create your resin casting. Remember, to wear your gloves when you work with the resin. You will need to calculate how much resin is needed for your chosen mold. For an entire small letter set, it could take anything from 100 ml to 130 ml of hardener and resin.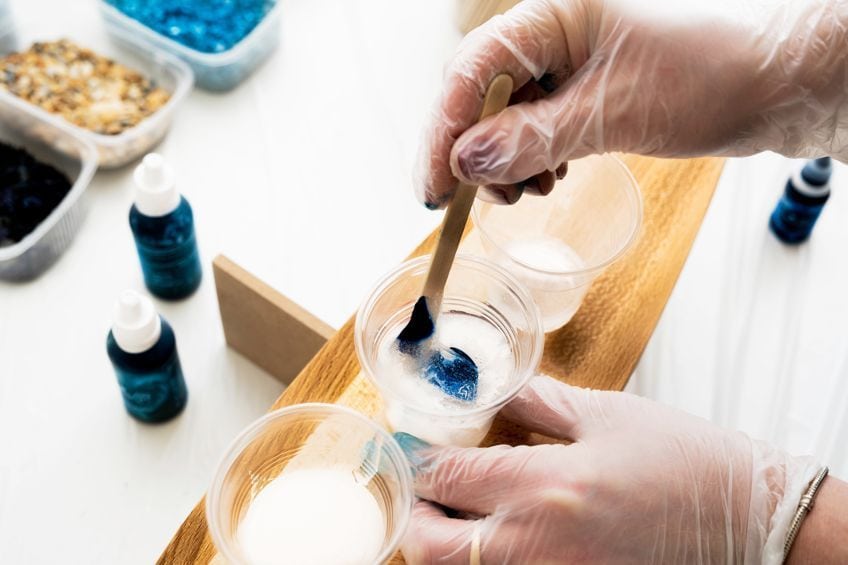 Always make sure you use the right amounts and mix them in a 1:1 ratio, which means you will need the same amount of hardener and resin. Some resins work with different ratios, so always check. This is essential because if the measurements are wrong, the resin will not cure properly. This is where your plastic measuring cups come in handy. Measure out your resin and hardener in separate cups, then pour both into another measuring cup. Then, take your stirring stick and mix the two components well. Mix slowly to stop any excess bubbles from forming. If you want, you can now mix in your pigment powder. The mica pigments are concentrated, so add small amounts.
Pouring Your Resin Into the Molds
Slowly pour your resin mixture into your mold and over any inclusions until it reaches the brim. You can check, by going eye level with the mold, to make sure it is filled. For larger, deeper letters, you can also lay down a thin layer of resin first, and then add in your inclusions and wait for this to cure before adding another layer. This works great if you want to add some battery-powered fairy light to the resin to make a resin letter light.
Maybe you poured too much? Do not panic, take a dropper, suck out some of the poured resin and place it into another letter.
You will have to work quite quickly as the resin starts to harden. If you have left it, and the resin hardens, once you have removed the cured items, you can try and sand off any excess pieces. Once you have done pouring your resin, you can then move in and pop any bubbles. You can either use a toothpick to pop the bubbles, or a heat gun to remove the bubbles. You can even try using a straw to blow over the surface. Wait a few minutes and then check to see if any more bubbles come out and remove them.
Curing and Demolding
Allow the resin to cure for at least 24 hours, if it remains sticky to the touch, leave for another 24 hours. If, after this time, the resin is still tacky, something went wrong, and you will have to start over. Once the resin has cured thoroughly, you can then pop them out of the mold. When using a good quality mold and if you used mold release spray, you should have no problems with the mold tearing or scratching your casting. Clean your molds with some soap and water or wipe them off with some of the baby wipes.
Tips and Tricks for DIY Resin Letters
If it is your first time working with resin, there might be a slight learning curve. However, if you follow all the instructions and read product labels, the resin letters should come out just fine. Here are some reminders and tips that you can use to get the best outcome for your resin letters.
Never rush working with resin, take your time and do everything properly. This will help to save money and time.
Always read and follow the instructions accurately. This will prevent any issues from developing. Measurements must be accurate as any deviation will affect the curing time. So, make you know the correct mixing ratio, and use measuring cups.
Remember to mix your hardener and resin slowly and thoroughly for at least three minutes, to prevent bubbles from forming. Also, get the stick to cover the sides and bottom of the cup when you are mixing.
When it comes to glitter and pigment powders, it is best to add in small amounts and not tip in the whole bottle because you think it will add extra sparkle or color. Less is more.
Always follow safety guidelines by wearing gloves and a mask if necessary. Also, a well-ventilated room is recommended.
If you want shiny letters, you will need to use the correct mold. The matte molds will not be clear.
You can use acetone or nail polish remover to take away any of any resin on your skin.
Have patience when the resin is curing, it may appear to be hard, but it needs time to fully cure. Do not touch the curing resin, as you will leave marks behind.
Preparation is important as this takes time, be ready with everything at hand when working and pouring the resin. The work time of the resin is limited and will begin to harden, so you need to work smoothly and efficiently.
Make sure you have the correct resin for your project, do you need a doming resin or hard cure resin, does it need to be food-safe?
Learning a new skill can be challenging, so do not be disappointed if your first resin alphabet letters do not come out quite as expected. Start simple and learn all the basic skills first. You will be making some amazing and beautiful DIY resin letters in no time.
Frequently Asked Questions
Must You Apply Mold Release Spray Before Pouring the Resin?
The best quality resin molds do not need you to spray mold release onto the surface before pouring the resin. However, in some cases, the mold release spray can help but it may affect how the resin looks once it cures.
Are Silicone Molds the Best Material for Resin Molds?
Yes, silicone is an excellent choice because it is durable, flexible, easy to use, and clean. The rigid plastic molds are difficult to use and are not flexible like the silicone molds. They might cost a bit more, but they provide much better results and can be used more than once.
What Are Some Resin Letter Ideas?
There are so many creative ideas for resin letters, depending on the size you like to use. Smaller resin letters are great for key chains, pendants, or they can be used by the kids as a learning aid. Larger resin letters can be used as décor items, lamps, or a centerpiece at an event.
How Long Must You Wait for Resin Letters to Cure?
You must be patient for this part of making resin letters. Wait for at least 24 hours for the resin to cure, and if it still feels a little tacky, wait another 24 hours to fully cure before removing it from the mold. Make sure to leave the resin mold somewhere where it will not be undisturbed.
Can a Hairdryer Be Used to Get Rid of Bubbles in Resin?
You need quite a lot of heat to remove the bubbles from the resin, so a hairdryer will not do a good job as it will not produce enough heat to work. The hairdryer can also blow dirt and dust all over the resin. Rather use a heat gun, or for smaller projects, using a toothpick to pop the bubbles can work.