Biggest House in the World – Visiting the World's Largest Houses
What is the biggest house in the world today? For the ordinary person, having a home in the suburbs would suffice, but for some people, only the biggest mansions will do. Where are the world's largest houses and what is the largest house in America? In this article, we will be taking a look at the world's biggest houses and the outrageously big mansion that takes the number one spot.
What Is the Biggest House in the World at Present?
Homes are unquestionably the most prized belongings of a human being. They are the principal means of demonstrating the social standing of its residents, mostly because they offer a nice way of living. Status is crucial in today's fiercely competitive culture, particularly for a few of today's socialite men and ladies.
While a decent-sized residence is more than plenty for most individuals, only the biggest mansions can meet their boundless demands.
And you can be sure that these expectations come with more money than they can handle. However, and we must be truthful here, it doesn't mean the big mansions we'll be discussing aren't gorgeous, because they are. Without further ado, let us dive straight into our list of the world's largest houses, including the world's biggest house.
Fair Field (Sagaponack, New York)
| | |
| --- | --- |
| Size | 64,000 square feet |
| Date Completed | 2003 |
| Architect | Unknown |
| Location | Sagaponack, New York |
The residence, known as Fair Field, is owned by entrepreneur Ira Rennert. It contains around 25 bedrooms and around 20 baths, according to varying reports. Two tennis courts, three pools, a cinema, and a bowling alley are available. 100 automobiles can fit in the garage. The dining area has 105 seats available. Even a power plant is located there. The mansion is just 62,000 square feet, but the complex as a whole has six or seven structures that total 110,000 square feet. This kind of dwelling is not without its critics.
Rennert allegedly stole from a bankrupt mining firm he had owned, according to officials of the company, in order to pay for Fair Field.
Pensmore (Highlandville, Missouri)
| | |
| --- | --- |
| Size | 72,215 square feet |
| Date Completed | Unfinished |
| Architect | Unknown |
| Location | Highlandville, Missouri |
While most individuals construct enormous homes to enhance their social standing or to flaunt their wealth and lavish tastes in architecture and aesthetics, a man by the name of Steven Huff made the decision to construct one in order to demonstrate something different – something that is quite dissimilar to what most people would expect. Astrophysicist and former CIA agent Steven Huff want to show that a home can withstand bullets, bombs, earthquakes, fires, tornadoes, hurricanes, and pretty much everything else by using the enormous estate as his test case.
Although the building work started back in 2008, its fate is still unknown.
Photo of Chateau Pensmore taken through the trees, Highlandville, Missouri [2020]; Eggventura, CC BY-SA 4.0, via Wikimedia Commons
The living area size and placement in the Ozarks, which can experience both extremes of temperature and also tornadoes, were selected so that Huff could investigate how these ideas perform on a large scale and in a variety of climatic situations. It should also be noted that the home was constructed in a region that was exempt from government building inspections and regulations.
According to the Associated Press, attorneys for Huff filed a suit on 3 July, 2016, asserting that Pensmore was shorted thousands of pounds of crucial steel fiber and seeking $63 million in damages from Monarch Cement Company.
The One (Bel-Air, California)
| | |
| --- | --- |
| Size | 74,000 square feet |
| Date Completed | Unfinished |
| Architect | Nile Niami (1968-Present) |
| Location | Bel-Air, California |
The 74,000-square-foot "The One" property in Bel Air, California, which was designed and is now being constructed by movie producer and real estate developer Nile Niami, will eventually be the most expensive home in the country. This contemporary gem now costs an incredible $500 million. Far too big? according to whom you ask. Overly ostentatious? The response is the same, based on who you ask.
A massive master bedroom, an Imax cinema, four swimming pools, a garage big enough to fit at least 30 automobiles, and an 8,500-square-foot nightclub are just a few of the facilities that are guaranteed to be included in the home.
The structure was under construction for more than eight years and is now prepared to make its formal public debut.
By simply examining the images or figures, "The One" is obviously enormous, yet it might be challenging to fully comprehend its enormity. Take a stroll to understand the sheer size of the project. The Bel Air estate runs for a full quarter-mile along Stradella Road, towering over the road like a large, white extraterrestrial spaceship. The property's main driveway is so long and broad that it puts most public roads to shame. It is located in a peaceful cul-de-sac called Airole Way.
The palatially palatial extravagance is Nile Niami's own masterpiece.
Nile Niami is undoubtedly L.A.'s most well-known and flamboyant producer of ultra-high-end houses, the stylish modern variety featured in magazines and purchased by billionaires. The native of the San Fernando Valley originally gained notoriety building Hollywood Hills houses in the $20-million price bracket approximately ten years ago; since then, he has advanced to grander and bolder projects, selling them to clients like Calvin Klein, Floyd Mayweather, and the Winklevoss Twins.
Villa Leopolda (French Riviera)
| | |
| --- | --- |
| Size | 80,000 square feet |
| Date Completed | 1931 |
| Architect | Ogden Codman Jr. (1863-1951) |
| Location | French Riviera |
On a property that was originally owned by Belgian King Leopold II, American architect Ogden Codman, Jr., planned and constructed Villa La Leopolda in its current form between 1929 and 1931. The prior estate, which bears his name, was a gift that Leopold gave to his lover Caroline Lacroix. Blanche Delacroix was removed from the property after Leopold's passing, and his nephew, King Albert I, took ownership.
It served as a military hospital in World War I. Thérèse Vitali, comtesse de Beauchamp, bought the home and ordered renovations in 1919. Two peasant huts were among the 12 pre-existing buildings that made up the land when Ogden Codman, Jr. bought it in 1929 and started work on his masterpiece of architecture.
It was finished by 1931, but due to financial issues (and his extravagant spending), he was unable to live there; instead, he rented it to a number of wealthy renters.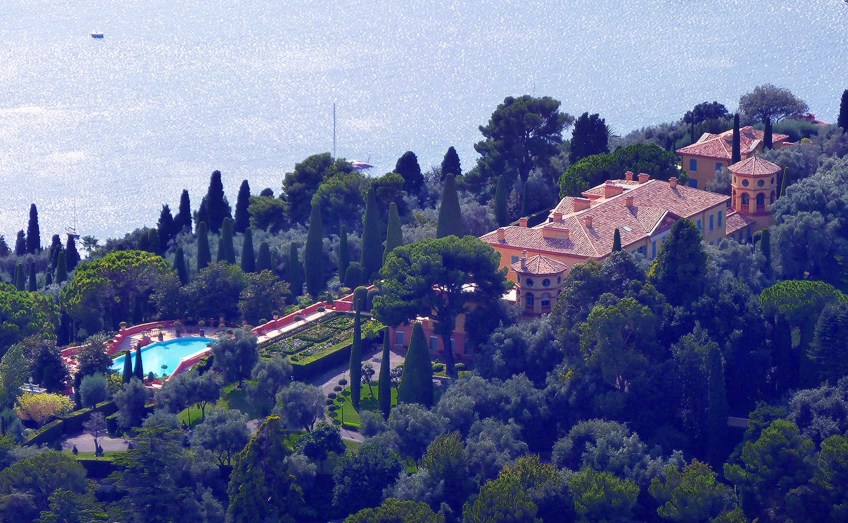 The Villa Leopolda at Vilefranche-sur-Mer in the French Riviera taken from the road of la Condamine [2010]; Miniwark, CC BY-SA 3.0, via Wikimedia Commons
A well-known English couple attempted to lease it, but they insisted on making improvements that went against Codman's aesthetic goals and stringent list of safeguards. Negotiations at a hotel room in Paris broke down due to Codman's many restrictions, and Ogden's reply was, "I lament that the Household of Codman is reluctant to engage in commerce with the Royal household of Windsor."
The estate was formerly a collection of unconnected structures, but Codman's comprehensive plans and building gave it its current look.
In 1987, Brazilian financier Edmond Safra and his wife Lily acquired La Leopolda as one of their homes. Safra is of Lebanese descent. The Safras hired Renzo Mongiardino as their interior decorator, while Mica Ertegun designed the bedrooms on the second story. At one of the many lavish parties the Safras had at the villa in 1988, female visitors received an enameled box featuring a picture of the Villa Leopolda. Safra had such a large guest list that there were two parties: one on that Saturday and one on the following Monday.
La Reverie (Palm Beach, Florida)
| | |
| --- | --- |
| Size | 84,626 square feet |
| Date Completed | 2001 |
| Architect | Jeffrey W. Smith (c. 20th century) |
| Location | Palm Beach, Florida |
The largest celebrity home in Palm Beach is La Reverie, which was bought for a reasonable $4.5 million back in 1995. Beyond providing a nice place to live, the present owners also utilize it to organize concerts and charitable activities. Sydell Miller, the proprietor of the Matrix Essentials hair care line, constructed La Reverie.
Given that all the affluent and famous go to Palm Beach, the setting couldn't have been better.
This is advantageous if you want to sell enormous houses for a lot of money. A 19th-century ebony library table with ormolu mounting, which was modeled after one of the most well-known pieces of early Neoclassical furniture currently housed in the Musée Condé at the Chateau de Chantilly, may be found in Sydell Miller's spacious sitting room.
https://www.youtube.com/watch?v=zPrkdc4NSCU
Modern Versailles (Windermere, Florida)
| | |
| --- | --- |
| Size | 90,000 square feet |
| Date Completed | 2004 |
| Architect | Unknown |
| Location | Windermere, Florida |
David Siegel, the creator of Westgate Resorts, and his wife Jackie are the owners of Versailles. In Florida's gated neighborhood of Lake Butler Sound in Orange County, it is currently being built. The finished project would be one of the biggest single-family residences in the United States, bearing the name and design of the Palace of Versailles in France.
It is intended to serve as the Siegel family's principal dwelling.
In 2004, construction started. 60 percent of the work was finished in 2009 when it was halted due to financial issues at Siegel's firm. Later, the home was put up for sale for $65 million. Construction has begun because Siegel now owns the site entirely thanks to Westgate Resorts' better financial situation as of 2013.
Modern Versailles at 6121 Kirkstone Lane, Windermere, Florida [2014]; http://www.ocpafl.org, Public domain, via Wikimedia Commons
The completion date was set for 2016. The home would be built on a hill on lakefront land and have 14 bedrooms, ten kitchens, an arcade, a hall with a capacity for 1,000 people, a cinema, a wine cellar, two tennis courts, an aquarium, a bowling alley, baseball diamond. The initial designs were modified to accommodate the Siegels' older children, and these changes included converting playrooms into a fitness center and a teen hangout with a secondary cinema.
Some of the last legally available Brazilian mahogany is used to make windows and doors.
Witanhurst (London, England)
| | |
| --- | --- |
| Size | 90,000 square feet |
| Date Completed | c. 1920 |
| Architect | George Hubbard (1859-1936) |
| Location | London, England |
After Buckingham Palace, Witanhurst is the second-biggest private estate in London. Between 1913 and 1920, it was constructed using architect George Hubbard's design, including a portion of the once-large Parkfield estate. All the contemporary conveniences one might desire are included in the 90,000-square-foot home, including a swimming pool with a sauna and a gymnasium, a cinema, a treatment parlor, and lots of parking.
The owner? It appears to have been purchased in 2008 for over $64 million by Andrey Guryev the billionaire from Russia.
Since Sir Arthur Crosfield, the pioneer of the soap industry, renovated the home, it has been owned by a number of famous people. After decades of deteriorating condition, the home received extensive renovations after being sold in 2008.
Witanhurst, Highgate, London Borough of Camden, as seen from Hampstead Heath; AnemoneProjectors (talk) (Flickr), CC BY-SA 2.0, via Wikimedia Commons
From 2002 to 2004, the BBC's Fame Academy talent program was broadcast live from Witanhurst. The house's interior was updated to include a music studio and a gym. Witanhurst was listed as a "building at danger" by English Heritage at the time it was used in the episode. Without the appropriate approval for a listed property, nine movable structures, a television studio, and generators were placed in front of Witanhurst in 2002 for the filming of the first season of Fame Academy.
The media has covered the reconstruction of Witanhurst extensively, with much of the emphasis centered on the substantial two-story basement addition to the main house.
Safra Mansion (Sao Paulo, Brazil)
| | |
| --- | --- |
| Size | 117,000 square feet |
| Date Completed | 1895 |
| Architect | Unknown |
| Location | Sao Paulo, Brazil |
You can be sure that a 117,000 square foot estate will be worth a good penny as it is situated in the South American city of Sao Paulo, which has some of the highest property values in the area. Wealthy private bankers, the Safra family, who own it, relocated to Brazil for its generally tranquil atmosphere. The family is rumored to own a number of extremely costly mansions all throughout the world. The property includes a stunning 130 rooms and indoor and outdoor pools, and since the family is so private, no one is really sure what's inside.
The mansion's exact market worth is unclear, although it resembles Villa Leopold in France, which the family formerly owned.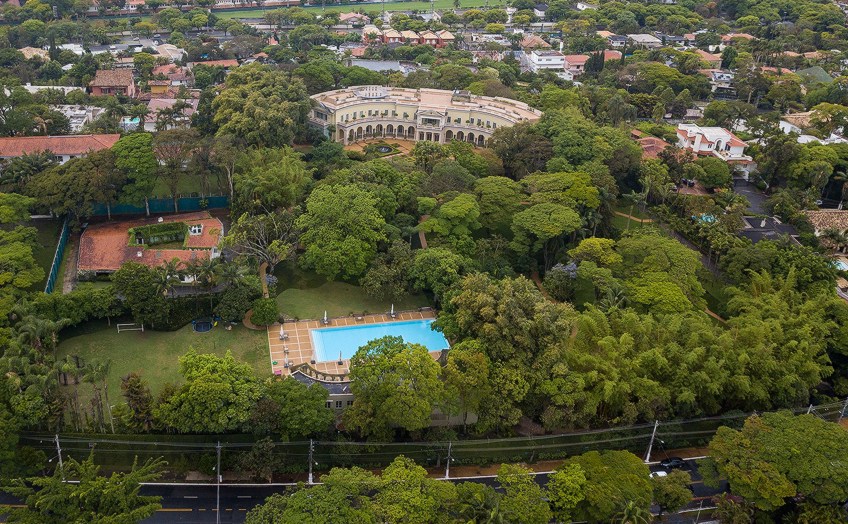 An aerial view of Safra Mansion in Sao Paulo, Brazil [2021]; Webysther Nunes, CC BY-SA 4.0, via Wikimedia Commons
Biltmore Estate (Asheville, North Carolina)
| | |
| --- | --- |
| Size | 178,926 square feet |
| Date Completed | 1895 |
| Architect | George Washington Vanderbilt II (1862-1914) |
| Location | North Carolina, United States |
Given its magnificent surroundings, the Biltmore Estate in Asheville, North Carolina, is often regarded as the largest house in America. Its architecture, which was completed in 1895, completes the grandeur of the surrounding mountainous scenery. The Biltmore Estate has a unique feature that sets it apart from most other private residences around the globe. It opened to the public in 1930 and provided accommodations in the Village Hotel or the four-star Inn on the grounds, as well as gourmet dishes and its own wine.
The main home at Biltmore Estate, which is owned by railway and shipping tycoon Cornelius Vanderbilt, boasts no fewer than 250 rooms and a chateau-like beauty.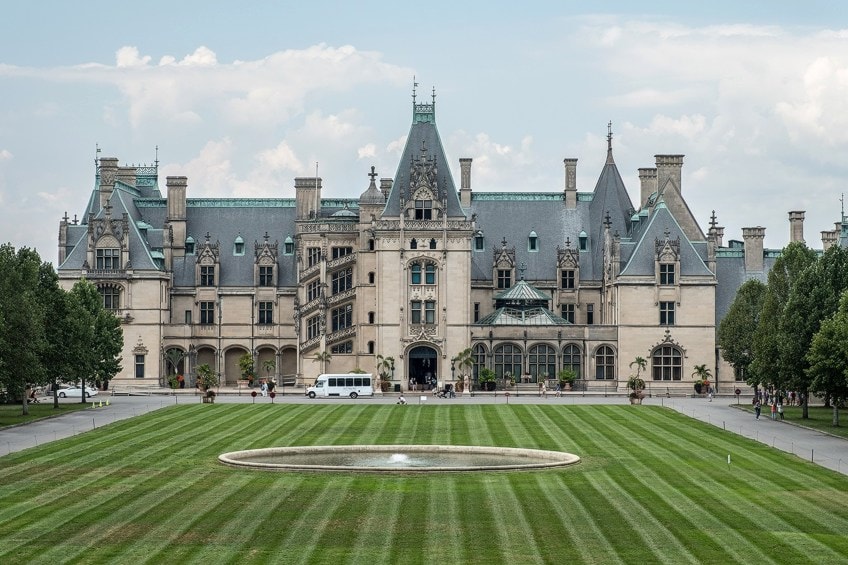 A view of the Biltmore Estate in Asheville, North Carolina [2016]; Kolin Toney, CC BY-SA 2.0, via Wikimedia Commons
The mansion was constructed in the Châteauesque style by Richard Morris Hunt, the renowned architect from New York who had previously created residences for other Vanderbilt relatives. The front is asymmetrically proportioned with two extending wings that link to the entry tower. To the left side is an uncovered loggia, and on the other is a windowed corridor that houses the Victorian-era Winter Garden. The front façade is more ornate, whereas some of the windows on the back western façade have no decorations at all.
Due to Vanderbilt's association with Thomas Edison, Biltmore House had power from the beginning, albeit originally with DC. Vanderbilt turned a blind eye to his personal finances or the family company. It is said that a large portion of his money was spent on the building and maintenance of Biltmore.
Antilia (Mumbai, India)
| | |
| --- | --- |
| Size | 400,000 square feet |
| Date Completed | 2010 |
| Architect | Perkins & Will (est. 1935) |
| Location | Mumbai, India |
While most individuals construct the biggest mansions for themselves, one Indian businessman made the decision to construct his own tower. The owner of the 27-story Antilla skyscraper in the center of Mumbai, India, is the pharmaceutical tycoon Mukesh Ambani of India. It currently ranks as the second-largest personal home in the world and costs over $1 billion to build.
However, considering that the purchaser is the wealthiest person in India, that presumably wasn't too much for him.
Each floor of the building has a distinctive design and uses various materials, giving the structure a distinctive architecture. The entire edifice was constructed using the principles of Vastu Shastra, a traditional Hindu building art.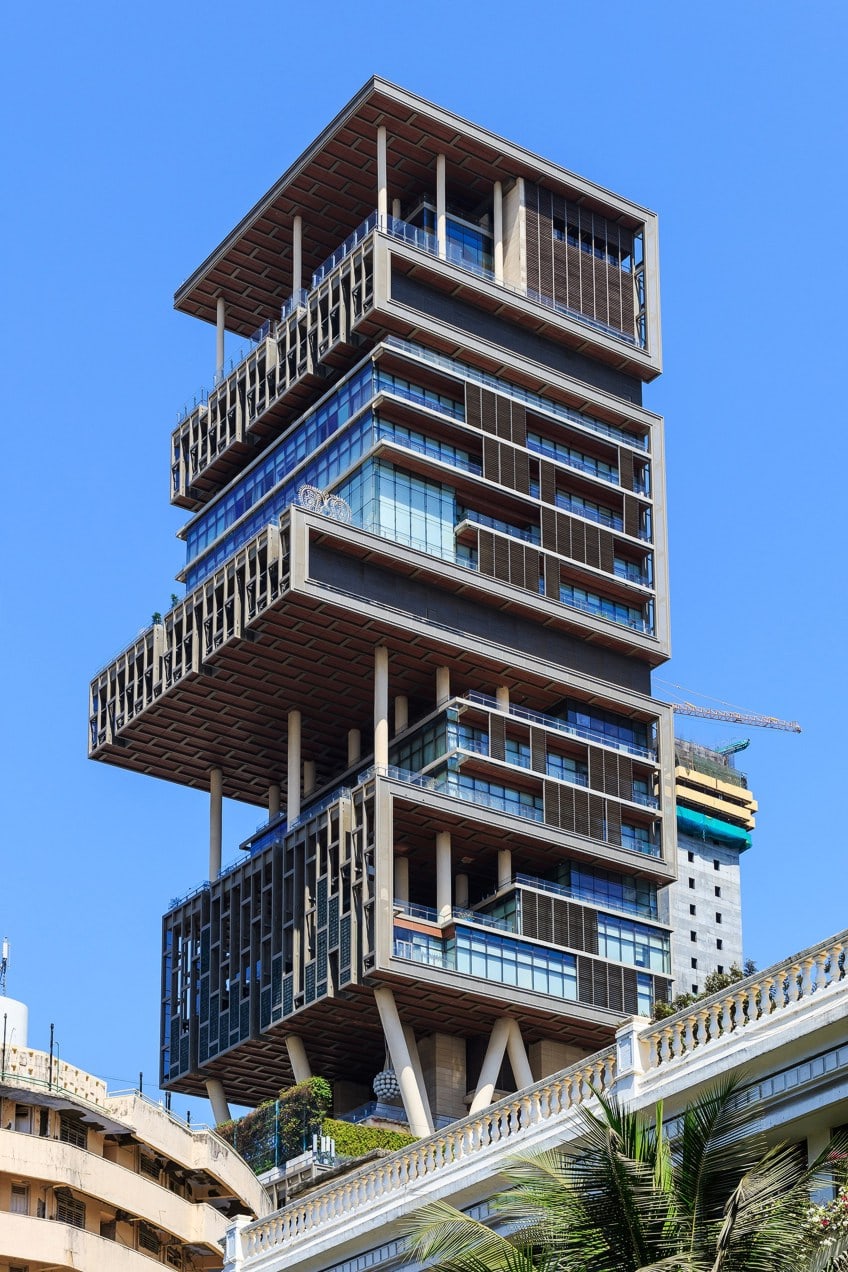 Antilia Tower in Mumbai, India [2016]; A.Savin (WikiCommons), FAL, via Wikimedia Commons
Every floor serves a different purpose, including garages, saunas, gyms, and swimming pools. Antilia's architectural design incorporates both the sun and the lotus flower. The top six levels of the building are where the elite full-floor residential area is located. Additionally, it could be able to withstand an earthquake of magnitude 8.
Some claim Antilia is the highest single-family home in the world, while others disagree because it has space for 600 employees.
The lotus and sun forms are included in the interior design. Through the use of marble, crystal, and mother-of-pearl, these two qualities are replicated throughout the whole structure. The objective of the design is uniformity, although there is no repetition; nonetheless, no two floors are constructed using the same materials or layout.
Istana Nurul Iman (Bandar Seri Begawan, Brunei)
| | |
| --- | --- |
| Size | 2.15 million square feet |
| Date Completed | 1984 |
| Architect | Leandro V. Locsin (1928-1994) |
| Location | Bandar Seri Begawan, Brunei |
The formal house of Brunei's Sultan, Hassanal Bolkiah, and the headquarters of the Brunei administration is the Istana Nurul Iman. The palace is situated on a beautiful, riverfront swath of hillsides on the sides of the Brunei River, just outside of the capital city of Brunei, Bandar Seri Begawan.
The palace is frequently the focal point of state festivities and royal banquets.
Istana Nurul Iman during the Open House of 2008; Leandro Locsin, CC BY-SA 3.0 DE, via Wikimedia Commons
Leandro V. Locsin, a Filipino Visayan architect, constructed it with gilded domes and vaulted ceilings to reflect Brunei's Malay and Islamic influences. The designation of "world's biggest house" is difficult to determine and contentious, as different countries employ different criteria to declare that their big mansions are the largest. Several buildings claim to be the world's biggest, according to various criteria.
The mansion must have been designed for use as a royal home to be recognized for the Guinness World Record as a residential palace, and only the aggregate size of the palace's internal floors is considered. Based on these criteria, Guinness World Records now deems it to be the "world's biggest domestic palace."
At the palace, the Sultan receives his official audience. All of the state duties performed by the Bruneian government take place in the palace. The palace also contains the prime minister's office and acts as the administrative center for Brunei. The throne chamber, which is in combination with the audience and state chambers, is used for a variety of official occasions, including the crown prince's pronouncement and the annual birthday royal prerogative.
That wraps up our look at the biggest houses in the world. Do you know how they say that the largest purchase you will ever make is a house? For the most part, it is accurate, but not in every case. The people on this list not only possess the world's largest houses, but also maintain a number of properties across the world!
Frequently Asked Questions
What Is the World's Largest House?
If not a vast, lavish palace, what else could the greatest residence in the world be? Istana Nurul Iman Palace, the Sultan of Brunei, Hassanal Bolkiah's official home, is by far the largest house in the world, measuring 2.15 million square feet. The palace is guaranteed to wow a lot of people because it has no less than 1,800 rooms and 260 bathrooms, horse stables, a 111-car garage, swimming pools, a dining hall, and even a mosque that can hold 1,500 people.
What Is the Largest House in America?
The Biltmore Estate is frequently described as America's biggest home. The Biltmore Estate stands out from the majority of other private residences in the world thanks to its distinctive feature. In addition to offering rooms in the Village Hotel or the four-star Inn on the property, it also served fine dining and produced its own wine when it first opened to the public in 1930.
Justin van Huyssteen is a freelance writer, novelist, and academic originally from Cape Town, South Africa. At present, he has a bachelor's degree in English and literary theory and an honor's degree in literary theory. He is currently working towards his master's degree in literary theory with a focus on animal studies, critical theory, and semiotics within literature. As a novelist and freelancer, he often writes under the pen name L.C. Lupus.
Justin's preferred literary movements include modern and postmodern literature with literary fiction and genre fiction like sci-fi, post-apocalyptic, and horror being of particular interest. His academia extends to his interest in prose and narratology. He enjoys analyzing a variety of mediums through a literary lens, such as graphic novels, film, and video games.
Justin is working for artincontext.org as an author and content writer since 2022. He is responsible for all blog posts about architecture, literature and poetry.
Learn more about Justin van Huyssteen and the Art in Context Team.
Cite this Article