There would be no Sherlock Holmes without Sir Arthur Conan Doyle and as such, there would be no Conan Doyle without his father, Charles Altamont Doyle. The Doyle family was a family of creatives who each contributed significantly to the fields of literature and the visual arts. In this article, we will introduce you to the life and art of Charles Doyle, who was mostly overshadowed by his family.
The Life and Art of Charles Altamont Doyle
The contributions of Charles Doyle are often overshadowed by the artwork and recognition given to his brother, Richard Doyle, who was a famous illustrator. Charles Doyle's son also went on to steal the limelight with his most famous work on the fictional short stories of Sherlock Holmes, which continues to resonate with audiences across the world. Below, we will introduce you to the lesser-known Doyle whose works were once dubbed "the works of a madman".
Charles Altamont Doyle
| | |
| --- | --- |
| Artist Name | Charles Altamont Doyle |
| Date of Birth | 25 March 1832 |
| Date of Death | 10 October 1893 |
| Nationality | British |
| Associated Movements, Themes, and Styles | Fairy painting and Victorian art |
| Mediums | Drawing, painting, design, illustration, and architectural draftsmanship |
So, who was Charles Doyle? Charles Altamont Doyle was the son of Marianna Conan Doyle and British artist John Doyle. Charles was one of seven children, three of whom pursued careers in the arts. With an Irish heritage, Charles was raised in England where he took art lessons from his father. Three of his elder brothers, James, Richard, and Henry, were also inclined to the visual arts and thus a family of creatives was born.
Not even waiting for his 18th birthday, Charles Doyle moved to Edinburgh in Scotland and found employment as an architectural draftsman.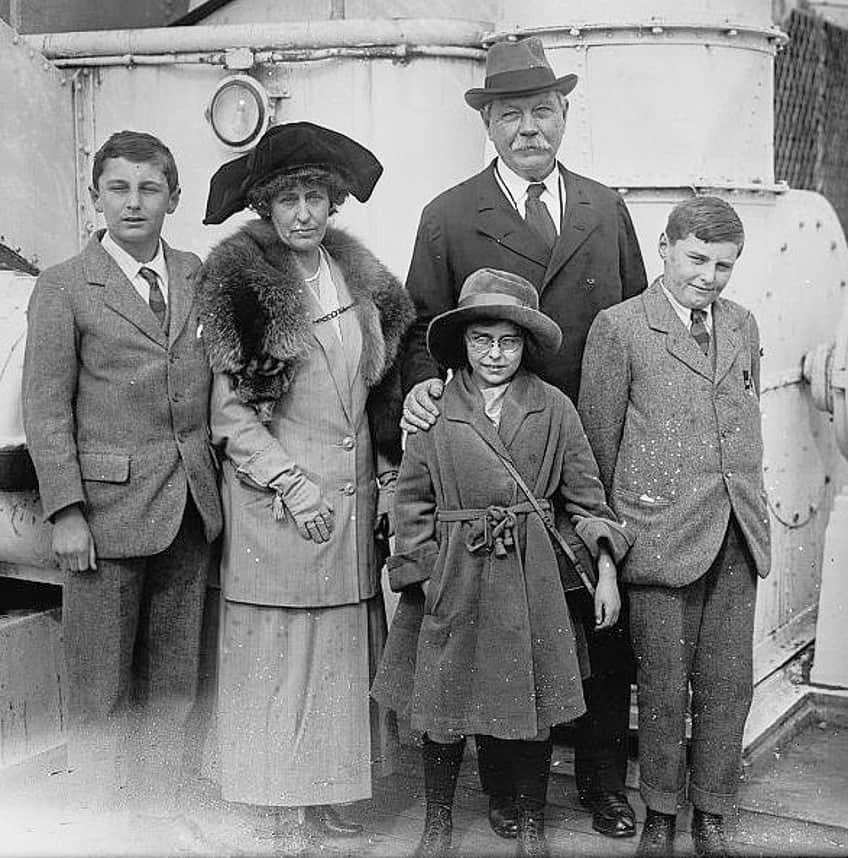 Sir Arthur Conan Doyle, son of Charles Altamont Doyle, with his family (c. 1923 – 1925); Bain News Service, publisher, Public domain, via Wikimedia Commons
Despite Doyle not being as successful in selling his artworks from an early age, he was recognized for his design on the fountain at Holyrood Palace. In 1855, Doyle married his landlady's daughter, Mary Foley, and together the two had around 10 children, with only several surviving past childhood.
Doyle's Struggle
Charles Doyle's artistic talents as an architectural draftsman were not the end of the line. His practice in illustration and watercolor painting helped him to support his large family and he went on to create illustrations for at least 23 books. Doyle was also a victim of drinking and continuously struggled with depression.
Around 1881, his family sent him away to an institution for "intemperate gentlemen" where his condition got progressively worse.
A Bathing Party (before 1894) by Charles Altamont Doyle, created using pencil and watercolors; Creator:Charles Altamont Doyle, Public domain, via Wikimedia Commons
Eventually, he was transferred to the Sunnyside Royal psychiatric asylum where his depression only grew worse. Unfortunately, Doyle has faced many serious health conditions, including epileptic seizures and short-term memory loss as a result of his long-term struggle with alcoholism.
Despite the suffering and cage of the psychiatric asylum, Doyle continued to paint and produce illustrations.
Famous Charles Doyle Illustrations and Paintings
Is it the work of a madman or the work of an unsung genius? Below, you will find some of Charles Doyle's most famous artworks, which include pieces from his later career as an illustrator created during his experience in the asylum. His best works include paintings with fantastical scenes of fairies as well as contrasting themes of death, redemption, and sinister faerie folk.
A Game of Bowls (1832 – 1893)
| | |
| --- | --- |
| Date | c. 1832 – 1893 |
| Medium | Pencil, pen, gray ink, and watercolor on paper |
| Dimensions (cm) | 20.3 x 64.8 |
| Where It Is Housed | Private collection |
This auctioned work by Charles Doyle was sold in 2000 at Christie's and is an interesting contrast to the whimsical imagery seen in Doyle's later works. The painting reflects Doyle's disinterest in the subject matter, which reflects in his lack of focus on the human figures and interest in the presentation of the landscape.
Doyle's artwork reflected his mental state even through the depiction of a simple game of bowls.
His portrayal of the open space and inclusion of figures and animals in the distance indicate his ability to see not only the finer details in an open space but his compartmentalization of figures through multiple scenes in one painting.
The Spirits of the Prisoners (1885 – 1889)
| | |
| --- | --- |
| Date | 1885 – 1889 |
| Medium | Watercolor with pen and brown ink and pencil |
| Dimensions (cm) | 60.5 x 50.8 x 3.3 |
| Where It Is Housed | The Art Gallery of New South Wales, Sydney, Australia |
This stunning watercolor painting by Charles Doyle showcases the masterful potential that he had for success. His 30-year-long career in illustration and fairy painting reflects in this painting since it is one of the few remaining complete works. Although he did not explore watercolor and ink painting as much as he should have, Doyle exhibited several watercolor works at the Royal Scottish Academy.
These watercolor works blended reality with fairy lore and also reflected his struggle with depression and isolation.
Saint Giles, his bells (c. 19th century) by Charles Altamont Doyle, created using watercolors; Creator:Charles Altamont Doyle (British, 1832-1893), Public domain, via Wikimedia Commons
The frontispiece of his diary was inscribed with the statement "Keep steadily in view that this Book is ascribed wholly to the produce of a MADMAN", showcasing his wit and sense of humor, which also led many to believe that he was fully sane. The Spirits of the Prisoners is one such example that perhaps alludes to the illusions that Doyle was aware of, considering the nonsensical nature of his treatment at the asylum in comparison to the fairies and animals seen dancing on the rooftop of the asylum.
Charles Doyle reveals his sanity in his seemingly phantasmagorical watercolor painting.
His demonstration of surreal clarity alone is further seen in the bearded figure in the clouds, which is said to be a self-portrait. Charles Doyle was later moved to the Crichton Royal Institution where he passed away from a seizure in 1893.
Meditation, Self Portrait (1885 – 1893)
| | |
| --- | --- |
| Date | 1885 – 1893 |
| Medium | Watercolor on paper |
| Dimensions (cm) | 17.8 x 26.5 |
| Where It Is Housed | The Victoria and Albert Museum, London, United Kingdom |
Meditation, Self Portrait is one of the watercolor paintings exhibited during Doyle's 1924 show in London. The image is a self-portrait of Doyle in his asylum room and illustrates the artist's awareness of self and the position that he found himself in.
Isolated from society and his usual lifestyle, Doyle was cast into a lengthy period alone with his own mind, which is illustrated beautifully by the many strange fantastical creatures surrounding him.
Meditation, Self Portrait (1885 – 1893) by Charles Altamont Doyle, created using watercolors; VAwebteam (talk) 14:40, 15 March 2011 (UTC).VAwebteam at en.wikipedia, CC BY-SA 3.0, via Wikimedia Commons
Doyle was also quite playful in casting a spotlight over himself as the main attraction of the work. One cannot help but assume that the figures around him represented the society that placed him there. Meditation, Self Portrait cleverly gives the viewer something to ponder over.
Illustrations for A Study in Scarlet (1888) by Sir Arthur Conan Doyle
A Study in Scarlet was the July edition of the debut of Charles' son, Arthur Doyle's Sherlock Holmes novel. Charles Doyle produced many iconic illustrations for the novel that showcase important scenes from the book. During this period, Doyle was already institutionalized and created these illustrations from his cell as a means to escape the confines and consequences of his deteriorating physical and mental health.
By 1892, Doyle was definitively admitted into the Crichton Royal Hospital after his time at the Royal Edinburgh Asylum.
Drawing made by Charles Altamont Doyle for the very first edition of A Study in Scarlet; Charles Altamont Doyle (1832-1893), Public domain, via Wikimedia Commons
Sir Arthur Conan Doyle also described his father's experience as full of tragedy, alluding to the greatest tragedy in his unfulfilled powers and underdeveloped talents. Along with his struggles, Doyle also had an equal, and if not greater, talent in the fine arts, which was not fully realized. According to his son, Doyle also had enough moral courage to immediately exit the company of any person who spoke coarsely toward him.
The duality of his character was also felt by his family who suffered from his "unpractical" nature, as Conan Doyle framed it.
The Charles Doyle Asylum Diary
Charles Doyle did not gain as much recognition during his lifetime and was only cast into the spotlight in the early 20th century after Conan Doyle held an exhibition for his father's work in 1924 and then years later in 1978 with the publication of Charles Doyle's asylum sketchbook by Michael Baker. The artwork in the book was described as being the proof that Charles was not insane yet his admission to the asylum was what contributed to his condition. The artwork in the sketchbook also reveals the shifting temperaments of Charles Doyle.
It is also believed that he often experienced hallucinations, which fueled his inspiration for many of his fairy paintings. His sketches and illustrations reflect, according to readers, a "fascinating worldview" that is reminiscent of something surreal.
The Most Terrifying Adventure of the Windmills (1867) by Charles Altamont Doyle; Charles A. Doyle, Public domain, via Wikimedia Commons
This leaves one to question the validity of Victorian diagnoses as well as the way that his condition was treated. Alcoholism was most likely seen as a weakness that was deserving of extreme forms of treatment such as physical isolation and one can only imagine the impact of such treatments on creative individuals.
The work of Charles Altamont Doyle is fascinating and a tragedy at the same time, given his struggle with mental health and the society that he lived in. Doyle's talents were evident and his sanity ever more so in his wonderful watercolor paintings and illustrations.
Frequently Asked Questions
Who Was Charles Altamont Doyle?
Charles Altamont Doyle was an English watercolorist, illustrator, and architectural draftsman who created designs and illustrations for over 23 books. Doyle also specialized in fairy paintings, imagined landscapes, and themes of death and redemption.
What Is Charles Doyle's Most Famous Artwork?
Charles Doyle's most famous artwork is considered to be his illustrations for his son, Sir Arthur Conan Doyle, which featured in the novel series, A Study in Scarlet (1888). The artwork included in the text is popular for its association with the famous fictional detective, Sherlock Holmes, created by Arthur Doyle.
What Is the Value of Charles Doyle's Artwork Today?
Charles Doyle's artwork value is priced between an estimated $227 and $52 million, with the majority of his works priced around $17,000.
Isabella studied at the University of Cape Town in South Africa and graduated with a Bachelor of Arts majoring in English Literature & Language and Psychology. Throughout her undergraduate years, she took Art History as an additional subject and absolutely loved it. Building on from her art history knowledge that began in high school, art has always been a particular area of fascination for her. From learning about artworks previously unknown to her, or sharpening her existing understanding of specific works, the ability to continue learning within this interesting sphere excites her greatly.
Her focal points of interest in art history encompass profiling specific artists and art movements, as it is these areas where she is able to really dig deep into the rich narrative of the art world. Additionally, she particularly enjoys exploring the different artistic styles of the 20th century, as well as the important impact that female artists have had on the development of art history.
Learn more about the Art in Context Team.