Best Travel Watercolor Set – Finding A Portable Watercolor Set
Whether you're an amateur art enthusiast or a seasoned painter, you may already know that not all water paint sets are created equal. Ideally, you want a set that is user-friendly, effective, and versatile. A travel watercolor set is a great investment thanks to its portable and easy-to-use nature.
Why Buy a Travel Paint Set?
So, why purchase a portable watercolor set for travel? Why won't your current standard-size one suffice? The simplest answer is that these sets are both easier to work and travel with. If you're constantly on the move, but still want to indulge in your painting passion when inspiration hits, you want a set you can quickly grab and take with you wherever you go.
Portable watercolor sets are generally easy to keep on-hand while on the move since it has all the necessary color ranges of your standard acrylic or oil paint sets, sans the myriad of extra bits and pieces.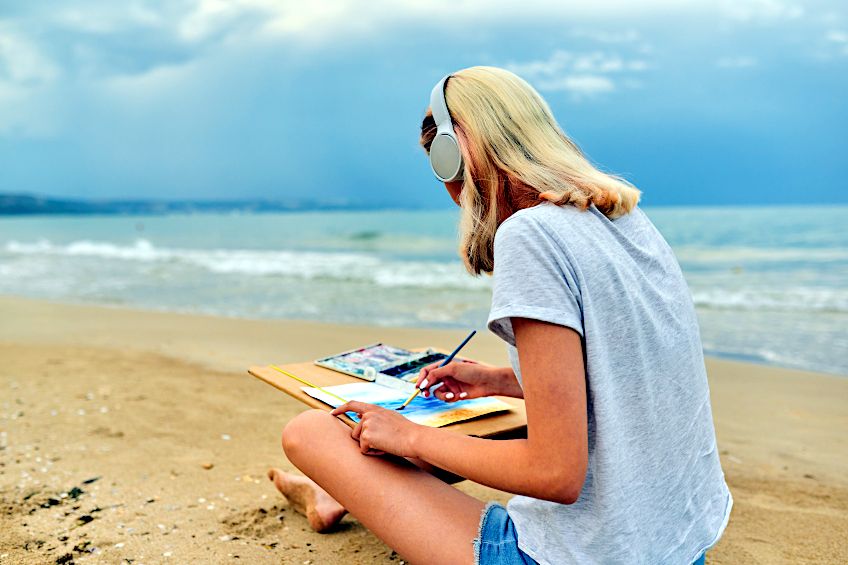 Travel sets are designed to be compact; meaning you don't have to bring along dozens of painting utensils that you may not necessarily need. A compact set provides you with all of your watercolor essentials to stay engaged in your peaceful painting without being short of any main utensils needed for a breathtaking water painting.
Further than that, even if you aren't a major traveler, a travel watercolor palette may still prove incredibly useful to you. You can use these convenient sets daily to bring a creative dash of excitement to any other activity you enjoy.
Some of these activities may include painting an impressive sunset during a picnic, appreciating the tranquil scenery around you at a park, or simply tracing the outlines of some dreamy clouds while winding down on your front porch.
How to Find the Best Travel Watercolor Set
Now that you have a better idea of just how useful travel painting sets are, the next step is to learn more about what travel paint set is best for you, depending on your specific requirements. Here, we will discuss three popular watercolor travel sets and what the associated pros and cons are so that you can decide for yourself which is the best fit for you.
Best Overall: ARTSY 42 Colors Watercolor Travel Paint Set
No top watercolor portable set list would be complete without this extensive range of colors brought to you by the well-loved ARTSY watercolor paint set. This palette offers all of the traditional colors necessary to create the artwork of your dreams in a neatly-condensed packaging; making it easy to carry around. The practical design of this palette is easily one of its biggest benefits for watercolor enthusiasts since it can be simply fanned out or put back in for easy storage.
42 vibrant assorted colors with strong and light-fast pigmentation
Provide seamless blending and dries quickly
Includes three water brushes, a palette, and a sponge for easy use
View on Amazon
On top of the impressive range of colors, the set also offers useful painting utensils necessary to create a watercolor masterpiece without taking up unnecessary space. Chalky watercolors that dry up after use can ruin a perfectly good palette. Luckily, the ARTSY watercolor paint set doesn't have this problem and can be used time and time again, while working perfectly each time. Thanks to this highly sought-after set, you don't need to choose between efficiency and quality.
PROS
The palette consists of an astonishing 42 colors through fanned-out color palettes that easily expand and retract, giving you a variety of colors needed to make an artwork pop without taking up too much space.
The included items are 3 water brushes, a compacted water pallet, a removable sponge, and a plastic packet for easy carrying.
The colors are known to be of high quality and vibrant, leaving you with a striking watercolor painting every time!
CONS
The fanned layout of this travel watercolor set can cause smudging of the layers both above and below. It's best to ensure the colors are dry before you close the palette.
The layout may cause some unwanted mixing of colors between the palettes if you're not careful.
Customers feel some colors are too similar to others in the set, making it difficult to distinguish any actual differences besides the color code.
Best Budget-Friendly Option: QIANSHAN Watercolor Paints Set
Watercolor lovers may already know of this brand, and if not, you definitely should become acquainted with it. Qianshan is a supplier of all things creative, including but not limited to colored pens, markers, bags to carry your creative utensils in, and of course, painting supplies. The company's travel watercolor set in specific is well-loved thanks to the quality and efficient layout design. When looking for a travel paint set, arguably the most important aspect is how easy it is to carry on you at all times. You'll be pleased to know that this palette has been designed especially for creatives on the go that want efficiency without skimping on quality paints.
Set include 36 mini watercolor cakes, two water brushes, and a palette
The solid pigment is compressed giving great value for money
The watercolor pigments are non-toxic and safe for children
View on Amazon
Now, onto the colors. The set has 36 mini watercolor shades, each proving to be as vibrant and eye-catching as the next. The colors are presented in easily compacted spaces; with a lightweight feel that can be easily mixed and matched together if you wish. The useful accessories and supplies that accompany the set are also what makes it an ideal choice for painters constantly on the move. Besides the vibrant colors, the palette includes supplies such as two useful sponges, two board and two round reusable water brushes, and, of course, a lid to keep it all safely intact.
PROS
The square set easily opens and closes, without any possible cross-contamination of shades. Just pop open the set and you're good to go!
The colors have a non-toxic formula that mixes and paints smoothly, giving you a pleasant painting experience on the go.
The extra accessories mean you can create your artwork without the worry of any spillage or shortage of necessary supplies.
CONS
If you're traveling with this set, be sure to not turn it upside down, or you may end up with a messy set or even worse, a damaged one.
Some client reviews of this product claim that the colors may become chalky when they dry.
Some customers say the palette doesn't stay closed and that the latch is sometimes faulty. You can use an elastic band to cover the set if need be.
Premium Pick: PRIMA Watercolor Confections – Tropicals Set
Perhaps one of the lesser-known brands on this list, the Prima travel set provides you with incredible, quality colors that are both strongly pigmented and vibrant. The Prima watercolor confections – Tropicals set has been known to be used by various mixed media artists and has generally been well-received by both experienced and amateur painters. If you're looking for a compact travel watercolor palette that can easily fit into even the smallest of bags or even purses, this is the best choice for you. The palette's size can be compared to that of one of today's standard smartphones, with possibly just a little more weight to it.
The set includes 12 unique colors that seamlessly blend together
Artist-grade quality pigments that are strong and vivid
Comes in a high-quality metal container for easy transport
View on Amazon
More than that, the packaging itself also adds to the practicality of the set. It comes in a handy metal box, ensuring that your precious watercolors are protected against any possible damage if extra pressure is applied. The metal box also helps to keep your watercolor set intact if it mistakenly falls or slips from your fingers, as accidents occur often at the worst of times. If that wasn't enough to convince you, the watercolors themselves sure will. This pallet comes with twelve distinctive colors that are eye-catching and of professional quality.
PROS
The small size of this set makes it easy for you to take it with you just about anywhere you please; helping you to create art whenever, wherever!
A palette that's safe and secure is always a great investment for a painter that's constantly on the move and doesn't have time to carefully package and keep a constant eye on their assets.
The striking pigments can bring even the simplest of artworks to life through the intense nature of these unique shades.
CONS
The theme may limit you to a concept that you're trying to paint. If this is your first purchase, invest in a travel paint set that offers a wider variety of colors first.
Some customers feel that the tin isn't as sturdy as they'd like for it to be, and the sticker on top of the tin is difficult to remove.
Reviews state the metal tin does not necessarily pin down each of the watercolors included, which makes for a wonky pallet set.
How to Identify the Best Travel Watercolor Set for You
It's clear that each set will make for a useful investment and will help keep your painting passion alive, even while jet-setting the globe. However, you may have specific preferences that will determine which palette is ideal for you. Keeping those potential aspects in consideration, here are some things to look out for which may help you choose the ideal one for you.
For Those Looking to Save Money
Buying yourself a stunning watercolor set doesn't mean that you need to break the bank in the process. Some of the best basic yet effective watercolor paint sets can be purchased online for very little.
Keep an eye out for highly-rated products that don't compromise on quality for the sake of affordability, resulting in an all-around win!
For Those Wishing to Have a Variety of Shades
If you're tired of the same standard 12 watercolors offered in most standard sets and are hungry for something different, look for watercolor travel sets with as many as 24, 36, 42, 50, and more different colors in one palette. A myriad of shades can help you create just about any image that comes to mind, as you are not limited by colors. Look for packaging that stays compact despite the carried shades too, so you don't need to worry about the set taking up extra space.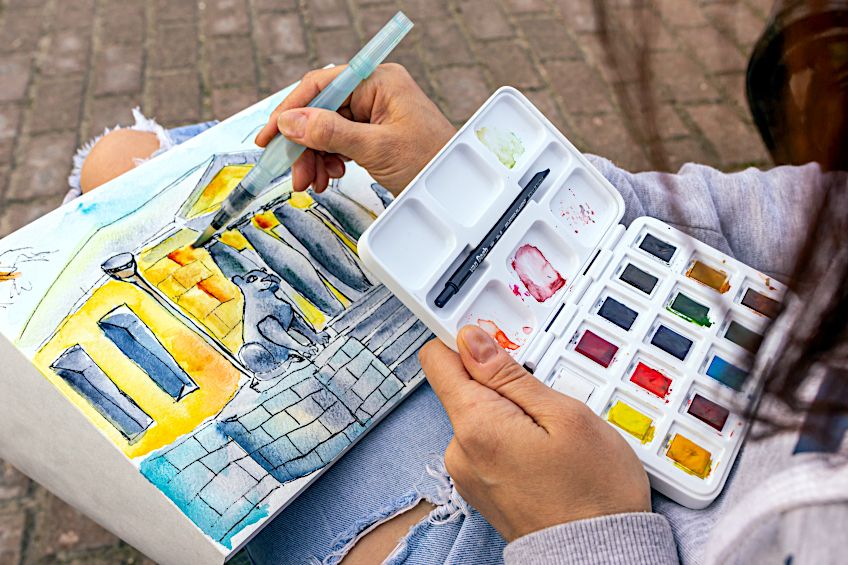 For Those Who Want the Most Vibrant Colors
Are you a fan of all things bright and beautiful, including paint palettes? There are a variety of watercolor paint sets with themed color palettes, such as a brightly-colored tropical selection. Themed watercolor palettes with vibrant shades are ideal for making artworks pop as a result of their intense hues. The best choice of watercolor palettes will depend on the individual since we all have different needs.
However, it's clear that there are a variety of options to choose from for enthusiastic painters on the go, regardless of one's specific requirements.
Additional Tips and Tricks
Looking for some extra information to ensure you're fully prepared for your next painting session on the go? We've got you covered with that too! Here are some useful tips and tricks to keep in mind when buying a portable watercolor set:
Although we all want to save extra money where possible, finding the cheapest travel paint set shouldn't be the determining factor on whether or not you wish to invest in a specific travel palette. Instead, look through the reviews given on the website from which you want to purchase the item. Mainly positive reviews are an adequate indicator that the product won't let you down and will give you your money's worth.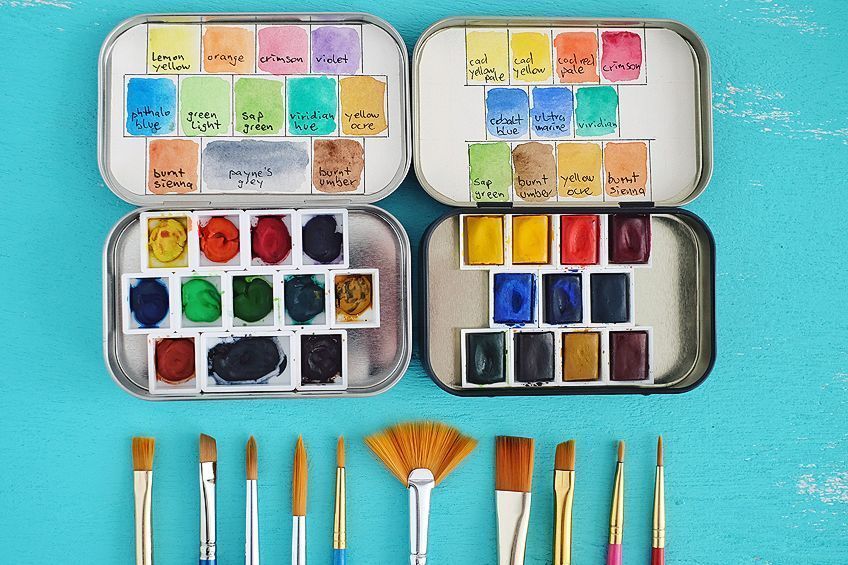 Don't want to limit yourself to just one set? Why not purchase an additional one or two instead for future reference? With extra palettes, you won't need to compromise on the shades you are looking for, as inspiration may strike you without the necessary tools required to bring your vision to life. It's best to be overprepared, after all.
Many painters feel that the brush is the main component that determines whether or not your painting experience is a pleasant one, and the quality of the finalized product too. Taking time to do research on which brushes within these sets are musically effective for their watercolors provided will give you better insight into which set will give you the ideal brush for the look you're trying to execute on your painting.
These simple yet effective tips will help you choose the best travel watercolor set for your needs, without any potential disappointment due to lack of information.
Frequently Asked Questions
Do Painting Travel Sets Compromise on Quality?
No, the right travel set will offer you convenience and quality hand-in-hand. Travel sets are simply just smaller versions of their standard counterparts and do not skip on any necessary quality, effectiveness, or even any accessories for the sake of their compact nature. To make the set smaller, they simply use smaller spaces for the watercolor holders and design the palette in such a way that it can easily fit in the most compact of spots, even in your hand! The above-mentioned sets are known for their high-quality watercolors and included accessories that are effective at helping you to create an impressive work of art. All of the sets we have discussed work wonderfully and don't compromise on any necessary aspects.
Do Travel Watercolor Palettes Cost More?
Not necessarily, no. The pricing is reflected in the brand, available colors, and other additional utensils included. The main difference between a standard watercolor set and a travel set is the design and layout, as it should easily fold into packaging that can be carried around hassle-free. As a matter of fact, some travel sets may actually cost slightly less due to their smaller designs. Usually, though, there is no drastic difference in cost and you will be glad to know that you may even save a few bucks if you purchase your set from the right place!
Where Can I Find Reliable, Quality Compact Watercolor Sets?
With some patience and research, you may easily find high-quality watercolor sets both in-store and online. A local arts and crafts store may stock some travel watercolor sets, hopefully offering some variety. However, if you don't come right there, you can get what you need without even needing to leave the comfort of your own home. Online retailers like Amazon offer an extensive range of watercolor sets that caters to a variety of needs you may have. Some of these potential needs may include any concerns you have over the number of colors offered, the need for adequate accessories to paint effectively, and a layout that is suitable for the nature of the set.
Matthew Matthysen is an educated multidisciplinary artist and illustrator. He successfully completed his art degree at the University of Witwatersrand in South Africa, majoring in art history and contemporary drawing. The focus of his thesis was to explore the philosophical implications of the macro and micro-universe on the human experience. Matthew uses diverse media, such as written and hands-on components, to explore various approaches that are on the border between philosophy and science.
Matthew organized various exhibitions before and during his years as a student and is still passionate about doing so today. He currently works as a freelance artist and writer in various fields. He also has a permanent position at a renowned online gallery (ArtGazette) where he produces various works on commission. As a freelance artist, he creates several series and successfully sells them to galleries and collectors. He loves to use his work and skills in various fields of interest.
Matthew has been creating drawing and painting tutorials since the relaunch in 2020. Through his involvement with artincontext.org, he has been able to deepen his knowledge of various painting mediums. For example, watercolor techniques, calligraphy and lately digital drawing, which is becoming more and more popular.
Learn more about Matthew Matthysen and the Art in Context Team.
Cite this Article