Capturing the raw and intense nature of rapid urbanization and modern life, famous 20th-century photographer William Klein was an unconventional photographer who not only worked alongside art moguls like Fernand Léger, but also created many captivating photo essays and fashion photography images that were published in many leading fashion publications such as Vogue. Below, we will dive into a complete William Klein biography, including some of his most iconic works that feature scenes from Tokyo, New York, and Rome. Keep reading for more about this million-dollar photographer!
The Life of William Klein: Photographer, Artist, and Filmmaker
William Klein, a photographer giant of 1950s fashion and street photography, was one of the most impactful contributors to Vogue magazine and unconventional photography. Klein was a multi-award-winning photographer, filmmaker, and visual artist who was best known for his use of wide-angle lens photographs and motion blur aesthetics that can be seen in his street photography. Klein also experimented with art forms like kinetic sculpture and has won numerous prestigious awards such as the Prix Nadar and the Hasselblad Award despite having no formal training in photography.
| | |
| --- | --- |
| Artist Name | William Klein |
| Date of Birth | 19 April 1926 |
| Date of Death | 10 September 2022 |
| Nationality | American-French |
| Associated Movements, Themes, and Styles | Modern art, fashion photography, street photography, portraiture, photojournalism, and kinetic art |
| Mediums | Photography, cinema, sculpture, painting, and filmmaking |
Klein's contribution to photography and film had a lasting impact on the aesthetics of street photography. Today, Klein's works can be found at museums and institutions around the world, including the J. Paul Getty Museum, the Centre Pompidou, and the Metropolitan Museum of Art. Klein was no stranger to experimentation, which is witnessed in the in-depth William Klein biography we compiled below.
William Klein at the Cinémathèque française (2008) by Roman Bonnefoy; Roman Bonnefoy, CC BY-SA 3.0, via Wikimedia Commons
A William Klein Biography: Motion in Modern Photography
While not much is known about William Klein the photographer and his early childhood, William Klein was born in 1926 in New York City to a Jewish family. Klein attended the City College of New York after high school and in 1946, enlisted in the United States Army, where he was sent to Germany. It was in Germany that Klein first picked up a camera, and as some might say, was his canon event into the medium. Klein won a camera after competing in a friendly match of poker and later moved to Paris where he enrolled at the University of Paris. During this period, Klein took up tutelage under the architect and painter Fernand Léger, who helped Klein learn more about sculpture and painting.
It was his acquaintance with Léger that also enabled Klein to meet artists like Jack Youngerman and Ellsworth Kelly who were among several other artists introduced to Klein in the early 1950s. Klein's first photographic experiments reflected his affinity toward movement and were more abstract than representational.
By 1952, the young Klein had already exhibited in Milan and commenced a collaboration with the architect Angelo Mangiarotti, who requested that Klein recreate an abstract work for the design of rotating dividers for an apartment. This was Klein's first commissioned artwork that exposed him to the possibilities of motion photography since he had to document the moving dividers. His experience with Mangiarotti led him to pursue photography as a new avenue of artistic interest. By 1954, Klein was experimenting with kinetic sculpture and found himself acquainted with the Ukrainian-American art director of Vogue, Alexander Liberman, who was moved by Klein's work in kinetic art, which was on display at the Le Salon des Réalitiés Nouvelles.
Klein began photographing projects for Vogue shortly after he met with Liberman and initially worked on images of Dutch barns. His transition into fashion photography and travels also enabled him to produce many unique photo essays of urban life, street fashion, and modern cultures from multiple cities. Klein's most fruitful shoots were shot in New York City during his assignment for Vogue, which is considered the birthplace of his style in the wide-angled imagery and telephoto-styled images of the grits and glamor of the city. His approach to fashion photography was led by the allure of the city streets and he often brought models out in the town to test out his new techniques in motion photography.
Notable Events and Publications
The year 1958 was an important period in Klein's career when he explored movement in photography and created his debut Pop-inspired film called Broadway by Light, which was the beginning of his creative endeavor into film documentaries and the use of satire about the fashion industry. Klein established himself as an innovator in the field of photography and went on to produce more films throughout the 1960s and 1980s. One of his last works in film in 1999 titled Messiah is a testament to his career and the themes explored throughout his many creative endeavors.
At the height of his career in fashion and street photography throughout the 1950s and 1960s, Klein produced unusual images that reflected a preference for high-contrast and grainy images that were initially considered to be defects in his process.
But like all creative geniuses, imperfections were at the forefront of his approach and Klein cultivated his images to appear as such by using his 35-millimeter camera with a wide-angle lens and slow film. His style and approach proved to be highly influential across the photography community, which earned Klein a respectable position in the fashion industry. In 1956, Klein published his first book called Life is Good and Good For You in New York, which earned him the 1957 Prix Nadar award and offered a brutally honest representation of daily living in the city. After the book, Klein went on to publish three more photo books with imagery shot in different cities across the world, including Rome, Tokyo, and Moscow.
Development of Photographic Style
From the outset, William Klein's photography had always displayed elements of an abstract nature that prioritized grainy, unconventional, and fast-motion aesthetics. His interest in abstract forms of photography propelled his career into filmmaking, where he could easily explore the different ranges of motion in image making. Throughout his career, Klein embraced high contrast and blurry imagery that captured the rougher edges of modern society and elevated his fashion photography. The raw qualities of his images in fashion and for Vogue shoots demonstrate a still, curated, and carefully composed approach while some reflect his drive towards unconventional shooting methods that captured abstract moments and details on models and their fashion pieces.
Klein is also famous for incorporating satire and irony in his works that showcase the dual nature of the fashion world that champions rejection alongside the "prevailing rules of photography". Klein's imagery in fashion and street photography moved to cinema where he created two major fictional films about the world of fashion as satirical works. Klein directed countless short films and feature-length documentaries in addition to producing more than 250 television commercials during his career. A few of his later works also reflect his criticism of the American state as well as modern society and American foreign policy.
Awards and Exhibitions
In addition to the Prix Nadar award, 10 years later Klein bagged the Prix Jean Vigo in 1967 and was also awarded the honor of Commander of Arts and Letters in France in 1989. In 1999, Klein earned the Medal of the Century awarded by the London Royal Photographic Society. In 2007, Klein won the Lifetime Achievement International Center of Photography Infinity Award, and in 2012, the Outstanding Contribution to Photography Award granted by Sony World Photography.
In 1956, Klein ended his contract with Vogue and returned to Paris where he delved into filmmaking instead of still images.
He later resumed his still-life images in 1978 as a part-time practice. Klein passed away in 2022 at the age of 96. Today, Klein's photography is housed in numerous institutions, including the J. Paul Getty Museum, the Whitney Museum of American Art, the Centre Pompidou, the Museum of Modern Art, and the Metropolitan Museum of Art.
Iconic Highlights in William Klein's Photography
When examining William Klein's photography, one will notice how much his preference for abstract imagery and motion stands out. For a fashion photographer, his work reflects an awareness of context and environment that is juxtaposed by his subjects shot in high contrast and ambiguous manners. Klein's approach to composition suggests a visual layering of subject, color, and mood that captures the viewer's attention and effortlessly pulls one into the composition. Below, we will review a selection of Klein's photographs that showcase some of the unique aspects of his style and technique.
Smoke & Veil (Vogue); Paris, France (1958)
| | |
| --- | --- |
| Date | 1958 |
| Medium | Gelatin silver print |
| Dimensions (cm) | 40.6 x 30.5 |
| Where It Is Housed | Robert Klein Gallery, Boston, United States |
This stunning black and white high contrast portrait depicts a Vogue model donning a fascinator hat, which was a mark of high-society women, often worn for events. The model has her gaze fixed to the far right while she smokes a cigarette with smoke emanating to the left of her face. The image is a visually striking piece that presents an exploration of shape with the hat in contrast to the model's face and glowing white skin. Her makeup, hat, and nails are captured in darker tones and visually layered with the smoke and mesh fabric of the hat that conceals aspects of her face for added tonal variation.
The juxtaposition of the intricacies of the hat, the texture of the model's skin, and the elegant soft smoke make the image a visual masterpiece of texture and the yin-yang balance of light.
Simone + Nina at Piazza di Spagna NR.2; Rome, Vogue (1960)
| | |
| --- | --- |
| Date | 1960 |
| Medium | Gelatin silver print |
| Dimensions (cm) | 150 x 107 |
| Where It Is Housed | Custot Gallery Dubai, Dubai, United Arab Emirates |
Shot in the natural light of day in Rome, this Vogue image is part of a series of limited edition works signed by Klein himself that reflects a skillful play with contrast and shape. The images show off the dresses and fashionable figures of two models who are posed with their backs facing each other on a busy street. The models wear contrasting dresses with stripes that pop against the white-striped tarmac of the street as an onlooker spots the camera from the bottom left of the frame. The two women stand out against the darker suits and coats of the pedestrians around them with just enough space on the ground to highlight the stripes through pattern and color contrast.
Klein's brilliant compositional choices are evident in the distinct duality of the contrast in color as well as the rectangular strips on the women's dresses and ground that are complemented by their silhouettes that dominate the scene.
Portrait of Anne-Marie Edvina (Hair) (1961)
| | |
| --- | --- |
| Date | 1961 |
| Medium | Silver print unmounted |
| Dimensions (cm) | 21.7 x 30.3 |
| Where It Is Housed | Contemporary Works/Vintage Works, Chalfont |
This abstract portrait of a model and art student, Anne-Marie Edvina, was shot in 1961 and is an example of Klein's interest in abstract photography, texture, and high-contrast imagery. Without an indication of the model's frame or bust, Klein composed the image by framing Edvina's side profile against a fabricated backdrop of her hair. Her face is captured in a blown-out high-contrast white while the image captures the variations of tone in gray, black, and white across her hair.
The image borders on absurd and obscure with tones of Surrealist photography that were effective in fashion shoots.
Anne-Marie Edvina participated in the Salon International du Portrait Photographique as a selected model admired for her unique facial symmetry and was photographed by 30 famous photographers, including Surrealist photographer Man Ray. The resulting images were published in numerous publications, including Life International and Europeo.
Book Recommendations
William Klein was a notable figure of fashion and street photography whose works are admired and respected by many Contemporary artists. Below are a few highly rated book recommendations that will shed insight into the photographic journey and development of imagery by William Klein.
Each of these provides a different insight into this famous photographer.
William Klein: Rome (2009) by Alberto Moravia, Pier Paolo Pasolini, Et Al.
This fascinating and unique story of the young 28-year-old William Klein in Rome is among the best accounts of the photographer's work in film and encounters with many Italian artists and writers who were acquainted with Klein. The book remains one of the most celebrated publications of the 20th century that was initially released in 1959 and was redesigned to celebrate Rome's 50th anniversary. For collectors old and new, this five-star edition is worth the buck.
A detailed introduction to the life of young William Klein
Discover the time spent working with Italian Artists in Rome
An acclaimed collection of works and interesting commentary
View on Amazon
William Klein: Yes (2023) by William Klein and David Company
With more than 200 color images to marvel at, this book is the final contribution to photography literature authored by William Klein himself alongside David Company. The book explores the career and art of William Klein whose contributions across photography, art, filmmaking, and design have been documented.
For those new to the imagery of Klein and fashion photography, this book is a highly recommended read.
Discover the life and career of William Klein
Trace the development of his artistic style through his life
Marvel at over 200 color images with personal comments
View on Amazon
William Klein: ABC (2013) by William Klein and David Company
Designed and selected by William Klein himself, this book explores the poetic nature of Klein's street photography alongside some of his best contributions to the fashion and film industries. Featuring posters and stills from his satirical films as well as painted graphics on contact sheets, this amazing book is a must-have for any fan of Klein's work.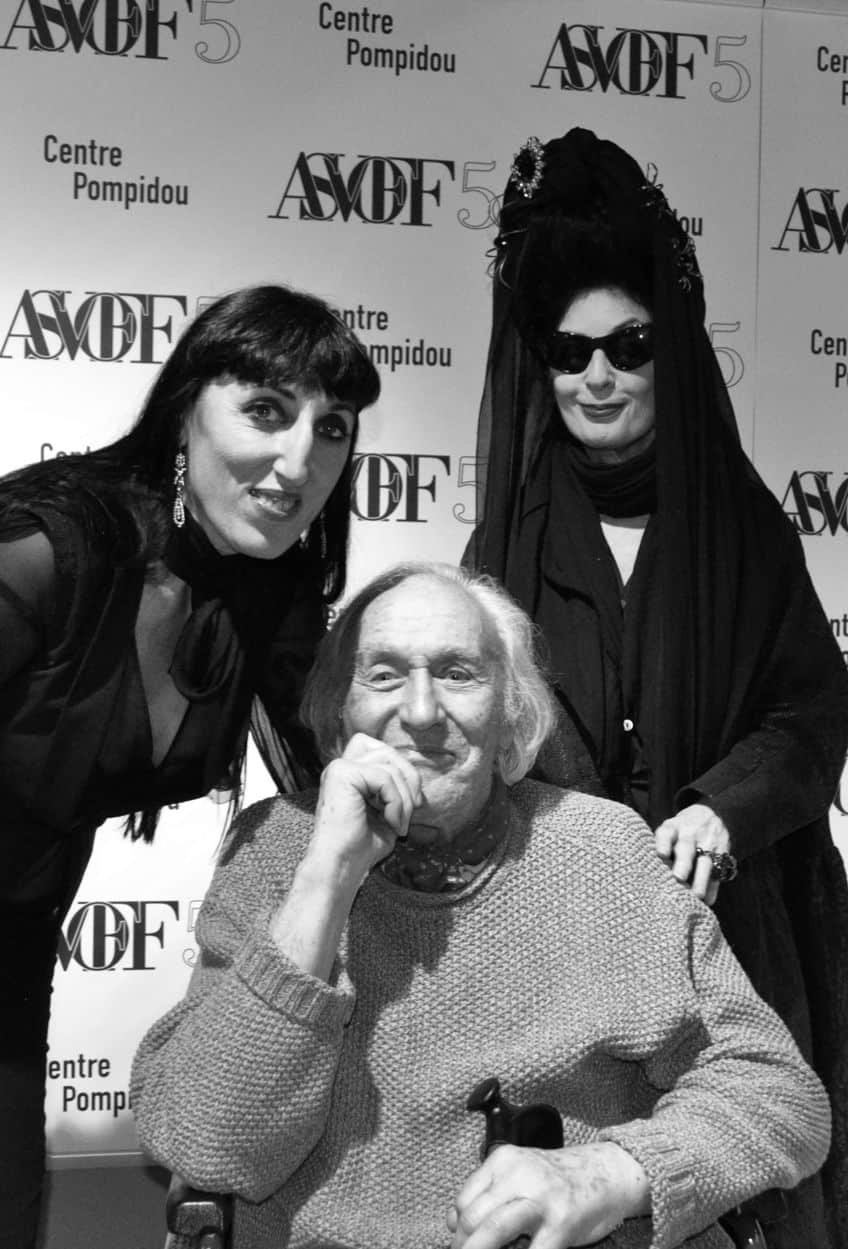 William Klein, Rossy de Palma and Diane Pernet at ASVOFF 5 hosted by the Centre Georges Pompidou, Paris (2012); ThePromenader, CC BY-SA 4.0, via Wikimedia Commons
A self-curated selection of works by William Klein
Delve deep into the poetic nature of Klein's street photography
View stills from his films, painted graphics, and posters
View on Amazon
William Klein undoubtedly holds a special rank in the realm of fashion and street photography with many contributions to film, media, and advertising that continue to serve as benchmarks for many aspiring photographers. Klein's innovative and relentless pursuit of the unconventional aspects of photography led to his ultimate success and recognition, which set him apart from many fashion photography giants.
Frequently Asked Questions
Who Was William Klein?
American-French street and fashion photographer William Klein was a famous visual artist, photographer, photojournalist, and filmmaker, whose abstract visual language in photography was piloted by his interest in unusual techniques. Klein is best known for his wide-angled and telephoto images, as well as his preference for high-contrast and textured images.
What Was William Klein Most Famous For?
William Klein was renowned for including unconventional elements in his photography process and films. Klein is most famous for his photographs shot in different cities, including Gun 1, New York (1955), Cine Poster (Tokyo, 1961), and the Serge Gainsbourg album sleeve, Love on the Beat (1984).
Which Famous Films Did William Klein Create?
William Klein produced and directed many famous 20th-century short films and documentaries, including Who Are You, Polly Maggoo? (1966), Mr. Freedom (1968), Muhammad Ali, The Greatest (1969), and Le Couple Témoin (1977).
Jordan Anthony is a film photographer, curator, and arts writer based in Cape Town, South Africa. Anthony schooled in Durban and graduated from the University of the Witwatersrand, Johannesburg, with a Bachelor of Art in Fine Arts. During her studies, she explored additional electives in archaeology and psychology, while focusing on themes such as healing, identity, dreams, and intuitive creation in her Contemporary art practice. She has since worked and collaborated with various professionals in the local art industry, including the KZNSA Gallery in Durban (with Strauss & Co.), Turbine Art Fair (via overheard in the gallery), and the Wits Art Museum.
Anthony's interests include subjects and themes related to philosophy, memory, and esotericism. Her personal photography archive traces her exploration of film through abstract manipulations of color, portraiture, candid photography, and urban landscapes. Her favorite art movements include Surrealism and Fluxus, as well as art produced by ancient civilizations. Anthony's earliest encounters with art began in childhood with a book on Salvador Dalí and imagery from old recipe books, medical books, and religious literature. She also enjoys the allure of found objects, brown noise, and constellations.
Learn more about the Art in Context Team.