Artists have always been eccentric characters with wild imaginations throughout time. However, due to most works being commissioned, they rarely steer away from the normal subjects they are paid to produce and delve into the fascinating world of strange artworks. If normal art reflects reality back at us, then bizarre art reflects a side of life and human imagination that we seldom get a peek at. Yet, these weird art pieces are not only widely known, but also celebrated along with the other more normal works of art created by the Masters.
The World's Weirdest Artworks
We have compiled a list of the strangest artworks that have been created throughout history. These bizarre artworks have captured the curiosity of humankind and revealed that art can be weird, strange, and humorous. Let us begin our exploration of these amazingly strange artworks.
The Melun Diptych (1452) by Jean Fouquet
| | |
| --- | --- |
| Date Created | 1452 |
| Medium | Oil Painting |
| Dimensions | 93 cm x 85 cm per panel |
| Location | Royal Museum of Fine Arts |
This late Middle Ages masterwork is among the most unconventional portrayals of the Virgin Mary in artistic history. Etienne Chevalier commissioned Jean Fouquet to produce this diptych. The patron is depicted alongside St. Stephen, in the left panel. That is a really basic section. For the sake of this article, we will concentrate on the other more interesting panel, usually known as Madonna Surrounded by Seraphim and Cherubim.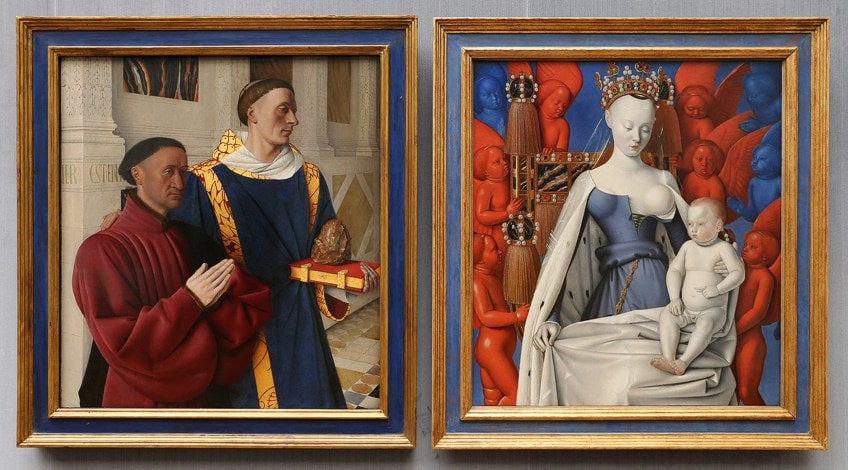 The Melun Diptych (1452) by Jean Fouquet; Sailko, CC BY 3.0, via Wikimedia Commons
This picture is both amazing and unusual – and not only because of the bizarrely lovely cherubim and winged creatures that encircle Mary or baby Jesus. In various respects, Fouquet deviated from precedent here. One of the most remarkable aspects of his work is his representation of the Virgin Mary and the lady who acted as his subject. It's not a problem that Mary is depicted as the Queen of Heaven, as indicated by her throne and attire.
What is odd is that part of her bosom is revealed, resulting in a sensuous, sexual image of a normally chaste figure. Imagine how surprised spectators in the 15th century must have been! The idea that Fouquet's subject was most likely the king's lover, Agnes Sorel, did not help matters. Sorel's attractiveness had an effect on the monarch, which led to her becoming his lover.
Fouquet has caught that perfection in this artwork, from the manner in which her vogue outfit complements her physique to her flawless complexion and submissive look, she exemplifies the perfect standard of beauty.
Jean Fouquet's Melun Diptych, panel two: Virgin and Child surrounded with Angels (c. 1452-1455); Jean Fouquet, Public domain, via Wikimedia Commons
Sorel's breast, according to folklore, was particularly attractive. She was more than just a lover who gave the King multiple children. She was also regarded as a valued advisor. During a disastrous war, she exploited her beauty to obtain the financial support of wealthy lords, assisting France in maintaining her borders.
To show his appreciation, the king made her three children legal and elevated her to the position of royal mistress.
The position came with a slew of perks, along with a stipend, private quarters, and a prominent seat in court. As you can expect, religious leaders and the King's own son were not pleased. Unfortunately, the pregnant Sorel died not long after, most likely as a result of contamination poisoning from mercury.
The Garden of Earthly Delights (c. 1505) by Hieronymus Bosch
| | |
| --- | --- |
| Date Created | 1505 |
| Medium | Oil on Oak Panel |
| Dimensions | 220 cm x 389 cm |
| Location | Museo Nacional del Prado, Madrid |
The notorious work was most likely commissioned for the Coudenberg Palace by the Count of Nassau. It depicts the Biblical origin and humanity's destiny, as wrought by our own fatal defects, from the outside to the interior panels. The narrative starts on the outer panels, where Bosch drew a monochrome representation of the Third Day of Beginning of the Earth.
Creation on the exterior shutters of Hieronymus Bosch's triptych The Garden of Earthly Delights (c. 1490–1510); Hieronymus Bosch, Public domain, via Wikimedia Commons
The half-empty sphere depicts the genesis of Eden as the globe's waters appear to empty and divide. God is sitting in the upper right corner, watching his latest creation. When the outer panels are opened, three vividly colored panels illustrating a similar motif: vices, are revealed.
As you gaze around, you'll most likely conclude that Bosch has produced a vision of a human pandemonium. The left and center panels have the same horizon line that leads your gaze across Eden.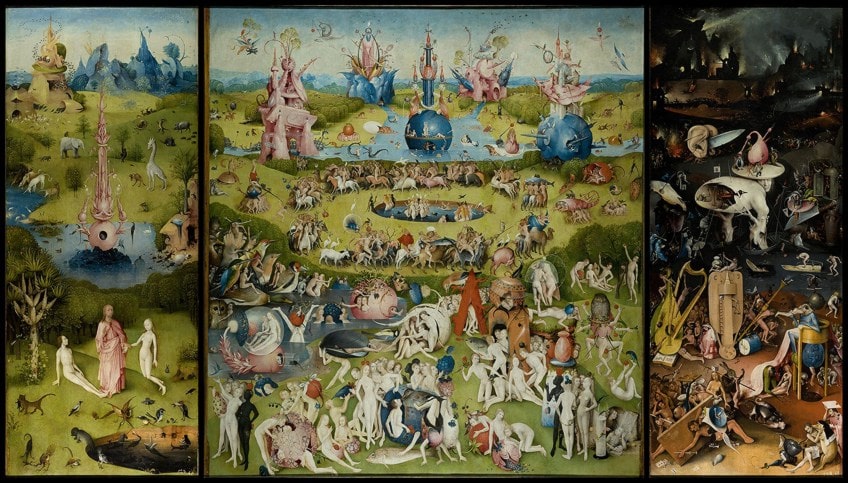 The Garden of Earthly Delights (c. 1505) by Hieronymus Bosch; Hieronymus Bosch, Public domain, via Wikimedia Commons

In the skies, you'll see people riding on a swan-lion chimera. Down on Earth, we witness individuals indulging in a variety of strange behaviors in a variety of bizarre locales; two figures are laid up on the inside of a shell, two others are face to face perched on their head, or simply resting in a strangely egg-like item. Then, in the right panel, all hell breaks loose – metaphorically speaking.
In comparison to Bosch's artwork, most portrayals of the burning depths are very mild. At the top, we see a gloomy metropolis, lit up by the fires that are raging around it. If you dare to look any further down, you'll see a set of ears with a knife poking into them, people seeking safety, and all kinds of bizarre monsters devouring humans.
Many of these motifs are derived directly from the Seven Deadly Sins, which frequently causes us to assume that excessive consumption and consumerism eventually lead to our mortality.
The Ugly Duchess (1513) by Quinten Massys
| | |
| --- | --- |
| Date Created | 1513 |
| Medium | Oil on Oak |
| Dimensions | 62 cm x 45 cm |
| Location | National Gallery, London |
Scholars thought this example of bizarre art was a sarcastic comment for decades. The lady in front of us is costumed as an aged temptress. She clutches a rosebud in her right hand, which has its inherent sexual overtones. Her low-cut bodice reveals her wrinkled bosom, emphasizing Massys' reference to the pleasures of the body. Another hint is her heart-shaped headgear, which resembles wicked horns. In terms of clothes, the painter has decided to show her in the opulent outfits and jewelry associated with the wealthy elite. Nevertheless, by the date she was depicted, that outfit had been out of vogue for about a hundred years.
Ultimately, it appears that this painting mocks the elderly and the unattractive for their conduct.
An Old Woman ("The Ugly Duchess") (1513) by Quinten Massys; Quinten Metsys, Public domain, via Wikimedia Commons
We currently know, owing to science, that this isn't the complete story. A recent investigation of the picture revealed that this woman had advanced stages of Paget's illness, which causes bone deformities. Her unusually curved nostrils, pressed nose, stretched upper lip, and expanded collar bones and brow are all manifestations of this. Leonardo da Vinci produced several studies of grotesque skulls, which he most likely traded with Massys. Because of its similarities to two of da Vinci's sketches, it was previously thought that The Ugly Duchess was a missing da Vinci.
Yet, it is most probable that Massys provided da Vinci a duplicate of this image, which his students then reproduced and changed.
The Vegetable Gardener (1590) by Giuseppe Arcimboldo
| | |
| --- | --- |
| Date Created | 1590 |
| Medium | Oil on Canvas |
| Dimensions | 36 cm x 24 cm |
| Location | Museo Civico Ala Ponzone, Cremona, Italy |
Most people aren't acquainted with the name Giuseppe Arcimboldo. His works, however, are rather unusual for a Renaissance painter. Notwithstanding his unconventional manner, Arcimboldo's art came to be associated with Mannerism and the Renaissance concern with riddles, mysteries, and the weird and abnormal. Perhaps this is why Emperors Maximilian II and Rudolf II put a number of his weird art pieces to the Kunstkammer. Arcimboldo's artwork, The Vegetable Gardener, certainly qualifies as a wonder.
The Vegetable Gardener (1590) by Giuseppe Arcimboldo; Giuseppe Arcimboldo, Public domain, via Wikimedia Commons
Arcimboldo's works are composite portraits, which means he meticulously placed various but categorically connected items into the appearance of a human bust. The overall effect is a fantastic, perfectly balanced metaphor for many things including seasons, materials, and even jobs. Arcimboldo builds a figure out of several vegetables, capped with a black bowl, in The Vegetable Gardener, plainly meant to reflect the gardener's tasks. The truly fascinating thing about this one is that it belongs to a category known as "reversible heads."
When we flip the image over, we get a more typical still life with a dish of veggies. Once you've viewed it upside down, it's difficult to turn it around and view it normally again!
Gabrielle d'Estrées and One of Her Sisters (1594) by Francois Clouet
| | |
| --- | --- |
| Date Created | 1594 |
| Medium | Oil Paint on Oak Panel |
| Dimensions | 125 cm x 96 cm |
| Location | Room 824, Paris Centre |
Bathing with siblings is generally something we consider suitable for small children, but after a particular age, it's just bizarre. This strange picture refutes that theory at first look. The Duchess de Villars' extending arm and nipple-pinching imply some fairly mischievous behavior on the part of her sister. Even the drapes above are divided in a way that suggests a stage, giving the spectator the impression of being a peeping Tom.
Gabrielle d'Estrées and One of Her Sisters (1594) by Francois Clouet; Unknown author Unknown author (School of Fontainebleau), Public domain, via Wikimedia Commons
While many people have long viewed this artwork as a fetishistic piece of homo-erotic art, history tells us that we should get our heads out of the gutter. Gabrielle, the pinched, was King Henry IV's lover. Surprisingly, many scholars read the Duchesses' action as Gabrielle's declaration that she is carrying the King's son.
In this scenario, nipple squeezing is not as bad as it appears. Surprisingly, it implies fertility in this context, which is emphasized by the lady sewing baby garments in the backdrop.
Medusa (c. 1598) by Caravaggio
| | |
| --- | --- |
| Date Created | c. 1598 |
| Medium | Oil Paint |
| Dimensions | 60 cm x 55 cm |
| Location | Uffizi Gallery, Florence, Italy. |
Medusa, take a look at the decapitated head of the gorgon! Medusa is most likely known as the gorgeous woman with living snakes for hair or her power to turn humans to stone at first sight. That is until Perseus decapitated her with an Athena-loaned shield.
What's unusual about this painting is not simply that Caravaggio utilized a young male subject or that it's created on an actual shield, but also the time in the tale that the artist spotlights.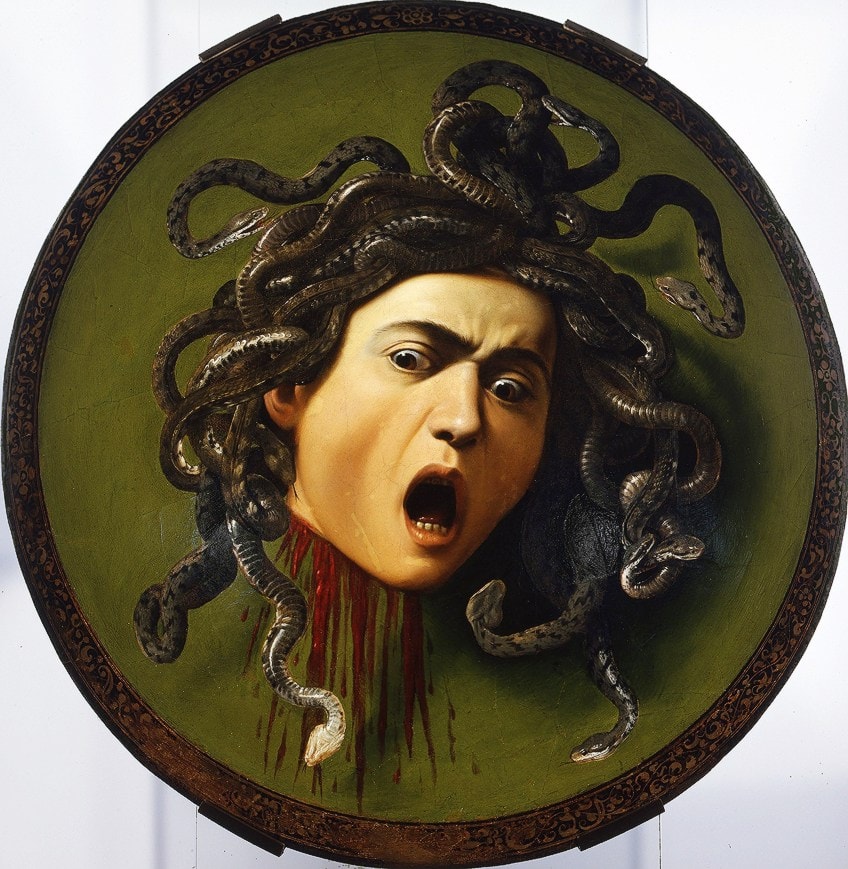 Medusa (c. 1597/1598) by Caravaggio; Caravaggio, Public domain, via Wikimedia Commons
According to legend, the mirrored shield given to Perseus not only enabled him to view Medusa's reflection but also permitted her to see herself one final time. Given that her head is no longer linked to her body, we are sure that her last minutes of self-reflection included some less-than-pleasant revelations.
With the context in place, Caravaggio's art offers an intriguing, if horrific, reflection of Medusa's last minutes.
Magdalena Ventura with Her Husband and Son (1631) by Jusepe de Ribera
| | |
| --- | --- |
| Date Created | 1631 |
| Medium | Oil on Canvas |
| Dimensions | 212 cm x 144 cm |
| Location | Louvre Museum |
We'll resume our unusual and strange journey with a painting of two men. Guess one more time! The lady in the front is actually Abruzzi's Bearded Woman! Gender is a flexible term for most people currently. While we may believe that this is a novel concept, Jusepe de Ribera's artwork may suggest differently. Our lady, Magdalena, was not a lover of the standards of beauty of the Renaissance period. As a result, she violated their standards and established her own.
Surprisingly, this made her pretty well renowned. In fact, the Viceroy of Naples was so taken with her that he requested Ribera to produce a picture of her.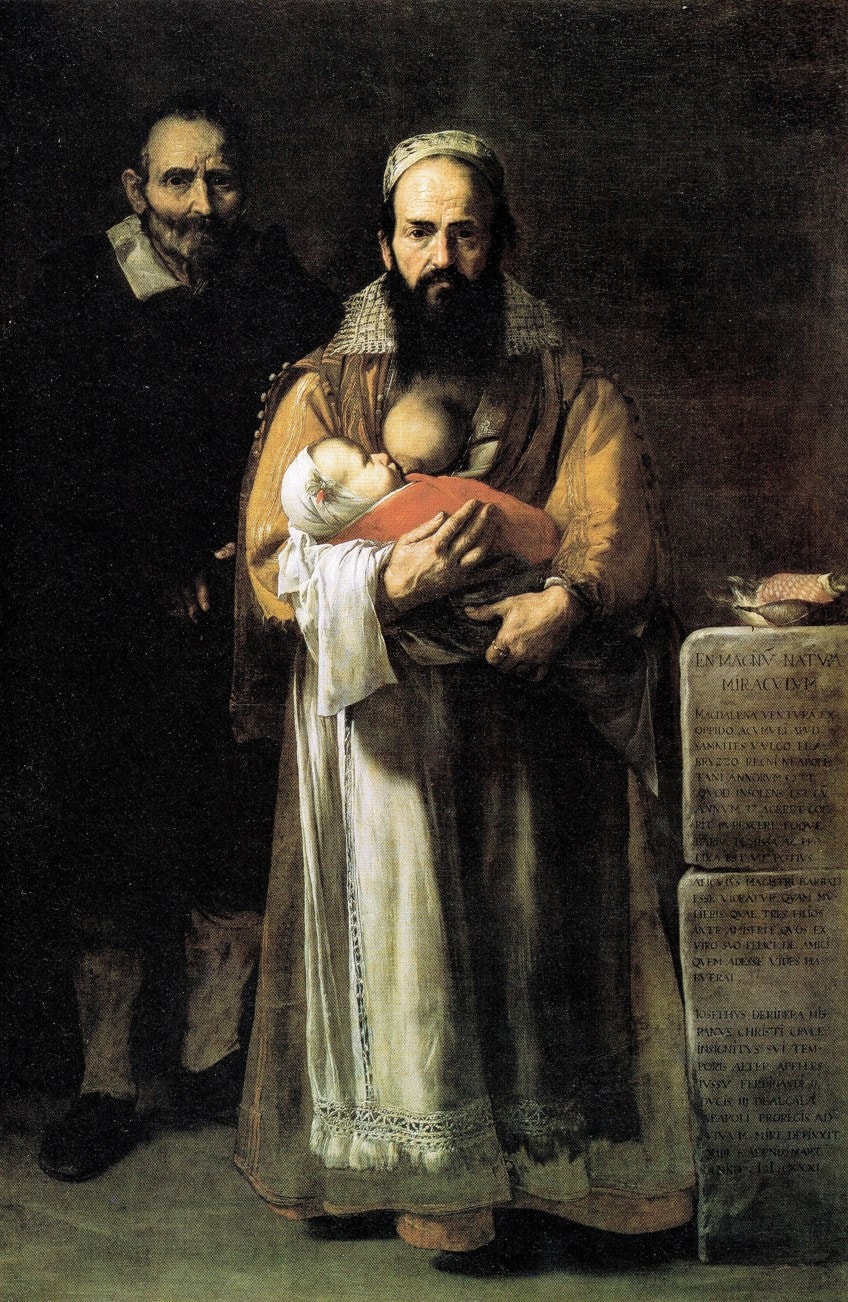 Magdalena Ventura with Her Husband and Son (1631) by Jusepe de Ribera; Jusepe de Ribera, Public domain, via Wikimedia Commons
While her bosom looks to be out of shape, Ribera draws her breastfeeding her son to demonstrate that she is physically a woman. Meanwhile, her face features, goatee, and strong physique contrast the feminine work with a macho appearance. Her richly colored clothes even refer to a masculine form, as though evoking an impression of a Biblical figure. Magdalena's husband is standing in the shadows beyond her, looking much older and frailer.
Their characteristics and location suggest that Magdalena's fame eclipses her husband's, flipping the traditional marital equilibrium on its head.
Saturn Devouring His Son (1823) by Francisco Goya
| | |
| --- | --- |
| Date Created | 1823 |
| Medium | Oil on Canvas |
| Dimensions | 143 cm x 81 cm |
| Location | Museo Nacional del Prado, Madrid |
Goddesses and Gods are typically shown as the ideal of beauty, even in their most unpleasant circumstances. Here comes Francisco Goya! With this portrayal of Saturn, he deviated from the convention. Before we go into it, let's look at the backstory of this artwork.
According to legend, the titan Saturn was foretold through prophesy that one of his children would replace him and seize his dominion. Saturn, predictably, was not a fan of the notion. He enjoyed his authority and desired to preserve it. Saturn ate one of his children as a result. However, Saturn had no idea that his wife, Rei, had concealed their youngest child, Zeus. In the end, Zeus triumphed against the giants.
Goya was likely studying the impacts of power on mankind at the moment he produced this mural, as well as others, on the interior walls of his house, the Quinta del Sordo. This one, strangely, was placed on the dining room wall.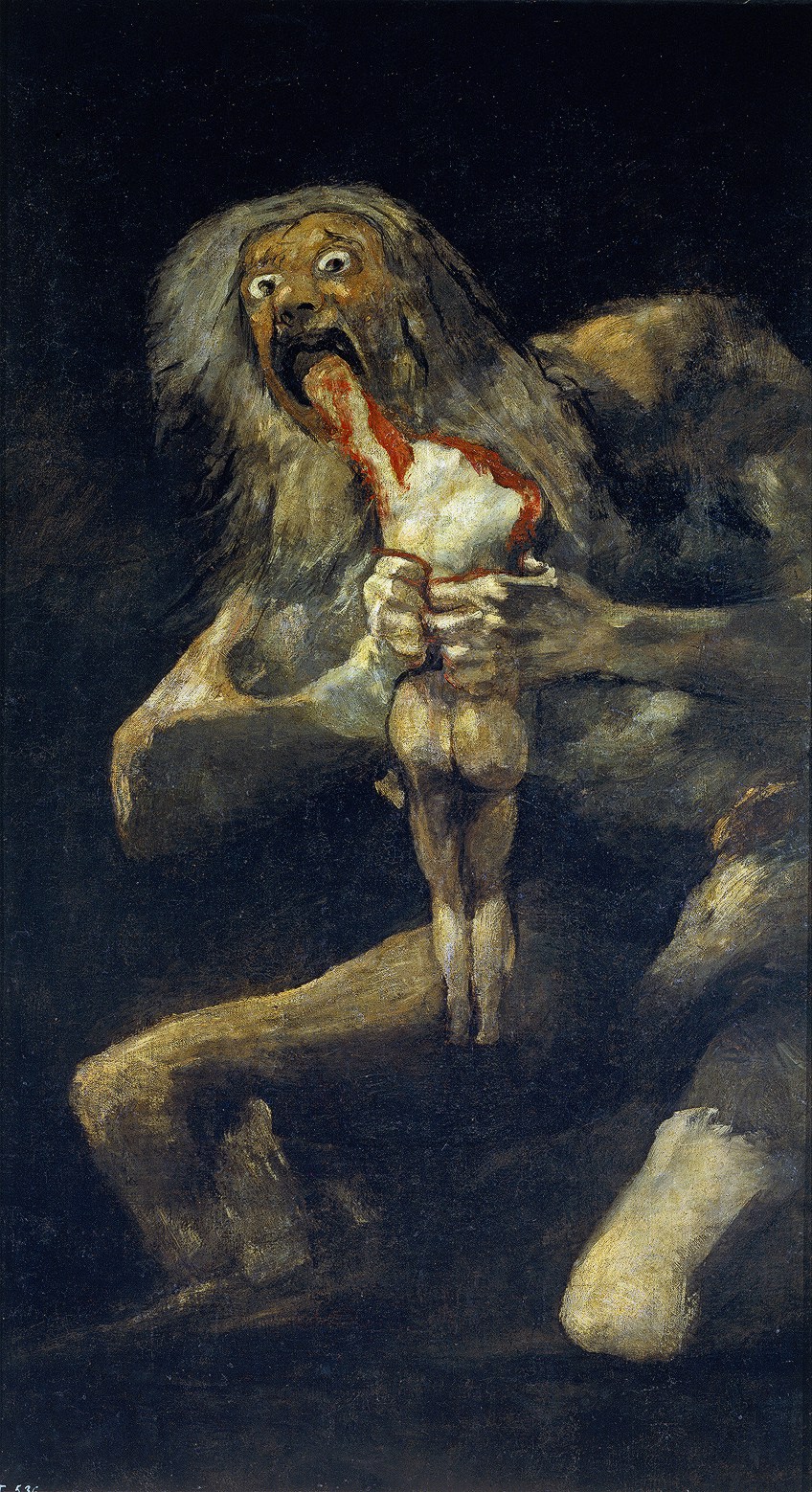 Saturn Devouring His Son (1823) by Francisco Goya; Francisco de Goya, Public domain, via Wikimedia Commons
Goya has painted a stunningly gloomy scene here that portrays the effect of what is basically the egos on our own conduct, which is depicted as this example of strange artworks. He has drawn Saturn as a goblin-like monster, something most of us would regard sub-human as if to convey that power also impacts our look. Saturn does not look to be powerful or god-like; while he is lofty, his limbs appear to be frail and twisted. His frenzied eyes and ragged demeanor indicate his effort to retain his last shreds of integrity in the face of the cruel act of devouring one's own kids.
Dante and Virgil in Hell (1850) by William Adolphe-Bouguereau
| | |
| --- | --- |
| Date Created | 1850 |
| Medium | Oil on Canvas |
| Dimensions | 281 cm x 225 cm |
| Location | Musée d'Orsay, Paris |
Next is a gloomy yet strangely intriguing artwork from the darkest side of the Romantic period. William Adolphe Bouguereau, a French artist, was inspired by a page of Dante's Inferno, with a gorgeous setting- the eighth circle of hell appropriately set apart for rejecters and forgers. That seems nice enough. That is until you notice the smiling bat-demon hovering overhead, or the weird mound of bodies in the backdrop, or the two people ripping each other to bits.
Cappuccio, an alchemist and heretic, and Gianni Schinni, who allegedly assumed another man's name in order to acquire his money, are the two fighters.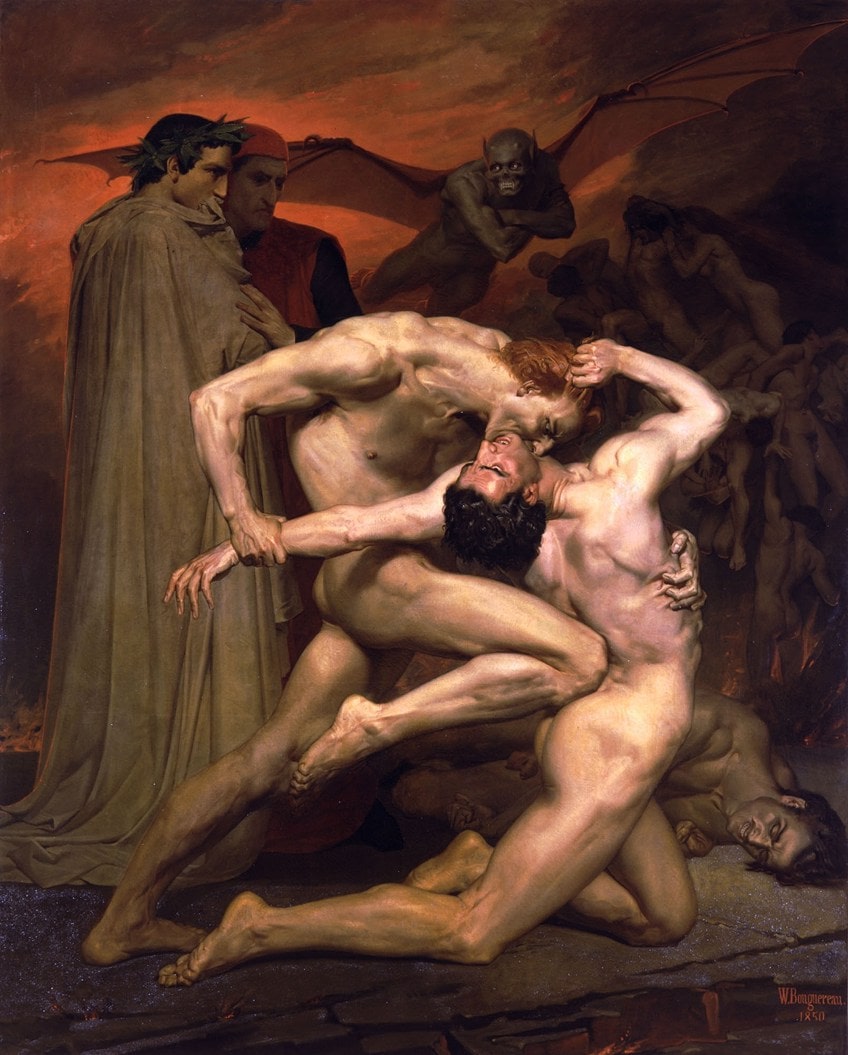 Dante and Virgil in Hell (1850) by William-Adolphe Bouguereau; William-Adolphe Bouguereau, Public domain, via Wikimedia Commons
These two men were modeled on real persons who were sentenced to death for the aforementioned offenses. Dante was aware of those stories and chose to incorporate them, along with many more, in his epic poem. Dante and Virgil stand behind Schinni and Cappochio. Dante watches as he moves away from his companion Virgil. If you look attentively, you'll see Virgil is staring to the side, as if he's witnessed things much more horrifying than the vampire-like attack in front of him.
Surprisingly, Bougueareau's artwork was hailed as a masterpiece of traditional painting methods.
Study after Velázquez's Portrait of Pope Innocent X (1953) by Francis Bacon
| | |
| --- | --- |
| Date Created | 1953 |
| Medium | Oil on Canvas |
| Dimensions | 153 cm x 118 cm |
| Location | Des Moines Art Center, Des Moines |
It's improbable that you'll ever witness a stately person like the Pope shouting in public. Fortunately, Francis Bacon has turned that lovely vision into life for us. During the 1950s, Bacon's interest shifted from fanciful animals to unorthodox portraiture. This is Bacon's interpretation of Diego Velázquez's Portrait of Pope Innocent X from 1650. Francis Bacon apparently had the opportunity to see his motivation in reality but never did. He stayed with replicas of the iconic image, believing that it would give him more artistic freedom in his own work. That permission was fairly broad. Bacon frequently blended pictures from several sources.
For this painting, he blended features of Velázquez's meticulously created portrait, such as the golden seat, his sitting attitude, and robes.
The way he combines these aspects with a very dramatic, ethereal color palette lends this picture a completely new, if scary, appeal. This work has long been regarded as one of Bacon's greatest from his Pope sequence, although the rationale for this has remained a mystery. Most people are perplexed by Bacon's paintings.
Even if it's difficult to look at, you can't help but gaze closer. In contrast to Velázquez's calm, dominant pope, Bacon appears to have lost command; almost everything in this picture appears to be sliding away. His purple-blue visage reveals a look of mute despair. The golden ropes stretching below the chair appear to be the only constraints holding Bacon's pope in position. These lines eerily approximate the design of a boxing ring, maybe implying the constant internal conflict we all face.
And that concludes our look at the world's weirdest artworks throughout the ages. These strangest art pieces are all unique and timeless in their own way. They have managed to be the weird art pieces that have most captured the imaginations of the public at large for their portrayals of a bizarre world with their bizarre art. These unforgettable strange artworks are appreciated along with other more normal pieces due to their unique style and strange observations of life.
Take a look at our weird paintings webstory here!
Frequently Asked Questions
Why Did Artists Create Weird Art Pieces?
There is no single reason why artists created the world's strangest artworks. Sometimes these weird art pieces were representational of the painter's inner world. Other times bizarre art was created to be a metaphor for something deeper, such as political or personal inclinations or ideas.
Where Can One View Strange Artworks?
Many weird art pieces were created by the same artists who created the classics. These examples of the world's weirdest artworks are not always created by strange artists with strange ideas and no talent. On the contrary, they are often produced by masters, yet simply convey a part of the creator's imagination that we do not usually get to observe.
When Did Artists Create Bizarre Art Pieces?
Weird and bizarre art has existed as long as art has existed. Even the walls of the caves of our ancestors depicted strange human/animal hybrids and other odd motifs. Weird are pieces have been created throughout history, notably during times of upheaval or struggle. In other times it was simply a medium by which the artist could express a thought or feeling that could not be conveyed in any other way than through the production of strange artworks.
Isabella studied at the University of Cape Town in South Africa and graduated with a Bachelor of Arts majoring in English Literature & Language and Psychology. Throughout her undergraduate years, she took Art History as an additional subject and absolutely loved it. Building on from her art history knowledge that began in high school, art has always been a particular area of fascination for her. From learning about artworks previously unknown to her, or sharpening her existing understanding of specific works, the ability to continue learning within this interesting sphere excites her greatly.
Her focal points of interest in art history encompass profiling specific artists and art movements, as it is these areas where she is able to really dig deep into the rich narrative of the art world. Additionally, she particularly enjoys exploring the different artistic styles of the 20th century, as well as the important impact that female artists have had on the development of art history.
Learn more about the Art in Context Team.