Giuseppe Arcimboldo was an artist of the Mannerism movement renowned for his unusual, and at times hideous, human portraiture. His distinctive collage technique, which exudes a truly surreal charm, is composed of fruits and vegetables, books, animals, as well as other objects. Although he was regarded as an odd character and his most renowned pieces, such as his vegetable face paintings, were often regarded as mere novelties, Giuseppe Arcimboldo's paintings were intricate creations rich in both symbolism and paradox. Giuseppe Arcimboldo's artworks were regarded as early prototypes of Surrealism by Salvador Dalí and other Surrealists.
The Life of Giuseppe Arcimboldo
| | |
| --- | --- |
| Nationality | Italian |
| Date of Birth | c. 1527 |
| Date of Death | 11 July 1593 |
| Place of Birth | Milan |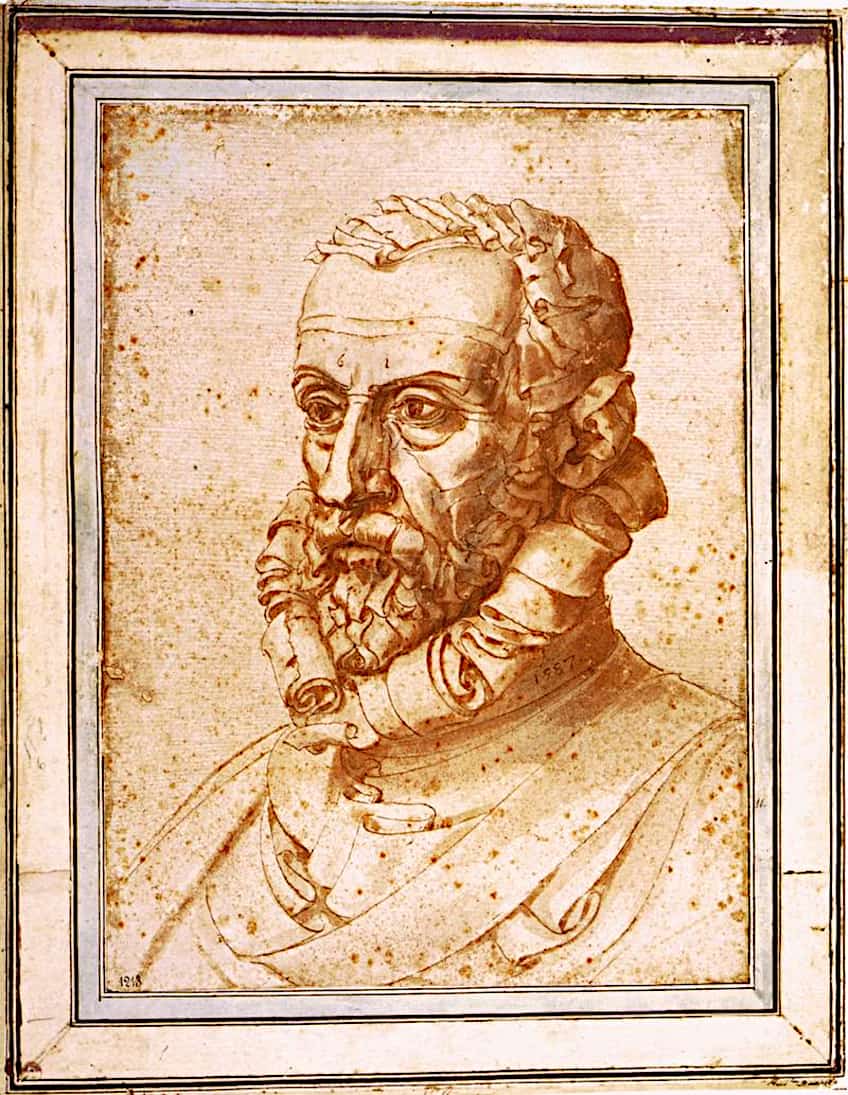 Self-portrait on paper by Giuseppe Arcimboldo (1587); Giuseppe Arcimboldo, Public domain, via Wikimedia Commons
Giuseppe Arcimboldo's artworks are noteworthy for pushing the subject of the parallels between the natural world and humans to new heights, and he is regarded as the most daring and spectacular exponent of the Mannerism style.
His portraits, which are composed of fauna and flora arrangements, have been referred to as symbolic image puzzles.
Another clever and unique technique that is featured in several of Giuseppe Arcimboldo's paintings is the reversible image – when viewed from one angle a still life may be observed, but if one places the same image at a 180-degree angle then a face becomes visible.
Childhood and Early Training
The Arcimboldo family ancestry was researched by Arcimboldo's friend, the travelogue novelist and art critic from Milan, Paolo Morigia, and we know from his reports that Giuseppe Arcimboldo descended from a noble family. His great-uncle was the Archbishop of Milan, and as a consequence of his impact, the young painter was probably exposed to artists, academics, and authors at an early age.
His father, Biagio, was a lesser-known artist who helped paint Milan's Duomo Church. Although detailed specifics of his upbringing are unavailable, it is reasonable to assume that he was introduced to art as a child due to his father's influence and that he cultivated his ability and skill from a young age.
Giuseppe Arcimboldo studied fresco painting and stained-glass design and started to work for local churches at the age of 21. When he was appointed to produce stained glass windows for the Duomo in 1549, his career took a significant leap forward, and other noteworthy prospects followed soon after. Arcimboldo produced coats of arms for the emperor-to-be, Ferdinand I, in 1551; paintings for the Cathedral of Monza in 1556; and the Dormition of the Virgin tapestry in 1558, which is still on exhibit in the Como Cathedral currently.
Dormition of the Virgin by Giuseppe Arcimboldo (1558); Giuseppe Arcimboldo, Public domain, via Wikimedia Commons
These eye-catching works, when combined with the artist's superb nature studies, validated his blossoming popularity. "This is an artist with a rare skill who has proven his value as both a painter of the bizarre and an artist, not only in his own nation but also internationally, he has been accorded the greatest acclaim, and word of his reputation has reached as far as the emperor's court in Germany," Morigia wrote. In 1562 Arcimboldo was invited to the Habsburg court in Vienna, to serve as Ferdinand I's court portraitist.
Considering that Milan's newly appointed archbishop insisted on a more conservative symbolic imagery from the city's religious painters, Arcimboldo's departure to Vienna came at an appropriate time. The painter had established a residence and would subsequently serve the Habsburgs for nearly 25 years.
Portrait of Archduchess Magdalena of Austria by Giuseppe Arcimboldo (1563); Giuseppe Arcimboldo, Public domain, via Wikimedia Commons
Mature Period
Despite the fact that his most famous works contradicted many of the day's traditions, Arcimboldo emerged at the Habsburgs with all the qualities of a trained Renaissance master. The Habsburg court fostered a progressive mindset, and Arcimboldo, who worked with botanists, astronomers, zoologists, alchemists, and physicians, reveled in the creative liberties provided by a court that viewed itself as Europe's foremost center for sciences and the arts. He eventually rose to prominence as a portrait artist, as well as a costume designer, decorator, and festival organizer.
"This honorable and creative man produced a huge number of unique and exquisite works of art which generated much wonderment among all the distinguished noblemen who used to assemble there," one historian wrote, "and his lord was quite delighted with him."
Two portraits of Rudolf II with crown by Giuseppe Arcimboldo (1575); Giuseppe Arcimboldo, Public domain, via Wikimedia Commons
Arcimboldo was thus awarded a decent wage consistent with his achievements, leading to a pleasant and respectable lifestyle. Furthermore, the court culture offered a favorable setting for Arcimboldo's skills to flourish. He exerted tremendous personal and artistic sway over the emperors. He helped Ferdinand I, for example, develop his curiosity cabinets, which housed different exotic kinds of animals, plants, artifacts, and artworks. While at Habsburg, Arcimboldo was influenced by the works of artists such as Brueghel, Bosch, Grien, Cranach, and Altdorfer.
Late Period
Rudolf II was the last Emperor for whom Arcimboldo painted. This 11-year span is largely considered to be the zenith of his creative career. Rudolf's own hobbies in botany, horticulture, exotic species, and objets d'art contributed to this. In Giuseppe Arcimboldo's artworks, he could rely on his observations of strange creatures and flora acquired by the emperor's emissaries from Europe which had been stored in the Art and Wonder Chambers at the royal court.
Even at the end of his life, he continued to create remarkable works, most notably a vegetable face painting image of Rudolf II as the deity of metamorphosis – Vertumnus (1591).
Rudolf II of Habsburg as Vertumnus by Giuseppe Arcimboldo (1591); Giuseppe Arcimboldo, Public domain, via Wikimedia Commons
After many petitions to the Emperor, Arcimboldo ultimately quit the Habsburg court in 1592, leaving Prague for his hometown of Milan. In the same year, Rudolf II appointed him Count Palatine. He passed away aged 66 in 1593, with documents indicating kidney stones as the cause of death.
Legacy
Many of Arcimboldo's masterpieces were tragically destroyed during the Swedish invasion of Prague during the 30 Years' War in 1648. As a result, the modern assessment of his work is relatively incomplete. Moreover, many of his acknowledged works, such as his religious paintings and traditional portraits, have gone unnoticed. Artists and critics nowadays are fascinated with portraits created of vegetables, fruits, animals, and plants.
These one-of-a-kind Mannerism artworks have also appeared in films, comic books, books, and album covers. Arcimboldo's art saw a resurgence in the 20th century as a result of the attention of Surrealist artists such as Salvador Dali, who found enormous value in Giuseppe Arcimboldo's paintings.
It was however Alfred Barr's incorporation of Giuseppe Arcimboldo's artworks in the 1930s exhibition Fantastic Art, Dada, and Surrealism that did the most to reintroduce him to the art world. His work aroused the interest of scientists and psychologists who were interested in optical illusions, reversible images, and facial recognition. Philip Haas, an American artist, constructed four large-scale fiberglass sculptures in 2009 as a three-dimensional tribute to Arcimboldo's Four Seasons series. Working with Arcimboldo's vision and redefining it enabled me to render the Renaissance relevant and give contemporary art a foundation in art history," Haas explained.
The Four Seasons by Philip Haas (2009); ); Fæ, CC BY-SA 3.0, via Wikimedia Commons
Historians have hypothesized on probable forerunners of Arcimboldo's distinct form of "composite head" painting. What is clear in Arcimboldo's compositions is his strong inclination toward the more inventive and imaginative components of the Mannerist style. Though his portraits were really unique (and hence not to everyone's liking), the liberal Habsburgs relished imaginative artistic renderings, and it was generally acknowledged that the Imperial Court was open to academics and avant-gardists.
Despite adhering to his distinctive style, portraiture in his later time could be created with the ability of a miniaturist and the scientific understanding of a botanist. His mature pictures were less reliant on collage and had increased precision in the rendered details of their flora.
Flora Meretrix by Giuseppe Arcimboldo (c. 1590); Giuseppe Arcimboldo, Public domain, via Wikimedia Commons
Giuseppe Arcimboldo did not leave any written certifications on his artwork. Following the deaths of Arcimboldo and his benefactor, Emperor Rudolph II, the artist's legacy was soon overlooked, and many of Giuseppe Arcimboldo's paintings were misplaced.
They were not referenced in 17th and 18th-century literature. It was only in 1885 that art critic K. Kasati released Giuseppe Arcimboldi, Milan Artist, which focused on Arcimboldi's work as a portraitist. T. DaCosta Kaufmann has been interested in Arcimboldo's legacy since 1978 and had written on the artist while presenting his dissertation. His work, printed in 2009, encapsulated current art reviewers' feelings towards Arcimboldo. Roland Barthes wrote an article about Arcimboldo's works in 1980.
In 2008, Vienna hosted the greatest comprehensive display of Arcimboldo's legacy, featuring around 150 of his pieces. Despite the fact that there are very few Giuseppe Arcimboldo paintings accessible on the art market, their auction prices range from five to ten million dollars. According to experts, it is fairly modest for an artist of this caliber.
Little of Arcimboldo's artistic legacy is preserved, particularly in terms of his earlier works and traditional-style paintings. According to statements of his contemporaries and papers from the time, perhaps 20 of his images exist, and yet many more have been lost to time or destroyed.
Art Interpretations
The "strange" works of Arcimboldo have been the focus of many modern art critics' interpretations. Attempts at interpretation start with assessments of the artist's cultural influences and ideology, but no consensus has been reached in this regard.B. Geyger, who highlighted these issues for the first time, relied heavily on the opinions of colleagues such as Comanini, Lomazzo, and Morigia, who used the phrases "jokes" and "whims." Geyger saw Giuseppe Arcimboldo's artworks as an inversion: when deformity seems attractive, or, the opposite, amusing the regal patron.
Barthes expressed a similar viewpoint, but he limited the artist's works to the theory of language, claiming that the principles of Arcimboldo's art philosophy are linguistic, since he confounded them by mixing and combining parts, which subsequently played a role in the creation of language.
Arcimboldo's designation as a mannerist dates from the 20th century. Its explanation may be found in Gustav Rehn Hok's 1957 book The World as a Labyrinth. Arcimboldo was born during the late Renaissance period, and his early works were produced in the conventional Renaissance style. According to Hok, the artist during the Renaissance era had to be first and foremost a brilliant handicraftsman who effectively copied nature, as the concept of great art was founded on its study.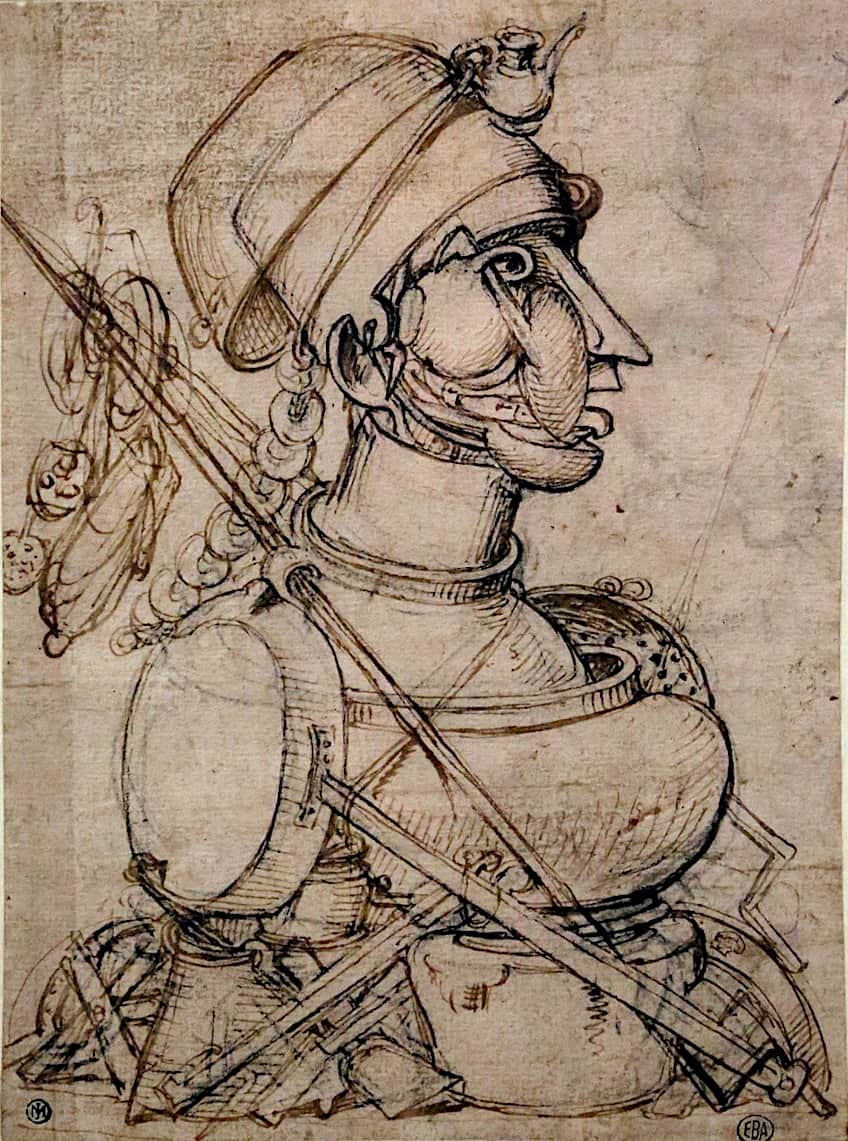 Drawing of a half-length figure formed with kitchen utensils by Giuseppe Arcimboldo (c. 1550-90); Sailko, CC BY 3.0, via Wikimedia Commons
Mannerism varied from Renaissance art in its preference for "nonrealistic abstraction." It was a continuity of the late Middle Ages' creative innovation—art that embodied concepts. G. claims that Hok, there is concetto in consciousness—the notion of an image or a conceptual prototype. Arcimboldo began with concetti (a creative or original idea) and created metaphorical and strange images, which are quite typical of manneristic painting.
In his book On Ugliness, published by Umberto Eco, Arcimboldo admits to contributing to a manneristic heritage in which "the preference for striving for bizarre, flamboyant, and shapeless above expressional beauty" is unusual.
Arcimboldo F. Legrand attempted to reproduce the artist's philosophical thoughts in the work. He concluded that the ideas formed a form of Platonic pantheism. The key to reconstructing Arcimboldo's worldview appeared to them to reside in the symbolism of the artist's court festivities and allegorical themes. T. DaCosta Kauffman's writings continually present a serious analysis of Arcimboldo's legacy in the setting of 16th-century culture. Kauffman was doubtful about the provenance of paintings by Arcimboldo in general, and only four images, those bearing the artist's signature, were acknowledged as unquestionable originals.
Giuseppe Arcimboldo's allegorical cycles convey ideals of the emperor's magnificence. The harmonization of fruit and animals blended into pictures of the human head represents the unity of the empire under the good governance of the Habsburgs.
Seasons and elements are always shown in profile, although water and winter, air and spring, fire and summer, and earth and summer are all rotated to face each other. Each cycle also has symmetry: two heads gaze to the right, and two look to the left.
The Four Seasons by Giuseppe Arcimboldo. From top left: Winter (1573); Spring (1563); Summer (1563); Autumn (1573); Giuseppe Arcimboldo, Public domain, via Wikimedia Commons
Seasons rotate in an unchanging order, reflecting both the consistency of nature and the perpetuity of the house of Habsburg. There are Habsburg emblems – an eagle and a peacock – at the depiction of Air, while Fire is embellished with a ring of the Award of the Golden Fleece, a great master who by custom was a leader of a ruling dynasty. It is, however, fashioned of shod steel and flints. The Habsburg symbols are seen in the image of Earth, where the lion's hide represents a heraldic emblem of Bohemia. Water contains pearls and corals that resemble cervine horns.
Arcimboldo's Paintings in Popular Culture
Given that Philip II had bought several of Giuseppe Arcimboldo's paintings, a slew of authors from 17th-century Spain mentions his works. Grotesque imagery in Miguel de Cervantes' novel Don Quixote (1612), such as an enormous artificial nose, is reminiscent of Giuseppe Arcimboldo's artworks. He can also be found in the writings of Francisco de Quevedo. In current Latin American fiction, he appears in Roberto Bolao's 2666 (2004), where the author gives one of the major characters, Benno von Archimboldi, the artist's name.
The prog-rock band Kansas adopted Arcimboldo's artwork Water as the cover of their album Masque (1975), and it was also included on the front of Thomas Szasz's The Myth of Mental Illness (1977).
The Allegory of Water by Giuseppe Arcimboldo (1566); Giuseppe Arcimboldo, Public domain, via Wikimedia Commons
Ian Watson's novel The Coming of Vertumnus (1992) juxtaposes the namesake work's inherent surrealism with a drug-induced mental state. The alternative history version of Arcimboldo in the fantasy detective story, The Case of the Toxic Spell Dump (1993) by Harry Turtledove, integrated imps – a regular, commonplace sight in that world – along with fruit, books, and so on – into his pictures. The Arkangel Shakespeare audiobooks, which were first published in 1998, include a picture of William Shakespeare fashioned books in the style of Arcimboldo's Librarian.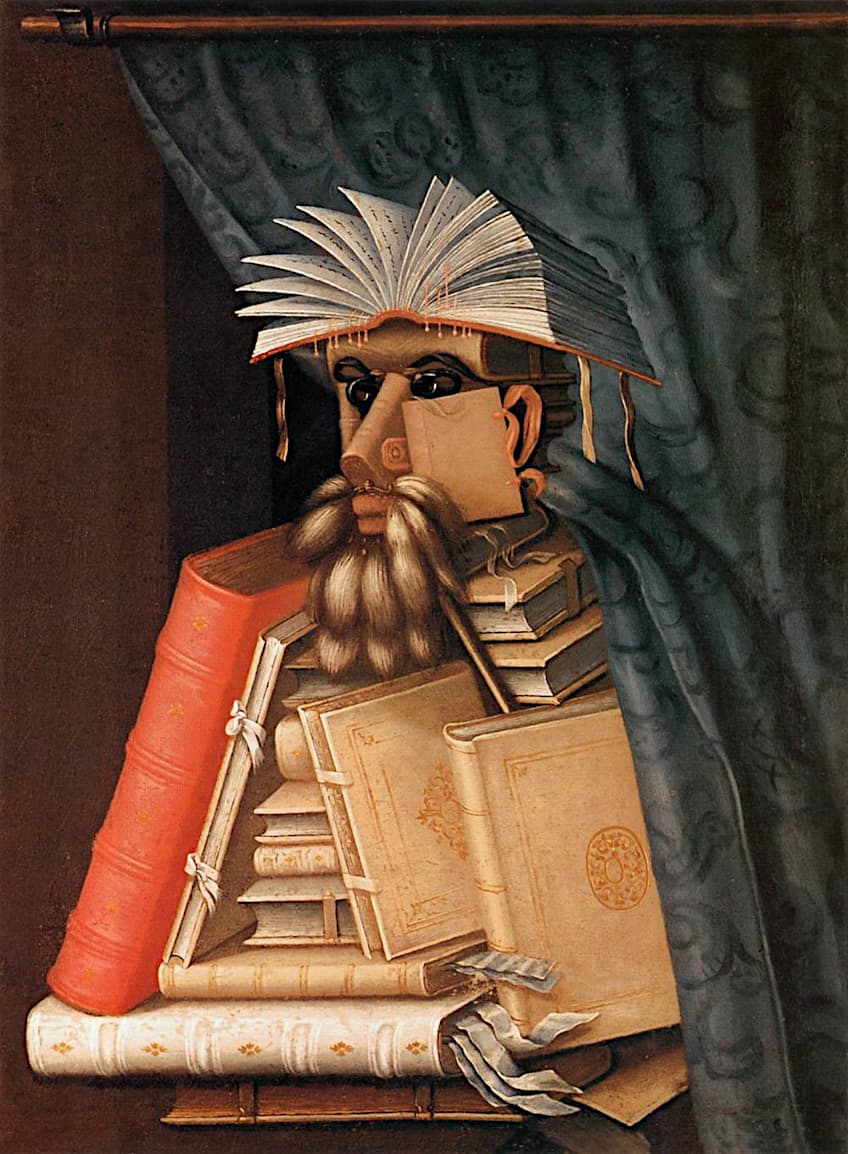 The Librarian by Giuseppe Arcimboldo (c. 1570); Giuseppe Arcimboldo, Public domain, via Wikimedia Commons
Fruit people in the manner of Arcimboldo feature as figures in the films Alice Through the Looking Glass (2016) and The Tale of Despereaux (2008) and, as well as Cosmic Osmo, the video game. The Clientele's 2009 album Bonfires on the Heath used a fragment from Flora on the cover. Arcimboldo is mentioned in the Animaniacs 2020 reboot, Episode 4 when the main characters make a fruit statue of him.
Notable Artworks by Giuseppe Arcimboldo
Giuseppe Arcimboldo is most known for his vegetable face paintings. However, these were not the only examples of Giuseppe Arcimboldo's artworks. Here is a list of other paintings by the artist that you can check out.
| | | | |
| --- | --- | --- | --- |
| Artwork | Date | Medium | Location |
| Maximilian II, His Wife, and Three Children | 1563 | Oil painting on canvas | Kunsthistorisches Museum, Vienna, Austria |
| Summer | 1563 | Oil on canvas painting | Denver Art Museum, Denver, United States |
| The Librarian | 1566 | Oil on canvas painting | Skokloster Castle, Sweden |
| The Jurist | 1566 | Oil on canvas painting | Nationalmuseum, Stockholm, Sweden |
| Four Seasons | 1573 | Oil on canvas painting | Louvre Museum, Paris, France |
| Flora | 1589 | Oil on board painting | Private collection |
| Vegetables In A Bowl Or The Gardener | 1590 | Oil on wood painting | Museo Civico "Ala Ponzone", Cremona, Italy |
| Vertumnus | 1591 | Oil on panel | Skokloster Castle, Sweden |
Four Seasons in One Head by Giuseppe Arcimboldo (c. 1590); National Gallery of Art, CC0, via Wikimedia Commons
Recommended Reading
We hope that today you learned many interesting facts about Giuseppe Arcimboldo's paintings and life. However, there is always plenty more to discover about this quirky and unique artist. Therefore, we have created a list of interesting books that will give you even more insight into Giuseppe Arcimboldo's artworks. Whether for yourself or a loved one, a book is always the perfect gift.
The World's Greatest Optical Illusions (2008) by Henry Rothschild
Arcimboldo's paintings were known for their ability to create optical illusions such as his reversible images. Now there is a kindle e-book that explores these types of optical illusions that you can enjoy from the comfort of your home. This book compiles the best optical illusions from throughout the world, from centuries ago to the present day! A wonderful, entertaining, perplexing, and astonishing collection of optical anomalies and visual marvels! This updated second edition has even more mind-boggling illusions! The graphics are crisp and clear, and they are accompanied by the background of each creation and a description of why it works.
A collection of optical illusions that includes images by Arcimboldo
An entertaining exploration of visual trickery largely aimed at children
The format allows for unusually clear and detailed illustrations
View on Amazon
Arcimboldo: 1526-1593 (2008) by Sylvia Ferino
Arcimboldo is famous all over the globe for his portraits—an illustrated combination of flora, fruit, and animals mixed to give the appearance of a human form—but he is also a painter cloaked in mystery. This essential study illustrates the eclecticism of one of Mannerism's most inventive and vivid brains, situating him in the cultural milieu in which he lived and created. Arcimboldo was admired during his lifetime, but he faded into obscurity following his death in 1593. His unique, bizarre paintings were rediscovered at the turn of the 20th century by Surrealists, who saw him as a forerunner of Modern art. Over the last two decades, his work has seen a resurgence in popularity.
Looking into one of the most fertile minds of the Mannerist period
Includes an important selection of Arcimboldo's paintings and works
Allows readers to discover and appreciate great Arcimboldo's work
View on Amazon
Giuseppe Arcimboldo's paintings were believed to be four centuries ahead of their time. Many first-time observers of his work now believe he is a contemporary artist who uses computer graphics to create his works. In his 16th-century paintings, Arcimboldo merged two established fine painting genres: still life and portraiture. He became renowned not for religious sceneries and conventional paintings, which were the standard at the time, but for his unusual collages of products and items, which provided a distinct touch of comedy to the art.
Frequently Asked Questions
Who Was Giuseppe Arcimboldo?
Giuseppe Arcimboldo's artworks challenged many of his contemporaries, and by the time he came to the Habsburg court, he possessed all of the talents of a professional Renaissance specialist. His advanced and sophisticated thinking was nurtured at the royal court, where he collaborated with alchemists, zoologists, astronomers, and other top specialists. Habsburg was Europe's most renowned scientific and artistic center. Arcimboldo was a successful designer, organizer, and portrait painter. He was compensated well for his efforts, allowing him to pursue a prosperous career.
In What Style Were Giuseppe Arcimboldo's Artworks Painted?
The majority of Giuseppe Arcimboldo's artworks are metaphorical rather than literal. His compositions are mostly made up of organic object painted in a naturalistic style, that combine to create the illusion of facial characteristics. He, for example, uses foliage for hair, apples for cheekbones, cucumbers for a nose, and so on, giving the painting a human appearance from a distance. In his works, he has also embraced controversy. Giuseppe Arcimboldo's style could be classified as mannerism. In their artwork, painters demonstrated the link between natural objects and humanity.