Jean-Michel Basquiat was a star amongst the stars of New York City during the 1980s and lived a life akin to a rock and roller, only in his case, he was an artist. He lived a fleetingly famous life, producing hundreds of paintings and drawings. This article will discuss Riding with Death (1988), which was one of Basquiat's last paintings.
Artist Abstract: Who Was Jean-Michel Basquiat?
Jean-Michel Basquiat was born on December 22, 1960, in Brooklyn, New York City, and died of a heroin overdose on August 12, 1988, in Manhattan in New York City; he was 27 years old. He was a street and graffiti artist whose work has been classified in the Neo-Expressionism art style.
He was from a mixed heritage, his father, Gerard Basquiat, was born in Port-au-Prince in Haiti and his mother's, Matilde Andrades, parents were Puerto Rican which allowed him fluency in English, French, and Spanish.
He created graffiti art with the pseudonym SAMO ("Same Old Shit") and exhibited it at numerous galleries throughout the world, achieving fame and wide success. His artworks include Untitled (Skull) (1981), Flexible (1982), Warrior (1982), Untitled (Boxer) (1982), and Arm and Hammer II (1985).
Riding with Death (1988) by Jean-Michel Basquiat in Context
| | |
| --- | --- |
| Artist | Jean-Michel Basquiat |
| Date Painted | 1988 |
| Medium | Acrylic and crayon on canvas |
| Genre | Figurative |
| Period/Movement | Neo-Expressionism/Street Art |
| Dimensions (cm) | 249 x 289.5 |
| Series/Versions | N/A |
| Where Is It Housed? | Private collection |
| What It Is Worth | Uncertain |
In the article below you will read more about, what is believed to have been, Basquiat's last painting, Riding with Death (1988), and what the deeper meaning of it may be. Additionally, a visual analysis will discuss and describe the artwork and how the elements of art arrange the piece.
Contextual Analysis: A Brief Socio-Historical Overview
Jean-Michel Basquiat painted Riding with Death in 1988, the year of his premature and unfortunate death from a heroin overdose on August 12. Reportedly, during the final years of his life, he was struggling emotionally and mentally.
His drug addiction became increasingly detrimental to him even though he attempted to quit.
He reportedly traveled to Hawaii in 1988 with intentions to take a break but returned to New York not too long after and was found dead at his apartment, which was on Great Jones Street in the NoHo district in Manhattan, New York City, on August 12.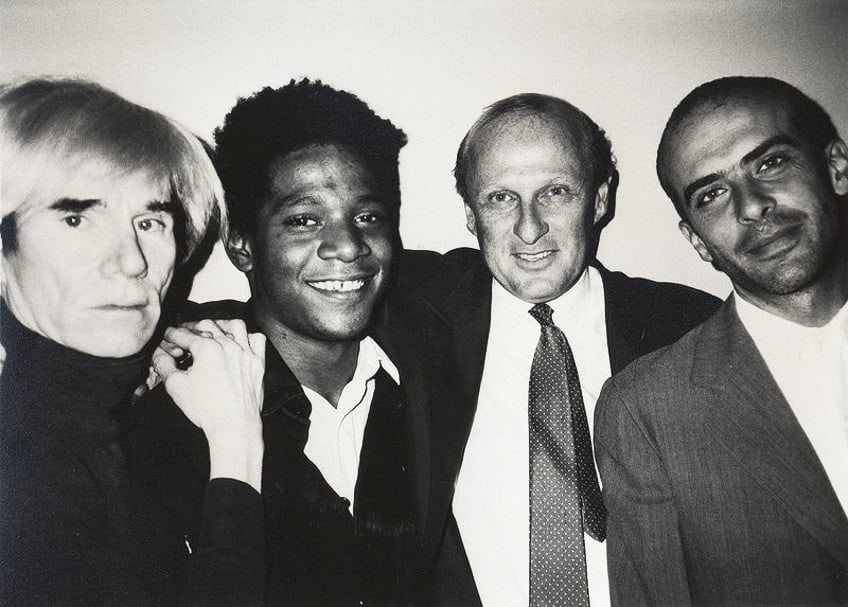 Andy Warhol, Jean-Michel Basquiat, Bruno Bischofberger, and Francesco Clemente in 1984; Galerie Bruno Bischofberger, CC BY-SA 4.0, via Wikimedia Commons
Other factors have also been thought to have contributed to Basquiat's sudden plummet, which could have been caused by the death of his close friend and mentor, and famous Pop Artist, Andy Warhol, who died on February 22, 1987.
The two reportedly had a complex relationship, but Warhol's death nonetheless had a profound effect on Basquiat.
More About the Riding with Death Meaning
A few of the common interpretations behind Jean-Michel Basquiat's Riding with Death meaning include Leonardo da Vinci's drawing, titled Illustration for His Thoughts on Virtue and Envy (c. 1484 – 1486) depicting a woman riding a skeleton. Reportedly, Basquiat was inspired by the Renaissance artworks and this drawing has often been mentioned as one of the inspirations behind his more Neo-Expressionist rider and skeleton. As a side note, Basquiat was also aware of anatomy, and the seminal text titled Gray's Anatomy (1858) by the surgeon Henry Gray.
Basquiat's mother, Matilde Basquiat, gifted him a copy of the book, which he read while he was in hospital after he sustained several injuries from a car that hit him in 1968 when he was around eight years old.
Interestingly, he also produced numerous anatomy prints that were inspired by the style of Leonardo da Vinci's anatomy drawings. Five of these are titled Untitled, From Leonardo and created in 1983, which depict various anatomical sketches along with written notes. They are housed at the Museum of Modern Art in New York City.
Some of the other theories around why Basquiat depicted the rider on a skeleton revolve around ideas of dominance and power, individually and collectively. It could mean the rider is in control, as he is the one on top and holding the reins over death, which is represented by the skeleton.
However, it has also been suggested that the skeleton can be the one in power, and this raises the question of where it may be taking the rider.
Could it be to his possible death? If this is what Basquiat intended for the painting, could he have meant that death was taking him? Did he portray himself as the rider on the skeleton (this would also be accurate due to the matching ethnicity)? Was he aware of his imminent death? If you look at the rider and skeleton on a collective level, it could point to social and racial ideas about colonialism and the African American cultures and a possible switch of dominance between the two. Is the rider here overcoming the powers of colonialism?
Formal Analysis: A Brief Compositional Overview
The medium utilized in the Riding with Death painting was acrylic and crayon on canvas. It is reportedly more subdued and somewhat minimalistic, containing slightly less subject matter and motifs than his earlier artworks, but nonetheless, it holds a deep symbolic meaning. One of the primary stylistic influences of Riding with Death by Basquiat has been tied to naïve and primitive art due to its visually simplistic rendering, however, it has also been noted that this artwork is anything but simplistic, which you will read more about in the formal analysis below.
Subject Matter: Visual Description
The Riding with Death painting by Jean-Michel Basquiat depicts two central figures, namely a brown human figure, described as being African American, sitting on top of a white skeletal figure who is on all fours. They are set against a brown background with no other signs of life or objects. They appear to be moving in the left direction of the composition.
The rider is mostly brown with black outlines and areas of black and white scribbles. Notable is the ball of black scribbles on his head and an oval shape near the top of the head. Around his entire head is another light brown and squarish shape.
It is unclear if the figure's head is turned to face the viewers, or if he faces the other way, revealing the back of his head, but if he is facing forward the oval shape appears eye-like, and has been described as an eye. The rider's arms appear outstretched to his sides; his right arm and hand appear to be holding onto the horse's reins and his left arm is in the air, not holding on to anything, and almost as if it is balancing him out as he rides forward.
The skeletal figure is defined by four bony legs, a bony neck, and a skull for a head, with two round black eyes, both marked with an "X". Its head is turned to face us, the viewers. In front of, and what appears to be in, its mouth is a bundle of scribbles, which could be suggesting grass or food for the figure. Furthermore, some have suggested that the rider may be dangling the food for the skeletal figure and that it symbolizes a source of sustenance, but simultaneously a sense of control that the rider has over the skeletal figure.
The skeletal figure's right arm (or leg?) is slightly lifted from the ground and its foot (or hoof?) appears to be pointed downwards. There is another, smaller, bundle of black scribbles on its foot, which could suggest food again, that it might be retrieving from the ground. However, this could be something else too.
The skeletal figure's body is not visible here, although it appears as an invisible mass, so to say, that supports the rider on it. There are black lines under the rider and slightly behind him, which suggests the contour of the skeletal figure's back. An unidentified short brown shape is attached to the back right leg of the skeletal figure. Similarly, there are black outlines to suggest the rider's right leg, which is straddled over the side of the skeletal figure's back, and the outline of the stirrup that the rider's left foot is resting in.
Color
Riding with Death by Jean-Michel Basquiat is composed of minimal colors, dominantly earthy colors, namely browns, blacks, and whites.
Texture
Basquiat applied his brushstrokes in a seemingly vigorous action in the Riding with Death painting. For example, notice the visible brushstrokes of the background, which appear as if it was painted in haste. Furthermore, the texture of the skeleton's bones is suggested through the white color, which appears hard and smooth. The rider's skin tone appears softer, or suppler, and the brown color also suggests other aspects related to ethnicity; the rider is African American.
Line
Basquiat painted in an expressive manner, which Riding with Death exemplifies, notably in how the lines appear, which are irregular and in a variety of different types. For example, the horizontal posture and diagonal lines of the skeletal figure's legs, which convey a sense of movement forward contrasts with the verticality of the rider's upright posture.
There is a dominance of the thin black lines that Basquiat applied to delineate his subject matter. These are evident outlining the two figures and appear in the various bundles of scribbles.
Shape and Form
Riding with Death by Jean-Michel Basquiat depicts figurative forms, although somewhat abstracted. The shapes are dominantly irregular and naturalistic to suggest the figures, but there are several geometric shapes evident, for example, the oval or almond shape of the rider's eye and the circles of the skeletal figure's eyes.
Space
Basquiat created a somewhat unknown space for the rider and skeleton in the Riding with Death painting. The background creates a simple backdrop that places focus on the two figures in the foreground. The composition of the figures has also been described as within the structure of a triangle.
Basquiat: A Living Beacon
There is much to say about Jean-Michel Basquiat's art style, including his cognizance of deeper social, racial, cultural, and political issues, all of which he addressed in bold and expressive compositions. And although he had a turbulent lifestyle and succumbed to his addictions, he did not somehow succumb to any fears of creating controversial and psychologically charged compositions filled to the brim with the life and culture he experienced around him.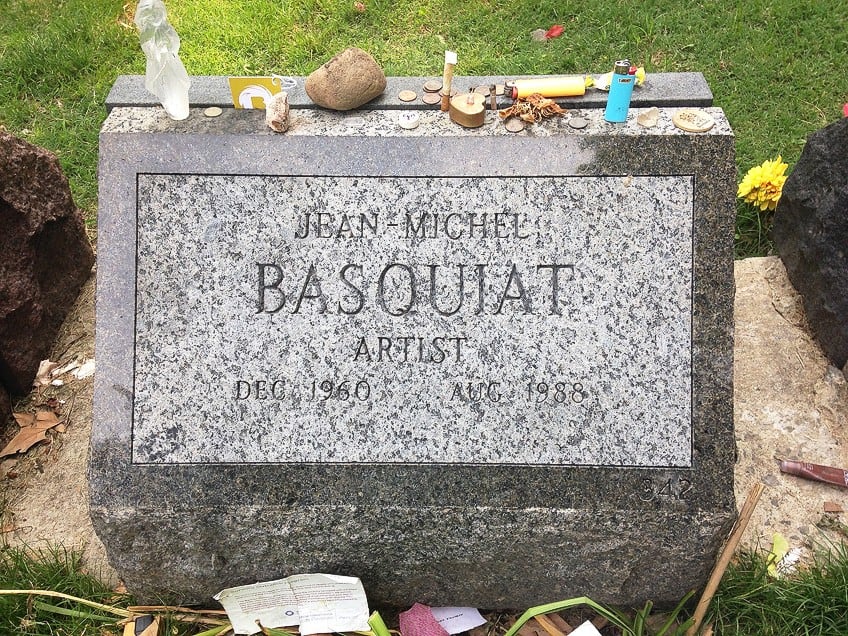 Basquiat's grave at Green-Wood Cemetery in Brooklyn, New York; Lthomas2, CC BY-SA 4.0, via Wikimedia Commons
This article discussed Riding with Death, which is often thought to be Basquiat's last painting, and indeed the artist seemed to have ridden a path that was simultaneously socially questionable and alluring, and death could have been an expected end destination that the artist may have had a deeper relationship with.
The "Riding with Death" painting forms part of the legacy Basquiat left. It is a beacon showcasing his short period of fast fame and fortune as an artist in one of the most beloved and burgeoning cities in the world, New York.
Frequently Asked Questions
Who Created Riding with Death?
The acrylic and crayon on canvas titled Riding with Death (1988) was created by Jean-Michel Basquiat. This was one of his final paintings before his death on August 12 in 1988. It is now part of a private collection, of which the exact details and price are uncertain.
What Is the Riding with Death Meaning?
Jean-Michel Basquiat's painting titled Riding with Death (1988) contains a variety of socio-historical references, from racial and class themes to power and death. The artist could have conveyed several meanings here related to his own experiences and understandings within the societal system. He was also believed to be influenced by Leonardo da Vinci's drawing, Illustration for His Thoughts on Virtue and Envy (c. 1484 – 1486).
What Was Jean-Michel Basquiat's Art Style?
Jean-Michel Basquiat's art style was Neo-Expressionist, which was one of the late Modernism and early Postmodern art movements that was active during the 1970s and 1980s. It was inspired by German Expressionism from the early 1900s, and characterized by expressive brushstrokes and strong and vivid colors.
How Did Basquiat Die?
Jean-Michel Basquiat died of a heroin overdose on August 12, 1988. He was reportedly at his apartment located on Great Jones Street in Manhattan, New York City.
Alicia du Plessis is a multidisciplinary writer. She completed her Bachelor of Arts degree, majoring in Art History and Classical Civilization, as well as two Honors, namely, in Art History and Education and Development, at the University of KwaZulu-Natal, South Africa. For her main Honors project in Art History, she explored perceptions of the San Bushmen's identity and the concept of the "Other". She has also looked at the use of photography in art and how it has been used to portray people's lives.
Alicia's other areas of interest in Art History include the process of writing about Art History and how to analyze paintings. Some of her favorite art movements include Impressionism and German Expressionism.  She is yet to complete her Masters in Art History (she would like to do this abroad in Europe) having given it some time to first develop more professional experience with the interest to one day lecture it too.
Learn more about the Art in Context Team.