Procreate Watercolor Brushes – Top Watercolor Brush for Procreate
Many artists try to replicate the effects of watercolor painting through digital paintings. How are they able to do this? Technology has allowed for many advancements, so now you can use digital watercolor brushes that look like the real thing. You can find programs like procreate watercolor brushes, which can achieve realistic brush strokes and textures.
What Is Procreate?
If this is the first time you are considering digital art, then you might be wondering what procreate is. Many have heard of Photoshop or Illustrator, well Procreate is a similar painting app that is geared toward the iPad Pro and Apple Pencil mobile devices.
The program provides a realistic drawing experience that is easy to use through the intuitive interface. The system comes loaded with many different kinds of brushes and other amazing features.
The program is great for both the beginner and professional. You can use the brushes provided, customize default brushes and you can make your own brushes, as the brush studio helps you to control every aspect of how a brush looks and behaves.
You can also import other brushes from programs like Photoshop and Adobe, which will create an even bigger brush collection.
Most of these brushes even work faster than on their previous systems. Each brush that is provided has been carefully designed and both choosing as well as using the brush is quick and easy. Next, we are going to look at a few of the more popular brushes you can purchase for Procreate.
Procreate Watercolor Brushes
When doing traditional painting, lighting, and color can be fundamental in creating an art piece, but can you replicate this using digital brushes? Procreate is a remarkable program that can help you achieve the watercolor look you want. You can get a watercolor brush for Procreate that allows you to paint as easily as if you were working from an easel, and provides realistic textures, techniques, and brush strokes.
Many of the brushes you can purchase, however, there are also quite a few free watercolor brushes for Procreate as well.
The Ultimate Brush Toolbox
The ultimate brush toolbox was created by replicating many real samples from twelve different mediums. The toolbox contains a huge variety of brushes from acrylic to oil, charcoal brushes, and watercolor brushes.
The watercolor strokes appear real when using these brushes and look like actual stains and watercolor washes.
Perfect for creating realistic watercolor effects. In total, 300 brushes can be used in a variety of programs including Procreate, Affinity Designer, Illustrator, and Photoshop. The toolbox contains the following items:
34 watercolor brushes
30 gouache brushes
38 acrylic brushes
16 charcoal brushes
16 airbrushes
24 ink brushes
22 crayon brushes
Master Watercolor Brushes
The master watercolor brushes can be used by different programs including Procreate, Adobe Photoshop and Fresco, and Affinity Designer. You will get 84 watercolor brushes that are for different purposes from shading, adding details, and textures to drawing and achieving large washes.
You also get 31 splatter brushes, which create effects similar to flinging paint onto the canvas.
Included in the set, are 39 wash stamp brushes that are perfect for creating authentic wash effects. You can also create realistic colored textures, and to add even more realism to your art, there are six paper textures available.
There are also 20 color palettes available to make color selection easier and tutorials to show you how to work with all the brushes and features.
AquaReal Watercolor Brushes
The AquaReal Watercolor Brushes are made for Procreate and consist of a selection of accurate digitally produced watercolor brushes. You will have access to essential blending and paintbrushes, so it should be quite easy to select the right brush every time.
You will not need a degree in art to get started. There are tutorials and tips also available, and this is added to constantly, so you can improve your skills quite quickly. You get some of the below brushes in the kit:
Soft sketch watercolor brush for procreate
Eight blending and painting brushes
29 stamp brushes
Three paper textures
Link to a video tutorial
Everything Watercolor
The Everything Watercolor Brushes are for Procreate and are used on the iPad. This is quite a full set and comes with many helpful watercolor brushes. You will be able to easily create true-to-life watercolor paintings.
You get two lettering brushes that can also provide smooth strokes and eight effects brushes, which help to add a realistic look by adding convincing watercolor edges, just like real watercolors do.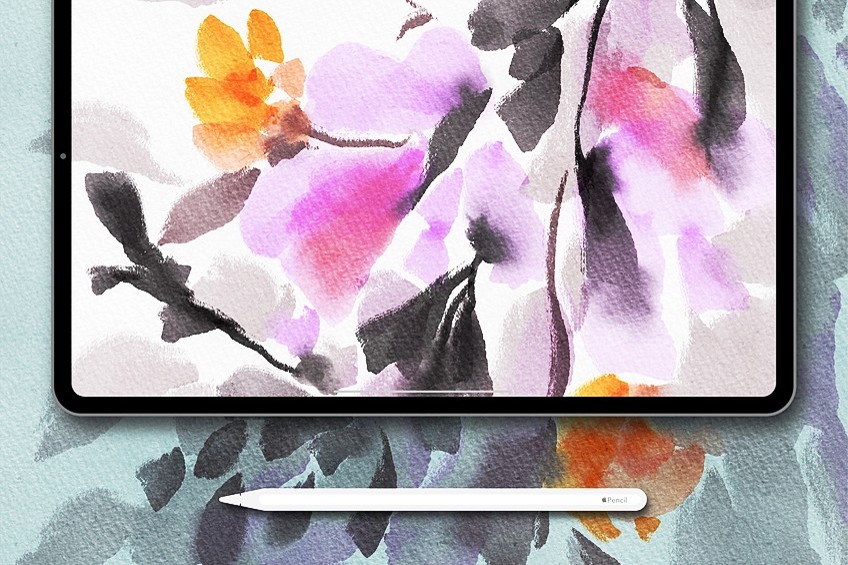 You also get four brushes that provide a dual function. When pressing lightly, you have a dry and textured look, while pressing harder produces a wet and glazed look. To provide even more variety, there are over 45 more brushes in this program. The watercolor brushes were created by Uproot Brushes, and on their website, you can access many tutorials and they provide some brush sets and color palette freebies.
Other brushes included in this set are eight smudge brushes, as well as eight drop and splatter brushes, and eight wet-on-wet brushes for large washes and adding texture.
Ink and Watercolor Brushes for Procreate
The Ink and Watercolor Brushes were specifically created for Procreate and provide a wonderful way to combine ink and watercolors. You get a variety of opaque inkers, rich textures, and diluted watercolor brushes. All of these brushes help to produce the realistic watercolor effects many artists are looking for.
The brushes are designed to be intuitive, which makes them easier to use.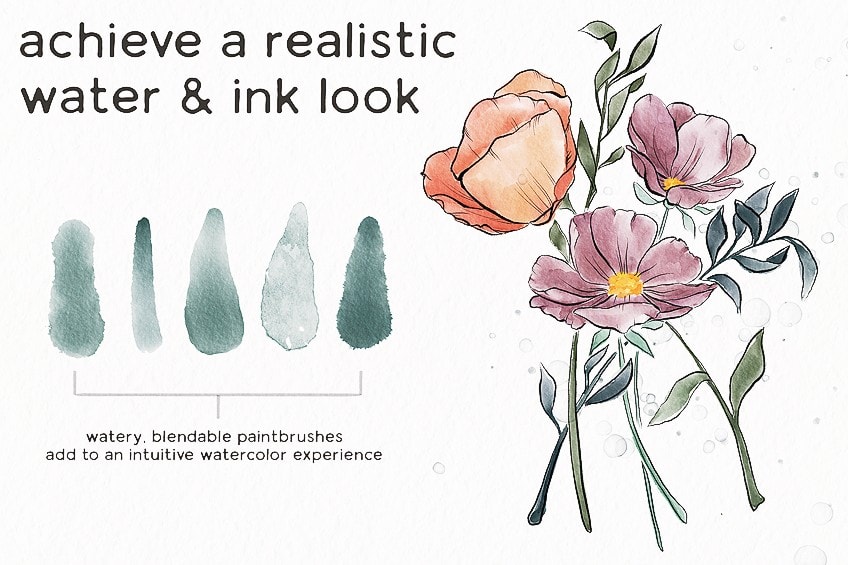 This makes it simple to blend as you paint, by simply altering the pressure applied. You will also notice a subtle color difference as you apply each stroke, which creates a mixed-paint look. These brushes can be used by beginners and those with more experience.
You no longer have to wait for layers of paint to dry, you can go ahead and layer and then apply the ink.
Realistic Watercolor Toolkit
The Realistic Watercolor Toolkit was created by testing out real watercolor textures and implementing the effects into the digital brushes. The 60 and more brushes can be used for various purposes from applying smaller details, to texture effects and color washes. You have access to a preview option, where you can view the brushstrokes and other painted samples. You also get access to papers or canvases you can use.
The surfaces provided include regular paper, satin paper, and rough and cold-pressed paper.
Procreate Watercolor Brushes and Paper Textures
The Procreate Watercolor Brushes are as close to the real thing as you can get. To create this program, hundreds of brushes were tested, and only 50 of the best brushes were selected. This includes the following set of brushes:
26 watercolor stamp brushes
24 watercolor brushes
Three ink brushes
40 paper textures
Living Watercolor Studio for Procreate
The Living Watercolor Studio contains all you require for starting digital painting. The studio or kit contains your paint, canvases, brushes as well as a tutorial. There are 40 carefully chosen brushes and brush stamps. You also have access to a 12-color palette to get you going faster.
To paint on, you have four canvasses that help to make the painting experience look even more real.
You do not have to start on your own, as there is also a detailed tutorial available that can help you through the process and might even give you more ideas to work from. Added to this, you have six sketches you can use to help you understand how everything works and you can practice on them.
When using the brushes, it feels almost life-like as the textures and paint edges flow as they would if you were painting with real watercolors.
OMG Watercolor Brushes by SketchWerx
The OMG Watercolor Brushes can be used to create some amazing and realistic art. The brushes are perfect for both those just starting with digital art and it is also great for professionals. The brush set was created by Tine-Marie, who uses the nickname "Sketchwerx".
She offers tutorial videos and takes you through the painting process via Procreate. However, she also has a YouTube channel in her name, which demonstrates all the brushes. In the set, you will get the following, which can be updated at any time:
Eight background washes
21 Brushes
Two blenders
Six paper textures
Procreate Watercolor Brush Kit
This Watercolor Brush Kit comes with templates and effects layers that you can use and helps create realistic watercolor paintings. The kit also contains duo brushes that allow you to use two colors, which can then blend while you are painting.
This depends on the amount of pressure you use. However, these brushes are only made for the Procreate 5 and above and do not work with other applications like Photoshop. The kit includes the following:
26 watercolor brushes
Four color palettes
Four layered templates
Four paper textures
10 branch and floral sketches
Watercolor Botanical Kit
The Watercolor Botanical Kit for Procreate is the perfect fit for those of you who love to paint botanicals. The kit provides an assortment of brushes and textures, and you have access to templates as well as guides to help you through the painting process. You can even have a look at a reference library that is exclusive to this kit. The kit is a great addition to any beginner or experienced artist's repertoire. You will get the following in the kit:
One brush set
36 Brushes
Five canvas templates
Eight Textures
Reference library
Video guides
Watercolor Lettering Kit
The Watercolor Lettering Kit provides 33 brushes that are specifically designed to produce beautiful lettering. The brushes are pressure-sensitive, and you need to use them on an iPad Pro, the Apple Pencil, or the Procreate 5x application.
The brushes should give you realistic watercolor textures that are easy to use and require very little editing.
Metallic Watercolor Kit
The Metallic Watercolor Kit is designed for Procreate and gives you over 140 features that include different watercolor stamps, texture brushes, metallic textures, and lettering brushes. If you love the look of the shimmering metallic paints, then this kit is for you.
You will be able to create beautiful metallic watercolor backgrounds, lettering, and shapes that you can use for printing, logos, invitations, and much more!
Powerful Watercolor Kit
The Powerful Watercolor Kit is well priced and provides you with everything you need to start digital watercolor painting. You have access to layered templates and a variety of pressure-sensitive brushes you can use to create beautiful artwork. You will be able to use the brushes for blending, painting, and adding texture, splatters, and details. In total, you have 54 watercolor brushes and a few of the following as well:
Several glitter, metallic, foil, and liquid brushes
22 watercolor stamps
16 color swatches
15 glitter and metallic textures
Layered templates
Floral and Shape Stamp Brushes
If you are looking for an extensive range of stamp brushes, then this should provide more than enough for you to work with. This set includes 244 brushes that include some added dynamic brushes, so you have even more possibilities. You will get a variety of stamp brushes from branches, leaves, and flowers stamp brushes.
There is also splash stroke, and circle brushes. Included are also quite a few dynamic foliage brushes, wash, and dot brushes.
Low-Cost Watercolor Brush Set
There are always free watercolor brushes for procreate, but there are also discounts and specials you can find on brushes. However, there are also entry-level brush sets you can purchase, for example, this watercolor brush set is only six dollars and provides all you need to begin digital watercolor painting.
This particular set gives you 10 watercolor brushes you can work with.
Flooded Watercolor Brushes
The watercolor brushes in this set are extremely intuitive and create a look that is realistic to watercolors. Not only does it create the look, but it also has a similar feeling to painting with watercolors, which makes it seem like you are painting with a real brush and paper.
The brushes are easy to use and interact with the paint quite accurately. The brushes have been improved to be used with Procreate 5X.
You will be able to create watercolor effects like droplets and sponge effects. The paint and brushes have exceptional blending capabilities and imitate pigment drying and pooling very well. The set also includes various techniques, canvases, and paper textures as well as a user guide for the brushes and how to use the paper texture brushes.
Procreate Watercolor Masterclass
If you are looking for a bit more guidance as to how to use digital watercolor brushes, you might want to consider selecting the Procreate Watercolor Masterclass. The class was developed by Nathan Brown, who is himself a professional artist that has many years of experience.
The course is aimed at teaching traditional techniques, using Procreate on an iPad.
You will learn and gain an understanding of the basics and then you can move on to more advanced techniques. The course provides both theoretical as well as practical aspects, and by the end, you should be able to create your own digital art.
Included in the course, you will receive an essential watercolor brush set.
Free Watercolor Brushes for Procreate
Maybe you want to experiment a bit before purchasing any of the watercolor brush kits or programs? A good way to do this is to try out some free versions. These mostly provide the basics, and you should be able to produce some great artwork.
Here you will find a few recommendations for free watercolor brushes for Procreate.
Free Watercolor Brushes from Procreate
If you are an artist and wish to showcase your work, you can create a Procreate Portfolio. Many of the artists also provide access to free brushes they have created. On the Procreate website, you will see the free brushes tab, which is easy to find. There might be new watercolor brushes added occasionally, so you can always go check for more options. Below is a list of users on Procreate that are offering freebies:
Free Watercolor Splash and Splatter Brushes
Many artists try to sell their art, but also tutorials and, in this case, watercolor brushes. You can get a free splasher brush, produced by Georg Graf von Westphalen. He has been associated with Procreate for a while and has created over 550 custom brushes and other features. The multi-color brush can be used to apply different colors by simply tilting and adjusting the pressure you use.
So, as you go, it can vary in color, creating a fun brush feature. He also offers a few other free brushes and tools.
Free Watercolor Brushes Done by Rowwenic
Any procreate user can create their own brushes and then upload the brushes to Procreate. One of these artists goes by their username Rowwenic and offers a small set of watercolor brushes you can use for free.
This is also an effective way for artists to grow their social media followers.
Free Brushes from Maja Faber
Maja Faber is a Swedish artist, online educator, and entrepreneur, and is also a user of Procreate. You can get five premium Procreate brushes that include a speckle grain brush, an everyday liner, a washy brush, crispy grunge, and a Monoline 01 and 02 brush.
Free Floral Painting Brushes
These watercolor floral brushes are perfect for beginners if you are looking to start digital floral painting. In the set, you will get six pre-made floral brushes as well as two painting brushes. You will also get a watercolor canvas to create your floral design on.
Free Watercolor Procreate Tutorials
There are quite a few free Procreate brushes available, along with this, you can also find some free lessons or classes. Once you have all you need to begin digital painting, you will need to learn how to use all the features. One of the best places to go is the Skillshare website, where there are many classes for you to join, both paid and free. Many other websites offer free Procreate watercolor painting tutorials.
Some of these classes also offer free watercolor brushes.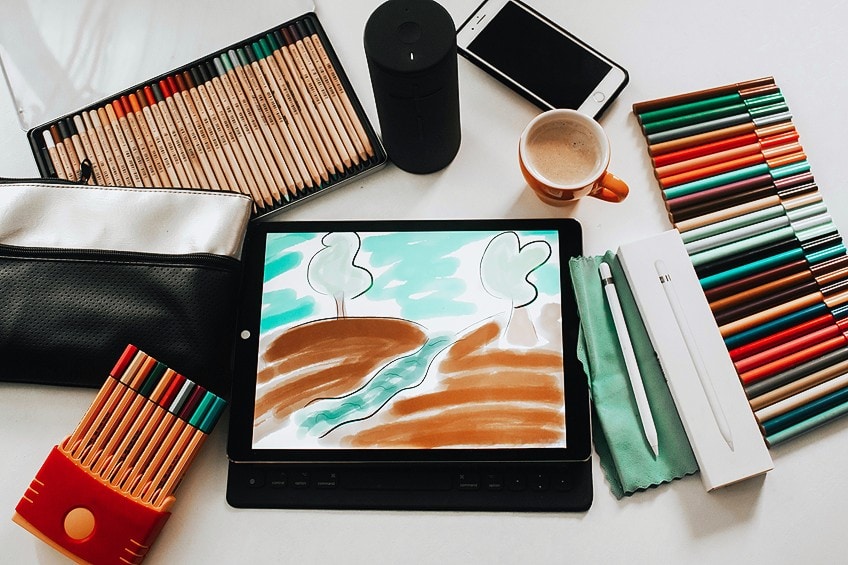 Finding the best procreate watercolor brushes can help to create the most beautiful and realistic watercolor paintings. There is an abundance of brushes, resources, and tools available that you can effortlessly use to create amazing designs.
Frequently Asked Questions
How Do You Download Watercolor Brushes?
Downloading a watercolor brush for Procreate is easy! First, you need to have Procreate on your iPad. You then go to the page and section where the download link is and tap on the file. You can then open or copy to Procreate. You can also import straight into Procreate.
Where Can You Save Downloaded Brushes?
As mentioned in the first question, you can download directly to your device, and you can then save them in Dropbox or place them in the iCloud. Otherwise, download and save them directly onto your iPad device. If you find that it is a ZIP file, you can easily use a free app to unzip the file and gain access to your brushes.
Is It Possible to Use Photoshop Brushes on Procreate?
Yes, Procreate now allows access to Photoshop brushes because of the new engine that powers the brush studio. This means you will have to have Procreate 5. However, sometimes a brush might not work, and you will need to customize it so that it can work similarly to when it is used in Photoshop.
Is Blending Watercolors on Procreate Easy?
Yes, the program makes it as easy as possible to create life-like watercolor effects. There is a smudge option that you can tap, then select the brush from the brush library. Move over to your page and then tap or drag on the brushstrokes and paint colors to create a blending effect.
In 2005, Charlene completed her Wellness Diplomas in Therapeutic Aromatherapy and Reflexology from the International School of Reflexology and Meridian Therapy. She worked for a company offering corporate wellness programs for a couple of years, before opening up her own therapy practice. It was in 2015 that a friend, who was a digital marketer, asked her to join her company as a content creator, and this is where she found her excitement for writing.
Since joining the content writing world, she has gained a lot of experience over the years writing on a diverse selection of topics, from beauty, health, wellness, travel, and more. Due to various circumstances, she had to close her therapy practice and is now a full-time freelance writer. Being a creative person, she could not pass up the opportunity to contribute to the Art in Context team, where is was in her element, writing about a variety of art and craft topics. Contributing articles for over three years now, her knowledge in this area has grown, and she has gotten to explore her creativity and improve her research and writing skills.
Charlene Lewis has been working for artincontext.org since the relaunch in 2020. She is an experienced writer and mainly focuses on the topics of color theory, painting and drawing.
Learn more about Charlene Lewis and the Art in Context Team.
Cite this Article