Quite often, kids as well as adults can become bored and have nothing to do. Maybe there is a long holiday time lying ahead, and you are concerned about how to keep everyone busy. Fortunately, there are quite a few fun crafts to do at home, and most of the craft ideas in this article involve easy things to make that require little to no skill and are inexpensive. So, let us get down to it and show you some amazing cool crafts to do at home that you and the family can enjoy.
Easy Crafts to Do at Home
When it comes to home crafts, there is an abundance of ideas you can try. So, to make it a bit easier for you, below are a few crafts to do at home that are quite popular and can be done by all family members young and old.
Clothespin Magnets
You can use a single wooden clothespin or create a row of them altogether. You can paint them, use glitter, apply washi tape or decoupage them, and more. Then all you have to do is stick a small magnet on the back, and there you have a clothespin magnet.
Decorative Light Switch Covers
If you are looking to add some flare to your room, then decorating the light switch covers is a place to start. What you need are fabric and some ever-useful mod podge. The fabric can be applied to the light switch in only a few minutes.
This is a simple and fun craft idea!
No-Sew Fabric Coasters
Many shudder at the idea of having to sew something, but thankfully, there are many no sew ideas you can try with fabric. One of these is to make fabric coasters using a decoupage medium. You will need some felt and fabric, as well as some fabric mod podge. Cut out square coaster shapes for both the fabric and felt and glue the felt to the fabric. Apply the mod podge to the fabric, let dry, and trim.
Easy Corner Bookmarks
If you and your family love book, then making all kinds of bookmarks can be fun. A simple piece of cardboard can do, but there are many other ideas including a corner bookmark. The best materials to use include origami paper, as this usually comes in just the right square size and shape to work. Using a few folding techniques, you can create a simple corner bookmark or try your hand at something more elaborate.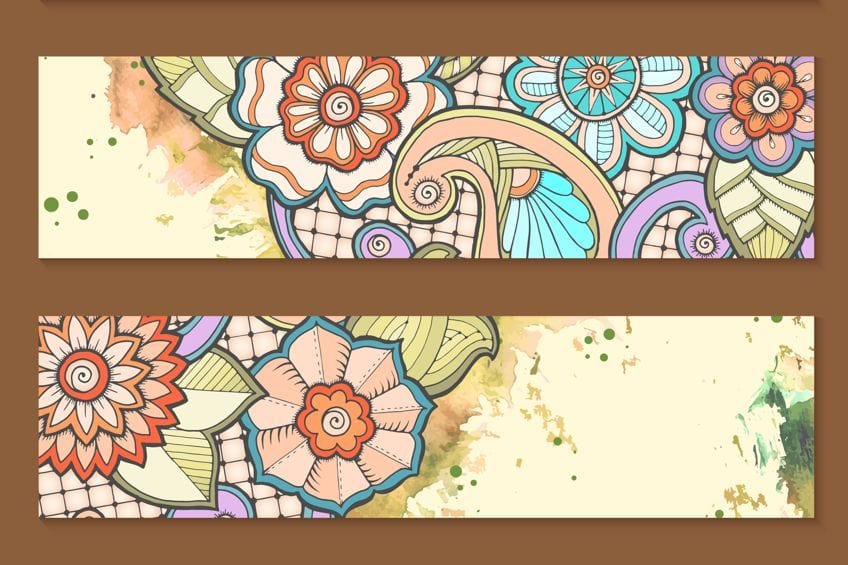 Fabric Wall Art
One of the easy things to make is fabric wall art. All you need is some fabric with your preferred design and a frame. Add in something extra, like white vinyl letter stickers with an insightful saying or quote. You can also try making wrapped fabric canvas wall art.
Fridge Magnet Ideas
We have already mentioned the clothespin magnet, however, there are many other ideas you can use. You can create photo magnets, letter magnets, resin magnets, bottle caps, or small painted stone magnets. You can even use wine corks to make small succulent planter magnets.
You can also use polymer clay and ceramic tiles – the ideas are almost endless!
Paper Flowers
There are many different paper flowers you can make that range from easy to more challenging. There are many uses for paper flowers from using them in bouquets and centerpieces, to something you can decorate gifts with or use as a headband, garland, or mobile.
Painting Rocks
This fun craft idea has become quite popular all in many countries, as it is simple, fun, and inexpensive to do. Just make sure you choose smooth and flat rocks, which makes it easier to draw and paint on. Make sure the rocks are clean before painting, and since most rocks are porous, you should seal them by using mod podge or simply apply white paint. You can use paint pens and paint to create your design on the rock and make sure to seal the surface once done. You also do not have to paint the rocks, you can cover them with fabric strips, using mod podge.
Finger Painting
An old favorite, finger painting is so much fun for both kids and adults. You might be thinking this is more of an art than a craft, but whatever you paint, you can make into something. For example, wall art or greeting cards. This is not only fun, but it can also help to reduce stress.
Garden Markers
If you love working in the garden, and you are thinking about planting a vegetable or herb garden, then these markers are just what you need. The easiest idea is to use wooden spoons, which can be easily decorated. Remember to seal items, they are going to be outside in the heat and rain. The painted rocks are also perfect for this. The wine corks come in handy again and can be used for this purpose.
A few other ideas include popsicle sticks, ceramic markers, and ever-useful wooden clothespins.
Stamping T-Shirts
This is a fun craft idea everyone in the family can try. You can use the Styrofoam containers you get for takeout food to create the stamp if it is clean enough that is, or they are quite easy to purchase new. Cut out the flat bottom piece of a square container and draw or trace the design into the foam. Preferably, the design is simple enough, for example, a pineapple, which you can then cut out.
You then use fabric paint and the "foam stamp" to transfer the image onto the T-shirt. You can also use a ready-made stamp if you do not want to make your own or try using some stencils to apply designs.
Tie-Dye
This is another old-time favorite, which the kids love. This is one of those cool crafts to do at home on a sunny day. Perfect to do outdoors, where you can set up a dye station for shirts or even shoes. You also do not have to go around shopping for materials, as there are tie-dye kits you can now purchase.
String Art
There are many simple designs you can make if you are just starting this amazing craft idea. All you need is some yarn or twine, nails, and a wood panel. Another method is with corkboard and pushpins, or you can also try with cardboard and string, which does not use nails or wood.
Watercolor Collage Wall Art
There are many ways to create wall art, but if you want something easy, then these ideas are just for you. The first idea is to take some watercolor-painted paper and cut this into pieces. These colorful pieces of paper can then be applied to a canvas surface with mod podge to create a collage effect.
Instead of watercolors, you can also paint different shape cardboard cut-outs with acrylic paint to create the collage.
Wine Cork Stamps
There are quite a few ways to make stamps, and if you have a few wine corks lying around, these would be perfect. The idea is to cut out some craft foam into the shape you want and then using a hot glue gun, stick the foam cut-out to the bottom of the cork. There you have the cork stamp you can use.
Yarn-Wrapped Vase
This simple and fun home craft idea can help give glass bottles, vases, and any container a new and improved look. Take some glue and yarn or twine and wrap around the vase from top to bottom. This idea can also be used on larger objects like tires, however, instead of yarn, you can use rope or much thicker twine.
Easy Crafts for Kids
When doing fun crafts to do at home, you are doing more than simply having fun. This is the perfect time to spend time with the kids and engage in activities that can help provide children with improved physical and mental benefits. The best, though, is making priceless memories.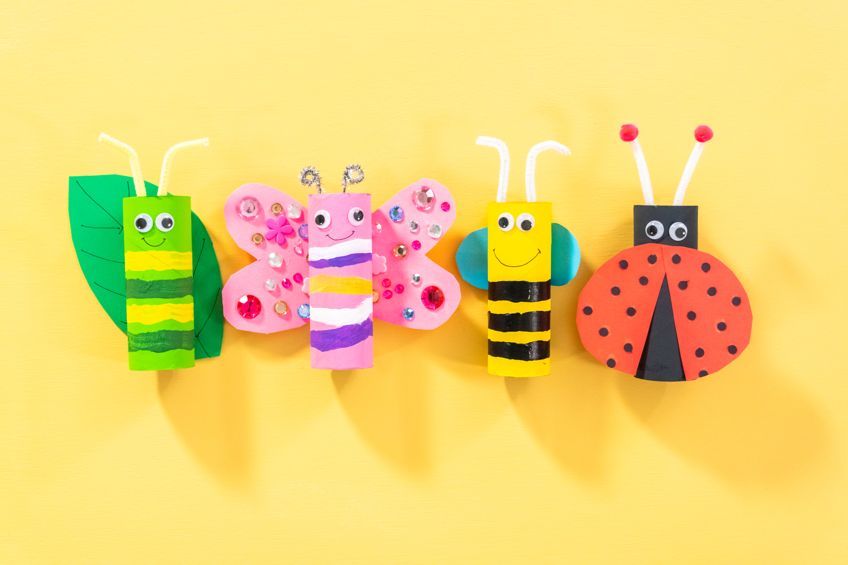 Bubble Painting
This is another one of those cool crafts to do at home. And it is a fun way to spend time with the kids. All you need is some bubble solution, paint, and a straw, and you are ready to create art. Once done, you can use the completed artwork to create bookmarks or other gift ideas.
Bird Seed Feeders
There are quite a few ideas you can use to create bird feeders. Just remember to use birdseed and nothing else to feed the birds. There are many different shapes and sizes of birdseed containers, for example, using a plastic bottle or gluing popsicle sticks together.
There are also bird seed recipes that create a solid shape you simply hang in the tree for the birds.
Buttons and Art
All you need for this is some buttons, paint, glue, and paper or canvas. Use different color buttons to create unique images from animal shapes to flowers, trees, letter shapes, balloons, and much more. You can also decorate a photo frame with buttons for a more personalized look.
Easy Wall Art
If you think you are not the best at painting, then this art and craft project is for you. All you need is some painter's tape, paint, and a canvas. Apply the painter's tape in geometric triangular shapes, and once done, paint the open spaces. Once the paint has dried, remove the paint to reveal your design. This is a great home crafts idea for kids and adults.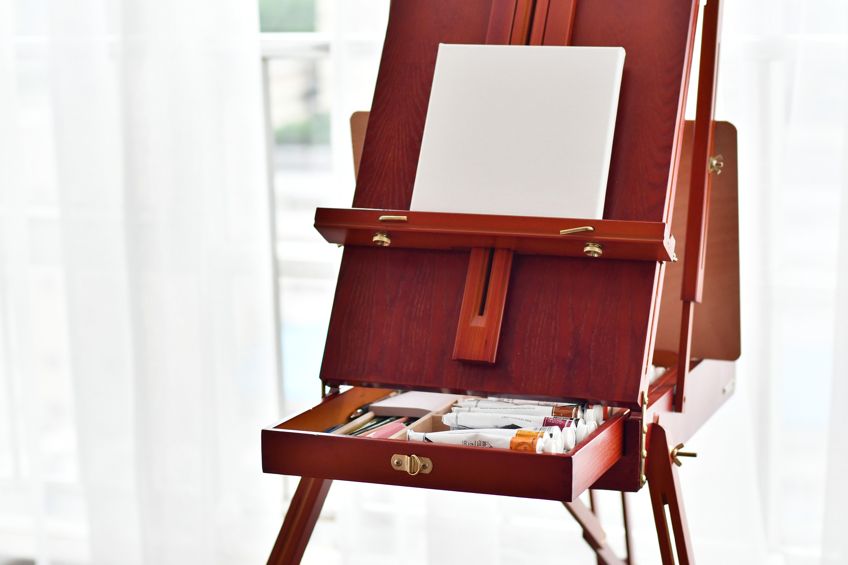 Classic Pasta String Necklace
Another classic idea is when in doubt about what crafts to do at home, there is always pasta. This is a simple, quick, and easy craft everyone can enjoy. Macaroni usually works best for a necklace or bracelet idea, and these can also be made into different colors.
Glitter Shoes
Children, especially girls love glitter and shoes. So, why not combine these to make some amazing sparkly shoes? The method is quite simple, as you only need glitter and mod podge. Mix the glitter and mod podge and then apply this to the shoe.
Consider using a fabric or outdoor type of mod podge, but it is still not recommended you wash the shoes afterward.
Fun With Marbles
Make your own marble run with toilet rolls and cardboard. You will just need some glue, tape, and a pair of scissors. Once set up, roll the marbles from one end to the other. You can go as big or small as you want, try using a kitchen paper roll holder for a longer run.
Fun With Seashells
If you visit the beach often, you might have a whole collection of seashells. You can then make different craft items with these. For example, a beautiful frame that is surrounded by seashells, or you can use the same idea for a mirror. Make a wind chime mobile or use the seashells like a mosaic to create an image made from the shells to use as wall art.
Paper Plate Crafts
Everybody usually has paper plates, and these can be used to create any number of amazing and fun craft ideas. Some ideas include paper plate fans or cute animal faces. Many ideas can be found online to keep everybody busy for hours.
Pencil Holder
You can recycle an old glass container to make into a pencil holder. Make sure to remove any labels and then apply about two layers of glass paint. To add to the design, you can use some mod podge and then wrap around some decorative paper and end off with more mod podge over everything.
To make it stronger, you can also apply a clear enamel spray.
Necklace Made From Washers
Most of us might have a few washers somewhere in the house. However, they are also easy to purchase when needed. Not only are washers useful around the house, but they can also be made into jewelry pieces. The more popular way to do this is by painting them with nail polish and adding a cord to make them into a necklace.
Popsicle Stick Crafts
Popsicle sticks are cheap and easy to come by and you can make many different craft ideas with them. Keep it simple by painting them different colors and using them to create fun pictures on paper. They can also be used to make more three-dimensional objects like a sailboat, or they can form part of a toy plane.
Personalized Pencils
You can customize your pencil, again, by using mod podge and decorative paper. Wrapping the pencil with paper is an extremely easy craft, even easier if you use washi tape. Instead of wrapping the pencil, you can try adding a pencil topper. These can be made with clay, felt, pipe cleaners, or even repurposed small toys, for example, plastic dinosaurs.
Puffy Paint
This is a fun craft idea, which can also be used as a science experiment. You will need to combine three teaspoons of baking powder and add one teaspoon of salt and some water to create a fairly thick consistency. You can then divide the mixture into three or four, which you can place into Ziplock bags. Add a little food coloring and blend it in. Cut a piece off a corner and squeeze some "paint" onto the paper.
Microwave for a few seconds and see how the paint puffs up.
Spin Art
This should be a fun way to paint, and all you need is some water-based acrylic paint and a salad spinner. However, there are also spin art machines available for purchase. If you use the salad spinner, you need to cut a paper plate or paper to fit inside. You can then add a few squirts of different color paint to the plate and then spin. Experiment with the consistency, you can thin the acrylic paint with water to see what happens.
Slime and Play Dough
This is a firm favorite for many kids who just love to play with the slime or dough. There are also various recipes you can find online for each of these, some easier than others. These are also great stress relievers for adults.
Toilet Paper Crafts
You will be amazed at how many other craft ideas there are that involve toilet roll holders. This is great, as recycling is important, and why not have fun while doing it? You can create any number of fun characters and animals as well as rockets and pencil holders.
Wreath Made From Cupcake Holders
If you love to bake, then you are sure to have some cupcake holders in the cupboard somewhere. You will also need a foam wreath, to which you can glue the cupcake holders, after making flowers with them. Otherwise, simply cut out the bottom and cut through one side of the cupcake holders, and then place them one after the other onto the foam wreath until it is covered entirely.
There are also many other ideas for cupcake holders, just use your imagination from flowers to all kinds of animals.
Home Crafts for Adults
These crafts to do at home are aimed at adults, as the items are a bit more challenging to make. The various items are also more functional, however, if you can get the older kids interested, that would be a bonus.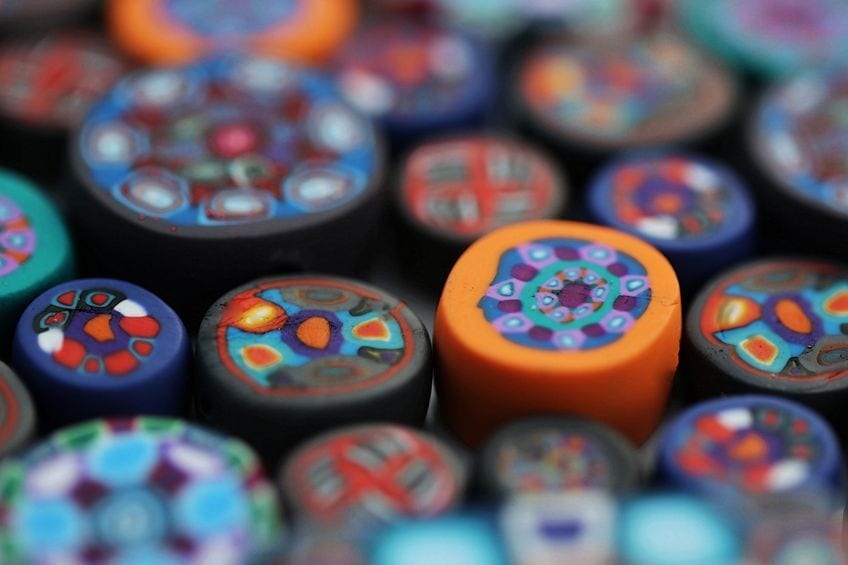 Chalk Paint Craft Ideas
Chalk paint is extremely versatile, and you can apply it to many different surfaces. Without much effort, you can create a new look for vases and all kinds of containers. You can also bring new life into old furniture pieces. You can chalk paint lamps, baskets, fabric, pencils, frames, and so much more.
Clothespin Trivets
Make use of clothespins to create a round heatproof trivet that will hold anything hot in the kitchen. You will have to remove the spring and then glue each piece back-to-back, and then these can be sandwiched and glued together to form a circular trivet.
It is best to leave the wood as is and to simply apply mineral oil, so the wood does not split.
Decorative Pin Board Ideas
You can easily create personalized displays with photos, artwork, and cards. Simply use an old frame, some string, pegs, or bulldog clips. You can also try using cork board and pins, or metal grids. You can also wrap a framed pinboard with fabric for a more custom-made look. A pegboard display can also work for this idea.
Decorative Flower Pots
It is amazing what you can do with a piece of fabric, a plant pot, and mod podge. You can easily transform a dull flowerpot into something a lot more appealing. This is a fun way to decorate old clay pots you can give away as gifts.
DIY Towel Tote Bag
Have some old tea towels laying around? Consider making DIY tote bags. Do not worry, the sewing is usually very basic for this one, but it does require some skill and you have to have a sewing machine. You can also do this with bath or beach towels.
New-Look Shelves
Remaining with fabrics, you can also use it, along with some mod podge, to decorate other items. Consider creating unique shelving by wrapping it in colorful fabric, or why not try it with the ceiling fan?
You can wrap almost anything in fabric including lamp shapes or even books.
Hand-Dyed Napkins
Add some class and color to the dinner table with some hand-dyed napkins. Soak the napkins in water, wring them out and brush some diluted fabric paint onto the napkins. Once done, let it dry and add it to your table.
Decoupage Projects
There are so many items you can decoupage, and most blank wood pieces can be purchased from a craft store. There is everything from trays to trinket boxes you can decoupage. Of course, you can also decoupage other surfaces like glass.
Mini Clay Pinch Pots
If you like getting your hands dirty, then you should try making easy pinch pots with clay. These are great as containers for succulents. You will need some oven-bake clay, a brush, and some glaze to create these items.
Unique Picture Frames
If you are looking for a gift idea on a budget, then give the decorative paper-wrapped frame a go. You will need to get some fancy paper and mod podge to beautify the frame.
Even though this is under the category of adult crafts to do at home, older kids can also get in on the idea.
Home Crafts That Make Money
In today's world, there is an ever-increasing need for creating a side hustle that can bring in a little extra cash. There are quite a few ideas that have low start-up costs and are things anybody can learn to do.
Body care products: There are many options in this category from lip balms, bath bombs, and body lotions to body scrubs and face serums.
Jewelry making: Always a popular idea, you can make anything from polymer clay to beads and charms. Customized jewelry is also a trendy idea.
Keychains: These are fairly easy to make whether it is made from resin or leather, keychains are always well-liked.
Decorative coasters: There are many different ways to make coasters from wood to using resin and clay.
Scented candles: Everybody loves a beautifully scented candle, making this quite a popular idea.
Melt and pour soaps: This is much easier than making soap from scratch and there are plenty of ideas and types of soaps you can make from herbal bars to shampoo bars.
Custom printing: This might require a bit more money, skill, and equipment, but it is also a popular crafting idea for making money.
Greeting cards: If you have a way with words and love to create beautiful cards for birthdays, you might want to try your hand at selling greeting cards.
Hair accessories: There are a lot of ideas you can play around with here from hair clips to bands and bows.
Wall décor: People are always looking for something unique and charming to place in their homes. Wall décor is a great creative idea you can try.
Gift baskets: Create unique gift baskets you can make up and then sell, which could include anything from chocolates to
Decorative pillows: These can be beautiful prints or pillows with embellishments, or with words or even photos on them.
Most of these crafts done at home are inexpensive to do and, sometimes, you already have most of the materials. All are easy crafts and can be done by both young and old. However, the list is much longer, and we could not mention them all, but we hope we have at least given you some inspiration.
Frequently Asked Questions
What Are Some of the Trendy Craft Ideas of 2022?
There is such a long list of crafts to do at home, although, now and again, some crafting ideas leap to the forefront. This year, it includes crafts like rug tufting, stained glass, crafts using terrazzo, dry flower arranging, crocheting, and anything to do with polymer clay.
What Crafts Tend to Sell the Best?
The crafts that sell the best include the ever-popular jewelry making, soaps, candle making, and wall art. Bath bombs are also well-liked as well as printed pillows, pet toys, succulent planters, gift tags, and magnets.
Is There Such a Thing as Digital Crafting?
You can define digital crafting as using a computer and online program to create images and items for craft projects. You can then print these and use them for scrapbooking, home décor, or anything else. Many people also create these prints and sell them to make money.
In 2005, Charlene completed her Wellness Diplomas in Therapeutic Aromatherapy and Reflexology from the International School of Reflexology and Meridian Therapy. She worked for a company offering corporate wellness programs for a couple of years, before opening up her own therapy practice. It was in 2015 that a friend, who was a digital marketer, asked her to join her company as a content creator, and this is where she found her excitement for writing.
Since joining the content writing world, she has gained a lot of experience over the years writing on a diverse selection of topics, from beauty, health, wellness, travel, and more. Due to various circumstances, she had to close her therapy practice and is now a full-time freelance writer. Being a creative person, she could not pass up the opportunity to contribute to the Art in Context team, where is was in her element, writing about a variety of art and craft topics. Contributing articles for over three years now, her knowledge in this area has grown, and she has gotten to explore her creativity and improve her research and writing skills.
Learn more about the Art in Context Team.