Painting Ceramics with Acrylic Paint – A Guide to Painting Ceramics
Ceramics is a centuries-old business that predates history itself. The earliest known ceramic sculpture is the Venus of Dolni Vestonice, a little feminine figure discovered in a tiny ancient hamlet in the Czech Republic that traces its origins to 28,000 BCE. Ceramics is now not just a successful enterprise, but also a popular pastime. In this essay, we will look at ceramics, talk about painting ceramics with acrylic paint, and analyze the ideal sort of pottery to paint.
What Is the Best Sort of Pottery to Paint?
The term ceramic has evolved to refer to any type of pottery, whether coated or unglazed, painted or unpainted ceramics. We will examine three different types of ceramics before deciding which one is ideal for painting. Greenware refers to pottery in its purest form. This refers to clay that has been air-dried but not burned in a furnace. Greenware is exceedingly delicate and has a limited lifetime, making it unsuitable for coloring or art. Additionally, decorating pottery that's not been kiln-fired would be problematic since paints for pottery, even if available, would not stick to the exterior of the clay.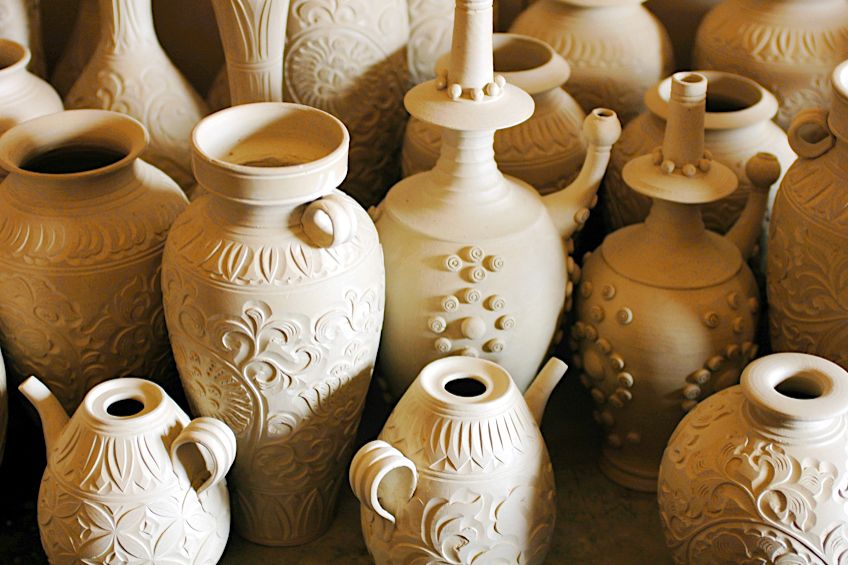 Glazed pottery is another form of ceramic that has been air-dried, fired once in a furnace, and then has ceramic glazes added to it. After the glaze has been added, the ceramic object is re-fired at a greater temperature in the furnace. Although this sort of ceramic is watertight and dishwasher-friendly, it cannot be painted since the paint does not adhere to the glazing. Bisque is the greatest type of pottery to paint on.
It is unglazed greenware that has become air-dried and then baked in a prepared heat furnace. Bisque ceramics are firm and sturdy after being kiln-fired, and since they are permeable, they are suitable for acrylic paint.
Because paint absorbs into the clay, you may need to apply more coats to reach the desired hue, but once dry, the paint will not peel, flake, or break. Bisque pottery is classified into three types: pure white porcelain bisque, terracotta-colored earthenware, and gray-colored stoneware, and. Acrylics may be used to paint all three types of bisque.
The Ideal Paint for Pottery Projects
Acrylic paints are the best paints to use for painting pottery. Because the paint is oil-based, it is incredibly flexible and may be utilized to paint almost whatever you can think of. Many dry to a matte finish, while others dry to a glossy sheen or a satin finish. They are highly tough and will not crack, chip, or fade. Aside from these ideal features, there are a few more to be aware of.
Curing Time
Drying time or curing is critical. Acrylic paint on ceramics must be allowed to cure for a period of time, ideally no more than 48 hours. Ideally, search for paint that can be dried in an oven as a substitute.
Paint that takes more than 48 hours to cure is not desirable, particularly if you plan on painting numerous layers onto your ceramic work.
Color
When painting ceramics using acrylic paint, seek paint that comes in a variety of hues. You may use any color straight from the bottle, or one can mix hues to make new ones. When it relates to specialized paint for pottery, you could find a hue that is distinctive to you and develops your own unique "signature" shade.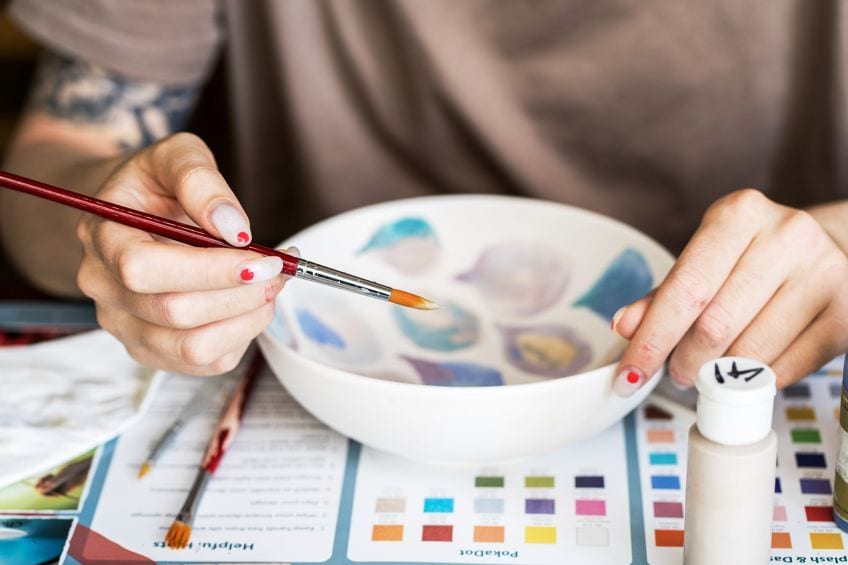 Lightfastness
A lightfast paint will not degrade, turn yellow with time, or grow transparent over time. This is the sort of paint you require for your ceramics since you don't want to have to refinish or clean up the paint job on them all the time.
This is an essential issue since you desire to be able to appreciate the splendor of your ceramics objects for a long time.
Dishwasher Friendliness
If you want to use your ceramics for drinking and eating, make sure the paint you use is dishwashing suitable once it has been dried. Check that the paint is also food appropriate; else, your nicely painted pottery would be useless.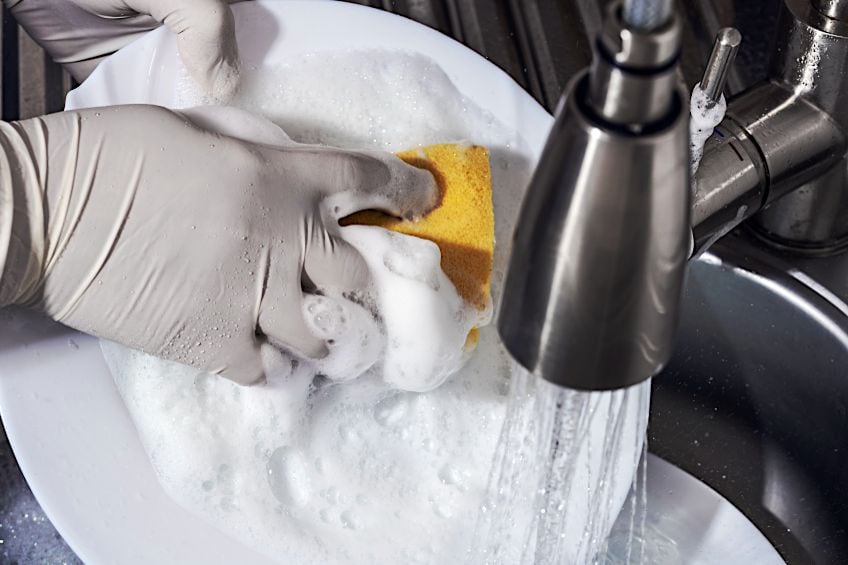 Our Acrylic Paint Recommendation: CRAFTS 4 ALL Acrylic Paint Set
Crafts 4 All have been in the industry for a long time, and their acrylic paint for ceramics is among the successful items in the industry. The kit includes 24 brilliant colors and three paintbrushes that have been created for optimum color definition and intensity. This acrylic paint is perfect for ceramics, as well as various textures and forms.
Uniquely crafted acrylic paints deliver color clarity and brilliance
Suitable for most mediums, including ceramic, wood, and glass
Non-toxic composition makes the paints suitable for children
View on Amazon
The paints are fully non-toxic, making them suitable for both children and adults. When using this acrylic paint on ceramic, users will be ready to simply combine various colors and paint layers atop each other to produce intriguing patterns and optical effects on your pottery. Within 48 hours, the paints dry to a beautiful opaque and satin sheen.
PROS
The pigments were created specifically for painting pottery
They are non-toxic, making them food safe and excellent for usage by both children and adults
They dry quickly
There are 24 different colors to pick from
Layering and mixing are possible because of the thick consistency
CONS
Colors aren't as vibrant as they look in the tube
The containers only hold 0.4 fluid ounces of product
and the brushes included are crudely constructed and lose bristles
A Guide to Painting Ceramics
After your unpainted ceramics have been burned in the oven and thoroughly cooled, there are a couple of other steps you need to do before you begin painting them. These are short and simple tasks that will save you loads of time and make your process much simpler.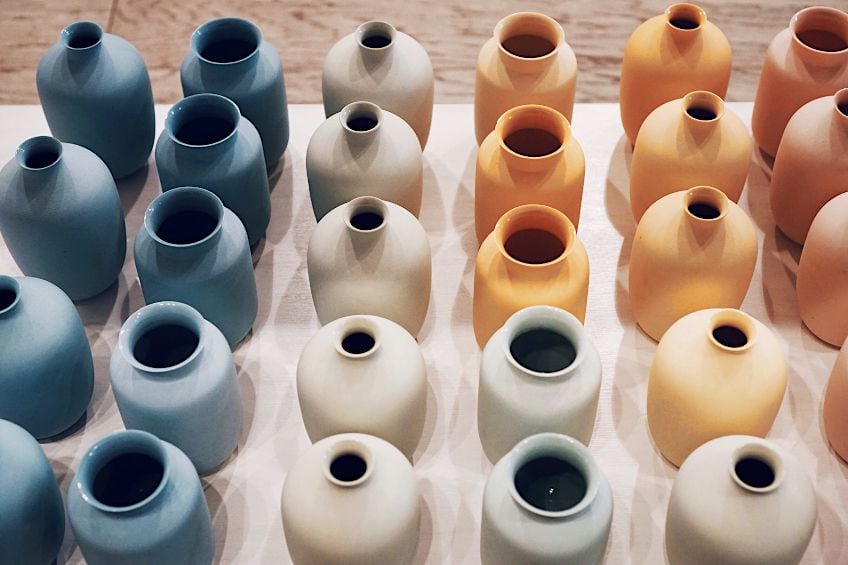 Preparing Your Ceramics for Painting
Before you start putting acrylic paint on ceramic objects, there are a few things you should be informed of and prepared for. Here's a quick rundown of some of the most crucial items to think about before you start painting pottery.
Unpainted ceramics, as previously said, are incredibly permeable and nearly pull in the pigment as you paint it. This is good if you don't mind using a lot of paint to acquire the color and finish you desire, but we advise that you prime the surfaces of the ceramics with spray acrylic.
Acrylic paint on ceramic works the best if the object has been primed first because, while the substrate remains absorbent to some extent, the acrylic paint will attach to the material without being totally absorbed. When you're ready to begin painting, don't put too much paint and water on your paintbrush at once. To begin, tap your paintbrush over your water pitcher or a piece of tissue towel to remove any extra moisture, and then immerse it into the acrylic paint when no more liquid is visible. If you do not execute this procedure, the pottery will soak the water, leaving the paint blotchy and leaking.
The procedure of painting pottery with acrylic paint is like working on canvases or any other media. Acrylic paint dries fast, generally within five to ten minutes of being applied, presuming you have not layered the paint too thickly. You may apply as many coats of paint as you like, as long as you let each layer cure between coats.
A handful of potters enjoy painting images of people on their ceramics. The challenge is to acquire how to accurately reproduce human complexion – unless your figurines are going to be painted in a uniform, single hue. The benefit of acrylics is that you can combine them to make different colors, so creating skin tones should be very straightforward. For comparison, use images from periodicals and tabloids. The better you get at blending colors, the more attractive your completed ceramic sculpture will be.
Painting Ceramics with Acrylic Paint
After you've prepped your unpainted ceramics, you'll be prepared to start adding paint to the pieces. It is a good idea to have your colors, paintbrush, and water ready before you begin painting, as this will assist the painting procedure go more easily. Note that acrylic paint dries rapidly, so you'll need to work quickly.
You don't want to lose time hunting for the proper color paint or hunting for the water cup between coats!
Step 1: Cleaning Your Ceramic Piece
Before painting your pottery, ensure it is spotless and dust-free. Wipe it down first with a moist cloth to remove any dust or small pieces of pottery or other dirt. You don't want it to get tangled up in your paintbrush since it will ruin the appearance when you commence painting.
Step 2: Choosing Your Colors
Choose the colors you want to use ahead of time, then use as much as you require onto your color palette or even a porcelain plate. It is not a great idea to pour paint straight from the bottle onto your paintbrush since you will most likely pump out more than you require.
Additionally, the tubing should remain closed so that oxygen does not enter and begin drying off the paint.
Step 3: Choosing Your Painting Tools
To impart texture to your artwork, you can use sponges in addition to your paintbrush. Furthermore, you do not have to use only one paintbrush; you may use finer or wider ones depending on the subject you are creating and the effect you want to create. Thicker brushes are ideal for spreading a lot of paint, while finer brushes are ideal for precise touching up.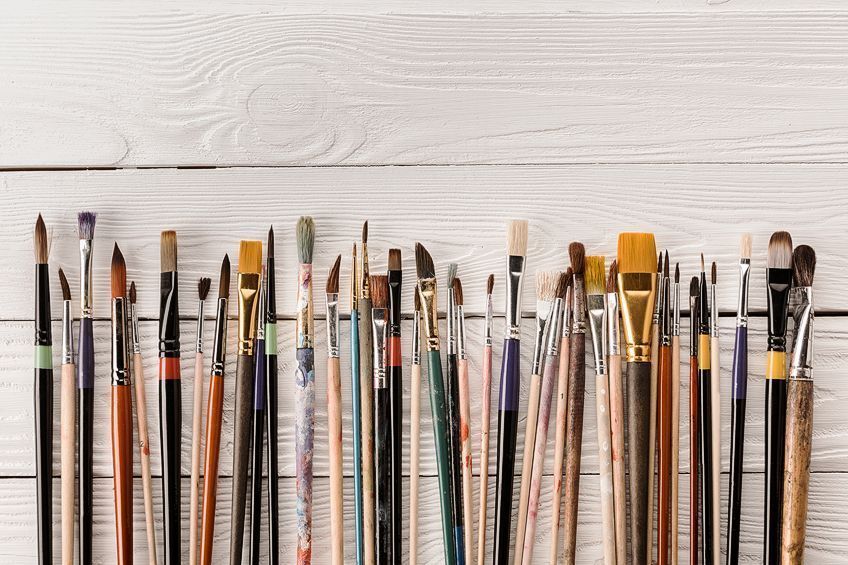 Step 4: Painting Your Ceramic Piece
If you intend to use your ceramic item in the dining area or kitchen, that is, if you intend to drink or eat from it, put a gap of approximately an inch from the rim free of paint.
If the object is only for decoration, you can color it all the way to the tip.
Step 5: Sealing Your Ceramic Artwork
After you've completed painting ceramics, use a spray acrylic sealer to seal the paint. This is also a great choice if you like a sparkly rather than a matte appearance. Because acrylic paint cannot endure the heat of a firing, the only method to get that gleaming surface is to use a sealer.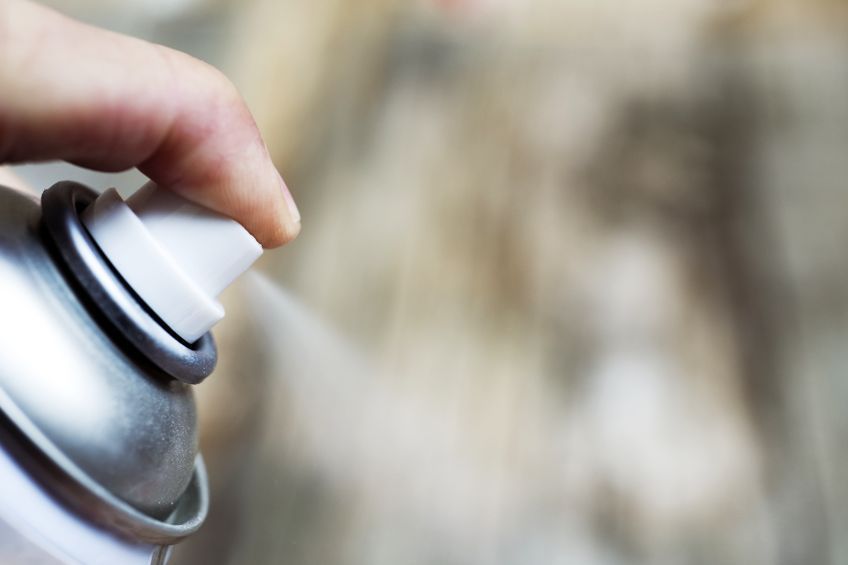 We hope we've piqued your interest in painting ceramics with acrylic paint, and that you've already selected that unique unpainted ceramic object. Painting pottery is enjoyable and gratifying, and if you use non-toxic paints like Craft 4 All, why not engage the kids as well?
Frequently Asked Questions
What Is the Ideal Ceramic to Apply Paint to?
"Bisque" ceramic is the ideal type of ceramic to paint on. This type of pottery refers to clay that has been air-dried before being burnt in a kiln. As a result, as opposed to being a decorative item, bisque ceramics are incredibly robust and will retain their integrity even if the object is used regularly.
What Is the Ideal Paint for Coloring Pottery?
Acrylic paint is the only paint that may be used on ceramics. Acrylic is a very flexible media that may be used on practically any object you can conceive of. It's ideal for pottery since it sticks so well to the clay, however, it's best to coat the clay beforehand with clear acrylic spray paint. When painting acrylic paint on ceramic, you may use thick layers to give visual appeal and depth to the work, similar to how you would with oil paint.
Is There a Difference Between Ceramics and Pottery?
Ceramics are products created from clay that undergo a transformation when warmed or fired, in an oven. Pottery is simply another name for ceramics, but it especially refers to receptacles used in the dining area or kitchen such as cups, bowls, and dishes.
In 2005, Charlene completed her Wellness Diplomas in Therapeutic Aromatherapy and Reflexology from the International School of Reflexology and Meridian Therapy. She worked for a company offering corporate wellness programs for a couple of years, before opening up her own therapy practice. It was in 2015 that a friend, who was a digital marketer, asked her to join her company as a content creator, and this is where she found her excitement for writing.
Since joining the content writing world, she has gained a lot of experience over the years writing on a diverse selection of topics, from beauty, health, wellness, travel, and more. Due to various circumstances, she had to close her therapy practice and is now a full-time freelance writer. Being a creative person, she could not pass up the opportunity to contribute to the Art in Context team, where is was in her element, writing about a variety of art and craft topics. Contributing articles for over three years now, her knowledge in this area has grown, and she has gotten to explore her creativity and improve her research and writing skills.
Charlene Lewis has been working for artincontext.org since the relaunch in 2020. She is an experienced writer and mainly focuses on the topics of color theory, painting and drawing.
Learn more about Charlene Lewis and the Art in Context Team.
Cite this Article