Procreate is an amazing and useful application, with all you need to produce beautiful artwork. However, it can get a bit overwhelming, with all the choices offered, especially when you want to draw hair. So, we have come up with a collection of Procreate hair brushes. Most of you have to purchase, but there are also some interesting and free procreate hair brushes.
Procreate Hair Brushes
There are many different types of hair you can draw from straight to curly and all of them can have different colors and shades. Then there are eyelashes, eyebrows, and beards. So, it can be difficult to accurately draw realistic hair. Various artists have had similar problems, so have come up with and created solutions. Below are some of the best Procreate hair brushes that will help you to create the perfect look for your artwork.
Purchasing Procreate Hair Brushes
Procreate offers some of its brushes for you to use, however, you can also download and import brushes you have purchased elsewhere. All you need to do is go to the brush library and use the plus or add button, to create a new brush.
You can then press the import button to add the brush or brush sets to the library.
Reading further, you will find a few free Procreate hair brushes. However, there are some advantages to purchasing brushes instead of simply downloading free versions. Included in a purchase, you will often find that the artist who created the brushes offers free tutorials. Also, if you do not like the brushes you purchased, oftentimes you can get a refund.
However, this is not always the case, so you should read all the fine print before you go through with purchasing. Artists also often update their brush sets, which you can then acquire for free if you purchased their brushes.
Let us now get into some of the Procreate hair brushes you can purchase.
Procreate Hair Brushes for All Styles
There are many different types of hair brushes as there are hairstyles. If you want to create realistic-looking hair, you need the right brush to be effective. Below are some of the different brush types you can get to create hairstyles that are straight, curly, and more.
Hair Brushes for Curly Hair
This is one more set of hair brushes from Art with Flo. With this set of brushes, you can create amazing and realistic soft straight hair, curls, or braids. Soft hair brushes are great for adding details, and individual hairs, and for blending.
Altogether, you get 14 brushes that include the following.
Six curly hair brushes for Procreate
Two braid brushes
Soft straight hair brushes
Hair Brushes for Every Style
These Procreate brushes are simple to use and you can be creating realistic hair effects in minutes. Whatever hairstyle you want, be it wavy, short, long, straight, or even bald, you will be able to make it happen. Included are various freebies that can help you perfect your drawing skills.
The brush set is extremely easy to install and then use. You can go from a beginning sketch to the final drawing with these versatile brushes.
You will get 25 great quality hair brushes that will help you create hairstyles quickly. There is also a free e-book tutorial that will teach you to draw the various hair effects from straight hair to curly, and wavy hair. You also get step-by-step tutorials and free practice sheets you can use.
Hair Brushes for Straight Hair
These hair brushes for Procreate are a great option for creating realistic-looking hair. The brushes were created by an artist known as Art with Flo and include twelve brushes. The set of brushes contains all you will need to make beautiful straight hair.
It is recommended you begin with the block in brushes for adding in the basic shapes, then add lighter and darker streaks.
Next, work in more detail with the other available brushes by adding texture and loose hairs. There are also different brushes to help you darken and lighten the hair as well. The list of brushes in this set is as follows.
Soft hair brush
Standard brush for hair
Two block brushes
Hair texture brush
Smudge hair brush
Lightening and darkening hair brush
Two curl brushes
Two loose hair brushes
Color changing brush
MAGERPAINT Brushes
This Procreate brush set is easy to work with and is great for both beginners and those with more experience. The brushes only work for Procreate and will not work in other applications like Photoshop. The brushes can be used in Procreate 5 as well as in previous versions.
In the set, you get 20 brushes that include some hair brushes, shading, and sketch brushes among others.
Mel's Procreate Hair Brush Set
This hair brush set has everything you could need to create all kinds of hair from long fine hair to single strands to beard fluff, stubble, and much more. There are highlighter and low-lighter brushes for added effects. Many of the brushes are also great for using to create animal portraits.
You also get an eyebrow brush and a single lash brush, and a few general basic brushes so you do not have to go to another brush set while you are busy. Altogether, you have 19 Procreate hair brushes.
Realistic Procreate Hair Brushes
The 20 Procreate hair brushes only work in Procreate and offer users a way to create some realistic hairstyles and effects. Not only do you get basic hair shapes in this set, but there are also a few unique brushes like hair glitter or sparkling hair.
So, you are sure to find what you are looking for in this set.
Procreate Hair Brushes for Animals
Animals are a little different from human hair, so you have to get hair brushes that can provide the best effects. Do you want fuzzy, fluffy, or wiry and coarse. There is sure to be something that helps you create that cute kitten or giant elephant.
Animal Fur Brushes
Creating realistic animal fur can be even more challenging than a human hair. These animal fur brushes for Procreate help to make the process easier by creating the most realistic fuzzy and fluff effects. There are 32 hair brushes in this pack, offering various brushes for different effects. You can produce coarse, wiry, or soft hair effects.
These brushes can also be used to create human hair as well. Included in the pack are some of your basic brushes so you can also focus on other aspects of your drawing.
Hair Texture Brushes for Procreate
This is another hair texture brush set that is perfect for completing animal drawings. The set contains 34 Procreate hair brushes that will help you to create convincing scales, fur, spots, and other textures for your artwork. As you change the brush size, the texture size also adjusts, providing you with more control.
The amount of pressure you apply also produces different opacity, so light pressure will give you a more subtle texture, and increased pressure will provide a bolder texture.
Procreate Fur Brushes
These fur brushes are ideal for creating cute furry creatures. There are 30 brushes available that are easy to use with brushes that provide long, short, curly, fluffy, and fuzzy effects. The brushes are also perfect for blending and creating various hair textures.
What is nice about the brush set is that it also comes with a comprehensive video tutorial that will help you understand how to use the brushes. Below are a few brushes you can find in the set.
Curly fur brushes
Tail brushes
Soft and rough fur brushes
Dual fur brushes
Adjustment brushes
Beauty and Portrait Hair Brushes
Do you like to play around with make-up and fashion ideas or maybe you are interested in creating amazing portraits, then these two Procreate hair brush options are for you. Both these brush sets are quite comprehensive and offer 20 or more brushes for you to work with.
Beauty Brushes
The Beauty Brushes have been created for those who love beauty illustration or classic fashion looks. You will find in this set of brushes some amazing textures and effects. You have from a mascara brush and eyebrow brush to lipstick and powder effects. These brushes are used for creating illustrations only, and of course, some of the pencils can be used to add hair features.
The basic tool you will need is your iPad and a stylus to draw with.
Portrait Brush Set
This Procreate brush set contains most of the brushes you will need to create amazing portraits. You can lay down an initial sketch and then add in any details. You have control over the brushes as they are pressure sensitive.
To this set, you have some lifelike hair brushes that include brow and eyelash brushes to add more detail to your portrait. The entire set contains 30 brushes.
Watercolor Hair Brushes
Are you an artist that loves working with watercolors, but is not sure about how to go about using Procreate to make your artwork? Thankfully, different brush types are abundant, and watercolors are one of them.
Colter Brushes
These watercolor paintbrushes only work on Procreate and not in any other applications. Easy to use, the brushes are perfect for creating a variety of paintings from portraits to lettering and more. There are over 20 brushes available including hair brushes, sketchers, blenders, splash brushes, and more.
Splashy Brush
The Splashy brush set consists of watercolor portrait brushes. The brushes are easy to use, and it offers a basic complete set with a variety of brushes. You will get 20 brushes that include stamp brushes, splash brushes, sketch, and watercolor brushes as well as paper texture.
Best Hair Brushes for Illustrators
Procreate provides artists with a way to create amazing digital artwork. The brushes available are easy to use and you can correct mistakes with a click of a button. Artworks can be created and shared immediately. The brushes available are also as close to how a pencil and pen would react, so they are perfect for illustrators.
Fabulous Pencils Brushes
These pencil brushes work wonderfully, and they come very close to feeling like the real thing. In this set of brushes, you will find a range of different pencil styles so you can easily draw details, create bold lines, or produce easy shading effects.
The set contains 44 pencils, and you get several paper textures as a bonus.
Hand-Drawn Brushes
The Procreate hand-drawn brushes created by Pixel Buddha contain 20 brushes that provide all kinds of textures and forms for your artwork. Make your drawing look spongy or soft, or create something more with exact lines, or use the brushes for sketching. There is nothing you cannot do, so let your imagination run wild.
You can also use the brushes for creating logos, illustrations, banners, or even for lettering purposes.
Illustration Brushes
These brushes are best for illustrators, and you should find all you need for this type of art. The illustration brushes are easy to use and you get 20 brushes that include block brushes, sketching, line, texture, hair brushes, and stamps.
Sketcher Brushes
The Sketcher brushes are perfect for concept artists as well as illustrators. The brushes are great for sketching and creating illustrations and logos. There are 10 pencil brushes as well as 10 blocking brushes you can work with.
The sketcher brushes are perfect for sketching hair effects as each of these brushes possesses its own intensity, design, and gradient.
Free Procreate Hair Brushes
We have taken a look at some of the Procreate hair brushes you can purchase online. Now let us look at a few of the free Procreate hair brushes you can get. Many of the artists, like the ones who designed the above brushes, also create some free versions you can try out before you purchase anything.
BasicX Hair Brush Pack
This is another free small set of five brushes from BasicX. These brushes form part of a bigger set of brushes you can purchase. However, you can do quite a bit with the five brushes and create numerous hairstyles with them.
Brushes for Every Hairstyle
This is a sample of two brushes that forms part of a bigger set of 14 brushes you can purchase. If you decide to go for the whole set, you will be able to create a wide array of different textures and hairstyles. The sample brushes include a medium brush and a main shape wild brush.
Brushpack by Backstain
There are a lot of quality free Procreate hair brushes including the Brushpack set that provides you with 10 brushes. You also get five amazing brow stamps for personal use only. If you are drawing for professional or commercial use, you will need to contact the creators to get permission.
Curly Hair Brush for Procreate
This small set of hair brushes is also available to download from Dropbox. The brushes are aimed at helping you to produce different hairstyles like dreadlocks and wavy or curly hair that can be difficult to do with the average hair brush.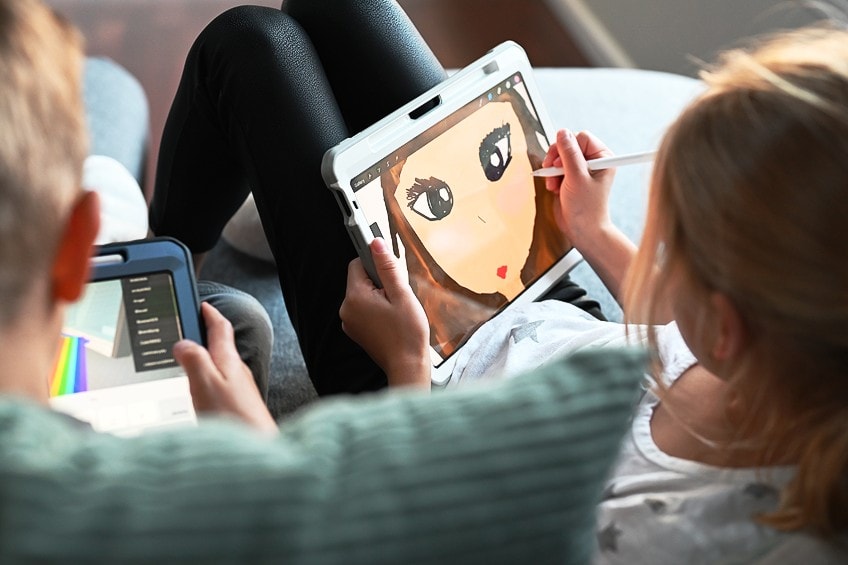 "Di" Hair Brushes
This brush set by Di is a straightforward set of brushes that can help you draw incredible hair effects. The set contains 10 samples that come from a larger set of brushes you can also purchase. To start with, you have access to soft hair, straight hair, curly hair, short hair, and fur hair. The artist has created quite a few brush sets and she always creates a free sample pack you can try before purchasing.
Free Anime Hairbrush Set
Anime has become an extremely popular type of artwork because of its visually appealing look. Here is a free-shine hair brush set of three brushes to get you started. These brushes belong to a larger more comprehensive set you can purchase.
Free Brushes From Procreate
Here are a few more hair brushes from the Procreate website. The first is a set of several hair brushes that will create various effects. Next, is a simple hair brush set that provides a range of brushes that can help you create various designs and effects.
Procreate also provides single brush samples like this soft hair brush. If you are looking to begin working with designing hair, then before purchasing anything, try this hair brush set from Procreate. There are some quality brushes to start you on your drawing journey.
PaulhousbeyArt Free Hairbrush Set
Procreate has a place where artists can create a portfolio of their work, and where you can get some free samples of the brushes that they create. This particular set of hair brushes is from PaulhousbeyArt.
The artist has created a few brushes that will help you create some realistic-looking hair effects.
Procreate Hair Brushes
These hair brushes provide a simple set of hair brushes you can try out. They are easy to download from Dropbox and if you do not like them, no problem as they were free, to begin with. Unfortunately, there is not much about these brushes, so you will have to give them a try to see how they work.
So, if you are looking for some incredible Procreate hair brushes, then we hope we have provided you with a comprehensive list, where you can find what you are looking for. Many of these brush sets are also quite versatile, so you do not have to go searching for more brushes while working on a project.
Frequently Asked Questions
Can You Use Hair Brushes in Procreate?
Procreate is a digital illustration app with many features including a variety of hair brushes. You can use hair brushes to create amazingly realistic hairstyles and effects. It is recommended you begin by using the hair block brush to get your shape down first and then you can begin adding texture and details.
What Are Some Types of Hair Brushes for Procreate?
There is a diverse range of hair brushes that create various effects. There are soft flowing brushes and block brushes that provide your basic hairstyle shape. You also get braid brushes and a curly hair brush for Procreate. There are also textured hair brushes, stamps, smudgy hair brushes, loose hair brushes, and brushes that help to darken and lighten areas.
Are the Procreate Hair Brushes Under Copyright?
Yes, the Procreate hair brushes are all copyrighted, and you may not sell, share, or distribute the brushes in any way. You can only use the Procreate brushes to produce your own sketches and drawings.
In 2005, Charlene completed her Wellness Diplomas in Therapeutic Aromatherapy and Reflexology from the International School of Reflexology and Meridian Therapy. She worked for a company offering corporate wellness programs for a couple of years, before opening up her own therapy practice. It was in 2015 that a friend, who was a digital marketer, asked her to join her company as a content creator, and this is where she found her excitement for writing.
Since joining the content writing world, she has gained a lot of experience over the years writing on a diverse selection of topics, from beauty, health, wellness, travel, and more. Due to various circumstances, she had to close her therapy practice and is now a full-time freelance writer. Being a creative person, she could not pass up the opportunity to contribute to the Art in Context team, where is was in her element, writing about a variety of art and craft topics. Contributing articles for over three years now, her knowledge in this area has grown, and she has gotten to explore her creativity and improve her research and writing skills.
Learn more about the Art in Context Team.