Fra Angelico, dubbed after his death the "Angelic Painter," was an early Renaissance painter who helped bring in a new transformation in Italian art. Dominican painter Fra Angelico concentrated on creating religious topics in a logical, illusionistic realm and with all of the solidity and substance of the human body within the emerging idea of early Renaissance Humanism. Fra Angelico's paintings combined devotion with a creative invention to produce some of the most compelling murals and altarpieces of the Early Renaissance era. Fra Angelico's artworks affected later Renaissance painters, and his fervent religious dedication and sympathy for mankind motivated painters generations later who were looking for routes out of stagnant academicism.
The Biography of Early Renaissance Painter Fra Angelico
| | |
| --- | --- |
| Nationality | Italian |
| Date of Birth | c. 1395 |
| Dated of Death | c. 1455 |
| Place of Birth | Vicchio di Mugello, Florence |
Fra Angelico was steeped in an intellectual culture that blended Christian doctrine with classical literature during his stay in the monastery. This new humanism emphasized the value of logical thought and ushered in ideals of personal liberty that formed the early Renaissance.
Following in the footsteps of painters such as Masaccio and Leon Battista Alberti, Dominican painter Fra Angelico turned this attention on logic and accuracy into the artwork by constructing illusionistic environments and organizing his works using linear perspective.
Posthumous portrait of Fra Angelico by Luca Signorelli in Deeds of the Antichrist fresco (c.1501), located in the Orvieto Cathedral in Umbria, Italy; Luca Signorelli, Public domain, via Wikimedia Commons
Fra Angelico's creative career paralleled the shifting patronage scene in 15th-century Europe. Because he was a Dominican friar as well as a Renaissance painter, several of his earliest artworks were ordered by the growing and powerful Dominican order.
Nevertheless, as his fame rose, he obtained several orders from the newly affluent class of traders and merchants in central Italy, solidifying his position as one of the most significant artists of the period.
Childhood
Very little is documented about Fra Angelico's early life. While his exact birth date is uncertain, we do know he was born close to the village of Vicchio. Fra Benedett, Angelico's brother, also became a monk, as did Checca, his sister. The identities of his parents are unclear, although it is usually accepted that Angelico was reared in a wealthy household.
It is assumed that Angelico received artistic instruction that laid the groundwork for his creative career.
Early Training and Work
Fra Angelico most likely trained under the painter Lorenzo Monaco, a manuscript illuminator popular in Florence during the period. The two artists had a "unique palette, unparalleled in complexity by any other painter of the time, in which colors are dazzling and numerous in hue, accented by finely stroked strands of white," according to art historians.
The early Renaissance painter entered the confraternity of San Niccol di Bari in 1417 on the advice of Battista di Biagio Sanguigni. A year later, a record indicating compensation for an art piece in Santo Stefano al Ponte implies the start of his painting career.
Angelico joined the monastery of San Domenico in Fiesole as a monk between 1418 and 1423, with his brother, Benedetto, who also specialized as an artist and illuminator. His colleagues, notably Masaccio, would have recognized him as Fra Giovanni da Fiesole, his newfound religious identity.
Detail of St Lawrence Distributing Alms (1447 – 1450) by Fra Angelico, located in the Niccoline Chapel in the Vatican City; Fra Angelico, Public domain, via Wikimedia Commons
Angelico's spiritual activities as a Dominican Order monk most likely included self-flagellation and abstinence, as well as the reading of Latin, scriptures, and religion. Many believe Angelico was a profoundly religious person, with Vasari actually going so far as to say that the painter would never have drawn a crucifix "without tears pouring down his face."
While this is unquestionably a glamorized record, it contains some truth because we can see Angelico's dedication to the Order and its value systems in his work and style of life, but it is also true that the Dominican rank was one of the representatives of academic and artistic exercise in Florence at that moment and was on the cusp of wielding significant sway.
During his tenure at San Domenico, Angelico created an illustrated choir handbook referred to as the Messale 558, as well as three altarpieces for the Dominican monastery, such as the "San Domenico Altarpiece" (c.1423).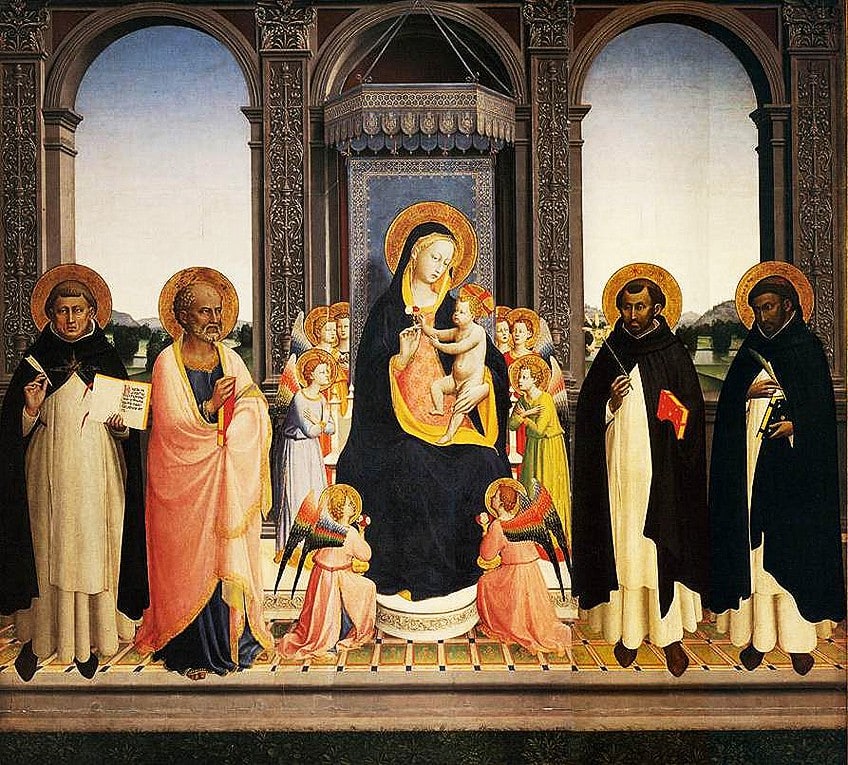 San Domenico Altarpiece (1423 – 1424) by Fra Angelico, located in the convent of San Domenico in Fiesole, Italy; Fra Angelico, Public domain, via Wikimedia Commons
Angelico's paintings at this time show his devotion to Dominican values, which center on the worship of Christ and Mary. But by the late 1420s, the creative landscape in Florence had altered dramatically, with the deaths of some of Angelico's most notable colleagues, notably Masaccio, who died of the plague epidemic in 1428.
Angelico went on to become one of Florence's most prominent artists.
Angelico's prominence grew as he attracted the interest of the city state's richest independent patrons, like Palla Strozzi and Cosimo de' Medici, and Fra Angelico's artwork expanded beyond contracts for the Dominican Order. He was so desired that by the 1430s, he and Benedetto had a well-developed studio, which enabled him in producing a wide range of work rapidly.
Mature Period
Pope Eugenius IV awarded the Dominican Observants control of the monastery at San Marco in 1436, and it was here that Fra Angelico made several of his most renowned masterpieces. During the rebuilding of the monastery in late 1437-8, Cosimo de' Medici oversaw the funding of the entire facility.
He ordered Angelico to adorn the monastery and paint possibly his most famous altarpiece, recognized as "The San Marco Altarpiece" (c. 1442).
San Marco Altarpiece (1438 – 1443) by Fra Angelico, located in the Museum of San Marco in Florence, Italy; Fra Angelico, Public domain, via Wikimedia Commons
Angelico worked for five years with an entourage of helpers, particularly Benozzo Gozzoli, to finish the many paintings and altarpieces that decorate the monastery. The paintings of San Marco, which inspired the monks' dedication, are regarded as one of the most important and extensive instances of the partnership between Dominican ideas and artistry.
Late Period
Pope Eugenius IV called Angelico to Rome in July 1445, where he remained until 1450. Yet, in 1447, Angelico was documented in Orvieto, working closely with his student and helper Benozzo Gozzoli to decorate the Chapel of San Brizio. Owing to monetary troubles caused by the magistrates, the construction was abandoned and was ultimately finished by Luca Signorelli over 50 years afterward, who included a picture of Fra Angelico in one of his murals.
Back in Rome, Angelico completed a series of paintings for Pope Nicholas V, several of which were regrettably lost, excluding a fresco depicting the life of Saints Lawrence and Stephen in his chapel. Very little was documented about Angelico's last years, however, he served as prior of his former monastery in Fiesole from 1449 to 1452.
Scenes from the Life of Christ (1451 – 1452) by Fra Angelico, located in the Museum of San Marco in Florence, Italy; Fra Angelico, Public domain, via Wikimedia Commons
Angelico's brother had died by 1450. Angelico most certainly completed several assignments during these years, notably The Silver Chest (c.1452). He then went to Rome one more time before he died on the 8th of February, 1455, in Santa Maria Sopra Minerva.
Angelico was recognized as a man who was committed to his faith and refrained from material possessions.
Legacy
Angelico was beatified in 1982 by Pope John Paul II, who professed his affection for him. Whereas Fra Angelico's spirituality was extraordinary, his artistic advancements and utilization of color motivated numerous Renaissance painters, such as Signorelli and Raphael, who used his portrayal as an emblem of religious devotion in their artworks Sermon and Deeds of the Antichrist (c. 1502) and Disputation of the Holy Sacrament (c. 1510).
Angelico's fame extended far beyond Italy, as his creative innovations influenced Northern Renaissance painters such as Rogier van der Weyden, who obviously used Angelico's creative framework to construct his "Lamentation of Christ" (c.1460 – 1463). Much more recently, Angelico inspired the Pre-Raphaelites in the mid-19th century.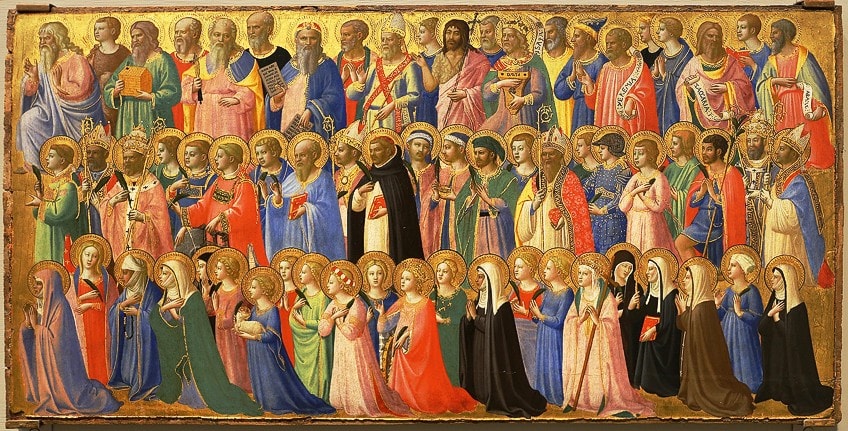 Pala di Fiesole predella by Fra Angelico, located in the National Gallery in London, United Kingdom; National Gallery, CC BY 3.0, via Wikimedia Commons
Painters like Dante Gabriel Rossetti turned to the Early Renaissance not only for methods but also for a more emotive topic, rejecting the lofty classicism promoted by the school. The compositional parallels between Rossetti's Ecce Ancilla Domini (The Annunciation) (1850) and Angelico's work are striking. Fra Angelico's artwork continues to inspire many painters to this day. Richard Hamilton, a Pop artist, claimed Angelico as a major influence on his works, as can be observed in his digital collage The Annunciation (2005), which incorporates Fra Angelico's color scheme and structure into his personal life narrative.
Notwithstanding the religious essence of his subject material, which had primarily gone out of fashion in the contemporary age, Angelico's representation of story established around the creative development of space and exemplified in bright colors and artful majesty influenced a diverse scope of artists from various eras and societies.
Fra Angelico's Paintings
Dominican painter Fra Angelico is renowned for his angel Renaissance paintings. He used Masaccio's revelations of aesthetic advancements while maintaining true to conventional concepts of holy art. His faith and dedication to the Dominican order are shown by the exquisite elegance of his Madonnas and angels.
He also instilled in his children a truly religious love of people and a sense of dignity before God. This dedication to his faith and to his work formed the artist's worldview and served as a driving factor through Fra Angelico's lifetime.
The Last Judgment (1431)
| | |
| --- | --- |
| Date Completed | 1431 |
| Medium | Tempera and gold on panel |
| Dimensions | 105 cm x 210 cm |
| Current Location | Museo di San Marco, Florence Italy |
The Last Judgement, with its distinctive design, had a particular duty as a seat backdrop for the clergy and guests at high mass in Florence's church of Santa Maria Degli Angeli. It is a compelling visual artwork that displays Fra Angelico integrating conventional Last Judgment precedents with new inventions, portraying the story in which Christ determines whether the departed shall go to hell or heaven. Christ is exalted in the celestial sky, surrounded by a mandola and a throng of angelic beings, with St. John the Baptist and the Virgin Mary to his sides, accompanied by lines of Saints.
A lengthy series of open graves underneath the celestial backdrop represents the deceased to be condemned.
To the left of the graves, luxuriant greenery can be seen, as well as angels joyously dancing around the doorway to paradise and staring up at the heavens. On the other hand, on the right, the condemned are taken by demons to the pits of hell to face severe penalties. Fra Angelico may have taken up this project after his instructor, Lorenzo Monaco, passed.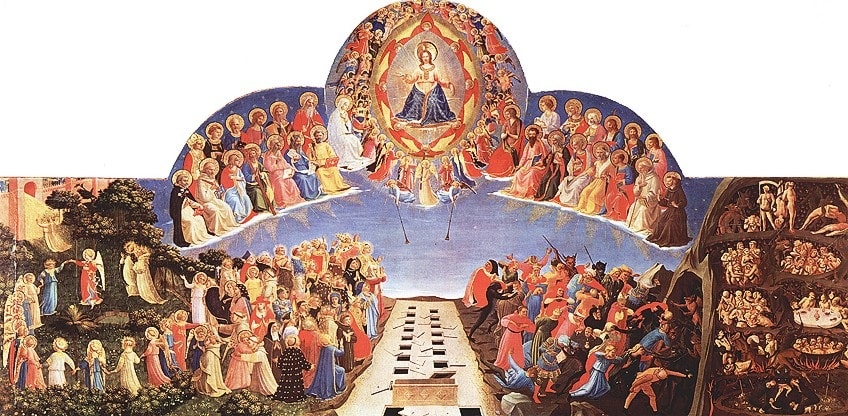 The Last Judgment (1431) by Fra Angelico, located in the Museum of San Marco in Florence, Italy; Fra Angelico, Public domain, via Wikimedia Commons
The elevated halo surrounding Christ's head is a more typical element in previous portrayals, and the images of hellish torment are borrowed from a similar Last Judgment painting located in Pisa, implying that Fra Angelico did not invent the entire piece. What made him stand out was his inventive use of an illusionistic viewpoint to produce a compelling tale.
Fra Angelico portrays the tombs fading away towards the horizon, generating depth on the plain surface of the piece, and he organized the Saints in a recessed semicircle just above, providing the perception that they are sitting down at various ranges to the audience, probably affected by the creations of Lorenzo Ghiberti, who also used linear perspective.
The image of whirling angelic beings before the pearly gates is also unique. This feature, according to art historians, could be from a 15th-century song centered on newly unearthed patristic writings that explain how "a wheel is created in the heavens, all the saints in the gardens, they all danced for pleasure, they are clad in red and white."
The Deposition of Christ (1432 – 1434)
| | |
| --- | --- |
| Date Completed | 1432 – 1434 |
| Medium | Tempera and gold on panel |
| Dimensions | 176 cm x 85 cm |
| Current Location | Museo di San Marco, Florence |
Palla Strozzi, a rich Florentine banker, ordered Lorenzo Monaco to design a monument for his family's funeral chapel, which was placed in 1432. Scholars agree that Monaco completed the cornerstones above the Gothic apses of The Deposition of Christ and that the central screen is unmistakably Fra Angelico's artwork, but there is a substantial discussion on whether the altarpiece was left uncompleted at Monaco's execution, or if Angelico was subsequently appointed to revamp the central panel decorated by his instructor.
Angelico produced an original scenario of peace and drama inside the limits of an old-fashioned Gothic frame in either case. Christ's corpse is lowered from the crucifixion that covers the area beneath the middle arch, and, as is customary in these scenarios, he is accompanied by the grieving, notably Mary Magdalene, who caresses Christ's foot, and the Virgin Mary, who crouches in devotion.
To Christ's side are Nicodemus, John the Evangelist, and Joseph of Arimathea, but there is also a group of men clothed in current Florentine garb, one of them is holding spikes and a wreath of thorns, remnants of Christ's execution. A monk takes a knee before the tableau, opposite Mary Magdalene, and points towards the spectator, encouraging the audience to grieve Christ's sacrifice. Angelico creates a panoramic landscape that fades far into the horizon amid the constricting Gothic-style frame.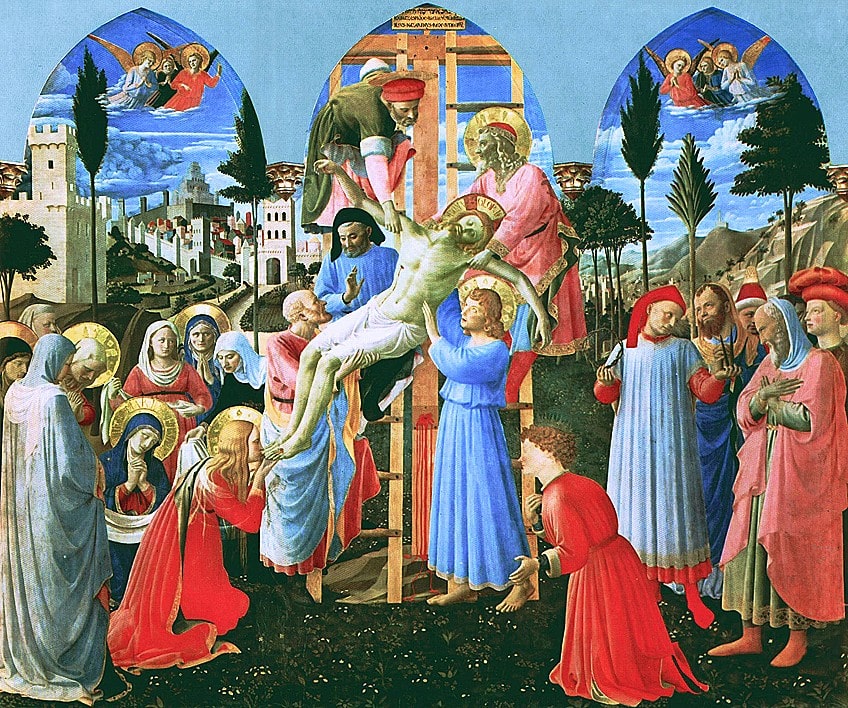 Deposition of Christ (1432 – 1434) by Fra Angelico, located in the Museum of San Marco in Florence, Italy; Fra Angelico, Public domain, via Wikimedia Commons
The towers and structures of Jerusalem can be seen to the left, while the rolling hills and greenery of the Tuscan countryside can be seen to the right. The mix of antique and contemporary elements was intended to entice the observer and evoke devout devotion. Furthermore, Fra Angelico's exquisite attention to detail – the blood trickling down the stake, the texture of the wood, Christ's green pale complexion, and the greenery on the trees – brings the observer closer to the action.
His use of vibrant reds and blues enlivens the picture, yet the mourners' courteous, unobtrusive replies emphasize the scene's severity. Angelico's "Deposition of Christ", initially shown across from Gentile da Fabriano's Gothic "Adoration of the Magi", signaled a new direction for Italian Renaissance art.
The Annunciation (c. 1434)
| | |
| --- | --- |
| Date Completed | c. 1434 |
| Medium | Tempera and gold on panel |
| Dimensions | 154 cm x 194 cm |
| Current Location | Museo Diocesano, Cortona |
The Annunciation depicts the moment when the archangel Gabriel proclaimed to Mary that she was becoming the mother of God's son. Fra Angelico presents a dramatic scene in a basic columned loggia with a limited landscape to the left.
While the phrases of Gabriel's pronouncement and Mary's reply are inscribed on the surfaces of the artwork, Fra Angelico followed in the footsteps of his colleague Massacio by producing substantial, solid figures in a logically structured setting.
The figures lean inwards toward one another, one reacting to the other as they set off on a voyage that would lead to humanity's redemption. To emphasize this spiritual link, Angelico represented Adam and Eve's banishment from Paradise, whose transgression made Christ's redemption essential.
Annunciation (c. 1434) by Fra Angelico, located in the Museum of San Marco in Florence, Italy; Fra Angelico, CC BY 2.0, via Wikimedia Commons
The loggia and gardens symbolize Mary's modesty and isolation, while the predella below depicts numerous episodes in her life. While the scene's components are few, Angelico's background as a manuscript illuminator is obvious in this piece. The exquisite blossoms on the grasses and the rich features of Gabriel's robes conceal the artwork's minimalism. The marble floor of the loggia seems flawless against the frills of Gabriel's robes, and the feathery richness of his wings contrasts sharply against the glossy sheen of their haloes.
The exquisite depiction of minutiae and illusionistic atmosphere in the "Annunciation" established the way for Angelico's most mature works in the following decades.
Coronation of the Virgin (1434 – 1435)
| | |
| --- | --- |
| Date Completed | 1434 – 1435 |
| Medium | Tempera on Panel |
| Dimensions | 213 cm x 211 cm |
| Current Location | Galleria Degli Uffizi, Florence |
The Coronation of the Virgin, a topic frequently painted by Fra Angelico, depicts the anointing of the Virgin Mary as the Monarch of Paradise. The artwork, which was perhaps requested by a convent of sisters for the church of Sant'Egidio, shows an incident that takes place on celestial clouds, in which Christ honors Mary with a headpiece.
Throughout the picture are clusters of individuals, many of whom stare towards the heavens, relishing in the divine beams; at the head of the throng, angels spread incense, while angels perform music in the higher section of the brilliant sky.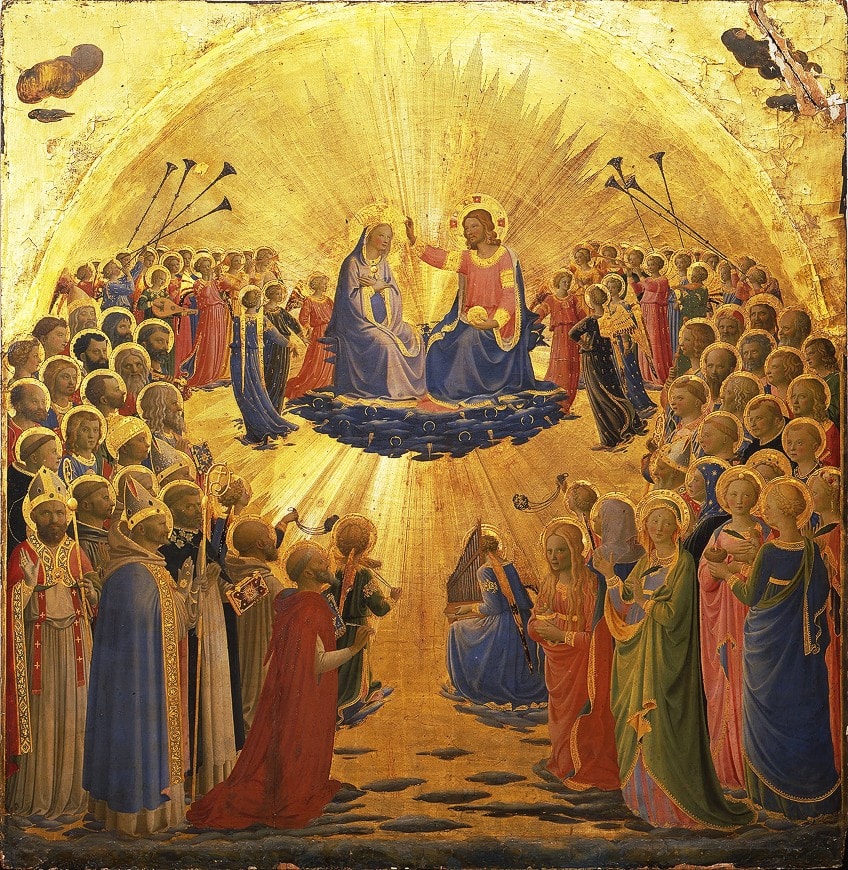 The Coronation of the Virgin (1434 – 1435) by Fra Angelico, located in the Uffizi in Florence, Italy; Fra Angelico, Public domain, via Wikimedia Commons
The gold backdrop, maybe a suggestion from the sisters who ordered the work, echoes previous medieval altarpieces that used gold leaf to depict a holy environment. Fra Angelico's usage here limited his ability to produce his normal deep, expansive backdrops, but he still managed to convey the sense of some distance. Light rays engraved in gold leaf radiate from the central point between Christ and Mary, drawing out a curve and producing the desired depth.
Furthermore, the cloud on which the two are sitting bends in a concentric form, producing the appearance of distance. While there are still many details, from puffs of clouds to beautifully lighted robe hems, this piece has a more classicizing uniformity than previous works.
Recommended Reading
Fra Angelico's angels Renaissance paintings left a lasting legacy on the artists that followed after. But there is so much more to discover about this amazing Dominican painter. If you are interested in discovering more about Fra Angelico's paintings then check out these books.
Fra Angelico: The San Marco Frescoes (1996) by Paolo Morachiello
A trip to Florence's Dominican monastery of San Marco is a dramatic and fulfilling event. Around 1440, Fra Angelico and his helpers, including the youthful Benozzo Gozzoli, painted a sequence of works centered on the subject of Christ's suffering in the small chambers of the priest, hallways, monastery, and chapters. Conceived and created as meditative and devotional aids, they have earned a position among Western art's more exciting achievements.
A fully illustrated survey of every picture
An introduction to the building and to the painter
A superb visual record of this great artistic and spiritual ensemble
View on Amazon
Fra Angelico (2005) by Laurence Kanter
Fra Angelico was a famous early Renaissance painter in Florence. This lovely book, released in connection with the first major exhibit of Fra Angelico's artwork since the show in Florence in 1955, will include over 70 works, sketches, and manuscript illuminations spanning the Renaissance painter's career from around 1410 until 1455. In addition, 50 works from his aides and intimate associates will be featured.
Published with the first major exhibition of Angelico's work
More than seventy paintings, drawings, and manuscript illuminations
Additional fifty selected works by his assistants and closest followers
View on Amazon
That wraps up our exploration of the Dominican painter Fra Angelico, who amazed audiences with his angels Renaissance paintings. During his time in the monastery, Fra Angelico was immersed in an intellectual milieu that merged Christian dogma with classical literature. This new humanism highlighted the importance of rational reasoning and ushering in the principles of personal liberty that would shape the early Renaissance.
Frequently Asked Questions
Who Was Fra Angelico?
Fra Angelico, often known as the Angelic Painter after his death, was an early Renaissance painter who helped signal a change in Italian art. In the growing notion of early Renaissance Humanism, Dominican painter Fra Angelico focused on presenting religious issues in a rational and illusionistic environment, with all of the solidity and substance of the human body. Fra Angelico's paintings blended passion and inventiveness to create some of the most striking murals and altarpieces of the Early Renaissance period.
What Was Fra Angelico Known For?
Despite the religious nature of his subject matter, which had largely fallen out of favor in the modern era, Angelico's representation of the story, centered on the creative development of space and exemplified in bright colors and artful majesty, influenced a diverse range of artists from various eras and societies. Fra Angelico, a Dominican painter, is well-known for his angels Renaissance paintings. He employed Masaccio's disclosures of aesthetic breakthroughs while adhering to traditional conceptions of sacred art. His devotion to the Dominican order is shown in the delicate grace of his Madonnas and angels.
Isabella studied at the University of Cape Town in South Africa and graduated with a Bachelor of Arts majoring in English Literature & Language and Psychology. Throughout her undergraduate years, she took Art History as an additional subject and absolutely loved it. Building on from her art history knowledge that began in high school, art has always been a particular area of fascination for her. From learning about artworks previously unknown to her, or sharpening her existing understanding of specific works, the ability to continue learning within this interesting sphere excites her greatly.
Her focal points of interest in art history encompass profiling specific artists and art movements, as it is these areas where she is able to really dig deep into the rich narrative of the art world. Additionally, she particularly enjoys exploring the different artistic styles of the 20th century, as well as the important impact that female artists have had on the development of art history.
Learn more about the Art in Context Team.