Famous Digital Artists – Explore the World of Digital Painting Art
In the modern era, artists are no longer restricted to the traditional art mediums that have been utilized for centuries and are free to explore new creative technologies such as digital painting art programs. These programs enable creative individuals to manipulate and edit existing images, such as photographs, as well as produce unique digital art drawings from scratch using virtual painting brushes. Unlike the previous eras where art was largely controlled by academic institutions and gallery curators, some of the best digital artists today have become world-renowned through their personal online presence, exhibiting their works on various platforms such as Instagram, Artstation, and numerous others. Here is our pick of a few of the most famous digital artists.
Famous Digital Artists
Digital painting art is a medium that comprises many genres and styles. For every traditional art style or genre, there is a digital counterpart – as well as the many styles that can only be created digitally, such as mathematically precise fractal generations. There are thousands of digital art drawings online ranging from hobbyist art created on mobile apps to professional works rendered on the latest high-tech PC software. The best digital artists have managed to take this new synthetic medium and craft artworks that feel alive, substantial, and natural – breaking down the idea that anything created with a computer will intrinsically produce only sterile and emotionless art. To understand how the medium is being utilized in distinct artistic ways, let us explore some of the famous digital artists from around the world that are currently creating masterful digital canvases.
André Ducci – Italy
Nationality
Italian
Website
https://www.behance.net/andreducci
Notable Artworks
● The Secret Garden

● Banjo

● Street Art Manifesto
André Ducci is a writer and artist from Italy who produces crazy graphics based on vintage aesthetics. He is often regarded as one of the best digital artists who work in this genre. He illustrates publications, creates a series of posters and images, and his art takes you on a journey from the 1920s through the 1960s. He is an expert in the use of texturing and shaders, as well as the creation of captivating color schemes for his creations.
Another of his specialties is capturing nostalgic or emotional stories on paint, something you'll see a lot of in Ducci's works.
Antoni Tudisco – Germany
Nationality
German
Website
https://1806.agency/antoni-tudisco/
Notable Artworks
● Gucci Vault

● Etheeverse

● Summer Update
Antoni Tudisco is a digital artist from Hamburg, and one of the most famous digital artists working in contemporary surrealism and promoting NFT. He has collaborated with Adidas, Nike, Versace, Mercedes-Benz, and Google, and has received several design honors. Smooth 3D forms and textures are refined by a vibrant color palette ranging from gold to neon pink. The artist wants to redefine digital physics and study the rules of nature in his works on an individual basis. This is flavored by his rekindled interest in surrealism, street, and Asian aesthetic notions, which he employs more regularly. Such surrealist experimentation is frequently included in branding efforts, therefore his usage of the Nike emblem as piercing or sticking a pair of candy bars to one's face with duct tape is not unusual.
Beeple – United States
Nationality
American
Website
https://www.beeple-crap.com/
Notable Artworks
● Freefall

● Premulitply

● Warm Fire
Beeple is rated among the most famous digital artists of our day. He does 3D art that is noted for philosophical, dystopian pieces that have a strong commentary on present pop culture. He's also known for selling the priciest NFT. It's not shocking to most because his perspective of reality can't possibly leave anyone chilly. As one of the best digital artists, he demonstrates extraordinary boldness blended with a powerful yet bleak touch of dystopian aesthetic and anxiety in his animations, caricatures, parodies, and album covers. Beeple combines exceptional talent, a distinct vision, and an unwavering dedication to the craft.
Since 2007, he has been drawing and posting sci-fi images every day, and his digital universe has grown over time.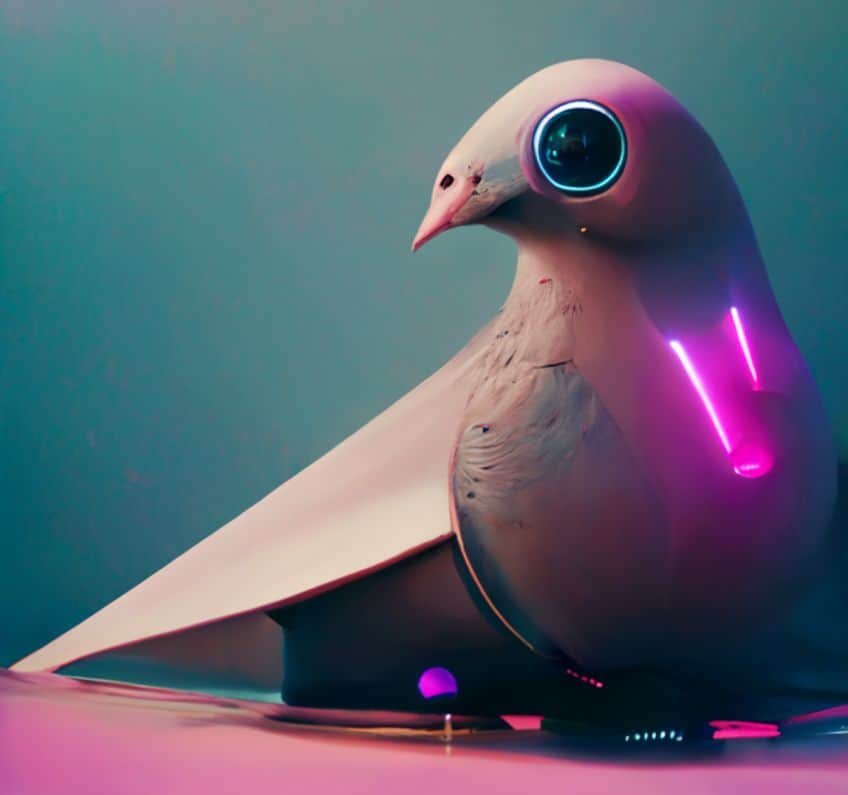 Bathingbayc a mechanical dove (2022) by Beeple; Midjourney, Public domain, via Wikimedia Commons
Butcher Billy – Brazil
Nationality
Brazilian
Website
https://www.illustrationx.com/artists/ButcherBilly
Notable Artworks
● Post-Punk Whip It

● A Clockwork Joker

● Eyes Without a Face
Butcher Billy is another one of the famous digital artists who revives Pop art culture with his interpretation of comic artwork. That's not to say it's dead; nevertheless, if you look at his digital painting artworks, you'll see it's taken on a whole new spin. There are several projects for Netflix, Marvel, and others in Butcher Billy's repertoire, so there are no concerns about whether his powerful vintage style blended with unconstrained explorations will be popular or not. Through his vision, you'll gain a whole fresh outlook on cinematic icons as well as iconic comic stories and TV episodes – there isn't a single one Butcher Billy doesn't include his digital art drawings into. He also flipped the business upside down just several years ago with his Post-Punk series, in which he cast some of his beloved rock singers as superhero characters.
Jinhwa Jang – Korea
Nationality
Korean
Website
https://www.jinhwajangart.com/
Notable Artworks
● Urban Landscape

● Winter

● Summer
Jinhwa Jang is one of the best digital artists from Seoul, and her paintings are loaded with unusual elements and light. You'll be amazed at how easily she can generate mood and experiment with shadow and light in her digital art drawings, whether they're colorful, game-like, neon, or monochromatic and manga-styled. Jinhwa Jang masterfully captures the moment, and everyone who sees her work immediately feels a part of it.
Her Seoul-inspired collection, for instance, evokes so much of the mood and nightlife feel of Korea that it will make you feel like you have traveled there with your eyes.
Marija Tiurina – United Kingdom
Nationality
United Kingdom
Website
https://marijatiurina.com/
Notable Artworks
● The Tiger Party

● Isometric Map of London

● Housemates
Marija Turina's style will be a captivating discovery for anybody who is a fan of Bosch's multiple-plot works with numerous individuals and scenarios recorded on a single canvas. Instead of gloomy medieval themes, she creates lively search-and-find artworks brimming with life and delight. And while it cannot be disputed that all designers are concerned with little things in their own way, Marija Turina is perhaps the greatest digital painting artist who has perfected it. One can observe for themselves by just looking at her digital art drawings online. Every figure in her pictures is overflowing with emotions and distinguishing characteristics that reflect their individuality.
Matt Schu – United States
Nationality
American
Website
https://www.matt-schu.com/
Notable Artworks
● High Tide

● Treehouse

● Dead Mouse
Matt Schu is a Portland-based digital painting artist and illustrator who has a strong interest in sketching houses. Furthermore, humans are uncommon characters in his paintings, and he likes to explore the moods of buildings and gardens. Matt's artistic concept is to focus on the emotional element rather than the item, and from this vantage point, he sees a lot of significance, emotion, and motivation in houses. Matt Schu's explorations with location and details allow him to express any feeling without explaining or showing anything specific – and here is where the magic happens.
Matt Schu has self-published a few magazines and books, which allow him to continue his trip through his creative realm.
Ori Toor – Israel
Nationality
Israeli
Website
https://oritoor.com/
Notable Artworks
● Gibberish Longing

● Gibberish Minimalism

● Gibberish Nights
Ori Toor sees himself as "an artist that creates freestyle universes for others to get lost inside". And there are no adjectives to properly describe his digital art drawings! He is a digital painting artist with a penchant for drawing multi-level fantasy narratives and characters without any prior drawing or preparation. His unique style of improvisation draws the viewer in instantaneously with his stream of creativity and ability to construct digital universes from a single concept. There are strong abstractions, sci-fi artworks, numerous trippy compositions, and sometimes even looping animations in Toor's portfolio. He mostly employs a flat approach, therefore he utilizes a variety of colors to portray atmosphere and space, as well as to develop relationships between elements and layers inside the digital painting artwork.
So Lazo – El Salvador
Nationality
El Salvadorian
Website
https://www.instagram.com/sonialazo/
Notable Artworks
● Strength

● Kitty Gang

● Friends 4 Ever
So Lazo is a tattoo artist, digital painting artist, illustrator, and, as she puts it, a designer of ridiculous outfits. She likes to blur the line between fiction and reality in her pictures, producing imaginative narratives and characters. The palette, which frequently focuses on vibrant pink and cotton candy tones, is another distinguishing aspect that characterizes Lazo's style of painting. Remarkably, such color solutions are combined with a strong feminist statement, giving them a whole new meaning. Lazo's universe is influenced by, but not restricted to, her culture's myths and traditions. She explores the connections between the natural, spiritual, and human worlds in both her physical and digital art drawings.
All of this adds up to a new perspective of Latin heritage that no one can not but love.
Steve Simpson – Ireland
Nationality
Irish
Website
https://stevesimpson.com/
Notable Artworks
● Gryphon

● Fish Town

● Dinosaurs
When you look at Steve Simpson's amazing pictures, it's like a carnival sauntering into your life. Even if the current pieces are influenced by Mexican folk art (or a version thereof), they are not all in the Day of the Dead spirit. Steve Simpson has spent a considerable portion of his life immersed in the comics production process and developing his particular illustration style as a digital painting artist. Apart from the primary figures, Steve Simpson's digital graphics are pattern-like and made of teeny-tiny ornamental components that provide a vibrant environment for the piece, entirely eliminating the boundary between actuality and a dream world. From whiskey labeling and boxes to book sleeves and board games, the vivid and quirky images always hit the mark when it comes to conveying a product's atmosphere and inspiring impressions. And you never know where his fresh digital art drawings will take you next.
The Rusted Pixel – Ireland
Nationality
Irish
Website
https://www.therustedpixel.com/
Notable Artworks
● All the Things

● Rainy Days

● Rua and Titch
This famous digital artist is an amazing Irish 3D designer. His portfolio includes work for Google, Adobe, Spotify, Disney, MTV, and more firms that most artists and designers aspire to work with. Nevertheless, what people like most about The Rusted Pixel are the fantastic worlds and people he conjures. He gets inspiration from his native Donegal's scenery and beaches. As a result, each digital painting artwork exudes a comfortable and fantasy-like atmosphere. Every element has a narrative, and the artist piques the viewer's interest by creating interesting textures. So you feel as though you're touching all those little leaves or kitchenware and getting closer to his digital environment.
With that, we wrap up our list of famous digital artists that are currently transforming digital visual art. The best digital artists have all managed o carve their own unique niche into the digital landscape. The digital painting artworks currently being produced have gardener recognition for their ultra-modern aesthetics and unique subject matter.
Take a look at our digital artists webstory here!
Frequently Asked Questions
Did Most Famous Digital Artists Study Art?
While there is a large number of famous digital artists that attended some sort of art college or course, it is not an absolute necessity. In the modern world, much of the information you need to start is readily available on the internet. Some of the best digital artists even offer tips online!
Do the Best Digital Artists Make Money?
There are an endless number of clients that require digital art for various projects. Therefore, there is a large number of digital artists out there trying to make a living by creating commercial digital illustrations every day. The most famous digital artists, however, are able to often sustain themselves from their non-commercial artworks too. As with industry, the better and more experienced you are at your task, the more money you can ask for your work. Nowadays there are many online platforms where digital artists are able to upload their works and sell to the public without the need for physical art galleries.
Isabella studied at the University of Cape Town in South Africa and graduated with a Bachelor of Arts majoring in English Literature & Language and Psychology. Throughout her undergraduate years, she took Art History as an additional subject and absolutely loved it. Building on from her art history knowledge that began in high school, art has always been a particular area of fascination for her. From learning about artworks previously unknown to her, or sharpening her existing understanding of specific works, the ability to continue learning within this interesting sphere excites her greatly.
Her focal points of interest in art history encompass profiling specific artists and art movements, as it is these areas where she is able to really dig deep into the rich narrative of the art world. Additionally, she particularly enjoys exploring the different artistic styles of the 20th century, as well as the important impact that female artists have had on the development of art history.
Learn more about Isabella Meyer and the Art in Context Team.
Cite this Article