Famous Cat Paintings – Top Paintings of Cats by Famous Artists
Cats are some of our favorite animals, so it is no surprise that there are so many examples of cats in art. Cats carry a certain grace and elegance. Unlike dogs, they will happily sit or sleep in the same position, making them perfect candidates for subjects, as seen in the numerous examples of famous cat paintings. There is no better way to explore the topic of cats in paintings than by examining several paintings of cats by famous artists.
Famous Cat Paintings
These cunning, enigmatic animals have been venerated in some of the world's most extraordinary cultures, yet they are also associated with evil in other civilizations. All of these aspects demonstrate that humans have always felt a deep admiration and respect for our feline friends.
This affinity for cats may be seen in different paintings of cats by famous artists produced throughout history.
For centuries, humans have depicted these cats in paintings – we have even found examples of paintings of cats in ancient Egypt! What are some of the most famous cat paintings, though? Let's look through the list below and find out!
The Cat's Lunch (c. Early 19th Century) by Marguerite Gérard
| | |
| --- | --- |
| Artist | Marguerite Gérard (1761 – 1837) |
| Date Completed | c. early 19th century |
| Medium | Oil on canvas |
| Location | Villa Musée Fragonard, Grasse, France |
This is one of Marguerite Gérard's most famous cat paintings. Gérard was well-known for her prodigious oil painting output, and her brother-in-law persuaded her to include cats in her works. She was well-known for depicting household life as well as the value of music and female friendship. But, over time, she began to emphasize the importance of a cat's company.
A young lady feeding her cat demonstrates the strong bond between both cats and women in her picture, which symbolizes maternity and childhood inside the family.
Gérard never married and seemed to have had no desire to join the Academy, and had a phenomenally successful career. She received three awards for her art, which she displayed on a regular basis once the Salons opened to female artists in the 1790s.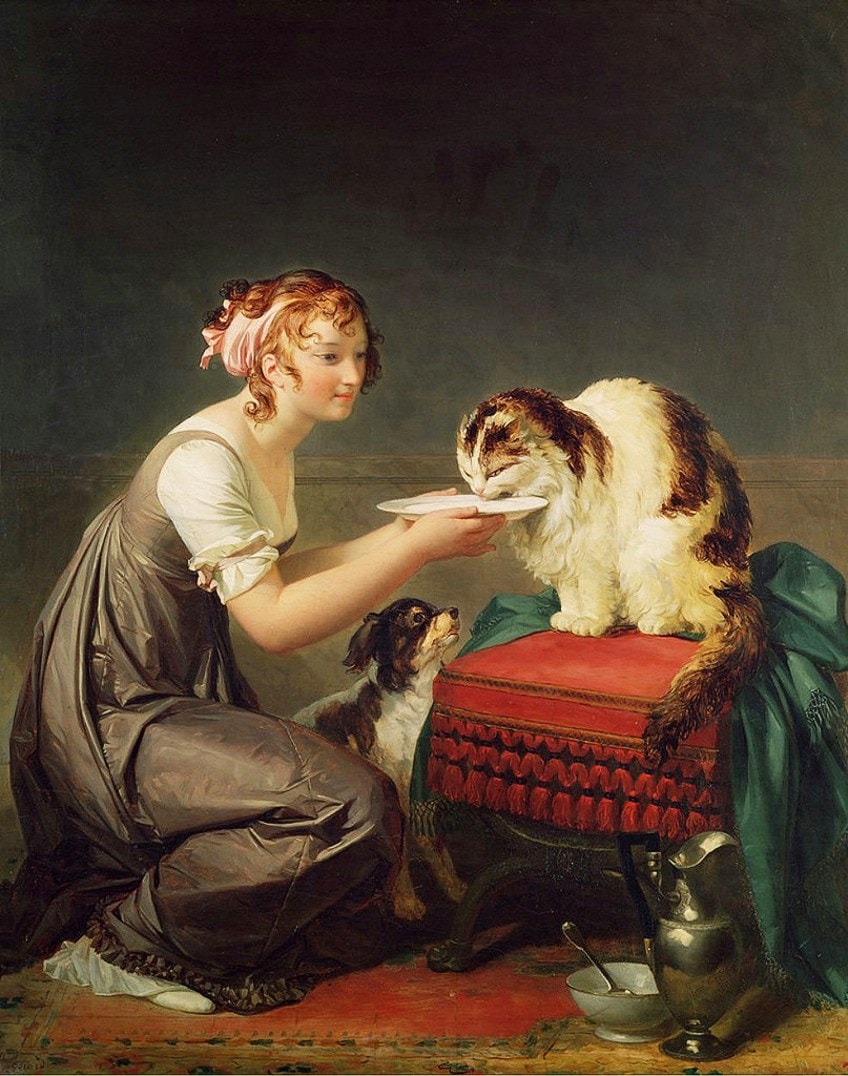 The Cat's Lunch (c. early 19th century) by Marguerite Gérard; Marguerite Gérard, Public domain, via Wikimedia Commons
Julie Manet (Child with Cat) (1887) by Pierre-Auguste Renoir
| | |
| --- | --- |
| Artist | Pierre-Auguste Renoir (1841 – 1919) |
| Date Completed | 1887 |
| Medium | Oil on canvas |
| Location | Musée d'Orsay, Paris, France |
Renoir was good friends with Berthe Morisot and Eugène Manet, her husband. Eugène Manet was the artist Édouard Manet's brother. Recognizing Renoir's talents and friendship, the Manets commissioned Renoir to create a picture of their daughter Julie Manet. Renoir agreed, and this painting was completed in 1887. Renoir prepared the painting with at least four sketches. Renoir just made a few minor tweaks to the way he positioned the woman. What changed was the decision not to pose her in a frontal position.
As a result, the finished image depicts Julie Manet seated at an angle for the artwork. Julie is portrayed with a cat on her lap. When asked afterward about the session, Julie Manet stated that the portrait of her bore a strong resemblance to her. She did see that Renoir had not worked in his normal manner on the artwork.
To achieve the intricacy exhibited in the image, he worked in minute portions. The picture demonstrates Renoir's talent in conveying the sensitivity and devotion of his little model.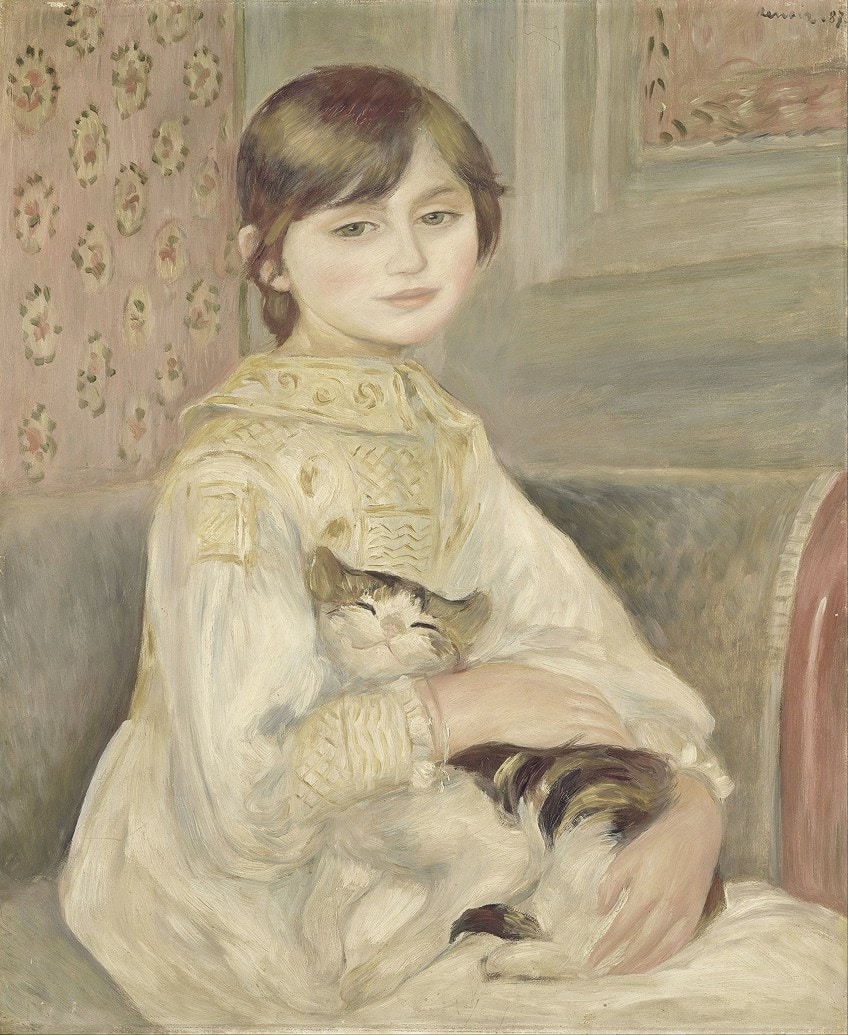 Julie Manet (Child with Cat) (1887) by Pierre-Auguste Renoir; Pierre-Auguste Renoir, Public domain, via Wikimedia Commons
A Young Girl with Cat (1892) by Berthe Morisot
| | |
| --- | --- |
| Artist | Berthe Morisot (1841 – 1895) |
| Date Completed | 1892 |
| Medium | Oil on canvas |
| Location | Private collection |
Morisot painted a large number of female portraits over her career, which she shared with other female artists such as Mary Cassatt. It was gratifying to see this aspect of society represented more regularly towards the conclusion of the 19th century, and women would gradually, but steadily, gain a more equal place in society for the first time.
This incredibly feminine piece depicts a young girl sitting back on a couch and petting a kitten on her lap.
The girl is dressed elegantly, discreetly, and in a light material. She is wearing a pearl necklace that fits snugly just below her chin. Her face is lovely, with pale skin and a tight jawline that fit the preferences of the period. Her lips are red as roses, and her cheekbones are delicately colored. Her hair wraps over her back, with one length falling over her shoulder.
The girl maintains a firm grip on the cat, no doubt keeping it in position for this painting. The animal itself appears peaceful and at ease with this little child. Morisot used open and relaxed brushwork in this picture, with numerous sections reminiscent of the Impressionist style, which diverged from the accuracy of movements such as the Realists.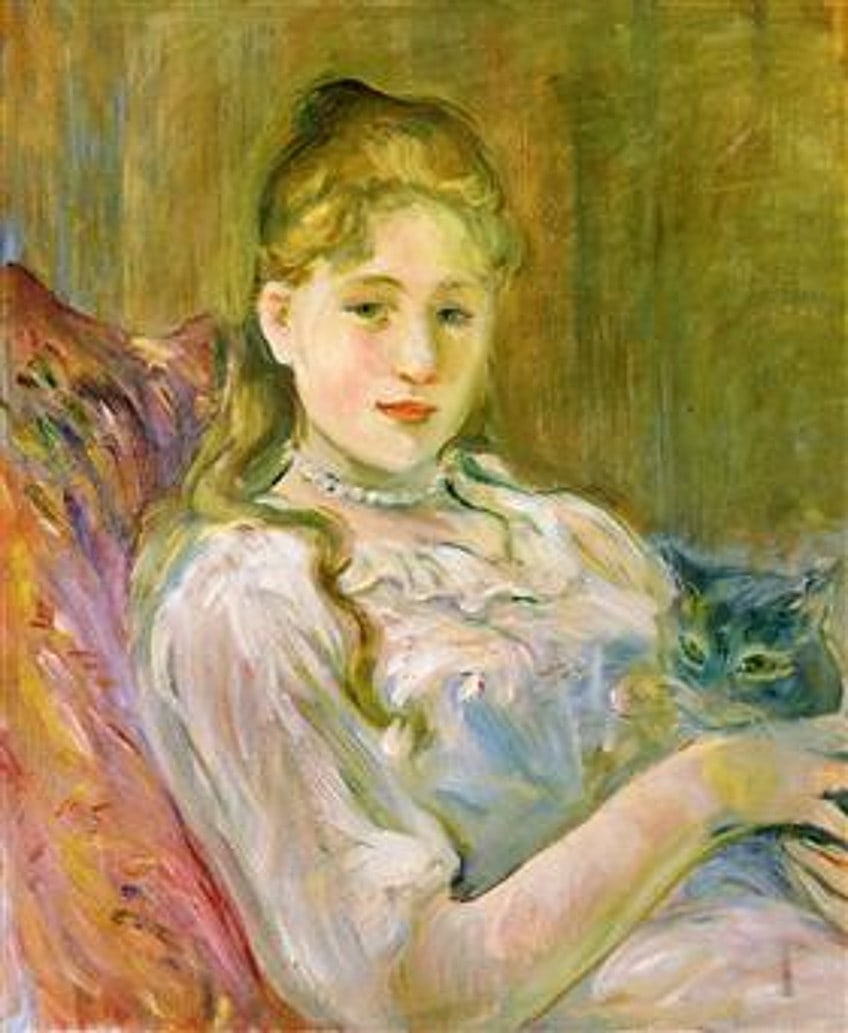 A Young Girl with Cat (1892) by Berthe Morisot; Berthe Morisot, Public domain, via Wikimedia Commons
Curiosity (1893) by Horatio Henri Couldery
| | |
| --- | --- |
| Artist | Horatio Henri Couldery (1832 – 1893) |
| Date Completed | 1893 |
| Medium | Oil on canvas |
| Location | Private collection |
Horatio Henry Couldery was renowned for his meticulous attention to detail and extraordinarily lifelike portrayals of his subjects in his paintings. Henri Couldery rose to prominence in the second half of the 19th century as a painter who specialized in animals. He was most recognized for his depictions of cats in all their individual magnificence.
Henri Couldery developed a series of artworks of cats in various locations displaying their normal exploratory and inquisitive nature.
This might be a nod to the antiquated saying that "curiosity killed the cat". Henri Couldery's artworks in this series show that he aimed to emphasize the inquisitive nature of newborn kittens. In this piece, three cats are crouching down, attentively listening to the activities of a little mouse confined in an enclosure nearby.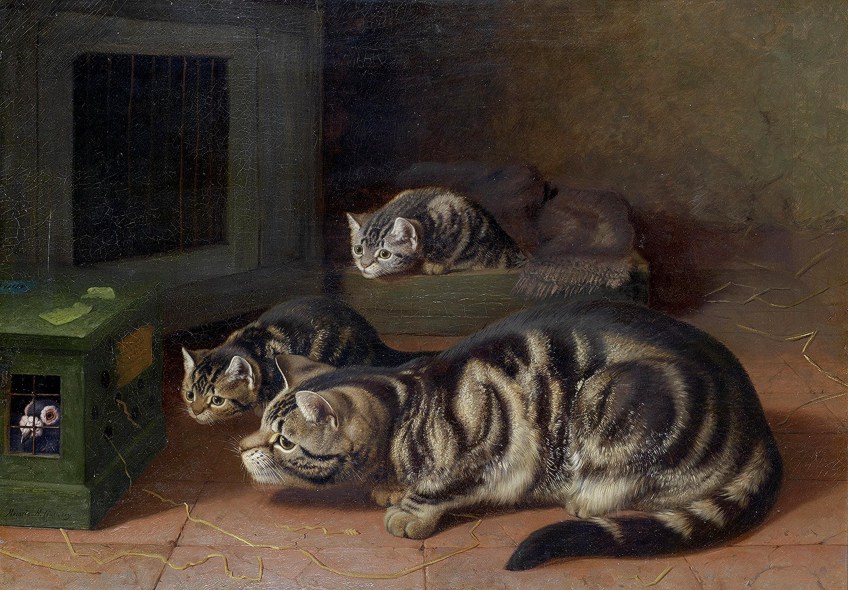 Curiosity (1893) by Horatio Henri Couldery; Horatio Henry Couldery, Public domain, via Wikimedia Commons
Sara Holding a Cat (1908) by Mary Cassatt
| | |
| --- | --- |
| Artist | Mary Cassatt (1844 – 1926) |
| Date Completed | 1908 |
| Medium | Oil on canvas |
| Location | Private collection |
One should keep in mind that Mary Cassatt was nearing the end of her profession at the moment of this work. Unfortunately, her eyesight was diminishing in clarity, and she would soon be unable to continue producing art. What we have here is the painter at the pinnacle of her skill at portraiture, right before it began to fade. The girl is dressed in a gorgeous pink outfit with white details and a complementing ribbon in her hair. The subject has blonde hair, which Mary Cassatt frequently selected whenever choosing her model.
The sitter is holding a little cat in her hand, which was no doubt trying to escape when she was arranging this composition. One imagines she would have had to work fast to put together a drawing of the contours before the cat and the little girl became bored and drifted off. Cassatt was accustomed to dealing with small children, but the inclusion of a cat would have made this painting even more difficult to complete.
One can observe that most of the detail is coarse, with long strokes that the artist hasn't softened – the cat's back, for instance, has extremely obvious lines instead of a merging of colors to create something more distinct.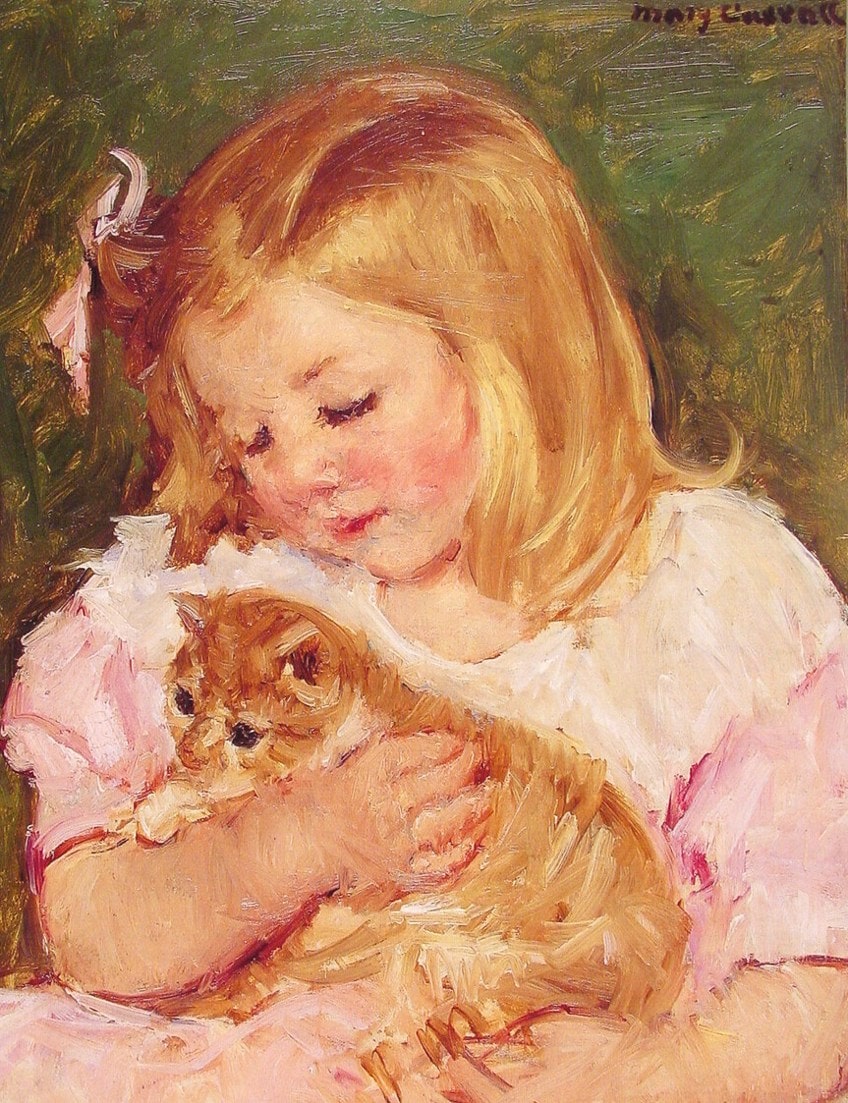 Sara Holding a Cat (1908) by Mary Cassatt; Mary Cassatt, Public domain, via Wikimedia Commons
The White Cat (1912) by Franz Marc
| | |
| --- | --- |
| Artist | Franz Marc (1880 – 1916) |
| Date Completed | 1912 |
| Medium | Oil on canvas |
| Location | Moritzburg, Halle, Germany |
Franz Marc was a huge animal lover. He created images of kittens and dogs that are sweet and uncomplicated. Deer and horses are two examples of his geometric animals. His topics are rather conventional, and his depictions are generally lacking in excessive detail, but he manages to elicit intense emotion.
While the amazing depictions of animals in their natural environments elicit emotion, it is Marc's use of color that elicits emotion when one studies his work carefully.
His choice of red was meant to symbolize life, and yellow is a color associated with feminine love. Numerous of Franz Marc's works appear to be soft and innocent, but in the early 1930s, in his home in Germany, Marc was labeled a degenerate painter, and many artworks like this one were banned from galleries around the country. After World War II, his paintings were re-exhibited, propelling Franz Marc to become one of Germany's most prominent painters.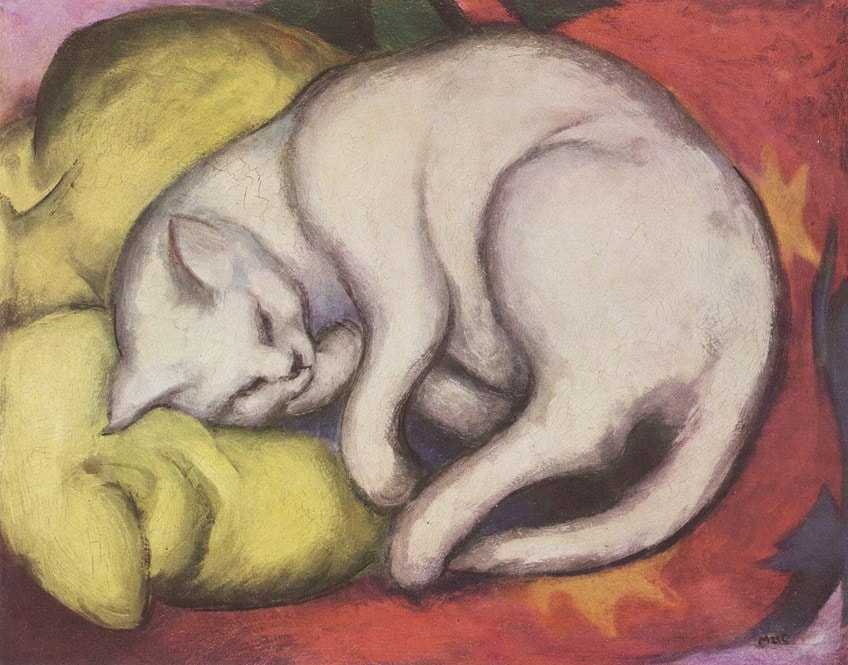 The White Cat (1912) by Franz Marc; Franz Marc, Public domain, via Wikimedia Commons
Cat with her Kittens (1913) by Julius Adam
| | |
| --- | --- |
| Artist | Julius Adam (1852 – 1913) |
| Date Completed | 1913 |
| Medium | Oil on canvas |
| Location | Private collection |
Julius Adam belonged to the illustrious Adam family of Munich painters. He began making his successful cat images in 1882, and their international appeal overshadowed the outstanding quality of his other work. Julius Adam, a German artist, was known for his fondness for the cats he kept at his house and workshop.
He had a talent for painting cats, as proven by several of his paintings that depict cats in various behaviors and locations.
Adam painted numerous paintings featuring cats engaged in various pastimes or simply lying about in one other's company. He produced this work, one of his most well-known paintings, in 1913. This picture depicted a group of cats resting on the ground outside near their mother. This picture is notable for Adams' ability to capture the rich green vegetation's luscious hues while also rendering the cats in a way that makes them appear to fit in that environment.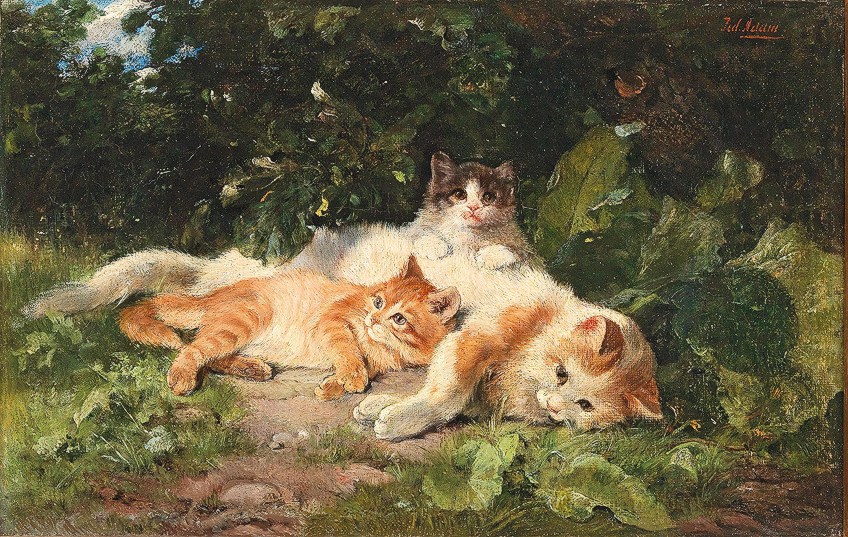 Cat with her Kittens (1913) by Julius Adam; Julius Anton Adam, Public domain, via Wikimedia Commons
Raminou Sitting on a Cloth (1920) by Suzanne Valadon
| | |
| --- | --- |
| Artist | Suzanne Valadon (1865 – 1938) |
| Date Completed | 1920 |
| Medium | Oil on canvas |
| Location | Private collection |
Suzanne Valadon was a French artist noted for her still lifes. She was the first female to be accepted to the Société Nationale des Beaux-Arts. But she was most known for her feminine naked paintings, which she created from her own perspective. Valadon adored cats and frequently painted pictures of them.
Her most famous cat paintings are of her pet kitten Raminou.
The lively colors in this artwork of her chubby tabby ginger cat have made cat lovers swoon. Raminou, though, seems to be quite affectionate. The rich colors and strong compositions of the artwork make it appealing. It stands out among the renowned paintings of cats by famous artists.
Cat Eating a Bird (1939) by Pablo Picasso
| | |
| --- | --- |
| Artist | Pablo Picasso (1881 – 1973) |
| Date Completed | 1939 |
| Medium | Oil painting |
| Location | Musée Picasso, Paris, France |
While Hitler began making gains in Eastern Europe, the cities of Spain were taken over by Franco's army in 1939. Picasso's mother passed away on January 13th. Personal and political events collided in his mind, resulting in anguished images rife with allegorical overtones. Picasso elaborated: "I did not depict the war because, unlike a photographer, I am not the type of artist who goes out hunting for topics. However, the conflict is undeniably apparent in the artworks I created at the time. Maybe a historian will one day show how my works transformed as a result of the conflict".
Picasso shifted from images of girls mourning war deaths in Spain to images of animals with savage features.
The cat and bird are depicted in two versions of the artwork: "The theme captivated me, I don't know why", the artist subsequently explained. The cat in this image is covered in mud, created by the addition of sand to the paints, and is holding a bird in its mouth. The bird does everything it can to break away from its tormentor's grip. The color pattern is subdued, with drab browns accented by white streaks that highlight the vicious claws, blazing eyes, and the bird's torn wing, which exposes a deep wound. The flatness of the background does little to alleviate the terror of the scene: a commonplace sight magnified to apocalyptic dimensions. The cat stands ominously on the brink of the times to come.
https://youtu.be/BTY7dQn9rcI?t=19
The Bachelor Party (Before 1939) by Louis Wain
| | |
| --- | --- |
| Artist | Louis Wain (1860 – 1939) |
| Date Completed | Before 1939 |
| Medium | Oil on canvas |
| Location | The Penny Illustrated – Christmas Edition |
Louis Wain, a British artist, is usually regarded as the most prominent painter who frequently made paintings with cats. Wain loved to depict cats in a comical style, with big eyes, and frequently engaging in human activities, in contrast to other painters who preferred to depict cats in their natural state.
One of his most well-known pieces is a picture that many art historians and critics consider to be one of the most famous cat paintings ever created.
This piece was completed sometime before 1939 and depicts a hilarious picture of a bunch of cats gathering around a table, drinking and smoking cigars. All of the cats in the piece of art are focusing on the one looking back at the viewer in the middle. Wain was known to have suffered from mental illnesses like schizophrenia, yet his works were praised for being among the most amusing of his day. This piece has long been shown in many locations as a symbol of humor that anybody can appreciate, particularly those who adore cats.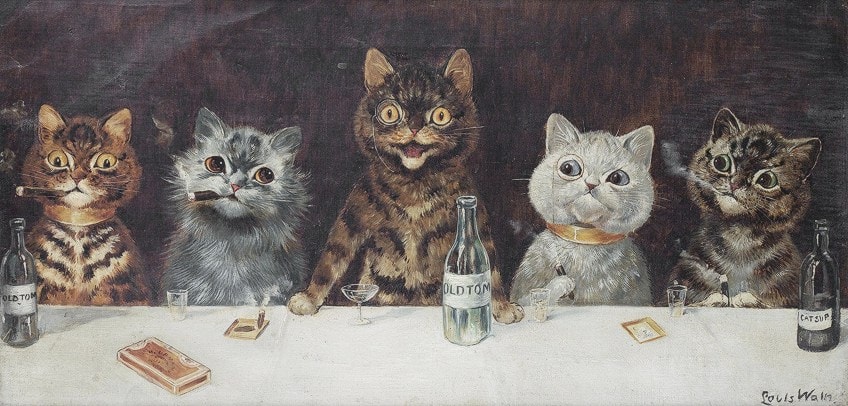 The Bachelor Party (before 1939) by Louis Wain; Louis Wain, Public domain, via Wikimedia Commons

The Cat and the Two Sparrows (1952) by Marc Chagall
| | |
| --- | --- |
| Artist | Marc Chagall (1887 – 1985) |
| Date Completed | 1952 |
| Medium | Etching with hand coloring |
| Location | Private collection |
Marc Chagall's surreal compositions portray components of his personal and familial history, as well as the folklore of Eastern Europe in general. Flying characters, Jewish heritage, rural life, and animals (such as cats) are also common motifs. Abstract art would be the main style for much of the early to mid-20th century as artists strove to push the boundaries of creative expression.
This ambitious attitude appeared to suit artist Marc Chagall, who established his place within the age as an artist who frequently depicted scenes from his surroundings, including portraying cats in art.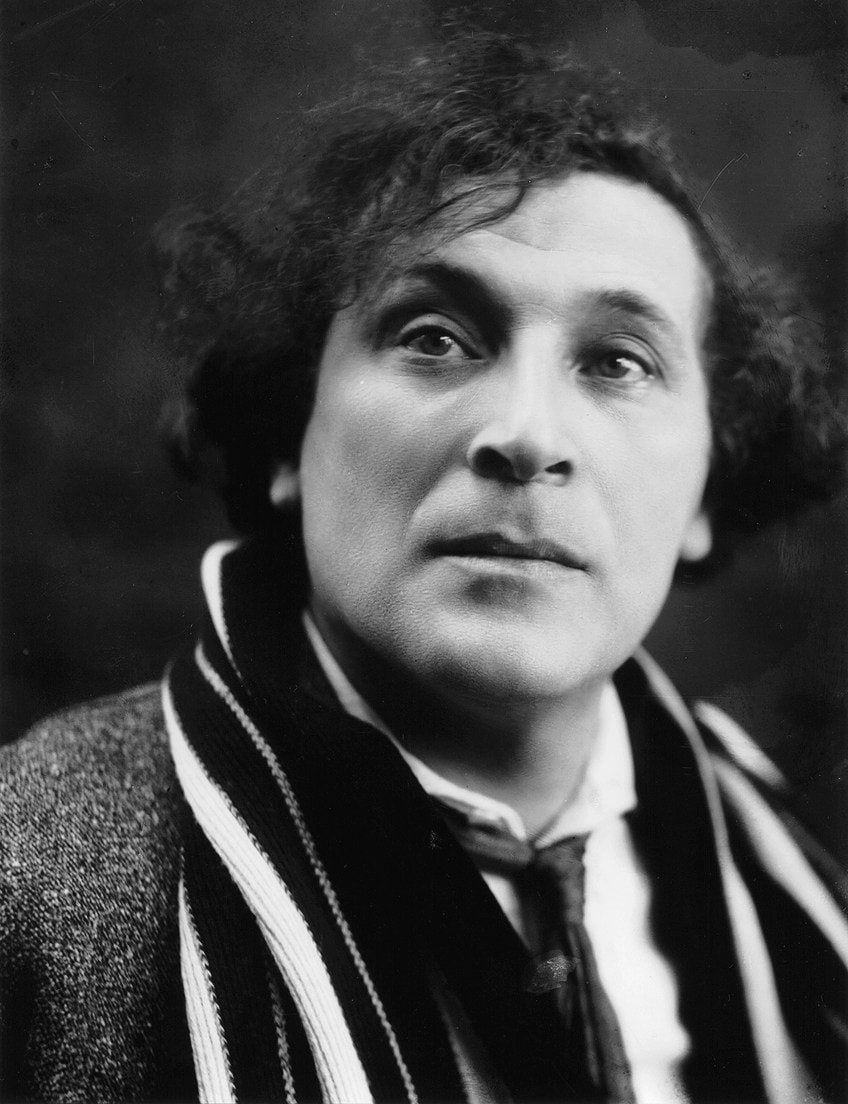 Portrait of artist Marc Chagall, c. 1920s; Pierre Choumoff, Public domain, via Wikimedia Commons
Throughout the decades afterward, he labored to perfect his own unique style of abstract art. He would ultimately develop his own distinctive look and produce pieces like this one. This painting, completed in 1952, had the trademark blurred lines and twisted perspective found in many of his earlier works. This picture appears to depict a little cat lying in wait for two unsuspecting birds to approach within striking reach, at which point he would attack.
That about does it for our list of famous cat paintings! As we have seen, the subject of cats in art has been a favorite of artists for many centuries. These paintings of cats by famous people each convey the artist's love for these feline friends. Honestly though, who could blame them? Cats have been a part of human life for many years and will continue to do so, inspiring artists to create these wonderful artworks that celebrate the feline form and attitude. Their nature that changes from calm to chaotic, their playfulness, their grace, and their curiosity all speak to the soul of the artist.
Take a look at our cat paintings webstory here!
Frequently Asked Questions
Why Do Artists Portray Cats in Art?
Many artists focus on portraying their domestic environment. Whether indoors, or in the garden, pet cats often feature in our lives, and therefore, in paintings that portray our lives. Cats and humans share a close bond of affection and passion, and artists like to capture that connection.
Are Paintings of Cats Rare?
Many artists are animal lovers and own cats and dogs themselves. Therefore, they are perfect subjects due to their availability. There are in fact, many famous cat paintings to enjoy. Paintings of cats by famous artists are not only common, but well-loved, and there are many prints on the market of these portrayals of cats in art. Cats offer artists an opportunity to convey the aesthetic beauty of the feline form, as well as their playful personalities.
Isabella studied at the University of Cape Town in South Africa and graduated with a Bachelor of Arts majoring in English Literature & Language and Psychology. Throughout her undergraduate years, she took Art History as an additional subject and absolutely loved it. Building on from her art history knowledge that began in high school, art has always been a particular area of fascination for her. From learning about artworks previously unknown to her, or sharpening her existing understanding of specific works, the ability to continue learning within this interesting sphere excites her greatly.
Her focal points of interest in art history encompass profiling specific artists and art movements, as it is these areas where she is able to really dig deep into the rich narrative of the art world. Additionally, she particularly enjoys exploring the different artistic styles of the 20th century, as well as the important impact that female artists have had on the development of art history.
Learn more about Isabella Meyer and the Art in Context Team.
Cite this Article