Autumn is an extremely picturesque season, and therefore it is no surprise that autumn painters feel compelled to capture the colors of the moment in their fall paintings. Autumn art is full of yellows, reds, oranges, and often a warm golden hue, which makes these autumn landscape paintings stand out from other seasonal artworks. In this article, we will be exploring some of the most gorgeous paintings of fall as we share our list of famous autumn paintings.
Our List of Famous Autumn Paintings
Before the stark coldness of winter begins to set in, a time of deep reflection, harvesting, and preparation commences. Autumn landscape paintings manage to capture that feeling on canvas, the use of warm colors in these fall paintings conjure up emotions from within the viewer. Many autumn painters prefer this season as autumn art can symbolize change, and allows them to use deeply saturated hues.
Now for our list of favorite paintings of fall.
Forest in Autumn (1841) by Gustave Courbet
| | |
| --- | --- |
| Date Completed | 1841 |
| Medium | Oil on Canvas |
| Dimensions | 38 cm x 54 cm |
| Current Location | Private collection |
Gustave Courbet created a fall landscape with a creek and two oak trees in this artwork. The picture depicts a close-up of woodland in three different brown colors. The artwork is part of the artist's "Real Life Paintings" sequence. This is one of his most important works since it was his debut large-scale landscape painting in which he depicted solely nature without any humans.
This piece is an exceptional illustration of Courbet's command of realism and his talent to portray colors accurately.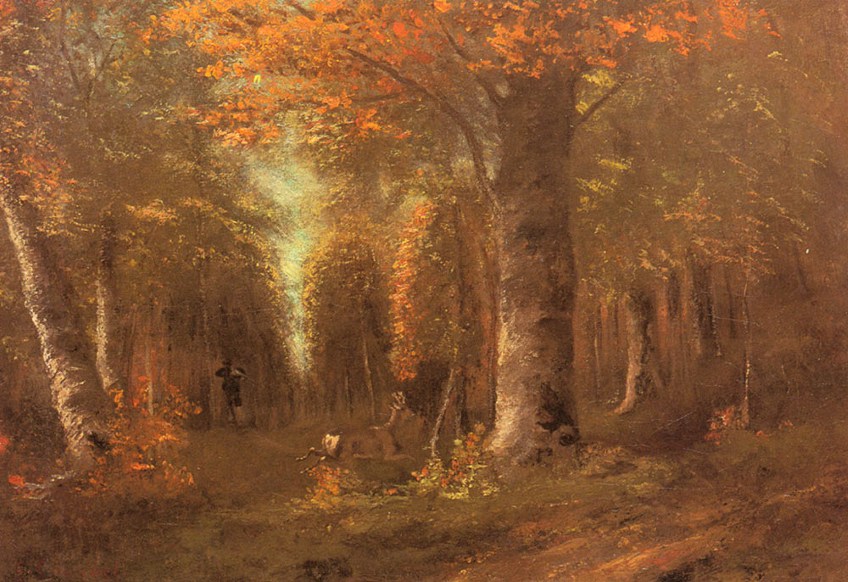 Forest in Autumn (1841) by Gustave Courbet; Gustave Courbet, Public domain, via Wikimedia Commons
His utilization of light strokes to create depth in the foreground also helps with this skilled rendering. The scale of this picture and the concept that this was the earliest panorama to be produced with thick patches of paint are two of the reasons it is so well-known. However, if one observes the artwork closely, one will be able to pick out that some of the smaller details are not perfect. For instance, there is a lack of depth since all of the trees were painted at the same time and appear to be following a fairly precise pattern.
Autumn Afternoon, the Wissahickon (1864) by Thomas Moran
| | |
| --- | --- |
| Date Completed | 1864 |
| Medium | Oil on Canvas |
| Dimensions | 76 cm x 114 cm |
| Current Location | Terra Foundation for American Art |
Throughout his long career, Thomas Moran the painter was mainly remembered for his large-scale panoramas of the American West. He blended faithfulness to detail with melodrama, as did other Hudson River School artists, in a style that conveys 19th century America's amazement at nature and determination to master it.
Moran drew a creek that runs into Philadelphia this early work.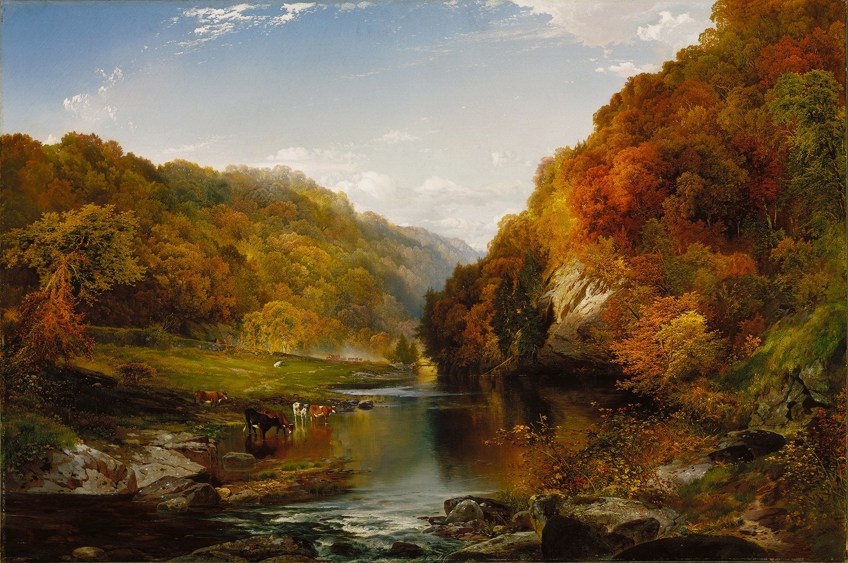 Autumn Afternoon, the Wissahickon (1864) by Thomas Moran; Thomas Moran, Public domain, via Wikimedia Commons
Regardless of the fact that the area is not far from the city, the creator made a rural picture that opposes both encroaching urbanism and the not-so-distant bloodshed of the American Civil War. With its panoramic vista of trees in full autumn color, the landscape represents a normal October day in this area. Moran portrays numerous details that most casual spectators could overlook because of his strong attention to detail and command of technique. Moran's works are recognized for their bright characteristics and a sense of perspective that is not constrained by realistic detail; he often adhered to the traditional arrangements with prominent diagonals.
Autumn on the Seine at Argenteuil (1873) by Claude Monet
| | |
| --- | --- |
| Date Completed | 1873 |
| Medium | Oil on Canvas |
| Dimensions | 54 cm x 73 cm |
| Current Location | Claude Monet Gallery |
Monet's famous autumn paintings are considered to be some of his greatest works, portraying nature's change from one season to another in a stunning and distinctive way. This autumn artwork is one of Monet's most well-known works, and it was influenced by a sequence of works completed by the painter in 1867.
The somber ambiance of an autumn afternoon along the Seine River, popularly referred to as La Seine, is captured in this artwork.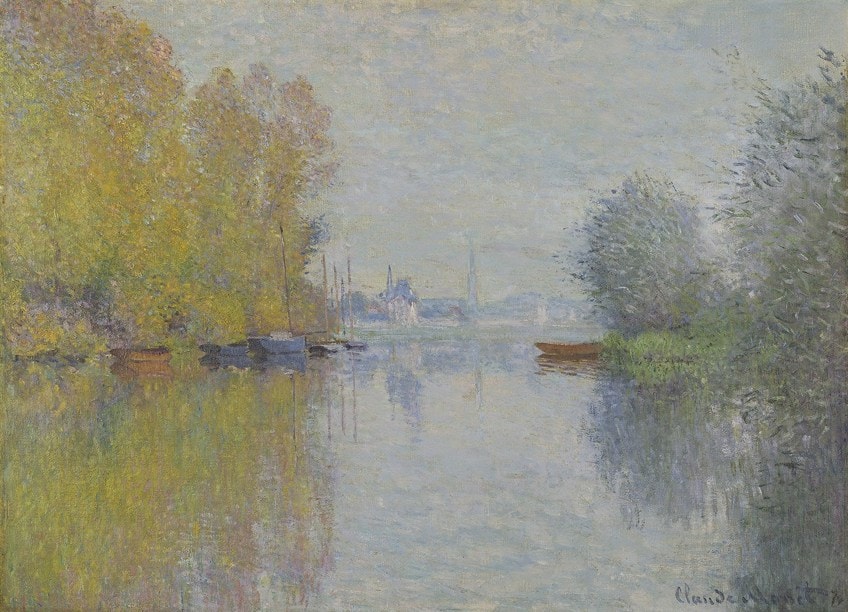 Autumn on the Seine at Argenteuil (1873) by Claude Monet; Claude Monet, Public domain, via Wikimedia Commons
The sky is dark and gloomy, yet there are a few points where light comes through, illuminating the lake and the structures that surround its banks. On each bank of the water, a few trees have yet to lose their foliage, while others have already gone brownish and orange. autumn on the Seine at Argenteuil by Monet is a lovely picture that catches the ambiance of a late September afternoon in the area, with its shifting light and calm winds. The normally frantic river turns peaceful and introspective. The reflection of the buildings and trees on the surface of the water, and also their reflection in the panes of nearby houses, can be seen in considerable detail.
Autumn (1875) by Frederic Edwin Church
| | |
| --- | --- |
| Date Completed | 1875 |
| Medium | Oil on Canvas |
| Dimensions | 39 cm x 61 cm |
| Current Location | Museo Nacional Thyssen Bornemisza, Madrid |
Frederic Edwin Church positioned himself as the outstanding American landscape painter in the 1850s. After his excursions around America and the "Old World," he chose to build Olana, the palace that would become his own Paradise on the shores of the Hudson River, about 1870.
Church spent extended lengths of time there, depicting the shifting scenery and light at various times of the year.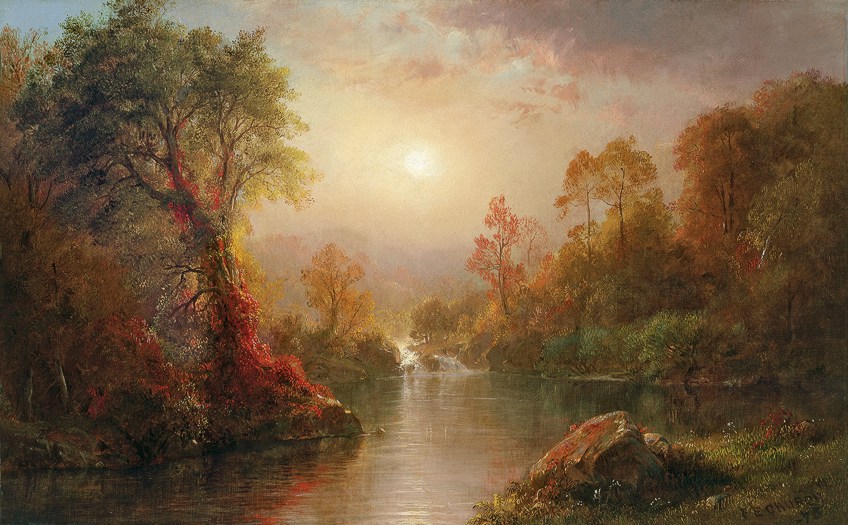 Autumn (1875) by Frederic Edwin Church; Frederic Edwin Church, Public domain, via Wikimedia Commons
Autumn portrays a river bend with the changing colors of the season. The entire image is framed by a huge tree on the left and a lone boulder on the right bank, and it is bathed in soft, misty background light. The picture was most probably commissioned by William Henry Osborn, a coworker, and admirer of Church's artwork who appreciated the illustrator's passion for nature. The flora that coats the boulders and tree trunks varies in color from green to crimson and is mirrored in the river's waters. Church's works portrayed the natural features of America and added to the appreciation of its huge open spaces.
Autumn Landscape with Four Trees (1885) by Vincent van Gogh
| | |
| --- | --- |
| Date Completed | 1885 |
| Medium | Oil on Canvas |
| Dimensions | 89 cm x 64 cm |
| Current Location | Kröller-Müller Museum, Otterlo, Netherlands |
When compared to van Gogh's previous works, the autumn landscape painting shows a marked improvement in compositional talent. It was not a new subject for the artist; in the spring of 1884, he created a very comprehensive pen drawing titled "Behind the Hedges," which includes, in a more moderate contribution, the four trees behind the rectory that constitute the basis of the painting – the terrain resemblance with the artwork is particularly striking.
Van Gogh, on the other hand, demonstrated how far he had come in the last year and a half with this basic yet dramatic image.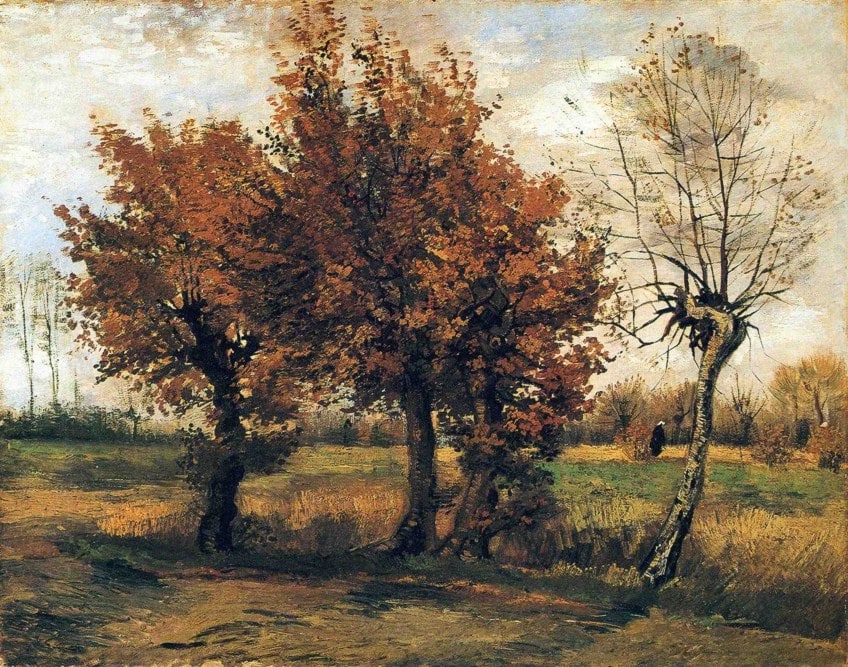 Autumn Landscape with Four Trees (1885) by Vincent van Gogh; Vincent van Gogh, Public domain, via Wikimedia Commons
There is little question that van Gogh actively desired to expand on this motif. This was the fourth iteration of the tree grouping, and he toiled on it for three days, which was unusual for a painter who worked so swiftly. The picture was also "roughly the equal scale, for instance, as that home and the rural church gardens." The trees in the autumn artwork are a representation of the seasonal change, with yellow and orange representing the harvesting season. The artwork is a color study. The hues have been applied with care, blending into each other to create a bonding unity that is both elegant and austere.
Autumn Woods (1886) by Albert Bierstadt
| | |
| --- | --- |
| Date Completed | 1886 |
| Medium | Oil on Canvas |
| Dimensions | 40 cm x 60 cm |
| Current Location | New York Historical Society |
Which better way to enjoy the fall season than appreciating nature's splendor? Bierstadt's Autumn Woods encompasses all of the colors of fall, from orange and red to browns and bright yellow. The picture is filled with intricacies that make it appear almost three-dimensional. There are several trees, leaves, and grasses of various colors. This is an oil on canvas artwork of autumn woodlands with the sun setting in the sky, giving it a golden hue.
There are some dropped leaves and bushes in the foreground, signaling that winter is approaching.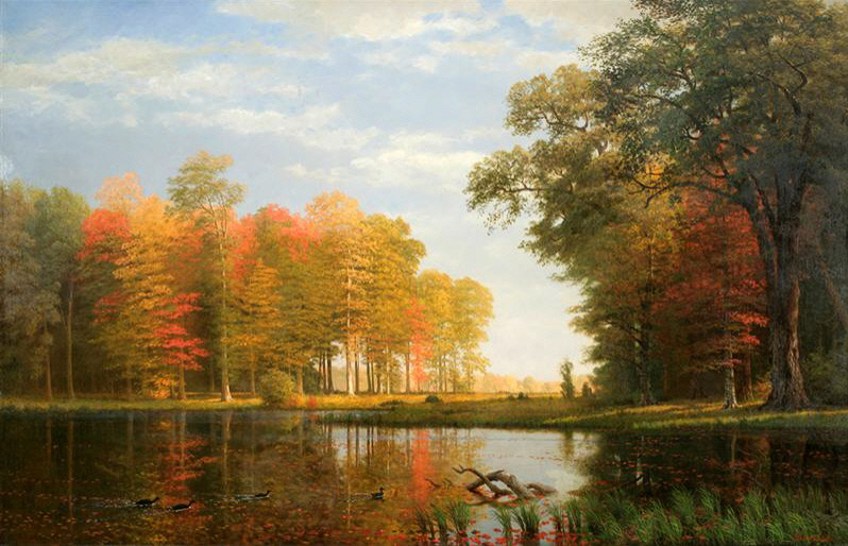 Autumn Woods (1886) by Albert Bierstadt; Albert Bierstadt, Public domain, via Wikimedia Commons
The picture is produced in oil paint with large, flowing brush strokes. This is an artwork with an infinite amount of detail that conveys a sense of isolation to everybody who looks at it. Albert Bierstadt was a German-American artist and photographer who used his works to portray the grandeur of Western America. Through the manner he portrayed the trees strewn throughout autumn's forests, one can see how Albert Bierstadt's love of nature is reflected in this picture. The fall leaves are various colors of oranges, reds, and yellows, creating a lovely autumn scene.
The Birch Wood (1902) by Gustav Klimt
| | |
| --- | --- |
| Date Completed | 1902 |
| Medium | Oil on Canvas |
| Dimensions | 110 cm x 110 cm |
| Current Location | Belvedere, Vienna, Austria |
Gustav Klimt was a participant of the Vienna Secession, a movement of modern artists who rebelled against their education at the Viennese Academy of Fine Arts. This picture can be interpreted in a variety of ways, such as a metaphor for nature's mortality, a sign of spiritual progress, or a portrayal of rural life. Gustav Klimt was a highly renowned and renowned symbolist artist from Austria.
He utilized sketches from 1899 until 1902 that he didn't finish before quitting because they didn't meet his new standards.
It has been referred to as "Klimt's most beautiful piece." Klimt's life is both intriguing and complicated. He was a late-19th – and early-20th-century Austrian symbolist artist whose paintings may be seen at Vienna's Belvedere Palace and museums around Europe. Klimt utilized his paintings as a promotion for the new art movement, which attacked the Vienna Secession group of painters' conservative views.
Autumn in Bavaria (1908) by Wassily Kandinsky
| | |
| --- | --- |
| Date Completed | 1908 |
| Medium | Oil on Cardboard |
| Dimensions | 33 cm x 45 cm |
| Current Location | Georges Pompidou Center, Paris, France |
Artist Wassily Kandinsky had been producing expressionistic landscapes for years previous to 1908. Yet, in Autumn in Bavaria, he would transcend it further into pure abstraction than ever before. Admittedly, the observer can still make out the visual features in this image; there are beech branches to the right of the pedestrian path, spruces, and other massive evergreens on the opposite side of it above the small concrete barrier, and a Church with its tower in the backdrop.
Nevertheless, Kandinsky's employment of what were at the time very unusual brush strokes.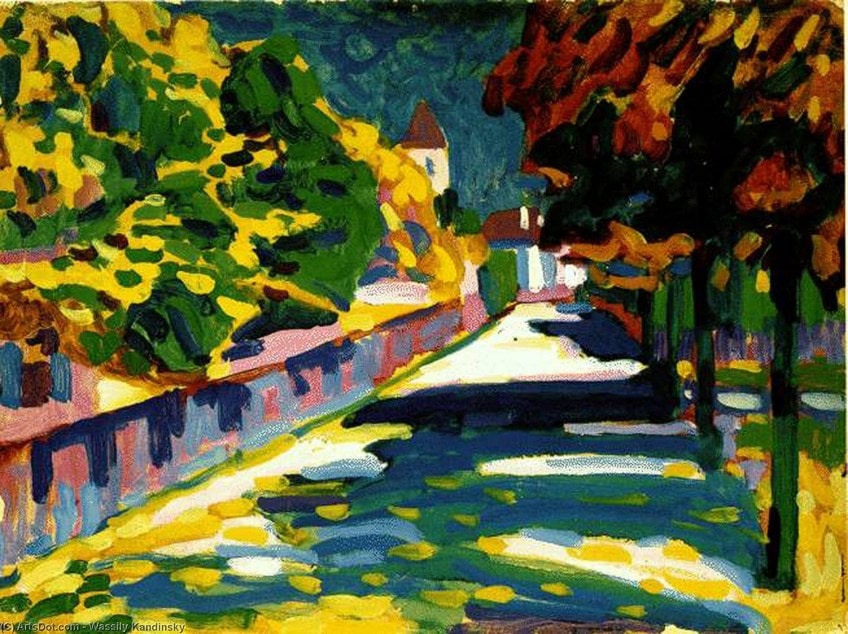 Autumn in Bavaria (1908) by Wassily Kandinsky; Wassily Kandinsky, Public domain, via Wikimedia Commons
One can observe the employment of the palette knife on the canvases board for the first time in this picture, foreshadowing what was to follow in Kandinsky's development as an artist. In more or less the same fashion that Henry Van de Velde abandoned floral patterns and pictorial shapes in favor of designs based only on his vision, Wassily Kandinsky's Autumn in Bavaria deviates from artwork's past and ventures into new territory. As such, the autumn artwork, although still a landscape, should also be regarded as an early work of abstract painting.
Four Trees (1917) by Egon Schiele
| | |
| --- | --- |
| Date Completed | 1917 |
| Medium | Oil on Canvas |
| Dimensions | 110 cm x 141 cm |
| Current Location | Osterreichische Galerie Belvedere, Austria |
Schiele's work is both lovely and eerie. It appears to be a fantastic location for many people to enjoy, with its stunning natural scenery and vibrant hues. However, this artwork contains darker overtones that demonstrate how dangerous nature can be for mankind. It illustrates four trees and how they tower above the countryside while squeezing each other out.
It exemplifies how wildlife can be both beautiful and frightening, which is something Schiele was brutally critical of in his later works.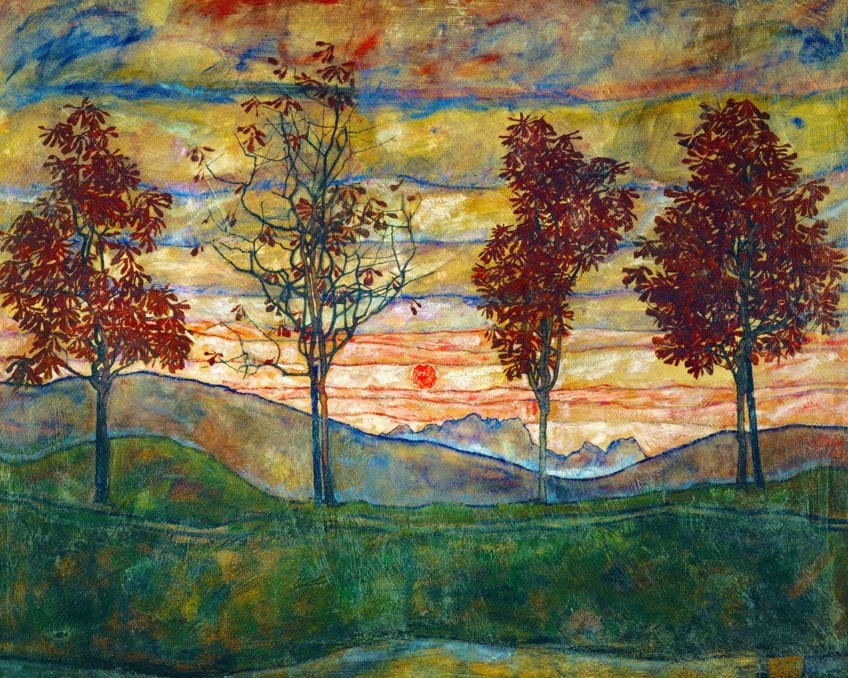 Four Trees (1917) by Egon Schiele; Egon Schiele, Public domain, via Wikimedia Commons
It is regarded as one of Schiele's most significant works, predicting his subsequent style. This picture is well-known for its vibrant colors and the unusual deformation of perspective generated by the merging horizons. It portrays a woodland environment with four trees positioned close to each other and far away from the spectator. The foreground is painted with strong impasto to provide texture, while the backdrop is blurred to look like a distant scene viewed through a camera's lens or a windowpane.
October on Cape Cod (1946) by Edward Hopper
| | |
| --- | --- |
| Date Completed | 1946 |
| Medium | Oil on Canvas |
| Dimensions | 66 cm x 107 cm |
| Current Location | Private Collection |
Large works, such as October on Cape Cod, required a complex creative process in which every descriptive detail was carefully considered before Hopper painted. The picture depicts a deserted highway scene as seen from a passing automobile. A white home with green shutters in a limited Cape Cod design is located sideways on the land and has a door in the front. Following an extensive clump of trees that spreads over the canvas, there is a little barn close with a green door.
The picture is gray in hue, with fall light, and depicts deep quiet and tranquillity.
One of the last privately held Hopper's artworks from 1946 is October on Cape Cod. Hopper's productivity diminished as his health deteriorated. Nighthawks (1942) is one of Edward Hopper's greatest works. This artwork depicts his abilities at their peak. October on Cape Cod is another excellent artwork from his career. The famous artist visited Cape Cod with his spouse in 1930 and rented a house in South Truro for three years. In 1934, the couple planned to build a studio and house where they would spend six months of the year.
That concludes our list of famous autumn paintings. These loved fall paintings have been appreciated throughout the centuries for their warm colors. Thanks to these autumn painters, the season has been captured on canvas for all to enjoy. Before the harsh harshness of winter sets in, a period of profound meditation, harvesting, and preparation starts. Autumn landscape paintings convey that mood on canvas, and the use of warm hues in these fall paintings elicits feelings from the observer. Many fall artists enjoy this season because it allows them to employ strongly saturated colors and can indicate transition. We hope that you have enjoyed this list of famous paintings of fall!
Frequently Asked Questions
Why Do Autumn Painters Like to Create Fall Paintings?
Autumn is an especially pleasing-looking time of the year. The air is full of change as the region moves into winter. The colors are especially attractive, hence why so many artists love to create autumn landscape paintings throughout the years. A season of serious meditation, harvesting, and preparation begins before the cold severity of winter sets in. Autumn landscape paintings on canvas reflect that mood, and the use of warm tones in these fall paintings generates sensations from the spectator. Many fall painters prefer this season because it allows them to utilize highly vivid colors and can represent change.
Which Paintings By Famous Artists Depict the Fall Season?
Many artists throughout the years have wanted to capture the raw beauty of the fall season. This is no wonder as autumn offers artists such a great palette of colors to work with. From warm and rich golden colors to reds and oranges, these artists have embraced the beauty of the season. Artists such as Claude Monet, Gustav Klimt, Vincent van Gogh, Edward Hopper, and many more have all produced versions of autumn artworks that still inspire to this very day.
Isabella studied at the University of Cape Town in South Africa and graduated with a Bachelor of Arts majoring in English Literature & Language and Psychology. Throughout her undergraduate years, she took Art History as an additional subject and absolutely loved it. Building on from her art history knowledge that began in high school, art has always been a particular area of fascination for her. From learning about artworks previously unknown to her, or sharpening her existing understanding of specific works, the ability to continue learning within this interesting sphere excites her greatly.
Her focal points of interest in art history encompass profiling specific artists and art movements, as it is these areas where she is able to really dig deep into the rich narrative of the art world. Additionally, she particularly enjoys exploring the different artistic styles of the 20th century, as well as the important impact that female artists have had on the development of art history.
Learn more about the Art in Context Team.