Architecture Movies – The Top Architectural Films to Watch
Architecture involves creativity and there are many avenues of inspiration to explore from visiting new cities to finding ideas from the natural environment. However, many innovative ideas can be gleaned from architecture movies. We have created a list that hopefully encourages the formation of a few bright ideas, along with some entertainment thrown in.
Movies for Architects
Just like music in cinema and film, the architectural aspect of a film is often taken for granted. However, with technological improvements, audiences have been transported to new worlds and cities, both new and recognizable.
Some of these architecture movies are quite well-known and popular, while others are just as compelling but not as renowned.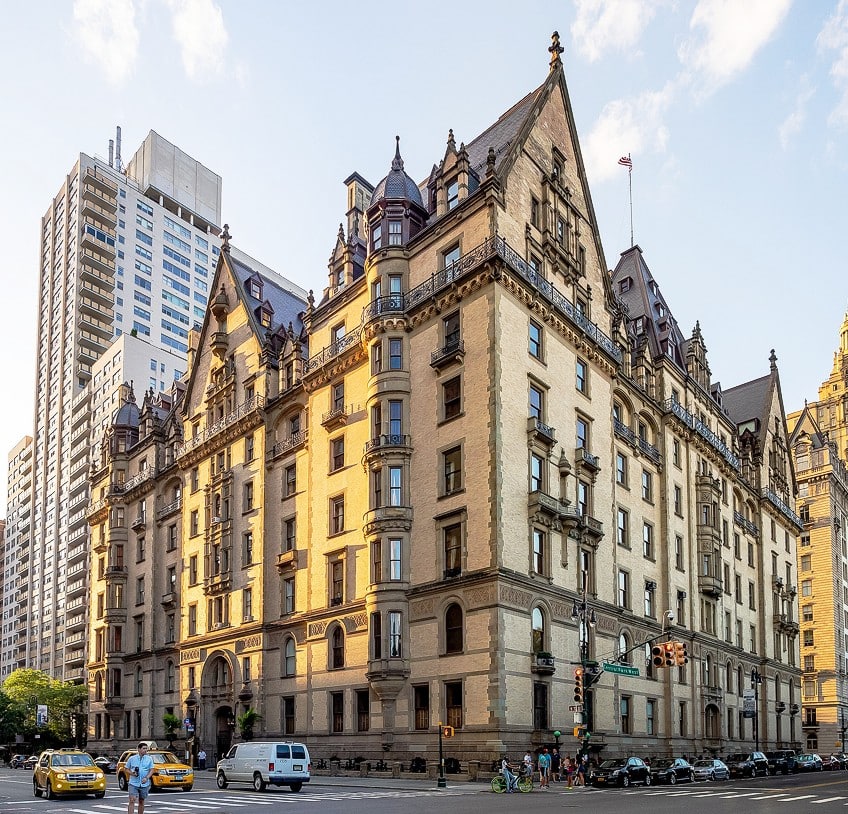 The Dakota apartment building in New York City, as seen from Central Park West. This building was designed by Henry Janeway Hardenbergh and is featured in the film, Rosemary's Baby (1968); Ajay Suresh from New York, NY, USA, CC BY 2.0, via Wikimedia Commons
The Fountainhead (1949), Directed by King Vidor
| | |
| --- | --- |
| Release Date | 1949 |
| Length | 114 minutes |
| Director | King Vidor (1894 – 1982) |
| Producer | Henry Blanke |
| Language | English |
This is a movie based on the book The Fountainhead (1949), which was written by Ayn Rand. This is a movie about an architect by the name of Howard Roark, an original thinker who is steadfast in his opinions. He would never think of accepting a commission that compromises any of his ideals. His ideas are unconventional, and he is an advocate of modernism, which is against the traditional views of the time.
The film encompasses romantic drama and the struggles he encounters to reach his dreams and do things the way he sees fit without compromise.
His fight is ultimately against the collective traditions and his individuality and how to rise above society's norms. The fictional character of Roark was based on the well-known, real-life architect, designer, and writer, Frank Lloyd Wright.
He designed over 1,000 structures over several decades, and he played a major role in the architectural movements of the time.
Mon Oncle (1958), Directed by Jacques Tati
| | |
| --- | --- |
| Release Date | 1958 |
| Length | 120 minutes |
| Director | Jacques Tati (1907 – 1982) |
| Producer | Jacques Tati |
| Language | French |
This is a film by Jacques Tati, a French filmmaker, and is his first color film, which earned him an Academy Award. The film title means "My Uncle" in English and is the story of Monsieur Hulot, who is a socially awkward city dweller who struggles with ideas like consumerism and all things that have emerged to form the modern world.
The film has a lot of quirks and comedic moments that endear the viewer to the main character. In "Mon Oncle" (1958), his sister believes she can help him with his issues with the modern world.
She lives in a huge modern building, called the Villa Arpel, with her husband and son Gérard Arpel. Most of the film is spent here, where she tries to convince her brother to leave the city in exchange for suburban life. The dialogue is to a bare minimum and is almost a silent movie, and when there is dialogue, it is most unexpected.
The film is a great representation of urban versus suburban life. The ultra-modern Villa Arpel is a geometric house located in a suburb of Paris. However, the house is more of a structure than a home and represents aesthetics over comfort and personality. Even the technological aspects of the building are a bit absurd and complicated even simple tasks that are supposed to make life easier, which brings in more of the comedy aspect for the viewer.
Ultimately, "Mon Oncle" (1958) is a story of the conflict between what is old and new and involves the use of physical comedy. The story also demonstrates the intricacies of family bonds.
My Architect: A Son's Journey (2003), Directed by Nathaniel Kahn
| | |
| --- | --- |
| Release Date | 2003 |
| Length | 110 minutes |
| Director | Nathaniel Kahn (1962 – Present) |
| Producer | Nathaniel Kahn and Susan Rose Behr |
| Language | English |
This documentary movie about an architect is a story about the life of the famous architect, Louis Kahn. The story is told by his son, Nathaniel Kahn, who through the narration tries to understand his father. The film contains interviews with other famous architects like Philip Johnson and B. V. Doshi, who knew and worked with his father.
The film also delves more deeply into his personal life, his three families, and how he landed up passing away alone and bankrupt in 1974.
https://www.youtube.com/watch?v=VyUHuCuzKkU
You do get glimpses of some of the buildings Louis Khan designed. One of his more prominent contributions was the National Assembly building of Bangladesh in Dhaka, which is an example of modern architecture. Other efforts include the Yale art gallery, the Salk Institute located in California, and the Kimbell art museum that is in Fort Worth.
The film is something to consider for aspiring architects, especially if they are interested in more modern designs.
Inception (2010), Directed by Christopher Nolan
| | |
| --- | --- |
| Release Date | 2010 |
| Length | 140 minutes |
| Director | Christopher Nolan (1970 – Present) |
| Producer | Emma Thomas and Christopher Nolan |
| Language | English |
This is a science-fiction film and stars Leonardo DiCaprio, who acts as the main character in the movie. Dom Cobb (Leonardo DiCaprio) is a criminal and thief, who can obtain information by intruding on an individual's subconscious. He gains the opportunity to expunge his criminal history by doing something even more intrusive. He must place memories in a target's mind instead of simply gaining information. There are also other "extractors", who also pass through what seems to be a dream world, where the environment can be manipulated.
Why consider this part of architectural films? The entire story can be said to be "set within the architectures of the mind".
The whole story involves the manipulation of the surrounding environment and the construction of entire spaces. One of the more famous scenes is that of the city seemingly folding and bending impossibly. This idea is known as paradoxical architecture, similar to the Penrose stairs which seemingly form an impossible object. This scene has become popular among designers, as the scene represents no boundaries, where anything is possible.
So, this is a great example of how to think outside the box and come up with more original ideas.
The Grand Budapest Hotel (2014), Directed by Wes Anderson
| | |
| --- | --- |
| Release Date | 2014 |
| Length | 100 minutes |
| Director | Wes Anderson (1969 – Present) |
| Producer | Wes Anderson |
| Language | English and 50 other languages |
Just looking at an image of the movie poster should be stimulating some enthusiasm for architectural design. The Grand Budapest Hotel in the movie is a fashionable European resort in the 1930s. A comedy-drama that follows Monsieur Gustave H, the concierge of the hotel, who is framed for murder, along with Zero Moustafa, the lobby boy who becomes his friend.
The movie itself is aesthetically pleasing, with unusual symmetrical compositions.
The production designer, Adam Stockhausen took inspiration for the décor from the German artistic movement known as Juendstil, which was popular during the 19th and 20th centuries. The hotel building itself was inspired by the Sphinx observatory in Switzerland.
The film has action, adventure, romance, and comedy, all filmed within some amazing spaces and architecture.
The Infinite Happiness (2015), Directed by Ila Bêka & Louise Lemoine
| | |
| --- | --- |
| Release Date | 2015 |
| Length | 85 minutes |
| Director | Ila Bêka (1967 – Present) and Louise Lemoine (1953 – Present) |
| Producer | Beka & Partners |
| Language | English |
This is more of a documentary of a personal video diary, which focuses on the creation of a Danish architect, Bjarke Ingels. He designed the modern "8" housing development, also known as the Big House, which is located in a suburb of Copenhagen in Denmark. The structure forms a loop that houses about 500 residents.
Instead of interviewing the architect himself, filmmakers wanted a more unique perspective, so they follow some of the residents that live in the apartments.
The residents share their stories and how they find living in the building. The building project aims to inspire successful communal living and promotes sociable housing. The documentary offers a closer view into how architects can effectively create contemporary housing developments that work.
This documentary is the perfect way to see real-life examples of how architecture can affect lives.
Blade Runner (2017), Directed by Ridley Scott
| | |
| --- | --- |
| Release Date | 2017 |
| Length | 117 minutes |
| Director | Ridley Scott (1937 – Present) |
| Producer | Michael Deeley |
| Language | English |
The first Blade Runner (1982) is set in a dystopian future in Los Angeles, where synthetic humans, known as Replicants have been bioengineered to work in space colonies. Some of these replicants escape and return to earth, and are then hunted down by Richard Deckard, played by Harrison Ford. The original movie with Harrison Ford can fall under the heading of architectural films, as it contains inspiring architectural styles. There is the Ennis House, which is an unusual and vast mansion that is situated on top of a hill in Los Feliz.
The house was built by the modernist architect, Frank Lloyd Wright, who created a Mayan revival style design reminiscent of ancient Mayan temples.
Then, near the end of the movie, you have the Bradbury Building, located on South Broadway at Third street. This building is more of a Romanesque Revival style. Both older buildings bring in elements that form a connection to the future.
In the sequel, Blade Runner 2049 (2017), the story continues as a new blade runner known as officer K played by Ryan Gosling, begins to uncover secrets and is determined to find Richard Deckard. There are also various other versions, but in this particular movie, it is said that the images of the city represent a style of architecture known as Brutalism, which is also a form of architectural modernism. The name is derived from the French phrase Beton brut, which implies raw concrete. This type of design is said to be oppressive and cold due to its nature of reinforced concrete and steel.
As you can see, there are quite a few things you can take away when viewing the movie more closely.
Columbus (2017), Directed by Kogonada
| | |
| --- | --- |
| Release Date | 2017 |
| Length | 104 minutes |
| Director | Kogonada (c. 20th century – Present) |
| Producer | Andrew Miano, Giulia Caruso, Aaron Boyd, Chris Weitz, Ki Jin Kim, and Daniella Renfrew Behrens |
| Language | English |
This is an American drama that encompasses architecture and how it can become something more than simply brick and mortar. The story follows Jin, played by John Cho, who travels to Columbus in America where his father, an architect, has fallen ill and lies in a coma at a local hospital. Jin then meets Casey, a local who works at the library and cares for her mother, who also has extensive knowledge of the buildings in town. They build up a connection with one another and the town as she shows him around.
As they move through the town, they visit some famous modernist buildings including the Irwin Union Bank, Miller House, and the First Christian Church by Eliel.
So, this is one of those movies for architects, which can help to inspire new ideas and ways of looking at things. The director filmed each shot to include the architecture as a prominent feature, which makes the town another integral "character" in the movie.
The movie should help the viewer understand how important it is to be in the moment and to look at things more closely, slow down, and pay attention to things that surround you.
Skyscraper (2018), Directed by Rawson Marshall Thurber
| | |
| --- | --- |
| Release Date | 2018 |
| Length | 102 minutes |
| Director | Rawson Marshall Thurber (1975 – Present) |
| Producer | Beau Flynn, Dwayne Johnson, Hiram Garcia, and Rawson Marshall Thurber |
| Language | English |
This movie is one of the more popular action movie options, with well-known actors like Dwayne Johnson playing the lead role. The whole setting takes place within an ultra-modern skyscraper in Hong Kong, which is made out to be the tallest building in the world.
Dwayne Johnson plays Sawyer, a former FBI agent, who is now the head of security for the building. While Sawyer's family is in the building, it is overrun by terrorists and then purposefully set on fire. Sawyer has to then save his family before it is too late.
The building or skyscraper is supposed to be self-sufficient and boasts many modernist concepts.
Parasite (2019), Directed by Bong Joon-ho
| | |
| --- | --- |
| Release Date | 2019 |
| Length | 132 minutes |
| Director | Bong Joon-ho (1969 – Present) |
| Producer | Kwak Sin-ae, Jang Young-Hwan, Moon Yang-Kwon, and Bong Joon-ho |
| Language | Korean |
The film made its first appearance at the prestigious Cannes Film Festival. The outline of the movie centers around class structure and delves into the relationships of two separate families, the Kim clan, and the Park family. The different environments play a role in distinguishing the two classes, and even the use of sunlight and levels of elevation are used to separate the two groups.
The movie can be categorized among architectural films because of the way that the architecture is used in the telling of the story.
The small apartments depicted in the movie might be a set, but these same apartments are also real and are known as banjiha. These apartments are found mostly in the neighborhoods of Seoul and are home to multitudes of people. The apartments also have a history as they served as bunkers and homes to many after the Korean war. Most of the film is spent in the upper-class home of the Park Family, which consists of many set designs.
In the movie, the house was designed by a fictional architect known as Namgoong Heonja. However, the various sets were created by Lee Ha Jun, the production designer.
The movie earned an Academy Award for Best Picture, which made it the first non-English movie to achieve this. The film also won the best original screenplay, best director, and best international feature film. So, the film has a lot to offer for all those who want to watch it and brings to light a lot of issues that many tend to ignore, especially the theme of social inequality.
These are only ten of our recommended architecture movies, and we hope you enjoy every one of them. There are many other movies for architects, you just have to keep an open mind when watching movies, to find something that inspires you.
Frequently Asked Questions
How Do Filmmakers Use Architecture in Film?
Architecture in films helps to provide meaning and sets the scene for a movie, for both the period the movie is in and the location. Movies can help bring to light historical periods and designs and can also look into the future by creating modern designs that might not be possible just yet.
Can an Architect Make Movies?
An architect is a high-profile job that can offer many positions within the film industry. Many architects have enjoyed success in movies over the years and have been involved as actors, directors, and set or production designers.
What Are Some Famous Buildings Found in Movies?
The list can be quite long, but here are a few to get started. The Bradbury Building is in the 1982 version of Blade Runner (1982), The Dakota, a popular apartment building in New York that was designed by Janeway Hardenbergh, is in the film Rosemary's Baby (1968), and the Marine County Civic Center in California played a role in the science fiction film Gattaca (1997).
Justin van Huyssteen is a freelance writer, novelist, and academic originally from Cape Town, South Africa. At present, he has a bachelor's degree in English and literary theory and an honor's degree in literary theory. He is currently working towards his master's degree in literary theory with a focus on animal studies, critical theory, and semiotics within literature. As a novelist and freelancer, he often writes under the pen name L.C. Lupus.
Justin's preferred literary movements include modern and postmodern literature with literary fiction and genre fiction like sci-fi, post-apocalyptic, and horror being of particular interest. His academia extends to his interest in prose and narratology. He enjoys analyzing a variety of mediums through a literary lens, such as graphic novels, film, and video games.
Justin is working for artincontext.org as an author and content writer since 2022. He is responsible for all blog posts about architecture, literature and poetry.
Learn more about Justin van Huyssteen and the Art in Context Team.
Cite this Article