Acrylic paints are loved by experts and beginners alike because of their versatility and affordability. As a testament to this, you can often see people using acrylic paints on clay, wood, denim, and plastic; not allowing their creativity to be bound only to a canvas. What if you wanted to use acrylic paint on leather? Can you use acrylic paint on shoes? Well, the short answer is that you absolutely can!
Is Acrylic Paint Suitable for Leather?
Acrylic paint can be used to paint on leather effectively but it is important to know what leather you are working with. The leather you use determines what kind of paint to use for the best result. Treated and/or dyed leather works well with high-flow acrylic paints because it allows retention of flexibility. For undyed, unconditioned, and untreated leather it is best to use a heavy-bodied acrylic paint or a fluid acrylic with a one-to-one ratio of an acrylic binder of choice, for example, this medium from Golden Artist Colors (GAC). To enhance vibrancy while using fluid acrylics, it may help to start with a base of white paint and layer color on top after allowing for the base layer to dry.
While it is possible to use acrylic paint on leather, you will need to prepare the surface before starting. Leather is a porous material and when painting it is ideal that the paint is absorbed. Absorption allows your project to turn out correctly and stand the test of time. Proper absorption will also prevent cracking while ensuring the paint doesn't look as if it could be peeled or chipped off. The latter quality contributes towards a finished piece that looks more coherent and intentional.
Preparing the surface properly is what allows for acrylic paints to be absorbed in this way. Keep in mind that while leather-specific paints are an alternative option, you would still need to properly prepare your leather in this same way if you were using a more expensive paint designed specifically for use on leather.
In fact, most leather paints are actually just more specialized acrylic paints, however, there are some differences to keep in mind with this slight distinction.
What Is the Difference Between Leather Paint and Acrylic Paint?
Acrylic leather paint is a specialized form of acrylic paint that adheres to prepared leather more readily. While acrylic leather paint is more reliable in terms of longevity and adhesion, it is more expensive and difficult to work with if you are used to smoother paints. Also, take note that we said acrylic leather paint works with better adhesion and recall what we previously mentioned regarding absorption.
Therein lies the crux of the decision; acrylic leather paint has a greater chance of holding on with ease but it sits on the surface of the leather more thickly. Meanwhile, normal acrylic paint may take some trial and error at the beginning but ultimately absorbs into the leather cohesively once applied correctly. Normal acrylic paint is also more affordable and versatile. This means that you will not be left with tubs of leather-specific paint after finishing only a handful of projects.
How to Prevent Acrylic Paint from Cracking
The main issue you may face while using acrylic paint on leather is cracking on the paint as it dries or while you use the item. Some techniques and products can help you avoid cracking on your piece. Here are some general tips to prevent cracking on non-leather specific acrylic paint on leather:
Try not to mix different brands of paint as the difference consistency can cause blending issues and result in cracking.
Apply the paint in thin, even layers. Thick, uneven layers encourage cracking and can look unpleasant.
Paint along the same direction as creases in the leather. This could mean the creases of a jacket or the flex of a shoe.
Make sure that each layer has properly dried. Now allow the leather to crease along its lines slightly before adding the next layer of paint. This prevents the acrylic paint from hardening within the creases of the leather. Hardened creases are stiff and inflexible which is a precursor to cracking.
Don't try to speed up drying by placing near a fan or using heat as this prevents proper absorption.
Make use of a protective coating of your choice. Some options are Acrylic Paint Sealer, Fabric Medium, or Acrylic spray sealer.
Our Recommendations for Acrylic Paint on Leather
When choosing products to use it is important to think about how they will interact with leather. Many non-leather-specific products will work great on leather while maintaining versatility for other projects. Both products listed below have their pros and cons that we have outlined.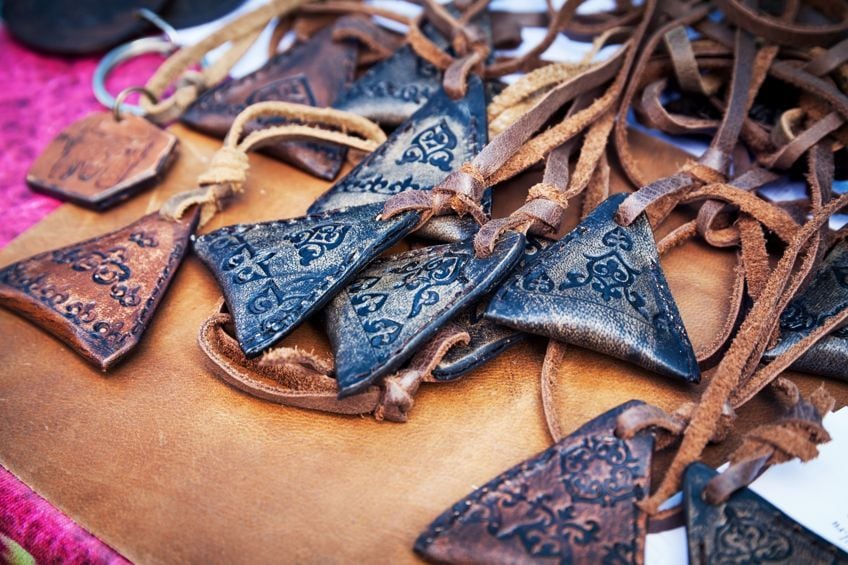 Best Acrylic Set: GOLDEN Fluid Acrylic Set
This set has 10 tubs of high-quality acrylic paint that have great versatility and a fast drying time. The individual tubs allow for easy mixing and blending of colors while the thin and glossy texture is ideal for use on prepped leather.
A set of ten high-quality fluid acrylics in 1 ounce pots
One of the most versatile paint formulas for many surfaces
Perfect for color mixing, tinting, and shading
View on Amazon
PROS
Thin and glossy
Mixes readily with Fabric Medium GAC 900 for better adhesion to leather
Professional grade colors with a versatile paint formulation
Perfect for mixing and blending colors yourself
Fast drying time makes layering on leather easy
CONS
A bit pricey
It may be harder to use than markers for beginners
Fast drying time can make fixing mistakes difficult
Requires brushes and a palette to use
Best Paint Pens: ARTSYIFY Acrylic Markers Paint Pens
This set of fine-tipped paint pens has 20 different colors at a great price. The colors are vibrant and the pens allow ease of use for people of all skill levels. Being highly affordable and having many possible applications aside from leather, it is a really good choice for general hobbyists.
Very easy to use on almost any surface, including leather
High-quality paint pens provide fantastic pigmentation
The acrylic paint pens come in 20 unique and bright colors
View on Amazon
PROS
Easier to use with more control than a brush for beginners.
Will not break the bank
More base colors in a pack
Fine tips allow for more detailed works
Vibrant and non-fading formulation
CONS
Cannot mix colors and shades as you please
Cannot mix with a fabric medium for better adhesion
Only one tip size available may make larger areas more tedious to fill
May be harder to remove if any mistakes are made.
A Step-by-Step Guide to Painting Acrylic on Leather Shoes
This all begs the question: can you use acrylic paint on shoes? Of course! Whether it's a pair of Doc Martens or an old pair of loafers, you can spruce them up or customize them by adding some acrylic paint designs. Below we have outlined how to paint shoes with acrylic paint.
Before you begin, you will need to gather some tools and supplies. We have created a list below to help you get everything you need ready to begin painting leather. Here are our suggestions:
Your leather shoes
Old newspapers or a tarp
Isopropyl alcohol
A wool daube
Cotton buds
Paper towels
Acrylic paint
At least one paintbrush
Fine sandpaper
Tape
A sealant of your choice
Plan Your Design
The first step is to properly plan what you want to paint on the shoes and where everything is going to go. You may be excited and just want to jump straight in, but it is best to have an idea of how you want it to look in your mind before you begin. Take a look at the shoe and maybe even consider sketching some drafts before putting paint to the leather.
Find inspiration on the internet of some designs or patterns for acrylic paint on shoes.
Prepare Your Workspace
Place a tarp or old newspaper pages down wherever you will be working. You don't want to get acrylic on a carpet or a piece of furniture while you work, and it is best to not have to worry about accidentally making a mess. Try to choose somewhere that is well-lit and ventilated but with no direct sunlight or gusts of wind present. Too much heat or air movement can prevent the acrylic from properly bonding to the leather.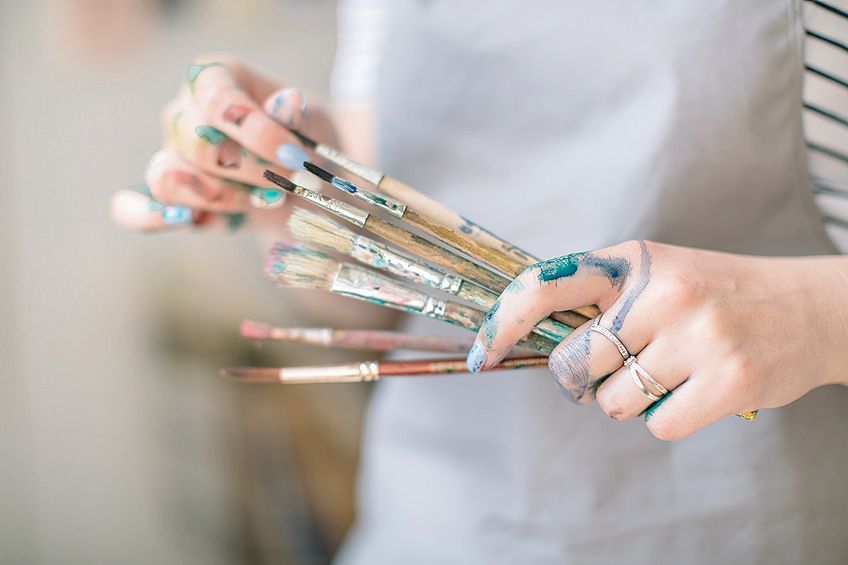 Prepare Your Materials
Next, you will gather all your materials together. Keep a cup of water near you so that you can keep your brushes clean once you begin working. Make sure that you know what colors you want to use and if you need to mix any colors, now is the time to do it. Now is also the time to add your fabric medium to your acrylic paint, if you have decided to use one. Fabric Mediums will help the paint adhere better to your shoes and prevent possible cracking.
Be sure to follow the manufacturer's instructions while using your fabric medium of choice.
Clean and Prepare the Shoes' Surface
Wipe the surface of the shoes down with a damp paper towel if there are any large bits of dirt or grease. Dry the shoe thoroughly and then repeat the process with the cotton dauber and isopropyl alcohol. This should remove some of the gloss from the leather shoe. If this has not happened, repeat this process until the shoe is no longer glossy.
If you have a leather deglazing agent (optional) you can use it to remove the gloss from the shoe after the first wipe down with isopropyl alcohol. Follow the instructions given by the manufacturers of your deglazing agent to do this. If you are using leather paint for shoes you may not need to prepare the surface of the leather to this degree, but it would still improve the adhesion and longevity of the paint. If you have sandpaper (optional) you can lightly sand the surface of the shoe to remove the gloss, just make sure to properly dust off the shoe before you begin painting.
If you aren't painting the entire surface of the shoe, try to only sand where you will be painting, and make sure to coat any deglazed parts of the shoe with sealants once you have finished painting.
Begin Painting the Shoes
Now it is almost time to start painting. If you have tape ready (optional) then you can tape off areas of the shoe before you begin painting. Tape can help you avoid specific areas with ease or allow you to create clean straight lines in your design. When you start painting (or drawing) make sure that you are doing thin layers and allowing each layer to dry properly, before going over it a second or third time. Remember to paint in the same direction as creases in the shoe. Once each layer has dried, flex the shoe along its crease before painting the next layer. This can help to prevent paint buildup in the creases which can lead to cracking.
If you make mistakes use a paper towel or cotton bud to dab away the paint. Repeat this after dipping the towel or bud in warm soapy water. Continue until the area is clear. Make sure you have properly dried the surface again before continuing.
Enjoy Your Completed Piece
You should now have acrylic painted leather shoes to wear around town or to gift to a friend. What is so great about painting on leather, is that you can easily have a unique piece of clothing or furniture that you are proud to say that you made on your own. Even if someone made the same design as you, there would be small changes in technique or it could be on a different leather item.
In other words, you know what you have made is truly one of a kind. Acrylic paint on shoes is a great way to make an effortless statement.
How to Seal Acrylic Paint on Leather
Once your shoes are painted to your liking allow them to dry and then check for any imperfections. Touch up anything that isn't quite right and allow it to dry, then start to seal your acrylic onto the shoe. Whether you are using a liquid sealant with a brush or a spray sealant, the goal is to achieve thin, even layers on your piece. Much like with the paint you will be allowing each layer to dry properly before continuing.
If you used acrylic leather paint for shoes you may not need to seal your finished piece but it would still ensure the maximum longevity of the paint. While leather paint for shoes would not need to be sealed as much as regular acrylic paints, it would still benefit from an additional layer of protection. To ensure the maximum longevity of your piece it is best to seal the paint properly during and/or after application. There are many ways to seal acrylic paint on leather. Below we have outlined how to seal acrylic paint on leather and explained the benefits and downsides of each option.
Liquid Paint Finisher
This Acrylic paint sealer is popular with many crafters using acrylic paint on leather and comes highly recommended. It provides a matte finish that prevents cracking and damage over time or through usage. A liquid paint finisher can be applied with a rag, sponge, dauber, brush, or spray gun. This makes it both affordable and easy to use. We highly suggest using a liquid paint finisher to seal your acrylic paint on leather.
However, if you don't want a whole bottle of acrylic paint sealer just for one small project, we have a few other suggestions.
Sealant Spray
Acrylic spray sealer works just as well as liquid paint finisher but can be a bit trickier to use if you are not familiar with using spray cans. It is ideal to get thin, even layers on your piece by spraying in short, light bursts and waiting for each layer to dry before repeating. Try practicing on a scrap piece of paper or cardboard before attempting to seal your acrylic paint on leather. Acrylic spray sealer is a great and affordable option once you get used to using a spray can properly.