As one of the most visually striking colors to grace our eyes, Magenta presents itself as a deep purple or dark pink shade. This is a color that can be found throughout our modern world, but go back just a couple of centuries and you will be hard-pressed to find it in anyone's wardrobe. While it is simple enough to know what colors make magenta, finding the resources to do so may not have been as simple a task as we may like to think it is. Come with us as we explore the history and symbolism behind the color magenta, as well as how to make magenta paint for yourself at home!
History of Magenta
The history of the color magenta is quite extraordinary, providing us with two separate origins. The first being the introduction of synthetic magenta dyes, as well as the introduction of the name itself. But first, let us explore how our descendants had to find this extravagant color in nature!
Despite its eccentric appearance, magenta can still be found sporadically throughout nature. Magenta can appear in flowers such as lilies and roses, as previously mentioned, but can also be found on Andean flamingos, certain species of dragonflies, and reef fish, as well as coral formations situated around the Persian Gulf. You can even find them in between a double rainbow! It has even been discovered by astronomers that spectral class T brown dwarf stars turn magenta in color due to their mass absorption of sodium and potassium atoms.
Portrait of Marie Lagadu (1890) by Paul Gauguin; Paul Gauguin, Public domain, via Wikimedia Commons
Because of its irregular occurrence here on Earth, however, the regular use of magenta only became a possibility when the color was first synthesized by the infamous French chemist, François-Emmanuel Verguin, in the mid-19th century. Due to the textile industry's high demand for more vibrant and beautiful colors, many of which could only be derived from infrequently occurring natural sources, Verguin set his sights on creating a new color pigment. Soon after figuring out what colors make magenta, his efforts led to the creation of what was then known as fuchsine, named after the fuchsia flower that has a similar pinkish-purple hue.
As a result of its vibrant color and ability to resist fading when exposed to sunlight, fuchsine became a major breakthrough throughout the textile industry in 1856. However, this newly synthesized shade would only attain its current name three years later after the occurrence of a bloody battle between France and Austria.
Despite France's inferior numbers compared to Austria's, 54,000 to 58,000 respectively, the battle's underdog was able to execute a victorious maneuver. This, however, led to mass casualties on both sides.
As the French suffered 4,000 dead and wounded, Austria suffered a greater 5,700, resulting in a battlefield that was left in a deep red from all the blood spilled. This would result in the previously named fuchsine to then be named after the Italian town in which this battle occurred, Magenta.
In our modern times, however, this color is often seen in a much lighter and more loving manner. As it is now widely used in a variety of art forms such as paintings, films, fashion, and design, artists have discovered the strong emotions that have been associated with magenta. Magenta has been described in different shades of mostly positive, as some may refer to the feeling of magenta as being exciting and energetic, while others may instead find it calming and peaceful.
These differences in perception can be easy to understand by looking at what two colors make magenta, namely red and blue. While red may be associated with feelings of passion, love, and anger, blue is instead associated with peace, tranquility, and intelligence. When combined in magenta, it turns out that the resulting hue can be quite emotionally charged and dynamic.
Shades of Magenta
With a history that is as mesmerizing as the color itself, you may be left with the question "how do you make magenta?", whether it be for paintings and clothing, or even just to gain a deeper understanding of this already deep shade. However, it is vital that you first come to terms with the various shades that can be found within magenta itself. While there may be too many different shades of magenta to mention in this article alone, a few of the most popular choices can include the following:
| | | | | |
| --- | --- | --- | --- | --- |
| Magenta Color | Hex Code | RGB | CMYK (%) | Shade of Magenta |
| Magenta | #ff00ff | 255, 0, 255 | 0, 100, 0, 0 | |
| Violet | #ee82ee | 238, 130, 238 | 30, 70, 0, 0 | |
| Pastel Magenta | #f49ac2 | 244, 154, 194 | 0, 37, 20, 4 | |
| Ultra Pink | #ff6fff | 255, 111, 255 | 0, 56, 0, 0 | |
| Rich Brilliant Lavender | #f1a7fe | 241, 167, 254 | 5, 34, 0, 0 | |
| Sky Magenta | #cf71af | 207, 113, 175 | 0, 45, 15, 19 | |
| Vivid Orchid | #cc00ff | 204, 0, 255 | 0, 49, 2, 15 | |
| Purple Pizzazz | #fe4eda | 254, 78, 218 | 0, 69, 14, 0 | |
| Flirt | #a2006d | 162, 0, 109 | 0 30 18 52 | |
| Magenta Haze | #9f4576 | 159, 69, 118 | 0 35 16 38 | |
As you may tell, magenta is a bold and vibrant color that ranges from bright pink hues to muted and purplish shades. This color's lighter, more pinkish tones, namely pastel pink, are often associated with feelings of love and romance. Such tones provide a delicate and feminine energy, and are perfect for adding a touch of sweetness and warmth to any space or outfit.
Magenta's deeper and more saturated shades, however, begin to take on a greater sense of vigor and energy. Bright and electric shades of magenta are bold and can grab anyone's attention. Such tones are not uncommon in all forms of art and media, and are used to attract audience attention through posters, paintings, and clothing.
In contrast, the darker, richer shades of purple provide more sophisticated hues that seem to almost radiate a sense of mystery and intrigue. These shades can add a touch of elegance and glamor to practically any space.
Due to its rich variety of shades, magenta has become widely used in the fashion and design industries. Its uses vary from making bold statements to simply adding a dash of color to any outfit or environment when paired with neutral or similarly bold colors.
Simply put, the shades of magenta remain diverse and varied, ideal for suiting any and all tastes and preferences.
What Color Is Magenta?
In a world that is still predominantly bathed in natural tones such as browns, grays, and greens, it can often be quite jarring to see the color magenta in our day to day lives. This is a color that is immediately noticeable when found in nature due to how its bright and inviting shades are in stark contrast to its surrounding environment. If you were to ask the average person, "what color is magenta?", you will likely hear it be described as a pinkish-purple color, one that is both bright and vibrant.
To imagine what color is magenta in the form of a physical object, try to imagine a bouquet of flowers. There are countless flowers in nature, namely roses and lilies, that have petals with a deep shade of pink. Incredibly similar to magenta, this shade is created through a combination of red and blue pigments that can be found within the flower petals. Due to its beautiful appearance, many have found that placing flowers, paintings, and other decorations can bring any home together.
How to Make Magenta
Now, with such a rich diversity of shades at your disposal, you may be wondering about how you can make magenta paint for your own personal or professional projects. This can be a fun and creative process that most can enjoy, and with a bit of knowledge and practice, you will be able to create the perfect shade of magenta for your project. However, we suggest that you first come to understand what two colors make magenta, that is red and blue.
On one hand, we have red, a powerful and emotive color that has become widely associated with a range of strong emotions such as passion and desire.
As a result of its seductive and alluring nature, red is commonly used in fashion and design to create a sense of sensuality and attractiveness. Additionally, this color is also strongly associated with feelings of anger and aggression. It is widely known that the mere sight of red is able to raise the heart rate and increase feelings of arousal, both of which can contribute to feelings of anger and aggression. This is why red is used as warning colors and on stop signs in particular, as it grabs attention with ease and conveys a sense of urgency.
| | | | | |
| --- | --- | --- | --- | --- |
| Red Color | Hex Code | RGB | CMYK (%) | Shade of Red |
| Red | #ff0000 | 255, 0, 0 | 0, 100, 100, 0 | |
On the other hand, we have blue, a calm and soothing color that is commonly associated with a range of positive emotions. The most common of these associations would have to be feelings of peace and tranquility. While rare in any physical nature, blue is most observed in the form of our sky during daytime and our oceans, both of which connote a sense of vastness and depth that is closely related to intelligence and wisdom. As a result, blue can just as commonly be found throughout businesses and educational institutes as it can be found in fashion and design schools around the world.
| | | | | |
| --- | --- | --- | --- | --- |
| Blue Color | Hex Code | RGB | CMYK (%) | Shade of Blue |
| Blue | #0000ff | 0, 0, 255 | 100,100, 0, 0 | |
With the combination of such colors coming in the form of magenta, it can provide us with a variety of feelings and sensations at any given moment. These feelings can change drastically by moving through the rich tapestry of shades that magenta provides. Because of this, artists are given the resources needed to easily tap into a number of otherwise untouchable emotions when viewing their works. Frankly, it is no wonder why so many up-and-coming artists and designers are eager to figure out how to make magenta paint.
To start, you will need to add a small amount of red paint to your palette. You can do so by either using a primary red paint, or you can mix your own by combining equal parts yellow and blue paint. Following this, you will need to add a small amount of blue paint to your palette. Similarly, you can either do so by adding a primary blue, or you can mix your own by combining equal parts green and red paint.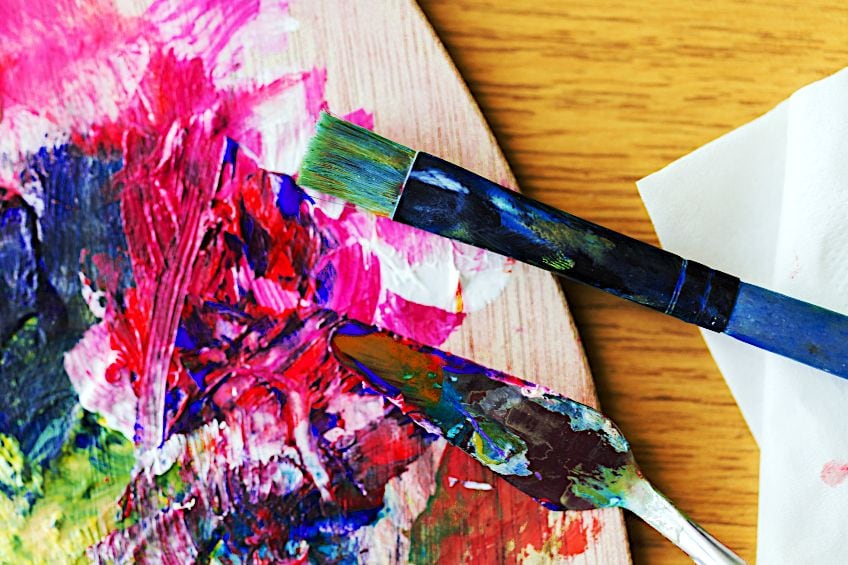 Now, you can begin to mix the red and blue paints together. As you do so, you will begin to see the colors blending together to create a range of varying shades. Keep mixing until you have reached your desired shade of magenta. If you are looking to attain a lighter shade of magenta, all you need to do is add a small amount of white paint to your mix. However, if you are looking to instead reach a darker shade, you can add more red or blue paint until you have reached your preferred shade.
It is clear to see that the color magenta is as vibrant and captivating as ever. We hope to have aided your artistic journey by helping you find the answer to the question, "how do you make magenta". Thankfully, understanding and mixing the color magenta for yourself is easy for both newcomers and seasoned veterans alike. Join us next time as we continue to cover more fascinating colors that make up our everyday world!
Frequently Asked Questions
How Did Magenta Get Its Name?
While the color magenta was first referred to as fuchsine, derived from the fuchsia flower, magenta would later be named after the town of Magenta in Milan, Italy. The name was given to the color after a battle between France and Austria left the surrounding fields covered in a deep red, a shade similar to that of what is now known as magenta.
When Did Magenta Become Popular?
The color magenta grew in popularity during the mid-19th century when the French chemist, François-Emmanuel Verguin, first synthesized the pigment in an attempt to combat the textile industry's growing demand for bright and vibrant colors. At the time, this color was merely named fuchsine, after the fuchsine flower that displayed similar shades.