Types of Easels – Exploring the Best Kinds of Art Easels for Painting
You may have decided to take up painting as a hobby; so, you bought all the brushes, all the selected paint colors, and the right canvas. The only thing missing is an easel for drawing. It makes no difference if you plan to paint in a studio, a room in your home, in an outside shed, or even out in the open field, a sturdy and reliable art easel is essential. To help make finding the right easel for you easier, below are all the main types of easels you can get.
What Is an Easel?
An easel will help your posture and can prevent neck, shoulder, and back pain, and will also give you a firm and sturdy surface for painting on. You will not have to first clear the dining room table before you can start painting. It makes no difference if you are a professional artist or just painting as a hobby, an art easel is an essential part of your painting equipment.
What is an easel definition? An easel is essentially a wooden or metal stand that can hold your artwork for you, allowing you to do your painting in an upright or standing position, and not bent over a table or a desk. Instead of your painting lying flat on a table or desk, your paper or canvas is in an upright position. Many of the easels available also allow you to tilt the surface at an angle.
Easels are available in different sizes and shapes; there are large easels, small easels, metal easels, and wooden easels. Some easels are permanent and used in a studio, while others are portable easels that you can take with you when painting outside. Let us now take a look at some advantages of using an easel.
An easel is excellent for your posture, preventing back, neck, and shoulder pain.
Easels allow you to change the angle of your paper, preventing any glare on your artwork from the light.
The easel allows you to take a step back and view your painting from a distance, instead of lying flat on a desk or table, giving a far better view of the painting as a whole.
Some easels are so designed that you can use them out in the open, especially if you have planned an outdoor excursion.
The use of an easel allows you to make full use of your body and arm when making your strokes and does not limit you to only using your wrist.
Types of Easels Available
When you choose an easel for your artwork, it is important that you first consider all your options and be sure of what your specific needs are for your painting, and then you can select the correct easel for your situation. If you read further below, you will find what to consider when buying an easel.
First, let us go into more detail about the types of easels. If you intend to paint while traveling or painting outside, you need a portable easel for drawing that is light and can fold up, making it easy to carry. On the other hand, if you intend to paint in a studio, you need an easel that is heavy and stable.
A-Frame Easels
The A-frame or Lyre easels are a popular type of easel used by beginners or intermediate-level artists and are best used for small and medium-sized artworks. The easel is designed with a sliding bar that can accommodate various canvas sizes.
The easel has a triangular structure with the front of the easel arranged in an "A" shape where it has a canvas support column in the middle, between the two front legs, which also supports the bottom and top canvas ledges.
The main frame has a single back leg to support it when open, much like a tripod.
With the cheaper A-frame easels, the support, or ledge, for the canvas is the same angle as the two front legs. However, with some models, you can also tilt the support column. The A-frame easels are very lightweight and are hinged at the top, making it possible to fold the entire easel flat, which means you can then stack it against the wall or in a cupboard.
You cannot adjust the A-frame easel into a horizontal position, making it unsuitable for watercolor painting, as the paint will run down to the bottom of the canvas. Also, because it cannot tilt, it is unsuitable for the pastel artist.
PROS
Lightweight
Affordable
Portable
Suitable for beginners
Easy to store
Holds small to medium-sized canvases
Can be used outdoors
CONS
Lacks stability to hold larger canvases
Has no built-in storage space
Not suitable for watercolor painting
H-Frame Easels
The H-frame easel gets its name from its four, firm and strong, legs that form the shape of an H, and is usually made from strong wood like beech or elm. These easels are used for paintings on a large scale and are used often by professional artists.
The H-frame easel is the strongest and most stable of all the easels, boasts the largest footprint offering the best stability even for the most energetic of painters, and is used mainly as a studio easel.
The H-frame easels consist of a central wooden column where the canvas supports are attached, with a square base where the H-frame is attached. The angled support is fixed to the back, allowing you to alter the angle without affecting easel stability. Some of the H-frame easels come with a drawer or shelf underneath the canvas support, where you can store all your painting materials.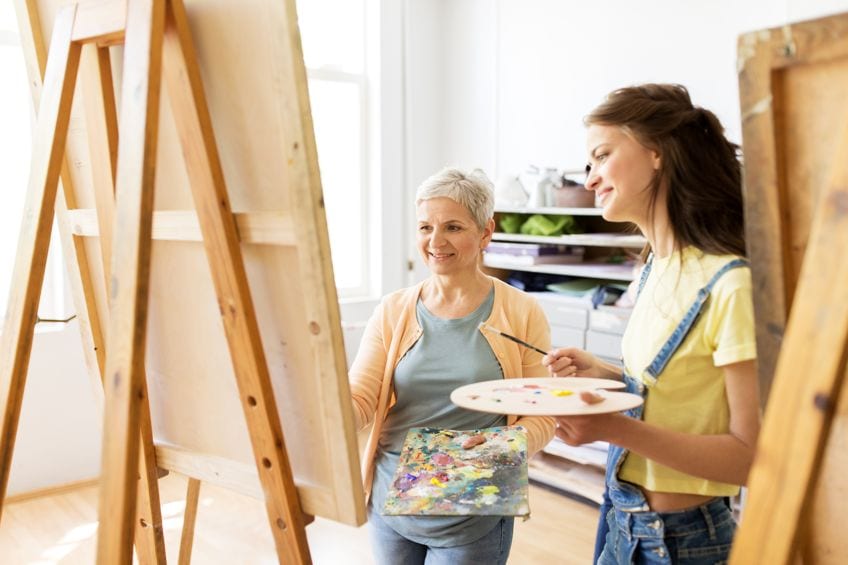 The H-frame easels are usually kept in one spot due to their weight. However, some of them come with wheels, allowing you to move them around until you find the right spot, then just lock the wheels in place. Some models of H-frame easels also come with a crank handle or are electrically powered, which allows you to adjust the canvas into a horizontal position, which is ideal for watercolor artists. It can also be adjusted to tilt forward, making it perfect for pastel artists.
PROS
Strong and stable
Able to accommodate large artworks
Can adjust horizontally
Comes with wheels to move around
Has storage space
CONS
Not able to fold and move around easily
Can be bulky
Single-Mast Easels
The single-mast, or radial easel, stands on a tripod made up of three short legs, and this supports the upper section that is hinged just above the three short tripod legs, allowing you to tilt it to the desired working angle. The upper section also has sliding support that can move up and down, allowing you to accommodate canvases of various sizes.
However, they are not as stable as the H- or A-frame easels, but they can be folded up when you are not using them and stored away.
The single-mast easel is specially designed for studio use and is used by entry-level artists or professional artists that need portability and space in their studios. These types of easels can also often be found in schools. Many artists prefer this easel as it has a small footprint but is also able to accommodate some large-scale paintings.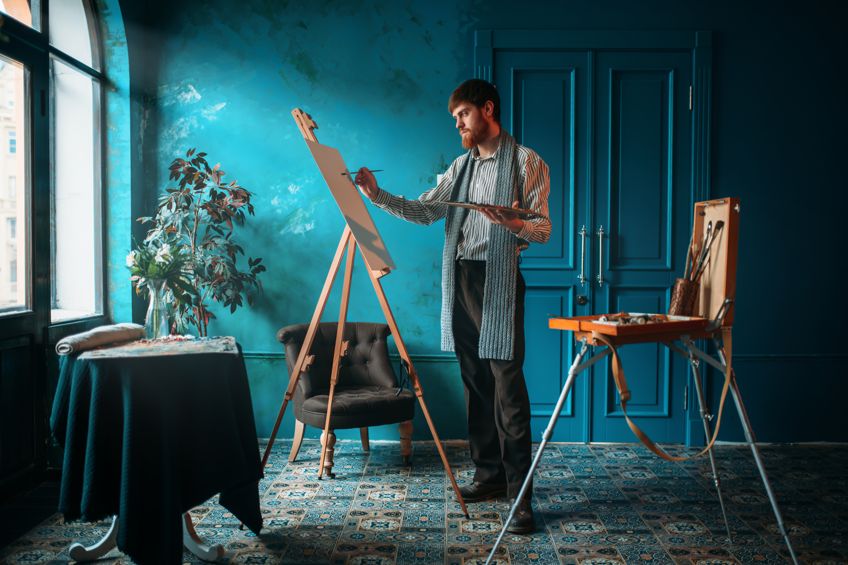 The three short tripod legs that support the easel are not very stable, however, you could experience some wobbling during painting. This can be solved by including extra leg weights for more stability. The single-mast easel is not only good for painting but can also serve as an easel for drawing, or you can use it as a display easel.
PROS
Folds easily
Lightweight
Affordable
Able to handle large canvases
Great for students and beginners
CONS
Not as stable as other easels
Does not come with storage space
Tabletop Easels for Painting
The tabletop easels for painting are a great option for the artist that has a limited space to work in or who likes to work sitting down. These can be set up on the kitchen table or a desk, and they also come in an H or A-frame or single-mast design.
They are small easels and fairly stable to work on but can only accommodate smaller canvases with the largest size being 16 to 20 inches.
The tabletop easel is quick and easy to fold away. They also have adjustable support allowing you to adjust the angle but bear in mind, that you cannot lower or raise the canvas support, which means the height is fixed.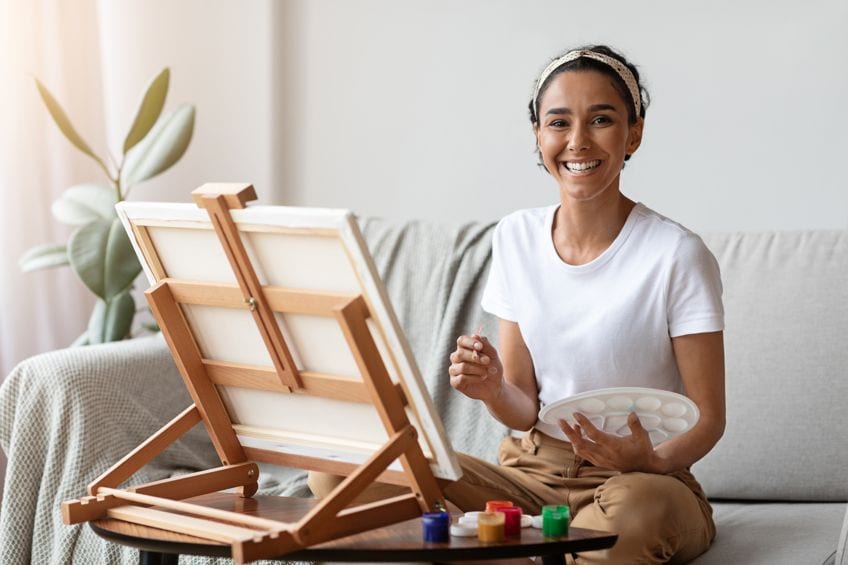 Most of the tabletop easels for painting come with drawers for storing your art supplies, and some of them can also be used outdoors on your lap. This type of easel works great when using mediums like graphite drawing, pencil drawing, or even pastel painting, and can be used as a table easel for painting or drawing.
PROS
Easy to fold and store away
Small but sturdy
Perfect table easel for painting
Comes with storage space
Available in various designs
Portable
CONS
Only suitable for small canvases
Limits you to areas where there is a table or other flat surface
Not suitable for watercolor painting
Convertible Easels
The convertible easel, also referred to as a hybrid easel, can be adjusted to a vertical position just like the standard easel, or you can adjust it to a horizontal position. This is ideal for artists that are working with different mediums like watercolors or oil paints. It can be altered to suit the medium you are using, set it to stand upright when working with oil or acrylics, or just lay it flat to work with watercolors. The easel is ideal for when you are finished with your painting, as you can lay it flat and apply the varnish.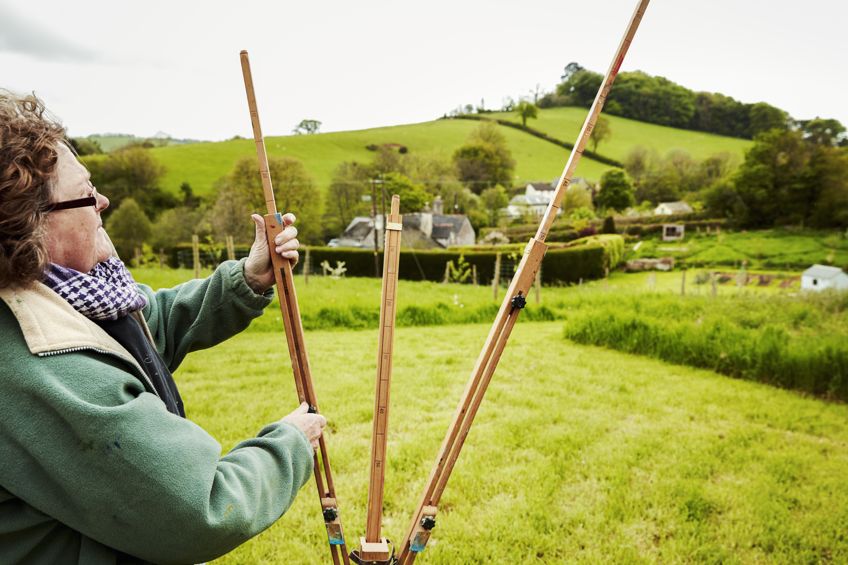 Their shape is very similar to that of an H-frame easel, as it has a square footprint and also offers you a stable and strong frame that is hinged to allow for its conversion ability. It can take small as well as large canvases, and also comes with built-in storage space for all your art supplies. The easel usually comes with four wheels that make it easy to move and can be locked, making it very sturdy.
PROS
Adjusts easily
Extremely sturdy
Can accommodate small and large canvases
Suitable for watercolors, oil, or acrylic mediums
CONS
Fairly large and can take up quite a lot of space
Very expensive
French Easels
The French easel is more of a portable easel and is ideal for the Plein air painting, or what is also known as outdoor painting. It is very similar to table easels for painting, but it is equipped with three legs that can be folded out and adjusted to whatever height you want.
The canvas can be adjusted from lying flat to whatever angle suits you, which makes it perfect for all types of mediums.
The easel is also equipped with a box that can be used to store all your art supplies, as well as a front drawer that can be pulled out, which can be used to hold your palette when you are painting. The whole easel can be folded up, making it very easy to carry as well as to store when not in use.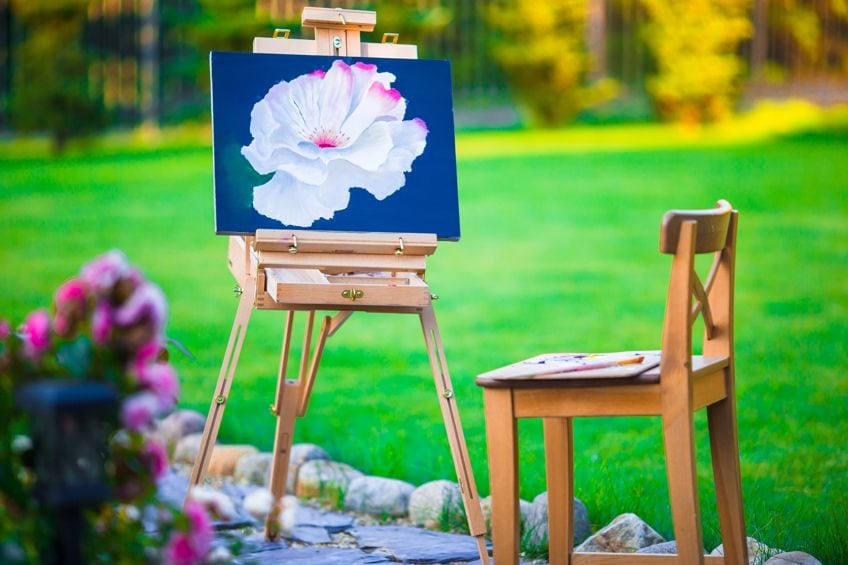 Some of the French easels are equipped with a carrier or bag that you can use to transport your wet paintings. However, the French easel can be slightly heavy to carry for a long way as it weighs about 10 pounds. An alternative to the French easel is the Pochade Box, which has the same features as the French easel, but it does not have legs and has to be held on your lap or placed on a table.
PROS
Portable
Has a box for art supplies
Provides a surface for holding your palette
Equipped with three adjustable legs
Canvas can be adjusted to various angles
CONS
It may not be very stable when used outdoors
Can be heavy to carry
Opening and closing the easel can be difficult
Sketching or Field Easels
This type of easel is very similar to a camera tripod as it has three legs that form a triangular footprint. At the place where the three legs meet, there is a central column where your canvas can rest, and the column has upper and lower support for your artwork. On some of the models, the central column can tilt to a fully horizontal position.
The field easel is available in wood or aluminum, and the aluminum frame is very light and easy to transport.
The legs are telescopic, which can easily fold in when you need to transport the easel. You can also extend it to the height you want when you are ready to start painting, making it perfect for sitting down or standing up. These types of easels are perfect for painting outside, but the lightweight footprint can affect their stability. The easel can also be used indoors where there is limited space.
Some of the aluminum sketching easels can tilt to a horizontal position, making them perfect for watercolor painting. Other models are also equipped with a box to hold your art supplies, but these easels are a little bit heavier. The field easel comes with a nylon bag, to store your easel in, and has a shoulder strap attached, allowing you to easily carry your easel to wherever you are going to paint.
PROS
Comes with a nylon bag for traveling
Ideal for outdoor painting
Lightweight
Can hold tall canvases
Reasonably priced
CONS
It may not be very stable when used outdoors
The wooden easels tend to be heavier
Easel Comparison Table
To sum up all that we have discussed, we have placed a short table that will show you at a glance what type of easel is suited for what type of painting or drawing. In this article, we have discussed only seven of the easels that are available, but there are a lot more.
| | |
| --- | --- |
| Type of Easel | Best Used For |
| A-Frame Easel | Oil and acrylic painting, drawing, and pastels if it can tilt forward |
| H-Frame Easel | Oil and acrylic painting, drawing, pastels if they can tilt forward and some watercolors if they can tilt to a horizontal position |
| Single-Mast Easel | Oil and acrylic painting, drawing, and pastels |
| Tabletop Easel | Oil and acrylic painting, watercolors, and drawing |
| Convertible Easel | Oil and acrylic painting, drawing, and watercolors |
| French Easel | Oil and acrylic painting, drawing, watercolors, pastels, and Plein or outdoor painting |
| Sketching or Field Easel | Oil and acrylic painting, drawing, watercolors, pastels, and Plein outdoor painting |
What to Consider When Purchasing an Easel
When it comes to different types of easels the options available are huge, and before you go out and buy an easel for your artwork, you need some careful planning beforehand. You need to consider what you intend to do with the easel, and this will involve some variables, which we can now consider.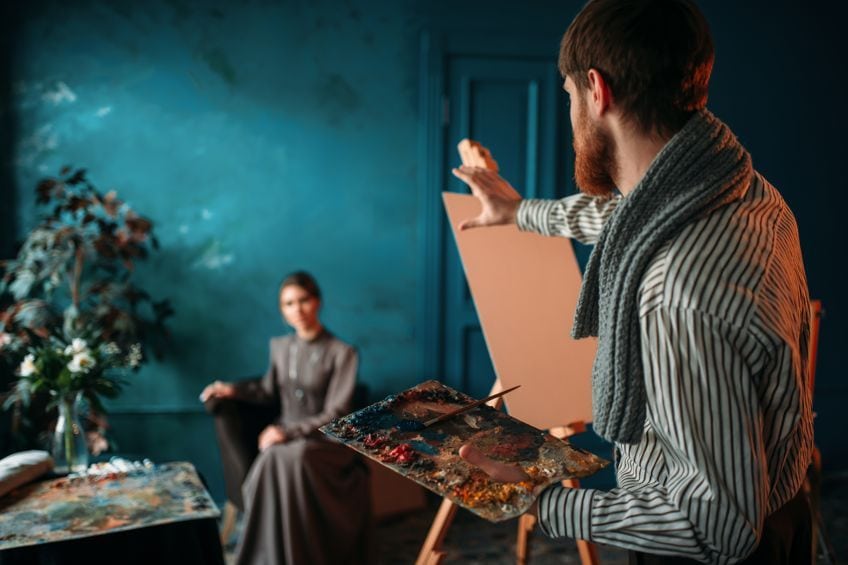 Where Do You Intend to Use the Easel?
The place where you intend to paint from will have a huge bearing on what type of easel you need to buy. Say you want to go and paint outdoors, this means you need to have an easel that is portable and compact, as you need to transport it.
You may have a large shed at home that is solely for painting, or you have a studio to paint in, then the easel you need to have can be strong and sturdy as there is ample space available.
However, you may have to paint in one of the rooms in your home where there is not much space, so you need to have a lightweight easel that can collapse and fold away. It may be that you have to work in your kitchen or dining room and the only available space is the dining room or kitchen table, so you will need a table easel for painting.
What Is the Weight and Size of the Canvas?
You need to take into account the weight of your painting, as most easels can hold fairly heavy canvases, but you need to be careful that you do not exceed the weight. Many artists use a lot of mediums, and the thick paint can cause the weight of your canvas to exceed the maximum your easel can hold. If you find the weight of your canvas and the mediums you use too heavy, it may be a good idea to invest in a large easel.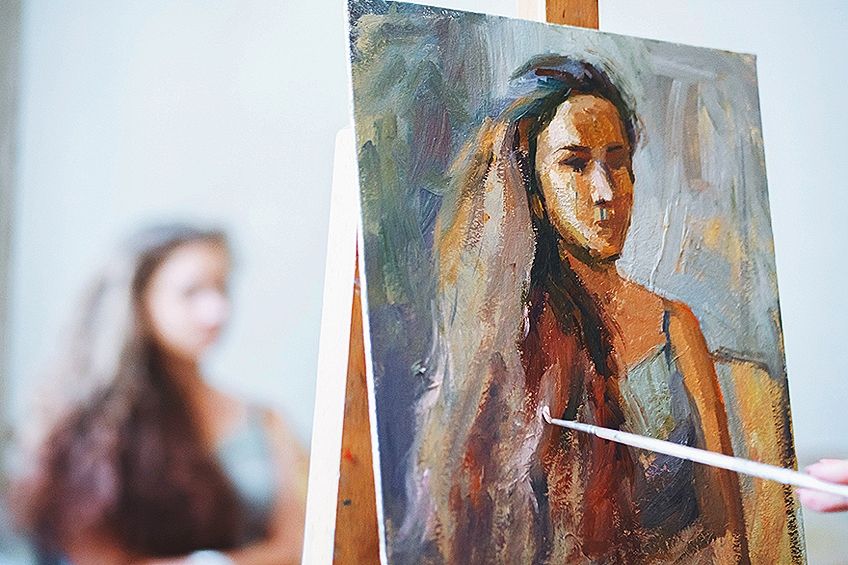 You also need to take the size of your painting into account as the easel has a maximum height that you cannot exceed. This means that if you are busy painting small artwork, but you prefer to stand in front of your easel, you need to ensure that the easel's lower canvas support will be able to extend high enough that it can support your painting and at the same time make it a comfortable height to work from.
What Type of Medium Are You Using?
You need to have an easel that can tilt or move into a very comfortable position, enabling you to work on any specific area on your canvas. This option provides great benefits when using different painting techniques and mediums. If the medium you are using is that of watercolors, you need an easel that does not stand at a steep vertical angle, as your watercolors will tend to drip or run down your canvas.
You need to keep the easel more horizontal, making it more effortless to paint smooth washes.
For artists that use varnish on their work, an easel that can tilt horizontally can be a great advantage, by changing the angle you can apply the varnish smoothly and in even layers. Being able to tilt your canvas can be helpful, as the forward tilt helps not to expose your painting to unnecessary dust or fluff that can stick to the paint. This option of a tilting easel is also of great benefit to the pastel artist, as it allows them to get the excess dust to drop off the painting surface.
How Do You Intend to Use Your Easel?
You may want to paint on a large scale and for that, you will need to have a very heavy and sturdy easel that can be secured in one place. This means using an H-Frame easel that has a broad square base. On the other hand, you may want to paint in a standing or sitting position, so you should be able to adjust the height of the easel, and for this, you need a crank handle easel.
Maybe you are limited in space and can only paint at a desk or table, so the easel you need must be able to fold up small enough for you to store away in a cupboard. However, you may be working with watercolors, and to prevent the paint from dripping or running off the canvas, you need a watercolor easel that can tilt into a horizontal position.
More Factors to Consider
Various adjustment mechanisms on an easel can provide you with a great deal of comfort, it can adjust its height and can be used comfortably standing or sitting. The easel you choose should be able to tilt backward or forwards, allowing you to use the mediums you prefer without any problems. Other factors to consider include the following.
Easel Price: The easel price is directly proportionate to the quality; the more expensive the better the quality, so it all depends on your budget.
Durability: You need to invest in an easel that will last a long time and is strong and sturdy; this is where hardwood easels are more stable. However, they are heavier, and there are types of easels that are made from aluminum which are a lot lighter.
Finding the right type of easel depends on what you want to do with the easel and what medium you want to use. These and other factors will determine the best type of easel you need. There is such a range of easel products available that you should find something that works for you.
Frequently Asked Questions
How Do I Select the Right Easel?
A good-quality easel should be able to support your canvas and be big enough to take the size of canvas you want to use. You should also consider what sort of medium you are going to paint with. Other factors including portability and price can play a role in your decision.
Why Use an Easel for Painting?
Using an easel to paint on makes you paint in a vertical position, which will enable you to produce a more accurate painting, as you create your artwork in the same plane as you will hang it once it is finished. As you generally perceive things in a vertical position, painting on an easel helps to keep the perspective exact.
What Is an Easel Definition?
An easel is a support structure to which an artist can fix their canvas while they are painting and is usually upright or tilted at an angle. You can stand up and paint or sit down according to the design of the easel. Some easels can be found in studios, at home, or even outdoors. Some easels are not used for painting purposes but are solely for displaying one's artwork.
In 2005, Charlene completed her Wellness Diplomas in Therapeutic Aromatherapy and Reflexology from the International School of Reflexology and Meridian Therapy. She worked for a company offering corporate wellness programs for a couple of years, before opening up her own therapy practice. It was in 2015 that a friend, who was a digital marketer, asked her to join her company as a content creator, and this is where she found her excitement for writing.
Since joining the content writing world, she has gained a lot of experience over the years writing on a diverse selection of topics, from beauty, health, wellness, travel, and more. Due to various circumstances, she had to close her therapy practice and is now a full-time freelance writer. Being a creative person, she could not pass up the opportunity to contribute to the Art in Context team, where is was in her element, writing about a variety of art and craft topics. Contributing articles for over three years now, her knowledge in this area has grown, and she has gotten to explore her creativity and improve her research and writing skills.
Charlene Lewis has been working for artincontext.org since the relaunch in 2020. She is an experienced writer and mainly focuses on the topics of color theory, painting and drawing.
Learn more about Charlene Lewis and the Art in Context Team.