The strikingly beautiful St. Patrick's Cathedral in New York has a centuries-long history. St. Patrick's Cathedral's architecture is famed for its Neo-Gothic style, which features an exquisite high altar, massive bronze doors, and countless stained-glass windows. When was St. Patrick's Cathedral built and what does it look like? Let's explore this magnificent Catholic church and find out more about its long and interesting history!
Exploring St. Patrick's Cathedral
| | |
| --- | --- |
| Architect | James Renwick Jr. (1818 – 1895) |
| Date Completed | 1879 |
| Function | Seat of Archbishop of New York |
| Location | Manhattan, New York City, United States |
Construction of St. Patrick's Cathedral began in 1858 to house the expanding Archdiocese of New York and was built to replace the old St. Patrick's Cathedral which was located in lower Manhattan. The cathedral is huge, taking up a whole block of Midtown Manhattan! It is the burial site of some of New York's most famous humanitarians and clerics and was also the site of memorial Masses for some well-known American superstars. St. Patrick's Cathedral is now a worldwide-renowned historic site, attracting over 5 million people every year.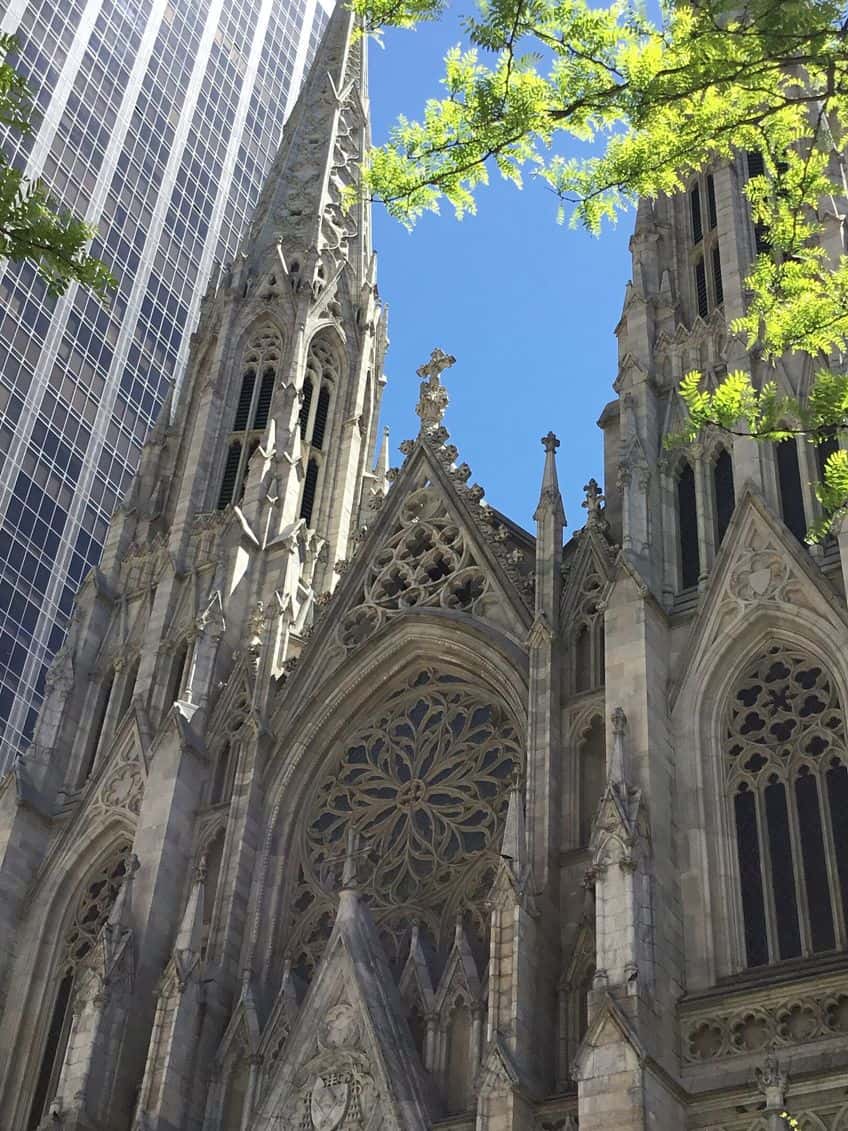 St. Patrick's Cathedral (2022); Kidfly182, CC BY-SA 4.0, via Wikimedia Commons
The History of St. Patrick's Cathedral in New York
With a growing number of Catholics migrating to New York City in the mid-19th century, Archbishop John Hughes proposed constructing a new cathedral to host them. Work started in 1858 and was finished in 1879, thanks to contributions from both affluent and poor New York Catholics. Currently, the cathedral functions as the archbishop's seat in New York.
Early History of the Site
Rev. Father Anthony Kohlmann purchased the site on which the current cathedral is located in March 1810. The Jesuits established a college at this location, which was positioned north of New York City. It contained an old building with a church dedicated to St. Ignatius. The Jesuits transferred the property to the Diocese of New York in 1813. St. Patrick's trustees met in 1828 to consider the viability of creating a burial place on the property. The trustees purchased the land in 1829 but did not end up using it as a cemetery. In 1841, a simple frame church was consecrated for the parish. Tickets were sold during the dedication to help pay off the parish's debt, but the mortgages were foreclosed on, and the church was auctioned off in 1844.
The Rev. Michael A. Curran was assigned to gather finances for the parish and set up a temporary congregation in an old college auditorium. During Ireland's Great Famine, Curran continued to raise donations to repurchase the church.
Planning of St Patrick's Cathedral
The population of Catholics in New York had risen to 200,000 followers by the early 1840s, prompting the establishment of many new dioceses in New York state. It was established as early as 1850 that the burgeoning Archdiocese of New York required a larger cathedral to replace the existing church in Lower Manhattan. The location was still somewhat rural at the time. The property fronted Columbia University's gardens to the west, but the adjacent neighborhood was defined by a rocky and uninhabited landscape. Nonetheless, it was anticipated that the area would develop into a bustling business district.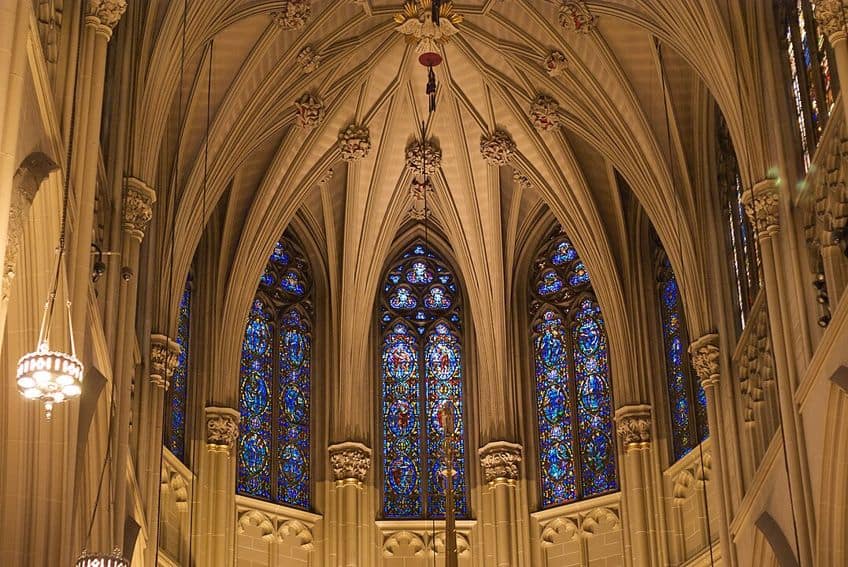 St Patrick Cathedral Stained Glass (2009); Pahudson, CC BY-SA 3.0, via Wikimedia Commons
Renwick & Rodrigue were commissioned to construct a cathedral on Fifth Avenue in 1853. Renwick traveled to Europe for three years looking for design inspiration for New York City's new Catholic church. He was particularly inspired by the incomplete Cologne Cathedral. The architects wanted to construct a grander cathedral than what was eventually constructed. The ambulatory was eliminated from the designs to create room for the clergy and archbishop's quarters. The original design's several massive buttresses were also eliminated.
The cathedral's plans were completed in 1858. Rich Catholics in the Archdiocese of New York were invited to contribute to a construction scheme for the new cathedral in order to raise funds for the undertaking.
The Fifth Avenue front facade would feature three huge entrances, and the cathedral's northwestern and southwestern corners would be crowned by an octagonal spire. The cathedral's interior was to be constructed in a cruciform pattern, and it was to be erected in the Gothic Revival style. An archbishop's residence and a chapel would also face Madison Avenue. There were several asylums, hospitals, and other public institutions along the neighboring part of Fifth Avenue during the time.
Construction
The architects offered cost estimates for building the cathedral in 1858, with a choice between brown freestone, white marble, olive freestone, or granite. With an estimated cost of $850,000, it was determined that white marble was the most pricey of the four possibilities, and William Joyce and James Hall volunteered to furnish the marble. Nonetheless, despite the cost, Renwick proposed that St. Patrick's be built in white marble because of its longevity and beauty. In 1860, when all finances had been depleted, the walls had barely reached the water table. As a result, it was resolved to halt all construction on the new cathedral.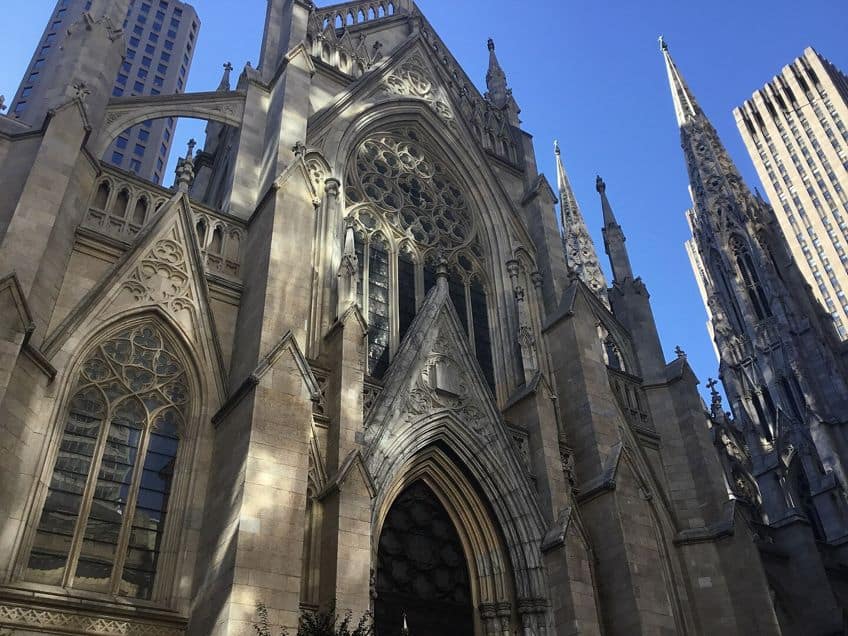 St Patrick's Cathedral (2021); Kidfly182, CC BY-SA 4.0, via Wikimedia Commons
The outbreak of the American Civil War in 1861 halted development for several more years. Work had recommenced by mid-1866, with the walls reaching 6 meters above the ground. The majority of the cathedral's finance came from the parishioners of these parishes, who were mostly impoverished Irish immigrants. Because some of the materials could not be worked with in the cold, the cathedral's construction was completed over the summer. The marble walls had reached a height of 16 meters by the end of 1870, and the transept had been completed. By late 1875, the slate roof had been installed, and all of the walls had been completed. Temporary scaffolding was installed in 1876 so that the interiors could be plastered and painted. On the 25th of May, 1879, the new St. Patrick's Cathedral was dedicated.
The ceremony was attended by 35 bishops and six archbishops.
The media generally greeted the opening of St. Patrick's with enthusiasm. St. Patrick's cathedral has served as a place of worship for many people as well as a tourist attraction over the years. When it was erected, it was ranked as the biggest Catholic church in New York. It was also used for the baptism scene in the iconic American crime movie The Godfather (1972). To some extent, how people utilize the cathedral has evolved throughout time, and it's become a popular wedding destination.
St Patrick's Cathedral's Architecture and Art
The cathedral was originally surrounded by open ground. Many of the city's wealthier individuals erected townhouses and mansions as residents went north. Those houses were eventually sold to developers and substituted with the enormous office structures that exist today. Between 1927 and 1931, St. Patrick's cathedral received a series of modifications, including the enlargement of the sanctuary and the installation of the enormous organ that is still in place today. Subsequently, a $177 million three-year restoration effort finished in 2015 removed decades of filth and dirt that had blackened the facade and windows, and once again many of the building's architectural features can be clearly admired.
St. Patrick's Cathedral (2022); Kidfly182, CC BY-SA 4.0, via Wikimedia Commons
Blue gneiss granite foundation stones were laid into cement mortar. Dix Island granite from Maine was used for the lowest level of the facade as well as the base level under all of the interior columns. The cathedral's principal section is composed of Tuckahoe marble. Walls of stone and brick constructed in rough masonry surround the marble blocks, with hollow openings to allow for ventilation. The blocks were so precisely placed that no cracks occurred in them even generations after the cathedral was finished.
Stained-Glass Windows
The stained-glass windows were created by artisans from England, the United States, and France. The cathedral contains 94 stained-glass windows, the majority of which were completed in the 1940s. Paul Woodroffe from England; Charles Connick from Boston; Charles Morgan from New York; and Nicholas Lorin and Henri Ely from France are among the artists. The five million visitors who visit the cathedral each year are captivated by its magnificence.
The amazing care and detail with which they illustrate Biblical tales allow individuals who worship there to learn about their faith while they wander along its silent benches.
High Altar
The High Altar draws one's attention once inside the cathedral. Its baldacchino, a 57-foot bronze canopy, contrasts with the elaborate stained-glass windows and shines vividly against the white marble arches. You'll feel as though you've been transported from gritty New York to the celestial realm. Cardinal McCloskey's original chancel and the high altar stood three levels above the sanctuary floor and featured a platform of brilliantly colored marble. The altar was planned and built in Rome in the Italian Gothic manner. A marble tabernacle decorated with mosaics and precious stones crossed the altar steps. White marble was used to create three bas-reliefs on the flanks and the front of the altar. The archbishop's pulpit was built of wood and was located on the northern side of the altar. A Gothic-style octagonal pulpit was constructed on the southern side of the high altar in 1885.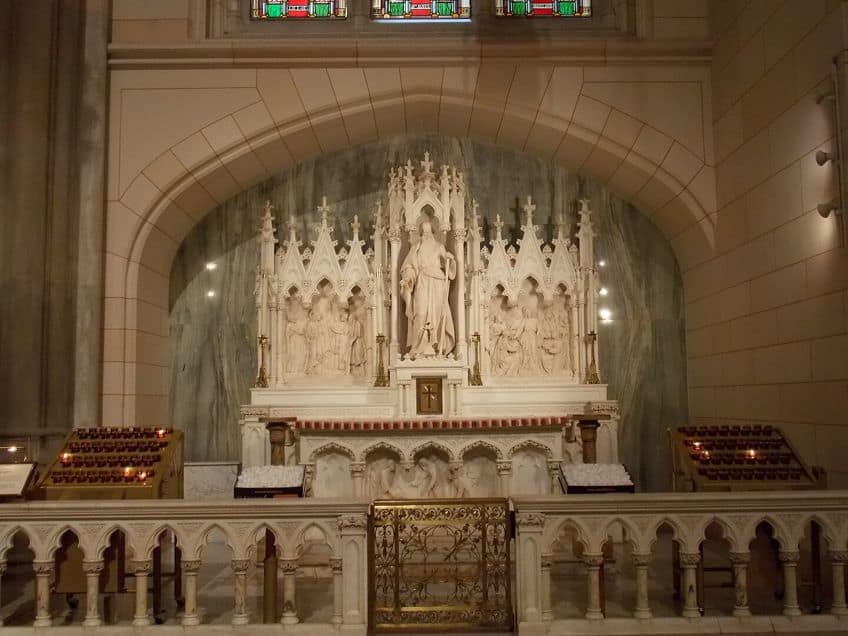 Interior of St. Patrick's Cathedral on Fifth Avenue in Manhattan, New, York (2016); Farragutful, CC BY-SA 4.0, via Wikimedia Commons
Statues
Beyond the main altar is a sculpture of Mary carrying the dead Jesus, one of the best sculptures ever produced by an American sculptor. The marble Pieta (1906), carved by William Ordway Partridge, is three times bigger than the one produced by Michelangelo and housed in St. Peter's. In honor of Pope Paul VI's visit to New York in 1979, bronze busts of Saint John Paul II and Pope Paul VI are positioned outside the cathedral's entry, which also includes its two major front doors, each of which is constructed of bronze with a weight of 9,000 pounds. Benedict emphasized the significance of architecture and art in communicating devotion and beauty during his sermon at the cathedral in 2008.
"Like other Gothic cathedrals, it is a tremendously complicated construction, whose precise and harmonious proportions reflect the wholeness of God's creation", he stated of St. Patrick's Cathedral. The cathedral also has several saint sculptures made of wood, marble, or bronze.
Crypts
Traditionally, the crypt's entrance was concealed by a huge stone slab that needed six individuals to lift. A stone stairway led down to a vault hidden behind a pair of slate doors. The names of the people buried in the crypt are etched in large bronze letters on the tomb doors. The eternal burial place of the previous nine Archbishops of New York is located beneath the high altar of St. Patrick's Cathedral. The venerable Pierre Toussaint is the sole layperson who has joined them. Why was Toussaint given an exception? Toussaint was a New York philanthropist who was active in the 1800s and is often regarded as the founder of Catholic charities in the city. He had quite a remarkable life: he was born into slavery in Saint-Domingue (now Haiti) and taken to New York, where he was emancipated and spent the remainder of his life assisting those in need. He was initially interred at Old St. Patrick's Cathedral, but his place of rest was subsequently relocated to St. Patrick's Cathedral in his honor.
The entrance into the burial crypt below the altar at St. Patrick's Cathedral on Fifth Avenue in Manhattan, New, York (2016); Farragutful, CC BY-SA 4.0, via Wikimedia Commons
Renovations to Architecture
The complex's historic construction was in desperate need of preservation measures due to deteriorating plasterwork, marble, and stained glass. St. Patrick's Cathedral was last fully restored in the 1940s, using limited finances. In more recent work, long-hidden or forgotten historic aspects and elements have been restored or reproduced with careful attention to Renwick's neo-Gothic detailing and architectural purpose. New, inconspicuous glass doors at ancient bronze gates on Fifth Avenue serve as a symbol for revitalizing St. Patrick's Cathedral, welcoming neighbors and millions of tourists.
This is one of several engineering and architectural interventions meant to improve the tourist experience while trying to properly integrate modern systems into the existing framework.
For instance, new fan coil components were custom-designed to fit into existing radiator casings. The silent, low-impact geothermal system, one of Manhattan's largest ever, eliminated loud, visible cooling systems and permitted more effective use of space. St. Patrick's Cathedral's refurbishment benefits local ecosystems as well. Collaborating with landscape architects, the geothermal plant installation presented a chance to rejuvenate overgrown and poorly-drained plant beds.
Following the drilling of the geothermal wells, the surrounding gardens and flower beds of the city block-sized property were rebuilt, with new native vegetation including flowering species, berry bushes, and seven large Columnar Hornbeam trees, as well as new bluestone paths and curbs. The repaired stained-glass windows add to the appreciation of the historical aspects by allowing more light into the cathedral's interiors. The project included the installation of new skylights to substitute roofed-over apertures, which significantly increased the sunlight in the Cathedral's side aisle chapels. New technical systems and walls, such as the structural glass chapel wall, have been installed to increase acoustics. For the attending public, updated sound equipment, a listening loop, and a renovated organ increase audibility.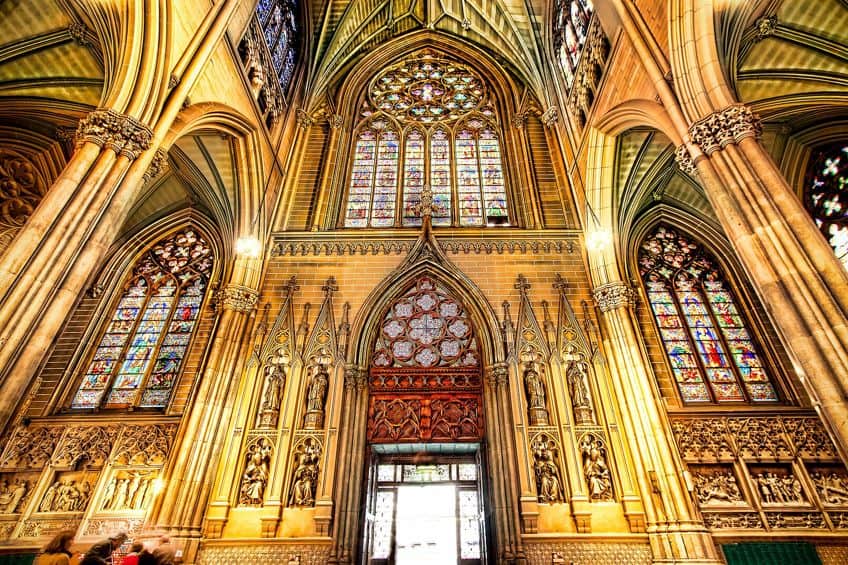 An inside view of Saint Patricks Cathedral (2012); Sracer357, CC BY-SA 3.0, via Wikimedia Commons
The upgrade work has had a significant influence on how people experienced the space. Glass doors and partitions promote community ties, attract first-time guests, and improve the visitor experience at St. Patrick's Cathedral. The Cathedral's post-occupancy record indicates its highest turnout ever, including Pope Francis' visit in 2015. The personnel at St. Patrick's Cathedral have decided to expand programming and are able to conduct more information-based tours about the obstacles of trying to restore historic cathedrals and churches.
St. Patrick's Cathedral is a historical and cultural monument in New York City that represents the faith and dedication of the Roman Catholic population. It is well-known for its imposing Gothic architecture, stunning stained-glass windows, and intricate ornamentation. The cathedral serves as the Archbishop of New York's residence and is regarded as one of the most significant churches in the United States. It is a major tourist site, drawing millions of tourists each year to see its stunning architecture and interior, as well as to attend Mass and other religious ceremonies. The cathedral is particularly famed for its magnificent organ, which has over 7,000 pipes and is one of the biggest in the world.
Frequently Asked Questions
When Was St. Patrick's Cathedral Built?
St. Patrick's Cathedral was erected between 1858 and 1878. James Renwick, Jr., a distinguished American architect who also created the Grace Church in New York City and the Smithsonian Institution Building in Washington, D.C., designed the cathedral. The cathedral's construction started in 1858, but was halted by the Civil War and did not finish until 1878.
What Is Notable About St. Patrick's Cathedral's Architecture?
The cathedral is made of brickwork and stone, with a white marble façade. It has two 100-meter-high spires, placing it among the tallest cathedrals in the United States. The cathedral's main entrance is through a set of magnificent bronze doors carved with reliefs commemorating the life of St. Patrick, Ireland's patron saint. The cathedral's interior is ornately designed with stone sculptures, stained glass windows, and altars made from marble. The main altar of the church is composed of marble and is encircled by gorgeous metal gates.
Where Is the San Patricio Church?
San Patricio is a frequently used name for parishes in Spanish-speaking nations, and numerous churches with this name can be found all over the world. Someone may be referring to a specific San Patricio church, such as St. Patrick's Cathedral, but it's a name commonly applied to many churches. St. Patrick, the patron saint of Ireland, is known in Spanish as San Patricio.
Justin van Huyssteen is a freelance writer, novelist, and academic originally from Cape Town, South Africa. At present, he has a bachelor's degree in English and literary theory and an honor's degree in literary theory. He is currently working towards his master's degree in literary theory with a focus on animal studies, critical theory, and semiotics within literature. As a novelist and freelancer, he often writes under the pen name L.C. Lupus.
Justin's preferred literary movements include modern and postmodern literature with literary fiction and genre fiction like sci-fi, post-apocalyptic, and horror being of particular interest. His academia extends to his interest in prose and narratology. He enjoys analyzing a variety of mediums through a literary lens, such as graphic novels, film, and video games.
Learn more about the Art in Context Team.