Paris has always been the significant birthplace of art movements that changed the face of art and history for centuries, think Fauvism or Impressionism; it has been the hub of culture throughout the world. It has also typified typical urban life through many a Paris street painting, which is what this article will explore in the famous Paris Street; Rainy Day (1877) by Gustave Caillebotte.
Artist Abstract: Who Was Gustave Caillebotte?
Gustave Caillebotte was born on August 19, 1848, in Paris, France, and was part of an upper-class family. In his younger years, he studied Law and received his license to practice it in 1870. From July 1870 to March 1871, he also served in the military, the Garde Nationale Mobile de la Seine. He started studying art in 1873 at the École des Beaux-Arts and reportedly did not stay long.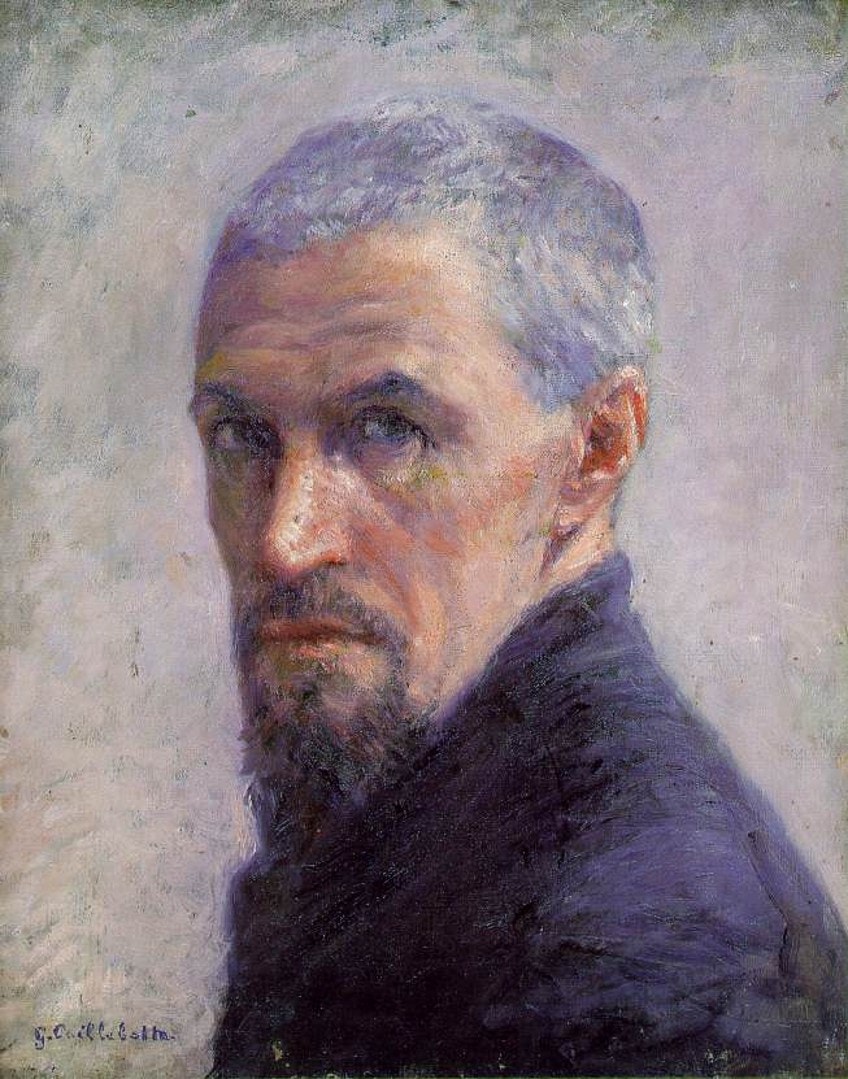 Self-portrait (c. 1892) by Gustave Caillebotte; Gustave Caillebotte, Public domain, via Wikimedia Commons
Caillebotte was a wealthy man; he and his brother, Martial Caillebotte, inherited their father's wealth when their mother died. He was remembered as financially supporting numerous artists and never had the need to support himself through his paintings. He painted genre paintings of everyday scenes and exhibited them in Impressionist exhibitions. He died on February 21, 1894, reportedly from a stroke.
Paris Street; Rainy Day (1877) by Gustave Caillebotte In Context
Paris Street; Rainy Day is a famous Paris street painting, and one of the more famous rainy day paintings, that we will discuss in more detail below. The Impressionist Gustave Caillebotte painted it with a realism reminiscent of photography, which was an influencing factor and stylistic inspiration, creating a "snapshot" of an everyday scene.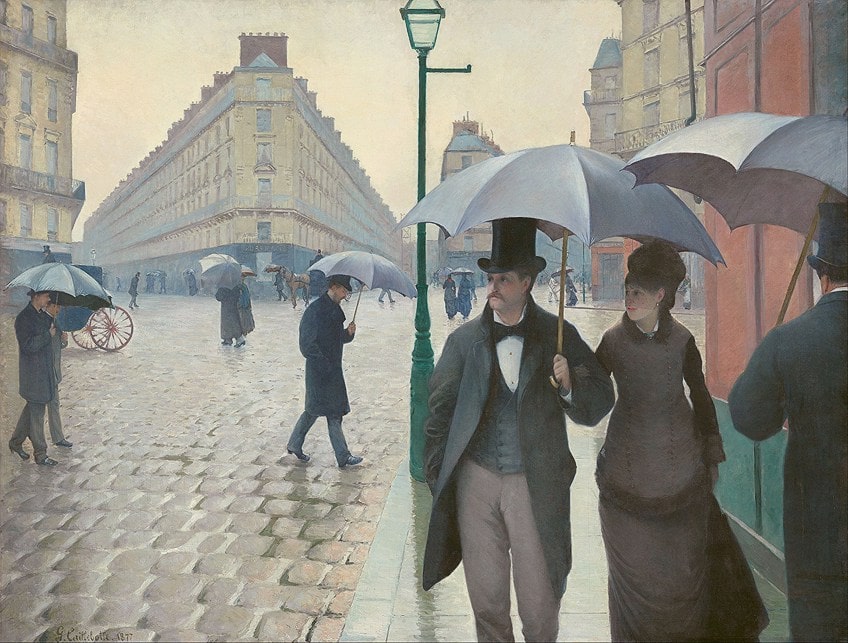 Paris Street; Rainy Day (1877) by Gustave Caillebotte; Gustave Caillebotte, Public domain, via Wikimedia Commons
We will discuss this and more in a brief contextual analysis below, outlining the circumstances that surrounded Caillebotte when he painted it. We will then provide a formal analysis, discussing the artistic techniques that the artist utilized in terms of color, line, and perspective.
| | |
| --- | --- |
| Artist | Gustave Caillebotte |
| Date Painted | 1877 |
| Medium | Oil on canvas |
| Genre | Genre painting |
| Period / Movement | Realist, Impressionism |
| Dimensions | 212.2 x 276.2 centimeters |
| Series / Versions | Not applicable |
| Where Is It Housed? | Art Institute of Chicago |
| What It Is Worth | Walter P. Chrysler sold it to the Art Institute of Chicago in 1964 – the price is unknown. |
Contextual Analysis: A Brief Socio-Historical Overview
There are several important contributing historical and cultural factors worth exploring to aid us in better understanding Gustave Caillebotte's Paris Street; Rainy Day, and what ultimately made it a hallmark Impressionism painting. These are namely, the urban setting, the development of photography and how it became an influencing art medium, and Caillebotte as an Impressionist. 
The Urban Setting: The "Haussmannization" of Paris
First, let us look at where this famous Paris street painting takes place, which is the street called Rue de Turin from the Eastside onlooking three other streets that are in the Northern facing view in what was called the Carrefour de Moscou, but now it is called the Place de Dublin. This is part of the eighth arrondissement in Paris, of which there are 20, these are also defined as "districts". It is also nearby the Gare Saint-Lazare train station.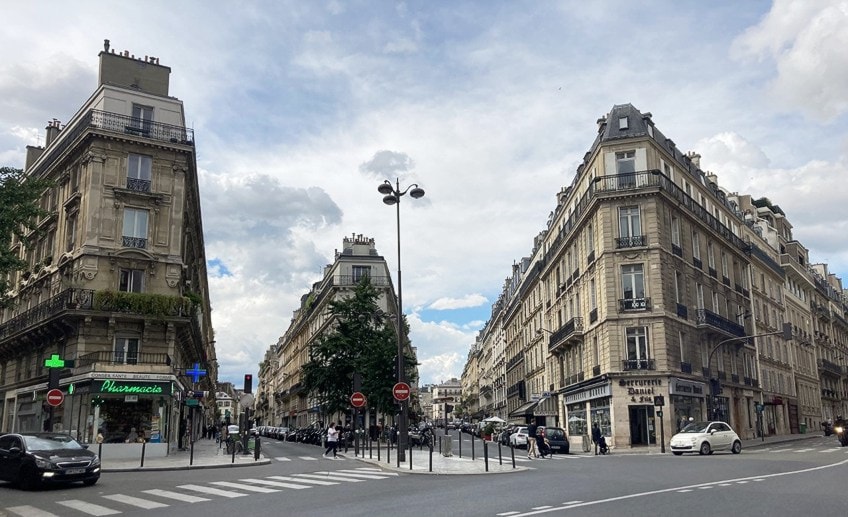 The real-life location of Gustave Caillebotte's Paris Street; Rainy Day (1877) painting, Place de Dublin; Thomon, CC BY-SA 4.0, via Wikimedia Commons
Caillebotte painted this scene several years after the large reconstruction of Paris, which was led and commissioned by the then Emperor Napoleon III and Georges-Eugène Haussmann, who was the prefect of the Seine and director of the rebuilding of Paris. The program started around 1853 and lasted to around 1870, although there were continual changes to the rebuilding of Paris for years to come.
Napoleon sought to open the city and give it more air and light.
The Haussmann buildings are easily recognizable due to their appearance and style; most of the boulevard buildings were built with what is known as "Paris stone", otherwise Lutetian limestone, which has been described as a "creamy" color. In Paris Street; Rainy Day we see the facades from the transformed buildings, which have also been nicknamed the "Haussmannization" of Paris.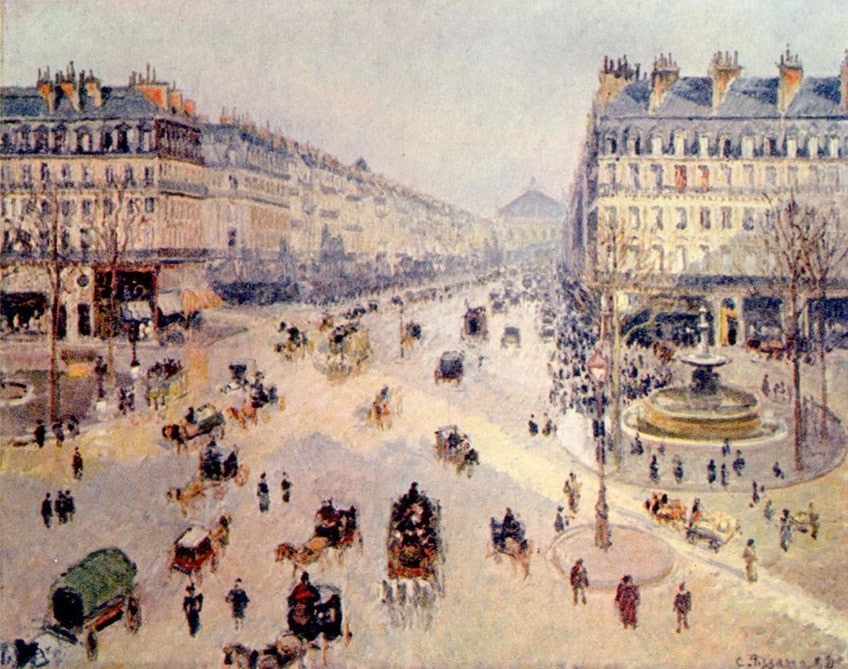 Place du Théâtre-Francais and the Avenue de l'Opéra, Sunlight, Winter Morning (1898) by Camille Pissaro, depicting the Avenue de l'Opéra, one of the new boulevards created by Napoleon III and Haussmann. The new buildings on the boulevards were required to be all of the same height and same basic façade design, and all faced with cream-colored stone, giving the city center its distinctive harmony; Camille Pissarro, Public domain, via Wikimedia Commons
According to the Art Institute of Chicago, where this painting is currently housed, Caillebotte grew up when this "district" was reported to be a "relatively unsettled hill". This indicates the major Modernization that Paris underwent during the 19th century and ultimately affected every Parisian citizen and the culture of societal lifestyles.
Photography as an Art Medium
During the 19th-century photography developed quickly as an art medium, influencing many Impressionist painters and their compositions. Caillebotte apparently collected photographs and undoubtedly had a first-hand experience of it due to his brother, Martial Caillebotte, who was an established photographer.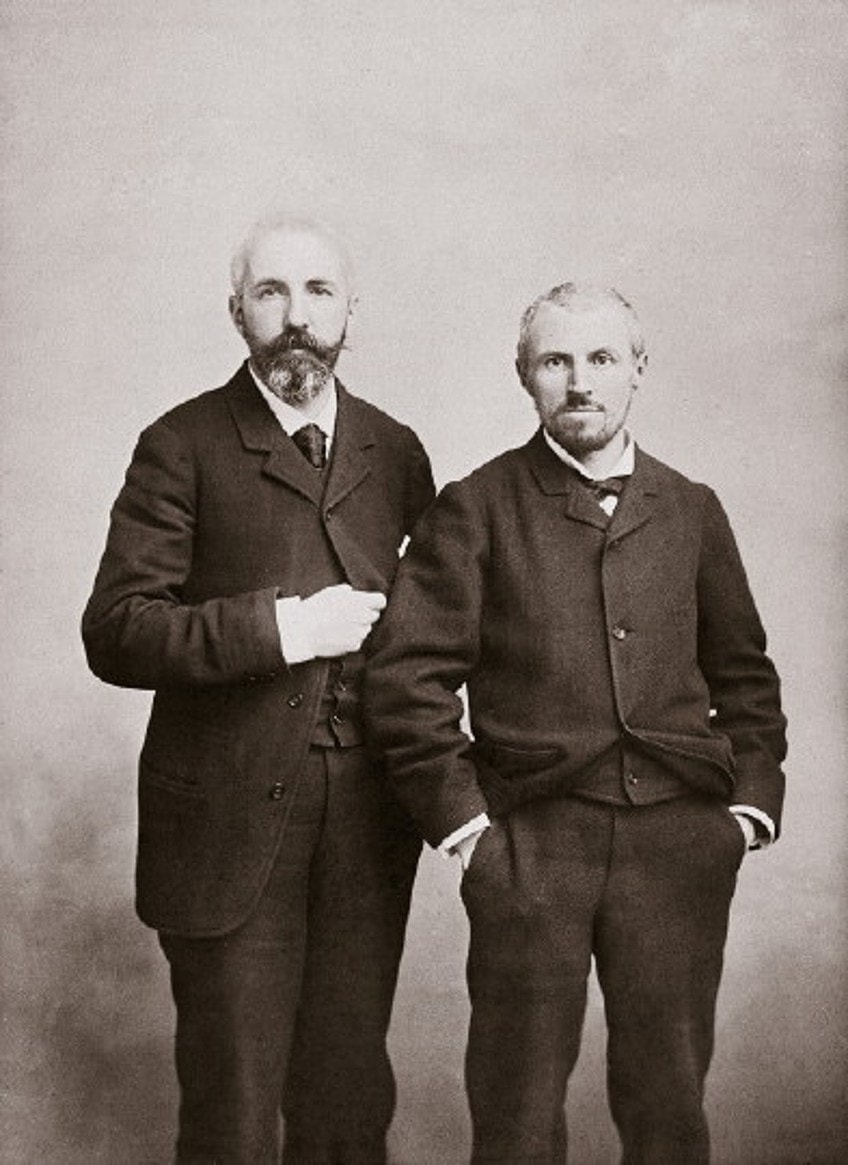 Martial Caillebotte (left) and Gustave Caillebotte (right), before 1895; Unknown author Unknown author, Public domain, via Wikimedia Commons
We will notice how Gustave Caillebotte employs various characteristics related to photography in his paintings, especially the photorealistic qualities; how he crops the composition as well as utilizes different areas of focus as if he used a camera lens. We will explore these qualities evident in the Paris Street; Rainy Day painting in more depth in the formal analysis below.
Caillebotte and Impressionism
Caillebotte was considered an Impressionist painter, which was the burgeoning art style in Paris during the 19th century, and an important one too because of its reaction against Academic art and the Salon, which was the primary exhibition for the Académie des Beaux-Arts in Paris.
The Impressionists started a group called the Cooperative and Anonymous Association of Painters, Sculptors, and Engravers, or, in French, the "Société Anonyme Coopérative des Artistes Peintres, Sculpteurs, Graveurs".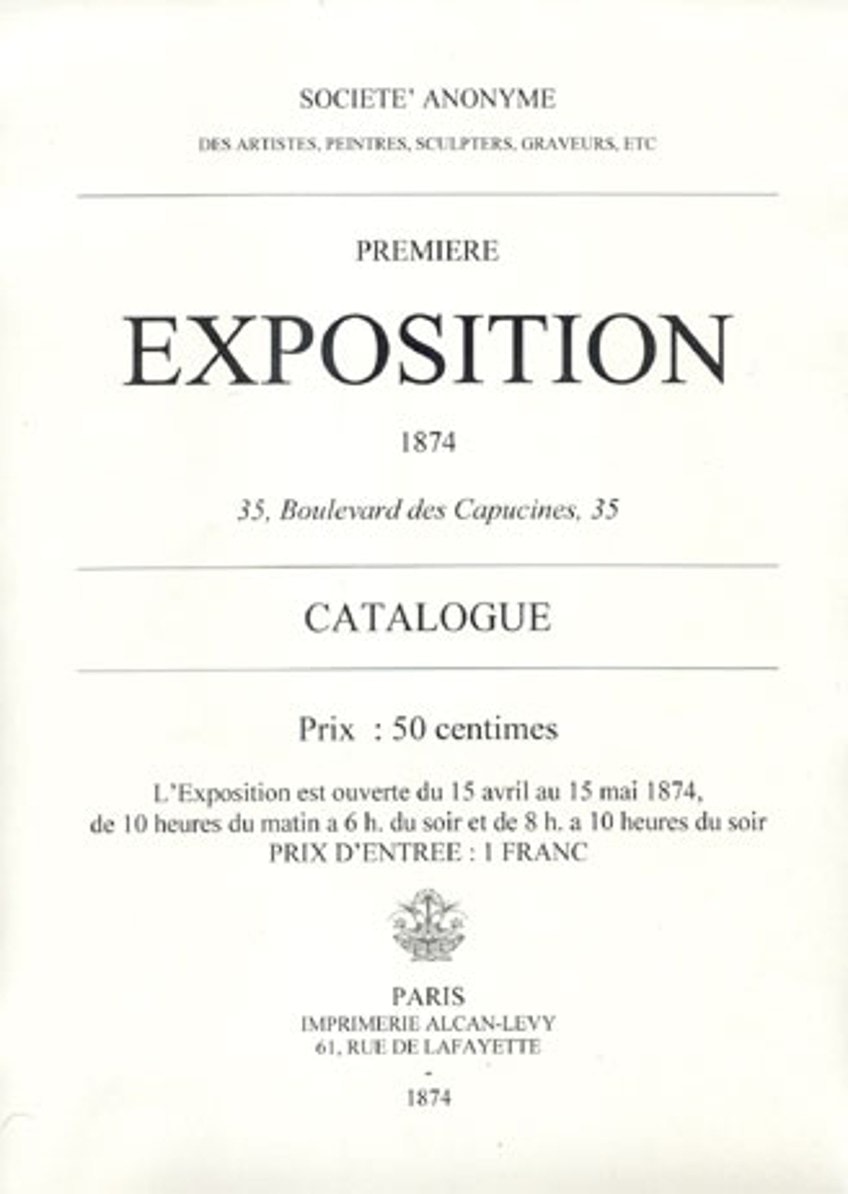 Cover of the catalog of the first Impressionist exhibition in 1874; unknown / desconocido / inconnu, Public domain, via Wikimedia Commons
After several artists' paintings were refused from the Paris Salon and then consequently shown at the Salon des Refusés, or "Exhibition of the Rejected". In 1874 the first Impressionist exhibition was held, of which there were eight in total, concluding in 1886. Caillebotte started exhibiting his paintings during the second Impressionist exhibition in 1876, notably one of his other famous artworks titled The Floor Scrapers (Les raboteurs de parquet) (1875). In 1877, when the third Impressionist exhibition was held, Caillebotte exhibited his Paris Street; Rainy Day painting.
As an artist, Caillebotte received various critiques that were also based on his wealth; he did not need to support himself through his art.
Some sources have stated that he was described as an artist that paints in his "spare time" while others have commended his artistic skill and described him as an artist who "know how to draw and paints more seriously than his colleagues".
The Floor Scrapers (1875) by Gustave Caillebotte; Gustave Caillebotte, Public domain, via Wikimedia Commons
His Paris Street; Rainy Day painting received positive critical acclaim from the famous French journalist and writer, Émile Zola, who wrote about in an article, dated for April 1877, Notes parisiennes: Une exposition: les peintres impressionnistes, which was published in the newspaper titled Le Sémaphore de Marseille.
Zola wrote the following while he was writing about other artists, namely, Claude Monet, Paul Cézanne, Pierre-Auguste Renoir, and Berthe Morisot, stating the following: "Finally, I will name Mr. Caillebotte, a young painter of the greatest courage and who does not shrink from life-size modern subjects. His Rue de Paris par un temps de rain shows passers-by, especially a gentleman and a lady in the foreground who are very truthful. When his talent has softened a little more, Mr. Caillebotte will certainly be one of the boldest in the group".
Formal Analysis: A Brief Compositional Overview
Although it appears as a typical Parisian street scene, there is more to it than what meets the eye. Gustave Caillebotte produced his Paris Street; Rainy Day with artistic skill and study of formal painting techniques.
It was not a typical Impressionist painting either, as it did not follow the expressive brushwork that became a common trait of the art style.
However, it did depict an everyday scene, which was a common trait of Impressionism and a move away from the Academic traditions of historical and religious subject matter. Below, we look at the subject matter in more depth and explore the formal qualities, all of which have made this one of the major artworks from Impressionism.
Subject Matter
If we look at Paris Street; Rainy Day, we see a 19th-century urban cobbled-street scene, there are people from different social classes, all walking in different directions, going about their business; there is almost no interaction between anyone.
It is a rainy day, possibly a winter's day, evident by the grayed skies up ahead, a wet road, and the umbrellas most of the people are holding; some sources have indicated that the umbrellas are also utilized as "shields", keeping everyone at a distance from each other.
Additionally, it is as if it is a photograph taken and everyone is unaware of the artist, giving it a natural impression. It is also as if we, the viewers, become one of the "pedestrians" in the scene; there is seemingly no staging, however, Caillebotte undertook great care to compose this scene.
As mentioned above, the view is of the Place de Dublin, and there are three streets visible here. The street to the left is Rue de Moscou, Rue Clapeyron runs through the center, and to the right is Rue de Turin. The street that intersects the above is called the Rue de Saint-Pétersbourg.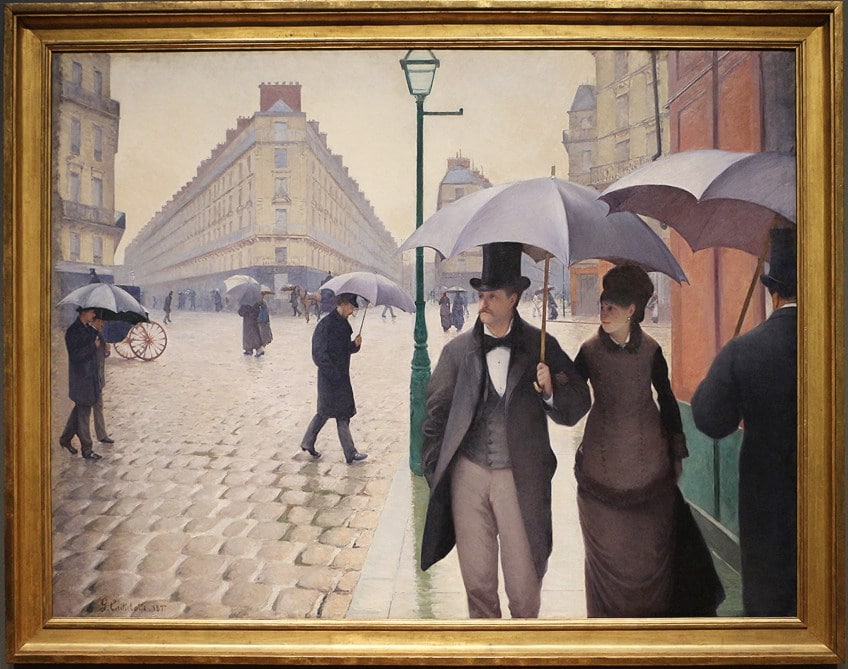 Paris Street; Rainy Day (1877) by Gustave Caillebotte; Sailko, CC BY 3.0, via Wikimedia Commons
Starting in the right foreground, the part of the painting that is in more focus, we see a couple walking towards us; the man and woman are dressed in fashionable clothing of the time suggesting they are middle class.
We will notice her hat and soft veil over her face, a sparkling earring, which is possibly a diamond, her coat is also lined with fur. The man next to her wears a top hat, a bow tie, a coat, and a well-groomed mustache. The woman has her right (our left) arm hooked into the man's left (our right) arm and they are sharing an umbrella, held in the man's left hand (our right).
Both are gazing towards their right (our left) of the composition, which is out of our view.
We see closest to the right edge of the foreground is a man with his back towards us, walking away from us and past the couple facing us. We only see half of his figure, the rest is cut off by the border of the painting, however, this gives even more of an impression of how a photograph would look; a fleeting moment in time, seemingly nothing special.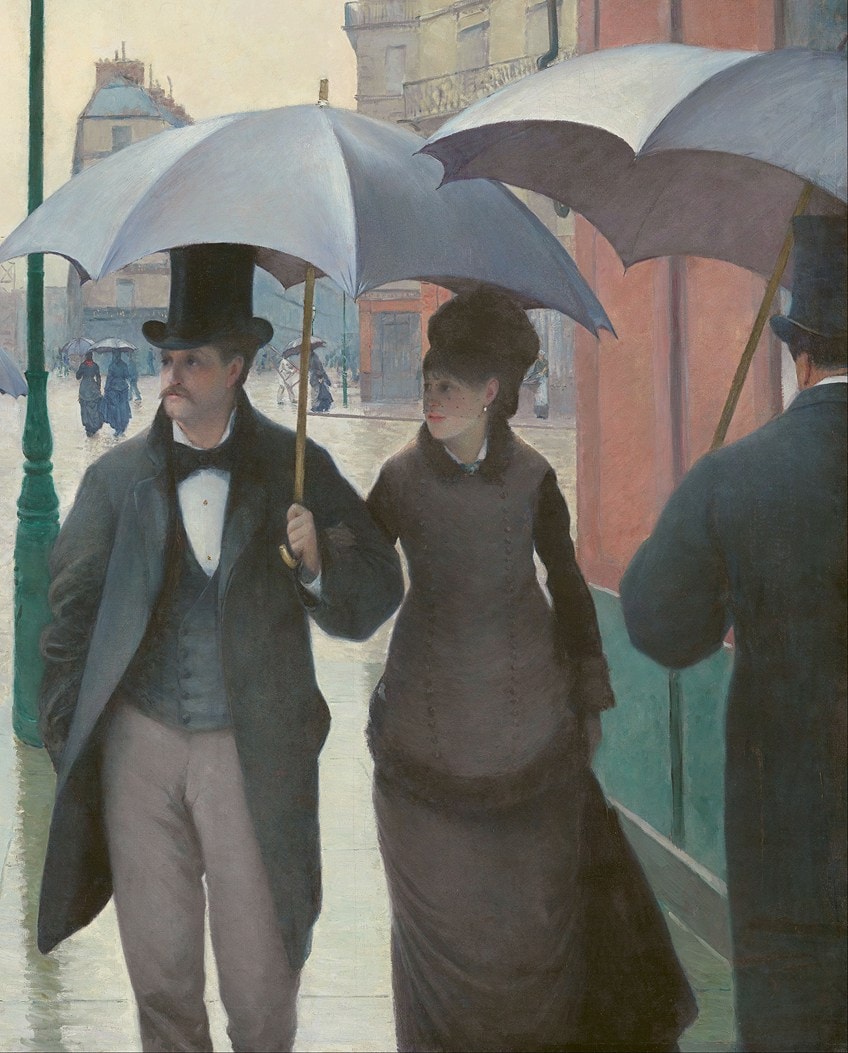 A close-up of Gustave Caillebotte's Paris Street; Rainy Day (1877); Gustave Caillebotte, Public domain, via Wikimedia Commons
If we look towards the left foreground, there is more of an open space created by the empty street. We see one man with his umbrella, his head turned down, crossing the street approaching the walkway to the right. Behind him are two other gentlemen, both looking in different directions, without interaction, quietly walking together, they appear to be heading in the same direction as the man in front of them.
As we move more towards the background we see more figures, horses, and carriages, all of which are also more blurred in focus. They are all walking in different directions, and some are standing still.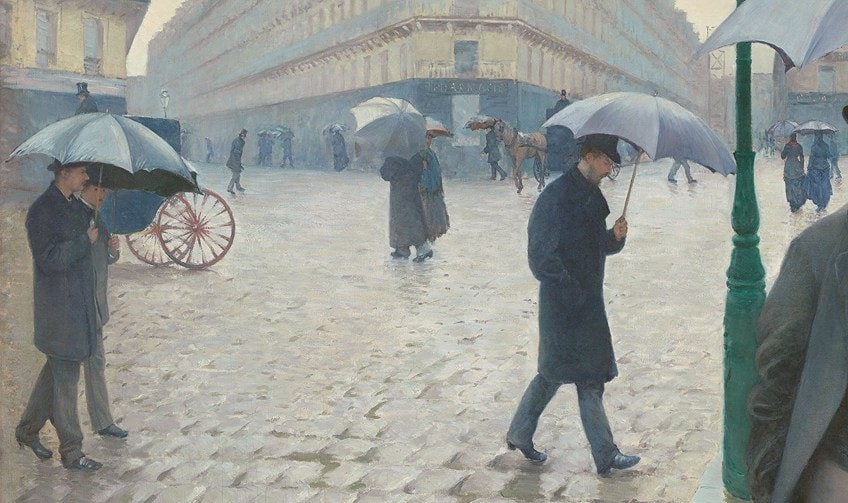 The background of Gustave Caillebotte's Paris Street; Rainy Day (1877); Gustave Caillebotte, Public domain, via Wikimedia Commons
In the left background, there is a carriage moving towards the left side of the composition, out of our view. More towards the middle there are two figures walking to the left, their backs are facing us; we see another horse and carriage approaching about to go past them.
The building that is directly opposite our gaze in the distance and in the left half of the composition has a sign that says "PHARMACIE". An interesting fact about this pharmacy is that it is apparently still in the same location today.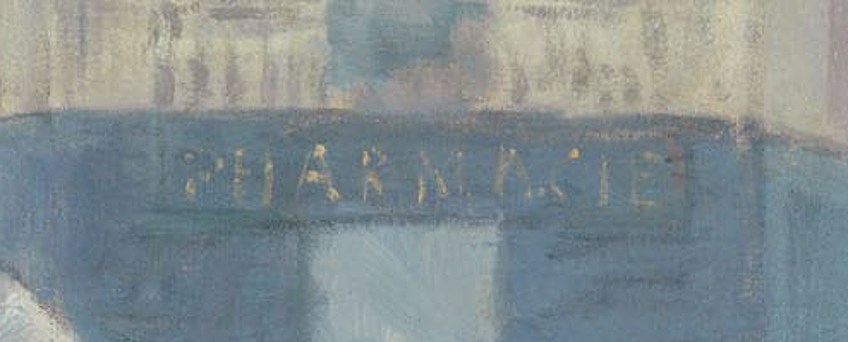 A detail of Gustave Caillebotte's Paris Street; Rainy Day (1877); Gustave Caillebotte, Public domain, via Wikimedia Commons
From the pharmacy, we move towards the right background with more figures walking hither and thither. There is a man carrying a ladder, he is wearing a white coat suggesting he is a painter or decorator; a woman is crossing onto the street passing him; further, on the pavement wherefrom this woman has seemingly come is a maidservant holding her half-open umbrella, but is she about to open it or close it? She also appears to be holding an item.
Color and Light
The color palette is not too bright in Caillebotte's Paris street painting. As rainy day paintings go, we can see the light appears subdued in the painting. The cool tones suggest the atmosphere of a rainy winter's day. This is evident in the sky above, which is yellow-gray. There also appears to be a general overarching gray tone to the composition, further enhancing the composition's ambiance.
Caillebotte gives the impression of reflected light on the cobblestoned street.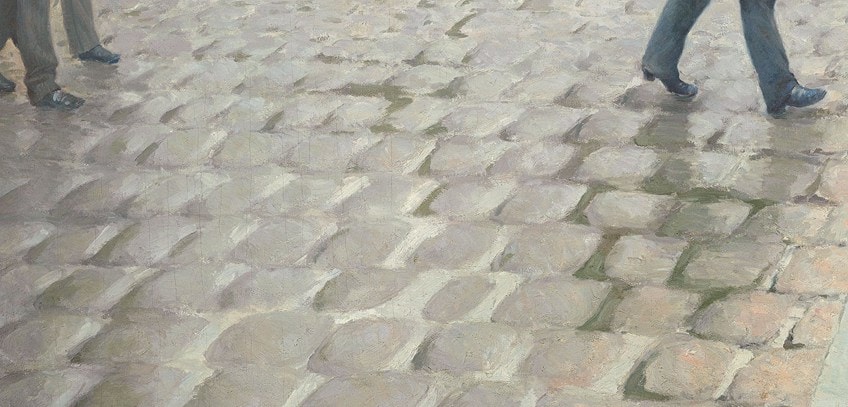 Color and light in Gustave Caillebotte's Paris Street; Rainy Day (1877); Gustave Caillebotte, Public domain, via Wikimedia Commons
We see the different shades of light and dark paint indicating how the rain reflects on the stones and creates what appears to be linear pools of water between the gaps of the stones. This reflection is evident on most of the street, and there is a luster all along it, reaching into the background as if the sun is slightly shining through the clouds.
There are other areas of color as well; for example, the umbrellas have been described as "lavender-hued" and the spokes on the carriage wheels are a dark red that almost blends in with the color of the street it stands on.
Brushwork and Texture
If we look closely at Caillebotte's brushwork we will notice the characteristic Impressionistic brushstrokes, loose and expressive, although conversely, this painting is more realistically delineated than other Impressionistic paintings.
The different textures of the brush are evident of the cobblestones of the street, indicating the varying gradations of light and dark.
However, Caillebotte skilfully portrayed a realistic scene with loose brushstrokes, and in some areas, we notice paint applied thicker than others. It should be noted that Caillebotte placed more focus on linearity versus looseness in this painting, which we will discuss below.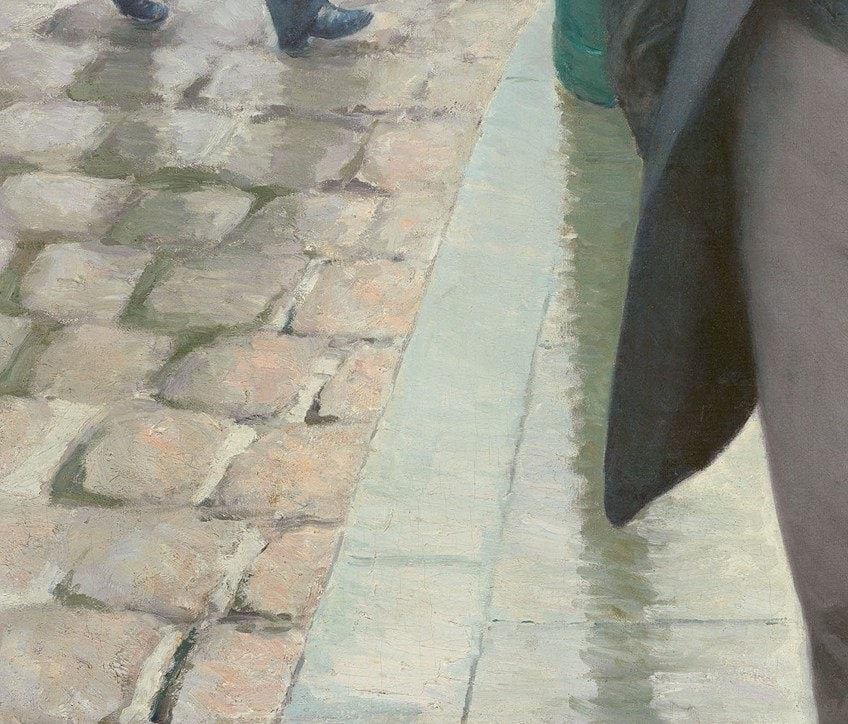 Brushwork in Gustave Caillebotte's Paris Street; Rainy Day (1877); Gustave Caillebotte, Public domain, via Wikimedia Commons
Perspective and Line
In Paris Street; Rainy Day, Caillebotte focused on creating a scene delineated by linearity; there is careful attention to placement and perspective, which is what makes this painting a landmark of its time. The composition can be divided into four quadrants, so to say, these are divided by elements within the painting.
For example, the verticality of the green lamppost in the foreground provides a division between the left and right sides of the painting, and the shadow created from the lamp continues this division line in the foreground.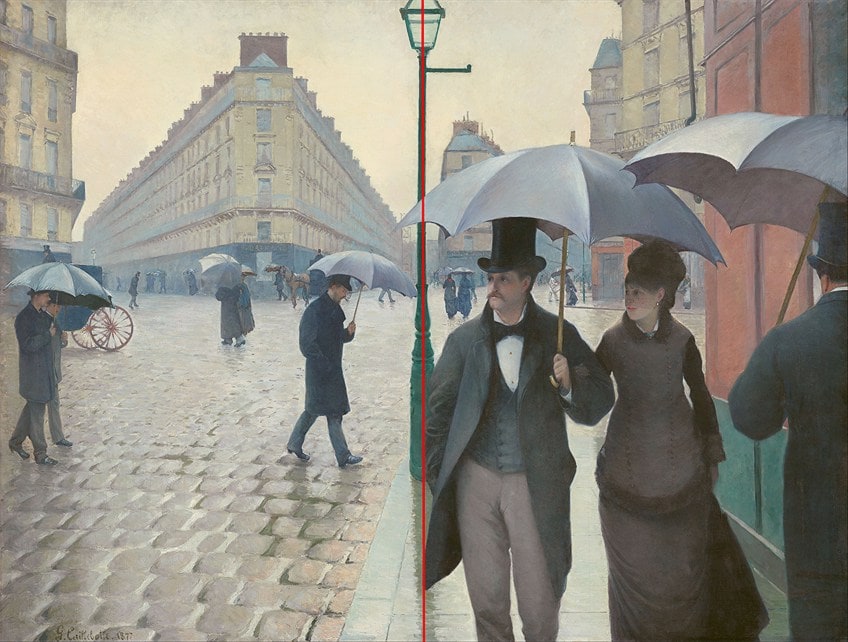 Line in Gustave Caillebotte's Paris Street; Rainy Day (1877); Gustave Caillebotte, Public domain, via Wikimedia Commons
The right side of the painting appears denser and busier, depicting the three primary figures filling it up who almost enters our space. The left side, which reflects an empty street with only several figures, appears more spacious and open, causing a juxtaposition of the composition, albeit creating asymmetrical balance.
Furthermore, there is an apparent balance created by the weight of two figures in the bottom right quadrant with the weight of the building directly across from them in the top left quadrant.
Linear perspective and a vanishing point are created by the buildings in the background, which are also parallel to one another; our gaze is focused on the vanishing point created by the building to the left in the background.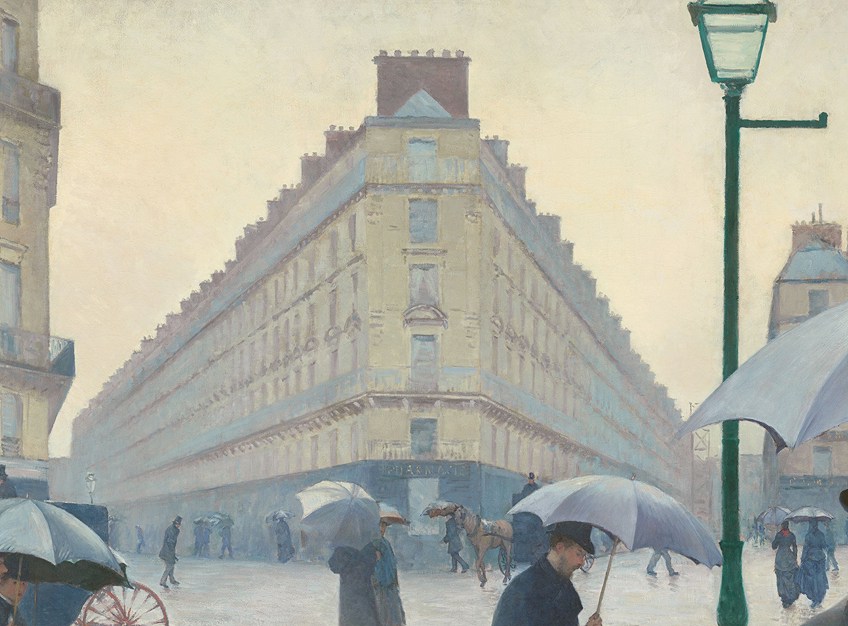 Perspective in Gustave Caillebotte's Paris Street; Rainy Day (1877); Gustave Caillebotte, Public domain, via Wikimedia Commons
Spatial depth is created by how the figures recede into the background, similarly by the gradations of texture on the cobblestones from the foreground to the background. As we look at the cobblestones in the foreground, they have more detail and, in the background, they become smoother in texture, denoting recession.
Linearity is also evident in how the subject matter is portrayed in this painting.
Compared to a typical Impressionist painting that depicted subject matter without substantial definitive outlines and as fleeting impressions of a form, there seems to be a strong precision and definitiveness of form and shape here, which also sets this painting apart from the typical Impressionist paintings.
Preparatory Sketches of Paris Street; Rainy Day
Gustave Caillebotte drew various preparatory sketches before he painted Paris Street; Rainy Day. He reportedly investigated different perspectives of the street scene, as well as the figures and the surrounding buildings.
There are several examples of his preparatory sketches, which he made on handmade laid paper with graphite, crayon, and charcoal.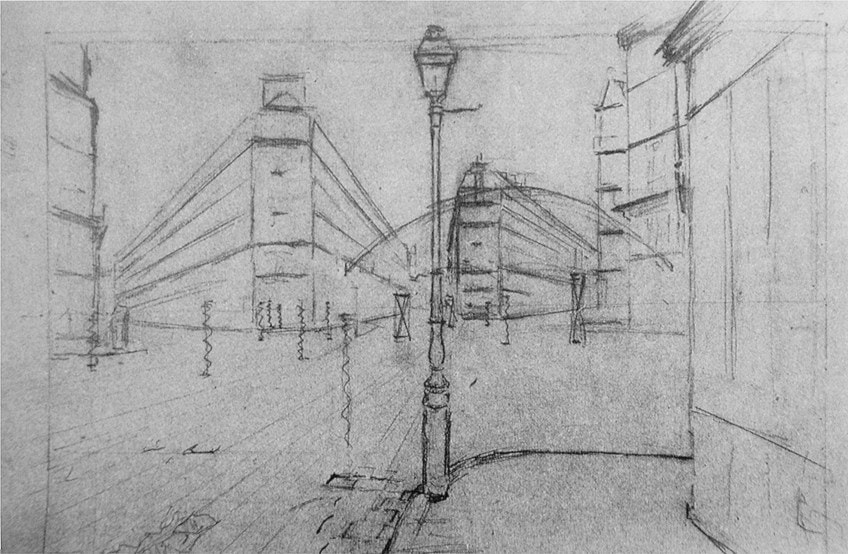 Sketch for Gustave Caillebotte's Paris Street; Rainy Day (1877); Gustave Caillebotte, Public domain, via Wikimedia Commons
According to Caillebotte's sketches, he undertook extensive studies in perspectival details. Examining the various angles and placings of the buildings, the respective horizon line, and orthogonal lines, it was believed he also utilized a set of calipers during his process. Some art sources also suggest that Caillebotte utilized a camera lucida while he was drawing, which was in the location, or "on-site".
The utilization of a camera lucida would have assisted Caillebotte with depicting the details of the street. Some have also stated that Caillebotte may have utilized the camera obscura.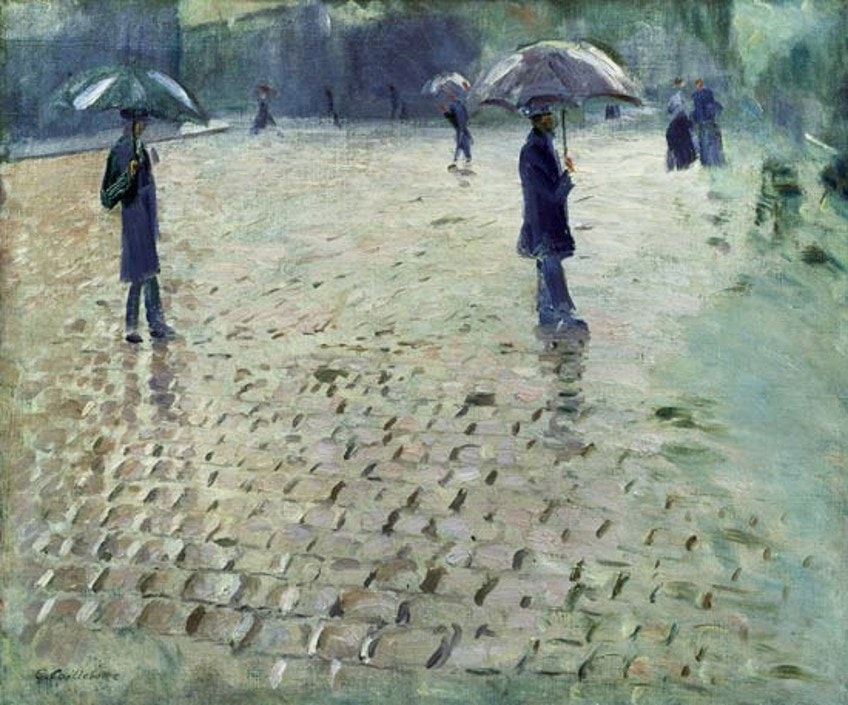 A study for Gustave Caillebotte's Paris Street; Rainy Day (1877); Gustave Caillebotte, Public domain, via Wikimedia Commons
Paris at a Crossroads
Various questions present themselves when we look at Gustave Caillebotte's Paris Street; Rainy Day, for example, where is each person walking to? What is the maidservant doing, possibly running errands? Where is the man with the ladder walking to? What are the couple in the foreground gazing at? What is the man behind them thinking about?
We are given a snapshot in time of a new urban world, a time when Paris underwent major structural and architectural changes too. This painting depicts a time of burgeoning Modernity, when Paris was at a crossroads, between the old and new, not only structurally, but socially and culturally. Caillebotte has certainly captured a snapshot view of a district in Paris, and now, over a century later, we bear witness to a time of change, expansion, reorder, and quite simply: just another rainy day in the City of Light.
Frequently Asked Questions
Who Painted the Paris Street Painting?
The Frenchman Gustave Caillebotte painted Paris Street; Rainy Day in 1877. It has become one of the masterpieces of the Impressionism art movement.
What Type of Art Style is Paris Street; Rainy Day (1877)?
Paris Street; Rainy Day (1877) is an Impressionist painting. Although it has been described in terms of also belonging to the Realism art style because it was portrayed with more detail compared to the characteristic Impressionism paintings. However, what also made it Impressionist was the fact that Gustave Caillebotte painted an everyday scene, which was also part of the Impressionists' art style.
Where Does Paris Street; Rainy Day (1877) Take Place?
Gustave Caillebotte's Paris Street; Rainy Day (1877) was painted in the Parisian square called Place de Dublin, which is in the eighth arrondissement of Paris, or the eighth district. It was painted facing the vertical streets, namely Rue de Moscou, Rue Clapeyron, Rue de Turin, and the horizontal, intersecting, street, Rue de Saint-Pétersbourg.
Isabella studied at the University of Cape Town in South Africa and graduated with a Bachelor of Arts majoring in English Literature & Language and Psychology. Throughout her undergraduate years, she took Art History as an additional subject and absolutely loved it. Building on from her art history knowledge that began in high school, art has always been a particular area of fascination for her. From learning about artworks previously unknown to her, or sharpening her existing understanding of specific works, the ability to continue learning within this interesting sphere excites her greatly.
Her focal points of interest in art history encompass profiling specific artists and art movements, as it is these areas where she is able to really dig deep into the rich narrative of the art world. Additionally, she particularly enjoys exploring the different artistic styles of the 20th century, as well as the important impact that female artists have had on the development of art history.
Learn more about the Art in Context Team.