Louise Bourgeois' spider artwork is known as the Maman Sculpture. The giant spider artwork is made from stainless steel, bronze, and marble. Louise Bourgeois' Maman sculpture also features a sac with numerous eggs made from marbles, while its thorax and abdomen are created from ribbed bronze. Maman in French means "mother".
Louise Bourgeois' Maman Sculpture
The giant spider artwork, Louise Bourgeois' Maman (1999) throws a strong cognitive and emotional shadow as if it were a monster from a nightmare or a larger-than-life representation of a deep childhood terror. Louse Bourgeois' spider sculpture is one of her most ambitious projects in his lengthy career.
Bourgeois delved deeper and more profoundly into the recesses of personal emotion than possibly any other artist of her period across a large work spanning more than 60 years.
Her art is both broad and very personal in its portrayal of the psyche, with frequent, clear references to terrible childhood recollections of an immoral father and a caring but passive mother. But who was Louise Bourgeois, and what drove her to make her art?
Who Was Louise Bourgeois?
| | |
| --- | --- |
| Nationality | French-American |
| Date of Birth | 25 December 1911 |
| Date of Death | 31 May 2010 |
| Place of Birth | Paris, France |
The life of Louise Bourgeois was a productive display of how art may be used to analyze one's internal emotions and mental terrain. Working in a range of mediums such as painting, sketching, and sculptures, her work was primarily concerned with dissecting, investigating, and responding to painful experiences from her own upbringing, including her father's adultery.
Bourgeois' sometimes somber and explicit sexual topics, as well as her expression of the feminine viewpoint in terms of oppression, feminism, and sexuality, were unusual for female artists at that moment.
Her unwavering commitment to communication, both as a creator and as a guide to new artists, earned Bourgeois widespread fame that has endured, most notably via her influence on the creation of installation and conceptual art. Bourgeois's work is known for its very intimate subject matter, which includes the subconscious, sexual urges, jealousy, deception, terror, anxiety, isolation, and the body. These themes are inspired by incidents from her upbringing, for which she saw painting as a healing or cathartic procedure.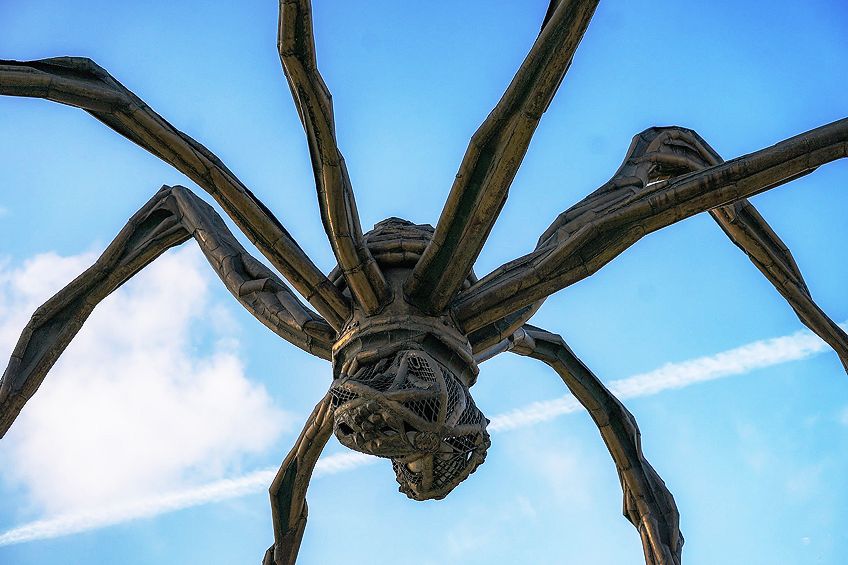 Detailed photograph of the Maman sculpture by Louise Bourgeois, located in front of the Guggenheim Museum in Bilbao, Spain; Pixelillo, CC BY-SA 4.0, via Wikimedia Commons
Through the use of mythical and archetypal iconography, Bourgeois translated her encounters into a very individualized symbolic imagery, employing things such as swirls, arachnids, cages, surgical equipment, and sewed appendages to represent the feminine mind, beauty, and mental agony. The artist compared her artwork and its many exhibition settings to "cells" – or recollection capsules that both trapped a remembrance or sensation in time while also invoking the feelings that those memories elicited.
Bourgeois worked with themes of universal equilibrium through the employment of abstract form and a broad range of mediums, playfully contrasting objects traditionally deemed male or feminine. She would, for instance, construct delicate biomorphic shapes indicative of femininity using rough or harsh materials widely correlated with the masculine. Bourgeois created spiders in a range of mediums and sizes ranging from a four-inch broach to Maman.
Though the oldest representations of spiders in her art date from 1947, she concentrated on the topic most regularly in the 1990s, near the twilight of her life, while she was likely overwhelmed with recollections of her mother and her upbringing.
Louise Bourgeois' Spider Sculpture Maman
| | |
| --- | --- |
| Date Created | 1999 |
| Medium | Bronze, Marble, Stainless Steel |
| Dimensions | 927 cm x 891 cm x 1023 cm |
| Current Location | National Gallery of Canada, Ottawa |
Maman is a giant spider artwork that can only be erected outside or inside a major industrial structure. Its body is hung high off the ground on skinny, spindly legs, enabling the observer to stroll around and below it. Each corrugated limb ends in a sharp edge and is joined to a collar above which an erratically textured swirling body emerges, supported by a comparable scaled egg sac beneath. The interwoven sac houses 17 gray and white marble eggs that sparkle in the blackness of their chamber and dangle over the audience's head.
"Maman" was created as a component of her project for the Turbine Hall, the museum's vast central area, for the inauguration of Tate Modern in May 2000.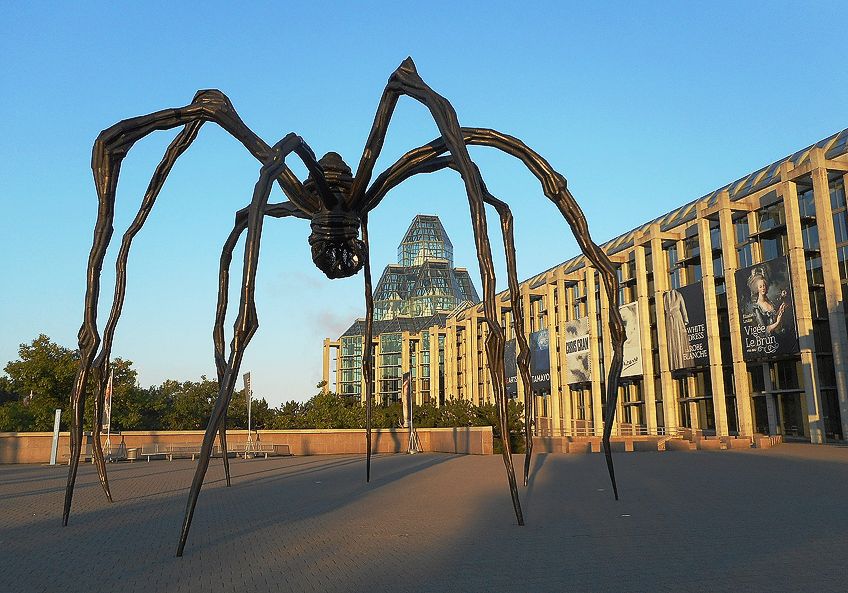 Maman sculpture by Louise Bourgeois, located in front of the National Gallery of Canada in Ottawa, Canada; Jeangagnon, CC BY-SA 4.0, via Wikimedia Commons
The artwork was put on the bridge, facing three large steel towers labeled I Do, I Undo, and I Redo, alluding to the artist's fundamental concept of psychological growth in connection to motherhood. Following Tate's initial steel iteration, a series of six bronze castings were made; their eggs feature pinker hues.
The Origin of the Maman Sculpture
Maman is the biggest in a sequence of steel spider artworks produced by Bourgeois in the late 1990s, building on a subject she first exhibited in 1947 in a modest charcoal and ink sketch. Spider comprises a body and a spherical head sustained by eight rigid stick-like limbs with rudimentary feet and many oddly linked eyes. She produced a similar image in gouache, red ink, and crayon in 1994.
This arachnid sits erect on four legs that sprout from its bottom abdomen, two of which are very prominent, like a female figure.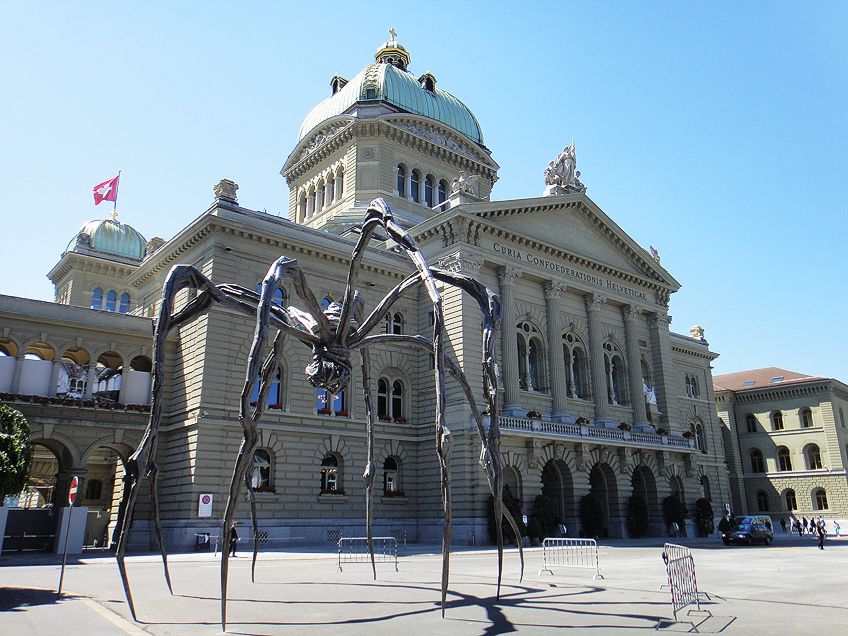 Maman sculpture by Louise Bourgeois, located in front of the Swiss Parliament Building in Bern, Switzerland; Sandstein, CC BY-SA 3.0, via Wikimedia Commons
Utilizing geometric and found shapes, Bourgeois produced her very first spider statue that year a well – a glass bottle with a rounded base comprising blue liquid hanging beneath a steel globe, both assisted by legs made from straight segments of steel tube contorted at corners to retain the body a meter well above the floor.
This was succeeded by a number of more naturally designed freestanding and wall-mounted spiders, that were made out of bronze and steel.
Design of the Maman Sculpture
The wire mesh that permits the spectator to look inside Maman's abdomen egg sac is reinforced by thin uneven ribs that reflect her upper body's corrugated helix. Small nippled lumps and bumps appear individually and in bunches in the net, which is also disrupted by round, triangular, and diamond-shaped holes. These grouped breast-like protrusions first appeared in the designer's work in the late 1960s.
"Maman's" egg sac follows in the footsteps of a full-walled cell surrounding a spider's body established in 1997. The cell includes remnants of ancient tapestries, shaped bones, and old perfume bottles, as well as a distended foam form pinned with pins, pendants, and old trophies, all connected to the interwoven walls, eliciting a web full of entombed prey species, beneath the spider's stomach full of glass eggs clothed in nylon tights.
The artifacts have connections to the artist's past: as a youngster, she aided her mother with the repair of historic tapestries (the family trade), the perfume is her favorite, and a broken pocket watch dangling on the cell wall formerly belonged to her grandpa.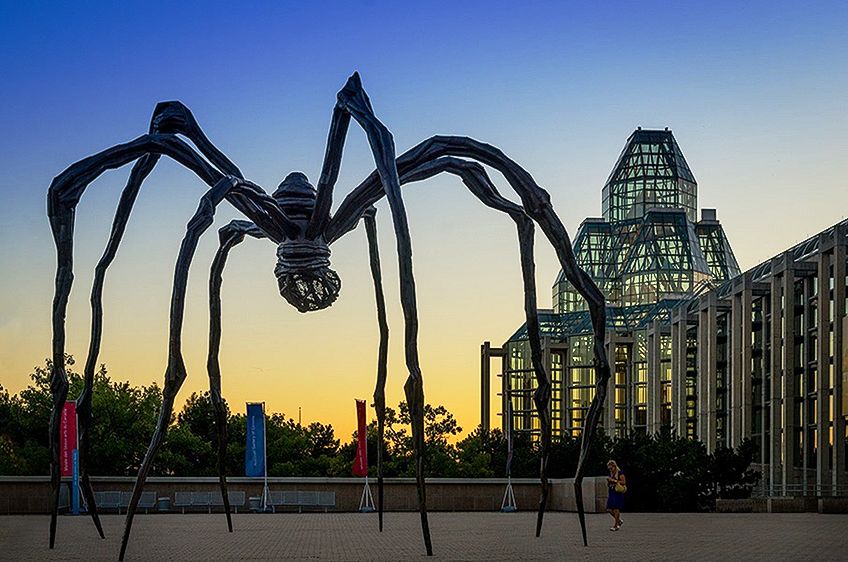 Maman sculpture by Louise Bourgeois, located in Canada; Sam valadi, CC BY 2.0, via Wikimedia Commons
In the late 1980s, she started building these cells, which are small enclosed rooms into which the observer can enter in certain cases but can alternatively be prohibited from, forcing them to gaze between architectural elements or through gaps in the glass. They often include a combination of created and found artifacts, as well as items with special historical value to the creator; furniture is frequently integrated with sculptural components, as in Cell (1993).
The 1997 Spider expresses a constricted connection to architectural space quite distinct from that embodied by Maman, with its egg sac into which the visitor may enter. Maman's undulating ribbed legs remind one of the gothic columns rising to towering heights above an uncovered cathedral's audience, while its marble eggs evoke the innards of Cell.
"Maman" translated from French means "Mummy," the term a toddler uses to refer to its mother. The moniker Maman, like the word Fillette (meaning "small girl") given by Bourgeois to a giant plaster and rubber penis suspended from a wire, emphasizes the dynamic paradoxes at the center of the artwork.
Meaning of the Maman Sculpture
The text that accompanied a set of nine engravings titled Ode to My Mother, released in 1995, initially presented the arachnid as a maternal figure – the creator's mother: "The acquaintance was the spider, but why the spider? Because my mother was methodical, brilliant, calm, soothing, rational, delicate, subtle, necessary, tidy, and as handy as a spider. She may also protect herself and me by rejecting to answer 'stupid', inquisitive, humiliating, intimate inquiries. I'll never get tired of honoring her. I want to feed, rest, quarrel, injure, and demolish. Why do you do it? My motivations are all mine. Treatment for fear."
In this piece, Bourgeois emphasizes the good qualities that a spider may possess, and she also connects her own creative techniques to those of spiders.
"What exactly is a sketch? It is a discharge, similar to a strand in a spider web It's a weaving, a loop, and other substantial space organizations," she said. Nevertheless, spiders are more commonly associated with horror and disgust, with the black widow spider, which consumes her partner, being the most extreme example.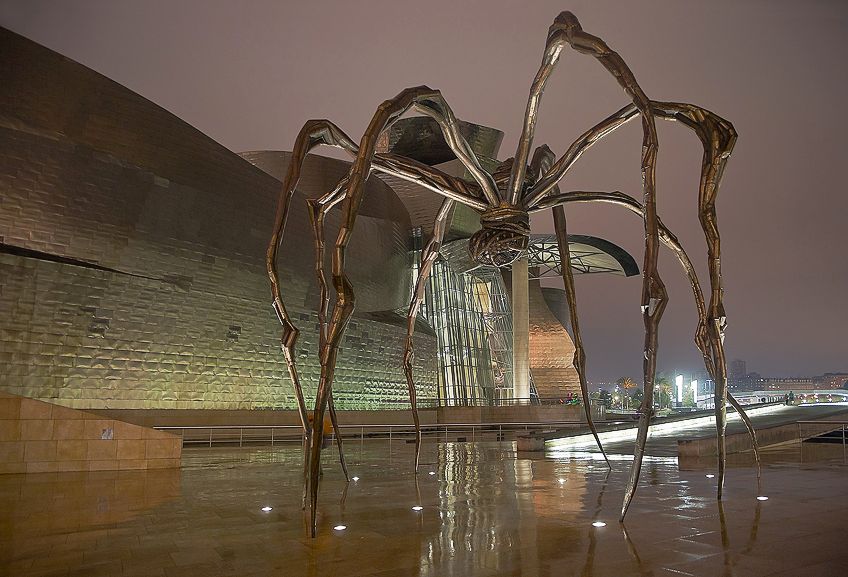 Maman sculpture by Louise Bourgeois, located in front of the Guggenheim Museum in Bilbao, Spain; Didier Descouens, CC BY-SA 4.0, via Wikimedia Commons
Maman's lofty stature and protruding feet convey a frightening image, as well as a sense of fragility produced by the tenuousness of balance and the artist's connections with the spiral structure in its upper torso. The spiral appears in Bourgeois's two and three-dimensional work, such as an Untitled print from 1989. The spiral was defined by the artist as "an effort at regulating the chaos," and she added, "Spirals – which direction to turn – depict the fragility in an open area. Fear is what keeps the world turning."
For Louise Bourgeois, creating art is a method of confronting certain worries, one of which is the pain of desertion she experienced not only as a result of her early delivery on Christmas Day but also as a result of her mother's death in 1932 when she was just 21 years old.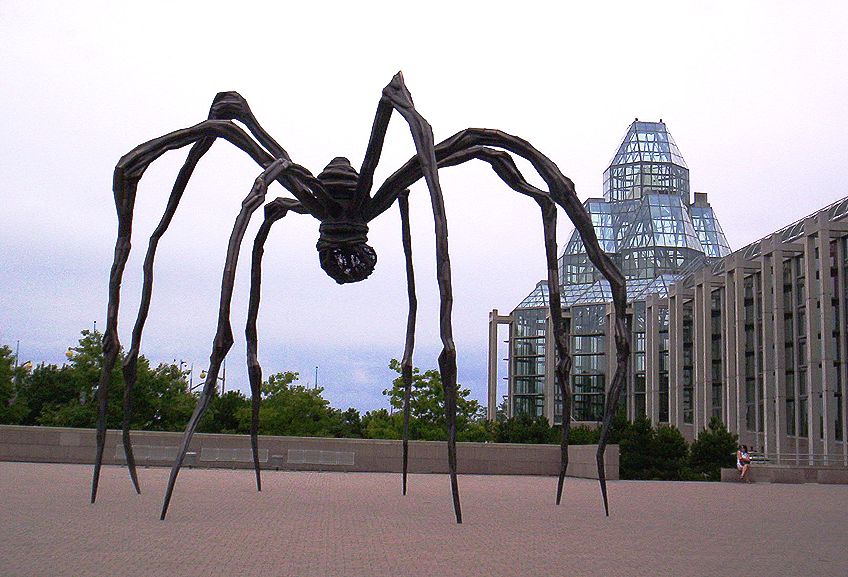 Maman sculpture by Louise Bourgeois, located outside the National Gallery of Canada in Ottawa, Canada; Radagast, Public domain, via Wikimedia Commons
She has grappled with the conflicting sentiments a mother may have for her offspring, which are as paradoxical as those a kid may have for their mother. Maman can be interpreted as alluding to more than one maternal figure: the creator, her parent, a mythical or ideal mother, and a motherhood emblem.
In March 1975, Bourgeois noted in her journal, "You want a mother. I comprehend, but I decline to be your parent because I, too, require a mother." Encountering Louise Bourgeois' spider artwork from the viewpoint of a youngster gazing up from underneath, the visitor may interpret the sculpture as a statement of concern about a global mother – strong and terrible, beautiful and, weirdly disinterested, without eyes to gaze or a brain for reasoning with.
Louise Bourgeois's huge spider artwork, "Maman" (1999), casts a profound cognitive and emotional shadow as if it were a creature from a nightmare or a larger-than-life reflection of a deep childhood horror. The spider sculpture by Louise Bourgeois is one of her most ambitious endeavors in her long career. Across a massive body of work spanning more than 60 years, Louise Bourgeois went deeper and more thoroughly into the caverns of inner feeling than maybe any other artist of her time. Her art portrays the mind in a wide and highly intimate way, with frequent, direct references to horrific childhood memories of an immoral father and a kind but inactive mother.
Frequently Asked Questions
Who Created the Maman Sculpture?
Louise Bourgeois's life was a fruitful demonstration of how art may be utilized to investigate one's interior emotions and mental terrain. Her art, which included painting, drawing, and sculpting, was largely focused on dissecting, examining, and responding to difficult situations from her own life, such as her father's infidelity. Bourgeois' sometimes dark and graphic sexual themes, as well as her presentation of the feminine stance on oppression, feminism, and sexuality, were rare for female artists at the time.
What Was Louise Bourgeois' Spider Artwork Maman About?
Maman throws a strong cognitive and emotional shadow as if it were a creature from a nightmare or a larger-than-life representation of deep childhood trauma. Louise Bourgeois' spider sculpture is one of the most ambitious works in his lengthy career. Bourgeois dived more deeply into the depths of inner feeling throughout the course of the large body of work.
Isabella studied at the University of Cape Town in South Africa and graduated with a Bachelor of Arts majoring in English Literature & Language and Psychology. Throughout her undergraduate years, she took Art History as an additional subject and absolutely loved it. Building on from her art history knowledge that began in high school, art has always been a particular area of fascination for her. From learning about artworks previously unknown to her, or sharpening her existing understanding of specific works, the ability to continue learning within this interesting sphere excites her greatly.
Her focal points of interest in art history encompass profiling specific artists and art movements, as it is these areas where she is able to really dig deep into the rich narrative of the art world. Additionally, she particularly enjoys exploring the different artistic styles of the 20th century, as well as the important impact that female artists have had on the development of art history.
Learn more about the Art in Context Team.