Famous NFT Artists – Discover the Most Popular NFT Artists Today
What is an NFT artist and what is NFT artwork? NFT art is one of those trendy terms that you have most likely heard in recent years, but do you know what it means or who the most popular NFT artists are today? From a commercial aspect, NFT artwork may be the future for selling your art, so to better understand what it takes to become a successful NFT artist yourself, we have compiled a list of the most famous NFT artists to discover their secrets to success.
The Most Famous NFT Artists Today
Many incredible artworks, ranging from sculptures, drawings, and paintings, have been created in the physical world since the inception of art. As technologies advance, so do the methods for creating and enjoying art. Many artists are now producing art digitally, and a large number of their works only exist as images on a monitor.
Yet, just because we can't physically touch these NFT artworks doesn't make them any less valued. In actuality, the digital arts are rapidly becoming one of our age's most valued creative forms.
What Is NFT Art?
NFT is an abbreviation for the term "non-fungible token". They can be described as distinct data units kept on a highly secured blockchain ledger. In essence, they act as assurances of legitimacy because each one has its own unique encryption key that cannot be compromised.
An NFT keeps a record of the artwork's designer, the current value, and the owner.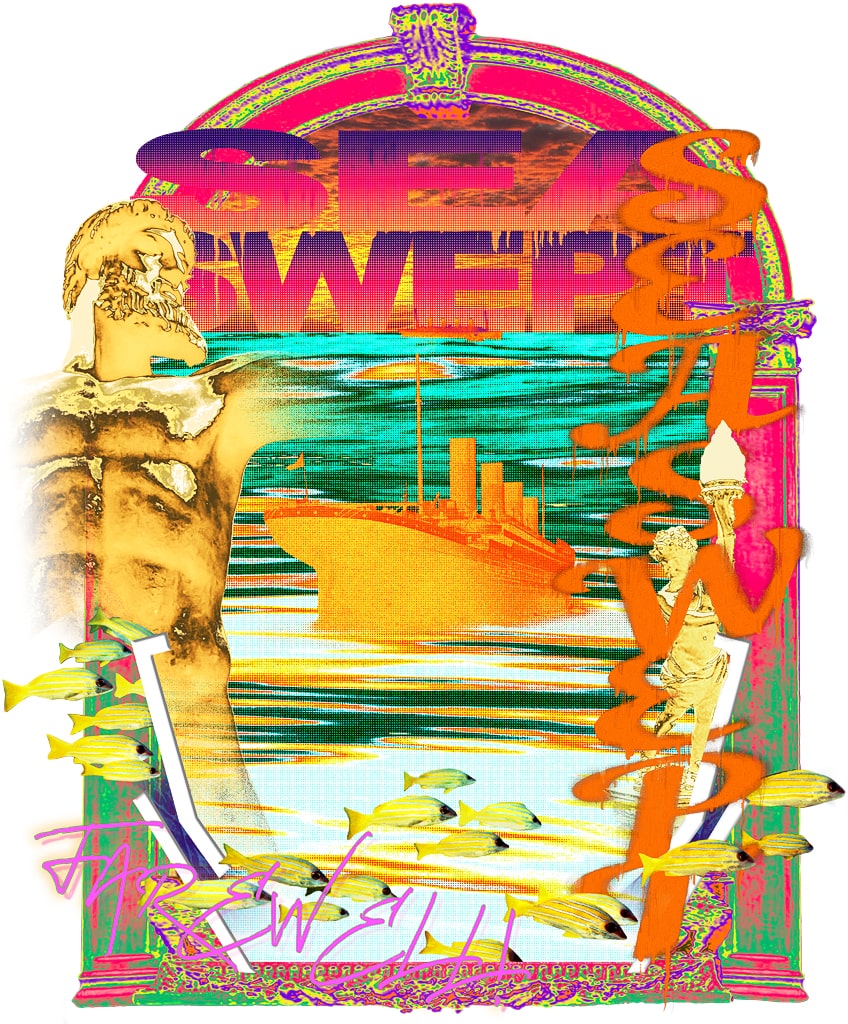 Original NFT artwork by Canadian artist Djon von Zim of Oddly Oaktree. This contemporary artwork features Poseidon watching as the Titanic embarks on her maiden voyage in an aesthetic deeply inspired by Postmodern Revival and Digital Brutalism; Oddly Oaktree, CC BY-SA 4.0, via Wikimedia Commons
This allows you to verify NFT art in the same way that you would a normal artwork such as a painting. The potential options for which style to use for an NFT artwork are nearly unlimited. Humanity has been creating art for at least 50,000 years, yet NFT art takes it to a whole new level and digital artworks enable us to express ourselves in new and interesting ways.
Our List of Famous NFT Artists
Many of the most popular NFT artists, both emerging and established, are exploring this innovative art form. Some NFT artworks have an almost fine art look to them, whereas others have a collectible playing card appearance to them; each variety has its supporters and enthusiasts. Irrespective of one's inclinations, NFT art is sweeping the business and artistic spheres, and now is the best time to get a better understanding of the art and famous NFT artists creating waves in the scene.
Pak
| | |
| --- | --- |
| Real Name | Anonymous |
| NFT Artworks Sold | 66,320 |
| Value | $430,444,627 |
| Notable NFT Artwork | Merge (2021) |
Originally named Murat Pak, Pak is a mysteriously anonymous artist. He/she has almost two decades of experience in designing, programming, coding, tech, and producing digital artworks. Pak is probably most well-known for developing an algorithm that searches the internet for pictures to upload on social media networks like Facebook and Instagram. Posts are chosen for wide distribution by this innovative coding to function as digital "mood boards."
Pak has not only built a code for sharing other people's photographs, but he has also made his own NFT artworks.
He produced Cloud Monument Dark, a piece that subsequently sold for $788, in early 2020. He then later released a series of 13 NFTs that were only accessible for 24 hours, which at the time was quite a novel concept, but which is now commonly practiced in the crypto arts.
The creator, who some people say is a group of people rather than a single individual, has been involved in the digital visual arts field for many years. Nonetheless, Pak's popularity has surged since joining the NFT market, in fact, Pak currently boasts the most expensive NFT portfolio on the market.
Pak is regarded as one of the most talented and popular NFT artists and has lately founded Sotheby's Metaverse, a digital visual arts portal intended to market and promote NFTs.
He has also begun selling the Merge series through the Nifty Gateway website. The Merge NFT was originally only accessible in December 2021 for a limited time, during which individuals could buy as many units of the artwork as they wished.
Beeple
| | |
| --- | --- |
| Real Name | Mike Winkelmann (1981 – Present) |
| NFT Artworks Sold | 1,351 |
| Value | $176,201,356 |
| Notable NFT Artwork | Everydays: The First 5000 Days (2007) |
Beeple is a well-known American graphic designer, computer artist, and animator who sells NFT artworks. In his art, he employs a variety of materials to produce funny, surreal compositions that offer social and political criticism while referencing popular media personalities. From amusing huge flies spinning around a bare-knuckle Mike Pence image — an allusion to the American vice-presidential debates — to a simplified yet beautiful digitized version of the Mona Lisa, the themes of his digital work are diverse.
Famous NFT artists like Beeple challenge, amuse, provoke, and involve their viewers in an exponentially interconnected world, creating digital NFT artworks that are both contemporary and eternal.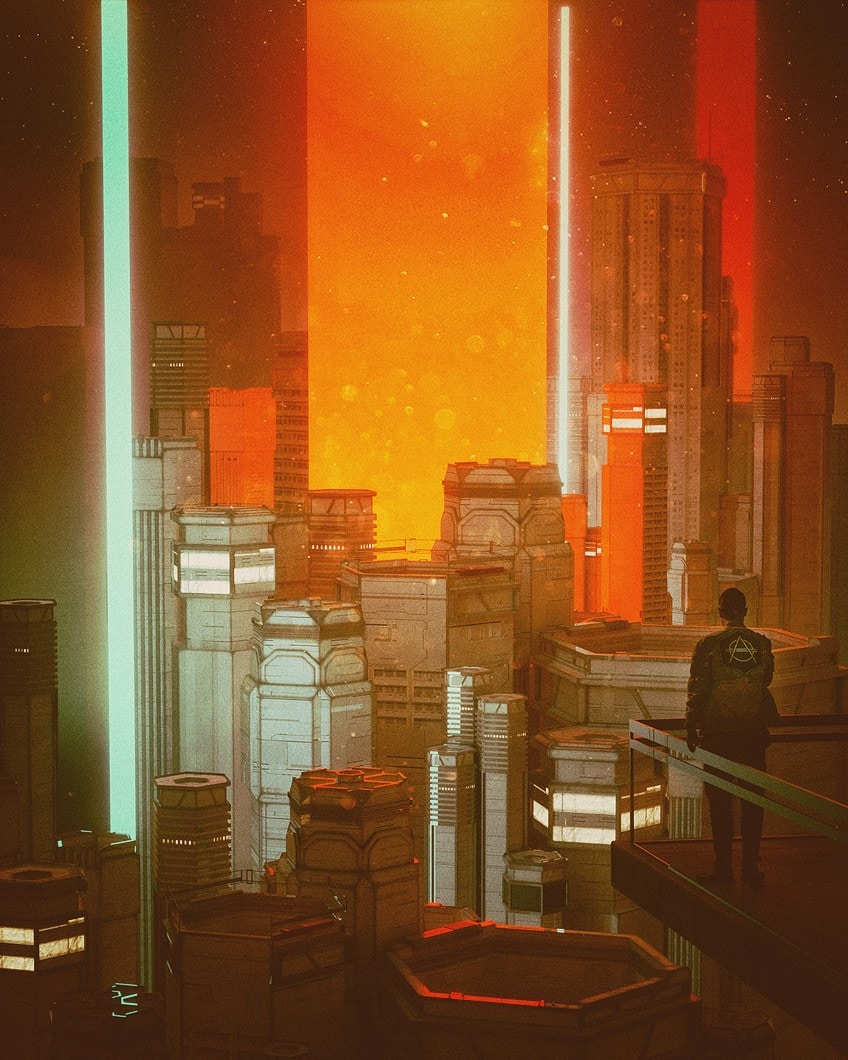 Artwork from Beeple's Everydays collection (June 2016). It features a futuristic skyline consisting of hexagon-shaped buildings with a red light column in its center. A person on a platform in the foreground wears a jacket with an anarchy symbol on its back watching down at the skyline; Mike Winkelmann, CC BY 4.0, via Wikimedia Commons
On the 1st of May, 2007, Beeple began his most well-known digital artwork Everydays, which required making a work of art every single day. This artwork is still continuing and has spanned over 5,000 days of constant digital art production. Beeple would work on finishing his daily artworks even on occasions that were highly impractical, such as the day his children were born, or even his own wedding day.
Tom Judd, who also created a different artwork every day for a year, inspired the initiative. Beeple believed it was a good method to hone his sketching talents. In the years that followed, he concentrated on one skill or media every year.
His work frequently depicts dystopian realities and he regularly satirizes current events by using well-known characters from politics or pop culture.
Tyler Hobbs
| | |
| --- | --- |
| Real Name | Tyler Hobbs (1987 – Present) |
| NFT Artworks Sold | 1,012 |
| Value | $116,585,360 |
| Notable NFT Artwork | Fidenza #612 (ongoing) |
Tyler Hobbs is a Texas-based graphic and generative designer. Coding, algorithms, and painting all contribute to his artwork. Hobbs' art, which revolves around algorithmic aesthetics, examines the interplay of computer software and hardware with the natural universe. Tyler Hobbs has spent years dabbling in the classic figure, portrait, and landscape painting styles, yet, he did not feel a deep personal connection to established art forms, which caused him to lose interest in them.
He continued his education in computer science and received his certification in 2010. Hobbs found generative art in 2014 and decided to give it a try.
This breakthrough occurred as he sought a bond with art and a method to merge his artistic and programming abilities into something fresh and unique. Hobbs had saved enough money by 2017 to work as a full-time artist. During that period, he created roughly 100 works each year and supported himself through orders and the sale of prints. It was not easy to work as a full-time artist. As a consequence of his solitude and financial difficulties, in 2018 he created Travel Boss, an online business travel start-up company.
Ultimately, it was forced to close owing to the financial difficulties and travel restrictions brought on by the pandemic. Nevertheless, this drove Tyler Hobbs to find Art Blocks, and it is fair to state that this unexpected encounter changed the path of his career for the better.
Hobbs swiftly rose to prominence after being hand-picked by the site as a curated talent.
Hobbs' artwork Fidenza, was created using his most adaptable generating algorithm yet. Although not excessively complicated, the algorithm's underlying framework is very adaptable, enabling enough variability to generate consistently unexpected results.
Dmitri Cherniak
| | |
| --- | --- |
| Real Name | Dmitri Cherniak (1970 – Present) |
| NFT Artworks Sold | 875 |
| Value | $98,319,885 |
| Notable NFT Artwork | Ringers (2021) |
Dmitri Cherniak loved sketching and painting as a youngster, but as he grew older, he became more interested in science and math. He graduated from high school without having attended an art class, although now he laments not taking more creative classes. His debut art exhibit, which featured his generative art, was presented at the Heron Arts gallery in San Francisco. Dmitri Cherniak is most renowned for his Ringers collection, which is also available on the Art Blocks site.
His art concentrates on geometric forms in particular, with some collections displaying brilliant colors while others are in black and white.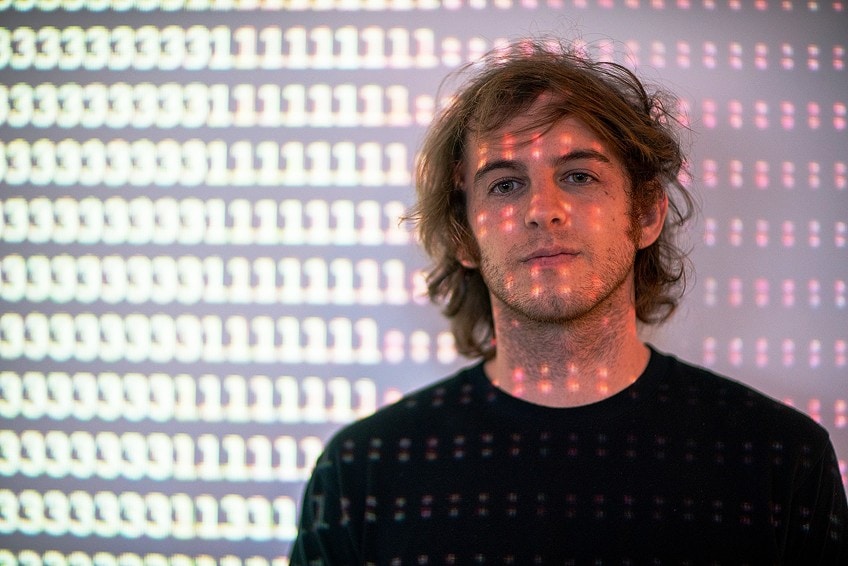 Generative artist Dmitri Cherniak at a gallery show in San Francisco in 2015; Drflet12, CC BY-SA 4.0, via Wikimedia Commons
Apart from the digital NFT artwork sales that established Cherniak as one of the most famous NFT artists, he is also recognized for several daring initiatives. He is a well-known figure in the generative art community for over a decade and has chosen automation as his creative method. Non-technical people, on the other hand, frequently see automation as dull and mechanical, but Cherniakis was not convinced.
As a trained engineer, he sees automation as a far more artistic activity than the wider populace acknowledges it to be.
With Cherniak's innovative artistic approach, he employs programming to automate the creation of one-of-a-kind artworks within less than a second. His objective is to trigger the same feelings and sensations that individuals experience upon seeing hand-created artwork and to encourage them to regard automation as an artistic medium and an act of innovation.
XCOPY
| | |
| --- | --- |
| Real Name | Anonymous |
| NFT Artworks Sold | 9,543 |
| Value | $90,024,872 |
| Notable NFT Artwork | Right-click and Save As Guy (2018) |
XCOPY is the alias of one of the most innovative and popular NFT artists of all time. His actual identity is unknown; however, he has indicated that he lives in London. He is a celebrity in the NFT sphere for being an active supporter of the cryptocurrency community as well as a designer with an unmistakable style. Because of his prominence in the NFT art community, he is regarded as a "blue-chip" designer.
Because his work is not generated algorithmically, it is not found on prominent generative art sites such as "Art Blocks", rather, he creates fresh designs for a variety of online digital art platforms.
The style of his NFT art distinguishes his works from that of other digital creators. His childlike images are brightly colored with black outlines, yet the subject matter is edgier. According to his artist biography, his work examines mortality, dystopian worlds, and indifference through warped visual cycles.
His NFT artworks have a strobe alert since he employs startling glitch-based animation in bold colors, which may induce epilepsy in those who suffer from the condition. His fanbase appreciates the anarchist nature of his NFT art, which incorporates skulls, flames, psychedelic influences, and an abundance of neon. The topics might be horrific, yet the titles are humorous and lighthearted.
The world loves a meme, and his subjectively crude art mixed with high sales figures feels a little like a private joke for the virtual community, highlighting capitalism's flaws.
XCOPY is a great illustrator, and the artworks are outstanding on their own merits. Many find the rough-edged, basic designs with few colors and glitchy aspects intriguing. But it's in movement that the artist becomes XCOPY. He changes essential parts of the basic design over time until it evolves into something distinct, something vibrant with immense vitality.
Matt DesLauriers
| | |
| --- | --- |
| Real Name | Matt DesLauriers (D.O.B. unstated) |
| NFT Artworks Sold | 2,070 |
| Value | $54,958,643 |
| Notable NFT Artwork | Meridian (2021) |
Matt DesLauriers is yet another of the famous NFT artists that exemplify the finest of the Art Blocks concept. Whereas the most well-known generated NFT artworks are rather abstract, DesLauriers' NFT art is not.
He frequently uses a variety of color strokes to portray landscapes in 3D as well as the more traditional 2D.
His interests lay in the convergence of coding, art, and design. He has spent the last few years developing entertaining innovative technology initiatives for print media, public installations, and online. He boasts a thorough grasp of imaginative coding and visual programming, as well as a wide spectrum of technical abilities.
Hackatao
| | |
| --- | --- |
| Real Name | Nadia Squarci (1977 – Present) |
| NFT Artworks Sold | 9,184 |
| Value | $42,079,970 |
| Notable NFT Artwork | Queen of Silence (2021) |
The duo Hackatao may be as well-known for their physical artworks as they are for their NFT artworks. This artist name is a combination of the terms "hack", which refers to finding concealed meanings, whereas "Tao" refers to a dynamic equilibrium. This highlights one of their primary artistic explorations: diving inside objects to find what lies underneath, as well as a feeling of dualism and equilibrium. NFTs by Hackatao usually include emotive and bright depictions of female figures.
Furthermore, the acclaimed artists' works frequently address major concerns in society, ecology, mankind, and cryptocurrency.
Queen of Silence is a well-known NFT artwork by the Hackatao duo. The tattoo-styled, eccentric work of art depicts a lady with skulls, creatures, and dreams embedded in her body, symbolizing her innermost thoughts and desires. The original success of Hackatao was founded on "Podmorks." These totemic animals, carved in ceramics and embellished with illustrations in acrylic, were a huge success for the team.
They viewed their Podmorks as the outcome of their passion, the start of experiments with the synthesis of the two genres; the essential push for both creators to entirely commit themselves to artwork; especially the digital aspect of their physical work.
Hackatao has a very distinct style – as a collective that plays off each other's abilities while also dealing with each other's shortcomings, they definitely rate among the famous NFT artists working currently.
Their NFT art is harmonious, with multicolored whirls, complex themes, and an overall graffiti-like atmosphere that fits nicely inside the cryptocurrency community. Each piece offers a critique of a different aspect of today's problems, ranging from economic to environmental studies.
Snowfro
| | |
| --- | --- |
| Real Name | Erick Calderon (1981 – Present) |
| NFT Artworks Sold | 3,054 |
| Value | $37,746,808 |
| Notable NFT Artwork | Chromie Squiggle (2020) |
Erick Calderon, popularly recognized in the NFT realm as Snowfro, could never have envisioned the large success he would experience as the creator and founding designer of the iconic digital generative art site, Art Blocks. That journey, according to Snowfro, was one in which each step of discovery and experimenting informed and affected the next. Furthermore, Snowfro refers to the events that led him to where he is now as a "perfect combination of events."
It all started approximately ten years ago when he traveled to Coachella to see Amon Tobin, an innovative musician, and projection mapper.
Snowfro saw one of his works and was blown away by what could be created with the technology and a bit of creative innovation. As a result, he became interested in generative art as well as mapping with projectors. There was only one roadblock: The 3D modeling required for traditional projection mapping would necessitate an expertise base and degree of training he did not yet possess. He knew that unless he changed occupations, he would never be able to accomplish that degree of detail he desired in his works.
Snowfro, undaunted by what may have been a dead-end for some, turned to abilities he already possessed – the programming abilities he could use to at least try his hand at the artistic medium he had come to enjoy so much.
As a result, he chose to rely on his decades of knowledge from his long-standing passion for coding.
Even though the software he was using at the time wasn't ideal for his needs, he was able to go in granularly and make his own digital art projections. These initial installations lacked full-fledged 3D images, but they were an early excursion into the bright, kaleidoscopic aesthetic that made its way into the NFT artworks for which he is now best known.
Richard Lord
| | |
| --- | --- |
| Real Name | Richard Lord (D.O.B. unstated) |
| NFT Artworks Sold | 1,423 |
| Value | $30,364,325 |
| Notable NFT Artwork | Geometry Runners (2021) |
Richard Lord is a designer, animator, and NFT artist who worked on a variety of games while at Valve Corporation. Lord's works have evolved, with pieces that typically incorporate what seem to be biological organisms that flow smoothly and nearly rhythmically inside each other, generating remarkable realistic simulations of recognizable yet distinct lifeforms. Lord created his sold-out Geometry Runners series in partnership with Art Blocks.
The NFT artist was also included as one of the weekly top 10 picks on the NFT site "SuperRare", where he was dubbed the most underrated artist on the platform.
The NFT artwork series Geometry Runners is his second creation on Art Blocks. It's a thrilling, adrenaline-pumping ride – all of these blocks and various geometric shapes are racing for their life. Some of the runners are really going for it while others are simply uninterested. Who will be triumphant, and who will falter? The artist referred to it as geometry in its native habitat.
The first thing you notice is that the shapes aren't really moving forward, the floor is in motion underneath the shapes. This helped the running geometric shapes stay where they were originally positioned the entire time. These kinds of NFT artworks are what made Richard Lords be regarded by many as one of the most popular NFT artists today. His collections' colors vary, although they tend to be more subdued, with only a handful occurring in each NFT artwork.
Nonetheless, as can be seen in the "Octo Garden" series, Richard Lord's art features his vast diversity.
Monica Rizzolli
| | |
| --- | --- |
| Real Name | Monica Rizzolli (D.O.B. unstated) |
| NFT Artworks Sold | 1,026 |
| Value | $29,972,304 |
| Notable NFT Artwork | Fragments of an Infinite Field (c. 21st century) |
NFT artist Monica Rizzolli is known primarily for her computer software that converts ambient information into animated landscapes. The models delve into topics such as images of the city, behavioral sciences, and psychological interpretation of space. Rizzolli's arresting generative artwork employs a fascinating color palette to meld the abstract with real-world shapes.
As her sales numbers show, the Brazilian NFT artist is unquestionably one of the top artists producing compelling generative artwork.
In works such as Fragments of an Infinite Field, she employs a compositional method that generates and arranges an idealized plant species in a theoretically infinite field of leaves. These compositions' key environmental parameter is the selection of a period of the year. The season influences the hues of the landscape and specifies distinct occurrences for each one. The flower contains various characteristics that might be macro in nature, impacting the whole population of the species, or micro in nature, influencing each member of the species uniquely.
The backdrop colors of her digital NFT artworks are often the same as the colors in the figures, blurring the border between them and forming colorful masses.
In these studies, she also tries to investigate the subsequent question: How can you generate parameters that mimic the development of a biological organism? The project explores computational morphogenesis and the evolution of procedural creatures in this way.
With the constant advancement of technology, creators have even more opportunities than ever to focus on new methods of delivering their works of art to the masses. Because of the prominence of tangible artwork in our culture, NFT and digital artwork have long been underestimated and sometimes overlooked, in part because they are so easily accessible everywhere. However, as we can clearly observe from this list of famous NFT artists, the tide is quickly turning in favor of those who embrace these new technologies instead of fearing them. In fact, for the average artist who would never see their works displayed in a gallery or be able to demand large amounts of money for their art – NFT artwork and the blockchain system could offer them a way to take control of where and how their art is shared and turned into potential profit.
Frequently Asked Questions
What Is an NFT Artist?
It refers to a designer or artist who has created digital works to sell them on a digital platform as a minted token. Nowadays, a lot of artists create their works digitally, and the majority of them just remain as computer pictures. However, just because humans are unable to interact with these NFT pieces of art in real life does not lessen their value. In reality, the digital arts are quickly rising to the top of the most profitable artistic disciplines in our day.
What Is NFT Artwork?
Traditionally, works of art like paintings are expensive because they are really unique – painted by hand, with a distinct method, and frequently with special pigment. Digital data may, as we are all too well aware, be duplicated and pasted indefinitely by their owner. This, however, is not the case with NFT works and resources. A kind of digital certificate used to purchase and sell these products demonstrates ownership of a special virtual asset that has been created. These digital possessions can only have one legitimate owner at a time, similar to everything else in our reality. Blockchain technology, an unalterable database that can't be manipulated or tampered with, secures and protects these NFT artworks.
Can Anyone Become an NFT Artist?
The field is open to anyone who wants to participate. However, there is a slight learning curve if you want to create generative art instead of the static art pieces we are used to. One would also need to learn the jargon and technicalities associated with blockchain technologies and the platforms they utilize to market their NFT artworks.
Isabella studied at the University of Cape Town in South Africa and graduated with a Bachelor of Arts majoring in English Literature & Language and Psychology. Throughout her undergraduate years, she took Art History as an additional subject and absolutely loved it. Building on from her art history knowledge that began in high school, art has always been a particular area of fascination for her. From learning about artworks previously unknown to her, or sharpening her existing understanding of specific works, the ability to continue learning within this interesting sphere excites her greatly.
Her focal points of interest in art history encompass profiling specific artists and art movements, as it is these areas where she is able to really dig deep into the rich narrative of the art world. Additionally, she particularly enjoys exploring the different artistic styles of the 20th century, as well as the important impact that female artists have had on the development of art history.
Learn more about Isabella Meyer and the Art in Context Team.
Cite this Article