How to Paint on Fabric – Your Guide to Creating Hand-Painted Clothes
Painting on fabrics and materials is incredibly simple and effective. You might have looked over an old T-shirt or décor item and wondered whether you could give it new life by adding your creative flair. This may seem like a risky craft at first, but this tutorial will show you the basics of how to paint on fabric, the right tools, and the materials needed to create a dazzling painted piece, as well as some tips and tricks to create a unique set of hand-painted clothes or décor items.
Choosing the Right Fabric
When it comes to learning how to paint on fabric, it is suggested to have a full grasp of your chosen material so that you can source a compatible paint type for your project. Painting clothes, pillows, shoes, upholstery, and fabrics are often practiced by crafters and artists that may already have an item in mind that they plan to spice up and bedazzle. What is great about painting clothes that you already own is that it is completely environmentally friendly and sustainable. If you are sourcing new fabrics, you will also be supporting local fabric businesses.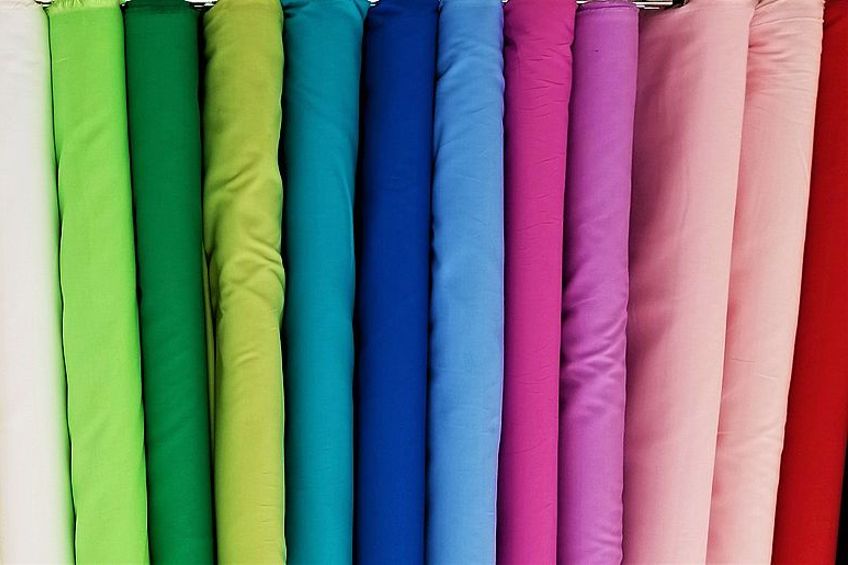 What Types of Fabric Can You Paint Onto?
Fabrics are often not common surfaces to paint onto. Fabric fibers and textures vary according to the material substance and quality. It is really important to do your research before jumping into hand-painted clothes or items, especially if you are new to the craft. You will start to ask questions like does acrylic paint wash off clothes or how to paint denim. You actually can paint onto most fabrics, however; they all hold particular qualities such as durability and flexibility.
Natural fabrics will hold more permanency than most synthetic fabrics.
Natural Fabrics
Silk, wool, linen, and cotton are ideal options for painting fabrics. Although paints could spread and bleed into the surface of the material, the colors tend to dry and preserve boldly and are rich in color. Natural fabrics will work well with most types of paint. Paints will also set better with natural fibers than synthetic fibers.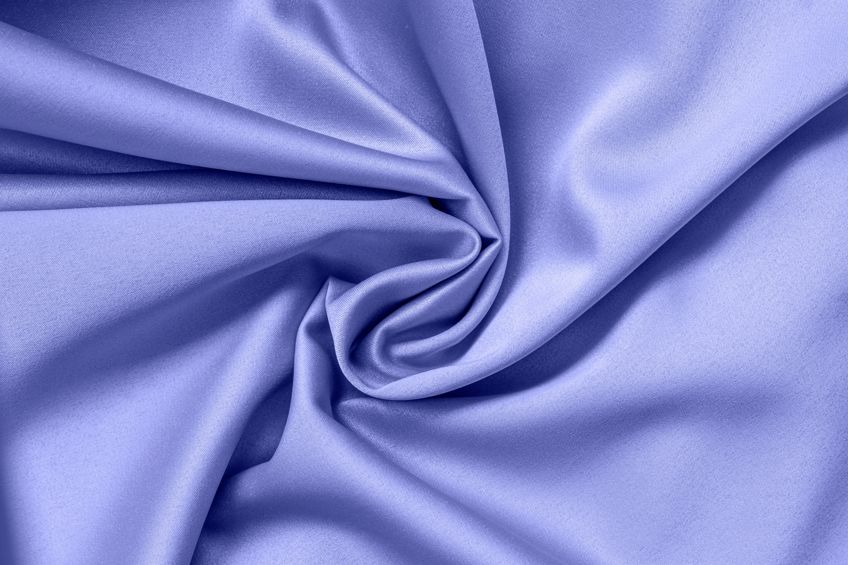 Synthetic Fabrics
Most synthetic materials, such as nylon, polyester, denim, and canvas, have been treated with chemicals to hold the fibers of the fabric together. These chemicals might not bind well with your paints when they are applied to the surface of the material. It is always recommended to pre-wash these items to get rid of these chemicals, which will prevent the paint from adhering to the surface of the fabric. Denim is a great option for its flexibility with paints.
The material is also highly durable and holds a lengthy lifespan as a clothing item. It is for this reason that this tutorial will focus mainly on the basics of learning how to paint denim.
What Types of Paint Can You Use for Fabric Painting?
Not all paints are suitable for all types of materials. Paints can add a wonderful touch to your items, but it is essential to choose your material before selecting your paints. Once you have your chosen fabric, you can look towards selecting the ideal paint type. The best types of paint you can use for learning how to paint on fabric are fabric paints and dyes, acrylic paints, pigments, and inks, as well as other forms of paint.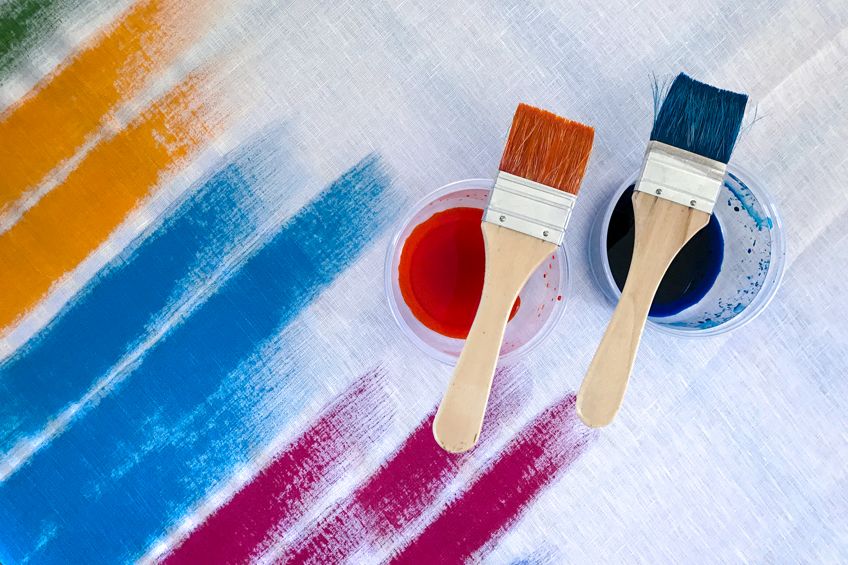 Fabric Paint and Dyes
Fabric paint and inks are the best options for painting clothes and items. These mediums will adhere very well with most materials. Fabric paints and dyes permanently transform the chemical bond of the materials' fibers without altering the surface. Fabric paints are great for hand-painted clothes and items, whereas dyes use a large body of water to adhere and are suitable for projects covering larger fabrics with greater surface area. Dyes are also great for creating patterns such as tie-dye.
Fabric paint and dyes are washable, long-lasting, and flexible and do not bleed into fabrics.
Best Fabric Paint for Painting Fabric: ZENACOLOR Fabric Paint for Clothes Set
The ZENACOLOR Fabric Paint for Clothes Set is a great option for beginners to professional fabric painters and crafters. This set includes 14 colors which are vivid and include standard and metallic colors. The texture is matte, and the paint dries quickly and permanently. These paints are rather thin but can be made thicker with an added gel medium. They are great options for crafters learning how to paint on clothes.
The set includes 14 vivid colors of permanent fabric paint
Suitable for all kinds of textiles, including linen, cotton, and denim
The texture is easy to work with and the colors blend perfectly
View on Amazon
PROS
Affordable
Durable
Dries quickly and permanently
Variety of colors
Easy to use for stenciling
CONS
Thin
Dries too quickly
No gloss
Small containers
Acrylic Paint
Can you use acrylic paint on fabric? Simply put, the answer is yes! Acrylic paints work well with fabrics such as denim or cotton. Does acrylic paint wash off clothes? They are permanent and versatile, easy to work with, affordable, and come in a variety of colors. The primary issue with acrylic paints is that they are prone to crack if the paint is applied too thickly to the surface of the fabric. It is recommended to purchase a fabric medium to mix with your acrylics to help the paint set and adhere to the fabric. If you chose to work with acrylics for fabric painting on T-shirts or other items, it is important to be aware of this before putting everything into creating your final design.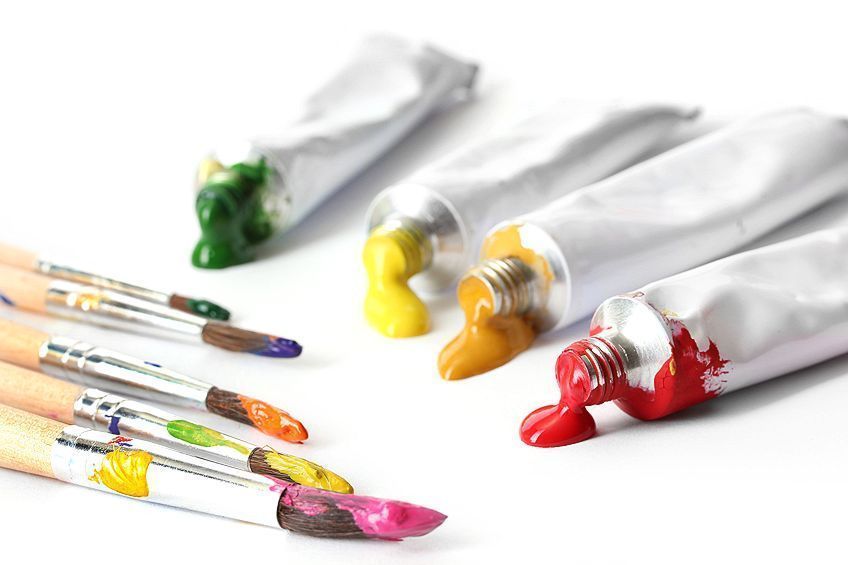 Best Acrylic Paint for Painting Fabric: U.S ART SUPPLY STORE 25 Color Set of Permanent Acrylic Paint
This acrylic paint set from U.S ART SUPPLY STORE is a suitable option for crafters looking to create eye-catching and vibrant color designs on fabric. A fabric or gel medium is not required, and the colors mix well. These paints dry quite quickly with wide surface area coverage. However, a few layers of paint may be required for lighter shades.
24 high-quality and permanent colors of acrylic fabric paint
Includes 12 solid colors and 12 metallic and pearl shades
Once dry, the paint is resistant to washing and drying
View on Amazon
PROS
Easy to work with
Dries quickly and permanently
Variety of colors
Colors mix well
CONS
Thin
Dries too quickly
Few layers required
Pigments and Inks
Most pigments and inks that work well with painting clothes are alcohol-based. These mediums have a smaller area of coverage and are prone to seep and bleed into the fibers. If pigments and inks are used correctly, they can create a beautiful, watery effect across the surface of the fabric. Pigments and inks can also be quite difficult to work with. They are not as saturated as fabric paint and could fade with time.
It is recommended to add a protective sealant to help preserve colors and prevent fading of the artwork.
Best Pigments and Inks for Painting Fabric: SMALLTONGUE Fabric Screen Printing Ink
The SMALLTONGUE: Fabric Screen Printing Ink is an effective and vibrant fabric ink. It includes a variety of colors, including true primary colors. They work very well with stenciling and for small details on hand-painted clothes. These inks are not completely permanent, so it is recommended to use a heat gun or set the paint once your painting is dry.
The set includes 8 vibrant colors of printing ink that mix easily
The ink is waterproof, wash-proof, and resists fading in sunlight
Can be used on many different fabrics, including cotton and denim
View on Amazon
PROS
Easy to work with
Variety of colors
Vibrant and bold once dry
Colors mix well
CONS
Thin
Is not permanent
Ink is slightly thick
Prone to cracking
Other Forms of Paint
Most paints work relatively well with fabrics, and they come in a variety of forms. There is a range of other mediums you can work with separately or combined – the options are entirely endless! You could use markers for linework, fine detail and writing text, liquids for block painting and silk screening, and spray paints for stenciling, covering larger surface areas and upholstery.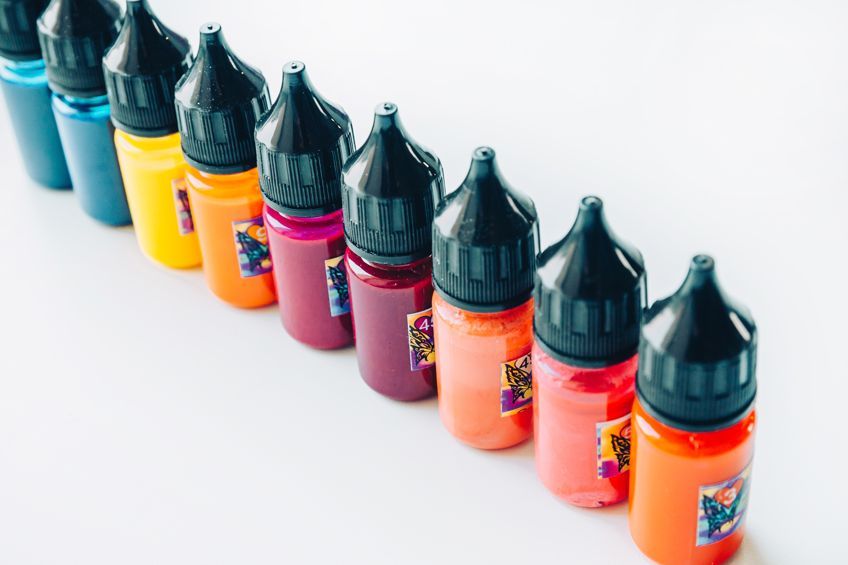 The Characteristics of Fabric Paint, Acrylic Paint, and Inks
Although the art of learning how to paint on fabric can be quite an experimental process, it is a great skill to know your paints and how their qualities might differ from one another according to the type of paint you choose to use. Below is a basic guide outlining the differing characteristics of fabric paint and dyes, acrylic paint, and pigments and inks.
| | | | |
| --- | --- | --- | --- |
| Characteristics | Fabric Paint and Dyes | Acrylic Paint | Pigments and Inks |
| Flexible | ✔ | ✘ | ✔ |
| Prone to Bleeding | ✘ | ✘ | ✔ |
| Prone to Cracking | ✘ | ✔ | ✘ |
| Prone to Fading | ✘ | ✘ | ✔ |
| Permanent | ✔ | ✔ | ✘ |
| Affordable | ✔ | ✔ | ✘ |
How to Prepare Your Fabric
To paint the most brilliantly striking garment or décor item, you will have to do some preparations for your fabric before you begin your creative process. Be sure to do your research once you have chosen your fabric so that you can learn how it will perform when combined with paint mediums.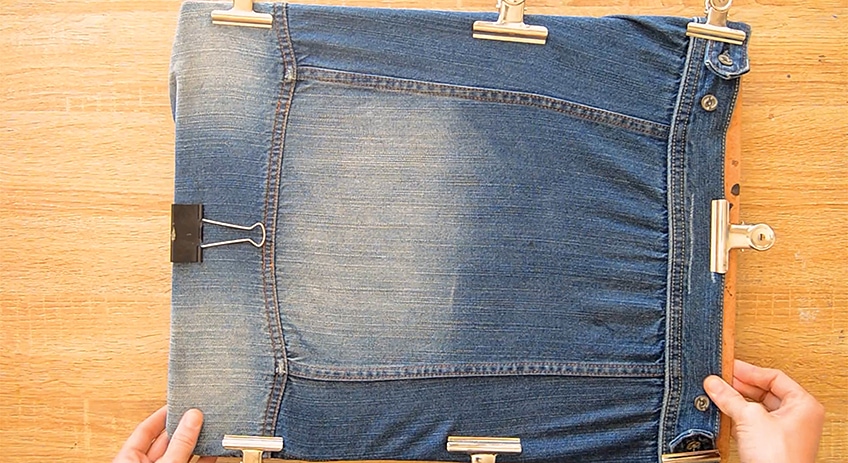 Pre-wash Your Fabric
If you chose to paint a design onto a piece of clothing you already have, or if you have purchased a new item of clothing, it is always recommended to pre-wash your item regardless! Washing old or new items will help return them to their final size and remove any existing starches and chemicals within synthetic materials. Pre-washing essentially allows the fabric to return to its final size and work better when paints are applied. It is recommended to wash your item by hand, or in the washing machine at a lukewarm temperature.
Avoid softeners to keep the material stiff and easier to work with.
Iron Your Item
This step is very much dependent on your fabric. If you have chosen a natural fabric, such as cotton or linen, you will find that it tends to wrinkle and stiffen in places. To make the process of painting smooth and clean, it is recommended to run an iron over the fabric until it is flat. Materials, such as denim, are not prone to creasing and so it is not necessary to iron these thicker fabrics.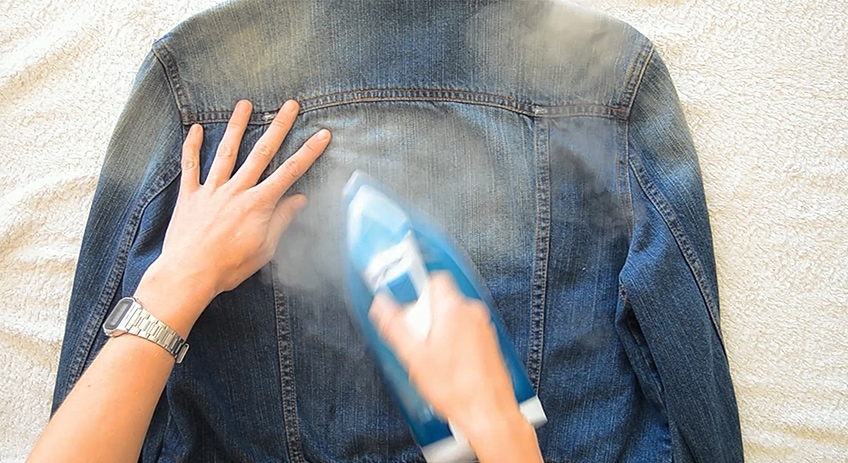 Fix Your Material to a Barrier
If you are using paint for clothes, such as fabric painting on T-shirts with multilayers, it is recommended to insert a barrier between the layers of fabric to prevent them from seeping and sticking together when the paint is applied. You can use a cardboard box, or a piece of hardboard, and a few bulldog clips or washing pegs, to stretch and fix the fabric securely to the board.
This will also make it easier to work with and intact when transporting your working garment.
Dampen Fabric Before Painting Clothes and Items
You can add a light spray of water to the surface of your fabric prior to painting your design. This will greatly improve the binding of the fabric with paint. Be careful with the consistency of water application and do not add too much water because the fabric might expand and warp as it starts to dry.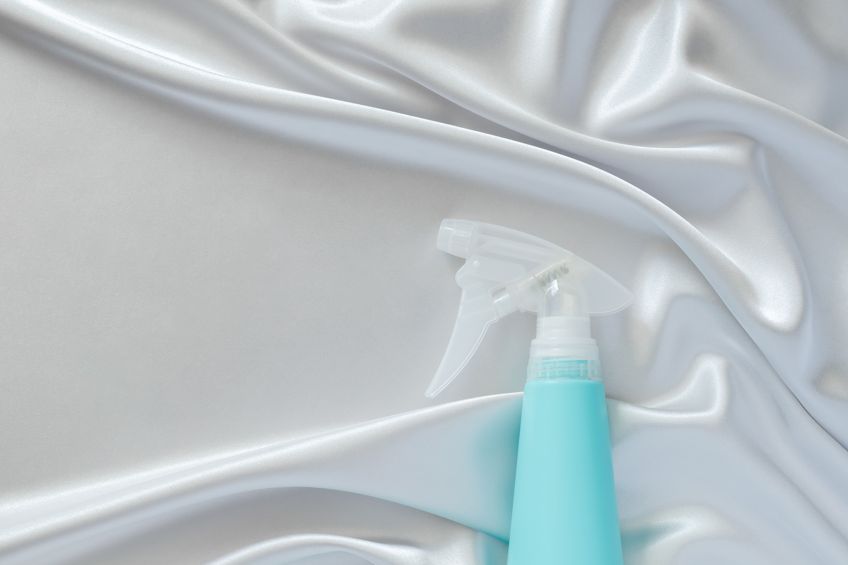 How to Paint on Denim: Six Simple Steps
In this tutorial, we cover the basics of painting clothes permanently with acrylic paint. These six steps will guide you towards creating your striking design on a denim jacket. Once you have gathered your tools and materials, you can begin setting up your workspace and soon learn how to paint on fabric! Most of the tools and materials needed for painting clothes and items will be readily available within your home, or studio space. Once you have your selected paints on hand, you can prepare your workspace with the following tools and materials.
Your choice of fabric
Hardboard or cardboard barrier
Bulldog clips or washing pegs
Spray bottle with water
Dark pencil (2B or 3B)
Compass
Paintbrushes
Water container
Acrylic paints, fabric paints, inks, markers
Clothing iron or hairdryer
Step One: Prepare Your Workspace and the Fabric
Ensure that your workspace is prepared with all the tools and materials required for learning how to paint denim. Also, ensure that the fabric is pre-washed to remove any chemicals and starches from the garment. Iron the fabric only if necessary. Once the denim is fixed to the barrier board with bulldog clips, place it next to your planned design.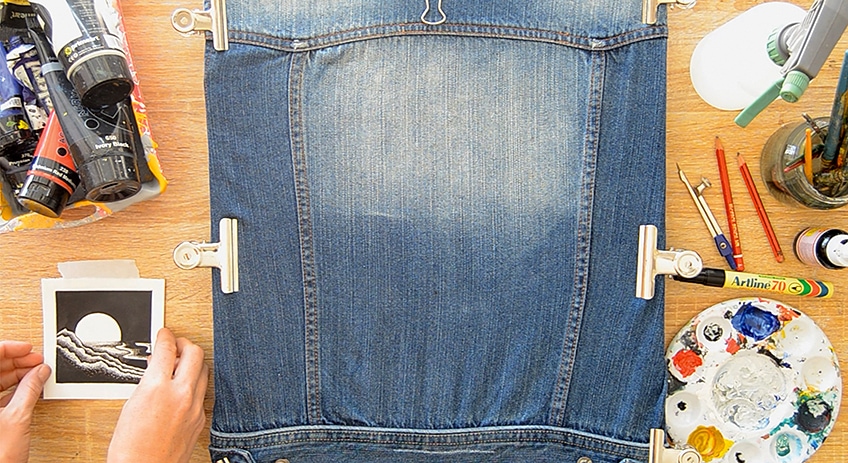 Step Two: Dampen the Surface of the Fabric
Lightly and consistently spray a few layers of water over the area where you plan to paint your design. Be careful to keep the sprays consistent and do not apply too much liquid to the surface of the fabric as this could misshape your painting.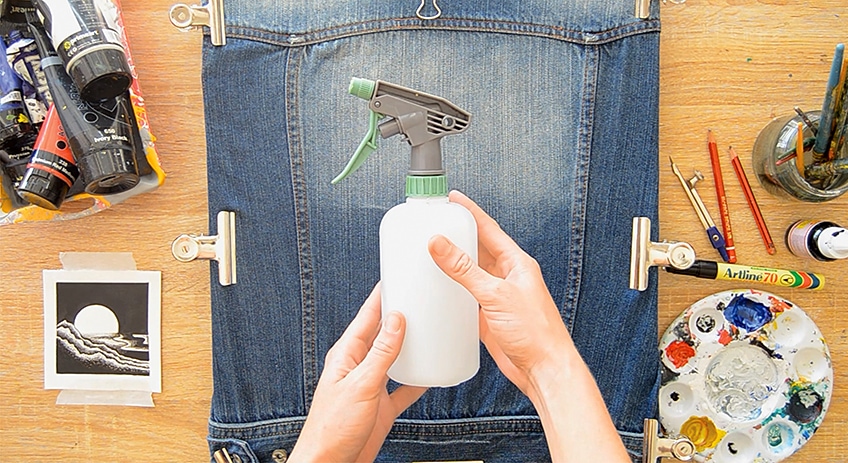 Step Three: Sketch In Your Planned Design With Pencil
Using a dark pencil, sketch in your planned design. This should be a very basic outline of what you plan to create, the finer details and colors will come through when you begin adding layers of paint. Enjoy the process of planning across the surface and do not be afraid to let your personal touch and style shine!
Step Four: Paint Your Planned Design
Begin painting your planned design with your chosen materials. In this tutorial, the artist uses acrylic paint and markers. Start by painting your backgrounds first and continue working towards the foreground until you have captured all of the fine details. Once you are happy with your painting you can clear and clean up your workspace.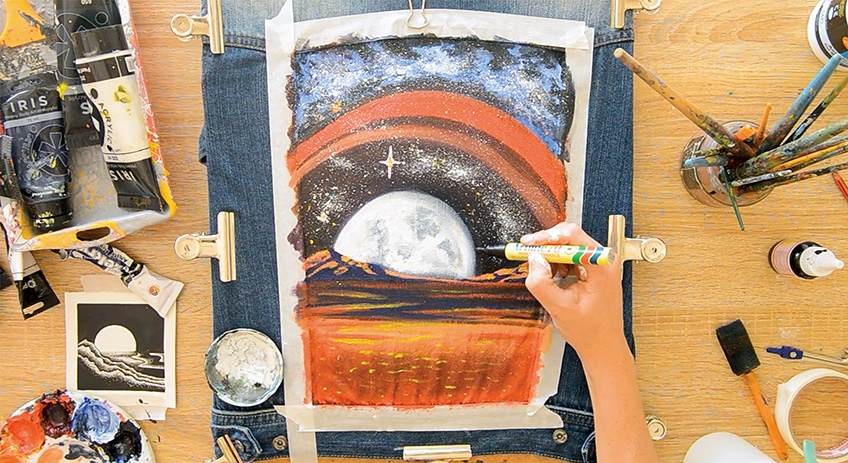 Step Five: Allow to Dry
Allow your painted fabric to dry for at least 24 hours while it is still fixed to the barrier board. This will prevent it from smudging or misshaping while it is drying. Once it is completely dry, you can remove it from the barrier board and place it on a hanger.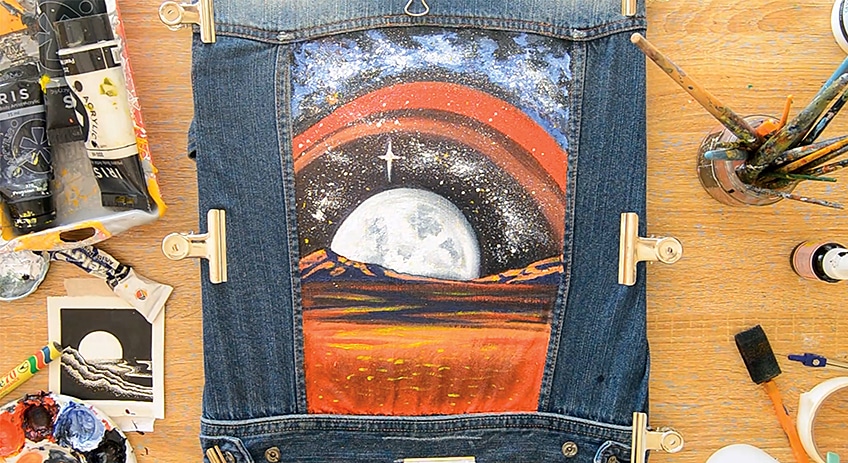 Step Six: Set the Paint With an Iron
Turn your garment inside out. Set the paint by ironing the underside of the painting on medium to low heat. This will ensure that the paint does not crack in sunlight or fade when it is washed. You can also use a heat gun or hair dryer a few inches away from the denim to set the paint permanently.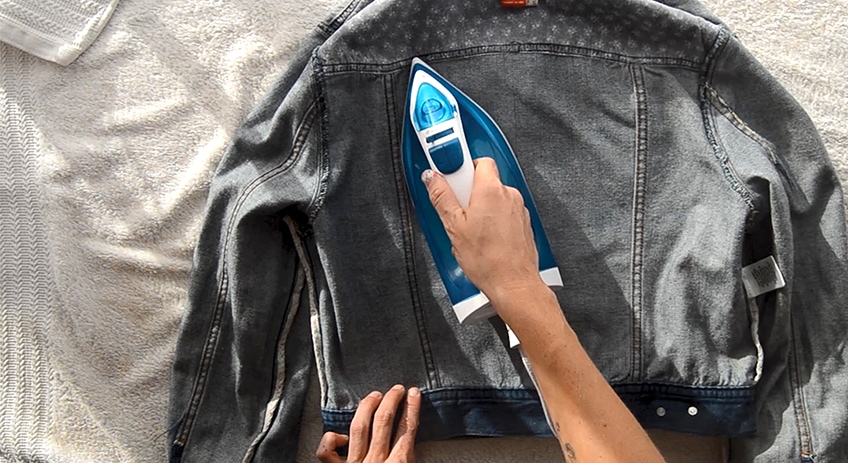 Tips and Tricks for Fabric Painting
While discovering and experimenting with how to paint on clothes in the steps above, there are a great few tips and tricks that can help with your process. Whether you are new to the craft or you have already completed a couple of fabric painting projects, here are a few suggestions for you!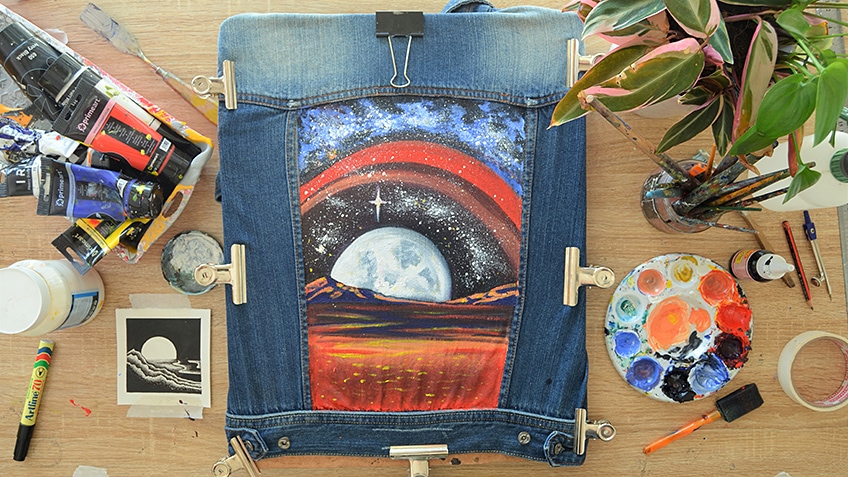 How to Remove Unwanted Mistakes When Painting Clothes
If you have made a mistake somewhere in the beginning stages of your creation, you can remove unwanted marks and errors by simply using bleach and a paintbrush over the area you wish to erase. It is encouraged that you test the process first before removing larger sections of your paint for clothes.
You can also use bleach to create interesting effects on darker materials.
Other Techniques for Learning How to Paint on Clothes
There are quite a variety of techniques and effects you can create on fabrics. You can use stencils if you do not plan on creating hand-painted clothes. You can experiment with all kinds of techniques and styles. You are also really encouraged to mix your materials and mediums! Go ahead and add a variety of embellishments, jewels, embroidery, ribbons, beads, and even other fabrics to your painted design. You can care for your painted fabrics simply by handwashing them in lukewarm water and allowing them to air dry. This prevents the paint from chipping away and fading in the heat of a washing machine or dryer. When you are air-drying your fabric, be sure to keep it out of direct sunlight as it could cause severe sun damage to the artwork.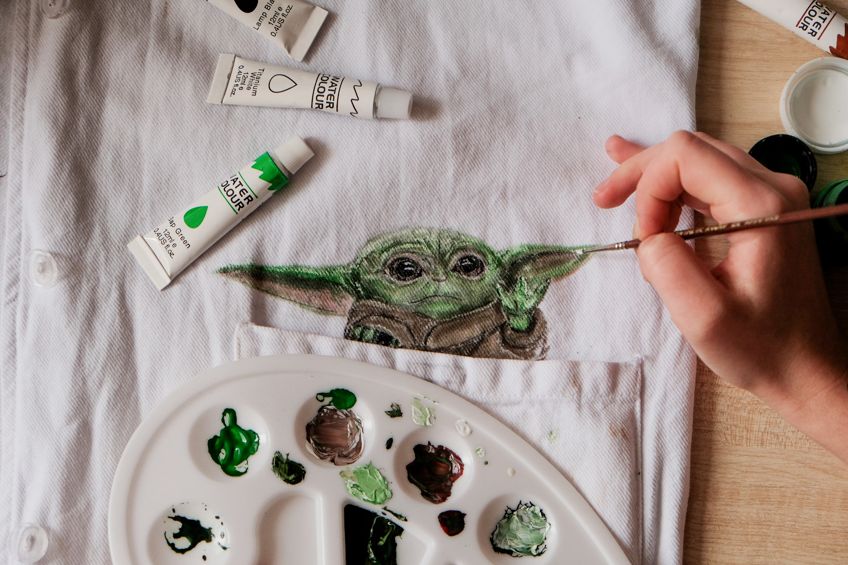 With these basic steps and tips showing you how to paint on fabric, you can now head over to your wardrobe, or your nearest second had store, to locate your next item! Customizing your clothes with fabric paint and embellishments will give your item a whole new life and put a little kick in your step. You will feel fantastic exhibiting something unique yours – all while keeping the environment in mind.
Video Tutorial on How to Paint on Fabric
Frequently Asked Questions
What Paint Is Best for Fabric?
The most ideal type of paint you can use for painting clothes and items is acrylic fabric paint. Acrylic fabric paint is technically textile paint, which makes it ideal to work with for fabric painting on a T-shirt or item. This type of paint is bonded with a color, then emulsified which makes your painted design durable against sunlight and multiple washes.
Can You Use Acrylic Paint on Fabric?
You can most certainly use acrylic paint to paint on fabric. It is strongly suggested to use a fabric or gel medium mixed in with your acrylic paint colors in order to assist with the binding of paint polymers with the surface of the fabric.
Does Acrylic Paint Wash Off Clothes?
Acrylic paint is very strong and will most likely not wash out of clothes once dry. It is recommended to immediately wash acrylic paint from clothes if you have messed up the painting by accident. If you use acrylic paint for clothes, it may wash out or fade if you have not included a fabric or gel medium. This will also be the case if you have not set the paint properly.
Can You Permanently Paint Fabric?
You can paint fabric permanently by including a fabric or gel medium within your color mixtures. Adding fabric mediums will give the paint permanency and flexibility to be able to move easily within the fabric paint on a T-shirt or garment.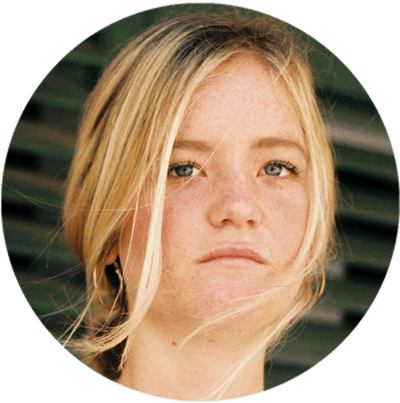 Demi Bucklow is an independent artist and photographer living in Cape Town, South Africa. Since graduating from the University of Cape Town in 2018 from Michaelis School of Fine Art with a degree specializing in fine art photography, she currently works as a freelance artist, content creator and writer. Demi's particular interests explore a range of multimedia illustration, collage art, photography and videography, darkroom processing and stop-motion animation. Her work is an exploration of nature and its phenomenon – somewhere between art and space.
Artistic practice presents the ability to communicate a vision. It is through techniques of pointillism and realism that form, and substance are explored as a metaphor for matter; super-imposing a thousand marks and points until an image is formed before our eyes. From illustrations to surrealist landscapes, Demi translates corporeality – mixing the obtuse and vacuous with the astute and expressive which leads to a mixture of irrevocable pondering over what is and what could be.
Learn more about the Art in Context Team.