Cleaning up after a DIY project tends to be the worst part, especially when working with paint. When you have finished using acrylic paints, your paintbrushes will need a good clean. You may find that cleaning them ends up creating an even bigger mess, and could potentially damage your brushes. We will offer some advice for cleaning acrylic paint brushes so that you do not damage them, ensuring that they stay in good condition for a long time.
What Type of Brushes Are You Using?
The type of paint brush you use will dictate the right cleaning method. There is no guarantee that your brushes will look new once cleaned, but we can ensure that they will be ready to be used for the next project you tackle. You can purchase two kinds of brushes – synthetic and natural paint brushes.
Synthetic Paint Brushes
Synthetic paint brushes are those with bristles made out of polyester, nylon, or a mixture of the two. It can be difficult to clean synthetic brushes, particularly when you have been working with acrylic paints. You will need to be careful when cleaning synthetic paint brushes, as the bristles can break down or dissolve when you clean them with certain cleaning solutions.
Recommended Synthetic Paintbrush: LUIGI'S Wooden Paint Brush Set
This is a set of five wooden synthetic brushes that allow you to create a range of paint projects simply. These are a great option for working with wood stains, paints, and varnishes, and will follow the surface area's contours with ease. The ferrules are durable and tight, which means you should not find any bristles coming loose.
Soft and responsive bristles which perfectly contour to surfaces

Achieve exceptional results with any paint, varnish, or stain

Includes a tightly-fitted ferrule to to prevent any bristle displacement
View on Amazon
PROS
Alleviates paint build-up and drips
Can be utilized for a lot of different paint products
Simple to use
Covers surfaces of all materials and textures effectively
Durable
Does not lose bristles
CONS
Over time, bristles may deteriorate
Natural Fiber Paint Brushes
Paint brushes with natural bristles are those made with animal hair, such as that of a hog. These brushes are easy to clean, so you should not struggle to remove the acrylic paint. The natural fibers are very resilient, which makes them resistant to the majority of chemicals. While these brushes are pricier than synthetic brushes, the expense certainly pays off in the long run, as you do not have to replace your brushes all the time.
Recommended Natural Fiber Paintbrush: POL BRUSH European Professional Paint Brushes
The set is made up of five differently sized natural brushes, making it highly versatile. The natural fiber brushes are of excellent quality, and you will also receive a certificate of compliance, ecology, and quality with the set.
Quality brushes with certificates of quality, compliance, and ecology

Pork hair natural bristles are more wear-resistant and hold paint well

Brushes with natural bristles are effective in use with any types of paints
View on Amazon
PROS
Can be used on several surfaces and textures
Water-resistant
Can be used with most paints
Holds the paint effectively
Offers smooth application
CONS
Cost a lot more than synthetic brushes
Cleaning Acrylic Paint Brushes
You can use simple household items to remove acrylic paint from your paintbrushes, but not all the items are suitable for cleaning synthetic brush bristles. This is just another reason as to why we suggest you only work with natural fiber brushes, as when they are exposed to harsh chemicals they do not disintegrate.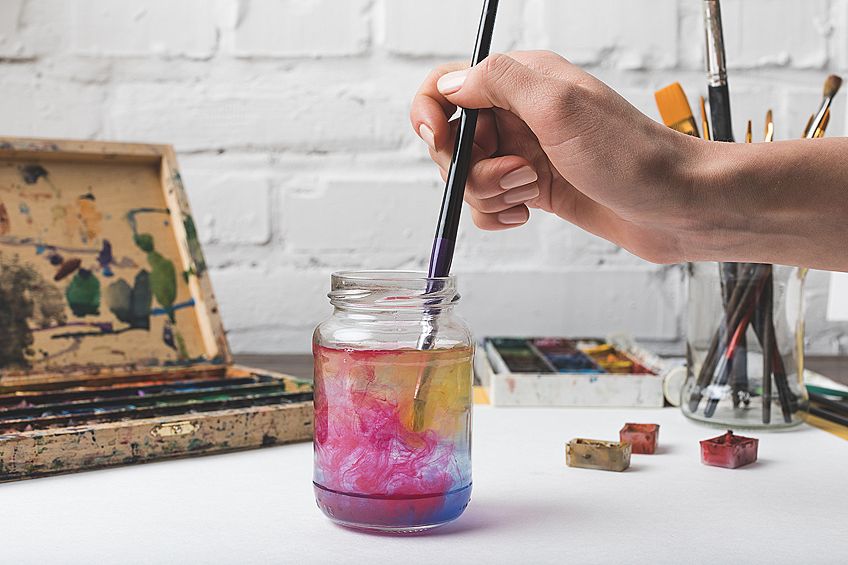 Acetone
Most people will have acetone in their medicine cabinets, as it is found in the majority of nail polish removers. This can be used as an acrylic brush cleaner and is powerful enough to penetrate the bristles of the paint brush, ensuring that any build-up of acrylic paint is removed. Acetone gives off a harsh odor, so make sure that you are working in a well-ventilated space with sufficient airflow. Always keep acetone away from children and animals.
Isopropyl Alcohol
This is an alternative to acetone that can be used as an acrylic brush cleaner without giving off such a harsh odor. Just like acetone, the solution penetrates the bristles of the brush and ensures that all paint build-up is removed. This solution is often found in acrylic paint removers as an active ingredient. While the odor is not as harsh as acetone, it still is a chemical and so should be stored with care away from animals and children.
How to Use an Acrylic Paint Remover
The usage instructions of both isopropyl alcohol and acetone are the same. Whenever you are working with chemicals, ensure that you are working in a well-ventilated space so that you are not over-exposed to the fumes of either product.
To learn how to clean your acrylic paint brushes, begin by pouring some of the acetone or alcohol into a glass jar; you will require enough that it will cover the brushes' bristles. Submerge the bristles in the solution and leave them to sit for a short period. Once you have allowed the brushes to soak, you can then take them out of the solution and then, using soapy water, wash them thoroughly. If you find that there are still bits of acrylic paint in-between the bristles of the brushes, you can repeat the process.
Another option is to use hand sanitizer to wash your acrylic paintbrushes. Hand sanitizer contains ethyl alcohol, which provides the same results as acetone or alcohol. Take a little hand sanitizer in the palm of your hand and then use your hand to rub the brushes' bristles. Allow the solution to soak into the brush before using soapy water to wash the solution off.
Ensure that you do not leave the solution on the brush overnight, as this can seriously damage the bristles.
Recommended Acrylic Brush Cleaner and Preserver: GENERAL PENCIL The Masters Paintbrush Cleaner
This brush cleaner is wonderful and can be used on both water-based and oil-based paints. It is simple to use: Just wet your brush in water, take some of the solution from the jar, and then swirl the brush in the cleaning solution. This product has a wonderful lemon smell and has many five-star reviews on Amazon, making it an excellent product with great value for money.
A 24oz tub of brush cleaner with a 

simple one-step total care process

It works on oils; acrylics; watercolors; varnishes; glazes and more

Non-toxic with a pleasant lemon scent
View on Amazon
PROS
Wonderful value for money
Lemon-scented
Simple to use
Non-toxic
CONS
Does not work that well when removing dried paint
Recommended Option of Acrylic Paintbrush Restorer: WINSOR & NEWTON Brush Cleaner and Restorer
This product is safe enough to use on both natural fiber brushes and synthetic fiber brushes, and will remove any paint build-up with ease. It is biodegradable and water-soluble, which makes it non-toxic, and in addition it gives off low vapor levels and has a low odor. This product does not leave any oil-like residue behind and offers amazing results.
Safely and easily cleans both natural and synthetic brushes

Leaves no oily residue, emits a low amount of vapour, and is non-toxic

Biodegradable, water-soluble, non-flammable, and non-abrasive
View on Amazon
PROS
Biodegradable and water-soluble
No oil-like residue left behind
Low odor
Non-toxic
Will not damage the brushes' bristles
CONS
Will dissolve plastic brush handles
Additional Tips for Cleaning Acrylic Brushes
If the above-mentioned options do not produce the results you are looking for, there are still a few more methods you can try that do not involve solvents.
Hair Comb
You can use an old hair comb or buy one specifically for this purpose. You ideally want a fine-tooth comb to achieve the best results. Try wetting the brush before you begin to remove the paint, ideally using linseed oil. Take the brush by the base to ensure that you do not break the brush, and then run the comb carefully through the bristles, as this will remove any clumps of acrylic paint as the comb passes through. You should be able to move the comb easily through the bristles in order to release any acrylic debris.
A Quick Haircut
This should be your absolute last resort and basically, you will be trimming your brushes' bristles. This will can result in your brushes being destroyed, so be very careful when attempting this. You do not necessarily need to throw damaged brushes away, as they can be used on other projects to create unique effects or you can gift them to your grandchildren or children to use with their arts and crafts. If you have reached the stage that you have to trim them, there is a good chance that you will have to purchase yourself a new set of brushes.
Preventing Acrylic Paint Build-Up on Your Brushes
By cleaning your brushes immediately after each use, you will ensure that they last longer. Cleaning them is an especially simple process as the majority of acrylic paints are water-soluble. While you are painting, have a jar of water with you and simply dip your brushes into the water. This will stop the acrylic paint from building up and resulting in damage to the brushes' bristles. Dip the brush in the water, swirl it around, and you will see the paint simply dissolve. Water may be useful for paint removal, but do not leave the brushes soaking in water overnight, as it will cause the bristles to bend and damage your brushes.
You can also follow a painting schedule, which means taking breaks in-between painting to clean your brushes. This will help to preserve your brushes in the long run. Perhaps set an alarm or timer that goes off hourly so you remember to stop and clean your brushes.
When you are cleaning your acrylic brushes, ensure that you are not only cleaning the tips of the bristles but also the base. You can also condition your brushes regularly this will stop them from hardening and eventually becoming unusable. When you are conditioning ensure that all paint build-up has been removed first. Try washing your brushes before conditioning using a soapy water mixture.
Assessing Your Clean-Up Process
Have a look at what brushes you have. You will notice commonalities between them; do many have a build-up? If so, where is the build-up normally – the tip, the base, or the middle? This determines the areas you will need to focus on when cleaning.
We have provided you with suggestions on how to preserve and clean your brushes, but they may not work. Remember that acrylic paint is hard to remove and when removing it, you can damage your brushes.
The best approach is to clean your brushes immediately after you have finished painting and inspect them to ensure they are completely cleaned before allowing them to dry. If you have allowed the paint to dry on the brushes, cleaning the dried paint off your acrylic paint brushes will prove to be very hard.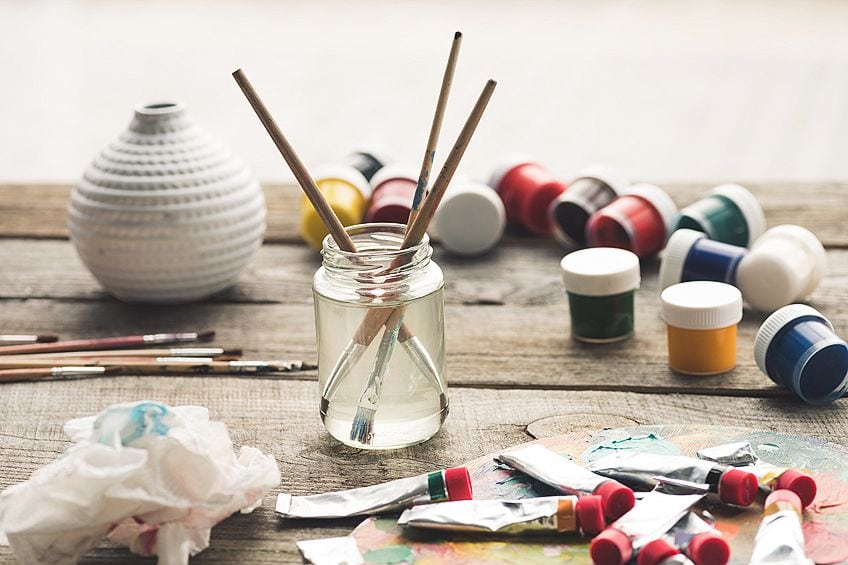 Frequently Asked Questions
After Dipping My Brush in Water, Why Did the Paint Not Come Off?
Water on its own will not remove all the paint; you need to ensure that you are agitating, moving, and swirling your brush in the water to effectively remove the paint. Using running water can also be an option, but then you will need to massage the bristles while the water runs over them so that no paint is left behind.
Which Soap Must I Use to Wash My Brushes?
A mild detergent or a dish soap will be able to remove any acrylic paint build-up.
Do You Need Different Brushes for Oil-Based and Water-Based Paints?
Yes, certain brushes are made specifically for oil-based and water-based paints respectively, although you can often use the same paintbrush for both types of paint. The big difference is the cleaning method required for each type of paint and what impact it has on the brushes. Do your homework or ask a fellow painter or salesperson for advice before choosing to invest in a paint brush.
After Using Acrylic Paints, How Do I Clean My Brushes?
We suggest that you wash your brushes immediately on completion of using them. Do not soak your brushes in water or solvents for a long period as it can damage and bend the bristles. Rather use natural brushes when working with water-based paints and synthetic brushes when you are working with oil-based paints. as the respective methods to clean them work great for the brushes' bristles.
Why Does It Seem Like the Color Will Never Wash Out When Cleaning Acrylic Brushes?
We suggest you schedule regular opportunities to clean your brushes within your painting schedule. You will then avoid any excessive build-up. When cleaning, allow the water to run until clean so that you are certain all the paint has been removed properly. If you have chosen to use a jar of water as opposed to running it under a tap, you should have several water jars available to swap out for clean water, thus ensuring that your brushes stay clean. It may seem like a pain, but to preserve your brushes, it is necessary.
How Do I Clean Dried Acrylic Paint Off Brushes?
To begin with, you will require a soapy water solution, which is something you will have in your home and is not intensive on your brushes. If this option does not work, you will then require an alcohol-based solution or acetone. Pour the solution into a jar and allow your brush to sit in the solution for a few minutes, and then remove the brush from the solution and rinse it out with soapy water. As an absolute last resort, you can always trim your bristles, which will allow you to remove any paint clumps that refuse to come off the bristles.
Do You Recommend Natural or Synthetic Brushes When Using Acrylic Paint?
When working with acrylic paint, we suggest you use a natural brush as the water-base of acrylic paints and the durable nature of the natural bristles work well together. When you use harsh chemicals to remove the build-up of acrylic paint, the natural brushes prevent damage to the bristles. Synthetic bristles, on the other hand, will dissolve and melt if exposed to alcohol-based or acetone solution.
Will Dried Acrylic Paint Damage My Paintbrush?
If you have ever tried to paint with a brush that has dried paint on it, you will see quickly that it is impossible – the motion of the brush is completely restricted and will result in a mess. Once the paint has dried, you will still have to remove it from the brush, and this can harm your brushes. Remember that acrylic paint dries quickly, so you should work with speed to clean your brushes. When you have finished painting, ensure that your brushes are washed correctly before allowing them to dry. Ensuring that you wash them as soon as you have finished using them will make your brushes last longer.
In 2005, Charlene completed her Wellness Diplomas in Therapeutic Aromatherapy and Reflexology from the International School of Reflexology and Meridian Therapy. She worked for a company offering corporate wellness programs for a couple of years, before opening up her own therapy practice. It was in 2015 that a friend, who was a digital marketer, asked her to join her company as a content creator, and this is where she found her excitement for writing.
Since joining the content writing world, she has gained a lot of experience over the years writing on a diverse selection of topics, from beauty, health, wellness, travel, and more. Due to various circumstances, she had to close her therapy practice and is now a full-time freelance writer. Being a creative person, she could not pass up the opportunity to contribute to the Art in Context team, where is was in her element, writing about a variety of art and craft topics. Contributing articles for over three years now, her knowledge in this area has grown, and she has gotten to explore her creativity and improve her research and writing skills.
Learn more about the Art in Context Team.