There is something simply fulfilling and gratifying about writing and logging your daily tasks and achievements. Learning how to bullet journal is one of the best and most efficient ways to organize your life. Essentially, it uses a logging system to plan your day-to-day and future goals. In this tutorial, we will cover how to start a bullet journal with a full run-down on the beauty of this customizable planning system, as well as some tips and tricks for unique bullet journal ideas.
What Is a Bullet Journal?
Bullet journals have a life that exists to physically keep track of the important things that matter to you. These could be tasks, goals, important dates, and simple to-do lists. A bullet journal is a quick, flexible method to plan and track your short and long-term goals. A quick image search of any bullet journal ideas may leave you feeling intimidated by the level of detail and effort put into some of the examples. The truth is that it can really be quite simple and minimalistic. If done right, the bullet journal method can improve productivity and reduce the stress and chaos of our lives.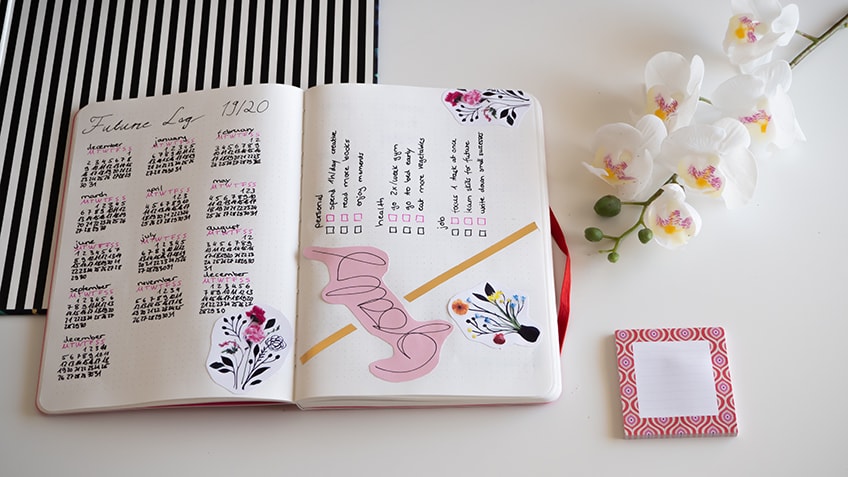 Bullet Journal Basics
The bullet journal method was a new concept introduced by New York product designer Ryder Carrol. In his words, the system was developed "to help track the past, organize the present, and plan for the future." This method is curated to help set up goals across multiple sections which are organized by year, month, week, and day. Once this is set up, your only job is to track what needs to be done and recorded in your schedule, as well as to make notes of important dates, events, and milestones reached.
Does Bullet Journaling Work?
Bullet journals have been described as a key to mindfulness. They may not work for everybody, but most people that have learned how to bullet journal have continued pursuing it and practicing the method regularly. It is a way to help you focus on the important aspects of your life. Bullet journaling will also help you reach your goals by acknowledging them as real, valid, and do-able.
Bullet Journal Guide and Terms You Should Know
Many people initially ask, "what's a bullet journal?" Although this method may seem slightly confusing and intimidating at first, once you learn the basic system outline and find your groove, you may find it to be one of the best ways to stay organized and stress-free for what lies ahead of you. You will find that over time you will also learn to customize your journal into something that is uniquely yours, however; there are a few bullet journal terms that are essential to know.
Key Symbols or Signifiers
The bullet journal method uses a few important symbols throughout the journal called signifiers. These are symbols consisting of dots, dashes, squares, circles, and stars which highlight the action for your task. There are no set rules to follow for making your key, however; here is a basic outline to follow for the bullet journal method: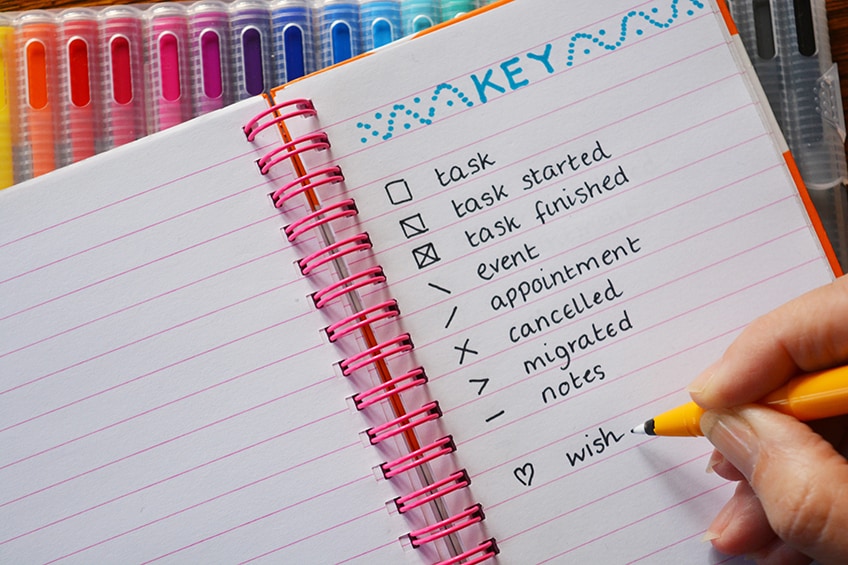 Collections
Collections are category pages in your bullet journal. They cover specific topics or problems in your personal day-to-day. Collections could be in the form of a list, a log, or a tracking system of some kind – it really comes down to acknowledging what is important to you and monitoring how you can reach your future goals.
Spreads
When two pages are side by side in the bullet journal, this is called a spread. This is also a common term for designers and illustrators that work with book design. While discovering how to make a bullet journal, you will learn that these pages can be used for large-scale planning such as calendars, or two-facing pages containing relevant collections.
Migration
Migration is a term used to describe the ability to move tasks forward to new pages. There is some kind of bizarre permanency in writing tasks down in pen and feeling the need to fulfill them. If we do not accomplish these tasks, it is easy to feel disappointed with ourselves. Having the option to migrate and move tasks will help you feel as though there is not always pressure in ticking all the boxes that day.
How to Start a Bullet Journal: Selecting Your Journal and Pens
Now that you know what you are in for, we can have a look closer at how to bullet journal. Before we start with the bullet journal guide and tutorial, there are two important materials needed. Of course, you will first need an empty book or journal and then you will need your favorite pen. That is all you require to start your planning and organizing. You are also encouraged to customize your bullet journal with other materials and embellishments to add color and a personal touch.
Selecting Your Bullet Journal
Whether you have a blank book that you have not used, or if you have purchased a journal from the store, you can learn how to bullet journal with almost any type of book. The pages within a bullet journal can be dot-grid, lined, or blank according to what type of journal you would usually work with. It is really important to have a book that you are excited to return to every time you pick it up. Although initially, you may have that "first-page fear," this book is for you only. Do not be afraid to make mistakes and shape your system with time!
Selecting Your Pens
Similarly, when selecting your bullet journal, you will find that you are more likely to use materials that truly appeal to you, such as picking up your favorite pen! You are encouraged to experiment with a variety of pens to help develop your page-by-page style and format. You might find you enjoy creating linework with thicker or thinner pens or writing titles in another color. You could also use dual-tip pens, fountain pens, or markers.
How to Start a Bullet Journal
You will first gather your materials before you start to learn the basic layout for your journal. Essentially, all you need is a journal and pen. This tutorial will show you how to create the best possible layout with a selection of the following tools and materials.
List of Materials
If you have a love for supplies and color, do not hold back on letting your creativity shine! If you enjoy more minimalism and simplicity, that is simply fine too. Go ahead and begin setting up a clean and simple format using materials of your choice. In this tutorial, we will use the following materials:
Bullet journal of your choice
Pen of your choice
Pencil
Eraser
Ruler
Marker
Masking tape or washi tape
Bulldog clips or pegs
How to Make a Bullet Journal: A Step-By-Step Tutorial
Before you skip ahead and start mapping out your life across the contents of the journal, it is important to get your mindset right from the get-go if you want to learn how to bullet journal properly. You will begin from absolute scratch, working towards creating an index to setting up your contents, including daily to-do's, monthly and weekly calendars, tracking physiological and mental health, as well as record goals. The style in which you choose to work is entirely up to you!
Step 1: Prepare Your Materials
Gather all the necessary materials needed for learning how to bullet journal and set up your workspace. It is recommended to sit at a desk or work on a hard surface to keep lines clean and straight. Find a comfortable seat, grab a tea or coffee, and enjoy the process of summarizing all the important things in your life.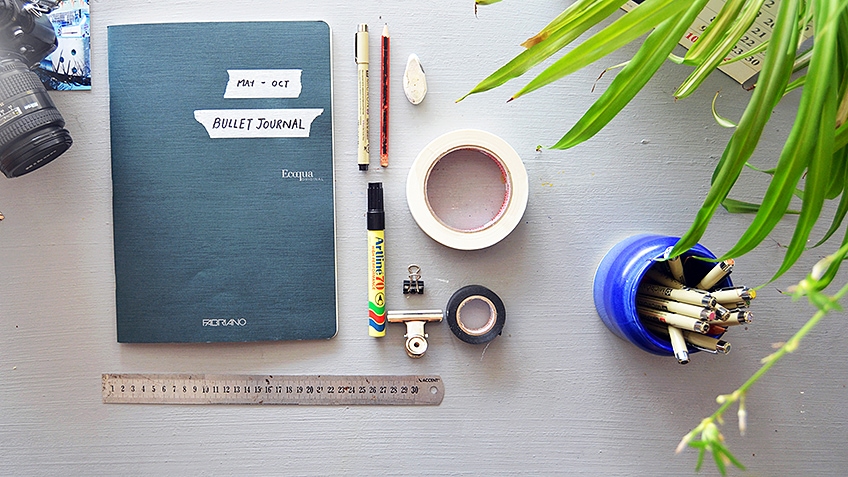 Step 2: Create an Index Page
The index is a super-functional page. It should feature on the first empty spread of your book as something you can visit when searching for recorded items of significance. Your index should include a list of page descriptions which can be updated regularly as you move through your bullet journal. It does not need to be consecutive, but you should maintain a sense of order. To create your index, write the "Index" title at the top of the page and place two columns anchored to the left with a ruler. In the left column, write "Page Number" and in the right column write "Page Title." Lastly, place a page number in the bottom left corner to start your numbering system. Leave the facing page open for future index details.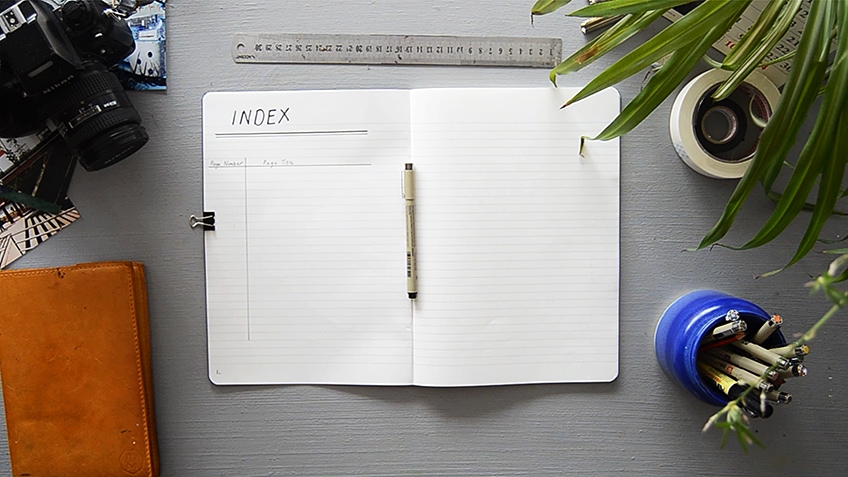 TIP: You can use a pencil to create your outlines before using a pen.
Step 3: Create a Key
On the next open spread, title your page "Key." This key should consist of symbols including dots, dashes, squares, circles, and stars, which will feature as the most important points to cover within your bullet journal guide. Each symbol has a different meaning, and each person may have a different idea about which symbols to use for their own key. You can follow the example in the tutorial if you are just starting with learning how to make a bullet journal.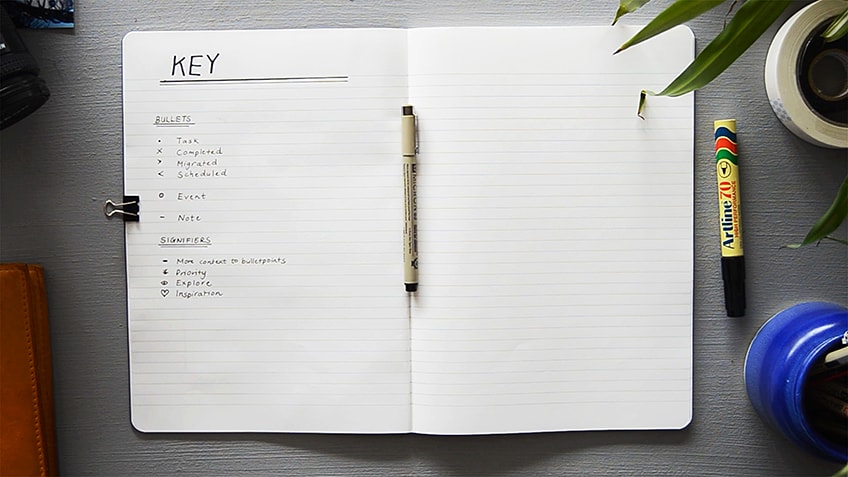 Step 4: Create Collections
The bullet journal basics cover important guidelines throughout the process of learning how to make a bullet journal. Collections help you look at each individual month to gather thoughts, log and track your daily movements and organize the scattered aspects of your life. These include calendars, future logs, monthly logs, daily or weekly logs, as well as other forms of tracking and logging.
Step 4.1: Create a Half-Yearly Calendar
On the following open spread, begin planning a grid consisting of a six-month calendar from May through to October. To achieve this, create three balanced vertical lines with a ruler and pencil on each page. This will amount to six individual columns across the spread. At the top of each column, add a title for the name of the month and begin writing the relevant dates down the left side of each column. If you wish, you can also add miniature calendars for every month within these columns.
Step 4.2: Create a Future Log
Although the bullet journal method does well to focus on each month as it comes, future logs look towards making space for noting significant events and dates to come within the year. To start your future log, start listing one to thirty, or thirty-one, below one of your half-yearly calendars for each month. It is recommended to watch the video tutorial to follow these steps to attain a similar format.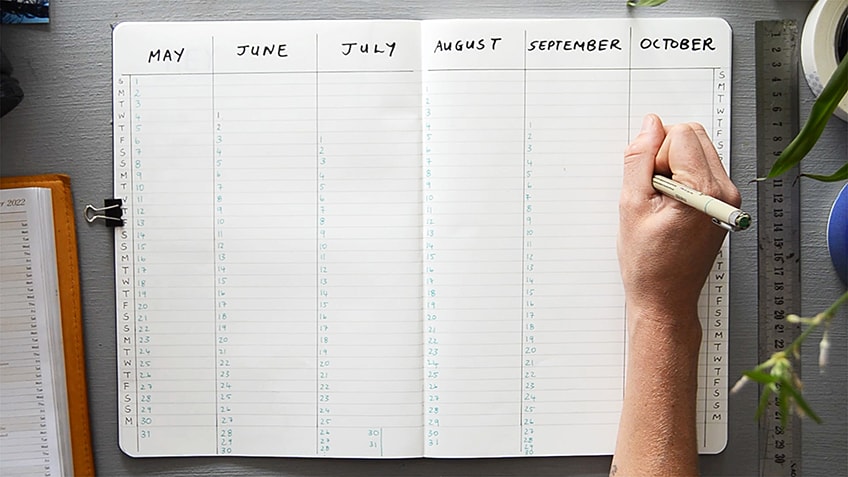 TIP: You can use masking tape or washi tape to group and divide months as you work through them.
Step 4.3: Create a Monthly Log
Open up to the next blank spread and write the month's title across the top of the page. Draw up a calendar with a ruler and pencil according to the month in which you are learning how to start a bullet journal. You can also do this in list form. This month's grid should include the first letter of each day of the week in the top left corner of each box. Then add the dates' unit in the top right corner of each box to complete your month. Find the video tutorial for a better look at this method. Once you have your lines drawn in with a pen and have erased the pencil, you can start writing down and highlighting the important dates for that month.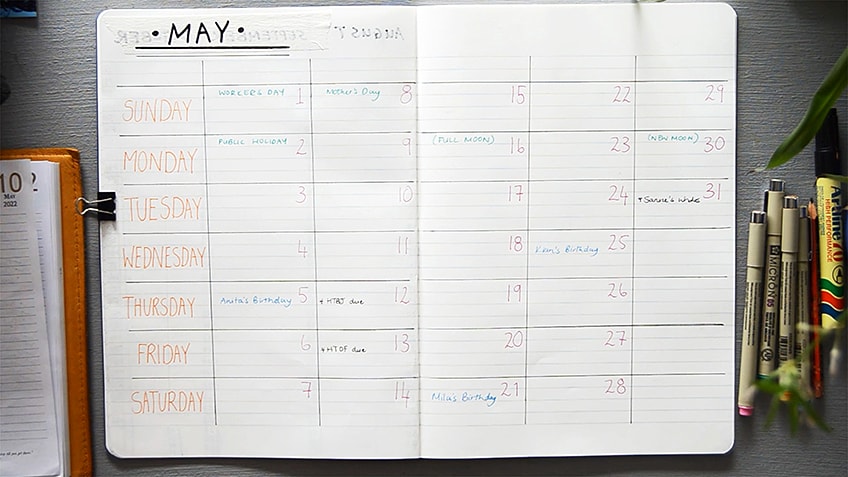 Step 4.4: Goals, Trackers, and Other Logs
This is where you can really start customizing your collections according to your lifestyle. This can also be done towards the end of your journal, but it is a great way of checking in with yourself from month to month. These collections can run across four pages, as shown in the video tutorial, and could include the titles "Self-Check-In," "Thoughts," "Tracker," "Gratitude's" and other themes. This is also a space for you to add any extra to-do lists, personal goals, achievements made, books to read, movies to watch, and even financial planning.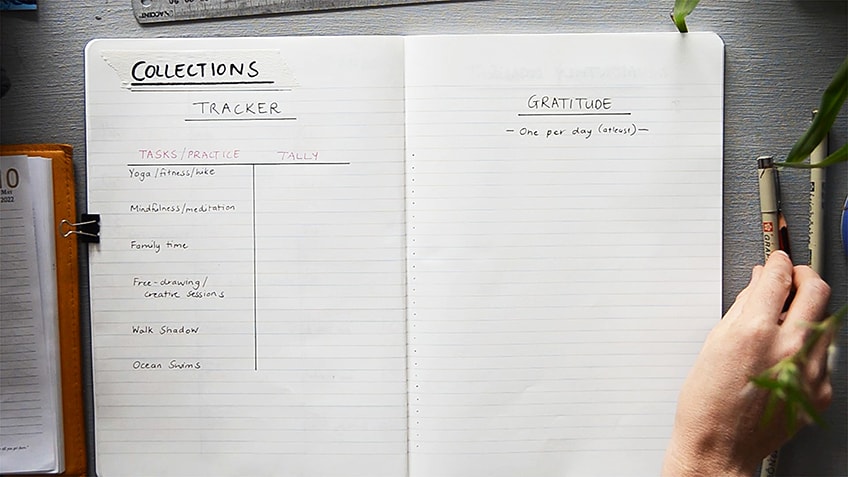 Step 4.5: Create a Daily Log
Your daily or weekly log is something you will visit most while working with the bullet journal method. To create a daily log, turn to the next open spread and divide it into six columns again, adding titles from left to right labeling "Monday" through to "Sunday" with Saturday and Sunday sharing a column. You can also use one page per date according to how busy your schedule may be. This is where signifiers are used as key symbols to represent tasks and aspects of your day-to-day life. Start by jotting down your three most important tasks on that date's to-do list, followed by anything of importance for your day ahead.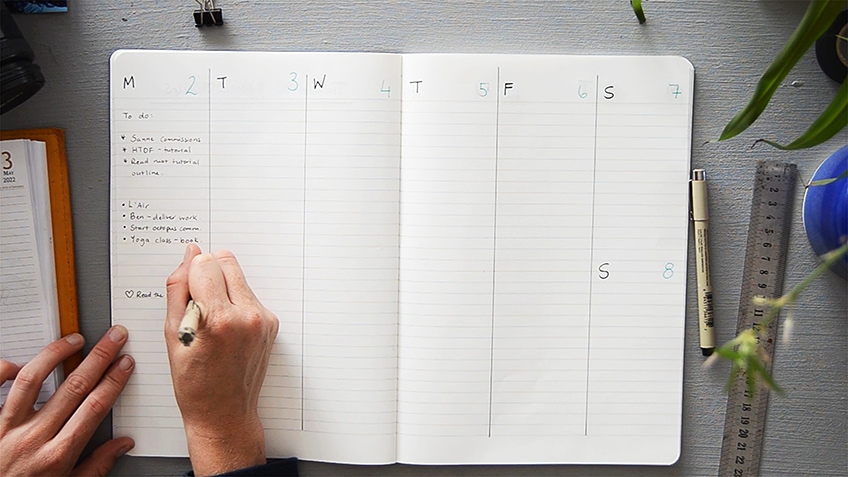 Step 5: Update Your Index and Page Numbers
Once all of your tasks have been noted and are up to date within your bullet journal, you can return to your index to update your journal's contents. Ensure that all pages are numbered correctly so that you are on track with your planning within your bullet journal. This is something you will continue updating as you move through the months.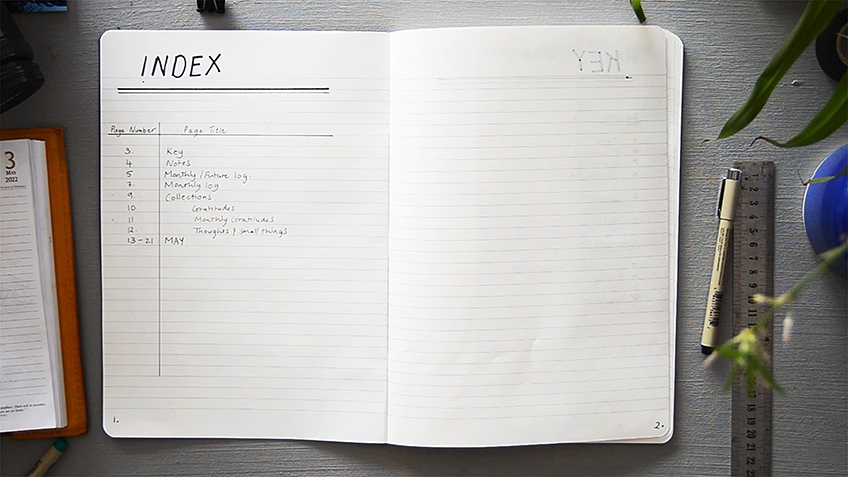 Step 6: Customize Your Bullet Journal and Use It Daily
Now that you have the bullet journal basics down, you have everything you need to fill the book's contents with your own creative flair. You could use colorful embellishments, markers, and other mediums to personalize your journal. The most important thing to note is that if you really want the bullet journal method to work for you, you have to be willing to return to your journal at least daily or even every second day. You will thank yourself later for cataloging memories made, tasks completed, and goals reached – all because of your willingness to be more committed to yourself.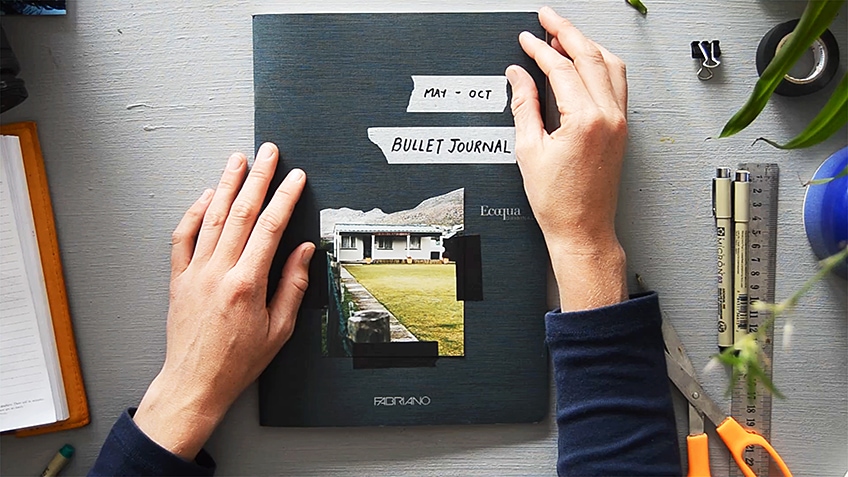 If you have reached this far with learning how to bullet journal, you have already achieved so much! As mentioned before, mindset is key for the bullet journal method to work. The fact that you are intrigued by this concept just shows that you are in search of more productivity and organization in your life. Creating a bullet journal is simply an honest effort to continue checking in with yourself by focusing on the tasks ahead of you and embracing your well-deserved achievements.
Frequently Asked Questions
What's a Bullet Journal?
A bullet journal (or BuJo) contains sections and collections of logging personal daily to-dos by keeping a monthly or weekly calendar. It is a journal with a format that helps you jot down important dates, notes, and physiological and mental health, as well as take note of short- and long-term goals and achievements made during that time. The concept's popularity has grown in the last few years and is known for its reliable planning system, especially with many people becoming remote workers or those running their own businesses.
Why Do People Choose to Bullet Journal?
Think of the empty bullet journal for simply what it is – a blank canvas for you to fill with your life's contents. You may wonder why some people would choose to manually organize and log one's personal data instead of using a tablet, or even an online calendar. It is truly as simple as the desires you may have to page through a book, as opposed to scrolling through your phone. Or possibly using a film camera to capture just one image of nostalgia, as opposed to ten images in one split second. Although it may take more time and effort, there is just something extraordinary about working analog. The bullet journal method allows time for you to sit, focus on your tasks and be present with yourself.
Does Bullet Journaling Help With Anxiety?
Learning how to start a bullet journal will open your mind to a new world of monitoring, not only the tasks knocking at your door, but also your mental and physical state of mind. The bullet journal helps slow your racing mind by acknowledging your plans and goals. This is done simply by jotting your responsibilities and ambitions down. Bullet journaling is one of many ways to reduce your day-to-day anxieties and stresses by manifesting your tasks as something real and tangible. Realizing they are achievable will help you put them into action with a smile on your face.
What Can You Do With a Finished Bullet Journal?
Congratulations on completing your first bullet journal! What it means is that this method clearly worked for you, and now it is time to make space for creating more. What can you do with your finished bullet journal? You can stack it on your bookshelf, or library so that you can return to it when you have questions about where you may have been during that time and the events that took place.
What Is the Difference Between a Journal and a Bullet Journal?
A bullet journal is technically a detailed agenda. A journal could be many things according to each individual. A journal could be used for more free-form writing, drawing, and planning. Whereas a bullet journal follows a specific structure which initially requires quite a bit of effort to set up and format properly. Once this basic format is set up, your only job is to fill in your daily tasks, as well as take note of future plans and goals, to have your bullet journal up and running.
Demi Bucklow is an independent artist and photographer living in Cape Town, South Africa. Since graduating from the University of Cape Town in 2018 from Michaelis School of Fine Art with a degree specializing in fine art photography, she currently works as a freelance artist, content creator and writer. Demi's particular interests explore a range of multimedia illustration, collage art, photography and videography, darkroom processing and stop-motion animation. Her work is an exploration of nature and its phenomenon – somewhere between art and space.
Artistic practice presents the ability to communicate a vision. It is through techniques of pointillism and realism that form, and substance are explored as a metaphor for matter; super-imposing a thousand marks and points until an image is formed before our eyes. From illustrations to surrealist landscapes, Demi translates corporeality – mixing the obtuse and vacuous with the astute and expressive which leads to a mixture of irrevocable pondering over what is and what could be.
Learn more about the Art in Context Team.