Famous Buildings in Australia – Influential Australian Architecture
Australia is a country of diverse landscapes, ranging from rainforests to deserts, and Australian architecture embodies that diversity. Architecture in Australia needs to cater to both those living in the remote outback, as well as those living in the modern metropolises. Therefore, there is a great deal of variation in Australian building styles, and many famous Australian landmarks pay tribute to the history and culture of this diverse nation. Even with such an abundance of Australian architecture, there are still certain famous buildings in Australia that stick out from the rest.
Famous Buildings in Australia
Australian architecture is anchored in modern Western aesthetics, with modifications dependent on climatic considerations and the country's distinct cultural background. Despite being significantly inspired by its British history, Australian architecture has grown to adopt a multicultural identity in terms of style. Architecture in Australia varies according to proximity to the ocean, with indigenous people previously utilizing local materials to make semi-permanent beach dwellings. This ancient Australian architectural heritage may be observed in how modern architects work and design with lighting, environment, and ancestry in mind.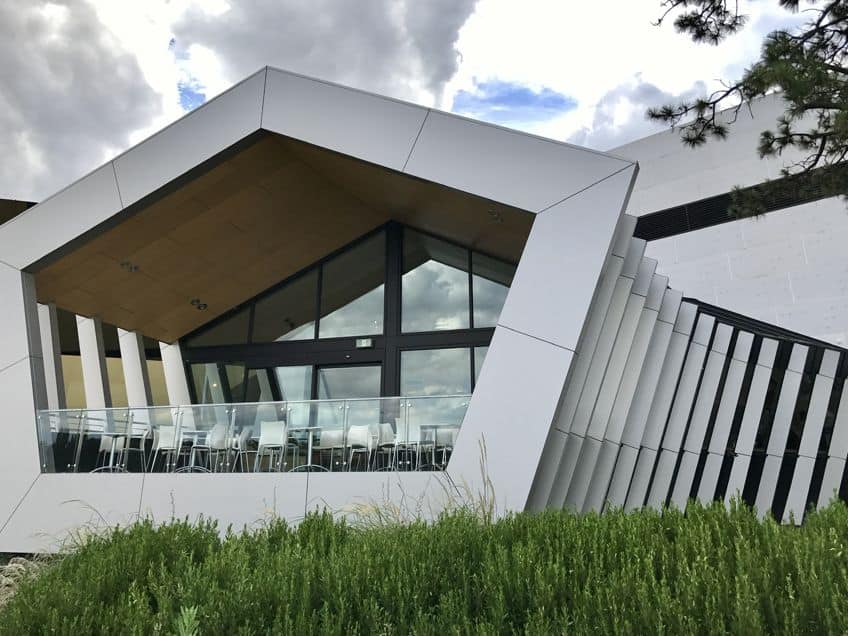 National Museum of Australia building (2016) in Canberra; Kgbo, CC BY-SA 4.0, via Wikimedia Commons
Vaucluse House (1839) in Sydney
| | |
| --- | --- |
| Architect | W. C. Wentworth (1790 – 1872) |
| Date Completed | 1839 |
| Function | Residence (now a museum) |
| Location | Sydney, Australia |
Sir Henry Brown Hayes, an odd Irish knight, built the 1840s Georgian home as a tiny cottage completed in 1803. William Charles Wentworth, adventurer, attorney, and author, bought the house in 1827 as a single-story cottage in an isolated tract of partially removed coastal scrub and expanded it with two and three-story stone extensions. Wentworth, by then a famous person in the settlement, resided there from 1827 and was the creator of the New South Wales constitution.
Wentworth and his wife gradually transformed Vaucluse into a huge and magnificent estate over the course of 50 years.
The premises were expanded and blossomed to encompass the majority of the modern-day suburb of Vaucluse, but the main mansion of their dreams remained incomplete. Robert Bostock designed the spectacular two-story Georgian sandstone home with Gothic elements. It has beautiful cast iron Victorian verandahs with sandstone flagging, and in the early 1860s, thin sets of iron columns were installed.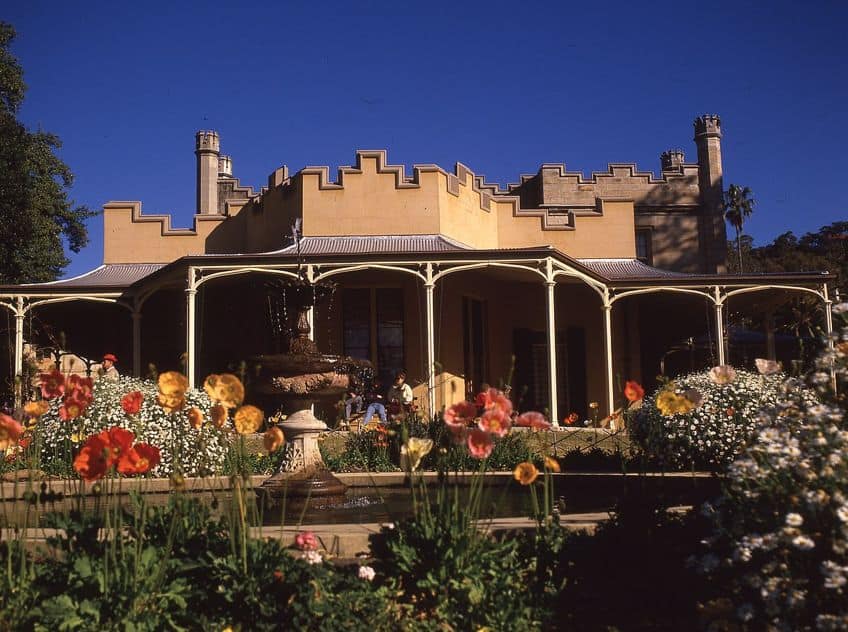 Vaucluse House (1839) in Sydney; Sardaka, CC BY-SA 3.0, via Wikimedia Commons
A gorgeous array of well-detailed Gothic structures, comprising barracks for staff and stables, a fodder room, a harness room, men's quarters, and a coach house, were some of Wentworth's earliest additions to the estate. The venue today offers seminars and events and is well worth a trip for anybody who wants to learn about the intriguing tale of this century-old structure. It has a big entry area, cedar tables, Gothic archways, artworks, and souvenirs. The owners, Sydney Living Museums, have meticulously renovated Vaucluse House over many decades with the help of conservation specialists.
Royal Exhibition Building (1880) in Melbourne
| | |
| --- | --- |
| Architect | Joseph Reed (1823 – 1890) |
| Date Completed | 1880 |
| Function | Exhibition facility |
| Location | Melbourne, Australia |
The grandiose Royal Exhibition Building, located north of the city center, is encircled by Carlton Gardens. The structure was erected for the Great Show of 1880 and is one of the oldest intact exhibition pavilions in the world. It later held the first Commonwealth Parliament commencing in 1901, and it was the very Australian building to be designated a World Heritage Site in 2004. The Royal Exhibition Building's Great Hall, with its painstakingly renovated interior, spacious galleries, and towering dome, is an attractive location for trade exhibits, fairs, community, and cultural events.
Every year, the International Flower and Garden Show is hosted there. Joseph Reed designed the Royal Exhibition Building, which was the largest design completed by the architectural business he managed. Reed claims that the diverse design was influenced by a variety of sources. The Exhibition Building, made of wood, brick, steel, and slate, is in the Romanesque, Byzantine, Lombardic, and Italian Renaissance styles. The dome was inspired by the Florence Cathedral, whereas the pavilions were inspired by Rundbogenstil and many structures from Caen, Normandy, and Paris.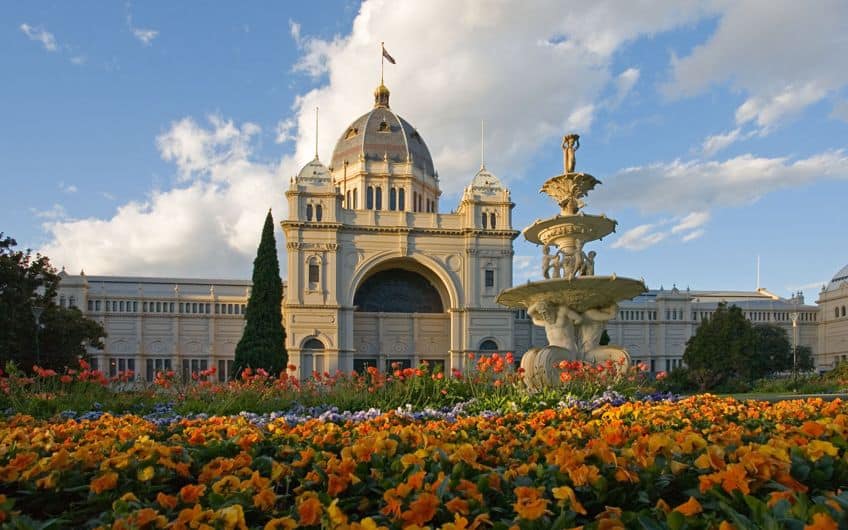 Royal Exhibition Building (1880) in Melbourne; Photograph taken by Diliff and straightened by Ian Fieggen, CC BY-SA 3.0, via Wikimedia Commons
Throughout the 20th century, minor parts and wings of the structure were removed or damaged by fire; fortunately, the main structure, known as the Great Hall, was saved. Throughout the 1990s, it was restored, including the timber floors, exterior, and masonry. Although most timber stairs have been substituted with concrete for safety reasons, the site has remained remarkably true to the original design throughout all the modifications. All expansions, including the West and East annexes and the two North constructions, have been removed. The government has awarded $20 million for additional renovations to maintain and promote one of the most famous Australian landmarks.
Queen Victoria Building (1898) in Sydney
| | |
| --- | --- |
| Architect | George McRae (1857 – 1923) |
| Date Completed | 1898 |
| Function | Shopping complex |
| Location | Sydney, Australia |
This vast and elegant Romanesque-style structure was designed in 1898 by George McRae and served as a produce market for 20 years. It was rebuilt at a cost of $75 million and relaunched in 1986 after surviving repeated threats of demolition and varied usage, such as that of the City Library. The utilization of arches, columns, and an abundance of details, such as McRae's selected design, is characteristic of late 19th-century Romanesque architecture. The site was formerly occupied by a Police Station constructed by Francis Greenway, which was transformed in 1846 into the Magistrate's Court.
The City Council acquired the property for around £124,000 in 1882 for the development of the market building.
This famous building in Sydney has been saved from demolition three times and is now one of the inner city's most famous retail arcades. It is renowned for its Byzantine-inspired sculptures and artworks by 19th-century master artisans, stonemasons, plasterers, and stained glass artists, but it is much more than just shopping in a beautiful classical setting. This upscale shopping mall boasts a massive dome in the middle bordered by Romanesque-style architectural decorations from the 19th century.
Queen Victoria Building (1898) in Sydney; Original: Dietmar Rabich (Derivative work: Democfest) / Wikimedia Commons / "Sydney (AU), Queen Victoria Building — 2019 — 3580 (cropped) – 2" / CC BY-SA 4.0
The company also provides guided tours, which are great for anybody interested in learning about the history and features of the spectacular structure. A Victoria Cross Memorial honors the 96 Australians who have received the Victoria Cross. The names of Australians who have received the Victoria Cross are listed on the wooden honor board. It features a picture by G. W. Thomas showing Queen Victoria delivering the inaugural Victoria Crosses on the 26th of June 1857, in London's Hyde Park. Keep an eye out for the classical artwork on the building's highest level.
Flinders Street Railway Station (1910) in Melbourne
| | |
| --- | --- |
| Architect | James Fawcett (c. 1900s) |
| Date Completed | 1910 |
| Function | Railway station |
| Location | Melbourne, Australia |
Flinders Street Station, which opened on the 12th of September 1854, was Australia's very first railway station. The Melbourne Terminus, as it was known at the time, was a cluster of weatherboard buildings, and the first steam train voyage in Australia went from that terminal to Sandridge on the opening day. By 1926, the station had surpassed all of the other major stations and was regarded as the busiest railway station in the world. The Argus recorded 200,000 people passing through the terminal in one day on the 11th of January 1922. According to a widely circulated urban legend, the design for Flinders Street Station was originally planned for the Mumbai station, while the design for the Mumbai terminal was intended for the Melbourne station.
Flinders Street Railway Station (1910) in Melbourne; Gracchus250, CC BY-SA 4.0, via Wikimedia Commons
A competition was launched in 1899 to design a railway station in Melbourne. H. P. C. Ashworth and James Fawcett received the first-place prize of £500 for their French Renaissance-inspired project. According to the myth, the blueprints were allegedly reversed, culminating in a Gothic-style terminal in India and a slightly East-Indian-style one in Melbourne. An abandoned ballroom remains in ruins above Flinders Street Station. The previously great Ballroom, located on the third level, hosted dancing courses, ballroom contests, and performances for 400 people. During WWII, dances were hosted for Allied soldiers, and in the 1950s and 1960s, it was one of the city's most fashionable dance halls. The last dance took place on the 10th of September 1983, and the venue has since been permanently closed to the public. A disused gymnasium next to the ballroom was previously used by the station's male workers and had a billiards area and a boxing ring.
Shrine of Remembrance (1934) in Melbourne
| | |
| --- | --- |
| Architect | James Wardrop (d. 1975) |
| Date Completed | 1934 |
| Function | Shrine |
| Location | Melbourne, Australia |
The Shrine of Remembrance is a massive War Memorial in Melbourne erected in the 1930s. This signifies that it honors the brave people who fought in World War I. It is one of Australia's largest constructions of its sort, and it was built to imitate the Mausoleum of Halicarnassus, which was one of the seven ancient wonders of the world that has since been demolished and after which mausoleums have been named. The Parthenon in Athens was another notable design influence on the shrine.
The Shrine underwent a prolonged development process that started in 1918 with an early idea to erect a Victorian monument.
Two committees were created, the second of which held a design contest for the memorial. In 1922, the winner was revealed. Opposition to the concept, spearheaded by the Herald Sun, pushed the authorities of the time to reconsider the design. Several alternatives were presented, the most notable of which being the Anzac Square and cenotaph plan of 1926. In reply, General Sir John Monash used the Anzac Day march in 1927 to gather supporters for the Shrine, and later that year, he obtained the approval of the Victorian government.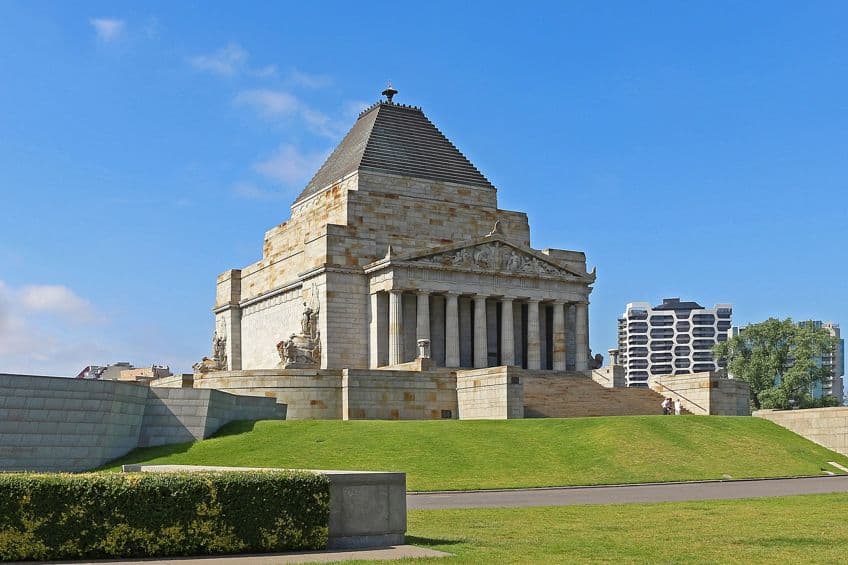 Shrine of Remembrance (1934) in Melbourne; Bernard Gagnon, CC BY-SA 4.0, via Wikimedia Commons
On the 11th of November 1927, the foundation stone was placed, and the Shrine was formally dedicated on the 11th of November 1934. During the 1990s, repair work on the terraces enclosing the Shrine opened up the possibility of utilizing the space beneath the Shrine: because the Shrine was built on an empty artificial hill, the undercroft (which was at that time still filled with construction rubble) provided a substantial space for development. As many of the remaining soldiers and their families found the steps at the original ceremonial entry difficult to traverse, the new construction was meant to provide a visitor's center, administration offices, and greater access to the Shrine's tomb.
Australia Square Tower (1967) in Sydney
| | |
| --- | --- |
| Architect | Harry Seidler (1923 – 2006) |
| Date Completed | 1967 |
| Function | Office and retail |
| Location | Sydney, Australia |
This historic skyscraper, located in the heart of Sydney's financial area, is a 50-story office and retail complex. The renowned high-rise, which has an original design, was envisaged as a two-building construction and contains a skyscraper that was once the city's highest. To make space for the tower, plaza building, shop complex, public plaza, and parking, 30 structures on the site were initially removed. Australia Square was Sydney's first skyscraper and the world's highest lightweight concrete structure when it was completed. It developed innovative construction and design concepts, smashing records and creating a new standard in office skyscraper design.
The structural system, designed by one of the world's best engineers, Pier Luigi Nervi, included cutting-edge technology at the time. Alexander Calder, a well-known American artist, was commissioned by Harry Seidler to create a sculpture for Australia Square. Crossed Blades (1968) has become a prominent element of the building's plaza space, which Seidler describes as an "open yet enclosed space" akin to a medieval city's town square. The plaza is usually regarded as a forerunner of the notion of civic space on private property.
Australia Square Tower (1967) in Sydney; Elekhh at English Wikipedia, CC BY-SA 3.0, via Wikimedia Commons
Seidler was dedicated to creating a greater physical world in which construction is an art form as well as contemporary, socially conscious, and environmentally conscious. Seidler's distinct, dramatic architectural style was applied to houses, flats, workplaces, and public facilities both in Australia and across the world for more than five decades, and he garnered prizes and honors in every phase of his career. Australia Square is more than another Australian building; it is a symbol of the remarkable invention that continues to captivate Sydney residents far into the 21st century. The newspapers labeled it "a marvel," and "a piece of art without equivalent in Australia" in 1967, comments that still ring true today.
Sydney Opera House (1973) in Sydney
| | |
| --- | --- |
| Architect | Jørn Oberg Utzon (1918 – 2008) |
| Date Completed | 1973 |
| Function | Opera House |
| Location | Sydney, Australia |
The Sydney Opera House is the most famous building in Sydney. It is a multifunctional performing arts center with an over 2,670-seat Concert Hall that hosts choir performances, symphonies, and popular music concerts. Additionally, three theaters of various shapes and sizes are available for film screenings, stage plays, and smaller musical concerts. The Forecourt, located on the complex's southeast side, is utilized for outdoor concerts. A professional recording studio and several restaurants are also housed in the building.
The Australian government funded an international design challenge in 1956 for a complex with two halls, one for musical performances as well as other big dance and music shows and the other for theatrical productions and smaller musical events.
Over 230 submissions were received by architects from around 30 countries. The winning submission, that of Jørn Utzon, a Danish architect, was declared in January 1957 by the evaluating committee, with a spectacular design depicting a structure of two major halls placed side-by-side looking out to the harbor on a massive platform. Each hall was capped with a series of sail-shaped interconnecting panels constructed of precast concrete that would operate as both a ceiling and walls.

Sydney Opera House (1973) in Sydney; Benh LIEU SONG (Flickr), CC BY-SA 4.0, via Wikimedia Commons
His winning submission launched Utzon to worldwide fame. Yet, construction, which started in 1959, presented a number of challenges, many of which stemmed from the building's unique design. The inauguration of the Sydney Opera House was initially scheduled for the 26th of January in 1963, but additional costs and structural engineering challenges in implementing the design impeded the project's progress, which was marred by several delays. The concept became polarizing, and public sentiment shifted against it for a while. However, today it is considered to be one of the most famous buildings in Australia.
Rialto Towers (1986) in Melbourne
| | |
| --- | --- |
| Architect | Perrott Lyon Mathieson (est. 1914) |
| Date Completed | 1986 |
| Function | Offices |
| Location | Melbourne, Australia |
Rialto is made up of two interlinked buildings, South and North, with rooftop floors on Levels 58 and 41, respectively. This skyscraper in Melbourne's core business center has Gothic architectural features, an observation deck that is accessible to the public, and a huge glass front. This iconic structure, which was completed in 1986 during the Melbourne gold rush, has 63 stories above ground and 3 levels below ground and was formerly the highest skyscraper in the southern hemisphere. Inspired by the Empire State Building run-up event in New York, the building holds a tower-running competition every year, with competitors ascending more than 1,640 steps to the sky deck. Robin Rishworth and Geoff Case are two previous winners. The winner received a trip to New York City to race the Empire State Building. The event was held every year until 2005.
Rialto Towers (1986) in Melbourne; Papphase, CC BY 3.0, via Wikimedia Commons
Regarded as one of the famous Australian landmarks, it was designed by Perrott Lyon Mathieson, was constructed between 1982 and 1986, opened in October 1986, and derives its name from the significantly older Rialto Building which is located next door. Its prominent feature is a large glass curtain wall facade of strengthened blue tinted mirrored glass that changes color throughout the day, ranging from a distinctive dark blue to a bright gold towards sunset. From 2015 to 2017, the partially covered, partially open forecourt podium was substituted with a 5-story perimeter structure featuring offices, shops at floor level, and an interior glass-roofed space between it, the skyscrapers, and the historic Victorian-era Rialto building. Woods Bagot architects designed this extension.
Parliament House (1988) in Canberra
| | |
| --- | --- |
| Architect | Romaldo Giurgola (1920 – 2016) |
| Date Completed | 1988 |
| Function | House of parliament |
| Location | Canberra, Australia |
The Government of Australia is headquartered in Canberra at Parliament House. It was constructed between 1981 and 1988 atop Capital Hill in Australia's capital city. It was officially inaugurated by Queen Elizabeth II and is regarded as one of the most famous buildings in Australia. It cost a stunning A$1.1 million to construct in the 1980s, which is almost A$4.5 billion now. The total floor area of the facility is 250,000 square meters. Given the elevated site, over 1 million cubic meters of rock had to be removed, a massive undertaking.
The Australian building, which has over 4,500 rooms, great halls, and foyers, is inspired by the form of two boomerangs that reflect the historical, cultural, and legislative development of the country.
The structure also holds notable exhibits such as the Magna Carta, intriguing artworks, and portraits of prior prime ministers. The House of Representatives chamber is painted green, whereas the Senate chamber is painted red. The Members' Hall, which contains a water feature and is not accessible to the general public, is situated between the two chambers. The Prime Minister's Office and other ministry offices are housed in the Ministerial Wing.
Parliament House (1988) in Canberra; Thennicke, CC BY-SA 4.0, via Wikimedia Commons
Notable renovations and extensions have been undertaken over time. The Parliament House building has garnered positive feedback for its aesthetics and political symbolism, notably the grass-covered roof that enables guest access. Andrew Leigh has lauded the approach "the building was built to come out of Capitol Hill – rather than resting atop it as an overpowering edifice". The new Parliament House is widely acknowledged to be more open and light-filled than the original, as well as less crowded.
Q1 Tower (2005) in Surfer's Paradise
| | |
| --- | --- |
| Architect | Sunland Group (est. 1983) |
| Date Completed | 2005 |
| Function | Residential and observation |
| Location | Surfer's Paradise, Australia |
This famous Australian building, situated in the heart of Surfer's Paradise, provides fantastic accommodation and culinary possibilities on the Gold Coast. As the highest skyscraper in the southern hemisphere, the tower is a remarkable feat of architectural perfection with design features inspired by the essence of Australia. The building also features several five-star restaurants, beachfront cafés, and penthouses, as well as the first seaside observation deck. SkyPoint Observation Deck, positioned 230 meters above sea level provides spectacular views of Australia's Gold Coast. The observation deck's unique vantage position allows you to see the whole city skyline from one spot while enjoying a wonderful meal or a specialty drink at the Gold Coast's highest bistro and bar, which is located 77 floors up!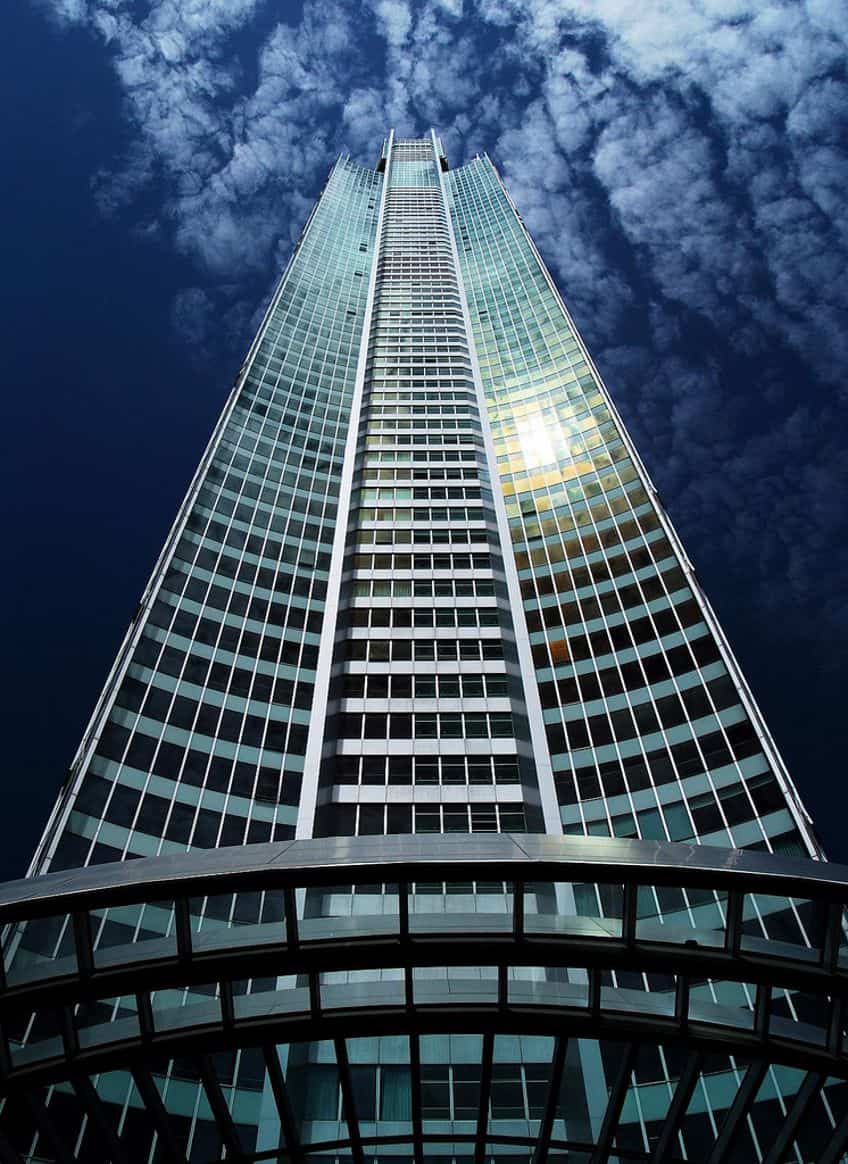 Q1 Tower (2005) in Surfer's Paradise; Syed Abdul Khaliq from Shah Alam, Malaysia, CC BY 2.0, via Wikimedia Commons
The Sunland Group designed the tower, which was inspired by the Sydney Opera House and the Sydney 2000 Olympic torch. The name honors members of Australia's Olympic sculling squad from the 1920s – Q1. Based on movement, wind, and tension research, the design involved a network of ribbons wrapping concentrically around the building's facade and suspended above the entry plaza space, offering shade and cover. The progressive bending of the aluminum-clad ribbons as they flow around the structure expresses the stress in the movement and unconstrained form.
The end product is an open-air shopping mall-like district beneath the glass ribbon framework and a curving store facade to the street boundaries. During New Year's Eve festivities, the famous building has been used as a fireworks launch point. Despite the body corporate committee treasurer's assertions that the majority of the tower's unit holders were against their stay, the tower is one of the most popular locations for students during "schoolies" week.
As we have observed from this list of famous buildings in Australia, architecture in Australia is a combination of many styles from across the world. Yet, these famous Australian landmarks all offer something that is unique to the country itself. Whether a famous building in Sydney, Melbourne, or even Canberra, there is something about Australian architecture that makes it stand out on the international scene!
Frequently Asked Questions
What Is Australian Architecture?
Architecture in Australia is characterized by a wide diversity of styles that are impacted by variables such as the country's history, location, and sociocultural factors. The incorporation of natural materials, an emphasis on the harmony of buildings with their surroundings, and the employment of creative design aspects are some of the fundamental characteristics of Australian architecture. Other characteristics of Australian buildings include the use of balconies, verandas, and courtyards to provide a link with the outdoors, as well as the application of passive solar design concepts to make Australian buildings more energy-efficient.
What Is the Most Famous Building in Sydney?
The Sydney Opera House is among the world's most famous and recognizable structures, known for its distinctive Australian architecture and cultural relevance. Jorn Utzon designed the Opera House, which was completed in 1973. This Australian structure is known for its unusual sail-like shells made of pre-cast concrete panels, reinforced with steel frames. These shells serve as the foundation for the facility's many performance venues, which include theaters, concert halls, and other areas for dance, music, and drama. The Sydney Opera House is notable for its cultural relevance in addition to its architectural significance. Many of Australia's greatest performing arts groups call it home, and it stages a diverse spectrum of productions including ballet, opera, classical music, and drama. It is also a popular tourist destination, with millions of people visiting it each year. The Sydney Opera House is a contemporary architectural wonder that is not only recognized as one of the most famous buildings in Australia, but also one of the greatest structures of the 20th century around the world.
Justin van Huyssteen is a freelance writer, novelist, and academic originally from Cape Town, South Africa. At present, he has a bachelor's degree in English and literary theory and an honor's degree in literary theory. He is currently working towards his master's degree in literary theory with a focus on animal studies, critical theory, and semiotics within literature. As a novelist and freelancer, he often writes under the pen name L.C. Lupus.
Justin's preferred literary movements include modern and postmodern literature with literary fiction and genre fiction like sci-fi, post-apocalyptic, and horror being of particular interest. His academia extends to his interest in prose and narratology. He enjoys analyzing a variety of mediums through a literary lens, such as graphic novels, film, and video games.
Justin is working for artincontext.org as an author and content writer since 2022. He is responsible for all blog posts about architecture, literature and poetry.
Learn more about Justin van Huyssteen and the Art in Context Team.
Cite this Article