The Bronco Buster statue was the first Frederic Remington bronze ever produced. Bronco Buster by Frederic Remington displays the artist's eye for drama which he had developed in his years as an illustrator of western frontier life. This iconic little sculpture has become one of the most renowned bronzes of the early 20th century.
Bronco Buster (1895) by Frederic Remington
| | |
| --- | --- |
| Artist | Frederic Remington (1861 – 1909) |
| Date Completed | 1895 |
| Medium | Bronze |
| Location | White House, United States |
Remington's detail-oriented approach is evident in the Bronco Buster statue, as is his innovative depiction of intense movement mixed with a subtle sense of equilibrium. A replica of this Frederic Remington bronze sculpture has been housed in the White House since the time of Theodore Roosevelt's presidency. It has subsequently come to represent everything victorious and courageous about the American West.
Before we learn more about the famous Frederic Remington bronze, though, let us take a look at the man behind the "Bronco Buster" statue.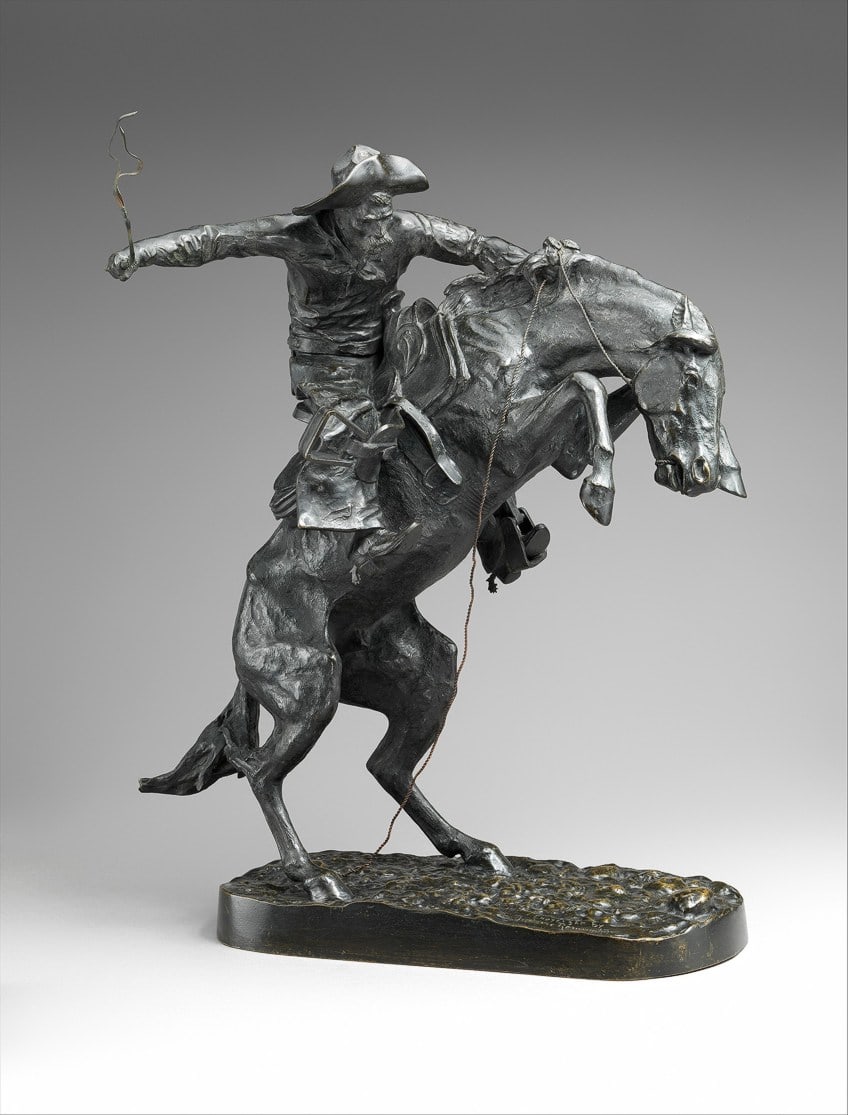 The Broncho Buster (1895) by Frederic Remington; Frederic Remington, CC0, via Wikimedia Commons
Who Was Frederic Remington?
| | |
| --- | --- |
| Nationality | American |
| Date of Birth | 4 October 1861 |
| Date of Death | 26 December 1909 |
| Place of Birth | Canton, New York |
Remington was born on the 4th of October, 1861 in Canton, New York. He grew up during the Civil War, and his childhood interests included horseback riding, fishing, boating, hunting, and the great outdoors. From his school days, he loved drawing and sketching various things, particularly soldiers in military attire. Remington explored numerous different interests as a young adult. He started college but left in 1880 after his father died suddenly of an illness.
He then focused on the business world, although most of his governmental and commercial ventures lasted only a few months.
He encountered and started courting Eva Adele Caten in the summer of 1879, and they wedded in the fall of 1884. The couple attempted the grueling Western frontier life for a while before choosing to relocate to Brooklyn in New York. Eventually, Eva left and returned back to her family home due to some poor business decisions. Remington then spent many weeks wandering in the desert, cleansing his soul.
Portrait of Frederic Remington, before 1909; Davis and Sanford, Public domain, via Wikimedia Commons
He then returned to collect his wife and take on his responsibilities. Remington got to do some work for Harper's Weekly using his collection of western sketches shortly after arriving in New York. He subsequently set about establishing himself as an artist. Remington's art career blossomed during this period, and he became one of the most prolific artists of his time.
In his sketches, he depicted the subjects that aroused his curiosity the most: horses, soldiers, and the western frontier. In exchange, Remington turned these personal interests into public interests.
Remington is often regarded as America's most popular 19th-century Western artist. Remington died unexpectedly in December 1909, at the peak of his profession, from a burst appendix. Remington enjoyed the great outdoors, bringing people along on epic trail rides, nature excursions, and hunting and fishing excursions. His art has inspired and will continue to inspire people to love and appreciate the simple life of the American West.
Frederic Remington's 1895 The Bronco Buster on display at the de Young Museum, San Francisco, California; Joe Parks from Berkeley, CA, CC BY 2.0, via Wikimedia Commons
Creating the Bronco Buster Statue
The statue was completed in the summer of 1895, and it was registered with the United States Copyright Office later that autumn. He drew inspiration for his design from several of his previous sketches. A few of these sketches had previously appeared in various publications such as Century Magazine's March edition in 1888, and the 30th of April edition of Harper's Weekly in 1892. Producing sculptures was a new field for Remington at that time, and it was regarded as a tremendous achievement by collectors and critics alike.
Remington advanced to the next stage of his creative talent through the more powerful medium of three-dimensional representations, breaking free from the constraints of flat paper, ink, pen, and watercolor.
Remington, who had always striven to convey the spirit of the moment in his art, discovered that he was now better equipped to portray what he had witnessed firsthand: "Only those who have mounted a stallion for the first time, or who have witnessed a train catastrophe, can appreciate the intensity of such events. Few Easterners truly appreciate the leaps, moans, and stiff-legged poses".
The Broncho Buster (1895) by Frederic Remington; Frederic Remington, Public domain, via Wikimedia Commons
With this in mind, he chose to make his first work a bucking bronco. Remington withdrew the figure from its setting and separated it into a free-floating figure, creating a realistic appearance and dynamic movement with approaches from his existing works. A photo of a cowboy that resembles his 1892 drawing of a Bucking Bronco was incorporated into the artist's reference file for the statue.
The Rough Riders presented Theodore Roosevelt with a cast of the statue on the 13th of September, 1898.
Remington described the gesture as the nicest praise he had ever received and that everything else would seem insignificant after that. " There could have been no more suitable present from such a troop," Roosevelt remarked. The Rough Riders cast that Theodore Roosevelt was presented with is currently on display at the Sagamore Hill National Historic Site in New York. From Jimmy Carter's through Donald Trump's administrations, the Oval Office housed an original cast, however, during the Biden presidency, it was removed from the office.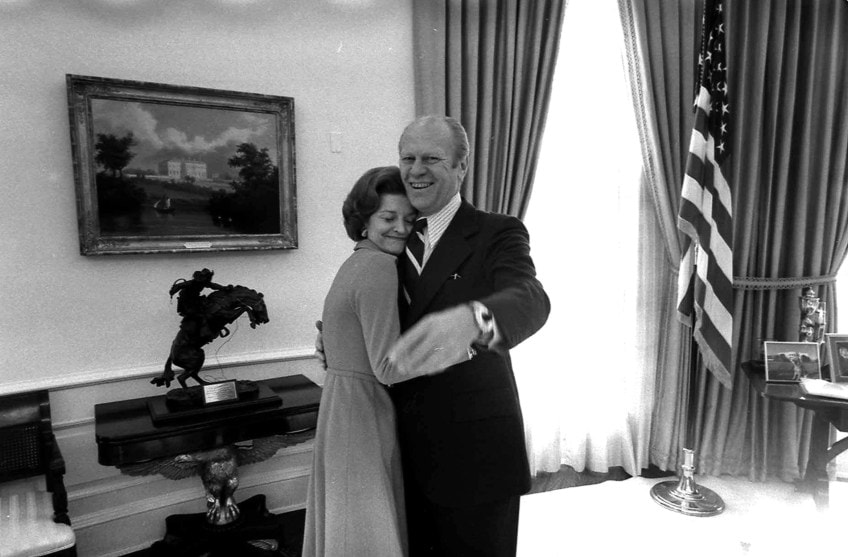 Frederic Remington's Bronco Buster (1895) on display in the Oval Office in a photograph of President Gerald R. Ford and First Lady Betty Ford hugging each other; David Hume Kennerly, Public domain, via Wikimedia Commons
The Frederic Remington Bronze and the Oval Office
There were several casts originally made of the Bronco Buster statue, and one of them had been given to the White House as a gift in 1976 during the presidency of Jimmy Carter and had been displayed in the oval office ever since. However, in 2021, when Biden took over the seat of the president, the statue seemed to have disappeared from sight. However, this was not a case of vandalism – each sitting president gets to choose which of the White House's selections of artworks and ornaments will be displayed in the oval office based on their own personal preferences.
It is not the only one of the artist's works to have featured in the oval office though.
Another of his works, The Rattlesnake, was displayed there during the presidency of Ronald Reagan in the early 1980s. The sculpture of the cowboy on horseback, steering the animal away from a rattlesnake was also seen in photos taken during the presidency of George Bush. There are several more works of his that have appeared at various governmental functions such as Coming Through the Rye (1902).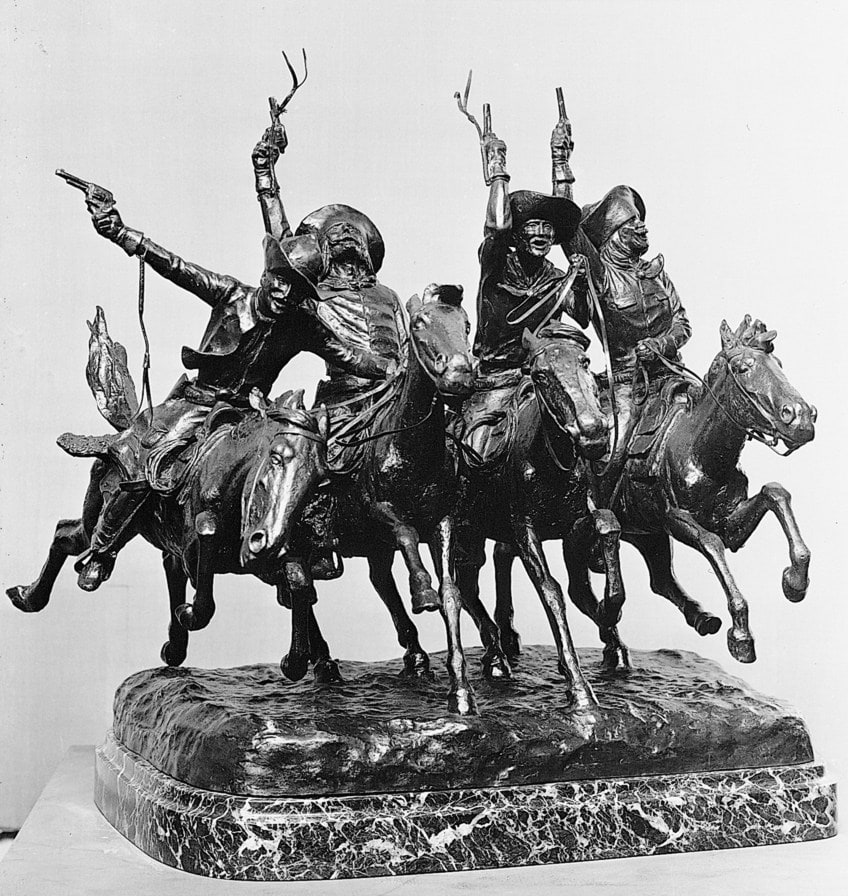 Coming Through the Rye (1902) by Frederic Remington; Frederic Remington, CC0, via Wikimedia Commons
There was no apparent political reason for the removal of the statue beyond aesthetic preferences, and it is not uncommon for the works in the White House's possessions to be rotated and changed depending on the occasion. What is quite incredible about the original casts such as the one housed at the White House, is that the artist employed the lost wax method of casting, allowing him to make small changes and alterations to the cast as he saw fit. This means that even though they were all based on the same original Bronco Buster statue, he was able to alter and customize each piece to better suit its intended home or purpose.
"Bronco Buster" by Frederic Remington is quite a remarkable statue. For someone's first foray into bronze sculpture, it certainly gained worldwide recognition and admiration. However, it was not his first attempt at art in general, and he had been a successful illustrator of the American west for many years – creating illustrations of cowboys and horses for various publications such as "Harper's Weekly". It was due to his hours spent depicting horses and cowboys in dramatic poses that the artist developed an ability to portray the same dramatic action in his sculptures as he did in his drawings.
Frequently Asked Questions
What Is the Bronco Buster Statue About?
This dramatic depiction of a rancher taming a wild horse was the creator's first attempt in bronze, and he portrayed the single most dazzling moment of the action with an illustrator's sense for the dramatic. Although the horse and human are at odds, they are drawn together at the moment of greatest exertion. The cowboy lunges forwards, his whip hovering in midair, clutching the reigns and the horse's hair as the horse springs up, back arching and tail spread. The statue has become a symbol of the enduring spirit of the American west, and an emblem of the resilience of its people.
Why Is Bronco Buster by Frederic Remington No Longer in the White House?
If you are a fan of the statue and are concerned that it is no longer in the white house, then perhaps some clarification is needed to put your mind at ease. It is still at the White House, just not currently displayed in the Oval Office. It is up to the sitting president to decide how they would like to decorate the office based on their own personal tastes and preferences. This is not always a political choice, but rather an aesthetic one. Or perhaps there are other artworks in the collection that better reflect the ethos and values of the president. It has been in the oval office since the mid-1970s, so perhaps it is also good to give some of the other works some public attention too.
Isabella studied at the University of Cape Town in South Africa and graduated with a Bachelor of Arts majoring in English Literature & Language and Psychology. Throughout her undergraduate years, she took Art History as an additional subject and absolutely loved it. Building on from her art history knowledge that began in high school, art has always been a particular area of fascination for her. From learning about artworks previously unknown to her, or sharpening her existing understanding of specific works, the ability to continue learning within this interesting sphere excites her greatly.
Her focal points of interest in art history encompass profiling specific artists and art movements, as it is these areas where she is able to really dig deep into the rich narrative of the art world. Additionally, she particularly enjoys exploring the different artistic styles of the 20th century, as well as the important impact that female artists have had on the development of art history.
Learn more about the Art in Context Team.