Who was Albert Bierstadt? Despite criticism in his later years for being extravagant and unpolished, Albert Bierstadt is largely regarded today as being one of America's best landscape painters; a man whose works present a distinctive image of the natural history of America throughout the last half of the 19th century. He created epic landscape paintings of the wild American West using drawings and photographs, which were enormously popular with the American audience. Today, we will be taking a closer look at Albert Bierstadt's biography as well as the style of Albert Bierstadt's paintings.
Albert Bierstadt's Biography
| | |
| --- | --- |
| Nationality | German-American |
| Date of Birth | 7 January 1830 |
| Date of Death | 18 February 1902 |
| Place of Birth | Solingen, Rhine Province, Germany |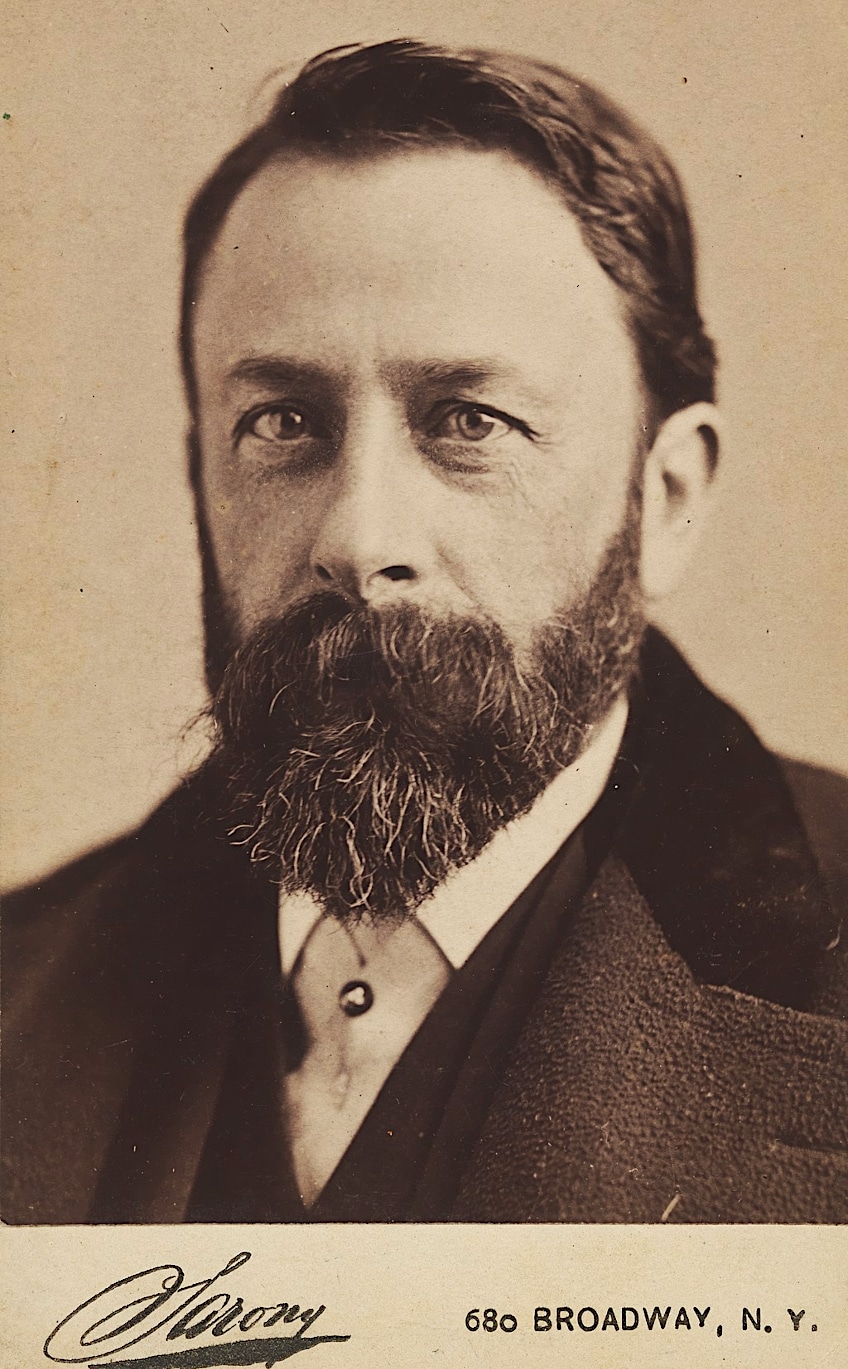 Photograph of Albert Bierstadt by Napoleon Sarony (c. 1870); Napoleon Sarony, CC0, via Wikimedia Commons
Bierstadt used color for poetic rather than realistic effects, and it was large in size and overpowering in emotional resonance. Albert Bierstadt's paintings, heavily influenced by his European travels, advocated the notion of preservation, resulting in the construction of additional National Parks, but also spotlighting the suffering of Native Americans and the danger of extermination of the buffalo.
Bierstadt is associated with the Hudson River School's second generation of artists.
Albert Bierstadt sketching among Native Americans in Steamboat Springs, Yellowstone (19th Century); Eadweard Muybridge, Public domain, via Wikimedia Commons
Childhood
The family moved to Massachusetts, before he was two years old, where the whaling business and strong demand for barrels supplied his family with a good quality of life. Bierstadt acquired an early interest in painting, and while paints were difficult to come by, he liked sketching with crayons.
It was a pleasant upbringing, as he subsequently recounted, but nothing more is known about his formative years.
He did, though, help landscape artist George Harvey on a touring display in which the painter projected pictures of his works onto a tiny theater screen while still a youngster.
Education and Early Training
Albert Bierstadt was primarily self-taught and began working as an art tutor in New Bedford at the age of 20. He began experimenting with oil paintings a year afterward. In addition, 13 of his pieces were shown for the first time at the New England Art Union. After showing at the Academy of Fine Arts in Massachusetts, he traveled to northern Europe in 1853, hoping to enroll at the Düsseldorf School.
The Düsseldorf School was founded by a group of artists from the German Romanticism movement, including Karl Friedrich Lessing, Andreas Achenbach, Hans Fredrik Gude, and Johann Wilhelm Schirmer. These painters were proponents of outdoor painting, and their paintings frequently had religious overtones.
While in Düsseldorf, Bierstadt searched for Emanuel Gottlieb Leutze and Worthington Whittredge, hoping to persuade Achenbach to accept him as a pupil. They regarded Bierstadt's art to be unnecessarily ornamental and persuaded him that Achenbach did not accept new pupils. Whittredge and Leutze, did, on the other hand, encourage him to stick with his own aesthetic, which resulted in dramatic compositions, hard-edged Neoclassical illustration methods, meticulous attention to detail, and idealized landscape paintings that were emotional, whimsical, and metaphorical in the subject matter.
Westphalian Landscape (1856); Albert Bierstadt, Public domain, via Wikimedia Commons
Albert Bierstadt stayed in Europe for four years, devoting himself to his work. During his final year in Europe, he traveled across Switzerland, Germany, and Italy with Whittredge. He returned to New Bedford as a mature painter in 1857. He briefly taught painting and drawing before dedicating his full attention to his own art. Originally, Bierstadt created pieces based on imagined European settings. He then joined Frederick W. Lander's road survey in late 1857, traveling the western United States. The government had hired Lander to explore, design, and subsequently build what became recognized as the "Lander Trail" across Idaho and Wyoming.
Indian Camp (1858-59); Albert Bierstadt, Public domain, via Wikimedia Commons
Along the process, Bierstadt drew innumerable drawings and dabbled in the visual medium of photography. His sketches and images served as the foundation for the huge landscape paintings he would later create in his workshop. Bierstadt returned to the Wind River Mountains in 1859, reveling in the spectacular environment and drawing images of native life. He continued on to the Rockies, where the vistas occasionally rivaled those of the European Alps.
"Our own nation provides the greatest resources for the painter in the world", Bierstadt said. Base of the Rocky Mountains (1860) was his first significant work from this era.
Mature Period
When one of his landscape paintings was featured in the annual show at the National Academy of Design in New York in the spring of 1858, it pleased reviewers. He made such an impact that he was awarded an honorary member of the academy a few weeks later. He relocated to New York and quickly established a great following for his landscape paintings of the rocky American West, notably The Rocky Mountains, Lander's Peak (1863), one of his most acclaimed works.
Around the same time, he and his brothers Edward and Charles started a thriving photographic company in New York City.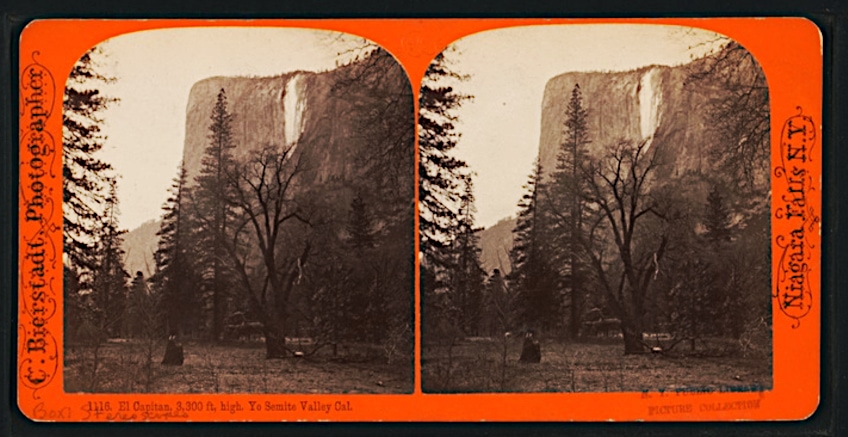 Stereographic photograph of El Capitan, 3,300 ft. high, Yo Semite Valley, Cal. by Charles Bierstadt (1872); Scan by NYPL, Public domain, via Wikimedia Commons
Bierstadt returned west in early 1863, this time with novelist Fitz Hugh Ludlow. The two gentlemen spent around seven weeks in Yosemite Valley before returning home through Oregon. Ludlow and his wife split soon after, freeing her to pursue Bierstadt. Yet, the two remained close friends, with Ludlow being one of the artist's most ardent supporters. Bierstadt was summoned for military service later in 1863, but he paid somebody else to serve instead. The next year, his picture Rocky Mountains was displayed alongside the works of renowned landscapist Frederic Edwin Church at the New York Sanitary Fair.
The Rocky Mountains, Lander's Peak (1863); Albert Bierstadt, Public domain, via Wikimedia Commons
Influential and important critic James Jackson Jarves complimented it for presenting an unrivaled representation of American light. With his fame on the rise, Bierstadt purchased a home and studio overlooking the Hudson River in Irvington, New York City, in 1865. From here, Bierstadt traveled to New Hampshire and New England, frequently accompanied by his photographer brother Edward.
In fact, it was in New Hampshire that he completed what many believe to be one of his most brilliant masterpieces, Emerald Pool (1870).
The Emerald Pool (1870); Albert Bierstadt (07 January 1830 – 18 February 1902), Public domain, via Wikimedia Commons
Bierstadt became connected with the Hudson River School's second generation. These Hudson River painters were labeled "second generation" because unlike their predecessors, they traveled beyond the nearby Hudson Valley to more distant parts of America.
Bierstadt switched his emphasis geographically, portraying the Western region as the pinnacle of the country's undiscovered natural potential.
Furthermore, while the Hudson's group's founding figure, Thomas Cole, focused on producing sublime, metaphorical imagery, the second-generation painters took a different approach, concentrating on close observation of the scenery and the creation of landscape paintings that evoked a feeling of contemplative tranquility in the observer.
California Spring (1875); Albert Bierstadt, Public domain, via Wikimedia Commons
Albert Bierstadt became associated with the notion of destiny after helping to lift the great American West to a degree of national consciousness. This was the widely believed notion in 19th century America that white colonists in the West had chosen a God-given purpose to dominate their surroundings in order to create a new paradise on earth.
"Bierstadt represented the West as Americans dreamed it would be," scholar Anne F. Hyde writes, "which made his works very popular and cemented the notion of the West as being an exquisite Eden".
Late Period
Bierstadt and Rosalie married in 1866 and spent two years exploring Europe as newlyweds. In London, they were allowed a meeting with Queen Victoria, who was a recognized lover of his works; in Paris, Bierstadt was awarded the famous Legion of Honor medal; and in Rome, the pair mingled with the famed composer Franz Liszt. Bierstadt kept painting while traveling and rented workshops. When he returned to America, he went West again, this time to the Sierra Nevada area and Yosemite. Bierstadt stayed for two years, drawing, painting, and selling his work to local clients.
Mountain Landscape sketch from Bierstadt's sketchbook, (1890); Albert Bierstadt, CC0, via Wikimedia Commons
The Bierstadt's traveled to San Francisco on the freshly completed railway line in July 1871. Bierstadt's work The Discovery of the Hudson (1874) was put in the Capitol Building in 1875, and the president welcomed him to the White House the following year.
Despite this honor, Bierstadt's artwork for the 1876 Philadelphia Centennial was poorly regarded and signified the start of a downward spiral in his creative fortunes.
Rosalie was stricken with TB in the autumn of 1876 and was encouraged by her doctor to seek treatment in warmer regions. On the recommendation of her physician, the Bierstadt's relocated to the Bahamas during the winter months, where Bierstadt drew and produced the local tropical scenery and coastlines with fresh enthusiasm.
The Discovery of the Hudson River (1874); Albert Bierstadt, Public domain, via Wikimedia Commons
The Shore of the Turquoise Sea (1878), presented at the National Academy of Design in 1880, was arguably his last acclaimed success. Bierstadt's workshop burnt down in 1882, destroying many of his paintings. This severe setback coincided with a weak art market. The worst blow to his spirit occurred when the American selection panel rejected his application for the Exposition Universelle in 1899, The Last of the Buffalo (1888). In the same year, Bierstadt completed his final voyage west, then northward to Alaska.
Regrettably, he was being eclipsed by the growth of George Inness, a painter heavily influenced by the Barbizon School, who was studying Tonalism and whose approach was gaining favor with reviewers and other artists.
The Shore of the Turquoise Sea (1878); Albert Bierstadt, Public domain, via Wikimedia Commons
Rosalie died away in 1893 and he remarried the next year to a wealthy widow, but due to his expensive lifestyle, he claimed personal bankruptcy. To settle his creditors, he was obliged to sell all of his property and possessions, comprising 150 artworks.
Bierstadt spent his later years mostly forgotten, his works derided as exaggerated and outdated.
On the 18th of February, 1902, he died unexpectedly. He was interred at the Rural Cemetery in New Bedford and was subsequently recognized when Mount Bierstadt in Colorado was dedicated in his honor.
Notable Artworks
Bierstadt, like his peers Thomas Moran and Frederic Church, became famous for his propensity to journey great distances, often across treacherous difficult terrain, in quest of the most stunning landscapes.
Taking his cue from the Düsseldorf School and thematically influenced by his own trip to the Alpine areas of Italy and Switzerland, he created an idealized and exquisitely detailed image of the American West from a selection of his own drawings and photographs.
Here are a few of the most notable Albert Bierstadt paintings:
| | | | |
| --- | --- | --- | --- |
| Artwork | Date | Medium | Location |
| Staubbach Falls, Near Lauterbrunnen, Switzerland | 1856 | Oil on canvas | Private collection |
| The Rocky Mountains, Lander's Peak | 1863 | Oil on canvas | The Met Museum, New York, New York |
| The Domes of the Yosemite | 1867 | Oil on canvas | St. Johnsbury Athenaeum, St Johnsbury, Vermont |
| The Emerald Pool | 1870 | Oil on canvas | The Chrysler Museum of Art, Norfolk, Virginia |
| Bahamian View | 1880 | Oil on canvas | Private Collection |
| The Last of the Buffalo | 1888 | Oil on canvas | The National Gallery of Art, Washington DC |
Albert Bierstadt, the most famous and commercially successful late-19th-century artist of the American western region, painted vast, dramatic images of the Sierra Nevadas and the Rockies that enticed many individuals to visit those locations. He was also among the first painters to capture landscape vistas with a camera. His massive oil canvases were the ultimate embodiment of popular 19th-century Romanticism. However, his popularity suffered when public taste in art shifted radically, replacing Romanticism and Realism with Impressionism, and when interstate railroad travel demonstrated that the West did not resemble his idealized works.
Frequently Asked Questions
Who Was Albert Bierstadt?
Bierstadt is regarded as the artist most responsible for creating the visual identity of a grand sweeping Western American landscape. He made his first excursion to the West in 1859, beginning in Missouri with Landers' Road Survey. Base of the Rocky Mountains was shown at the National Academy of Design in 1860. His work was well acclaimed by local clients and artists, and it demanded high prices. In 1871, he went to California and painted vistas of the Sierra Nevada, especially Yosemite, for two years. Bierstadt journeyed across the West, as well as to Nassau and Europe, until the mid-1880s. His last voyage west was in 1889. In the 1880s, changing preferences reduced the appeal of his paintings, and he narrowly averted bankruptcy in 1895.
What Style Were Albert Bierstadt's Paintings?
Despite being associated with works on a considerably smaller scale, Bierstadt is regarded as a forerunner of the Luminism movement. It was a word used to characterize landscapes with glossy lighting effects that encouraged viewers to reflect and relax. Indeed, Luminism was seen as a transcendent state that could only be attained by actually participating in nature's marvels.