Being that it is the color of the chlorophyll that supplies plants with their pigments, green is one of the most prevalent colors in the natural world. In fact, green is the color that most suitably symbolizes the natural world in art. Green, in all its many shades, sees extensive use in artworks of all kinds. Green is what you would call a secondary color and it can be created by mixing yellow and cyan blue together. In the RGB color model, green stands alongside blue and red as one of the three primary colors. In technology, this additive color model is used by most digital screens since it produces the largest range of colors and color combinations that can be shown on screen. If you would like to learn more about the color green and the shades it comes in, you have come to the right place.
Our Complicated History With the Color Green
Being among the most predominant colors found in the natural world, the color green no doubt boasts an extensive history with humans. Not only does it signify the health and fertility of the earth, but it concurrently symbolizes toxicity, poison, and lethality in many instances as well.
The latter, grimmer aspects of our cultural and semiotic associations with the color green have historically plagued our species for centuries.
Before we understood that animals like the eastern green mamba, for example, were highly venomous, somebody else had to learn the hard way. But it only gets worse. See, once mankind had ascended to the top of the food chain and tamed the natural world, the color green would continue to accost us, often fatally. But this time, however, the damage was self-inflicted!
From the time of the great civilizations of Late Antiquity to more recently than we would like to admit, our artistic pursuits in creating pure green colors have often led to the production of paints containing harmful toxins. History is littered with tales of maladies caused by the noxious chemicals present in the paints being used to create art and even for makeup.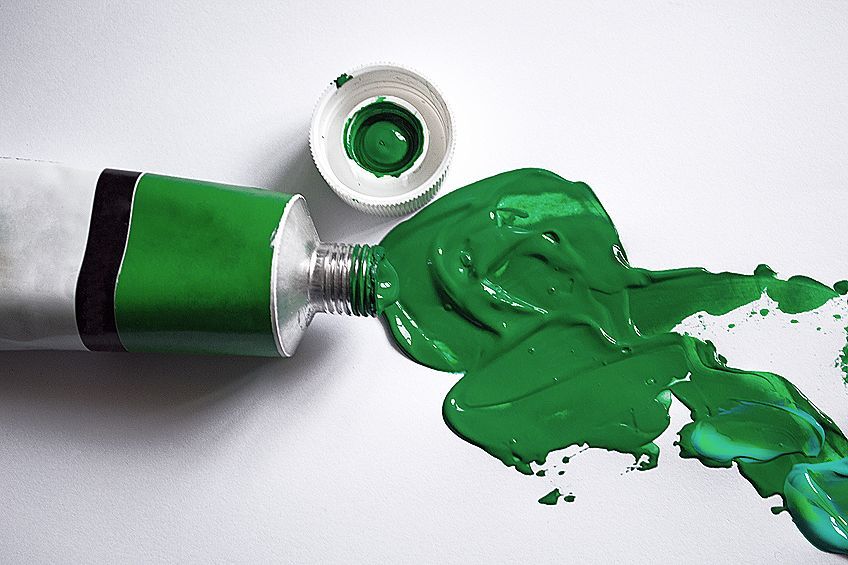 But why did we insist on creating green paint during a time when the means through which to do so could cause sickness and death? Well, there are two things we need to consider, the first of which is that the civilizations that came before us lacked the conventions and theoretical understanding of modern medicine. The second thing to consider is the fact that, unlike many other colors, it was largely impossible to find green pigment in a time when most pigments were produced from minerals mined from the earth. Either that or someone did a great job hoarding all the green sand during the Late and Middle Ages.
Some of the oldest existing examples of green pigments in art history date all the way back to the Ancient Egyptians. To create the color green, the Kemetics mined malachite whose 57.48% copper composition gave it a green color palette. To the Egyptians, green was used to paint tomb walls or for religious make-up as it symbolized rebirth and renewal. That being said, however, the paint was not only costly but also eventually tarnished to a black or brown color as the copper slowly oxidized.
We know, it's poetically ironic. The Great Ozymandias rolls in his grave, wherever that may be.
Our misfortune surrounding the creation of green colors prevailed until the Renaissance and even further still into the modern era. Although, for a time, the Roman Empire was able to create non-lethal types of green by soaking copper plates in red wine. The color produced through this process was and still is referred to as Verdigris. However, this process was costly and time-consuming.
Fast-forward to the Renaissance and we see that green colors have come to adopt semiotic connotations that imply one's affluence, intelligence (educated), and social status. While the nobility above was adorned primarily in red and the peasants below wore brown, the bourgeoisie (including merchants and bankers) demarcated their status by dressing themselves in green. These green shades were, however, produced using plant material. These pigments were not very durable and were quick to fade after a few washes.
But by the 18th century, our relationship with green paint had somehow grown worse.
It was during this period that a man named Carl Wilhelm Scheele, a Chemist from Sweden, would create a sickly yellowish-green pigment called Scheele Green that would come to be an incredibly popular color despite it containing a slew of sulfides and other deadly chemicals. Among the many harmful pollutants present in Scheel Green was acidic copper arsenite, a chemical that we now know to cause acute toxicity in humans even through small degrees of exposure.
But, all the way back in the 18th century, science was still a dozen decades away from developing to the point where it could put two and two together. And so, Scheel green was used in fabrics, paintings, wallpapers, and even children's toys.
Historians now believe that Scheel Green, among the other green shades produced around the same time, led to a great many inexplicable deaths during the 18th and 19th centuries.
One of the individuals from this era whose death has been attributed to exposure to Scheele Green is none other than Napoleon Bonaparte himself, who died of stomach cancer in 1821. It is alleged that the wallpapers of his quarters were painted using this blisteringly toxic mixture. Modern science has also now long since established a firm correlation between arsenite exposure and the development of several cancers, including skin, kidney, lung, bladder, and – you guessed it – stomach cancer. It is strange to think that the man who once nearly conquered all of Western Europe would die at the hands of his décor. Another hint of fate's unflinching sense of irony.
Napoleon was not the only historical figure to have potentially died as a result of Scheele Green's toxicity. Acclaimed painters such as Renoir and Monet applied the use of this paint and similarly toxic types of green extensively over their careers. It is now theorized that this paint was a contributing factor to Monet's eventual loss of sight. All things considered, the overall human cost of Scheele appears to have been too high for a jaundiced green whose pigment tended to be unstable on account of all the chemicals, the presence of which also burned and corroded the very surfaces that the paint was applied to.
Thankfully, Scheele Green fell out of fashion by the 19th century. Better yet, we have since found cheaper and safer ways of making all sorts of green shades.
Green in Modern Times
In today's world, most shades of green color remain a potent symbol of nature. Notably, the green color palette dominates in terms of the colors that are most closely associated with environmentalism, and global warming activism.
The term "go green" is used to describe the intentions and sentiments of those who advocate for the protection of the natural environment.
Nevertheless, there are still many pigments of green that we still use to this day that, although they are not as lethal as Scheele, still contain chemicals with toxic qualities. There is a green color used commonly in plastic and paper materials, called Pigment Green 7, that contains chlorine and could cause health issues if ingested. And this is far from the only example.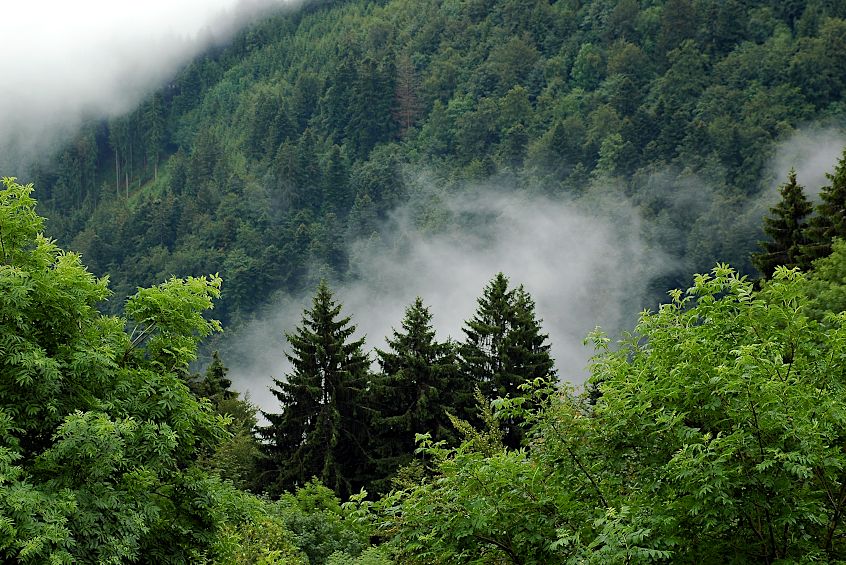 In spite of our prevailing problems with green paint, the color has not lost its potency as a symbol of well-being, rejuvenation, and vitality within cultures from all across the world. This is, of course, largely a result of the cultural values we have inherited through the ages. In Islam, the color green is a powerful symbol and color found throughout the religion's symbolic motifs. For the Irish, green is not only their national color but also the color flown and worn on St. Patrick's Day.
The Psychology of Green Colors
If you have been keeping up with our prior articles, you should by now have a decent understanding of color psychology. It is an aspect of color theory that suggests a link between the aesthetic qualities of colors and human psychology, with the former having some sort of effect on the latter. This explains why warm colors like red and yellow give us energy while cool colors like blue and purple can be deemed as more relaxing.
At the end of the day, though, our psychological associations with colors can also be derived from personal, subjective experiences.
In terms of color psychology, however, we are speaking in the general sense. By and large, green is representative of nature. It is typically perceived as stimulating and soothing. Keeping this in mind, it is easy to understand why chemists choose the color green to decorate the signage and practices. The color also symbolizes peace, luck, and wealth to name a few more.
But these are all semiotic values attributed to shades of green color based on cultural context. Is there any scientific evidence to supplement this argument with more merit? Well, yes. Compared to many other colors, green has a relatively short wavelength. What this means is that it takes less effort for our eyes to perceive the color. In other words, green is quite literally easy on the eyes.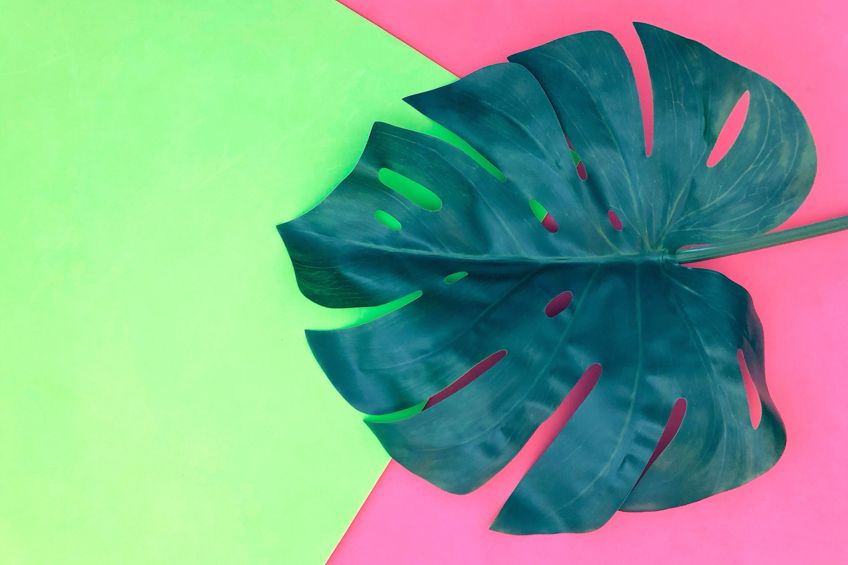 This would imply that beyond the semiotic associations that we have with green colors, they also boast innate sedative and relaxing attributes based on how the muscles, rods, and cones of our eyes respond to them. This gives a clear explanation as to why the color green is so commonly used to decorate environments such as hospitals, workplaces, and schools.
Green is actually second only to blue as one of the world's most popular colors.
But, before we move on, let us not forget to mention some of the negative associations that we make with green. Dark green hues, in particular, are often used to symbolize emotions such as jealousy and envy. Some greens are reminiscent of the color of bruises or infections, hence why you might say that someone "turned green" from disgust.
Common Shades of Green Color Used in Art and Design
The green color palette is incredibly extensive with there being no fewer than 295 unique shades of green color. While we cannot possibly tell you about each and every one of these shades, what we can do is go over some of the more popular examples. Green is an important color in the RGB additive color wheel used by computers to display the highest amount of possible color combinations on digital screens using red, blue, and green as the primary colors.
The following are counted among the most prolifically used greens, their properties, and their green hex code.
Green Color
This is the basic green hue applied in the RGB color wheel to produce the graphics displayed on the screens of digital devices. Apart from just being called "green", its other names include green W3C and office green.
| | | | | |
| --- | --- | --- | --- | --- |
| Shade | Hex Code | CMYK (%) | RGB | Color |
| Green | #008000 | 100, 0, 100, 50 | 0, 128, 0 | |
Olive Green
On the color wheel, the color olive green rests between the valleys of green and yellow. This is why olive green can also be interpreted as a paler shade of brown. Its namesake is taken from the antiquated French term for cloth. Etymologists believe the name for this color entered the English lexicon somewhere between 1150 and 1500 A.D. You can create hues of olive green by mixing in shades of black and tones of grey.
You can also create olive green by mixing blue paint with yellow paint in a ratio of 1:3. If you would like for your hue to deepen any further from this point, we suggest throwing in dashes of red little by little until you find what you are looking for.
The U.S military used olive green as its primary uniform and vehicle color throughout its troops' involvement in the Second World War. Funnily enough, olive green is also the traditional color used to represent peace. In interior decorating, homeowners looking for a smart and sophisticated palette for their household can pair olive green shades with tans, greys, and other neutral colors.
| | | | | |
| --- | --- | --- | --- | --- |
| Shade | Hex Code | CMYK (%) | RGB | Color |
| Olive Green | #708238 | 14, 0, 57, 49 | 112, 130, 56 | |
Forest Green
This is a dark green with a deep and luscious tone. We call it forest green on account of the fact that its colors are reminiscent of thriving flora and healthy growth. Designers will typically use forest green in the palette to emulate a natural atmosphere. The color pairs well with red, its complement. This would make ideal for Christmas décor but this particular shade of green tends to work better with blues.
| | | | | |
| --- | --- | --- | --- | --- |
| Shade | Hex Code | CMYK (%) | RGB | Color |
| Forest Green | #228b22 | 76, 0, 76, 45 | 34, 139, 34 | |
Jungle Greens
Close your eyes and imagine a dense jungle thicket for a second. Chances are, you are picturing scenery with a wide variety of plants with varying shades of green color. This makes it easier to understand why there are so many different variations of jungle green.
Below are some examples of the gorgeous, exotic shades that jungle green comes in.
| | | | | |
| --- | --- | --- | --- | --- |
| Shade | Hex Code | CMYK (%) | RGB | Color |
| Jungle Green | #29ab87 | 76, 0, 21, 33 | 41, 171, 135 | |
| Medium Jungle Green | #1c352d | 47, 0, 15, 79 | 28, 53, 45 | |
| Deep Jungle Green | #004b49 | 100, 0, 3, 71 | 0, 75, 73 | |
| Amazon | #3b7a57 | 52, 0, 29, 52 | 59, 122, 87 | |
| Dark Jungle Green | #1a2421 | 28, 0, 8, 86 | 26, 36, 33 | |
| Tropical Rainforest | #00755e | 100, 0, 20, 54 | 0, 117, 94 | |
Emerald Green
From real-life royalty and the Hollywood Elite to the fictitious utopian capital city of the Land of Oz, emerald green has always been a color synonymous with wealth, opulence, and high social class. This is on account of the color's name being derived from the mineral emerald, a dark green gemstone rarer than diamond.
Despite the color's dark tones, it nevertheless produces a happy medium with stunning bright elements as well. Emerald green sits between olive green and lime green. The name for the color entered the English lexicon by the turn of the 17th century.
Emerald green is incredibly popular in interior design where the color is used to give spaces a sense of regality and sophistication while also lending an energizing and refreshing atmosphere. This elegant color can also be used alongside many other shades of green color.
| | | | | |
| --- | --- | --- | --- | --- |
| Shade | Hex Code | CMYK (%) | RGB | Color |
| Emerald Green | #50c878 | 60, 0, 40, 22 | 80, 200, 120 | |
Beyond the numerous shades of green compatible with emerald green, there are several other colors that pair very well with it. Below are a few of the best examples.
| | | | | |
| --- | --- | --- | --- | --- |
| Shade | Hex Code | CMYK (%) | RGB | Color |
| Aubergine | #693b58 | 0, 44, 16, 59 | 105, 59, 88 | |
| Ruby Red | #9b111e | 0, 89, 81, 39 | 155, 17, 30 | |
| Rose | #ff007f | 0, 100, 50, 0 | 255, 0, 127 | |
| Pink | #ffc0cb | 0, 25, 20, 0 | 255, 192, 203 | |
| Peach | #ffe5b4 | 0, 10, 29, 0 | 255, 229, 180 | |
If you are mixing paints into emerald green, the same rules apply as with any of the other shades of green color. You should use yellow and blue colors primarily. You should note that blue comes in handy when you are trying to produce a dark green.
Neon Green
Neon is an incredibly vibrant shade of green most popularly used as accenting for advertising and signage. Although the color is too bright and overpowering when used as a feature, using it as a supplementary color is a great way to draw the attention of people's eyes.
Used cleverly, neon green can also work well as the focal point of an artwork. Furthermore, it pairs excellently with pink shades.
| | | | | |
| --- | --- | --- | --- | --- |
| Shade | Hex Code | CMYK (%) | RGB | Color |
| Neon Green | #39ff14 | 78, 0, 92, 0 | 57, 255, 20 | |
Sea Green
If you are looking to conjure up imagery of the aquatic depths, you might be considering the use of a yawning blue. But have you stopped to consider green as a viable option? The vast ocean is littered with microbial vegetation like phytoplankton, the presence of which is well known to cause the sea to appear green. Hence, sea green. Much like blues, sea green can be incredibly charming when paired with neutral colors like grey and white.
| | | | | |
| --- | --- | --- | --- | --- |
| Shade | Hex Code | CMYK (%) | RGB | Color |
| Sea Green | #2e8b57 | 67, 0, 37, 45 | 46, 139, 87 | |
Avocado
It would appear that avocado has had a relatively recent renaissance following the advent of digitalized social media. You are no doubt also familiar with its distinctive green coloration. Being named after the fruit, the color itself has understandably come to represent freshness, health, and the natural world. If you are looking for a sophisticated, modern color palette for your home or office, you should consider pairing your preferred shade of avocado green with blacks, greys, or whites.
Provided you can say it with a straight face, you can also refer to this color by its other name; guacamole green.
| | | | | |
| --- | --- | --- | --- | --- |
| Shade | Hex Code | CMYK (%) | RGB | Color |
| Avocado | #568203 | 34, 0, 98, 49 | 86, 130, 3 | |
Pistachio Green
If you have ever cracked open a pistachio nut, you may recall the green shades of chlorophyll inside the shell. This medium, light green is called pistachio green. It is neither too dark nor bright, instead being a muted neutral green. If you pay close attention to your veggies, you will notice that pistachios aren't the only edible plants that contain this color. This color is most typically associated with harmony and relaxation.
| | | | | |
| --- | --- | --- | --- | --- |
| Shade | Hex Code | CMYK (%) | RGB | Color |
| Pistachio | #93c572 | 25, 0, 42, 23 | 147, 197, 114 | |
Lime Green
This color gets its name from, you guessed it again, the lime fruit. Even though limes have been a traded commodity since before the 12th century, the color only got its name in 1890. Much like the fruit itself, the color is bright and lively and contains hints of yellow. Making lime green is super easy given that you only need the primary colors blue and yellow to produce it. You need only mix your blue with your yellow in a ratio of 1:2, or 1:3 respectively.
Much like the taste of lime as well, the shades of lime green deliver an energetic pizazz to any atmosphere.
Lime green was an incredibly popular color in fashion during the 1960s, no doubt spurred on by the movie superstar and feminine matinee idol Audrey Hepburn's appearance in Paris When It Sizzles (1962) where she wore a lime green dress. The color has since been dipped in and out of fashion.
People love this color because of the youthful exuberance it is able to communicate while simultaneously being incredibly eye-catching. This is why companies, brands, and advertising agencies often make use of lime green to advertise to children, teenagers, and young adults.
But there are two sides to every coin and lime green is not without its negative semiotic associations. Lime green could spell toil and trouble as it did over the fire that burned in the cauldron that bubbled. Besides Shakespeare, even Walt Disney gave lime green eyes to the evil queens in both Snow White and Sleeping Beauty.
Lime green is associated with evil spells and potions a lot in pop culture.
In interior design, lime green's more flattering aspects are put to great use in creating calm spaces that stimulate productivity. Tans, greys, and white can be accented quite beautifully using one of the two primary shades of lime green. It is always better to use lime green as an accenting color. On its own or as a main feature, lime green's intensity may make it harsh to look at. If you want to liven up a space with lime green, be sure to do so sparingly.
Graphic designers whose job it is to create UI interfaces and landing pages like to use one of two shades of lime, both of which are simply called "lime green". So as to not get confused between the two, we can use their hex codes to denote lime green 1 as #00ff00 and lime green 2 as #32cd32. As you can see in the table below, the former is a lighter shade of green than the latter.
| | | | | |
| --- | --- | --- | --- | --- |
| Shade | Hex Code | CMYK (%) | RGB | Color |
| Lime Green 1 | #00ff00 | 100, 0, 100, 0 | 0, 255, 0 | |
| Lime Green 2 | #32CD32 | 76, 0, 76, 20 | 50, 205, 50 | |
Lime green pairs well with a few colors but can create something catastrophic when partnered with the wrong color. For the best contrast with lime, it should be paired with fuchsia, since this would be its complementary color. Both of this color's main shades can also be paired with warm colors to create a stimulating color palette.
Lime green can also be paired with blacks and dark shades of blue to make the color pop. The following colors are examples of what pairs well with lime green.
| | | | | |
| --- | --- | --- | --- | --- |
| Shade | Hex Code | CMYK (%) | RGB | Color |
| Black | #000000 | 0, 0, 0, 100 | 0, 0, 0 | |
| White | #ffffff | 0, 0, 0, 0 | 255, 255, 255 | |
| Fuchsia | #ff00ff | 0, 100, 0, 0 | 255, 0, 255 | |
| Hot Pink | #ff69b4 | 0, 59, 29, 0 | 255, 105, 180 | |
| Tangerine | #f28500 | 0, 45, 100, 5 | 242, 133, 0 | |
| Violet | #7f00ff | 50, 100, 0, 0 | 127, 0, 255 | |
| Yellow | #ffff00 | 0, 0, 100, 0 | 255, 255, 0 | |
| Orange | #ffa500 | 0, 35, 100, 0 | 255, 165, 0 | |
Mint Green
Although it is several shades lighter than the herb from which it gets its namesake, the color mint green nevertheless communicates similar concepts of refreshment and energy. Sitting in the middle of cyan and green on the color wheel, mint green tends to symbolize creativity, zen, and good health. It is, of course, also used extensively in mint-flavored products as well as their packaging.
When working with mint green, interior designers tend to pair the color with beige, royal blue, white, and violet.
| | | | | |
| --- | --- | --- | --- | --- |
| Shade | Hex Code | CMYK (%) | RGB | Color |
| Mint green | #98fb98 | 39, 0, 39, 2 | 152, 251, 152 | |
Ming Green Color
Ming green, not to be mistaken with mint green, is a specific shade of jade that is incredibly popular in Northern America. Even though the color still sees frequent use in modern times, its heydays were between the 1930s and 1960s. Apart from women's clothing, the color was commonly associated with bathroom and kitchen décor.
The Ming green color is a soft hue that sits somewhere between cyan blue and green.
| | | | | |
| --- | --- | --- | --- | --- |
| Shade | Hex Code | CMYK (%) | RGB | Color |
| Ming Green Color | #3aa278 | 64, 0, 26, 36 | 58, 162, 120 | |
Blending Shades of Green Color Using Acrylics
We are taught during art class at school that we can create the color green using the primary colors blue and yellow. But what we are most often not taught is that color theory surrounding the kinds of green produced through the mixing of yellows and blues with different shades and color biases. Mixing the right sort of paints for your chosen project becomes much easier when you have an understanding of how color biases impact the temperature of colors.
When picking out the yellows and blues you plan on using to create green, you must first consider the color pairs used to create these base colors as well as their color biases on the color wheel.
A huge part of the reason why we want an understanding of how the properties of the colors being combined to create a green has to do with the relationship shared between the primary colors red, yellow, and blue. If these three colors are combined, the resultant color produced is considered muddy and impure.
The same goes for the mixing of colors that are derived from a combination of colors including red, blue, and yellow. Mixing warm yellows and warm blues, as an example, will produce a muddy green since both of the colors in this mix will contain red. This is also why we strongly encourage experimentation with your green color palette before you start painting.
Vivid shades of green color can be produced using the following combination of blue and yellow.
| | | | | |
| --- | --- | --- | --- | --- |
| Shade | Hex Code | CMYK (%) | RGB | Color |
| Cadmium Yellow Light | #f8eb00 | 0, 5, 100, 3 | 248, 235, 0 | |
| Manganese Blue | #242d36 | 33, 17, 0, 79 | 36, 45, 54 | |
If we have a look at the color biases of either color here, we can see that they both lean towards green. What this means is that their combination will create a vibrant green. If you are mixing blues and yellows to produce greens, make sure that the blue being used has strong elements of the green color spectrum.
Painting Green With Acrylics
Acrylics are, hands down, the easiest paints to work with. They have a relatively fast drying time and are incredibly light on the wallet. Besides the paint, you will need some clean paint brushes, and some water for dipping and cleaning these brushes. You also should use a palette knife for paint mixing if you already have one. Otherwise, you can just as easily use a popsicle stick. You want whatever instrument you use for mixing to work well as a device for mixing smooth, well-blended paints.
You can start off by setting up your workspace. This could involve placing newspapers over your work surface and making sure that all the tools you need are easily within reach. Whatever else you can do to make the clean-up afterward easier is welcome too.
You can then grab your mixing palette where you can begin blending equal parts of yellow and blue to get a basic green. The less paint you use, the better. This process is all about experimenting until you get the shade you are looking for. Just remember to take note of the ratios you use so that you may replicate the color on a larger scale. You can catalog a swatch of the color with any relevant ratio mixing information for future use.
When mixing your basic green into different shades, take into consideration that adding yellows will brighten your green and pull it more towards the color lime while adding blues will deepen the shade to a dark green. When mixing in yellow for a brighter green, you can even throw in a few drops of white to create light green colors such as mint green. If you want something like olive green, you can break the rules of color bias by mixing in some red. Fortunately, in this case, the muddy color that would come as a result would be very close to olive.
When mixing colors, mix them together in small proportions. You can always add but never subtract. Just make sure to add more yellow than blue for light greens and vice versa for dark green shades. Here are a few examples of yellow and blue combinations that make for great shades of green color.
Ultramarine blue can be mixed with cadmium yellow to produce a brown-hinted green. This is on account of ultramarine blue's color bias towards red.
Cobalt blue can be mixed with a light shade of cadmium yellow to produce a color very close to the shade of permanent green.
You can mix the same shade of light shade of cadmium yellow with phthalo blue to produce phthalo green.
| | | | | |
| --- | --- | --- | --- | --- |
| Shade | Hex Code | CMYK (%) | RGB | Color |
| Permanent Green | #009669 | 100, 0, 30, 41 | 0, 150, 105 | |
| Phthalo Green | #123524 | 66, 0, 32, 79 | 18, 53, 36 | |
The Shades of Green Color in Interior Decoration
If you will recall, the most common symbolic and psychological associations that we make with green colors have to do with nature, good well-being, Zen, and peace. These sorts of themes make green a great color for homeowners to use when decorating their households. Greens are not only great at bringing the outdoors into the home space, but they can also provide a space with a relaxing atmosphere. Whether being used as accenting along the frames of walls or as a feature, shades of green are a natural fit in any home.
While green works for all sorts of rooms in the average household, it is most effective as a focal element in the living room where it can create an inviting atmosphere that is both calming and energizing. If you have bare white surfaces in your household, you can soften out the starkness using green as an accenting color. Green does not only work for surfaces, however, since it looks great on furniture and décor as well. Pot plants, for example, bring a charming element of green into the indoor space.
Green is widely used as a color choice when putting together tranquil living spaces.
Another fantastic attribute of greens is their versatility. Greens can be relaxing and calming while also still being stimulating. This multi-atmospheric quality of green colors makes them great choices when designing a space meant to be used for both work and relaxation. Since households are typically where relaxation and work tend to intersect for most people, the color green is a natural fit for decoration.
For dining rooms and kitchen spaces, green is a natural fit given its close association with fresh produce. More so, studies have shown that the color green can stimulate hunger and appetite which makes it even more suitable for these areas. If you are using green in your kitchen or dining room, adding yellows and oranges can provide the rooms with more warmth.
This all being said, it is not even entirely necessary for you to paint the walls or furniture of your house to introduce green into the palette. You can instead invest in some green décor, crockery, cutlery, or devices. Green boasts enough versatility for you to experiment with your use of the color inside your home. But if you are interested in learning more about how to pair your shades of green, below are a few popular examples.
Brown and Forest Green Color
The forest green color tends to pair well with most browns, especially if you plan on working with an earthy palette. When placed side by side, the brown supplies a neutral, grounded tone while forest green injects its vibrancy. Harvest yellow, dark blues, and burgundies work well with forest green too.
White With Ming Green
In fields such as design, fine art, and interior decoration where people work extensively with color schemes, we often use the word "crisp" to describe the aesthetic qualities of whites, greys, and any pairing of shades between these two colors. But to add a bit of prestige and classiness, we can pair these colors with something like Ming green. Used as an accenting color, Ming green can elevate spaces whose palettes are primarily white and grey.
Adding a Ming green couch as a focal piece in a space with white or grey walls, for example, brings the atmosphere to a whole new level.
Orange With Pale Green
Pale green colors such as fern green can be combined with grey and light oranges to give smaller rooms a better sense of spaciousness and depth. Being complementary to one another, the colors green and orange produce a stunning contrast when placed together.
Pink With Lime Green
Perhaps you want to create something daringly eye-catching and energetic. Perhaps you want a little retro pop punk. If you pair lime green with a bright pink, you will get a color combination with no shortage of pop.
This pairing works well in spaces intended for activities given that it supplies a stimulating atmosphere of energy.
Tan With Pastel Green
Maybe you want something more modest. If this is the case, might want to consider pairing pastel green with tan shades. This combination of mellow colors produces an earthy palette that makes for a relaxing atmosphere during the daytime and the night.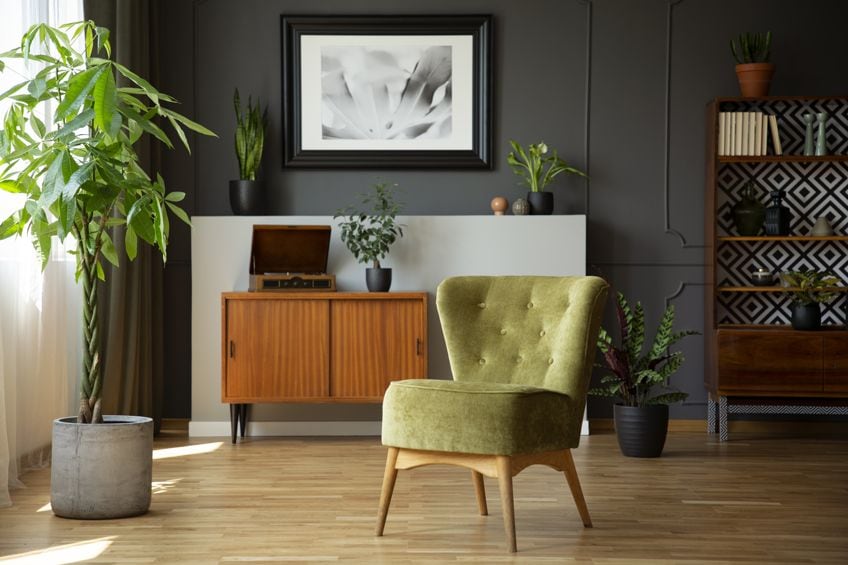 Congratulations on making it this far. Hopefully, we have dispensed some information that, no matter where you are currently in your artistic journey, you have found to be useful. We hope that you found the section on our perilous relationship with green in art interesting and maybe even a bit entertaining. The last thing we want to do is dissuade you from going near green paint ever again. We encourage you to use this information simply as a basic introduction and reference guideline for working with shades of green color. More so than anything, you should experiment with the color in your own time until you figure out what works best for you and the sorts of projects you are working with – be it through trial and error or otherwise.
Frequently Asked Questions
Why Is Scheele Green Dangerous?
Scheele green was a shade of green created by Swedish Chemist Carl Wilhelm Scheele in the 18th century which saw frequent use until the mid-19th century when it was discovered to be incredibly harmful. The pigment of this paint contained toxic arsenite chemicals which we now know to cause numerous chronic diseases, including cancer.
What Is the Most Popular Shade of Green?
Given that it was voted the most popular shade of green in 2021, it is fair to say that sage green takes the top spot in this regard. Sage is an earthy grey-green color that takes its namesake from the similarly colored herb we use for seasoning in cooking. It is a muted color that works well on interior walls inside rooms intended for relaxing activities. The earthier shades of most colors will pair well with sage green.
What Is the Complementary Color of Green?
Red is the complementary color of green. We can see this by inspecting the color wheel where you will find red and green diametrically opposed to one another. What this means is that pairing green with red is how you would produce the strongest contrast possible with either color.
What Does Green Mean?
In color psychology, we find that shades of green have innate aesthetic qualities that people, for the most, find appealing. The leading theory behind this is that green's short wavelength makes it easier for the human eye to observe compared to most other colors. In terms of green's semiotic values, the color and its various shades are closely associated with nature, fertility, nutrition, health, renewal, and vitality.
How Did the Color Green Get Its Name?
The name for the color is derived from a combination of the Old/Middle Anglo-Saxon and Proto-Germanic languages whose words for grass were grene and grün respectively.
What Is a Shade?
Although the term shade is used interchangeably with terms such as hue for the most part, its definition within fine art is that of the different varieties of a particular hue when the color black is added to it. The quantities of black added will determine its shade, with it getting darker the more black is added. Artists will pick their preferred shade based on the requirements of the project. You can keep adding black to a hue until it becomes a shade of black with tinges of the original color. A useful way of thinking about how shading affects colors is by considering how an artist would depict how colors darken when the source of light is reduced, gone, or otherwise restricted. Shading is often used to illustrate how shadows cast on a subject darken the colors of said subject.