Ralph Goings – Visiting the Well-Known Ralph Goings' Artwork
Ralph Goings is a senior member of the seminal photorealist painters of the late 1960s, and he is most well-known for his oil and watercolor paintings of quintessential American subjects. Goings manages to capture the beauty in mundanity through his depictions of the everyday experiences of ordinary Americans.
Ralph Goings' Biography
Who is Ralph Goings? Here, we present a brief Ralph Goings bio, which explores his early life, art education, and work. In this Ralph Goings bio, we follow the steady development of his unique Photorealist painting style.
Early Life and Art Education
The American hyper-realist artist was born in California in 1928, and he grew up in a working-class family during the Great Depression. A high school art class and the discovery of Rembrandt inspired Goings' passion for art at a young age. With instructional materials from his aunt and paint from the hardware store, Goings began painting on old bedsheets.
Following a brief military service, Goings studied towards a Master's degree in Fine art, which he received from the Sacramento State University in 1965. During his time at the California College of the Arts, Goings met other Photorealist painters, including Richard Mclean and Robert Bechtle. Artists like Johannes Vermeer and Wayne Thiebaud were Photorealist inspirations for Goings. Goings also found the pop art of his time to be disappointing. Instead, Goings thought that art should be an accurate reflection of the world around him.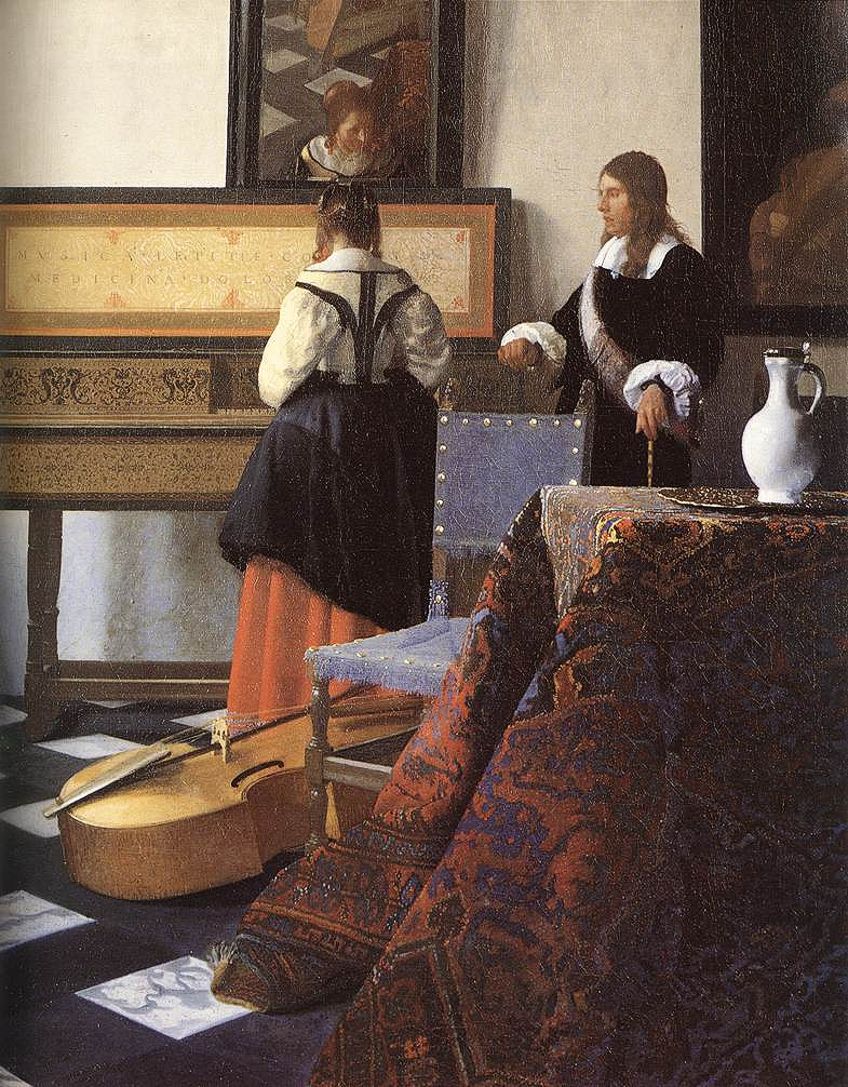 A detail from The Music Lesson (1662-1665) by one of Goings' inspirations, Johannes Vermeer; Johannes Vermeer, Public domain, via Wikimedia Commons
The Development of Ralph Goings' Unique Photorealist Style
As a young painter, Goings would often use magazine cuttings as the basis of his paintings. Following his education, he began to capture and use his own photographs because it gave him more artistic autonomy. Although Photorealist painters continue to receive criticism for painting directly from photos, for Goings, using a photograph was more democratic than painting from the eye. The eye is far more selective than a picture, and it was, therefore, possible to miss important details.
To ensure his paintings were as shocking as possible to critics, Goings projected and traced his photographs. Goings participated in a group exhibition, "Views of Sacramento," in 1969. It was in preparation for this exhibition that Goings found inspiration in a customized pickup truck. Following this moment, Goings took pictures of and began to paint all the pickups he could find in and around Sacramento.
For Goings, the pickup truck was a quintessentially American historical relic. By painting these pickup trucks in the most accurate detail possible, Goings believed he was giving these American relics the glory they deserved.
The early 1970s saw Goings pursue another subject matter. Stemming from the pickup trucks, Goings began to look more closely at the places where he would find them. Diners and fast-food restaurants became the focus of Goings' pictures and paintings. Goings' audience wondered if there was a more profound social commentary behind this subject choice, but this was not Goings' intention.
Goings only wanted to produce depictions of American scenery that he found visually appealing but was often criticized. During this period of his career, Goings painted the geometric architecture of colorful fast-food restaurant exteriors framed by expansive blue skies.
After 1972, Ralph Goings' artwork shifted from the exterior of fast-food restaurants to the interior. Ralph Goings' paintings from this period focused on the strength and variability of light reflections within these spaces. He photographed and painted the way that light flowed through glass windows.
A key consideration for Goings at this time was the difference in how the eye and camera perceive light. These interior paintings demonstrate how much stronger and more altering the real light that a camera can capture is. In comparison to the camera, the human eye tends to blur the light into the environment.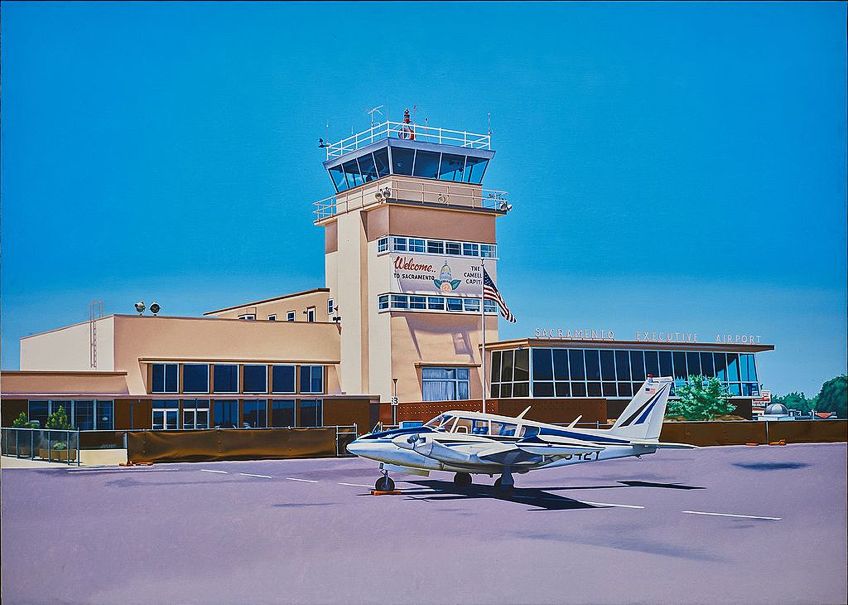 Sacramento Airport (1970) by Ralph Goings; Scuttlebutte, CC BY-SA 4.0, via Wikimedia Commons
In all of the Ralph Goings paintings so far, there is a notable absence of people. This absence was a deliberate choice by Goings, who felt that there were enough artistic representations of people. Goings believed that even if a figure was not the main subject of the painting, human eyes were drawn to it naturally. By eliminating human figures, Goings emphasized the significance and beauty of everyday objects and environments. When Goings gradually began to include figures in his paintings, he represented them in the most inanimate way possible.
The year 1974 saw Goings move from California to the state of New York. After this move, Goings began to focus even more on the interiors of diners and fast-food restaurants. The scenes of these paintings were far more intimate. After the move, Goings began to realize that the buildings in New York were utterly different from those in California, which dramatically impacted his photographs and paintings. Goings began to explore the diners and people of upstate New York, and it was here that people started to become prominent in his paintings.
After asking permission from the owners and patrons, Goings would wait a while for them to resume their natural state of being. The people in these paintings and photographs do not present any strong emotions or actions. Instead, the people in these paintings often seem to be caught up in a world of private daydreams.
Although it appears to be a natural tendency to prescribe a narrative to the figures in Ralph Goings' paintings, he did not intend to tell a story. Throughout his career, Goings never tampered with a scene by attempting to find the meaning behind it, but he wanted to present snapshots of life as it happened.
The Process Behind Ralph Goings' Artwork
Ralph Goings would take countless photographs of the scenes he found interesting, including car-parks, supermarkets, diners, and fast-food restaurants. He would then carefully select a single photo to project onto the canvas. Using a pencil, Goings would create a detailed sketch of the composition in preparation for painting.
Rather than using the traditional techniques of layering oil paints to achieve color, Goings paints each object within the scene individually, often from left to right. Although Goings uses the photograph as a source of reference, his paintings are often highly personalized and interpretive.
An example of a photograph that Goings would have used as a basis for one of his photorealistic paintings.
Some of the Most Famous Ralph Goings Paintings
We have selected two paintings by Ralph Goings that capture the transitions throughout his career. The first painting is one of his earliest, painted in 1970, and is the epitome of his style at this time. The second painting is from after his move to New York as he began to paint figures.
1970: McDonald's Pickup
This painting is typical of Goings' early style. The composition is bottom-heavy, featuring a McDonald's drive-through restaurant with a palm tree, a small paved parking lot, and a beige pickup truck. The upper half of the painting is mostly an expansive hazy blue sky that fades towards the horizon. A parked white car, peaking out from behind the building, provides a counterpoint to the pickup truck. Although these two cars hint at possible people, they are not visible in the composition.
Unlike the pop art movement of the time, which critiqued and paid homage to American pop culture, Goings preferred to represent everyday objects with an importance that lacked social commentary. The subjects of Goings' paintings, like this one, give artistic importance to aspects of American culture that are commonplace to all but rarely represented in art.
1986: Two Waitresses – Afternoon Break
Goings completed this painting after he moved to New York in 1974. This painting reflects the shift in his style and subject. The zig-zagging of black and white tiles below the shiny chrome countertop converge on the two waitresses seated at the bar. The two women are wearing bright white uniforms and relaxing either before the day starts or once it has ended.
One of the waitresses seated on the backless and chrome-rimed stools is clasping a cigarette between her fingers, while a rag is draped over the shoulder of the other. The light, which streams through the diner's windows, bounces back off the ceiling, countertop, and walls.
This painting is the perfect example of Goings' fascination with the way light can aesthetically shift the appearance of surfaces and objects. Although the painting depicts figures and is one of his first to do so, they are not central to the piece.
When he began to include figures in his paintings, many of them were of the working class. The reverence for working-class people, like himself, is clear in this painting. The crisp white uniforms allude to associations of unassuming fastidiousness and benevolence. While this painting, and others like it, are not sentimental, they are respectful snapshots of lives that may not traditionally seem worthy of memorialization in the paint.
Quiet and unassuming, Ralph Goings' paintings pay homage to the aspects of American life that are familiar and loved by all but unrepresented in art. The incredible photorealism that Goings manages to capture is a testament to his skill with both the camera and paintbrush. It is no surprise that he remains one of the most celebrated and important figures in American Photorealism.
Isabella studied at the University of Cape Town in South Africa and graduated with a Bachelor of Arts majoring in English Literature & Language and Psychology. Throughout her undergraduate years, she took Art History as an additional subject and absolutely loved it. Building on from her art history knowledge that began in high school, art has always been a particular area of fascination for her. From learning about artworks previously unknown to her, or sharpening her existing understanding of specific works, the ability to continue learning within this interesting sphere excites her greatly.
Her focal points of interest in art history encompass profiling specific artists and art movements, as it is these areas where she is able to really dig deep into the rich narrative of the art world. Additionally, she particularly enjoys exploring the different artistic styles of the 20th century, as well as the important impact that female artists have had on the development of art history.
Learn more about Isabella Meyer and the Art in Context Team.
Cite this Article