Internationally celebrated photographer Paul Caponigro has had a career of over 60 years. This Boston-born contemporary photographer is widely regarded as one of the premier photographers of our time. Caponigro has devoted his time to exploring and documenting ancient architecture and the natural world. In his prints, Caponigro leans towards black and grey tonalities to present the world around us in stunning detail.
A Brief Paul Caponigro Biography
When it comes to producing a Paul Caponigro biography, we must begin in 1932 Boston. We know little about his early life, except that he began to take an interest in photography when he was around 12 years old. Caponigro also had a vibrant passion for music, and he began studying in 1950 at the College of Music at the University of Boston.
In the early 1950s, Caponigro joined the army, and he traveled with them to the Western United States. It was while on tour with the army that Caponigro discovered the West Coast School of Photography. Eventually, Caponigro decided to focus his creative energy on photography, and he began studying at the California School of Fine Art. Caponigro studied alongside other famous photographers, including Minor White.
During these early years, Caponigro exhibited his photographs for the first time at the George Eastman House, and he published some in the Aperture magazine. In 1960, Caponigro began to teach at the University of Boston. While teaching here, Caponigro was also working as a consultant, doing technical research for the Polaroid Corporation.
While working at the University of Boston, he received two Guggenheim Fellowships. These Fellowships, in 1966 and 1975, allowed Caponigro to pursue a lifelong project. Caponigro was passionate about ancient megalithic sites, like Stonehenge, and he set out to photograph as many as he could. Running White Deer is one of the most famous Paul Caponigro photographs, and it was captured during his time in England and Ireland. From 1973 until 1993, Caponigro lived in New Mexico, where he continued taking photographs and exhibiting his work.
Paul Caponigro's son, John Paul Caponigro, followed in his father's footsteps. Today, John Paul Caponigro continues his father's legacy as a digital photographic artist.
The Prominent Themes in Paul Caponigro Photography
We have mentioned already that for Paul Caponigro, photography was a way to capture and preserve the beauty of the natural world and ancient architecture. Most Paul Caponigro photographs center around still-life compositions and landscapes. Caponigro is fascinated with natural forms, and his black and white photographs have an air of mysticism and spirituality to them.
In particular, the Paul Caponigro photographs which portray the strongest sense of spirituality are those he took of Celtic megaliths in Ireland and England. These photographs are incredibly moving and highly mystical. You will also see some Paul Caponigro photographs of different Japanese shrines, temples, and sacred gardens. Much of the Paul Caponigro photography we are familiar with also gives us intimate glimpses into the mystical and romantic New England woodlands.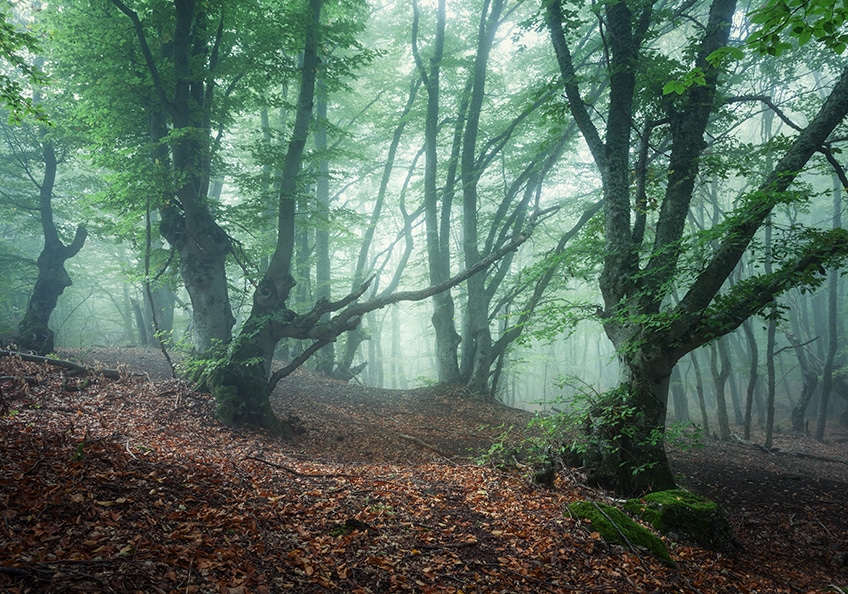 The photographer uses a variety of state-of-the-art digital technologies. As a result, Paul Caponigro photographs have an awe-inspiring quality that is unmatched. Many Paul Caponigro photographs are a form of environmental art.
For Caponigro, photography is a powerful tool to study the nature of perception through the perception of nature.
In line with this, Caponigro does not create arrangements in nature. Instead, he approaches nature openly and receptively. Paul Caponigro photography goes beyond beautiful pictures of surface details. Through his photographs, Caponigro is able to explore the depths of the natural and ancient worlds.
Caponigro brings his passion for music into his photography. Caponigro continues to play the piano, and he is certain that the insights he gained from his musical training contribute to his photography. The visible silence in Caponigro's photographs is as tangible as music.
Paul Caponigro Photography Exhibitions
Throughout his long career, Caponigro has exhibited his photographs in countless international galleries. You are more than likely to find his works in almost every photographic collection around the globe. In addition to the photographs he displays, Caponigro has also written many texts on the history of photography. You can find these texts in museums across the world. There is little doubt that Caponigro is a master of photography, and he has received many commendations.
If you want to view Caponigro's work, you can visit the San Fransisco Museum of Modern Art and the Norton Simon Museum. Many of his photographs remain in the Guggenheim collections, and you can see some works in the New Mexico Museum of Art.
In addition to the two Guggenheim Fellowships that Caponigro received in the 1960s and 70s, he was awarded an Honorary Fellowship and Centenary Medal by the Royal Photographic Society. These awards recognize Caponigro's significant and enduring contribution to the photographic medium.
When it comes to photography in the 20th century, Paul Caponigro is one of the undisputed masters of the medium. In his photographs, he is able to capture the beauty, mystery, and spiritual essence of the natural world and the ancient structures that are now part of it. There is no denying the lasting contribution that Paul Caponigro has made to the world of photography, and it is clear why his son has followed in his footsteps.
Isabella studied at the University of Cape Town in South Africa and graduated with a Bachelor of Arts majoring in English Literature & Language and Psychology. Throughout her undergraduate years, she took Art History as an additional subject and absolutely loved it. Building on from her art history knowledge that began in high school, art has always been a particular area of fascination for her. From learning about artworks previously unknown to her, or sharpening her existing understanding of specific works, the ability to continue learning within this interesting sphere excites her greatly.
Her focal points of interest in art history encompass profiling specific artists and art movements, as it is these areas where she is able to really dig deep into the rich narrative of the art world. Additionally, she particularly enjoys exploring the different artistic styles of the 20th century, as well as the important impact that female artists have had on the development of art history.
Learn more about the Art in Context Team.